Travelodge on Heights Boulevard
310 S. Heights Blvd.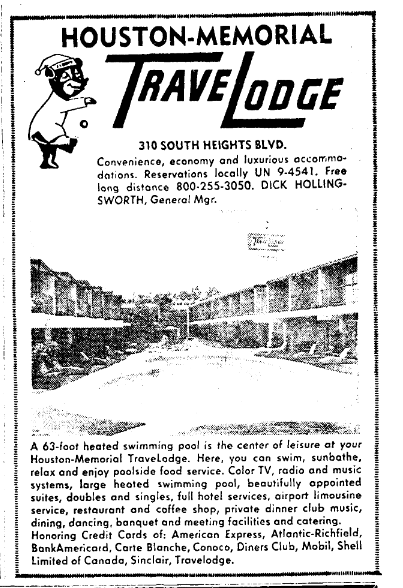 Where a Travelodge once sat is now 55 Waugh Drive, a big glassy office tower built in 1982. When it was built in 1960 it was as the Coronado Motor Hotel featuring 98 rooms. Around 1969 it became a Travelodge (or "TraveLodge"), which is when this ad is from. In 1971, a new TraveLodge was built at 2828 Southwest Freeway with 216 rooms and nine floors about three miles to the southwest.
By 1976, the club was known as "Vento's Club", when a former manager (Sam Vento) returned and revitalized it, with nightly entertainment and steaks and seafood. In October 1977, the (still operational) motel was put on the market, with the restaurant leased to Dobbs House, and held the Travelodge name at least to 1979.
In July 1981, the hotel was still looking for a desk clerk, but by October 1981 the entire property was being stripped for demolition, presumably for the aforementioned office tower.
Travelodge's closure preceded the closure of a much larger Holiday Inn further down Memorial Drive (closer to downtown), and after that hotel closed in 1986, the era of Memorial Drive being a hotel corridor ended for good.