TEXAS AVENUE SOUTH
Like the other entries in this page, the "Years" do not necessarily indicate when it opened or closed unless otherwise noted.

COLLEGE STATION CITY LIMITS/BRYAN BEGINS

100:
1962: Dutch Kettle Snack Bar (had to be the first year open, as a 1961 aerial is empty)
1969: Pickwick Coffee Shops (still branded as Dutch Kettle at this point?)
1977: Schlotzsky's
1984: Schlotzsky's Sandwich Shop
1989: Schlotzsky's Sandwich Shop
2005: Snowflake Donuts (officially listed as "Dalin's Donuts")
Note: Demolished in 2012 for Northpoint Crossing/Plaza Hotel demolition project

104:
1969: Turf Green Miniature Golf Course (see 120)
1984: Texian Inn (according to phone book, "open fall 1984 in Bryan")
1989: Comfort Inn
1993: Comfort Inn
1999: Comfort Inn
2005: Kiva Inn
2007: Knights Inn
2014: Knights Inn
2015-: Econo Lodge (rebranded early this year?)

106:
1969: Western Motel

107:
1969: A&M Plastic Engraver

110:
1969: Sands Motel (probably renumbered later, as it was just north of the Ramada)

120:
1980: Turf Green Miniature Golf Course (renumbered from 104?)

200:
1998-: Applebee's (opened early to mid 1990s)

204:
1989: Western Motel (renumbered from 106)

209:
1969: Tastee-Freez

301:
1969: A & M Imports (auto service)

320:
1989-: Hampton Inn
(opened sometime in the 1980s)

401:
2005-: Sonic Drive-In


403:
1969: Bill Cooley Conoco Service


410:
1969: Ramada Inn
1980: Ramada Inn
1984: Ramada Inn
1989: University Tower (rename that year?)
2005-10: Plaza Hotel & Suites (renamed that year and closed in 2010)
2011: abandoned (though all signage remained up)
2012: empty lot (imploded earlier that year)
Note: This address no longer in use, now Northpoint Crossing development. Also, the 1969 directory also lists Texas World Speedway here. Were the offices here or was this just a screw-up for the new track located far south of town? [view blog post for this building]

411:
1969: Bank of A & M
1980: Tokyo Steakhouse
1984: Tokyo Steakhouse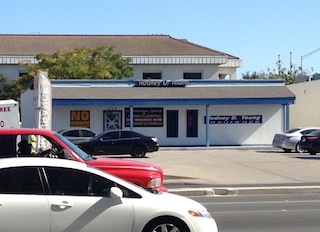 413:
1966-1980s: Pizza Inn (No. 65, building built in 1966 and verified open that year, open in 1980 but gone by '89)
1989: Star Video
1993: EZ Pawn
2007-17: Rodney D. Young Insurance
2018-: Legacy Tattoo Lounge (it's possible that the exchange happened early 2018)
420:
1969: Wilton Johnson Gulf
1980: Piper's Gulf Service Station
1993: Piper's Chevron Service Center
Note: The change to Chevron happened in 1989 as part of a national switch, and it was closed around 2005 (demolished c. 2006). It is now on the site of Northpoint Crossing (World of Beer).
425:
1969: Shell Service Station

UNIVERSITY DRIVE STOPLIGHT
501:
1969: Mais Super Market (likely just convenience store)
1980: Sigmor Nine Ninety Seven Gas Sta. (or so says the directory)
1998: Diamond Shamrock (last year open)
2005-: U-Haul Moving Center (by this year they had assumed the address)

509:
1969: Wisnieski Philips 66 (based on the fact that this is before Poplar, this is likely the southern part of the U-Haul today)

519:
1980: Texas Avenue Moving Center
1998: U-Haul Moving Center
1999: U-Haul Moving Center
Note: by the mid-2000s, they had not only expanded to the vacant Diamond Shamrock but assumed address
603:
1969: Alford Texaco Service Station (also a listing for "United Cab Co." at this address)
1998: Adult Video (though it never went in phone books or directories as that name, instead "Dolar Video")
Note 1: After its demolition in the mid-2000s, the replacement, Fuego Tortilla Grill, opted for a Poplar address, likely because it was farther back and on empty lots AV had used for parking, and no, Adult Video was not in the former Texaco.
619:
1969: Want-a-Burger (likely current spot of Denny's)
701:
1969: Saber Inn (hotel and restaurant--opened around '57, torn down around 1982)
1980: Saber Inn
1983: Baker Street Restaurant & Bar (first year open? rebuild from Saber Inn)
1984: Baker Street Restaurant & Bar
1999-: Taco Cabana
Note: No listing found for 1993.
LONE STAR PAVILION STOPLIGHT
Note: With the exception of 813-817, the 800 block was demolished for Lone Star Pavilion (700). The other exception is Best Buy, which kept an 800 address.

711:
1998-: Barnes & Noble Booksellers
715:
1998-: Office Depot
801:
1969: Arnold's Barbecue
803:
1969: vacant
805:
1969: Nelson Mobile Homes Inc.
1999-: Best Buy (definitely a different building)
807:
1980: Pasta's Pizza Spaghetti & Lasagna
811:
1969: Dr. O.C. Cooper (phys)
1980: The Wheel World (bicycles, also served as Greyhound bus terminal)
813:
1984: Red Lobster (remained in listings since this time)
2005: Red Lobster (which moved out around 2007 or 2008)
2012-: Lupe Tortilla (opened that year, replaced the vacant Red Lobster)
815:
1969: L.E. McCall Enco Products Service Station
2002: Andy's Food Mart #2 (Texaco station)
2017: 1 Up Repairs Note: The gas station closed 2003. They were changing out signage to become a Shell station but never completed. It had sat vacant until it was finally re-tenanted well over a decade later.
817:
1969: Jones Pharmacy (same listing in 1980)
2005-: Aggieland Cycling (at least since 2005, though no listings found even in 1999)
819:
1969: Jim's Hair Styling
901:
1969: Aggieland Service Station (might've still been a Mobil?)
1980: Mobil (Ronnie Fox Aggieland Mobil Service Station)
1000 South Texas Avenue was originally Texas A&M University back in '69. Dunno when that ceased being the case.
WALTON DRIVE/NEW MAIN DRIVE STOPLIGHT

1037:
1962: Coach Norton's Pancake House (built and opened this year)
1969: Coach Norton's Pancake House
1970: Fontana's Italian-Mexican Restaurant (unrelated to later Fontana's)
1986: Mama's Pizza (last year open at this address?)
1993: Shanghai Chinese Restaurant (1993 directory)
1996: Shen Zhen Chinese Restaurant (1996 phone book)
1998: Snuffers (hamburgers, Dallas-based)
1999: El Arroyo Restaurant
2002: vacant (at least of April)
2005: Cazadores Mexican Restaurant
2009?-11: Fontana's Authentic Italian Food (unconfirmed opening date)
2012: Fowl Digits (opened that early that year but renamed before the end of the year)
2012-13: Sully's Sports Bar & Grill ("reopened" the year prior, same owners, new menu, closed 2013)
2014-: Torchy's Tacos (opened that fall after extensive renovation)
Note: There is a blog post for this building.
1045:
2000: Wings 'n More
2003: Kerri's Stacked Enchiladas
2006-: Raising Cane's Chicken Fingers (No. 38, open June 2006, new building)
1055:
1969: Both Home Finder Realty and George Riley Insurance Agency
1063:
1991-: Chili's (source)
Note: This updated a few times, including adding their large fiberglass chili over the entrance, and later to the modern logo (late 2014)
GEORGE BUSH DRIVE STOPLIGHT
1400:
1969: Joe's American Service Sta. (unknown brand)
1998: Zip'N Food Stores No. 10 (Shell)
2005-: Panda Express (rebuild--opened that year, possibly 2004)

1503:
1973-2005: Holiday Inn (may have pulled out as early as 2004)
2005-2008?: Clarion Inn
2008-2010: College Station Inn (College Station Inn by 2009, under heavy construction in early 2011)
2011-: Four Points by Sheraton (renovated inside and out)
Note: There is a blog post for this building.

1504:
1989-: Jack in the Box (No. 683, appears to have opened sometime in the 1980s)
For the even-numbered addresses in the 1500-1700 block, please visit this post at Brazos Buildings & Businesses.
1900:
2002-: H-E-B (opened that year) [view blog post for this building]
HOLLEMAN DRIVE STOPLIGHT
2000:
1994?-2004: Olive Garden (opened early to mid 1990s, catastrophic fire in 2004)
2010-: Chase Bank (built late 2000s after fire)

2001:
1993: Tom's Barbecue & Steakhouse (closed 2001?)
2004:
1998-2015: Hastings (pretty sure it opened in 1998, closed 2015 for sure)
2016-: Havertys Furniture (opened August, about a year after Hastings bit the dust)
Note: The Hardback Coffee Café opened at some point in the mid-2000s as part of a renovation. It closed shortly before the store.
2026:
1991-2002: H-E-B Pantry Foods (opening confirmed through InSite Magazine)
2003-12: Gattitown (confirmed dates of opening/closing)
2013-: DSW (opened that year)

2100:
1992-: Target (T-800, opened that year)
2102:
1998-: Outback Steakhouse (opened early to mid 1990s)
MANUEL STOPLIGHT: Installed sometime in the early 2000s, mostly for Target traffic
2319:
1989: Pop's Barbecue (see ad here)
1998: Epicures Catering
2011: Tiremax (new that year?)
2012-: BCS Tires & Lifts (name change due to parent company failure)

2322:
1984: Jade Garden Restaurant
1989: Confucius Chinese Cuisine
1999: Confucius Chinese Cuisine
2002: Confucius Chinese Cuisine (from my memory, this is the year the restaurant closed. It was demolished for Walgreens around a year later).
2306:
2003-: Walgreens (first year open?)

For all even-numbered locations in the 2400 block, please visit this post at Brazos Buildings & Businesses.

SOUTHWEST PARKWAY STOPLIGHT
2500:
1980: Pelican's Wharf
1984: Pelican's Wharf
1993: Pelican's Wharf
1996: Pasghetti's
1999: Royers' College Station Café
2002: vacant
2005-: NailSpa (either opened that year or in 2004)
Note: There is a blog post for this building.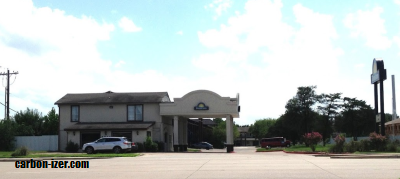 2514:
1983: Shiloh Inn (despite listing, ad appears to showcase name change to Quality Inn)
1989: Quality Inn
1993: Quality Inn (changed that year to Days Inn?)
1999-: Days Inn (at some point in the 2010s the signage was updated)
[view blog post for this building]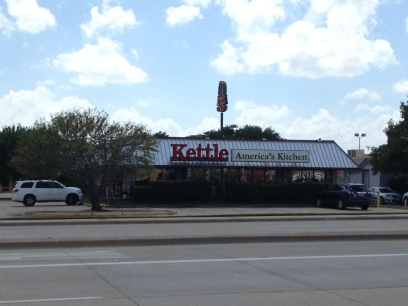 2502:
1989-: Kettle Restaurant
KRENEK TAP ROAD STOPLIGHT
2611:
2015-: College Station Police Department
Note: This has been the police station for nearly 20 years prior, though at some point until the early 2000s was also the courthouse.
2615:
2000-: Cy Miller Park
Note: This has also been here for many years.
For all even-numbered locations in the 2700 block, please visit this post at Brazos Buildings & Businesses.

2715:
1999-: Midas Auto Systems Experts (car care)

2717:
1994-2005: First American Bank (opened January '94, converted to Citibank name in 2005)
2005-2014: Citibank (conversion)
2014-: BB&T (conversion)
Note: There is a blog post for this building.
HARVEY MITCHELL PARKWAY STOPLIGHT
2801:
1983-2001: Jimmy Jackson's Exxon (opening and sale date, according to daughter)
2001-: Franky's Exxon
Note: There is a blog post for this building.
2900:
1995-: Sonic Drive-In (it's been here for a while)
3129:
2004: Big Diamond No. 1 (Diamond Shamrock)
2007: Burger King (first year open!)
---
HIGHWAY 6 SOUTH
Note: After the Deacon stoplight, the numbering continues as "Highway 6 South". Notable is D&D Moving & Storage, which actually signs itself as a Texas Avenue address.

4050:
2004-2017: Aggieland Fitness Dome (1/04-5/31/17, one expansion c. 2010)
2018-: Christland Church (permanent tenant)

4330:
2014-: Saltgrass Steak House (opened this year)

4340:
2016-: Aggieland Credit Union (opened this year)

4344:
2016-2017: Bush's Chicken (opened 1/16, closed 10/17)
---
---
Back