Long time readers may recall my Two Way Roads adventure to Corpus Christi, where I first regaled readers with my tales of Sunrise Mall and my wish to try rum raisin ice cream (which I eventually did--they had the largely-Florida-exclusive flavor at the Blue Bell factory tour I went on with a school group in fall 2014, where in retrospect was tragic or ironic, they bragged that they never had to do a recall), but this trip was from circa 1999, when Corpus Christi seemed less run-down than 2007, and the flagship Whataburger, the two-story Whataburger by the Bay, was brand-new (like, less than 3 months), and offering things rare to fast food restaurants at the time (coffee-based menu items at a time when everyone else just offered coffee). What we did wasn't too well recorded in my mind besides go to the beach and visit this special Whataburger, but we did visit the U.S.S. Lexington, a permanently docked naval carrier. At the time, I believe it was the second ship museum I remember going on (after the U.S.S. Kidd in Baton Rouge). I'm not sure why I kept this brochure over these last 16 years, but here it is, complete with what appears to be stray crayon marks on the back (I was young!)

As you can see by my writing, I was very adamant as to what "Flight Simulator" and "Big Swing Cafe" were actually called...

Click on the thumbnails to see full size.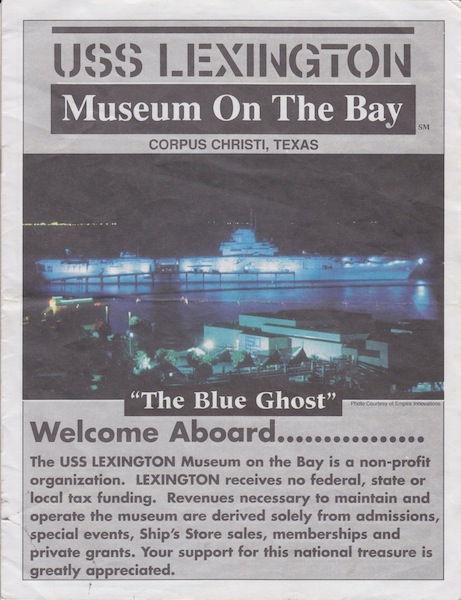 last updated october 13 2015