THE LEGACY OF RATTLERS'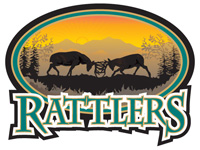 2004 was a pretty good year in my life, and one of the things in that year was the fact that the intersection of Holleman Drive and Harvey Mitchell Parkway, not far away from where I lived at the time, had a large lot torn up for a large gas station with what appeared to be a Wendy's and space for a large convenience store. It was called "Rattlers' Country Store" (later just Rattlers') and was decorated with corrugated metal on the inside as well as a complete convenience store selection. It was the first I had seen of the store and they quickly began cropping up elsewhere in town as it was a new brand out of a local company that owned Exxon stores in the area, though the Rattlers' here was a Shell. As I later found it, it was the first Rattlers' store to be built from the ground up (#7), and as the years went on, Rattlers' would continue to expand in the greater Texas area in the "Texas Triangle" between Houston and Austin. Rattlers' wasn't anything special, it was a convenience store with its own charm but for a long time was the only "real" convenience store in town. Corner Store hadn't really found its own identity yet (besides, there weren't any in the market), brands like "Handi Stop", "Zip'N", and "Max Food Mart" were all just fairly generic stores without much differentiation between them, and major stores like 7-Eleven and Circle K had fled town many years before.
Rattlers' never had a memorable foodservice department or special items but they were clean and well operated, and also for a number of years, operated as contract stores on the Texas A&M University campus where they operated with a modified merchandise mix. They seemed to operate almost everywhere, and as the years went on, Rattlers' just seemed to get bigger and bigger, with new stores in small towns. Rattlers' just seemed to be getting bigger and bigger, and they even opened their own self-branded store in south College Station in 2015 (store #19). Rattlers #20 was an acquired store in Victoria, Texas.
However, it was not to last. In spring 2016, it was announced Kolkhorst Petroleum was selling the Rattlers' chain to Sunoco, and by extension its subsidiary Stripes. This I wasn't too happy about, as I always felt like Stripes wasn't as good as Rattlers despite heavy expansion before and continuing into Sunoco's ownership. The purchase even ended up having #7 and a recently-built Stripes with Laredo Taco Company competing across the street with no oversight. In a bizarre twist, one year later before the Rattlers stores were even "officially" rebranded as Stripes (still lacking features like Stripes' "Slush Monkey" drinks instead of ICEE), it was announced the whole convenience store division of Sunoco would be sold and converted to 7-Eleven. I was a fan of 7-Eleven in the early 2010s and maintained that Slurpees were superior to ICEEs but the news hit me out of left field. There had been 7-Eleven stores in Bryan-College Station (quite plentiful, in fact) but they sold out many years ago. Now, with the two TETCO stores that had been Speedy Stop, 7-Eleven could once again thrive again in my town. But that would mean that Rattlers as I knew it would be completely gone in favor of a homogenized gas station that could be found virtually everywhere else. The 14 stores I determined are listed below, as the Victoria article probably included the acquired Whistle Stop as the 14th as well as the Corpus Christi store would make 14, as of the 21 numbered stores, La Grange had the rebuild (so 20), the three defunct A&M stores were excluded (17), the stores that closed prior to 2008 and were never Rattlers (#1 and #5, so 15) and the short-lived Somerville store would indeed make 14.
In January 2018, Sunoco completed its sale of its convenience stores to 7-Eleven. As of this writing, Rattlers, as a brand, still exists, even if the stores are Stripes in all but name. With the news that Sunoco is selling its convenience store brands to 7-Eleven, it likely means that the Rattlers stores will be converted to the 7-Eleven name instead of changing signage to Stripes. You'll notice #15 isn't listed as it seems to overlap with #4. None of the stores that were sold to 7-Eleven were divested, but the former Whistle Stop in Victoria closed anyway.
The sale of Sunoco's convenience stores meant that the stores would ultimately become 7-Eleven, not Stripes, and since then, a few stores have closed, and in one case, converted to 7-Eleven officially.
The 2008 company directory which I got the store numbers did not list #1 or #5. A 2005 directory of the College Station area (thus it didn't list La Grange) mentioned 425 Texas Avenue South in College Station, an Exxon (built 1993). This store was sold from Javico Inc. (alternate name of Rattlers) to an independent in late 2005 (if it had the Rattlers name briefly, it was likely only for less than a year). 4175 Highway 36 in Brenham was another store (also an Exxon).
The La Grange situation appears to be that it ceased being a Rattlers' in 2005 and re-acquired in 2009, so that there's two store numbers. As a result, #15 does not appear in the list (see #4). The "Gas Brand" and "Food" reflect what they were like under Rattlers', not currently.
#
Address
City
Opening
Sold to Stripes?
Still in the 7-Eleven family?
Gas Brand
Food
Notes
1
425 Texas Avenue South
College Station
1991
No
No
Exxon
--
Sold by 2005.
2
1701 East Washington Avenue
Navasota
?
Yes
Yes
Exxon
--
It's not #1 despite being next to Kolkhorst Petroleum.
3
891 North Earl Rudder Fwy.
Bryan
1996
Yes
No
Exxon
Wendy's
Possibly became Rattlers in 2004. Still retains Rattlers branding as of 2021 but disconnected from the 7-Eleven/Stripes chain.
4
2409 Texas State Highway 71
La Grange
Yes
No
Exxon
--
This was a rebuilt gas station from another store (pumps new, convenience store old). It wasn't a Rattlers from 2005 to 2009, resulting in a new store number later. As of March 2021, now "Snappy's Market".
5
4175 Highway 36 N.
Brenham
2004
No
No
???
--
Appears to have been sold off by 2005, despite being acquired in 2004.
6
1804 South Blue Bell Road
Brenham
?
Yes
No
Shell
--
* Appears to be a former Exxon, likely acquired from other operator, also appears in listings as 1804 S. Horton (same road). * Closed by 2018.
7
2050 Holleman Drive West
College Station
December 2004
Yes
No
Shell
Wendy's
*First store to be built as a ground-up Rattlers, I remember that Dec. 2004 was the date they said it would be open.
* It became a Sunoco in February 2018, despite already being transferred to 7-Eleven technically. Ironically, the Stripes across the street (built with Exxon gas) was never converted to Sunoco.
* Wendy's closed 9/30/20 with the Rattlers (and the whole station) closing at the end of November 2020.
* Station reopened as a Shell with "Campus Corner".
8
2401 East 29th Street
Bryan
2007
Yes
No
Exxon
Burger King
New-build. No longer Rattlers as of early 2020 (now "Rustlers' Den").
9
1703 Highway 105
Brenham
?
Yes
???
Exxon
Subway(?)
Appears to be an acquired store.
10
9009 Highway 290 East
Chappell Hill
2008?
Yes
???
Shell
Burger King
For some odd reason, I find that this store is listed as #8 in a few listings. Converted to Sunoco after Stripes purchase.
11
233 Houston Street
College Station
2009?
No
No
--
One of the A&M locations, contract ended around 2013-2014. Located inside Sbisa Dining Hall.
12
676 Lubbock Street
College Station
2009?
No
No
--
One of the A&M locations. Listed as being in Brenham in a few listings. Converted to a generic convenience store around 2013-2014 and later removed entirely in renovations. Located inside The Commons.
13
309 North Travis Ave.
Cameron
2009
Yes
???
Exxon
Pizza Inn
Unfortunately, Pizza Inn has since closed.
14
17393 Highway 36 South
Somerville
No
No
?
Valero?
--
Possibly renovated from former Mobil from garage but appeared to be gone by 2013. The locator from 2013 has it but never seemed to be actually branded AS Valero.
16
322 East Main Street
Bellville
Spring 2011
Yes
???
Valero
Krispy Krunchy
Krispy Krunchy just appears to be a counter inside.
17
426 East Austin Street
Giddings
2013
Yes
Valero
???
Burger King
This was converted to Sunoco by 2017.
18
200 University Drive
College Station
2013
No
No
--
One of the A&M locations, contract ended around 2013-2014. Located inside Hullabaloo Hall.
19
1780 Greens Prairie Road
College Station
March 2015
Yes
Yes
Rattlers
--
The last Rattlers store ever built and the only one with a self-branded gas brand (if briefly) before being turned into Sunoco (shortly after acquisition). In September 2020 it became a 7-Eleven officially...despite still being on Stripes programs.
20
8501 N. Navarro St.
Victoria
September 2015
Yes
No
Valero
Burger King
* Opened as Coastal in 1997 (with King Mart, and had a Baskin-Robbins inside) in addition to the Burger King.
* Both closed in the early 2000s and reopened in 2003 as Whistle Stop with Diamond Shamrock.
* Neither Rattlers' or Stripes rebranded the convenience store.
* Closed in May 2018 as part of the 7-Eleven merger.
21
13433 Leopard Street
Corpus Christi
September 2015
Yes
No
Valero
Burger King
Former Whistle Stop. Originally built as a Chevron, and sold to Checkout by summer 2019.