I created this page for a number of reasons. First off, I want to preserve a part of my past that no longer really exists. Memories are important to me. Second, I liked Splashtown and wanted to immortalize it on the World Wide Web. Thirdly, I know that Splashtown exists and is open, while Astroworld (closed for nearly five years...) is not. While I think Astroworld shouldn't have been closed, I can't really make a website for it as I have no original source material and I've never actually been to it. Besides, there are other Astroworld sites on the Internet.
History
Partly from Wikipedia, which I actually contributed partly to...
In the early 1980s, Splashtown USA opened in Spring, Texas, which was formerly the location of a small theme park called Hanna-Barbera Land. The original name was "Splashtown USA" but the "USA" was dropped soon after the first year. Around the same time as Splashtown USA opened, another Splashtown in San Antonio opened. Although the parks split ways in 1994, the park continued. In 1999, Six Flags Inc. bought the park without actually touring or inspecting it. Soon after, it was renamed "Six Flags Splashtown". After Astroworld closed in late 2005, Splashtown experienced a shuffle in their staff, including the new Splashtown Operations Manager being the former operator of Astroworld's "Waterworld" water park area. Early 2006 saw a clean-up of the park with renovated buildings, but in early 2007, Six Flags sold the park again, renaming the park to "SplashTown Waterpark Houston".
Maps
This one is from 2002. Caution, it's big!
Rides and Attractions
Space Rapids was one I remember well from my first trip in 1999. There were three slides. All of them had a Star Trek theme: I know one of them was called "Enterprise", and that was the one for the tubes. (I think another one was "Discovery") Later, the red canopy became shredded and old (even after the "repaint" circa 2006)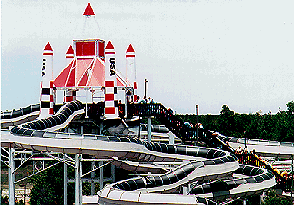 Picture Credit: http://web.archive.org/web/19970427084433/www.splashtown.com/STRides. html
Originally, the slide was the "Serpentine" and was open-air. Sometime in the mid-1990s (I think, possibly 1996), the slide was enclosed and re-named to the current "Space Rapids".
In the park's days as Hanna-Barbera Land, this was called "Silly Stix" and designed to resemble Tinker Toys. When Splashtown came, it was renamed and repainted to Pepsi Pavilion. (information and photo courtesy Mike Brister)
In 1998 (or 1997), Pepsi Pavilion was rebuilt into the Wild Water Works Factory. This involved a repaint to yellow, red, blue, and green. As a kid, it was definitely one of the more intimidating looking rides. Spiraling down like a penny isn't nearly as bad as the very fast tube that shoots into the funnel. There's also a way to squirt people with water from the line queue, but on most of my trips they didn't work at all or were really weak. Either way, don't think you can hit people dead on and make them screw up. Just...didn't...work.
The Blue Beast was apparently one of the charter rides and was a one-person flume slide. Unfortunately, it was plagued with problems. Misplaced foundation blocks caused problems: test riders hit the top due a severe drop that really wasn't supposed to be there, the fiberglass sections were not aligned (causing scratches). Although the worst problems were fixed, the slide still had major problems (it was too narrow). Once the Texas Freefall was built on the same structure, the lower slides (presumably the worse ones) were removed in the late 1990s, with the rest coming down around 2003. (information courtesy of Mike Brister with some from the HAIF's "cosmic08"). Photos courtesy of Mike Brister.
More statistics about the Blue Beast (from the 1999 version of the Splashtown website) was that there were still four flumes as of 1999, with the tower height being 54 feet, two twin loops being 214 feet linear distance, and two serpentines 376 linear feet.
The Texas Freefall (although some maps mention it as "Ozarka Splash") is the park's flagship ride since its introduction in the mid-1990s (I would say 1996), as it was not a charter ride. It was built on the same structure of the Blue Beast. It seems that the upper two flumes were removed for it, but there are indications that all four flumes and this co-existed, so it's possible it was built on top of it. Photo courtesy of Mike Brister. Anyway, this thing is huge. It's seven stories tall (80 feet) and about 190 linear feet. I've never actually gone on this ride...I was always too freaked out to go on it.
The obligatory lazy river in Splashtown is the Guadalupe River Adventure, even though the Guadelupe River is some hundred miles away and in the city of one of their rivals (Schlitterbahn). Anyway, the loop is about 1,100 feet, 13 feet wide, 3.5 feet deep, with 375,000 gallons pulsing through it. According to Mike Brister, the lazy river features seven pumps, but they never run more than three or four. It is a well-known fact among former Splashtown lifeguards that people did obscene things in this attraction. If you go through it today, you will notice the abandoned Hydra heads under the Zoom Flumes.
The Hydra was the original charter ride of the park and remained until around 2002. It was then dismantled in 2004 (though it could've remained open for the 2003 season) and remained empty until 2007, when the space became RipQurl. According to the 1999 Splashtown webpage, there were three slides: Screamicles, the free-fall slide. It had a 54 degree drop, was 66 feet tall and 223 linear feet. There was also Longdropicus, which was as tall and as linearally long as Screamicles, but slightly more mild. Finally, there was Weaknesicles, which was based on speed. In my short time knowing Hydra, it seemed it was easy-medium-hard (with Screamicles being "hard" and Weaknesicles being "easy". Regrettably, when I finally tried Hydra (in its last years, by that time, Screamicles was closed), I still found Weaknesicles rather intense, and I blame it on my mother's genes that I can't really take fast waterslides or roller coasters. Photos by Mike Brister.
Shotgun Falls contains two slides that go very fast down into deep water. It's the deepest pool in the park (10 feet) and is located on the upper level of Blue Lagoon Activity Pool. Despite the speed, it is comparatively mild. Oh, and it's also 62 linear feet. Photos by Mark Brister.
The Blue Lagoon Activity Pool is the larger area that Shotgun Falls is in. In the upper level, in the Shotgun Falls pool, there's a rope swing and jumping point. The lower level, at least of 1999, had a lily pad walk (floating plastic lily pads), water cannons (likely squirters), log walks (???), water geysers (water shoots straight up), ring swings, water stairs (I guess water flowing over them?), and a "cold spa". To my knowledge, these all remained as of 2006, but I don't know about it before or after.
Also, the Wild Wave Pool is very hard to photograph it (it is rather large). This is another of Mike Brister's photos. There's supposed to be a blue canopy over the stage, but it was gone in this picture. There's also (and to this day) a roped-off area in the deepest end of the wave pool. It's less about fears of less-experienced swimmers drowning than it is the risk of getting sucked into one of the giant air chambers used to create the pool.
As for statistics, the wave pool is 19,000 square feet on surface and has 575,000 gallons of water. Splashtown (at least of 1999, and I'm sure it still holds) claimed that it was their most popular attraction. Popular yes...it's very crowded and the water is much more yellow-looking than the rest of the park.
The Texas Treehouse is a "water playground" with a 1,000 gallon bucket that tips over every five minutes. According to the 1999 Splashtown page, there were over "50 activities", but I don't think so. A lot of those are things that include high-blast water spraying down on you, aforementioned bucket, and a few gentle waterslides that are a notch above the things at McDonald's. Photo courtesy 1998 Splashtown website.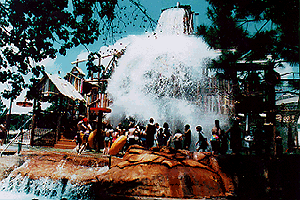 http://web.archive.org/web/19980421074615/splashtown.com/images/Photo1. gif
I don't have pictures for Thunder Run. It opened in 1999 and replaced Rampage. You ride in a tube that seats two (or is it three)? If you have pictures, please contact me!
The Tornado opened in 2005, but it wasn't original to Splashtown. If I recall correctly, Tornado opened in a few other SF waterparks but there could be more. Hence, the picture shown is not of Splashtown, but I can assure you it looks almost identical. Right down to those weird-looking "cloverleaf" tubes, which seat four. And no, I never went on this ride.
Thanks for reading! Coming Soon: Zoom Flumes, RipQurl (2007), and Stingray Racer. Also, the places to eat, and possible additional history of "Hanna-Barbera Land".