---


| | |
| --- | --- |
| Title: | |
| Genre: | |
| Developer: | |
| Publisher: | |
| Release Date: | |
| On Wikipedia: | |
| Systems: | |
| Buy/Info: | |
| Number of States East of Mississippi River (including Louisiana): | |
I wrote about American Truck Simulator before back in 2021 with a weird dream that I didn't really explain (or needs to be) and mostly explained about the experiences I had with the game, which were less than flattering.
There are two problems. The first was that I wanted to try it again after the Texas DLC was released, and if I should buy it. The answer to that was a resounding no. There were a few things I was looking for. I was disappointed that Bryan/College Station was a no-show. On a personal level it's my hometown and I've written a lot about it, which is jam-packed full of nostalgia about my childhood and then some, maintaining it since I was barely out of high school. Bryan-College Station is halfway between Houston and Waco, it has all sorts of trucking industries (especially on the west side, which could've been simulated without much issue), and in real life can get troublesome on the highway at the wrong times. Moreover, US-190 is there, yet Bryan is not. It wouldn't be that hard to just throw some iconic things like Kyle Field along "190" then put the other industries as it curves north. Then again, there aren't a lot of recognizable landmarks in the area...the iconic "Kyle Field" I knew (prior to 2014) is dead and gone. Either way, it wouldn't be any more than some set pieces (like all of the cities, really) but I'd still appreciate the thought.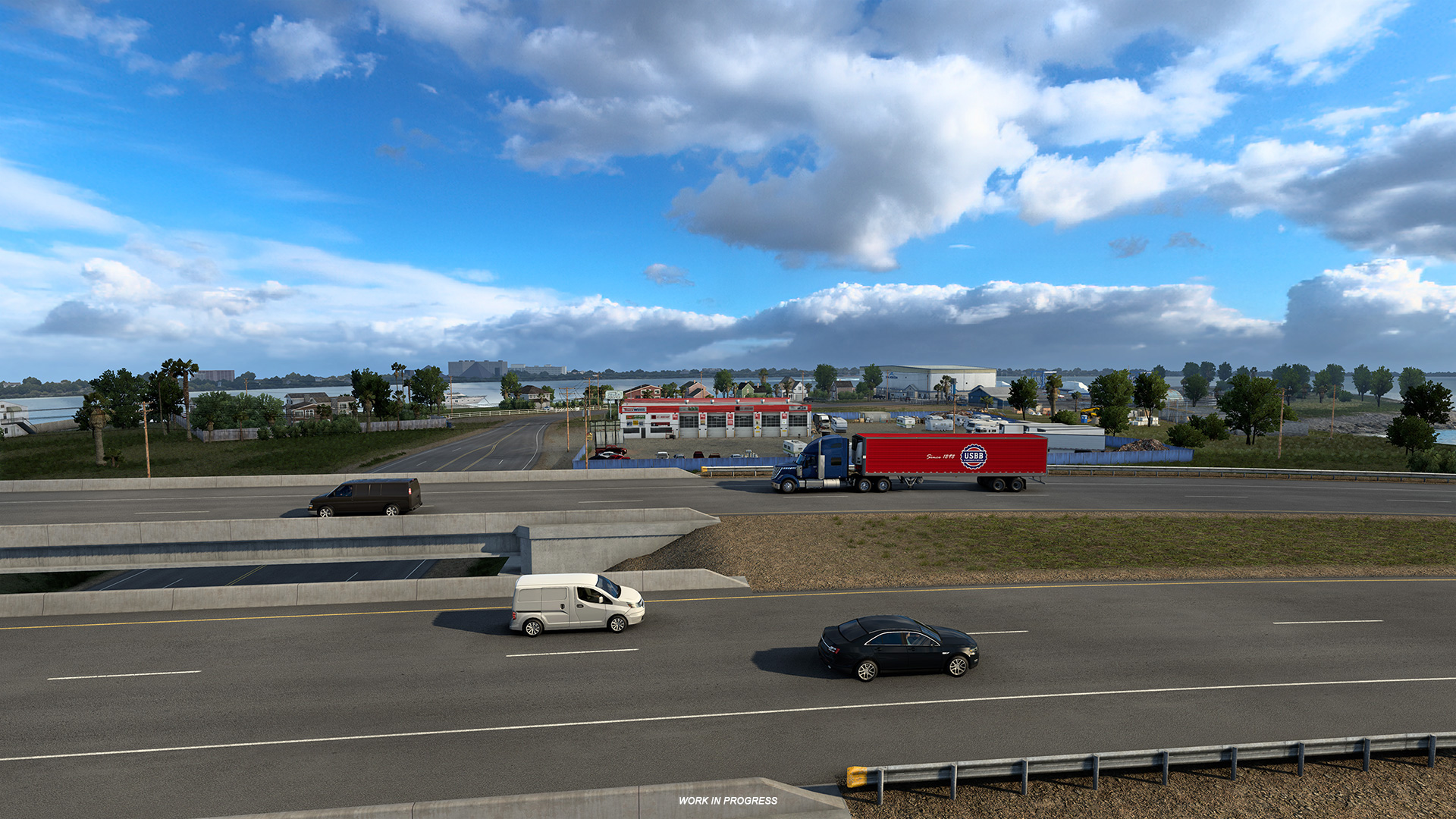 Naturally, the bigger cities suffer cuts as well. Austin's "big feature" in ATS is the five-stack junction of Highway 71 and I-35, but that's it as far as highways are concerned. Mopac Expressway, a.k.a. Loop 1, Austin's alternate north-south highway where for (at least part of it) trains will often rumble through the median, is left off. Houston is cut down even more, with no loop roads, no 290, no South Freeway, no 249. Most egregiously, despite I-10 connecting Houston to San Antonio, the ultra-wide Katy Freeway section doesn't exist in-game so no coasting around 5+ luxurious lanes.
The game isn't very moddable, either. I like the fact that it looks the way it does, and while there are some texture mods to restore a few brand names, there's no easy way to swap in or out buildings, roads, or scenery, so you can't mod your way into a more realistic city. Part of the reason why College Station got the shaft is that Highway 6 in its entirety got cut out, so by extension, no 290 either (and with it, a major Austin-Houston route gone). Knowing me, I probably wouldn't be happy with their depiction with 290, whether it's the pre-construction 290 or not. Northwest Freeway has gotten a amazingly in-depth page on Carbon-izer, and there are so many landmarks just on that side of the road that were covered in the page—Brookhollow Village, with its old Safeway store...the stuff around Fairbanks North Houston Road, which I just find the most iconic. AMF Windfern Lanes, the (former) Studio 6, the U-Haul, the (former) Kroger, the McDonald's, and of course that neon Cavender's Boot City sign. I understand why that stuff doesn't exist in-game, but if it were up to me, I'd start writing to every brand in the U.S. and consider anything that didn't request a fee.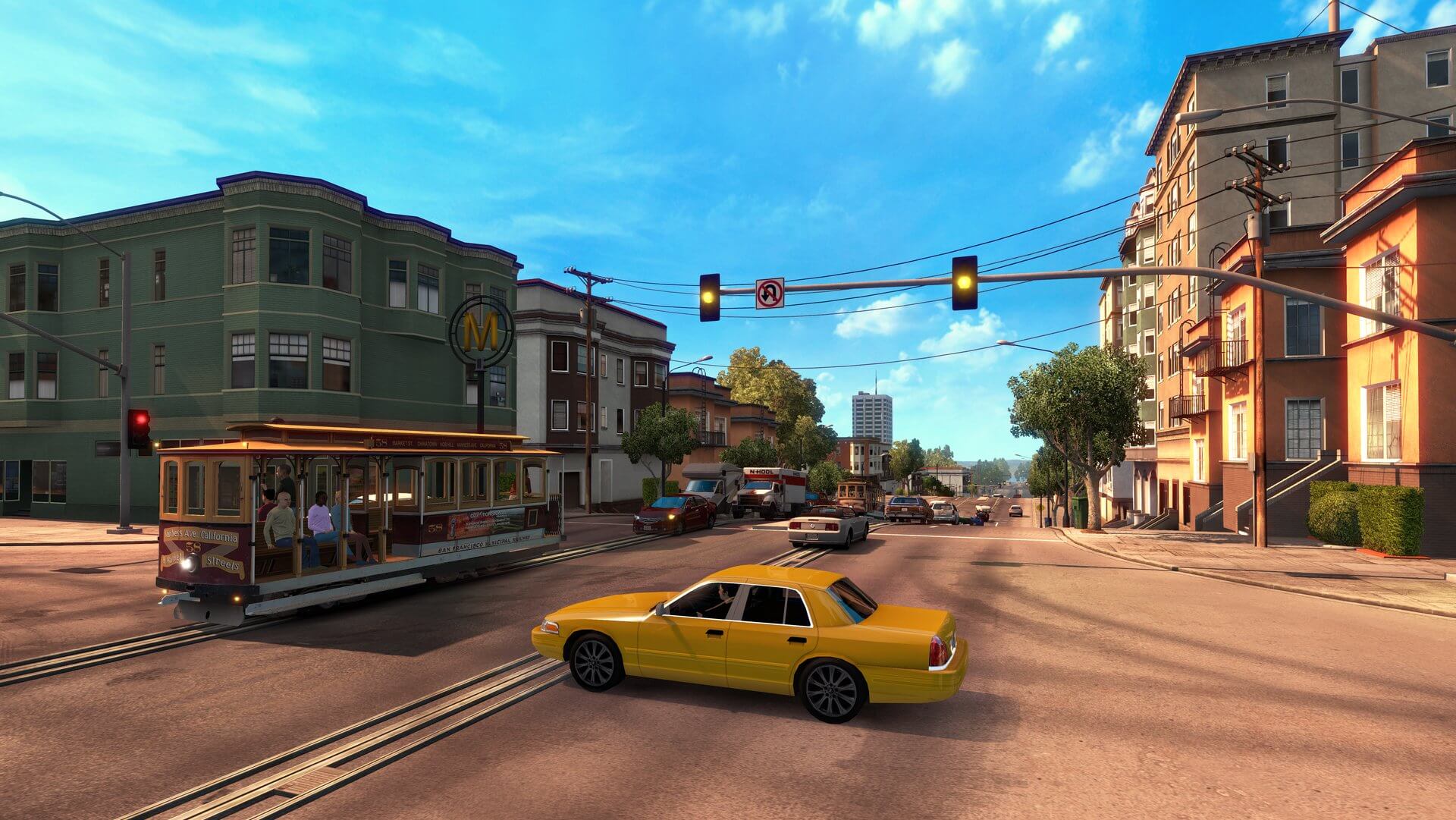 The second problem is my computer as of this writing isn't beefy enough to handle it. One time it frame skipped enough that I found my truck veered off on the side of the road on the opposing lane of traffic. This is perhaps the most unrealistic aspect of the game—anything like that in real life would be a horrific accident...and of course, with that sort of thing the immersion is lost. Maybe I'd enjoy it more with a better computer but right now even taking that into account it doesn't really scratch the itch I wanted, reminding me of those road trips I took as a kid, because the open road, with no businesses, no overpasses, and all that really was the time to be reading, playing Game Boy, taking a quick nap, or interacting with my siblings. I do enough driving with podcasts as-is.
I suppose it's related to my wish for a better city simulator. It does have better scenery than Cities: Skylines and its mods but it doesn't do enough in trying something new.
All the images used here are official images from the developer's website.
FINAL RATING: