---


| | |
| --- | --- |
| Title: | |
| Genre: | |
| Developer: | |
| Publisher: | |
| Release Date: | |
| System(s): | DOS, Amiga CD32, Atari ST, iOS (see below) |
| Box Art Credit: | |
| Systems Used: | |
| On Wikipedia: | |
Beneath a Steel Sky was one of the free GOG.com games (it was re-released as freeware by its developers several years ago), joining the likes of games like TeenAgent (which is vastly inferior but still enjoyable). Now considered a cult classic in adventure games, BASS takes place in a futuristic dystopian Australia, wherein one Robert Foster is taken from his home from "The Gap" and taken to Union City, one of the mega-cities in economic war with other mega-cities in the continent. From a helicopter crash similar to what got him orphaned and stuck in the Gap in the first place (see the intro video, with panels drawn by famed artist Dave Gibbons, creator of Watchmen). By the way, the video is from the original U.S. release, which changes the "Foster's" beer brand to "S.S. IPM (RAW)" ("WARM PISS") probably due to copyright rules, but also messing up why Foster was named as such (possibly the only video game protagonist named after a real beer brand).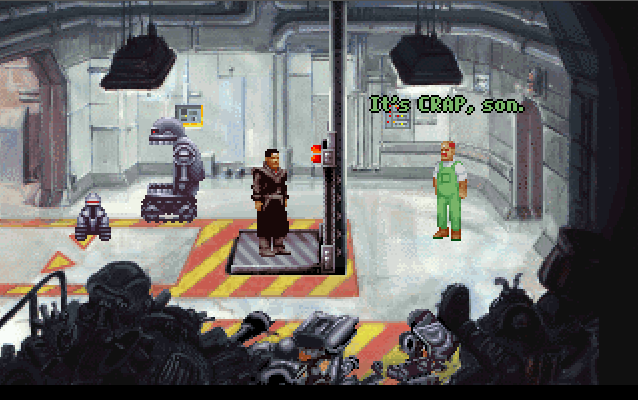 It's a point and click adventure game, similar to the LucasArts games. Normally these are sub-par, but BASS comes close to it. The puzzles aren't terribly obtuse, the music is good (I actually think it sounds better without a good soundcard--though you can download a music enhancement package) and has both decent writing and voice acting (both of which are relatively uncommon in themselves, especially in that era).
Sadly, the story starts out good but gets predictable in the third act of the game (you'll know what I mean) and the characters are memorable but somewhat underwritten. Even the best characters, like Joey, Robert's snarky robot buddy (based on a circuit board that you carry around) and gets several new bodies over the course of the game, gets a rather disappointing personality change by the end of the game. There's not too much to say else about BASS that isn't mentioned in HardcoreGaming101, though HG101 tends to focus on some of the funniest and/or dirtiest parts in the game (such as the posters of enlarged breasts and rears in the surgeon's office, or some of the language bits) or the "dramedy" storyline (which follows in the paragraph below) as Robert explores Union City and the mysterious LINC computer which controls everything (including ID card terminals). It's also worth noting that for a game set in Australia, there's only one person with an Australian accent (everyone else has British or American accents). Spoilers below.
As it turns out, as Foster discovers the city and its mysteries within, he plays right into LINC's hands and discovers his father, which created LINC and literally had fused with him. The backstory was that Foster's mother escaped with Robert (real last name being Overmann) years ago in an attempt to get away, but by now his father was old and weak, and LINC needed a new blood relative. The helicopter crash in the beginning of the game which lands Robert in the mess wasn't an accident...it was his father trying to spare Robert's fate from LINC. Everything else was an elaborate gambit to use Robert's natural curiosity to find out what's going on and playing right into LINC's hands. Ultimately, he uses Ken (Joey's board downloaded into an android, of which LINC was trying to replace all humans with) to replace Foster's father.
I played BASS sometime around April/May 2012 after reading about it in a book HG101 published, and finding it as freeware on GOG. There was "Beneath a Steel Sky: Enhanced Edition" released in 2009 for the iOS (but not the iPad, yet) that adds new Gibbons-drawn comic book panels for the cutscenes, and a new ending scene. But I haven't seen either of that, since I don't want to buy the game on my iPod and go through another run-through (I hate playing games on an iPod) to see it. Perhaps Revolution Software will release the Enhanced Edition for computers.
The GOG.com version is only the SCUMMVM files but comes with a walkthrough, manual, and other goodies. The full DOS version can be found here for DOSBox and derivatives.
May 16 2012 (with minor 2015 updates done)