---

| | |
| --- | --- |
| Title: | |
| Genre: | |
| Developer: | |
| Publisher: | |
| Release Date: | |
| System(s): | Windows, OS X, Linux, iOS, Android |
| Systems Used: | |
| Best Feature: | The atmospheric soundtrack |
| On Wikipedia: | |
Osmos is the most recent game I've played as of this writing (spring 2014) from the 2011 Humble Indie Bundle (which I've written some about). I immediately enjoyed the soundtrack after downloading (some of?) it in August 2012. Osmos, besides the fact that it has a name too similar to an old favorite of mine, unfortunately fell into a pit that I've seen other games in the HIB fall too: innovative concept, atmospheric soundtrack, nicely polished...but they can't do anything with it, basically creating some variations on the theme and becoming harder. It of course IS possible to create something engaging, even without good writing and voice acting, Portal is STILL able to keep its concept fresh (even though it wasn't an indie game, but it might as well have been). Osmos is basically about a cellular object trying to absorb others before it gets absorbs, but moving requires giving off your mass, so you have to balance both. It was fun to tool around with, but I got bored (and frustrated) within just a few days once I explored most of it (not that it wasn't a bad addition to the Humble Indie Bundle).
Part of the reason why this review is so short was because originally, I meant to write a full entry with other Humble Indie Bundle games that I acquired in 2011 (I say "acquired", not because I pirated it, but it was a gift from someone who paid an unknown amount to the honor system). Anyway, it was and since I've got your attention, Osmos I would lump in with two of the other HIB games that I liked less and less as time went on: Crayon Physics Deluxe and And Yet It Moves. More on those another time.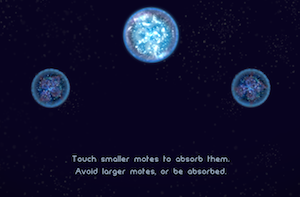 I should add that I'm writing this final paragraph months after the original review was made, but I changed the genre to "Puzzle(?)" because in this game, you don't have time to calculate your move, you have to move fast to "kill or be killed" and a lot of it requires resets to get yourself in a favorable position to win the level. That was one of the reasons why I quit playing...
May 1 2015