SimFarm
was one of the first farming sims available, and long before Zynga stole time (arguably, if anyone playing Farmville on work hours at a government job means Zynga was stealing
your tax dollars
), identities, and money, there was
SimFarm
, released circa 1992.
SimFarm, if anyone knows their Maxis history, was released in the immediate years behind the smash hit SimCity (the 1989 classic, not the 2013 embarrassment). Unfortunately, like the others: SimLife and SimEarth, SimFarm tends to be pretty dry, and not just because you didn't water.
One of things you'll notice from the get-go is that it starts your date at the current date, so I'm playing it and it's 2015. If you want to not send the date rolling into the distant future, rollback your computer clock just this once, preferably something to the 1990s.
One thing that definitely sets SimFarm apart from SimCity is that once things are settled, you can't just set the clock running to the fastest and leave it alone for a few hours, where your nest egg will develop when you do something more productive: but your crops will get stored in the silo (I'm not sure if they go bad, I don't think they do) while your taxes pile up.
Another interesting feature is that you can pick any place in America to start farming, with simulated wind/temperature/rainfall options for that region. If you're not American (or don't find a perfect place), don't worry, you can make your own settings. However, there is no way to plant every crop possible, much less at the same time.
Once you know what to do, it's not hard to get money rolling in and expand your farm. Unfortunately, it's very slow. It took me several hours on SheepShaver (a system far outpacing SimFarm's original system requirements) on "Ultra" to get even twenty years to pass. I could count the days go by (they're depicted by weather symbols at the top). 7 days, 4 weeks, 12 months, so they're clearly not cutting any corners in modeling the farm days. While that IS shorter than a real year, within just 3 in-game years, you've seen 1000 of those little icons pass by.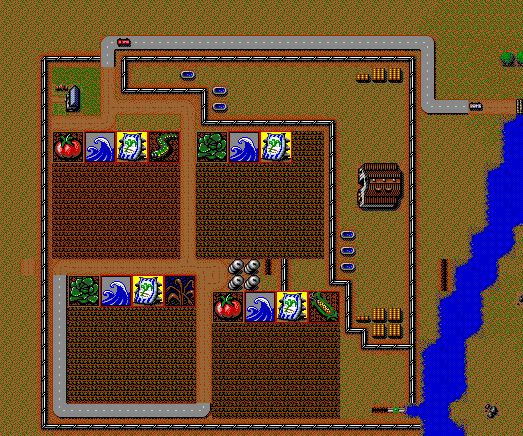 Graphics strongly resemble the original "SimCity".
The other thing is that it's hard to really lose. I had to waste money and do other stuff to try to make doom come upon me. I was tens of thousands of dollars in debt and all I got were foreclosure warnings in in-game years for non-payment. Eventually, and only through destroying any crop profits through needless roads or buying dozens of cows and letting them free, I was eventually able to drain my funds, force the sale of the homestead and end the game. But it was a very, very long process where I had to do extremely stupid things. This was kind of confusing, it was harder and more tedious than
SimCity
but harder to lose.
With very few exceptions, there's only one looping track, which sounds pretty good at first but you'll get tired of it soon after. Reading the jewel case (yes, I have the CD) talks about it being "SimCity's Country Cousin", which does have some truth to it since they appear to be built on the same code base. It makes me wish that SimCity and SimFarm had true interoperability--like you could import your existing SimCity file into SimFarm, and had the ability to add crops that way in the shadow of your thriving (or crime-ridden) metropolis, but not be able to edit the city. Meanwhile, SimCity would receive a patch that would interpret SimFarm data. Well, that never happened, and it's too bad that it didn't, because I think I would've liked that better.
February 19, 2015
Back....