I feel kind of bad about this page because I had actually rewritten the
Wikipedia page
...though it's debatable how much of that is still left, or what I had to work with.
CEO #1: Joe Albertson
Most of the early days of Albertsons isn't particularly well documented (or full of drama), and newspapers from the Idaho area of that time just aren't easily available (the FundingUniverse page explains it a bit better). The first store (1939, Boise, Idaho), in Boise, Idaho, was a 10,000 square foot groceteria palace with a number of innovations including an ice cream counter, in-store bakery, and a magazine rack, with new stores opening in neighboring towns over the next two years. In 1945, the company incorporated as Albertson's, Inc., which for the sake of simplicity, will largely be referred to without the apostrophe, much like the post-late 1960s stores were signed. (They also operated Albertson's department stores during the 1950s, though similar examples, like Kohl's or Buttrey, indicate they weren't true "superstores"). Albertsons crossed the state line in the 1950s, with the company adding Washington, Utah, Montana, and Oregon into its repertoire. Wyoming was entered in 1961, and California was entered through the acquisition (and presumably rebranding) of All American Markets (aka "Greater All American"). The buyout of All American to enter a market would be the modus operandi of Albertsons over much of the next forty years. With now well over 100 stores, Albertson ceded his position as CEO to J.L. Berlin, but remained on the board.
During this time, Albertsons operated department stores. Information on these is hard to come by, though some results turn up ads for "Albertson's Suburban Department Store". These appear to be either related to Buttrey Suburban department stores (closed in the 1970s) or sold to them. (Buttrey spun off its grocery stores in the 1930s, this was unrelated to the Buttrey stores Albertsons later bought).
CEO #2: J.L. Berlin
In 1965, another California operation, Samrau & Sons (with their "Pay Less" grocery store, though Albertsons continued to operate under this name for several years) was acquired. 1967 brought Colorado as the next state with Albertsons' stores, through buying eight stores from Texas-based Furr's (Furr's would sell the rest of the Colorado stores by 1969).
Berlin's leadership built up a strong foundation for the company, including building up a whole department of people (lawyers, architects, analysts) to head up new locations, while closing down or upgrading stores that were obsolete and not allowing them to be a drag on the company further down the line.
CEO #3: J.L. Scott
J.L. Scott, who had become CEO in 1966, led Albertsons into its "next big thing", a joint venture in 1969 with Skaggs Companies, Incorporated. Skaggs was another Idaho-founded business, the Skaggs brothers developed what would be Safeway (which had been sold by this point) and another of the family helped Joe Albertson create his grocery store. While Skaggs Companies was growing in the western United States with drug stores, it had little experience in grocery, and Albertson's had little experience in drug stores. The partnership would create Skaggs Albertsons stores, super 55,000 square foot stores that combined grocery stores with drug stores, and even had a limited line of hard goods rarely found in drug stores (including hardware and electronics).
Skaggs Albertsons stores were all planted in new territories where the companies did not have any stores, including New Mexico, Texas, Louisiana, Oklahoma, Kansas, and Florida. One dark spot during this time was Albertsons' acquisition of Mountain States Wholesale Company in 1974, which the Justice Department sued them for being anti-competitive, which Albertsons did eventually lose and forced to divest.
CEO #4: Robert D. Bolinder
Only CEO from 1974 to 1976, Bolinder's reign mostly saw the conflict with the Justice Department continue and Skaggs Albertsons continue to expand. Most of its stores were far and away bigger and nicer than any of its local competition and would form the base for profitable markets. The Florida market would get its start here, with the first Skaggs Albertsons store opening in 1974. Bolinder also saw Albertsons start getting into distributing itself, including new sites in Brea, California, and Salt Lake City, Utah.
Another purchase in 1974 was Monte Mart, an early discount store/grocery store with four stores. Albertsons continued to run these with their original name, with the stores continuing to have a much larger general merchandise selection than typical Albertsons stores (including its own advertisements, including a full automotive department in 1976 or Atari games in 1983. While clothing was a feature in the 1960s-era Monte Mart, it appears that this was eliminated as the stores were slowly remerchandised. Despite even opening a few Monte Marts in the early 1990s as more of a grocery warehouse concept, the Salinas store at nearly 110,000 square feet remained open until it was divested in 1999.
CEO #5: Robert McCain
The Skaggs partnership officially dissolved in 1977, with some stores still keeping the Skaggs Albertsons name for a few years longer before Skaggs renamed them. The Albertsons stores, located primarily in Louisiana, San Antonio, and Florida, would create the new division of Southco, with the main office in Orlando and a branch in San Antonio. Albertsons even opened a store in Alabama around this time, but all seven stores would be sold to Birmingham-based Bruno's in 1985. (In the 1990s Albertsons would plan a return to Mobile, but ultimately never saw Alabama again).
In 1978, their Southern California position was solidified through the acquisition of Fazio's Shopping Bag from Ohio-based Fisher Foods. Fazio's Shopping Bag had an interesting history, it was originally bought by Southern California grocery company Vons, had to split back up through court order, and the newly-separated company bought the Southern California A&P stores and converted them to their name, before being acquired by Fisher Foods (renamed to Fazio's Shopping Bag, similar to the Fazio's stores in Ohio).
In the early 1980s, Nebraska, South Dakota, and North Dakota got their first Albertsons stores (though I don't know when the first Arizona store opened, probably sometime in the 1980s), and a few years later, Albertsons (already in San Antonio and North Texas) entered Dallas-Fort Worth with a splashy new advertising campaign with everyday low prices (a change from the rest of the company) and competing directly with Skaggs Alpha Beta (indicating that there wasn't much of a non-compete agreement following the breakup).
The mid-1980s would also bring Albertsons' first significant divestment, with Albertsons selling its seven Alabama stores to Bruno's Inc. in 1985. The Texas market would continue to grow—Albertsons entered the Austin, Texas market during this time by acquiring five Tom Thumb stores from Cullum Companies (based out of the Dallas area), though Cullum continued to maintain a few smaller Tom Thumb stores in the area, as well as an upscale Simon David store. A sixth Tom Thumb was acquired in Tyler. All six stores were reopened in 1989 as Albertsons.
In 1987, Albertsons solidified its lead in Boise with the purchase of three stores from Buttrey Food & Drug, and Salt Lake City was bolstered by some Farmer Jack stores from Borman's in 1988 (which were previously Safeway stores, following Borman's disastrous purchase of the company's Salt Lake City division in 1987).
CEO #6: Gary Michael
Skaggs came back into the picture as American Stores Inc. (which it was renamed following the 1979 acquisition of American Stores Company), looking to sell off stores following their acquisition of Lucky Stores, the subject of which had been with a heavy price following a battle with the Supreme Court. Albertsons purchased the Jewel-Osco stores in Florida, Texas, and Oklahoma from the company in 1992, strengthening their position in those markets. The Jewel-Osco stores were simply rebrands from Skaggs Alpha Beta, which were rebrands themselves from Skaggs Albertsons, so many of these stores were quite old. The Florida Jewel-Osco stores, on the other hand, were massive 75,000 square foot stores with large general merchandise selections (including lawnmowers!) that were only a few years old when they were purchased. Additionally, it included a distribution center in Ponca City, OK, which was used by American Stores (and later, Albertsons) for non-foods. American Stores had also jettisoned Buttrey Food & Drug (originally part of Jewel) in 1990 as an independent company, something that would become part of Albertsons story shortly afterward.
Another new development in 1991 was purchasing stores from Harvest Foods to enter Kansas, which in turn were former Skaggs stores (Harvest Foods began as a spin-off of Safeway's Little Rock division, but started expanding into Wichita within a few years).
Michael took the company to new heights, focusing on the southwestern United States, Florida, and Texas, where most of the new stores would be located. The Florida operation (with 74 stores, behind both Winn-Dixie and Publix) got a shot in the arm with its own distribution center in Plant City, Florida, and Texas continuing to get new stores (Florida's market even expanded into Georgia, briefly). In Texas, stores were up and down Interstate 35 from Dallas to Laredo, and after circling around the satellite cities of Houston for several years prior (including Conroe, Lake Jackson, and College Station), Houston got its own store in 1995 with a distribution center in 1996.
New innovations were done, including the first gas stations at site (Albertsons Express) in 1997 and introducing Internet shopping and home delivery in 1998 in Dallas, which was a rare innovation that none of its competitors had.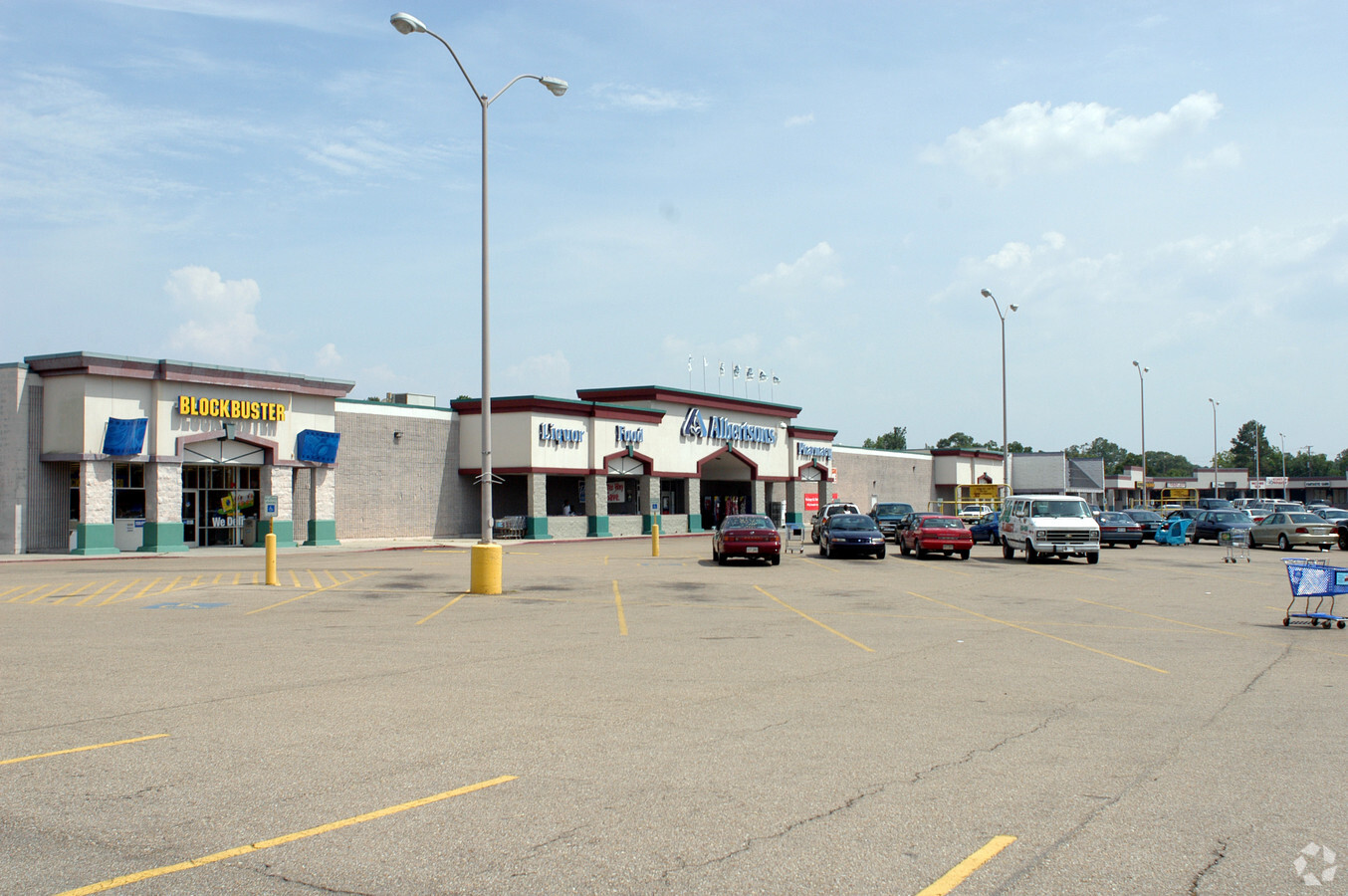 Albertsons even renovated other retail, this 1996 store in Baker, Louisiana (#2737) was a former Kmart.
All the while Albertsons was continuing to expand and reinforce its markets. In 1997, it purchased three stores from Randalls, in College Station, Round Rock, and Pasadena. However, the College Station and Round Rock stores ended up replacing stores that Albertsons already had, and the Pasadena store would close in 2000, before Albertsons pulled out of Houston. Additionally, a store in Bellmead, Texas closed that year after having only been opened in 1993.
Still, these were mild setbacks. In 1998, the company continued to push into new markets with new acquisitions. In Tennessee, Albertsons acquired from Bruno's Inc. (which was in Chapter 11 at the time) FoodMax and Bruno's Finer Foods stores in Nashville, as well as Seessel's of Memphis. From Miner's Inc., three Super One Foods were acquired in Des Moines, Iowa (another new addition). Missouri was entered through Smitty's, an operation originally the sister store to a grocery chain in Arizona with large general merchandise selections. By that time, however, "Smitty's-MO" (which never had even 100k square foot stores as the Arizona stores did) had transitioned to mostly a grocery store (though Albertsons kept their in-store restaurants). In the northwest, Buttrey Food & Drug was acquired. This chain had been a part of The Jewel Companies and American Stores but had been independent since 1990. Due to overlap, Albertsons did have to sell a few of its own stores and Buttrey's stores to competitors (Fred Meyer and grocery wholesaler SuperValu).
Remarkably, even with the stores that had been part of other still-operating companies (like Bruno's or Super One), Albertsons operated these stores and slowly rebranded them. Only Seessel's kept its identity, as "Seessel's by Albertsons". On top of all this, their store count continued to grow at a rapid pace, and in 1999, Albertsons' dance with Skaggs/American Stores would reach a final act, by acquiring the company itself. In addition to nearly 800 stand-alone stand-alone drug stores under the Osco and Sav-on name, it included three big grocery chains, none of which were part of Skaggs when the partnership began:
ACME had been part of the original American Stores, of which Skaggs had taken its name from upon its merger in the late 1970s. Despite opening a few modern stores, Skaggs/ASC had downscaled much of ACME's operations following their merger with the original American Stores, including selling off or closing its stores in northern New York, Washington DC/Baltimore, and most of Pennsylvania. By the time of Albertsons' acquisition, ACME's primary based of operations was in southern New Jersey, with stores in Pennsylvania (Philadelphia area), and others in Delaware and Maryland.
Jewel-Osco was the flagship of Jewel Companies, which Skaggs/ASC had bought it in 1984. In that time, Jewel Cos. not only had Osco and Jewel among its stores, it had Star Market in the Boston area, Buttrey Food Stores in the Montana/Washington/Idaho area, as well as White Hen Pantry (convenience store chain), Brigham's Ice Cream, and discount grocery chain Jewel-T (in parts as far out as California and Texas). These were all sold off within a few years of the acquisition to pay down debt. Jewel-Osco not only had its major base of operations in the Chicagoland area, but a 1998 acquisition of a number of Cub Foods in Milwaukee gave it that market as well. Jewel-Osco was Jewel's combination brand with Osco Drug, which most stores were branded as, though a few smaller stores were still simply "Jewel". Jewel also had stores as far south as Springfield, Illinois, due in part to its acquisition (and later absorption) of Eisner Food Stores.
Lucky had been purchased by 1988 by American Stores, which had locations in both Southern and Northern California, known for its reliable everyday low prices, with many stores having pharmacies inside (branded as Lucky Sav-on) and being open 24 hours. Additionally, Lucky had Nevada locations, and New Mexico (the latter having been rebranded from the last non-Chicago "Jewel-Osco" stores a year prior).
The combined company would lose 146 stores between them to anti-trust concerns. Raley's picked up Albertsons' Las Vegas stores (the Lucky stores would become Albertsons, returning the name to the market) as well as a number of New Mexico stores (though these were short-lived, in 2002 the Las Vegas stores were sold to Smith's, and as for the New Mexico stores...that comes later). Ralphs picked up some locations (though ultimately couldn't hack it in NorCal), some went to Stater Bros., and others went to independents.
Once that was all said and done, the cost of integrating American Stores into Albertsons turned out to be extremely expensive, and plans to make a true coast-to-coast Albertsons chain were derailed when Lucky's conversion to Albertsons in November 1999 did not mesh well with its customer base, and many of ASC's stores were small and out of date compared to the relatively modern store base Albertsons had. Moreover, Kroger and regional competitors began to undermine Albertsons with larger stores, more regionalized divisions, and lower-priced groceries.
Undaunted, Albertsons forged on...but the overbuilt company would come apart at the seams shortly thereafter.
In 2001, rather than the regional approach the company had taken, the company was broken into 19 separate divisions. The outlier Florida stores would be part of their own division. Southern California and Northern California (the latter likely created from the former Lucky NorCal division), carryovers from the older regional structure, would be their own divisions. Eastern (ACME) and Midwest (Jewel-Osco) would continue. Great Plains, stretching from Nebraska to Oklahoma, would be adjacent to the Dallas-Fort Worth division, which would be in control of the north Texas Albertsons stores. San Antonio (an old base of operations from Skaggs Albertsons) would compose the south Texas stores and the Austin stores. Houston would control the stores up to Bryan-College Station and also most of southern Louisiana. Utah, Rocky Mountain (Wyoming and Colorado), Southwest (Arizona, New Mexico, and El Paso, Texas), Big Sky (Montana), Inland Empire (eastern Washington and Northern Idaho), Idaho, Oregon, Western Washington, and Mid-South (Tennessee, eastern Missouri, Mississippi) were other divisions. Finally, there was the drug division, with Sav-on and Osco.
CEO #7: Larry Johnston
The next CEO Albertsons had was Larry Johnston, an executive from GE. Under Larry, the initiatives to have more diversity in merchandising were stunted, and rather than dial back the changes made to the former American Stores, particularly the former Lucky stores, or roll out new prototypes designed to compete with its fiercest competition, Larry closed stores and consolidated divisions.
This included the Des Moines stores, which had never gone anywhere (a fourth store to be built from the ground up in the Des Moines suburb of Clive never opened), the stores in the Miami, Florida area (though stores still continued to operate in the northern parts of the sprawl, such as Oakland Park and Boca Raton), and a few other money-losing stores spread across multiple divisions.
Initially response to the California energy crisis but also as part of Johnston's money-saving iniative, the chain also turned off 25-50% of the in-store lighting to save energy but it didn't help the chain's appeal, making the stores (especially older locations) look grim and dated. Additionally, the questionable choice of introducing a "savings card" system to compete with other stores such as Kroger was done, but it only infuriated Lucky customers (where much of the promotion was about "card-free" shopping) and did not help Albertsons gain ground with its competitors, in many ways, it made it worse.
Not long after a deal closed with Jean Coutu Group that would see the Northeastern Osco drug stores sold in January 2002 (they were rebranded as Brooks Pharmacy in 2002 and subsequently sold and rebranded as Rite Aid in 2007), three major divisions were shuttered.
The San Antonio division was closed, with the San Antonio market and all the South Texas stores getting closed (the last one being Victoria's store in October 2002). Despite being the genesis of the Skaggs Albertsons base, it was facing a losing battle with H-E-B. They got cut, and all stores were closed, including all the stores in the South Texas area. The only ones to make it out alive were New Braunfels, Kerrville, and the Austin stores, which became part of the Dallas-Fort Worth division.
Houston also was cut, along with suburbs including Lake Jackson and Conroe, which predated the main entry into Houston, were closed, as well as stores outside of Houston, including Beaumont. Most of the Houston stores, particularly the ones in Houston, were less than five years old. Many of the Houston stores were sold to Kroger (and quickly reopened), but a few were later reopened by Safeway (through their Randalls division) or H-E-B. The southern Louisiana stores briefly became part of the Florida division, but went back to the Dallas-Fort Worth division. Additionally, stores in the Bryan-College Station area were spared, which included two stores (and a third that opened in 2002).
Mid-South was dismantled: the Seessel's stores were sold to Schnucks, which would shut them down and reopen them under their own name. Less than a decade later, these stores would be sold again to Kroger, which closed a third of them and reopened them under their name (they already had stores in Memphis). The Nashville stores were sold to Publix, and the Mississippi stores were sold to Brookshire Grocery Company.
Great Plains went just a week later: like the divisions in Texas, the division was gutted. Wichita was pulled out, putting Nebraska into Intermountain, and Oklahoma and northwest Arkansas into the Dallas-Fort Worth division, with the distribution center sold to Texas-based Fleming Companies (which would briefly continue to supply to Albertsons before Flemings' bankruptcy). Great Plains also lost the Springfield, Missouri market, which was sold to independent chain Price Cutter (though drug stores continued to exist in the city).
That same year, a new store format called SuperSaver Foods premiered (named after a discount format operated by American Stores many years prior) toward a Hispanic clientele, featuring more general merchandise and foods meant to appeal to Hispanics, but the stores folded within a few years and were not heard from again.
In 2003, Albertsons purchased five stores from Fleming Cos., including three Food4Less stores in Utah (one of which closed, but the other two were kept and ultimately rebranded as Super Saver) and two Rainbow stores in El Paso, which were converted to Albertsons. The two Rainbow stores were previously Smith's stores, which were sold to Fleming when Kroger pulled out of the El Paso market.
Johnston wasn't done with Albertsons' closures. More markets were pulled out in 2004, including Omaha, Nebraska (exiting Nebraska for good) and New Orleans, Louisiana.
During all this time, The company also started to make the dubious decision of creating combo stores with Albertsons and its drug stores. For Jewel-Osco, the integration to include the Osco drug merchandise began in the 1960s with initially side-by-side stores and their first integrated stores in 1983. While "Jewel-Osco" functionally replaced the regular Jewel name in common parlance, up until 2010, the stores had almost completely different operations with separate merchandising, employees, and budgets, just under one roof. In comparison, adding "Sav-on" or "Osco" to Albertsons stores (and later, other names like ACME and Shaw's) This meant many of the stores in the chain had "Sav-on" or "Osco" attached to their name, though many of the markets where this happened, particularly the Dallas-Fort Worth division or ACME division, only proved to be a money sink as Sav-on had no significance in the market, nor were there stand-alone Sav-on stores in the area. Unlike Jewel-Osco, the names were only an odd addition to the signage rather than an integrated rename, and the Florida division, which also had none of the drug stores, was not rebranded.
Rather than shore up existing markets through new stores or lowering prices, much of the vaunted company savings touted by Johnston went toward purchasing another grocery store where Albertsons had little experience with, this time, Shaw's Supermarkets, based out of Massachusetts. Bought from British supermarket retailer J. Sainsbury for nearly $2.5 billion, it added two new names to the Albertsons family, though like Jewel and ACME, was not adjacent to existing markets.
Shaw's, which was the flagship brand of the company known for low prices and unlike any other grocery company, had stores in every New England state, giving Albertsons six new states where it had stores: Connecticut, Massachusetts, Vermont, Maine, New Hampshire, and Rhode Island.
Star Market of the Jewel Cos. alumni had been integrated into Shaw's in 1999 with many of its stores rebranded, but still had stores with that name. Unlike Shaw's, Star Market had been known for being more upmarket.
The purchase also brought a new grocery brand name, Wild Harvest, which Albertsons expanded to its stores. The same year, Albertsons purchased Bristol Farms, an organic supermarket based out of California, which in turn bought another chain, Lazy Acres, in 2005 (but kept the merchandising and branding separate).
During this time, Johnston experimented with "store-within-a-store" features, like an Office Depot-merchandised and branded section of the existing school supplies and home office departments or Toys R Us branded toy departments. Neither of these made big waves outside of novelty (it's doubtful that the Toys R Us concept even reached all stores as the article indicates, possibly due to Toys R Us' own purchase by private equity groups in 2005) nor heralded in larger stores. The Super Saver brand was again relaunched, at this time with the same name as American Stores once had, this time as a discount format that was opened in converted "low-end" Albertsons in the Dallas-Fort Worth division, the Florida division, and others. Interestingly, this was about the same time as SaveRite emerged out of Winn-Dixie, which also was a last-ditch effort to save "low-end" stores.
Albertsons' declining fortunes were somewhat obfuscated by the Shaw's purchase (which increased its revenue, store count, and employee count), but by 2005 it was clear that Johnston's initiatives had failed. The remaining stores were becoming less profitable. A lengthy strike from late 2003 to early 2004 in southern California had harmed Albertsons (as well as Ralphs and Vons) as shoppers permanently left for non-union shops, and Wall Street was pounding on the company's door. By summer 2004, the company's earnings had been cut to almost 79% compared to the year before.
While Johnston did not try to gut the company for real estate and did have a larger picture of what the company wanted to be (especially through technology ventures), he failed to realize that the cost-cutting had hurt the company where it really counted, the individual stores. Some stores didn't even have a store manager, due to a decision that had one person be the manager to more than one store. Interestingly, many of the same ideas that led Albertsons to the same path it arrived at 2006 is what Kroger began to do more than a decade later.
Rather than try to find a replacement to Johnston and attempt to turn around a company that seemed to be hurtling toward bankruptcy, Albertsons decided to put itself on the market, less than a decade after their merger with American Stores. In early 2006, a plan was hammered out, with Minnesota-based SuperValu Inc. being the winner of the company, for $17.4 billion.
SuperValu owned several grocery chains of its own, including Farm Fresh in the Norfolk area, Shoppers Food & Pharmacy in Northern Virginia/Washington DC and Baltimore, bigg's in Cincinnati (which had both supermarkets and full 150k+ sq. foot "hypermarket" stores), Cub Foods (primarily based in the Minneapolis/St. Paul area), Hornbacher's (in Fargo, ND), Shop 'n Save (in St. Louis), and Scott's Food & Pharmacy (in Indiana, though this was sold to Kroger in 2007). Additionally, they also owned Save-A-Lot, a national discount grocery chain with its own brands and franchises.
SuperValu did not buy the company outright, and instead sought help through investors. What happened what was a somewhat complex asset swap. A SuperValu subsidiary specifically created for Albertsons' assets, New Albertsons Inc. (originally incorporated as "New Aloha Inc.") would buy the brand names, ACME, Jewel-Osco (except for two stores), Shaw's/Star Market, and three Albertsons divisions--Intermountain, Southern California, and Northwest, seen as the company's most successful divisions. It also took responsibility for a stock swap (ABS stock would be converted to SVU stock), ACME, Jewel-Osco (with the exception of two stores), Shaw's/Star Market, Bristol Farms/Lazy Acres, and three Albertsons divisions--Intermountain, Southern California, and Northwest.
The drug store division (including the associated distribution centers) was effectively liquidated for cash. CVS bought the drug stores and closed the stores, converting them to their own brand name.
What was left of the company was renamed Albertsons LLC and acquired by AB Acquisition LLC, an investor-led group created in the shuffle. The initial idea was to use the company for assets and "trim down" the stores so that SuperValu could acquire them at a later date. These included the Rocky Mountain division, the Southwest division, the Dallas-Fort Worth division, the Florida division, and the Northern California division. It also included EXTREME, Inc. (the subsidiary that ran Super Saver) and two Jewel-Osco stores outside of the Chicago area. The end of the Johnston era angered workers as Johnston left with $100 million from a company he nearly ran into the ground, with the remaining stores facing an uncertain future.
It is here where the path of Albertsons took two diverging turns as two different companies attempted to steer Albertsons on the right path. One of them was a gutted, investor-led company and one of them was a shell company led by a grocery wholesaler that ended up winning what was supposed to be the best of what Albertsons had to offer, and in the end, one would win out.
CEO #9: Robert Miller
Note: Jim Donald may have briefly been a CEO following the departure of Johnston but before the demise of Albertsons Inc.
The following years would continue to be ugly for Albertsons, but would ultimately save the company. Robert Miller, a former Fred Meyer and Rite Aid CEO, became the CEO of Albertsons LLC, and began the rebuilding process of the mess Johnston had left behind. The split between Albertsons LLC and New Albertsons was roughly across the lower half of the country, with Albertsons LLC taking the lower half (Florida, Texas, Arizona, etc.) and NAI taking the upper half (Pacific Northwest, Jewel-Osco, Shaw's, etc.), with the only exception being that Albertsons LLC took NorCal and NAI took SoCal.
Almost immediately, 100 stores out of the 655 stores Albertsons LLC owned were closed, citing unprofitability. These included all of the Super Saver stores (except for the two Utah stores) but were spread across other divisions. The Jewel-Osco stores that Albertsons LLC kept, located in Springfield, Illinois, were sold off to Niemann Foods, a SuperValu-supplied independent), and the next few years weren't much better for the other stores.
In the Dallas-Fort Worth division, Albertsons pared down its stores in the Dallas-Fort Worth area and other markets. With the first round of closures, the Waco-Temple-Killeen market had been exited (not that there was much left, only one store), leaving no stores between the Austin area and Dallas. The Austin market was exited the next year, selling the remaining stores to H-E-B, which remodeled and reopened some, but closed others. Oklahoma was also exited, selling 23 stores to various Associated Wholesale Grocers-supplied independents and closing three. This was part of a bigger deal to sell the main D/FW distribution center to AWG, and sign a five-year distribution deal. Elsewhere in the division, the final traces of the non-Louisiana parts of the Houston division and the San Antonio division was dissolved in 2011, when Albertsons LLC sold three stores, one each in Kerrville, College Station (the other remaining store in College Station post-2006 had been shuttered in 2008), and New Braunfels, to H-E-B, though only the Kerrville store was reopened as such.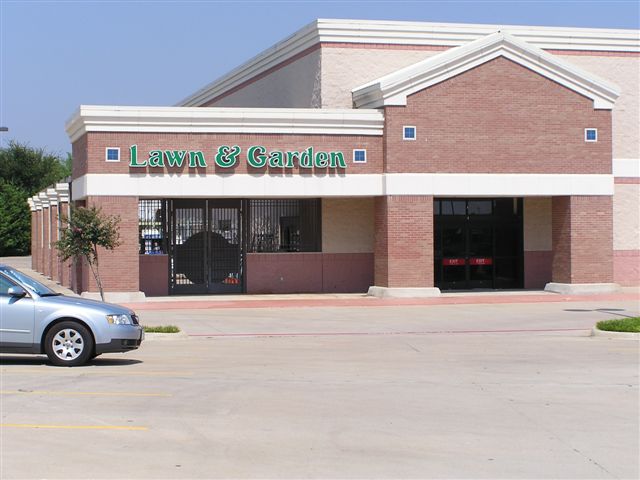 Another feature that disappeared with the LLC days was Lawn & Garden departments, which had started to appear around 2000 in Southern and Southwest division stores. (unknown store and source)
The Florida division was slowly whittled down, most notably with 49 stores being sold to Publix in 2008, and so was the Rocky Mountain division with a quarter of its stores closed from the get-go and the distribution center closing in 2009. Eight stores in Wyoming were also part of the Rocky Mountain division, but the stores were transferred to SuperValu in late 2007.
The Northern California division was sold, with its 132 stores being sold to Save Mart Supermarket. This also included a long-term license for Save Mart to use the Lucky name in the San Francisco area, essentially rebranding many Lucky-turned-Albertsons stores as Lucky once more.
In 2007, the Austin market was exited, with the stores being sold to H-E-B, which remodeled and reopened some but closed others. The same year, the entire Northern California division was sold to Save Mart Supermarkets, along with a license to use the Lucky name in the Bay Area. The Albertsons Express stores were sold off in 2008 to Valero Energy, which reopened the convenience stores as Corner Store.
There were some bright spots. A new store opened in 2009 in Mandeville, Louisiana, when Albertsons bought back an attractive store (built as a Delchamps Premier, almost new when the Jitney Jungle/Delchamps chain closed) store it operated from 2000 to 2004, with a second new store in Denham Springs in 2011, in a renovated Winn-Dixie that had closed six years prior. (Unfortunately, both stores would separately meet their demise not long after the Safeway/Albertsons merger).
The Southwest division had gained new Albuquerque stores when it bought the New Mexico operations of Raley's, with many of the stores having been Albertsons stores prior to 1999. (Albertsons even approached Bashas' in 2010 when they were still in bankruptcy!) Finally, Albertsons LLC had begun by 2011 marketing its stores as "Albertsons Market" to distinguish between the SuperValu stores, though the name never appeared on the outside of its stores.
Meanwhile, over at SuperValu, things had been even worse. The buyout of NAI had not affected SuperValu's operations, and the only stores it had to sell were some Cub Foods stores owned in Chicago, spun off into a new company called New Cub Foods East. While connected to Cerberus, it was not connected with AB Acquisition or Albertsons LLC. Not that it mattered, by the end of 2006 NCFE was winding down business, selling or closing its stores.
However, New Albertsons never was properly integrated with the rest of SuperValu's retail operations (with the exception of brand names, most of which were eliminated anyway for SuperValu's "Essential Everyday"), and the high debt load caused SuperValu to suffer as well. In 2007, SuperValu exited Milwaukee (and by extension Wisconsin), with about a third of the stores taken over by Roundy's (and reopened as Pick 'n Save). In 2009 the company exited Salt Lake City (and most of Utah). In 2010, NAI pulled out of Connecticut (selling the Shaw's stores to Wakefern or Royal Ahold's Stop & Shop) and spun off Bristol Farms (which included Lazy Acres). Even other divisions of SuperValu were under attack; in 2010, they sold off the "bigg's" hypermarket chain to Remke Markets, which closed some stores and downscaled the others (getting rid of the general merchandise) before rebranding it to their name. SuperValu also sold most of the gas stations it inherited from Albertsons (Jewel Express, Albertsons Express, and ACME Express) to a variety of operators. Around this time, some of the Shaw's stores in Boston had been converted to Star Market (including some that were originally Star Market).
SuperValu had also tried to convert some poorly-performing Albertsons stores (as well as the remaining Max Foods stores) in the Southern California division to the Lucky name, but most of them ended up closing within a few years.
In March 2013, AB Acquisition purchased back New Albertsons from SuperValu, letting the remaining Albertsons re-join the chain, as well as Jewel-Osco, ACME, Shaw's/Star Market, and the revived Lucky stores. Unfortunately, this did not include the brand names (including Wild Harvest) that SuperValu still owned. SuperValu also removed most of the Jewel, Shaw's, Albertsons, and ACME brand names in favor of SuperValu's new house brand, Essential Everyday. With SuperValu's Albertsons having rejoined the operation, the Albertsons Market name was retired.
With the Florida division and Rocky Mountain division in shambles, both were merged back into the Dallas-Fort Worth division, now renamed back to the South division once more. The Southern California division, the Intermountain division, the Northwest division, Jewel-Osco, and ACME were integrated into the parent company.
In January 2014, Albertsons purchased United Supermarkets for $385 million, a small chain based out of Lubbock, seen as a defensive move against H-E-B. This purchase gave Albertsons three more brands, as well as United's manufacturing facilities, distribution facilities, and gas stations. Two Albertsons stores (one in Wichita Falls and one in Amarillo) were divested as part of the deal.
United Supermarkets was the main "traditional" brand of the chain. While a separate chain called United existed in Oklahoma, the two chains had been separated for many years.
Market Street was the upscale brand of United. It had entered the Dallas-Fort Worth area and featured a variety of gourmet foods and departments, and was much larger than the typical United store, usually around 70,000 square feet.
Amigos was a brand of three stores with more Hispanic-oriented items than the typical United. A fourth store of Amigos (built from the ground up) was opened in Hereford, Texas in the fall of 2014.
That same year, Albertsons transferred its remaining stores in North Texas (including the Midland-Odessa market) over to United as "Albertsons Market", which reset the stores with United's own marketing and pricing. There was something even bigger happening underway, as Safeway Inc., which had just closed its Dominick's division in Chicago (with Jewel-Osco picking up a number of stores), was announced to be purchased by AB Acquisition. In January 2015, the deal officially closed and Safeway and Albertsons were together as one, uniting both chains under AB Acquisition, which began to took the helm as the face of the company.
The Safeway acquisition gave Albertsons even more stores and several major brands.
Safeway was the flagship brand of Safeway Inc., operating stores in New Mexico, the Northwestern United States, Alaska, Hawaii, northern California, Colorado, Arizona, Nevada, and Washington DC, the latter a distant purchase made by acquiring Sanitary Stores back in the 1930s but never having actually expanded out the chain naturally to the east. The Eastern Division also included one Genuardi's store, a leftover from when the division acquired the Genuardi chain in 2001 but closed in the early 2010s. (The lone Genuardi's closed soon after the acquisition).
Randalls had been a Houston store since 1966 and was a Houston market leader for years until exterior competition from Kroger, Albertsons, and H-E-B combined with interior mismanagement from Safeway reduced its store count to a fraction of what it had been. Their Austin stores, the other major market, was born from the combination of the Tom Thumb stores in Austin (acquired as part of their acquisition of Cullum Companies in 1992, and renamed in 1994) and a number of AppleTree (ex-Safeway) stores that were closed and reopened under the Randalls name. Safeway had acquired Randall's Food Markets in 1999 (which included Tom Thumb) and made it their Texas division.
Tom Thumb was the other half of the Texas division of Safeway. Tom Thumb had been owned by the Cullum Companies, which Randalls bought in 1992. Randalls had cut back the Tom Thumb name to the Dallas-Fort Worth area exclusively, and built new stores under that name. Due to Tom Thumb's placement in stable, affluent communities in Dallas-Fort Worth, Tom Thumb was in a much beter position by 2015 than Randalls was.
Carrs was part of "Carrs-Safeway", a district within the Seattle division of Safeway. While only used on the Anchorage-area Safeway stores, Carrs was the name of Carr-Gottstein Foods Company, an Alaskan company that Safeway bought in 1999 to strengthen its Alaskan stores. Carrs also included Oaken Keg (a liquor store, usually in conjunction with stores), Great Alaskan Tobacco Company (a small tobacco chain), and two more "Eagle" stores under different names.
Vons composed the Southern California division of Safeway Incorporated. Safeway had sold their original Southern Californi division stores to The Vons Companies in 1988, but acquired a third of the company in the deal. Safeway acquired the other two-thirds of the company in 1997. Vons also included Pavilions, a more upscale format developed by The Vons Companies in 1986, though had become more or less indistinguishable from Vons by the time Albertsons bought Safeway.
In addition to strengthening and reinforcing the West Coast market, the company re-entered Northern California (including the San Francisco Bay Area), North Dakota (with one store), South Dakota (with three stores), Houston and Austin (through Randalls), as well as the Baltimore, Washington DC, Hawaii, and Alaska markets for the first time.
168 stores between the two companies were sold off, even more than the Albertsons/ASC merger. 146 of these stores were sold to Haggen, a small (18 store) investor-owned upscale-leaning supermarket out of Washington, with a few others to SuperValu or independents.
The divisions were reconstructed again. Safeway's Texas division (Randalls) was renamed as the Houston division, and traded stores with Southern (South's southern Louisiana stores for the Tom Thumb stores). Vons got absorbed into Albertsons' existing Southern California division and the Southwestern division of Safeway was merged with Albertsons' Southwestern division. South's Colorado stores were sent to the Denver division of Safeway (except for a few that Southwest had), which were eventually reflagged as Safeway or closed. The Northwest division of Albertsons was broken into the Safeway divisions of Seattle and Portland. The Northern California and Eastern divisions of Safeway continued on.
While divisions were combined, Albertsons continued to maintain both brands in their respective divisions (unlike American Stores), including Albertsons and Vons (Southern California and parts of Nevada), Albertsons and Safeway (Arizona, Colorado, and the Pacific Northwest), Albertsons and Tom Thumb (Dallas), and ACME and Safeway (ACME's territory, though no divestments were made).
The rapid absorption of the Albertsons stores sold to Haggen did poorly for Haggen, and within months, stores were being closed down. Haggen filed suit against Albertsons, alleging deceptive practices and other allegations, though the suit was settled. In March 2016, Haggen was sold to Albertsons at bankruptcy auction, with nearly half of its 29 remaining stores converted back to the original names, and the other 16 stores remaining as a specialty store brand operating as a sub-district of the Washington division (just as Carrs-Safeway was). All the while this was going on, Albertsons bought 76 stores from the bankrupt Great American & Pacific Tea Co. (A&P), converting the stores (operating under A&P's names, including Superfresh, Pathmark, A&P Fresh, A&P, and The Food Emporium). There's some evidence that Albertsons had intended to buy what was left of A&P and specifically its brands, but in the end, the brands were not sold. All of the stores went through a two-day reset and quickly reopened as ACME stores, returning to the chain to northern New Jersey. With A&P, the company re-entered Connecticut and New York (where ACME previously had stores in the early 1990s). This put ACME in the New York City market, but had no stores in New York, New York proper.
Following the acquisition of the A&P properties, Albertsons began to look for a new merger partner, especially one that could provide them with an IPO. The parent company of Albertsons LLC, AB Acqusition LLC, changed its name to Albertsons Companies LLC, further strengthening the Safeway/Albertsons marriage (and who was in charge, at least nominally). Merger discussions with stores including Golub (Price Chopper), Whole Foods Market (which was ultimately purchased by Amazon), Sprouts, Rite Aid, and others all never came to fruition. Same store sales were flat and stores were closed across divisions over the next few years. A few opened (mostly planned under Safeway Inc.) and some were purchases from independents. With the exception of United Supermarkets buying a number of stores from Lawrence Bros. in small Texas towns, or a new ACME in Salisbury, Maryland from the divestment of the Royal Ahold/Delhaize merger, no new markets were entered. Albertsons did purchase three leases from The Fresh Market after it closed all of its stores in Texas, and reopened them under the Tom Thumb name (despite the stores being well under 20,000 square feet). The upscale chain Andronico's Community Markets (of San Francisco) was purchased in late 2016 as well, and shut down, with all but one store reopening as Safeway Community Markets (one Andronico's kept its name), though within a few years, Albertsons reverted the store names to Andronico's Community Markets.
The Lucky name lived on as well. The Super Saver stores in Utah were renamed Lucky (with a slightly modified logo, adding "Means Low Prices" onto the signage), despite the region never having Lucky stores before. The last SoCal Lucky (in El Centro) would cease to exist in the summer of 2019 but the Utah Lucky chain expanded, with one Utah Albertsons converting, and another store in Salt Lake City opening (in a closed Albertsons).
In 2017, Albertsons purchased Plated, a meal kit company based out of New York City, to compete with a fast-growing segment, but the meal kits, briefly appearing in most of their stores, were soon phased out, along with the subscription plan itself, as the market changed. 2017 also saw a minority investment (45%) in El Rancho Supermercado, a Texas-based Hispanic supermarket, and the following next few years saw some Randalls sold to the ethnic supermarket chain.
Still, the combined company continued to lose money following the sale to Safeway, and same-store sales remained flat. To help finance the debt, the company closed down the Houston division and sold the distribution center it inherited from Randalls, with the stores being combined back into the South division. A number of stores were sold and leased back to the company, and the last three stores in Florida (which had received major remodels and rebrands to Safeway a few years prior) were sold to Publix, ending the last vestiges of the Florida division.
CEO #11: Vivek Sankaran
I did skip CEO #10, Jim Donald, who briefly returned for a period of six months, and nothing really big happened to the company during that time, with the exception of the opening of a 110k square foot flagship store in Meridian, Idaho (in March 2019). Vivek Sankaran, former CEO of PepsiCo North America, replaced Jim Donald.
Sankaran became CEO in April 2019. Under the early days of Sankaran's run, a few were stores opened, many with a local touch. A Carrs opened in Anchorage with a Kaladi Brothers instead of Starbucks, and a Star Market in Boston featured an in-store Regina Pizzeria instead of the stock deli pizza.
He would oversee the supermarket chain as the COVID-19 crisis hit (which despite the economy hard, saw supermarkets rise) in 2020, shortly after slashing several more Randalls stores (particularly in The Woodlands area). Despite this, he took the company public, though the trading primarily benefitted Albertsons' investors that had bought the company in 2006 rather than the company itself. This changed the company from Albertsons Companies LLC (which had it had been for the last few years) into Albertsons Companies Inc.
While Robert Miller had gone on an acquisition spree, Sankaran slowed down company growth, with few acquisitions, save for the United division buying the rights and recipes to August Pies, a local fried pie brand (though as of spring 2022, this has yet to happen). United also changed the Texas "Albertsons Market" stores that had transferred from the Southern division a few years earlier to simply "United Supermarkets" like their main brand, though the New Mexico stores (such as Alamogordo and the acquired Lawrence Bros. stores) continued to use the brand.
Sankaran's other big move (as of this writing) was combining the Eastern division (the Safeway stores in Washington DC and Baltimore) into the ACME division, now renamed as the Mid-Atlantic division and grew it by announcing the the purchase of the bankrupt Kings Foods Market (including Balducci's), which like Andronico's and Haggen, added an upscale brand to that division. Also during this time, stores in the Seattle division began to change to Safeway, even in eastern Washington with less Safeway recognition.
In 2022, the company announced that it was undergoing a "strategic review", sparking speculation that the company may sell some of its divisions. It was true that there were some changes in the company in the last few years to save money, including centralizing merchandising, outsourcing delivery to Instacart, and making other changes (including, unfortunately, decreasing quality of some baked goods), but on the other hand, the company wasn't in the pits, no one was taking "golden parachutes", and it's doubtful the divisions would fetch much anyway. One of the rumors that sparked was the sale of the Mid-Atlantic Division, but in reality, ACME (once beleaguered) came in first in market share rankings, besting Giant by more than a percentage point while ShopRite, which ousted ACME's top ranking a decade, had now plummeted to 7th, and while the Washington DC market was far weaker, they did pick up a few Shoppers Food & Pharmacy stores from United Natural Foods Inc., which had bought SuperValu in 2018 and was slowly dismantling the remaining grocery properties SuperValu owned (except for Cub Foods, which UNFI kept).
The world of Albertsons is very much in flux. The reason for the "strategic review" is speculated that Cerberus, which had owned Albertsons since 2006 and was preparing to divest its shares in the company, which would cause stock prices to drop. Will the company grow or shrink at this point? Who really knows?
---
More coming soon!
Return to Albertsons page