NORTHWEST MALL
I gotta admit, Northwest Mall just wasn't on those "list of things to pay attention to" when going to Houston as a youngster. I already admitted few things that I remember from Northwest Freeway, which is where this comes from. When I was going to Galveston, all those things, the strip mall lights all became a blur. I know I remembered Goodwill and Service Merchandise, and I'm certain I've seen Auchan during its operational days. Chances are it was dark, and at best I saw JCPenney and Foley's. Knowing what I do know, the first time I probably would've paid attention would be 2005, and I was trying to read a book for a class, and by 2006, in which I went to see a trombone recital at Rice, the Foley's banner was covering the Macy's name. That was the first time I saw it for sure. It always seemed to be an old, suffering place...it lost its JCPenney, and there was an old white building out front in front of Foley's that was later demolished (I thought it was the CiCi's that was there, but it wasn't--I eventually found a 2008 picture I took to prove it wasn't).
In December 2011, after returning from Penzey's Spices, we ended up driving behind it to get back to the Northwest Freeway, and it was there that I saw the old J.C. Penney building. It was an enormous majestic building, and I marveled at it, even though it had only a small banner declaring that an antique mall would move in soon. The old Thompson's Antique Center was on the list to be torn down for the new 610 widening.
It wasn't until 2013 that I finally went in. And it was...not bad. Obviously, it had deteriorated a great deal from the original mall that opened in the late 1960s. Macy's had closed in 2008 after Hurricane Ike and never reopened, construction had torn up the Macy's parking lot anyway, and the already difficult to see mall had gotten almost impossible to see with new ramps (that's probably why in 2014, eyewitness reports had the mall going down even further). It probably won't last much longer.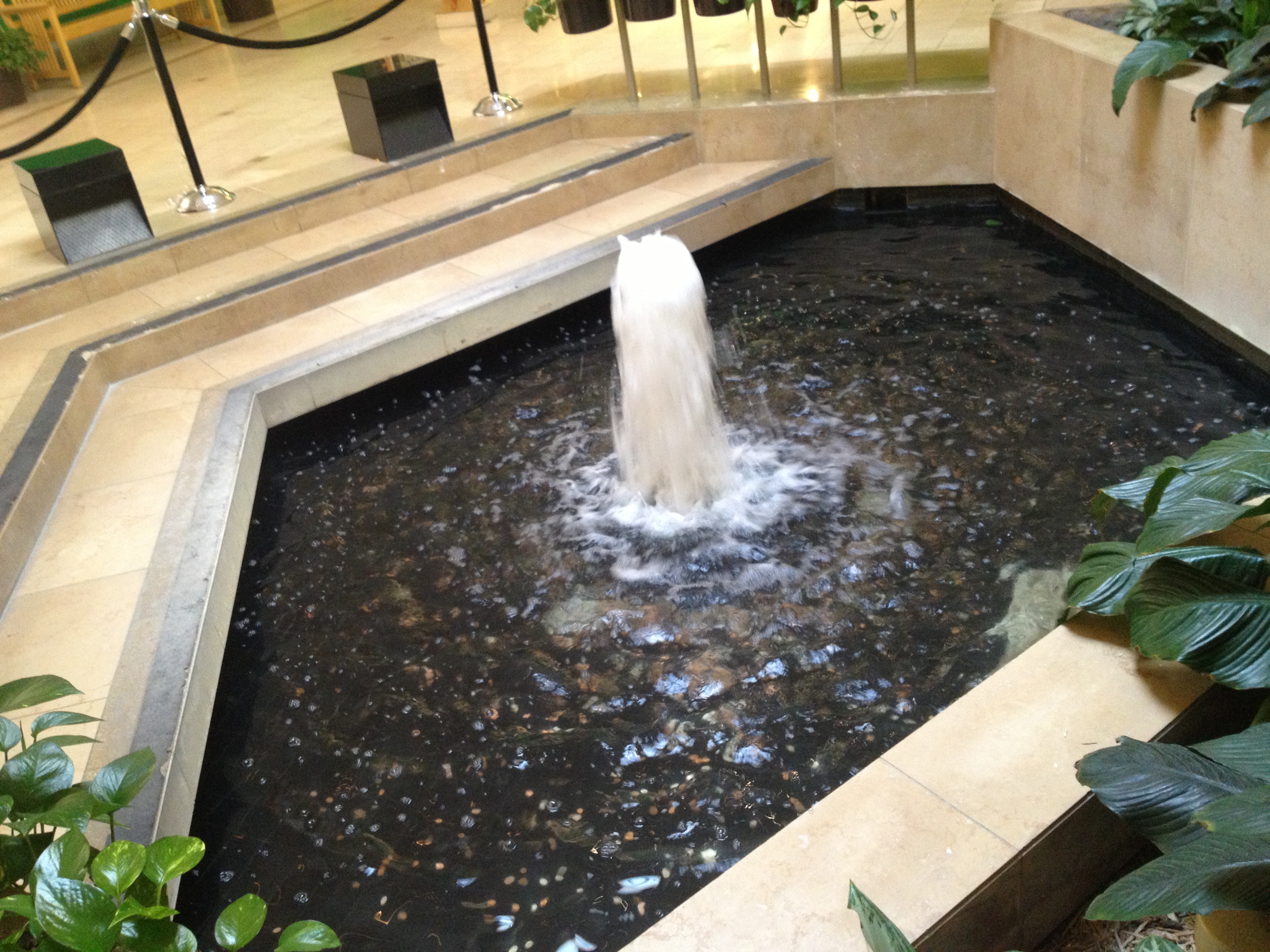 Fortunately, there's a lot of information about this mall, and its twin, Almeda Mall, on the Internet, and I don't want to repeat anything. Here's the photos I have, both my friend's (he's the one with those old fast foods at Senate and Beltway 8) and mine (my old camera phone). Here's the photos and some more information. For some time, I erroneously believed that little white building in front of the old Foley's was the CiCi's. This picture I pulled up from March 2008 (metadata says April due to incorrect uploading) disproves that.
Various views of the mall directory. I find it interesting that they put both Macy's and the Antique Center on here. The Antique Center didn't open until around 2012, and by that time, it was fairly obvious that Macy's wouldn't return (the sign was up but they took it down from their website). Eventually, the Macy's sign finally disappeared (I believe later that year).
The mall corridor was reasonably wide, it just looks narrow because the skylight is narrow. There were quite a number of people at the mall in the morning, though not that much.
The mall fountain. Because it was morning and many of the stores hadn't opened up yet, the fountain was initially off. I told my friend about the sorry state of mall fountains and lamented that it was off, but then it turned on just right then and there. To this day, I'm still not sure if it was a coincidence the timer worked properly, or if a maintenance man flipped it on for me after overhearing our conversation. If it was the latter, thank you.
This seemingly random shot was a toy at one of the stores, which sold lots of soccer (whoops, "football") related stuff. I thought it was neat enough to take a photo for some reason.
Camera photo time! The food court was surprisingly full (Mexican taco shop, smoothies, a few others), but I didn't figure out this colorfully-tiled one.
Chick-fil-a Express. The full-line CFA had closed recently and reopened as a Chick-fil-a Express in another location featuring a reduced menu. Even then, it still felt luxurious compared to the CFA Express locations I was used to on campus. Spicy chicken sandwiches! Wraps! The CFA Express locations on campus only had the sandwiches (only variation being with or without pickles), nuggets, and fries.
Later on, we visited the antique mall. Despite the JCPenney having closed and most of its décor and tile stripped, it still felt grand and enormous. The upper level was closed. The antique mall itself was a tad bit overpriced (especially those totally-not-stolen-off-a-random-intersection-somewhere stop signs) but it was still neat to browse and peruse. I don't even think we covered most of it.
I did notice a new business in fall 2014, the Houston Granite & Marble Center, set up in the old J.C. Penney auto center (the Penney's auto centers sold to Firestone in 1983, and HG&MC set up shop in the Firestone which had closed and sat vacant for several years prior). I went to buy lunch at a Burger King (I noticed that they do try to upsell stuff, and my surreptitious picture didn't come out right). Because eating at a gas station Burger King in an unfamiliar neighborhood didn't seem right, I decided to pull into the Northwest Mall parking lot, where I ate my Whopper, observed the nearby tall Pizza Inn (former Burger King) sign, and marveled how much I drove. It was great.
Added March 2015.