Sears on North Shepherd
4000 North Shepherd Drive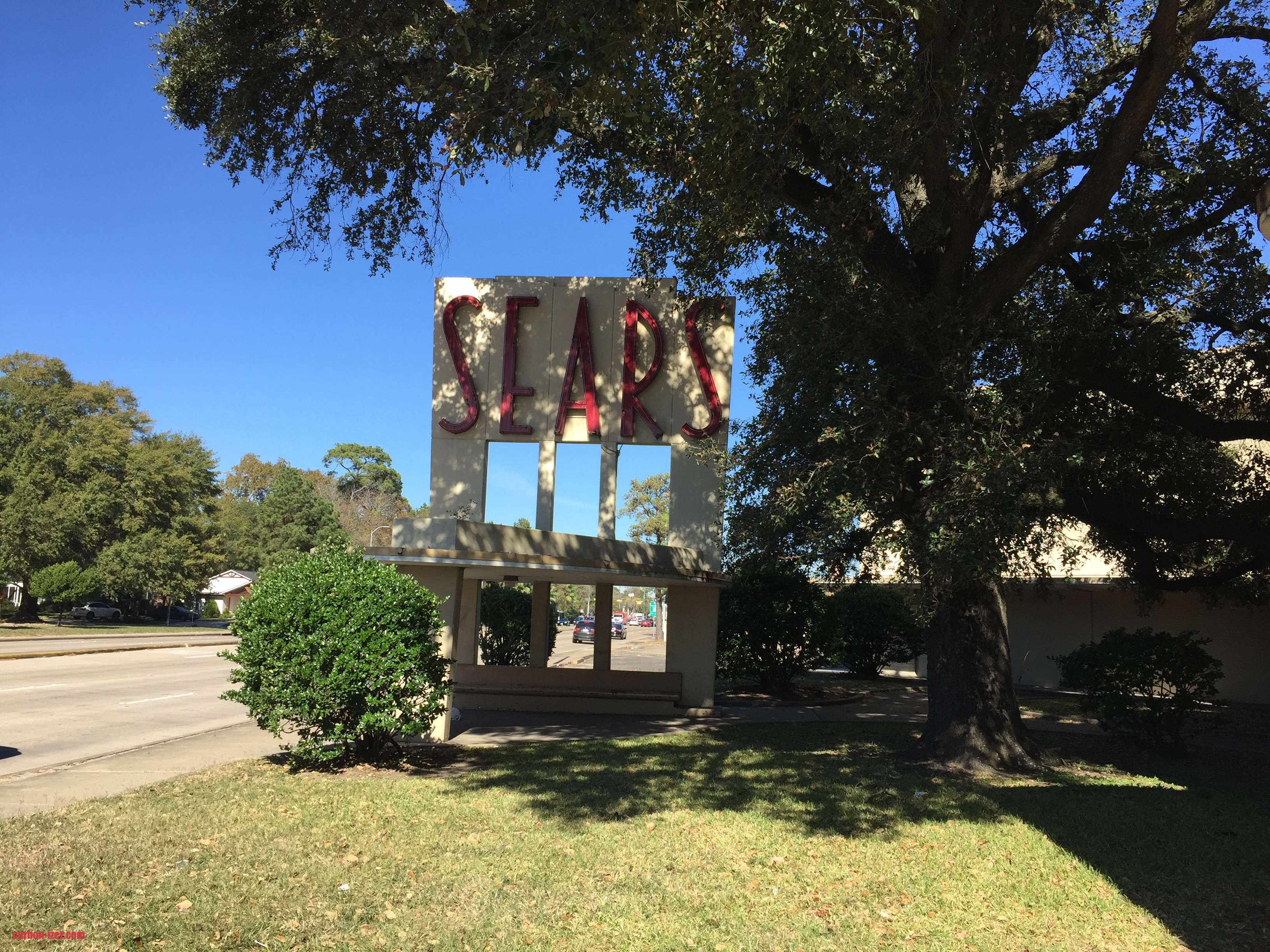 The decline of Sears has been pretty tough to watch over the last ten years, and one victim of that was a stand-alone Sears located at 4000 North Shepherd Drive and West Crosstimbers.
A more complete chronology of the late Sears North Shepherd store, the second-last full-line store to close in Houston (and by extension, one of the last full-line Sears stores in Texas) when it shut down in summer 2020, is coming soon. It opened August 1950 and for decades featured a landmark neon SEARS sign over a bus stop.
Here's the list of departments by phone book listing (Southwestern Bell, 1988). This is going by phone book numbers: a lack of listing doesn't necessarily mean they didn't have anything (for example, the Candy department may have been at N. Shepherd but not a listing).
Air Conditioning
Automotive Parts & Service
Automotive Repair Information
Batteries
Bedding/Linen/Towels
Boys Wear
Building Materials
Cameras/Film
Carpet/Linoleum/Tile
Cashier/Ticket Information
Cosmetics
Credit Card
Customer Service
Decorator Shop
Dishwashers/Compactors
Draperies/Bedspreads/Curtains
Electrical Appliances (Small)
Fencing
Furniture/Mattress
Garden Shop
Garden Tractors/Roto Spaders/Lawn Buildings
Girls Wear
Handbags/Accessories
Hardware/Hand & Power Tools
Home Improvement Products & Services
Hosiery
Housewares/Cookware
Infants Wear
Jewelry/Diamonds/Watches
Kitchen Planning/Cabinets
Ladies Fashion
Lamps/Dinnerware/China
Lawnmowers/Garden Tools
Layaway
Lighting Fixtures/Electrical Wiring
Lingerie/Robes/Loungewear
Luggage
Men's Wear
Office Machines/Equipment
Optical
Paint/Ladders
Personnel
Plumbing/Heating
Radio/Stereo Components
Refridgerators/Freezers
Roofing/Siding/Windows/Doors
Sewing Machines
Shoes
Sporting Goods/Camping/Recreation
Stoves/Microwaves
Televisions
Tires
Toys/Swing Sets
Vacuum Cleaners/Polishers
Washers/Dryers
Water Heaters/Softeners
...and several other "For Departments Not Listed".
Listed for other stores but not the North Shepherd store included candy, any of the financial network companies Sears owned at the time (Coldwell Banker, Allstate, Dean Witter Reynolds), or hearing aids, though this Sears did have an Allstate office at one time. I went twice, December 2018 and December 2019 (the store's last Christmas, ever). Despite emerging from bankruptcy, the store was in rough shape. Many items did not have price tags (they had been ripped off). In 2018, the store didn't look much better. The "toy department" was thrown together in a corner with nothing really interesting or higher-end brand names. Here are a few pictures, a few more to come in a future update. Right click for larger sizes.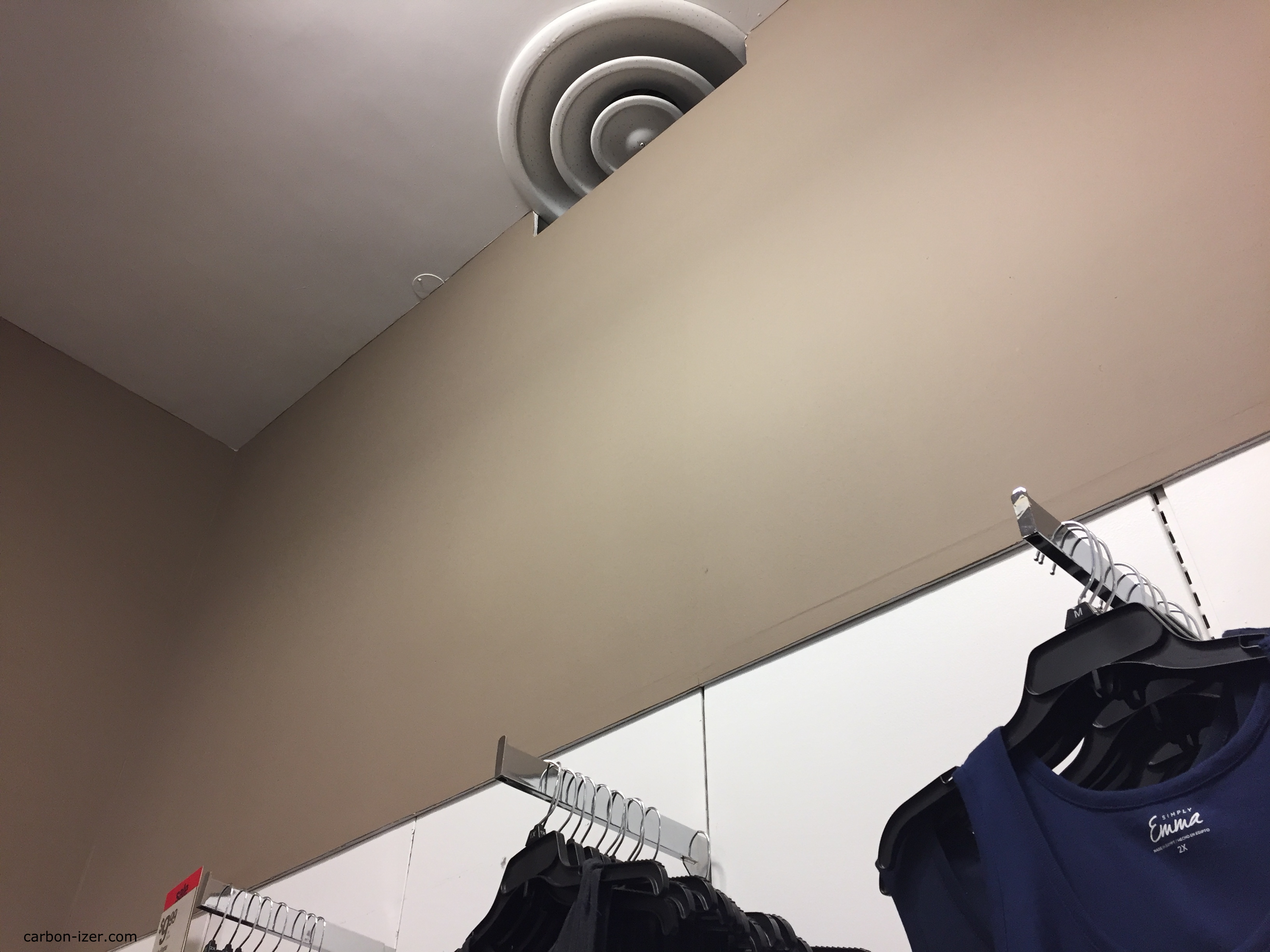 Evidently, the store had been remodeled somewhat cheaply at some time. (2018)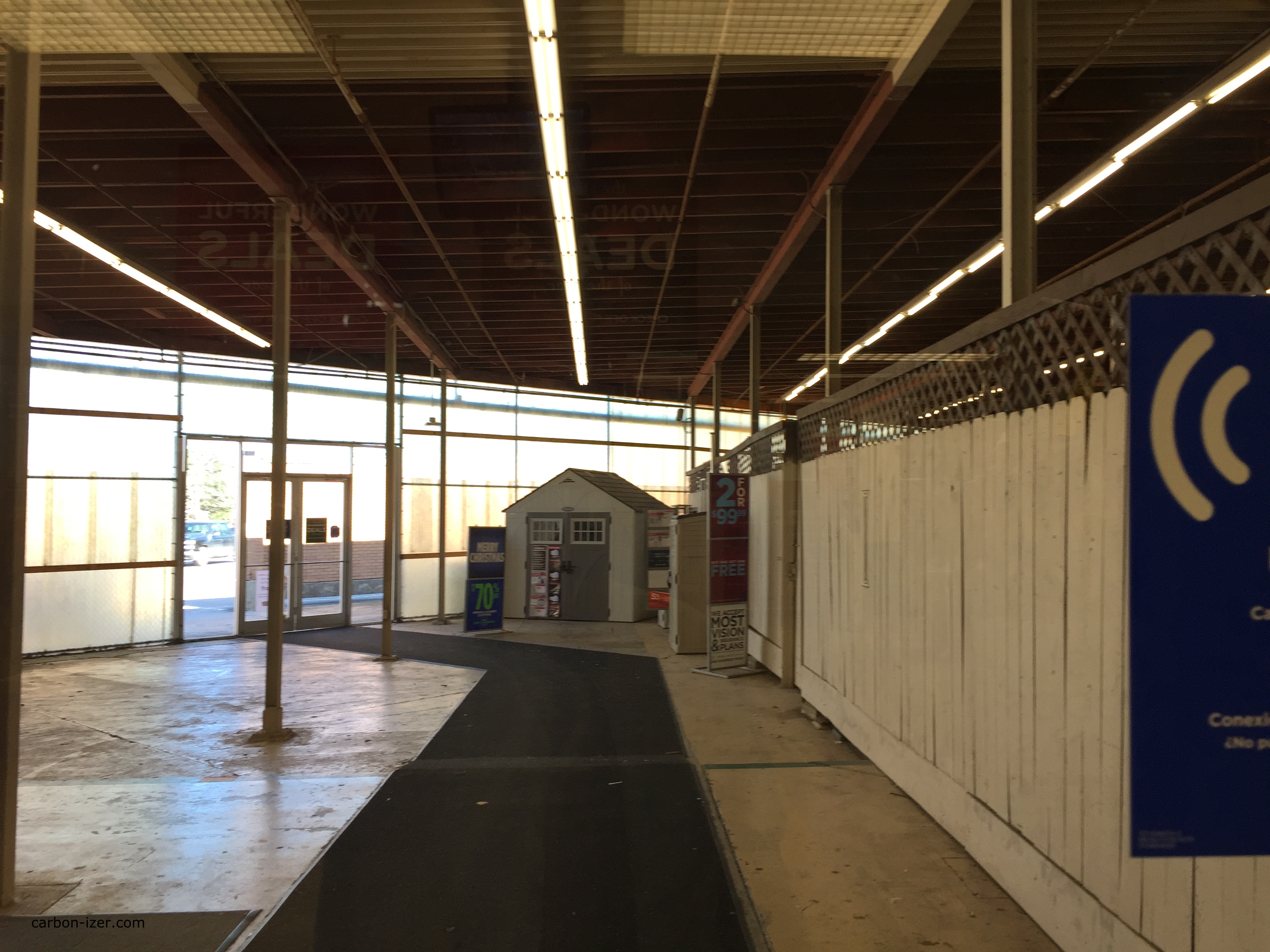 I'm presuming this was the garden center. Originally, the garden center was located outside the main building, and has been abandoned since the late 1980s, ever since a short-lived "store-within-a-store" Wolfe Nursery that Sears put in some of its stores closed. (2019)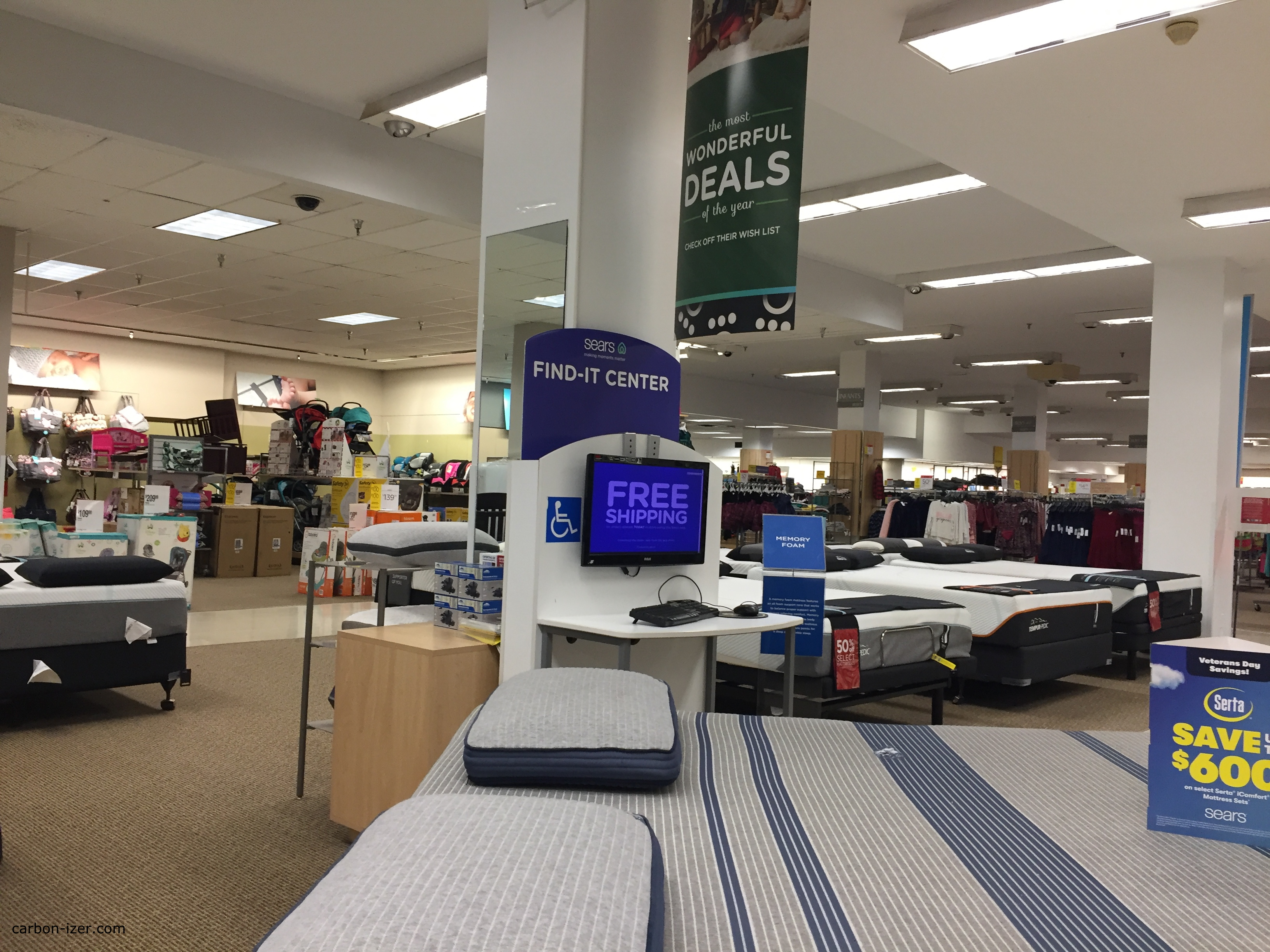 Much of the upstairs area was taken over by mattresses, but you can see what remains of the baby department thrown hastily together in a corner. (2019)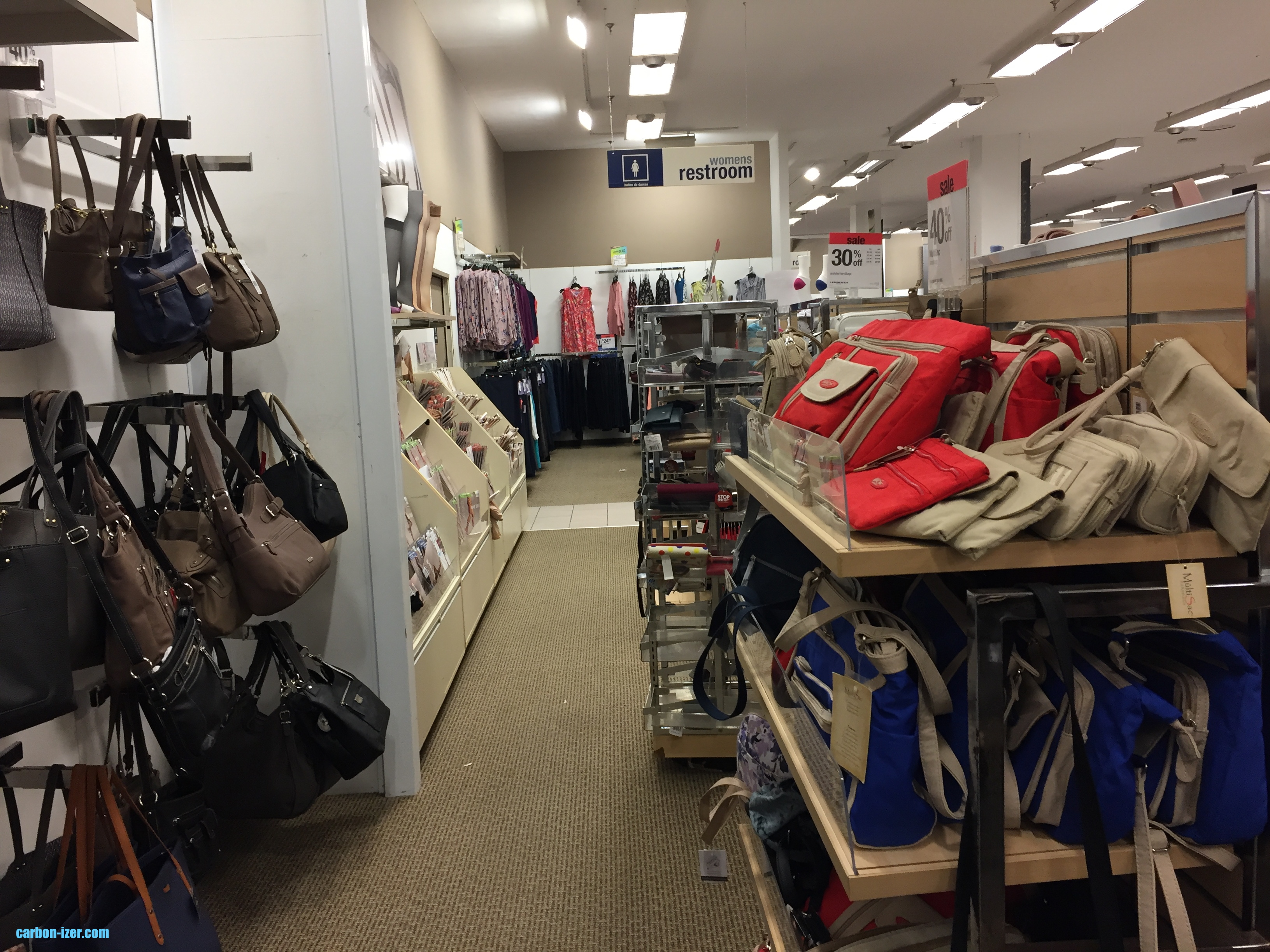 The restrooms on the lower level weren't together, rather grouped with a similar department. Here we can see the women's restroom, close to handbags and hosiery. (2018)
The abandoned Sears Home Services area upstairs. (2018)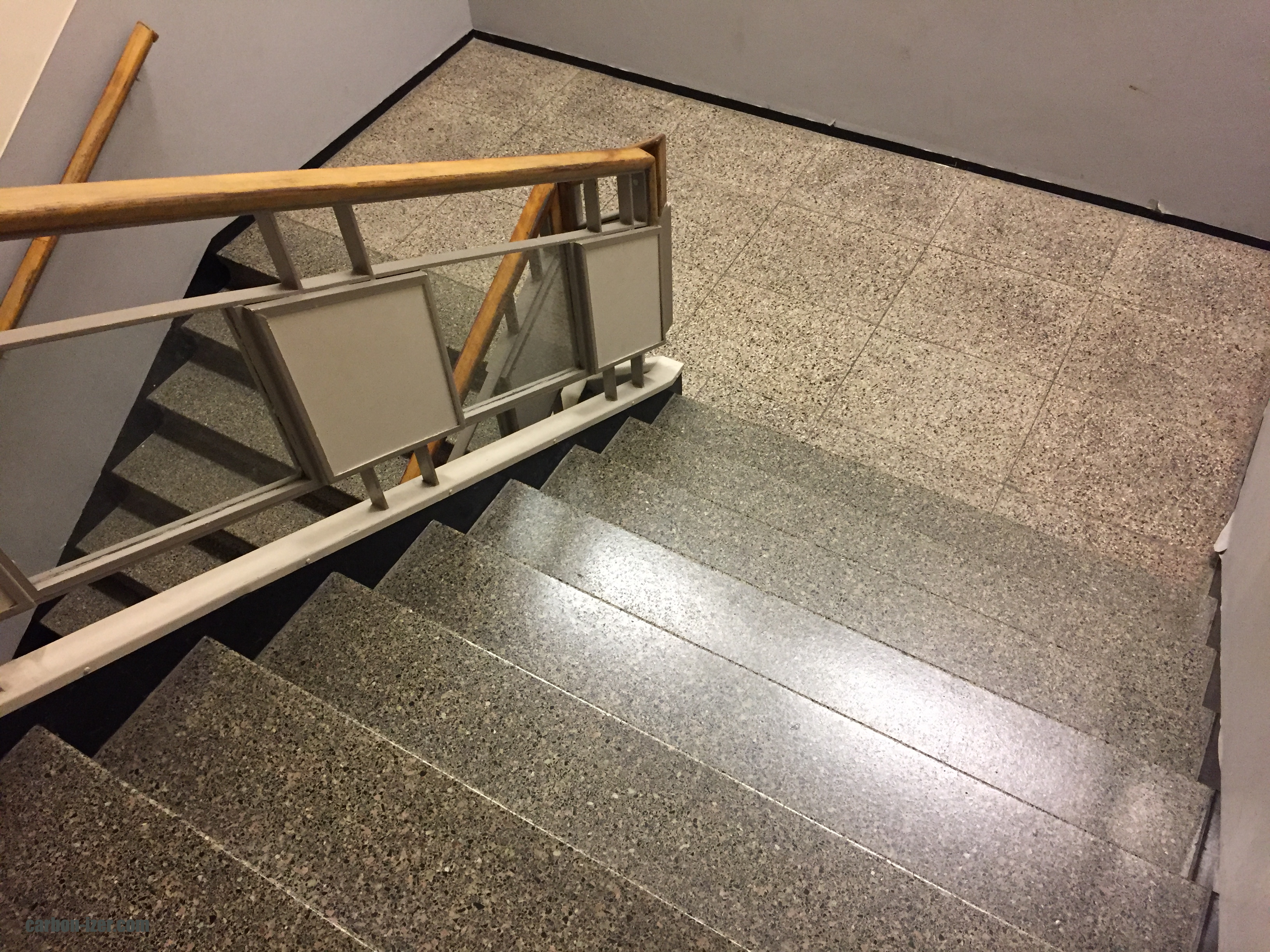 A stairwell, probably with original flooring. (2018)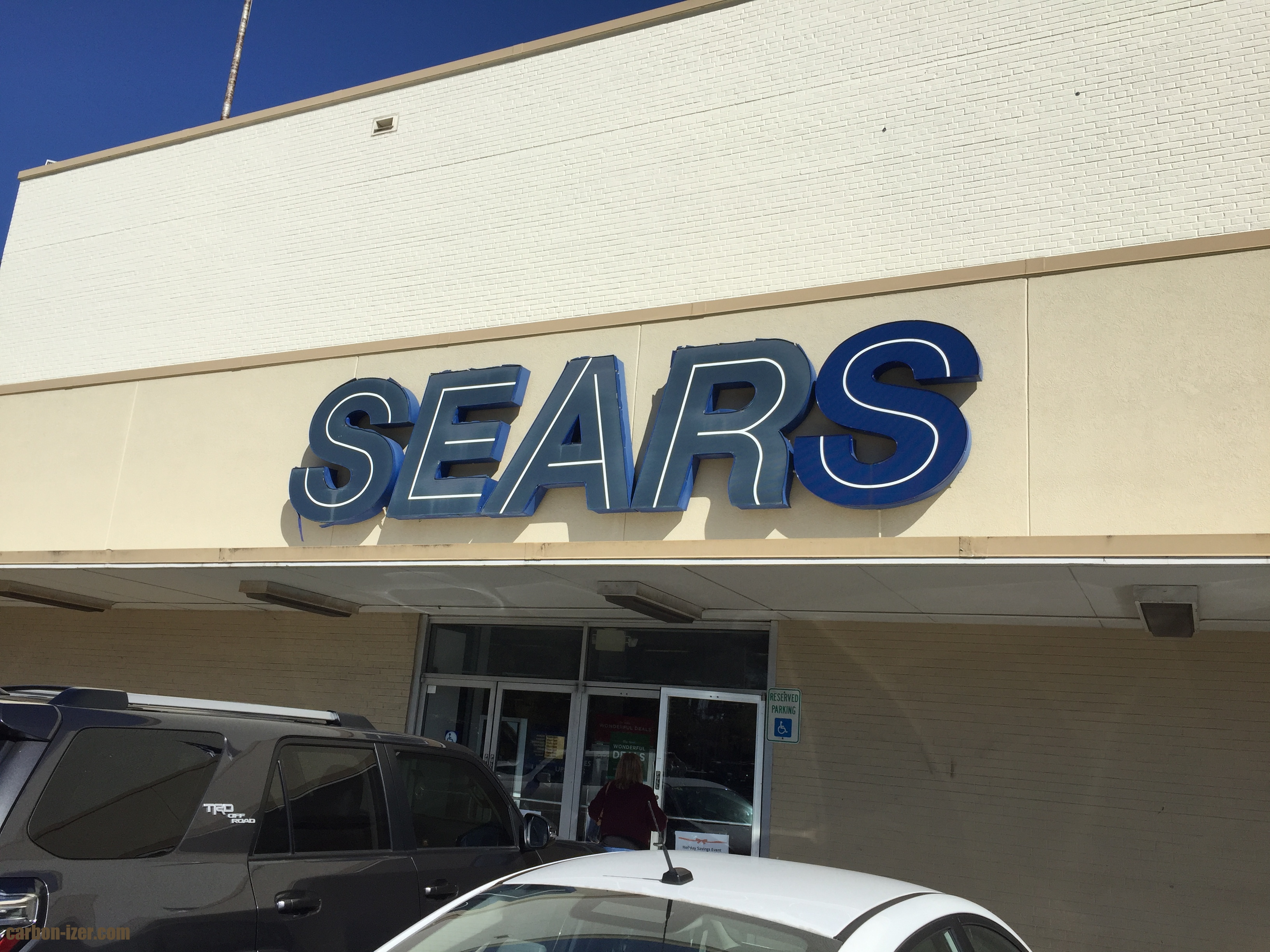 The second "S" had been repaired around 2018-2019 (why it looks much newer) but it didn't glow white the same way the other letters did. (2019)
Stairwell signage just as you went in. (2019)
---
Return to the North Shepherd Drive page
|
Email
---
Copyright 2021 Carbon-izer.com, this site is not affiliated with any businesses listed here.