North Shepherd Drive
North Shepherd Drive begins as a one-way road from the one-way section of Shepherd Drive at White Oak Bayou and is four lanes northbound through the Heights. This page is version 3.0. It upgrades the page to the current manual of style, updates La Michoacana Meat Market (minor changes), Valero (at W. 16th Street), Velvet Taco, 2400 N. Shepherd, Cottonwood, and Luby's, adds Value Village, Piper's Beer & BBQ, Fiesta Beverage Mart, and B&W Meat Company, as well as integrating North Crosstimbers to the page. It's not as huge as it could be but I felt it needed some updating.
White Oak Bayou to NORTH LOOP
Stoplights in this section (the four-laned, one-way section) include West 11th Street, West 14th Street, West 19th Street, West 20th Street, and West 24th Street, and composes the Houston Heights area which Shepherd goes through.
908 North Shepherd Drive
This auxiliary facility for Tommie Vaughn Ford has been doing service for heavy duty trucks since at least 1992. Back in the 1950s, it was some sort of industrial facility with a rail spur to the M-K-T railroad just south of here.
Kroger / 1035 North Shepherd Drive
I had read this store had dated back to 1948 before being rebuilt in 1996, but that's not the case--it was still woods even into the 1950s, and the first reference being 1959, with Henke & Pillot #12 being at this address. Around 1966, its new owner Ohio-based The Kroger Co., began to rebrand the stores (as "Henke's" or "Kroger-Henke") and by 1970, it was Kroger. The store (along with adjacent retail space) was rebuilt in 1996 as a new Kroger Signature store. In 2010, the store expanded (replacing a gas station at the corner of Shepherd and 11th with its own fuel station) and dropped the Signature branding.
Burger King / 1040 North Shepherd Drive
The first reference I can find for Burger King is 1966 but around the late 1980s, the Burger King was rebuilt. It received a major in-and-out upgrade in 2013.
Popeyes Louisiana Kitchen / 1101 North Shepherd Drive
Popeyes has been here since 1977. The "Louisiana Kitchen" is a more recent moniker, which the company started phasing in starting in 2008.
La Michoacana Meat Market / 1348 North Shepherd Drive
This building was built in 1945 as a small grocery store, with the earliest reference being Hi-Sun Food Market in 1961, an associate of local grocery co-op Lucky Seven. The owner, Gen Hing Lim, supported (along with other local immigrant business owners), took out a full page in 1961 in support of the Republic of China (Taiwan).

By 1967, it was "Wholesale Electrical Systems", mentioned in an advertisement of another restaurant as one of its suppliers (featuring Westinghouse light bulbs), and in 1970, listed as "Goodway Distributing".

In 1991, it was Alltech Appliance, featuring "clean, rebuilt, late model appliances" (implying that they were not new). By December 2009, it had assumed its current tenant.
Valero / 1544 North Shepherd Drive
As of January 2021, this Valero is now a Circle K (still with Valero gas) after being a Valero/Corner Store since the mid-2000s and a Diamond Shamrock/Stop-N-Go before that. This was a Corner Store as of 2019, it should be Circle K these days. While it dates back to the Stop-N-Go/Diamond Shamrock days, it's unknown as to what legacy the early 1980s gas station has.
1919 North Shepherd Drive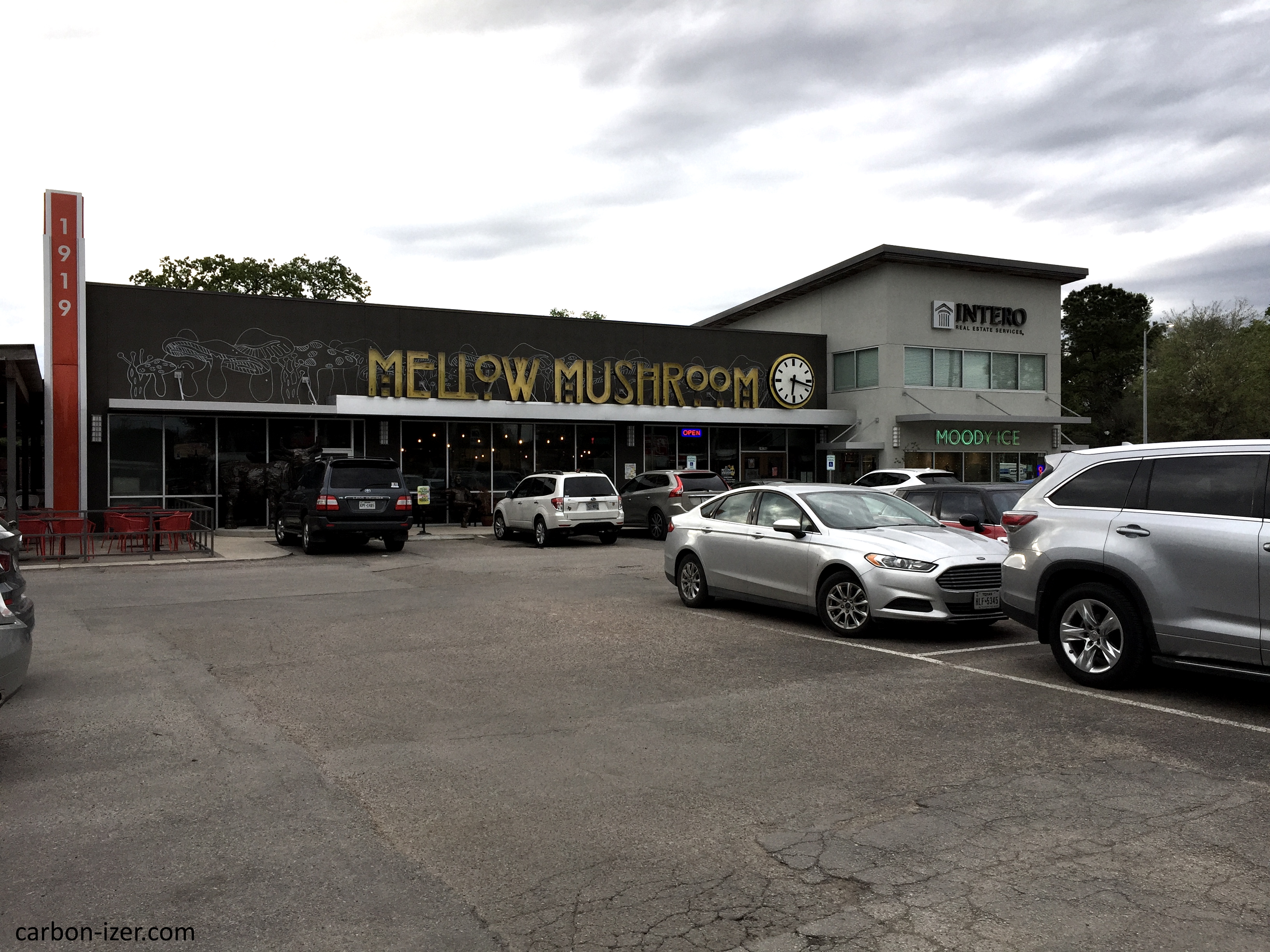 Mellow Mushroom, this building's main tenant, which opened in late 2016, almost made to my old blog The Houston Files, but did not. When I wrote up the description (part of it, anyway) on THF, I included a link back to the old (2001-2007) version of the site, which was entirely Flash-based and featured a similar layout to HomestarRunner.com, and featured the same voice actors. Flash is no longer supported on most modern browsers, so the best I can do right now is link to how the main page actually looked.

Mellow Mushroom at 1919 North Shepherd is not the first tenant nor the only one currently. The building also shares space with Intero Real Estate Services and Chick'nCone, which replaced Moody Ice, a tenant that was there for the first year or so (into 2019, when I took that photo, but not for much longer).

Previously, the entire building was Dealer Sales, a used car dealership, with the Intero/Chick'nCone section being the offices and the Mellow Mushroom being the garage (it goes without saying the building looked substantially different inside and out).

The earliest address I can find is Blue Seal Autos, Inc. (1951), and it appears to have served as a dealership of some sort for decades. Other names over the years included H.B. Mistrot (1959), State Finance Co. (1961), and Triple H Motors (1968). Unfortunately, no newspaper records for the address exist after the mid-1970s, but it was 1988 when the current building was built.
Velvet Taco / 2001 North Shepherd Drive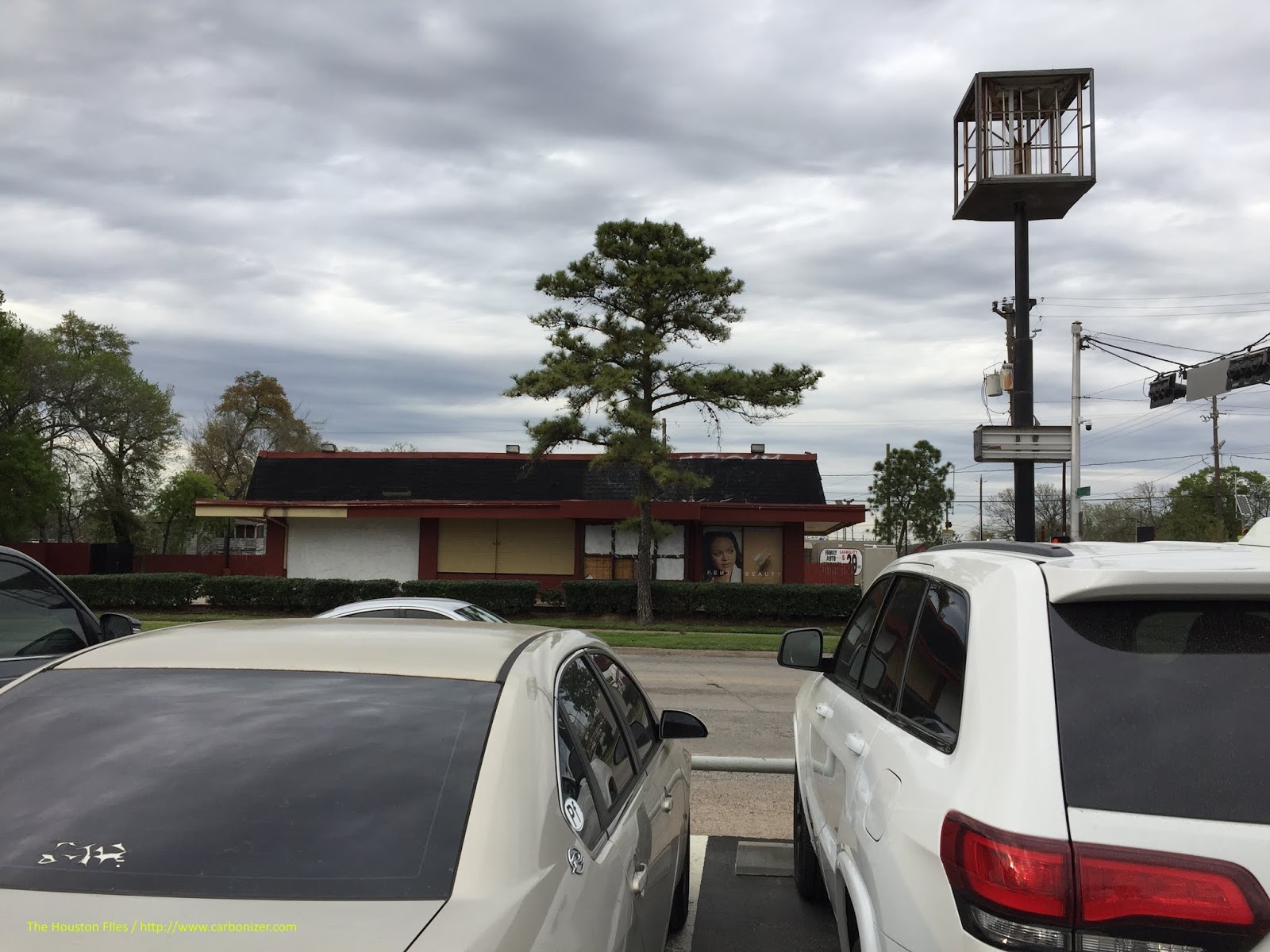 Built in the late 1970s as a Jack in the Box (and replacing an older location from the early/mid 1960s), this location closed in or around September 2018. In January 2021, it reopened as Velvet Taco, the third Houston store but the first with a drive through. The picture above is from my older blog, The Houston Files. Velvet Taco maintained the "box" signage but heavily altered the building's exterior.
Value Village / 705 West 23rd Street
Despite having a large parking lot (and roadside sign), Value Village (thrift store commonly found in Houston) didn't have a facade on the building until around 2020.
H-E-B / 2300 North Shepherd Drive
Food Giant, a local supermarket (#7 according to sevfiv from Arch-ive) was located here starting in 1966, with a 56,000 square feet store and an extensive non-food selection, ads have included needing someone for a jewelry department, and other ads have shown items like lawnmowers, box fans, small kitchen appliances, baby cribs, a portable typewriter, and others.

In February 1975, Fiesta opened in the space, with when Food Giant closed being lost to time. For the next forty years, Fiesta operated in the space, making a minor facade change by the end of the 1980s (and slightly expanding the building). An interesting thing to note was that Fiesta operated in the Heights dry zone, and did not sell beer or wine. In March 2016 it closed, and the H-E-B began construction within a year, beginning with the demolition of the site.

The H-E-B is two levels and opened January 30, 2019, with its parking garage abutting the street. Most of the store is on the second level built above the parking garage, with the first floor featuring the pharmacy and escalators/elevators going up to the upper level.
Piper's Beer & BBQ / 2323 North Shepherd Drive
This restaurant opened in October 2020, replacing Copper Penny, a shabby-looking walk-up restaurant serving hamburgers and Chinese food. Copper Penny was here in some form since 1989, and at one time served ice cream. It survived at least into 2019.
2400 North Shepherd Drive
This building dates back to the early 1970s as Texas Cafeteria. In 2013, Texas Cafeteria got a new facade, but it didn't last, as in 2015 the restaurant closed and gutted down to the roof structure and the back wall.

By 2017 there were two tenants, a Verizon and Krisp Bird & Batter, but in late 2018 Muscle Maker Grill replaced Krisp.

An October 2019 Street View (from north to south) shows Verizon, Upscale Cleaners, Green Earth Juicery & Cafe, and Muscle Maker Grill. As of "Version 2.0"'s writing in February 2021, Verizon has since closed.

According to Harris County Appraisal District, the current building was built in 1972, but a cafeteria being here predates Texas' opening in 1965, and as early as 1955, a cafeteria was on the site here for lease.
Fiesta Beverage Mart / 2807 North Shepherd Drive
Fiesta Beverage Mart, the stand-alone liquor store companion to Fiesta Mart stores, is typically found near the stores but this one was located farther away as the main store was in a dry zone. When the Fiesta down the street closed in spring 2016, the liquor store continued operations, complete with a neon Fiesta logo on its signage.
NORTH LOOP to PINEMONT DRIVE
Here North Shepherd crosses under the North Loop Freeway and enters the Garden Oaks/Oak Forest area, leaving The Heights and entering its first major change. Just north of West 30th Street is where North Shepherd merges back with Durham (the southbound section) and loses its fourth lane (abruptly turns left).
---
Gabby's BBQ / 3101 N. Shepherd Drive
Gabby's BBQ opened here in January 1984, featuring an overly-large parking lot (for events, likely) and the ninth location of the local chain. Today, this is the only location left.
Cottonwood / 3422 N. Shepherd Drive
This bar and restaurant's building dates back to 1950 as an auto garage owned by local man Oscar Schmidt. Larry's Wheel & Tire was here from approx. 1978 to 1982. By the time it became Cottonwood in 2012, it had been "Gilbert's Driveshafts" and closed for a while by that point.
Garden Oaks Shopping Center / 3800-4000 North Shepherd Drive
A year or two prior to getting Aldi, the center went through an exterior renovation (the old version used lots of brick). A PDF of the center can be seen here with its 2020 tenants.
4000 North Shepherd Drive
Sadly, the Sears that was here from 1950 to 2020 is now closed, ending the era of its Art Deco-style neon sign along Shepherd. Read more about the store at this this link.
CVS/pharmacy / 4150 North Shepherd Drive
CVS/pharmacy opened in very late 2005 on an unused section of Sears' parking lot. Here is where the West Crosstimbers Street stoplight is. Check out that page. To the west (at the same intersection) is West 43rd Street. They relocated from a location at 1238 West 43rd Street.

LA Fitness / 4412 N. Shepherd Drive
Fitness center built in 2013. The original building that used this address was located behind LA Fitness where townhomes are now and originally opened as Shopper's Fair in 1960. After it closed around 1974, it served as a flea market for years afterward. More on this will be coming in a later update.

Valero / 5121 N. Shepherd Drive
Burger King was here from the mid-1970s to the mid-1980s. After that, it was torn down for a Circle K (in 1987). The Circle K was sold to Stop N Go in 1994 (likely gaining the Diamond Shamrock gas brand at this time), then became Corner Store in the mid-2000s (with a Valero). By late 2019, it was Circle K for the convenience store section as part of Alimentation Couche-Tard's purchase of CST Brands.
PINEMONT DRIVE to NORTH FREEWAY
This third major section of North Shepherd is where the older environs of Garden Oaks gives way to a harsh mish-mash of old buildings and car scrapyards. The access to North Freeway (to and fro) is from flyover ramps, and continuing on North Shepherd just dead-ends at the southbound frontage road and Veterans Memorial these days.

B&W Meat Company / 4801 N. Shepherd Drive
Meat market with a wide variety of meat products. I don't have any pictures, and was too poor to afford anything at the time (as well as lacking a grill). [website]. They have been in this location since 1987.

Church's Chicken / 5207 N. Shepherd Dr.
Church's has been here since around 1983.

Jack in the Box / 5410 North Shepherd Drive
HCAD says this Jack in the Box was built in 1965 but it either was actually rebuilt in the 1970s or, less likely, had extensive work done since then. It does not resemble the construction of a mid-1960s Jack in the Box.

Shell/Burger King / 5605 N. Shepherd Drive
This Shell/Burger King (the convenience store being "Handi Stop") has been here since 1995. The gas station might not have always been a Shell (likely, a Texaco prior to 2003), but it has always been Handi Stop.

Montalbano Lumber / 5850 North Shepherd Drive
The signage looks like it could be decades old, but Montalbano was at 6120 North Shepherd until around the mid-1970s.

Mayfair Park Apartments / 7450 North Shepherd Drive
This apartment complex was built in the mid-2000s, one of the few newer developments.

Taqueria La Jalisciense / 7477 North Shepherd Drive
This was originally Bojangles' Famous Chicken 'n Biscuits, but it closed by the end of 1985 after a very brief run in Houston of a couple of years.

Garza Veterinary Clinic / 7702 North Shepherd Drive
This vet clinic was originally a McDonald's restaurant. In the early 1990s the McDonald's permanently closed for reasons unknown.

Luby's / 7933 Veterans Memorial Drive
Facing North Shepherd, this Luby's opened in October 1990 (as Luby's Cafeteria). It was able to celebrate thirty years in business despite many Luby's restaurants being closed.
---
Return to the Main Page | Email
---
Copyright 2021 Carbon-izer.com, this site is not affiliated with any businesses listed here.