Farnham Street Starbucks Coffee
3821 Farnham Street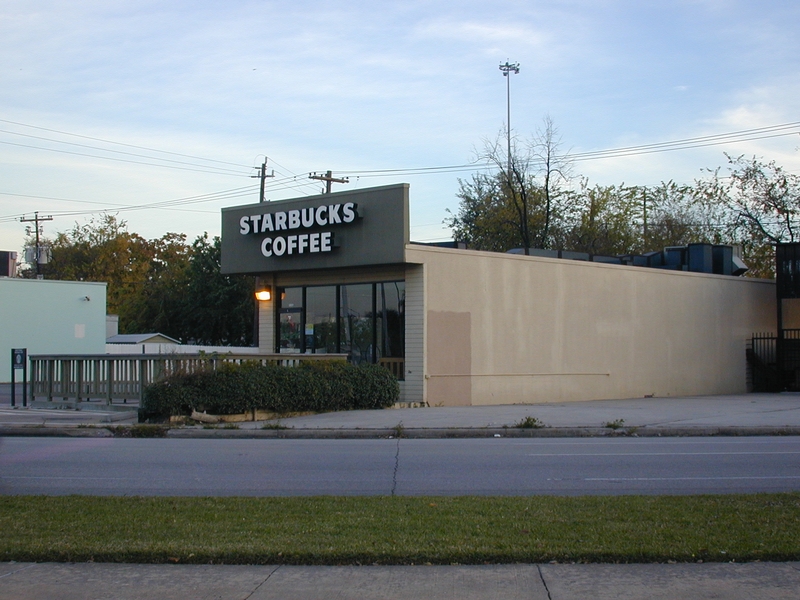 2002 picture from StarbucksEverywhere (specific page), used with permission
One of my favorite trips to Houston was in March 2008 with some family members, both visiting (driving down) and living in the area. It's the same trip where my Galleria and Memorial City Mall pictures were taken (among a few others--they may see the light at some point), but the Upper Kirby area tends to figure in prominently because that's where my cousins (going to grad school in Rice) lived at the time. I had wanted to cover the area for a while now but I eventually settled on just this Starbucks; not that the surrounding area isn't interesting. At the time, the nearby Whataburger had a non-standard brown mansard roof (turns out it was not, in fact, built as a Whataburger), and the nearby 59 Diner directly next to the Starbucks was also the first location of what was then a local chain. (59 Diner closed in 2016). The Starbucks was the first casualty of the changing environment among my post-2005 Houston memories.
According to HCAD, the building dates back to the mid-1930s (along with the former 59 Diner next door) but this isn't accurate--it appears that both buildings were built in the 1950s. Still, it does show that Starbucks obviously wasn't there originally. While some records indicate that Starbucks was at 3821 South Shepherd Drive, the address is at 3821 Farnham Street. Similar to how Durham carries North Shepherd's southbound traffic, Greenbriar carries most of South Shepherd's southbound traffic, with Farnham as the connecting street. At Rice Boulevard, South Shepherd begins but Greenbriar continues south as a two-directional street until it merges with Fannin.
While I've yet to research the full history of the building (the 8/31/22 update of this website was too ambitious and it fell by the wayside), the Starbucks Coffee opened in 1997 originally, and closed August 2008, with other Starbucks closing in the same timeframe. In another road trip later that year, I observed a closed Starbucks Coffee near the Mall of Louisiana...I had never seen a closed Starbucks before!
In any case, the Starbucks remained vacant for over a year until it was retenanted by Tru Meals, which opened January 2010 and focused on healthy takeout food (similar to My Fit Foods, which was expanding in Houston at the time). But within a few years Tru Meals closed. Snap Kitchen opened in September 2013 and closed in January 2015. After another year of vacancy, the first Houston location of The Halal Guys opened in January 2016. While The Halal Guys is still open, it still hasn't beat Starbucks' record of being in the space for over a decade.
This page is subject to change as previous tenants are verified and added.
---
Return to the Main Page
|
Email
---
Copyright 2022 Carbon-izer.com, this site is not affiliated with any businesses listed here.