Memorial City Mall
303 Memorial City Way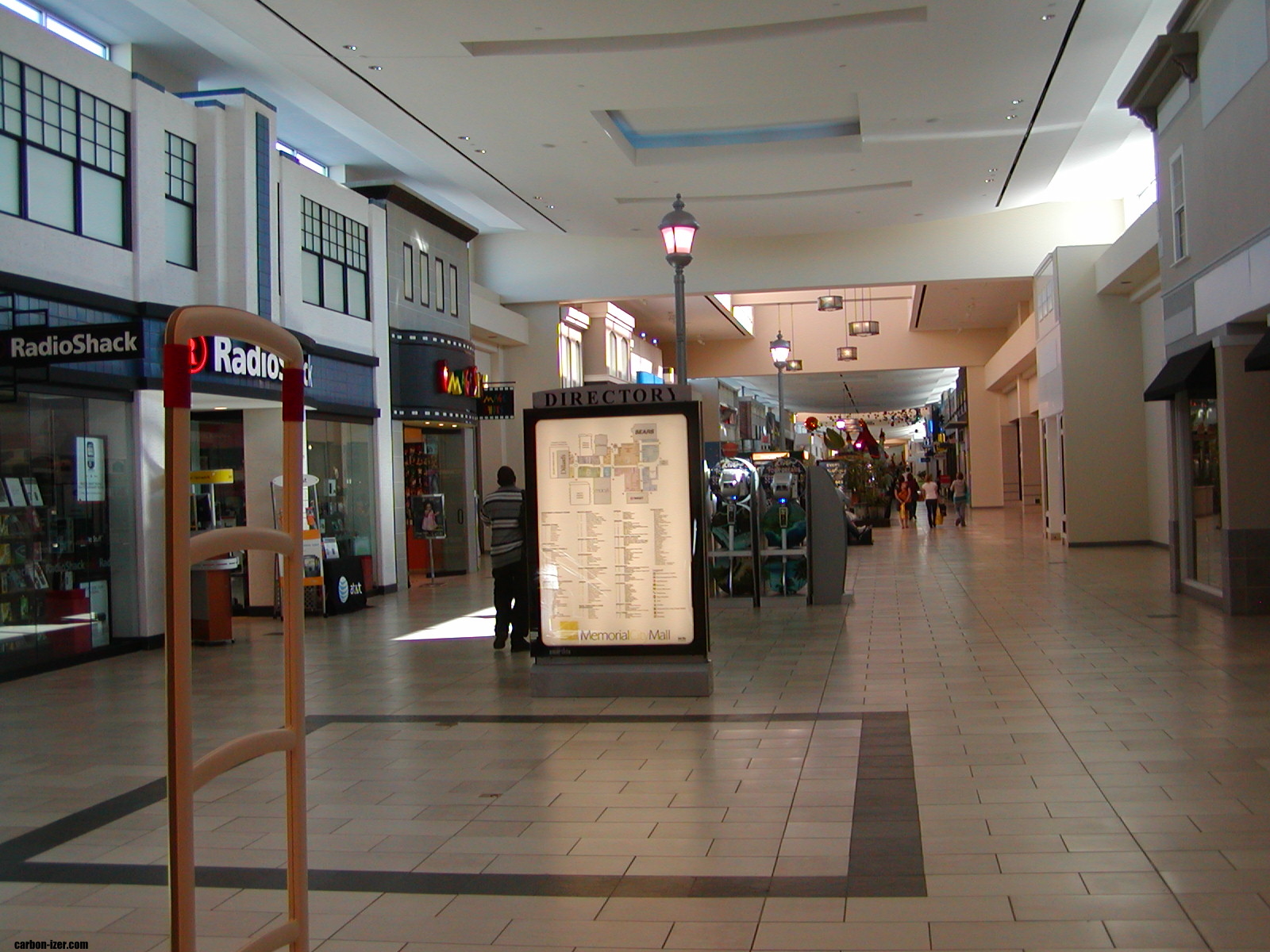 Author's 2008 picture
Originally at 900 Gessner (with some stores referring to their addresses as such), Memorial City Mall is one of the premier malls in Houston, anchoring the west end of the city. It is also one of the oldest malls, predating The Galleria by four years. For the most part,
Mall Hall of Fame
(archived in its form when this section was originally published) provided the most complete & accurate history of the mall, though there are of course inaccuracies.
The 1966 opening of the mall proper is correct, "Phase One", which included Weingarten and Sears, along with American Savings Bank, was built in 1964. The Sears store in particular was definitely opened, with a large spread in the papers about it, including some of the features the new store had to offer.
While "Memorial Shopping City" appears in some pre-mall articles, other articles refer it as "Memorial City Shopping Center".
Mars Music sub-leased part of Montgomery Ward, not the whole thing.
Exhilarama (not "Exhilerama") lasted into the late 2000s as Tilt.
The Weingarten mentioned, from what I've read, was in or near the current ice rink area. However, it closed sometime in the 1970s, before the chain was dismantled.
Another inaccuracy is the fate of the second Lord & Taylor. The store opened in 2002 and closed in 2005, but JCPenney had already long departed from Town & Country Mall before it appeared at Memorial City Mall.
But why just try to pick apart what you can read here?
Memorial City Mall officially opened in 1966 as a single-anchor center. Early stores in the mall proper included Craig's and Piccadilly Cafeteria. The mall's cinema opened in 1966 by
Stanley Warner Theatres
with the first feature being
Nevada Smith
. After six years of life as a single-anchor center, in 1972, Montgomery Ward opened at the north end of the mall. The store featured an auto center and a 400-seat "Buffeteria" restaurant. The existence of the Buffeteria restaurants seemed to have its own branding and may have even operated stand-alone locations (like at Greenway Plaza and beyond), nor was it unique to this Wards.
Buckingham Square Mall
in Aurora, Colorado had one too, and in another parallel to Memorial City Mall, its Wards became Target as well (though the mall ended up closing in 2007).
Memorial City Mall got its first form of competition just over a mile west at West Belt Road in the form of an outdoor shopping center called Town & Country Village, which opened in 1967 and anchored by the upscale Sakowitz department store. Soon after, it was joined by Joske's and additional stores. Perhaps to counter the fancier Town & Country Village, in 1974, a new eastern wing opened at the mall anchored by Foley's, a one-story store but at 263,000 square feet (the
exterior of it
, courtesy Department Store Museum, was unique and not like any other Foley's built before or after.
In addition to the massive Foley's, the new wing contained a Palais Royal and an even larger Battelstein's (in 1980 this became Frost Bros. when parent company Manhattan Industries discontinued the Battelstein's brand), as well as the first, last, and only
York Steak House
in Houston when the chain was still growing. You can see what the mall looked like at this time (interior map)
here
, in a map provided by the Houston Chronicle, and just about doubled the mall's size. On November 1, 1977, the mall was "completed" with a Lord & Taylor on the west end. It was the chain's 25th store.
In 1983, Town & Country Mall opened. This three-level mall redeveloped the north side of Town & Country Village, and in addition to incorporating the Joske's there (later Dillard's), it added Neiman Marcus, Marshall Field's, and JCPenney, as well as a food court. During the same time, York Steak House at Memorial City Mall closed and became a small food court. Another competing mall emerged in 1984, West Oaks Mall. While it opened seven miles to the southwest, it still competed with Town & Country and Memorial City for the spending money of residents in west Houston and Katy. West Oaks Mall and Memorial City Mall/Town & Country co-existed for years, sharing a similar line-up of tenants (in the 1990s, West Oaks included Foley's, Mervyn's, Sears, JCPenney, and Dillard's). West Oaks Mall's decline started to accelerate after Memorial City Mall's expansion, but ultimately it was undone by a variety of other factors, with one of its first high-profile closures was losing its JCPenney store to Katy. However, in terms of Memorial City, other malls like Sharpstown were actually closer, and the only mall within a five mile radius to Memorial City besides Town & Country was actually The Galleria.
In 1986, Fame City opened in west Houston (13700 Beechnut), a massive 300,000 square feet entertainment complex with a movie theater, bowling, mini-golf, a roller skating rink, and more, with an adjacent eight-acre outdoor waterpark (Fame City Waterworks). It was a success, and Dari Ansari, the Iranian-born developer of Fame City, planned for even more Fame City locations, with two more planned for Houston (Clear Lake and The Woodlands) and reaching 25 chain-wide by the year 2000. The second location of Fame City would be at Memorial City Mall, with the Houston Chronicle mentioned in an article from May 9, 1989, that a location being planned for Eastwood Mall of Youngstown, Ohio as well. Fame City opened in the two-story space left unoccupied by Memorial Cinema after the cinema closed around 1985, as well as two other areas of the mall...one of which being the former Frost Bros. store, which closed in 1988 when the chain went bankrupt. It's a little confusing to where these three areas were, and one article mentions a second story area near the food court. (One article mentions that Fame City was in FOUR spots, one of them being probably the second story of the old cinema).
A new movie theater was also built around this same time, an eight screen theater located on the second level directly on top of the mall just north of Sears, and the mall received a renovation. This theater, Loews Memorial City 8, was eight screens. An article states that the movies shown here were here were
Johnny Handsome
,
In Country
,
Shirley Valentine
,
Indiana Jones and the Last Crusade
,
Field of Dreams
,
River of Death
,
Do the Right Thing
, and
Cheetah
as the matinee movies with
Dead Poets Society
in the evening.
All during this time, the mall would see its first anchor turnover when the Lord & Taylor closed. It wasn't the poor business of the mall, the over-expansion of Lord & Taylor and the Houston economy had caused Lord & Taylor to scale back. The Galleria Lord & Taylor would remain open for the next 15 years, but the Memorial City Mall location (along with the Greenspoint Mall location, which opened at around the same time) became Mervyn's. In Memorial City Mall's case, it would move from across the street (see the
Gessner page
).
Another fun fact that is often forgotten is the same timeframe, Sears had two concepts that were operated by outside parties, neither of which lasted much longer than a year, but still notable. The garden department was operated by Wolfe Nursery (see the page I wrote
here
) and Sears Bakery Deli Cafe, which I wrote about on
this website
.
Meanwhile, Montgomery Ward sub-leased a section of its store to Phar-Mor in 1989 (this closed in 1994). Additionally, Olive Garden ("The Olive Garden" in its early days) opened a restaurant in the parking lot on the Gessner side. It had the address of 1000 Memorial City Mall (or sometimes used 900 Gessner, the mall's address) but was not part of the mall and located in the parking lot. This would eventually close in 2008 and demolished in 2009 for Iberia Bank.
In late 1993, Fame City's owners sold out. While Fame City Waterworks over on Beechnut continued, Fame City at Beechnut became Fun Plex (which is still open today, Exhilarama took over Memorial City's Fame City. You can see some footage of Exhilarama
here on YouTube
(not my footage). An advertisement for Exhilarama also mentions that the childrens' attractions at Fame City (one of the features of Fame City Memorial City Mall) became "Kids Kingdom".
During the mid-to-late 1990s, there was a store in the mall called "...And Indians". This is notable because although it had another store in West Oaks Mall, there was zero Internet presence of the store. Here's Ty J.'s recollections.
And Indians sold things like home decor, artwork (paintings, prints, and sculptures), jewelry, and accessories. All of the merchandise was Native American or American west-themed, much of it made with semiprecious stone, carved wood, deer antlers, and other such "rustic" materials. I recall thinking that most of the products were quite elaborate and exotic and many were, well, fragile-looking, all very different from the simpler and/or largely "kid-friendly" things that my parents decorated our house with. I also recall the store's products seeming to be very expensive, but that is probably because I was quite miserly as a kid and thought anything non-electronic that cost more than $20 was expensive. Nevertheless, the store did stock several things that cost as much as several hundred dollars.
The mall
was still quite sleepy in 1998
. The scan is not all that great, with a scanning error that made some text impossible to see, but the stores are on the map. As you can see in the PDF, it had a food court and, strangely, one of Houston's first locations of Forever 21, but the mall itself not particularly trendy or up-to-date. The Piccadilly Cafeteria was still there after thirty years and even had Piccadilly's rival Luby's Cafeteria on the other side of the mall. The sub-leased Montgomery Ward space was now home to
MARS
since 1997 after a brief stint as Media Play.
The Floppy Wizard, near a corner at the Montgomery Ward side, can be seen
here
(last picture of the mall). Walgreens, which had closed or moved out of many mall sites, still had a presence in the mall. By this time, Exhilarama was bought by Tilt (later rebranded as Tilt), and eventually it closed in the 2010s (becoming additional food court space).
However, Memorial City Mall was poised for greatness. It had an advantage over Town & Country Mall for several reasons. Despite the overall dowdier anchors--Sears, Montgomery Ward, Mervyn's, and Foley's versus Dillard's, Neiman Marcus, Saks Fifth Avenue (replacing Marshall Field's after it pulled out of Texas in 1996), and JCPenney, Town & Country Mall was hamstrung by the construction of Sam Houston Tollway, which made it difficult to access. Memorial City Mall was also able to expand, while Town & Country Mall was hemmed in by its real estate, parking garages, and highways. It was also larger than Town & Country Mall, 1.3 million square feet compared to Town & Country's 1 million. Not that square footage was necesssarily a measure of success. The largest mall in Houston, Greenspoint Mall, had 1.7 million square feet and 96% occcupancy, but it had a bad reputation, just lost Mervyn's and was on the verge of losing JCPenney as well.
Still, Memorial City Mall had 90% occupancy compared to Town & Country's 62%, and already Taubman, the mall's partner since 1996, announced Neiman Marcus would move to Memorial City Mall and was pursuing Nordstrom as an anchor as well.
Taubman ended up pulling out of the project, giving a stay of execution to Town & Country Mall and ended up passing the buck to General Growth Properties, which kicked off a renovation project in late 2000 with the mall's owner MetroNational. The eastern wing heading out to Foley's was gutted for two mini north/south hallways. On the north end of this was a new Foley's, with a 300,000 square foot store opening in November 2001 (abandoning their old store), and to the south, Lord & Taylor opened an all-new store in March 2002, returning to the mall by featuring a 140,000 square foot store. "Instead of blouses, dresses, and accessories being separate, they are brought together to create a particular look", a 2003 Houston Chronicle article noted. During this time, Palais Royal left the mall, presumably being kicked out in the eastern wing work. The Loews movie theater left as well. The theater above was partially demolished in the construction but it seems to still be unused.
Mall owners toured several new and renovated malls to get inspiration. They mentioned that the "particularly influential" malls were Stonebriar Mall of San Francisco, FlatIron Crossing in Denver, Fashion Island in Newport Beach, California, and Citrus Park Town Center in Tampa. (The mall's décor ended up looking almost identical to Citrus Park's, with "outdoor" styled storefronts). In addition to planning a new ice rink (roughly where Weingarten was years ago),
the food court was also to be expanded with additional restaurants and a large carousel
(note that the video refers to Target Greatland and the fact that Dillard's arrived later than the video discussed).
When the announcement of Montgomery Ward's closure came soon after construction started didn't faze Memorial City Mall, with Bill Peel at MetroNational noting that it freed it up a prime corner of property. When MARS closed in late 2002 it cleared the way for Target, which already purchased the site and had plans to build a Target Greatland (145k square feet). The Montgomery Ward store was torn down and opened as a Target (T-1435) in late 2003. It replaced a Target from the early 1970s down the road at 9429 Katy Freeway.
While Target did open into the mall corridor, the mall entrance and the exterior entrance lead to a hallway with a chest-high wall separating it from the rest of the store, the "real" entrance of Target is found here, in order to curb shoplifting and redundant connections. You can see a PDF of the mall as it appeared c. 2003
here
. It does not have the new theater, the old theater entrance, and no entrance near Sears. The Borders never opened, it became an Old Navy instead. There were also a couple of other prospective tenants on there that never happened.
The eastern wing heading out to Foley's was gutted for two mini north/south hallways. On the north end of this was a new Foley's, with a 300,000 square foot store in November 2001 (abandoning their old store), and to the south, Lord & Taylor opened an all-new store in March 2002, returning to the mall by featuring a 140,000 square foot store. "Instead of blouses, dresses, and accessories being separate, they are brought together to create a particular look", a 2003 Houston Chronicle article noted. During this time, Palais Royal left the mall, presumably being kicked out in the eastern wing work. The Loews movie theater left as well. The above was partially demolished but it seems to still be unused.
The former Foley's was demolished for additional stores and space for a new sixth anchor. This was signed for a Dillard's, which was to move from Town & Country Mall. However, in July 2003, May Department Stores announced that Lord & Taylor would pull out of Houston as part of scaling back the department store chain. This time, the Galleria store would be affected, as well as Willowbrook Mall (where a store was built in 1998) and, of course, Memorial City Mall. Despite the bad news, the mall was still on the upward trend, and as Lord & Taylor owned the building it was in, May wanted to negotiate with new tenants. With Dillard's already signed onto the new Memorial City Mall, JCPenney and Saks already having left Town & Country Mall, only Neiman Marcus remained at Town & Country Mall. The mall would permanently close the following year and be demolished (except for the parking garages).
In October 2003, Dillard's closed its store at Town & Country Mall and reopened at Memorial City Mall later that month. Memorial City Mall's ice rink opened at the same time, as well as the aforementioned Target. By December 2003, Memorial City Mall was functionally complete, with six department stores (Sears, Mervyn's, Lord & Taylor, Dillard's, Foley's, and Target) with a completely rebuilt interior. It also boasted three parking garages, connecting to Foley's, Dillard's, and Lord & Taylor.
By January 2004, the Houston Chronicle was referring to Memorial City Mall as "The Galleria's classy little sister", with six department stores and an ice rink. Despite the bad news regarding Lord & Taylor, May wasn't in a big hurry to liquidate the store, and ultimately the store closed in early 2005, with the store still being open as late as March 2005 (Town & Country's Neiman Marcus closed that same year, and never moved). A few months later Memorial City Mall would get more bad news as far as department stores went, with Mervyn's also pulling out of Houston.
Mervyn's closed in January 2006, but the mall was about to get its fifth anchor back when JCPenney opened in February 2006 in the former Lord & Taylor spot. Afterwards, a movie theater was built in a corridor linking the Sears wing back to the food court, with the theater being on the second level. You can see a detailed floorplan of the entire mall (before the cinema, however)
here
. I don't believe the Borders ever opened, it was an Old Navy instead (opened 2006). A new
Cinemark movie theater opened in May 2007 on a second level
connecting between the Sears wing and the food court. The cinema features 16 screens, and the way the mall is structured allows you to exit near the food court (the food court has doors blocking it) after hours. It quickly put the screws to the nearby
Westchase Tinseltown 20
, which had problems with its clientele anyway.
The opening films at Cinemark Memorial City were blockbusters like
Pirates of the Caribbean: At World's End
(with showings occupying multiple theaters, showings starting every fifteen minutes),
Shrek the Third
,
Spider-Man 3
, chick flick
Georgia Rule
, and independent psychological horror film
Bug
. Meanwhile, Foley's had become Macy's in fall 2006 (along with every other Foley's in the chain, plus many other regional department stores).
The "Water Feature" mentioned in the 2003 plan was later replaced by a childrens' playground, and by 2016 that moved closer to Sears while a
Tout Suite
opened in the crossroads. Tout Suite only lasted a few years—I don't know what's there now.
Mervyn's was demolished soon after its January 2006 closure for additional restaurants and a skybridge connecting the Memorial Hermann hospital across the street (which had slowly expanded over the years, including adding a Westin hotel on the premises). For a few years in the early 2010s it was completed but in a bizarre and disappointing twist, the skybridge was partially demolished for additional construction at the former Mervyn's site with more restaurants. I remember in 2016 seeing the closed-off escalators in the ice rink leading to the skybridge. within a few years, in its place was a covered walkway that led out to the skybridge near the end of the restaurants. The idea of the mall and the hospital/hotel being one super-structure over one roof had come to an end.
I first visited the mall in March 2008. The directory, which I scanned and can be seen
here
is a bit more abstract but represents the mall and its tenants as I visited in 2008 (compare and contrast the
2006 version
from the mall's website). A picture of the mall's corridor from Target is at the top of this page, while a food court is below.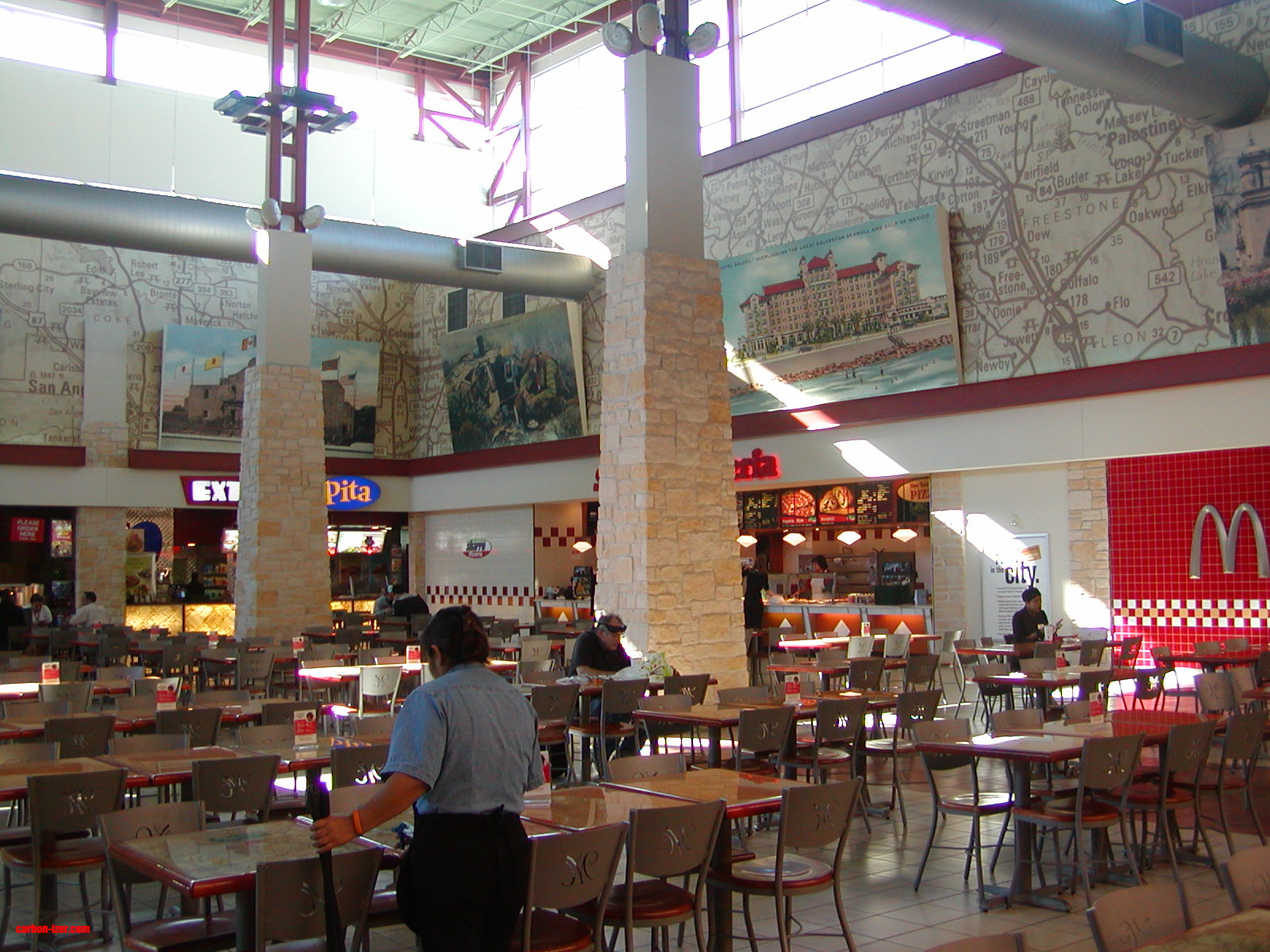 For a very brief time in early 2016, Memorial City Mall used to be, if very briefly, "my mall". I got my hair cut there at least once. I bought household cleaning supplies at the Target store. I saw
Hardcore Henry
in the mall's movie theater on Friday night, realizing how badly it was doing in domestic theaters when it was one of the more popular movie theaters in Houston on a Friday night, and the theater was barely full.
The mall would never expand its footprint after the 2001-2003 expansion but would gain a residential component of sorts in 2018 when a section of parking lot in the southeast was torn out and replaced with
The McAdams Apartments
with construction underway by early 2017. The McAdams has a parking garage of its own and does not physically connect with the mall in any way.
Sears would close in fall 2018 as part of the ongoing struggles of the company, and in 2020, the store (the genesis of the mall, really) was demolished, with rumors of additional outdoor stores and services, as opposed to another anchor store, though until this happens, it's unknown what it might be. Could it be a Houston location of Scheels All-Sports, an upscale supermarket, or a huge fitness center? Could Memorial City Mall finally bag Nordstrom? Who knows?
Multiple resources, most notably the Houston Chronicle, served as the basis for this article.
---
Return to the Houston page
|
Email
---
Copyright 2021 Carbon-izer.com, this site is not affiliated with any businesses listed here. While accuracy is aimed for, this is an individual's work and not liable for any error here.