SEARS BAKERY DELI CAFE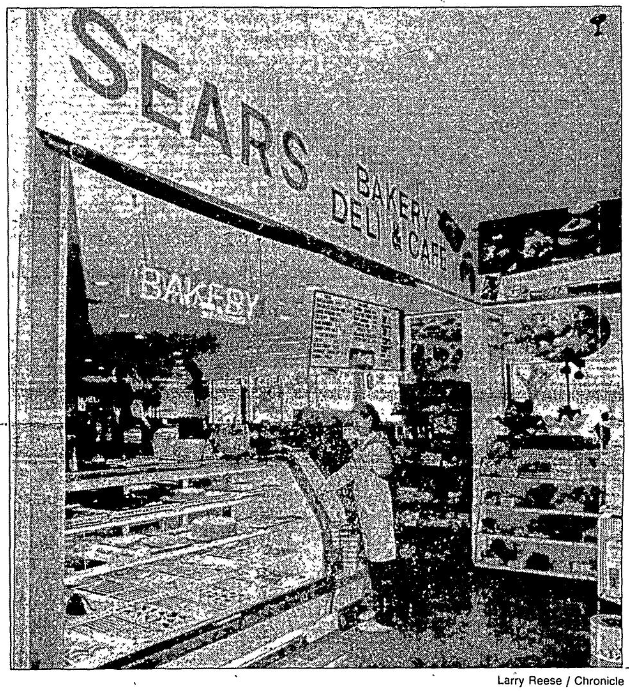 In 1987, Cattleguard, a Houston-based restaurant, began operating restaurants in Sears stores, in many cases, taking over the coffeeshops that Sears once had. By November 1988, Cattleguard Inc. operated restaurants inside Sears stores not just at the at the Main Street (Midtown; 4201 S. Main), Baytown (San Jacinto Mall), and the
North Shepherd store
, but also in Phoenix, Tucson, and Oklahoma City.
Cattleguard itself was a restaurant that had originally one location at 2800 Milam since 1980, serving chicken fried steak, seafood, fajitas, and other similar foods. An advertisement for the restaurant can be seen below.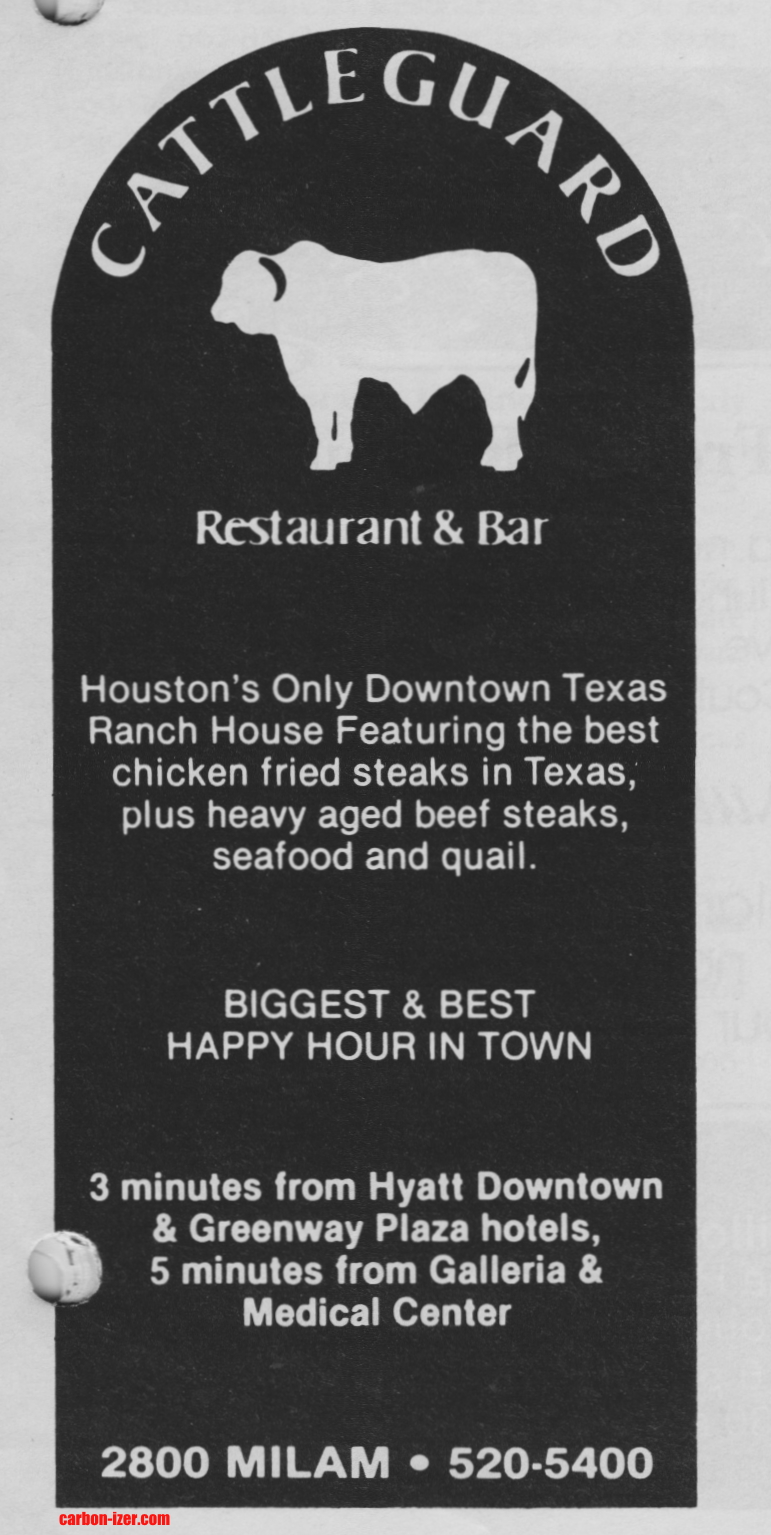 In 1988, with a few other newer locations and other restaurant concepts built, Cattleguard began to change its few in-store restaurants into the Sears Bakery Deli Cafe.
Very little is known about these restaurants. The first location was in the Pasadena Sears (the old 1956 stand-alone store at 1107 South Shaver Street, before it moved to Pasadena Town Square in 1997). In December 1988, the restaurant was leased by Cattleguard but operated effectively by Antone's Import Co., which featured its sandwiches, baked goods, and imported food selections. Whole aisles were dedicated to gourmet food, including escargot and their shells (rare in 1988), various pastas, coffee beans, olives, and more. The Pasadena store may have changed early on; besides, Antone's wasn't available beyond Houston. An article states that Cattleguard's 29 delis (as of September 1989) in Sears stores sell "freshly baked breads, cookies and pastries, cold cuts, cheeses, ice cream, coffees and teas". Furthermore, the original Pasadena also mentions popcorn, something the old, pre-1980s Sears sold.
Cattleguard also opened a few other newer locations and other restaurants during this time, but the Sears restaurants were by far its most notable venture. By 1990, Cattleguard had 38 restaurants inside Sears stores in Texas, Arizona, Illinois, Oklahoma, Missouri, Ohio, Michigan, and Florida.
The Sears stores that had the restaurants were in the following stores, listed by mall name as of 1990. Most of these remained open as Sears stores until Sears Holdings Corporation purged them in the mid-to-late 2010s, though a few of them either closed or moved early. While I don't have the full list of where Cattleguard operated outside of Texas, I do have all the Texas stores where they were located.
Austin: Hancock Center, Barton Creek Square
Beaumont/Port Arthur: Central Mall, Parkdale Mall
Corpus Christi: Sunrise Mall (the Sears is mentioned in the page I did on it).
Dallas-Fort Worth: Valley View Mall, Ross Avenue (stand-alone store at 5334 Ross Avenue, long gone), Red Bird Mall, Town East Mall, Six Flags Mall, Collin Creek Mall, The Parks at Arlington (notably a new store built in 1988).
Houston: South Main, San Jacinto Mall, Galvez Mall, Greenspoint Mall, Westwood Mall, Willowbrook Mall, Deerbrook Mall, Memorial City Mall (new page as of this writing), Baybrook Mall, and Pasadena.
Waco: Richland Mall (we have a page on it).
That covers 23, the most restaurants in any state. Other research has dug up Woodfield Mall in Chicago (a flagship for the company and one of the very last Sears stores to close in an A-list mall) and Quail Springs Mall (in Oklahoma City).
In March 1990, it was reported Cattleguard planned to franchise Kentucky Fried Chicken restaurants inside of Sears stores, with plans for one in St. Louis and one in Dallas. So what happened to them all? It seems that all of the restaurants had the plug pulled by 1990, starting around May with some going into late 1990, and even (in a few cases) early 1991. The problem seems more toward Cattleguard's end than Sears', as during that time, Cattleguard's other restaurnat ventures--a stand-alone restaurant in Katy, Buttacavoli's downtown, Che-a-Wa-Wa Charlie's in Fort Worth, all closed. Two Cattleguard restaurants at 2800 Milam and 1010 Highway 6 North continued to operate under a new company ("Milam + 6") but failed a few years later.
The 1988 article that first mentions the Sears Deli Bakery Cafes including a rather sobering fact...Cattleguard had been running in the red since 1983, and their attempt to build a way out of debt via Sears had failed as quickly as it started. Evidence suggests that Sears simply gutted the restaurants and used them for other purposes; I've been told that while Baybrook Mall briefly had a McDonald's inside as part of a pilot program (though have found no concrete proof of such other than the fact that two Sears had McDonald's restaurants inside), the Baybrook location became the optical department for many years following. Perhaps that was one of the many mistakes of Sears in the long-term, long before Eddie Lampert even entered the picture. Branded eateries were becoming the hot new commodity in 1990, with PepsiCo expanding its fast food brands into previously unimagined territory, like gas station convenience stores or supermarkets. Wal-Mart would partner with McDonald's and Kmart would take up arms with Little Caesars. On the other hand, perhaps the restaurants failed in Sears because department store eateries had fallen out of fashion, even inexpensive ones.
---
Return to Main Page
|
Contact Me
---
Copyright 2021 Carbon-izer.com.