Holiday Inn Central
4640 Main Street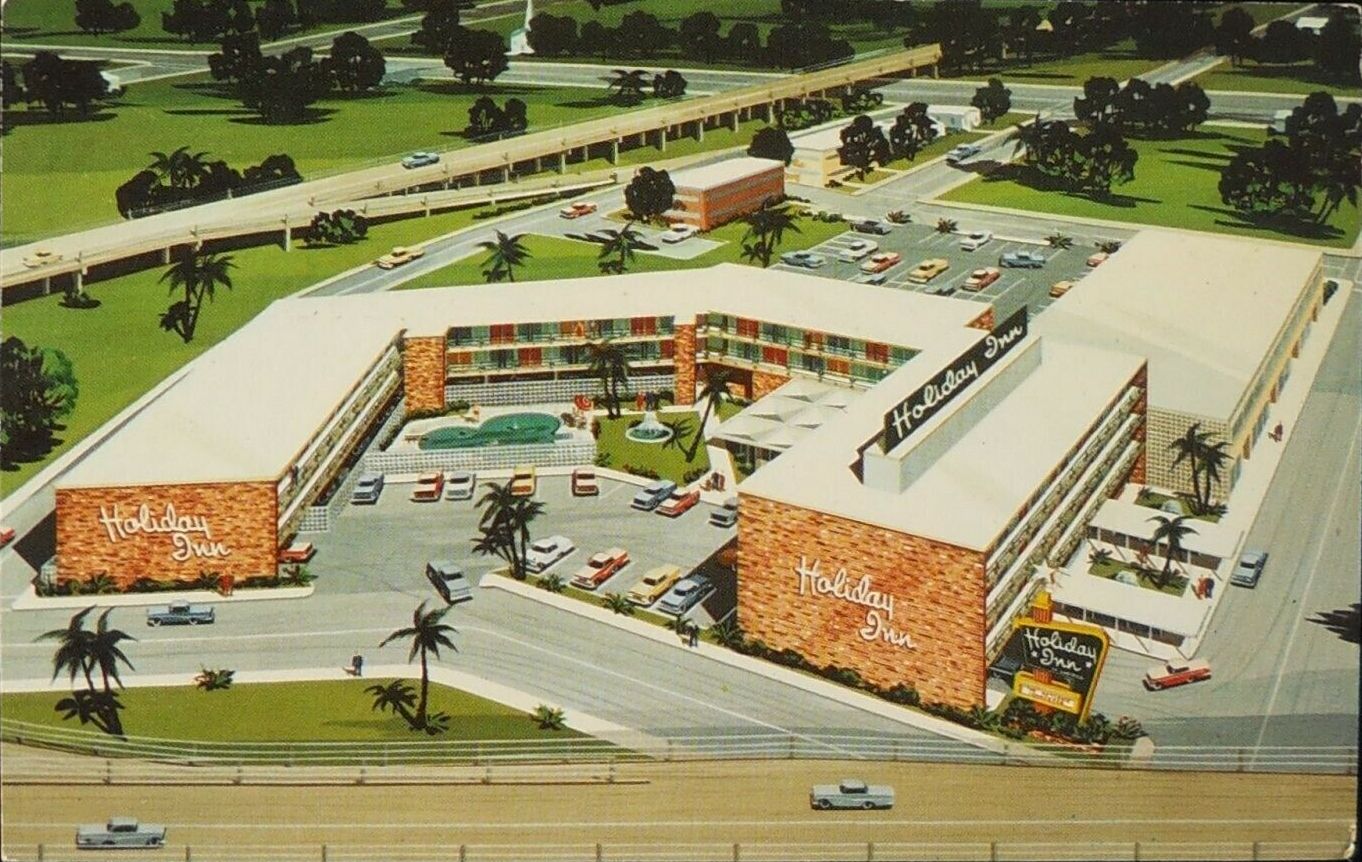 Postcard picture from eBay, forgot source
I started to work on this page was developed out of two featurettes I had been working on, one being "The Former Days Inns of Houston" and "Defunct Southwest Freeway Motels", both of which were not yet completed as of this writing and at this point I am not 100% sure I'll get to them any time soon, at least in their current states.
The hotel appears to have opened in or around January 1965 as a Holiday Inn, informally "Holiday Inn Central" to distinguish it from other Houston-area Holiday Inn locations and featured 280 rooms. Unusually, the main entrance to the parking lot goes under the motel, with additional parking located on the ground level at Blodgett & Garrott (though there is no parking lot access from Garrott Street).
In 1987, due to a downturn in the economy that wiped out about a dozen hotels, the hotel closed its doors. In late 1994, the dormant hotel reopened as a Days Inn (Days Inn Downtown/Medical Center). Also, at some point, Days Inn reconfigured the pool. The original was more of a shamrock shape, but Days Inn later expanded it into more of a teardrop shape. In 2003, the hotel (which had never seen much success as a Days Inn) was purchased by the non-profit group U.S. VETS to be converted into a housing facility for low-income & homeless veterans (and to a lesser interest, people with HIV/AIDS). Despite neighborhood resistance, the facility reopened as "Midtown Terrace Suites" in late 2004. The pool was intact until sometime around 2011-2012.
I can see why the hotel may have had trouble over the years. Here you're practically next to zooming cars, in some cases just about 50 feet away from the highway. On top of that was a large steel structure formerly used as a billboard, but had been disused for years. At night, it felt very dystopian/cyberpunk (in an interesting aesthetic kind of way).
One more story related to this Holiday Inn...nearby, there's a closed-off entrance ramp. This was closed in the early 2000s. Part of the problem was the short sight lines and short merging lane before the lane ended for the merging lanes coming in from Spur 527. Only in the last few years have they constructed more permanent barriers blocking off the former exit, yet the pavement still remains.
---
Return to the Houston page
|
Email
---
Copyright 2019-2021 Carbon-izer.com, this site is not affiliated with any businesses listed here.