LIFE & TIMES AT 5130 BELLAIRE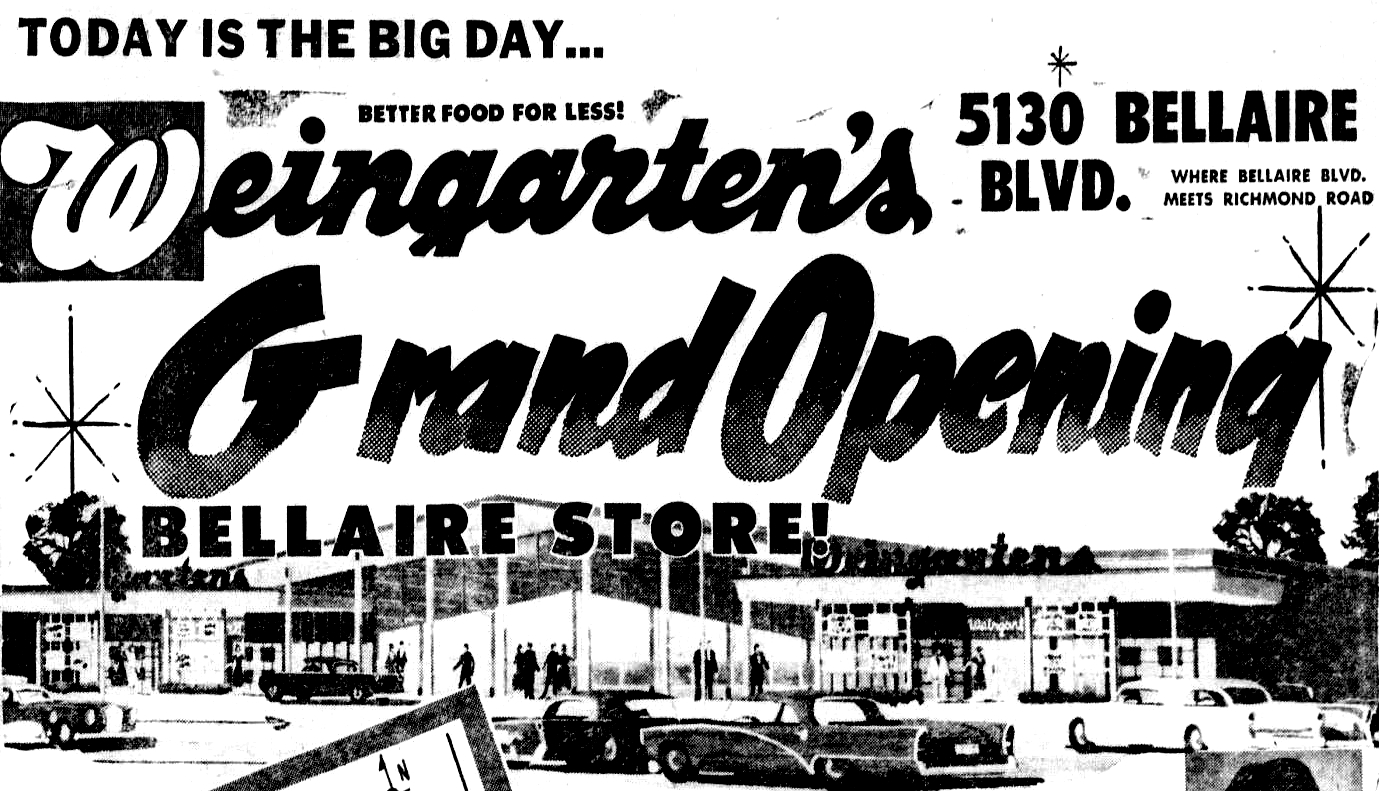 Last July, one of the Houston area's oldest supermarkets (original building, still operating) turned 60. A feat that supermarkets rarely can meet, this store is Randalls #3064 (#64-pre Safeway), located at 5130 Bellaire, in a triangular-shaped lot bounded by Bellaire Boulevard, South Rice Avenue, and Bissonnet Road (Old Richmond in 1959). This Carbon-izer section will cover 60 years of history in five minutes.
While newspapers can be hit and miss as far as store history goes, the opening of the store was so big in 1959 that the Bellaire Texan devoted a number of pages to it and its many new features. These can be seen in the links below.
The store did not originally feature a pharmacy (the modern drive-through pharmacy seems to be built under the 1994-1999 Randalls' ownership). Its 1959 features included the bakery and deli department (likely where they are now) but also the "Gourmet" department (which featured everything from macadamia nuts to chocolate-covered ants to smoked meats flown in from New York). Other departments included a courtesy booth for cashing checks and paying utility bills (which continues to exist today), a "Kiddie Cartoon Theatre" ("to park the kids while mother shops"), the drug department (health and beauty aids, no pharmacy), a full tobacco department, a lunch counter, and the home center department (a few Weingarten stores had full "Home Center" departments, complete with clothing and heavy appliances) but this store's "Home Center" department seemed to be mostly limited to plastic items and small appliances. After all, there wasn't much to do with a 33,000 square foot store.
Shortly after the store turned 20, it would face a series of changing hands that would ultimately temporarily close the store twice. First, the Weingarten stores were purchased by corporate raider James Goldsmith, who merged them into the Northeastern grocery chain Grand Union, ultimately changing Weingarten's logo into a variation of Grand Union's (with the same "red dot"), along with Virginia-based Big Star, only to announced the dismantling of the chain in December 1983 (the College Station store lasted just two months). In January 1984, Safeway Stores Inc. purchased over half of Weingarten's stores when Grand Union dismantled the chain, and closed them for a few days for inventory purposes and rebranding, incorporating them into their Houston division. During Safeway's operation of the store, it was open 24 hours a day (according to an advertisement from the era).
By the time Weingarten was sold to Safeway, the largely glass facade had been
bricked in
.
The Safeway name would only last for a few years. In 1987, Safeway Stores began selling off a number of its divisions, exiting much of the central United States. The Houston division of Safeway (along with the distribution center and facilities) was spun off as an management-led buyout and renamed as AppleTree, which would be the store's new name starting around 1989. Once again, the store's owner would be put on the sale block, with AppleTree going out of business in late 1993 (though a few of the stores continued to operate as AppleTree well into the 2000s, but none in Houston). The new buyer of the store was Randalls, bringing the store back into Houston-based ownership.
From what I was told, the store did briefly close around 1998 to convert to a Randalls Flagship store, though this largely involved reconstruction of the front facade and remerchandising, not substantially renovating the structure (the loading areas were still outdated) or physically expanding the store. However, in 1999, Randalls was purchased by Safeway Stores (now Safeway Inc.), which had recovered and was acquiring new store chains instead of selling off their divisions. Unfortunately, Safeway did a real number on Randalls, neglecting new store construction, raising prices, and remerchandising while H-E-B was getting ready for "real" stores and Kroger was building new "Signature" stores. As a result, market share of Randalls plummeted to 10% by 2005 (half of what it had been when Safeway bought it) and by the time Safeway was bought by Albertsons in 2015, that number was in the single digits. Also, in the late 2000s, the store was remodeled to the common "Lifestyle" branding Safeway was building and reverted to the regular Randalls name again.
This is where I come in. I worked at the store's deli briefly from March to June of 2016, and observed the store in detail. I won't go into all the dirty details of our store or how bad my manager was or how exactly the building would be terrible if a fire broke out in the backrooms, but I will say that I can corroborate most of what "MaliciousHippie" has discussed in the Reddit AMAs describing the sorry state of San Francisco Safeway stores. While the homeless aren't as vicious and widespread in Houston, our store was adjacent to a bus transit center, so we had shoplifting and people trying to scam us, but most of the time there were a few characters that just hung out most of the day in the seating, buying minimal items (like coffee or donuts, the former being behind the counter, the store lacked a Starbucks) just to lounge in the seating area all day (there was at one time a video rental department somewhere in the store during the 1990s but I couldn't find where it was). The prep area of the deli was shared with the bakery, and the floor was in very bad shape, enough that holes developed in the flooring (appeared to have been resurfaced over the years) that filled with grease and became slippery. There wasn't enough space in the store for everything, as of 2008 onwards (according to Google Earth), they had an auxiliary building for non-perishable goods (soda, etc.) and other palettes. This wasn't so much as an "auxiliary building" as it was a structure with a canvas-wrapped chain-link fence and a roof. Google Street View looks like Albertsons ownership gave it some dignity with some real metal siding.
Here are some pictures from February 2016.
This signage near the customer booth has the Flagship logo (not used on new stores after Safeway) and Simon David (closed under Safeway)

One of the unusual things about working at Randalls it was one of the only places I worked where I was almost more interested in the chain's achievement than my own, and the idea that Albertsons made the Houston division its own thing (previously Safeway had run the "Texas Division" with two smaller sub-divisions) was appealing to me. Moreover, they replaced part of the Primo Taglio items (Primo Taglio being Safeway's deli brand instead of Boar's Head, which Randalls had and H-E-B/Kroger have) with Dietz & Watson, an Albertsons-affiliated brand. That's what my apron and hat had said, Dietz & Watson (not Randalls, or any other brand). Not that it mattered much...even if they changed the deli to Boar's Head and dropped Club Card pricing, the market share would still be bad. Randalls had built many 65k-75k square foot stores in the early 1990s, but those were largely gone by then, and Safeway hadn't opened a new-build (not a replacement) store since 2002 when they bought some Albertsons stores when the original Houston division left the market.

Despite the opening of the new H-E-B across the street (replacing an old Pantry store), the store was not closed, instead renovated. The new décor package was what is dubbed in some retail circles as the "Color Lifestyle" renovation. While it brightened up the store and got rid of the problematic seating area, it didn't do much for the store's livelihood. In January 2020, Albertsons continued to whittle down what remained of the Houston division by closing five stores, predominantly in the northern suburbs. Bellaire was spared again.

What is the future of the store? I don't know. I've been a poster of RetailWatchers for several years now and speculated that it's part of a sale/division merger. Could Albertsons buy Arlan's Market and give it some big-city stores and funds so it wouldn't fold under pressure from nearby H-E-B stores in its smaller markets? Could Rouses join forces with Albertsons and expand into Texas? I hope so, but it's always a big question.

---

Back | Contact me