CHINA COAST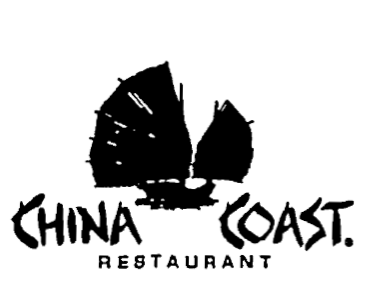 In 1982, General Mills Restaurant Group Inc., a subsidiary of General Mills and owner of Red Lobster, launched Olive Garden, a chain of Italian food restaurants in their hometown of Orlando, and it was a huge success, with over 300 restaurants within a decade. With about 150 restaurants by 1990, General Mills decided to launch China Coast, which would be a sister chain to Olive Garden, except focused on Chinese cuisine, and expected to do just as well, and after a pilot location in Orlando did well, plans quickly developed for a nationwide expansion of the concept.
China Coast was relatively progressive for its time, in one 1993 newspaper classified, it reads "We support a culturally diverse workforce, and encourage women and minorities to apply."
However, problems soon came up. Unlike Olive Garden, which had practically no competition in the Italian food sector (especially in smaller towns without a heavy Italian presence), China Coast competed with locally-operated Chinese restaurants, and cooking with a wok was an art rather than flipping a hamburger. Restaurants were oversized for the Chinese food concept, and by 1994 General Mills put expansion to a halt. Shortly after General Mills spun off their restaurant group (with the newly-renamed Darden Restaurants Inc. being a separate company), Darden closed restaurants, and a result after August 21, 1995, 51 restaurants were closed for good, putting about 3,000 employees nationwide out of work.
Every location I've come across (except for the original) has the exact same décor, likely renovated out of the original turquoise "pagoda" style to come closer to the nautical décor of Red Lobster. Supposedly, many were also converted to Olive Garden or closed entirely but I have yet to come across them. List is arranged by state alphabetically, then city.
The restaurants were only in Florida, Ohio, Michigan, Indiana, Texas and Arizona, with a few more states shortly afterward (including Oklahoma and Kentucky, see below). At the time of its closure, some restaurants were planned or under construction. Despite being small, this covers nearly a quarter of the restaurants. (If you know more, please contact me).
| | | | |
| --- | --- | --- | --- |
| Orlando | FL | 7500 International Drive | First location; now a restaurant called "Game Changers". |
| Tampa | FL | 4115 E. Busch Blvd. | Never opened (see link above). |
| Indianpolis | IN | 7303 US Hwy. 31 | Later Joe's Crab Shack (since closed). |
| St. Matthews | KY | 986 Breckenridge Lane | Mentioned in the surviving commercial on YouTube |
| Dayton | OH | 7580 Poe Avenue | Opened 1994, now Shen's Szechuan & Sushi |
| Oklahoma City | OK | 2701 West Memorial Road | Opened February 1994, only restaurant in state. Now Baker Street Pub & Grill, appears to have kept most of original exterior décor. |
| El Paso | TX | 8401 Gateway Blvd. West | Inside the Cielo Vista Mall (likely the mall's Red Lobster today). |
| Houston | TX | 302 FM 1960 West | Now Red Lobster. |
| Houston | TX | 2760 Highway 6 | Opened after 1993 unlike other two Houston stores. |
| Houston | TX | 13232 Northwest Freeway | Now Red Lobster. |
| Texas City | TX | 10510 Emmett Lowry Expressway | May or may not ever opened as China Coast (may have opened instead as Red Lobster), but spent some time as China One Restaurant (2002) and reportedly even a martial arts studio before being Beyond Burger. |
| Waco | TX | 5925 West Waco Drive | Opened 1994 originally, Red Lobster in 1996. |
---
Return to Features Page
|
Return to Former Fast Food Page
| (c)2009 Carbon-izer.com. China Coast logo is a trademark of
Darden Restaurants, Incorporated
, which does not endorse or support this website.