---


| | |
| --- | --- |
| Title: | |
| Genre: | |
| Developer: | |
| Publisher: | |
| Release Date: | 1998 (Mac, US), 1999 (PC, US) |
| On Wikipedia: | |
| Systems: | |
| Rating I Wish I Could Give This: | |
Unlike my SimCity 4 review, which was merely modified, I wanted to completely rewrite my review for Yoot Tower. The old version can be seen here on archive.org with a lot of rambling about how I set up my computer files twenty years ago and less about, you know, the game, but here we go. I also should point out that I have since developed a more in-depth page for the game.
Many years ago, when my "game consoles" basically consisted of just the family Macintosh, I had considered SimTower to be one of my favorite games at the time, and at one time in my life did occupy a comfortable spot in my "top 5 favorite games" category. One day at my grandfather's house when my uncle and aunt were visiting (from Louisiana, home of where my love of Nintendo was forged, see my Super Mario RPG review), I came across one of my aunt's magazines. She often brought along sci-fi periodicals and the occasional computer magazine, but I remember seeing it...a screenshot of a game that looked a whole lot like SimTower but wasn't. It looked a lot more colorful with things I knew couldn't be done with SimTower. Was there a sequel to SimTower released? How do I get it?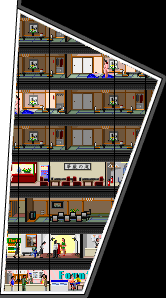 A few years later, I discovered what it was...it was indeed a real sequel called Yoot Tower. While I did buy the game eventually on the used market, my first spin playing it was with a pirated copy (by 2003, the game was out of print). I had already collected all the images from the now-defunct YootTower.com, which can be seen throughout this page, though the box art at the top of this page is from MobyGames.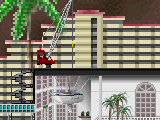 Yoot Tower did do one thing well, it provided a familiar enough environment and similar look & feel to SimTower that I felt right at home with it, but had some changes to shake up the formula. There were three distinct tower formats to pick from. There was "Hawaii" (aka Waikiki), a somewhat easier version of the original scenario by focusing on condominiums and hotels only (and much shorter, too, topping out around 45 stories), Tokyo, a fast-paced version of the original scenario that focuses on dense building and efficiency that most resembles the original game in many aspects (sorry, the "lowering rent to make people stay" trick doesn't work here), and finally Kegon Falls, which was one of the "novelty" towers of Yoot Tower. Here, you manage a structure that primarily serves as an observation point for a natural waterfall, with thirty underground stories to build a hotel and amenities.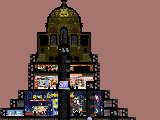 Yoot Tower also has demographics, with men and women, young and old, tourists and residents, and the game reflects that. The movie theater, instead of just "Classic" or "Modern" movies (modern movies grossed more, but were more expensive to add; they mostly consisted of a sound effect and a small picture of what was going on). Yoot Tower's movies appeal to different audiences (children, adults, women) and it was expanded to a small (on average 30 second) short QuickTime film. These films are incredibly bizarre, and we'll get to that later. Likewise, SimTower's retail stores and restaurants were just randomly generated that all grossed roughly the same depending on their placement and how much rent was, but in Yoot Tower you could adjust what the stores tended to focus in and strategize that way.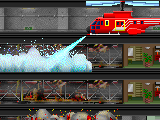 Being a still big Mac advocate at the time (though still not sold on Mac OS X), I liked the fact that Yoot Tower was actually released on the Mac before the PC version, and the Windows version seems to suffer issues at least when I played it on XP that the Mac version did not have. While Yoot Tower has its own problems, I think that it deserved better in some of its reviews on one issue—many of the reviews from when Yoot Tower was released rated it average at best because they thought it was too similar, and to those people, they just don't really "get it" because basically what Yoot Tower did is hide a robust sequel behind a familiar facade and make what was good about the first one great. This is like saying Donkey Kong Country 2 isn't good because it looks and plays too similarly to the first DKC (not that DKC2 didn't present other problems, but that has nothing to do with its look & feel).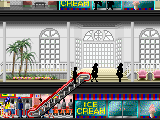 There are too many sequels just add window dressing to a concept or even take things out, but good sequels keep pretty much everything what people liked about the original and added new stuff. The differences between the 1989 SimCity and SimCity 2000 are a fantastic example, because SC2k kept everything from SimCity that made the original such a success in the first place, added an entirely new graphics system and tons of new items, yet still made it compatible with the original (the same code base). In comparison, SimCity 3000, which while retaining some compatibility with SC2k didn't offer nearly the amount of new stuff and mostly did window dressing. With SimTower being a fairly unique game, there's not a lot of places to go, either. An isometric view could help with making your tower less awkward, especially the lower levels (many tenants take up multiple floors), but that's not really helpful due to two reasons.
The first is that elevator management is still a big issue, and that only works in a side view, the second is that it's only helpful in the retail concourse, and I have yet to see a good mall simulator that isn't hot trash...and frankly, in real life, if the offices are the star of the show, the retail concourse is pretty dinky anyway with a restaurant-focused mix above all else. It could have some stuff that's not seen normally in regional malls (Crystal City in Northern Virginia had a Safeway into the 2000s), but even that tends to be small...and of course the other part of that is the lack of brand names.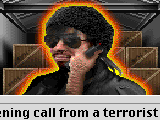 Anyway, while Yoot Tower is definitely one of my top 25 games and has a lot of fond memories, here's where it starts to lose me. It didn't do very well in sales, despite (or because) it was part of a "too little, too late" campaign by Apple to push the Mac as a gaming platform. It lacks the polish SimTower has and has issues with the translation and documentation. You can adjust product mixes in stores, but it's not known how, if anything, what effect are these supposed to do. Is it a bug created in transit, or simply poorly documented? The poor localizations don't help, either. You can place a Supermarket in the Tokyo scenario, but the four items you can adjust include "Perishables", "Cosmetics", "Dishes", and "Underwear". I know Japanese convenience stores at least have an unusual merchandise mix (and yes, you can buy underwear at 7-Eleven) but it just seems strange.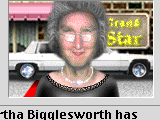 Moreover, while Yoot Tower does add skywalks (a much needed feature, lets you create multiple "towers" instead of a monolith), the elevators remain an issue. When it comes to elevators, while most of my elevator experience is buildings less than 30 stories or express elevators. In bigger office buildings, usually the elevator shafts have "1-30" or start at "31 and go to 1" or whatever, and you can get to wherever you want without transferring dozens of times. I believe Yoot Tower makes it so you can transfer anywhere, not just skylobbies, but having random elevator shafts that just go 30 stories just looks weird. With SimTower essentially being "SimElevator", it feels like Yoot Tower should've at least reworked that part of that simulation.
Another issue is with the modules themselves. Even YootTower.com promised a new "module" based on the Statue of Liberty. According to the late Japanese Mac site Macintosh Game Joho (which I have the full archives to), the module is described as such: OPeNBooK 9003 has released "Towerkit CD-ROM: The Statue of Liberty". It is an add-on kit for The Tower II, the original Japanese version of Yoot Tower, where player redevelops The Statue of Liberty into a resort hotel while takes a role of a boss of two employees. It features role playing-like scenario based on a comical love story and new items such as jazz club and Christmas shop. Requires Japanese version of The Tower II, additional free HD 10 MB or larger (90 MB or larger recommended). Available as hybrid CD-ROM at retail stores in Japan. Others (and we'll get to these in Yoot Tower Guides soon enough) included March 1999's Kyoto Station module:
OPeNBooK 9003* has released Towerkit CD "Kyoto Station": Gamera 3*. Kyoto Station is a new add-on scenario for The Tower II* (original Japanese version of Yoot Tower) based on newly released Gamera 3 film. It contains the Map of Kyoto Station, Kyoto-specific tenant items such as various Japanese restaurants and souvenir shops. It also includes special final event of a monster battle and emergency-related items such as a radio station and an insurance agency. Requires free HD 100 MB or larger, full retail version of The Tower II. Available as hybrid CD-ROM at retail stores in Japan.
...or even November 1999's "Christmas Story" module. [Towerkit CD: Christmas Story - Santa Claus-ni Nareru Yoru] is an expansion kit for The Tower II, the original Japanese version of the popular building management simulation game Yoot Tower. Set in a fantasy world, player develops a town of Santa Claus desolated for many years, and revives it by placing attractive items. It contains all-new graphics, items, sounds, and events with the theme of Christmas as well as [a] unique heartwarming story. Requires free HD 180 MB or larger, full retail version of The Tower II. Available as hybrid CD-ROM at retail stores in Japan.
None of those were released stateside, probably because they WERE too Japanese, even IF the game had performed better. I don't speak for other Yoot Tower players but I don't WANT story-based modules, I just want more localized areas without trying to reinvent some landmark (and the constrained layout that comes with it), maybe something based after Houston, either Greenway Plaza or downtown, which both have "offices and stuff linked by tunnels underneath", which is pretty close to the original SimTower experience anyway. I mean, Greenway Plaza had several office buildings and a hotel with a real movie theater in the basement, as well as the requisite food stands...with something like Houston you could still recycle some of the restaurants like "Jenny's" while adding a few more Texas-specific restaurants (barbecue, cafeterias, etc.). At the end of the day there's only so much you can do.
There are a few more things I want to cover. The aforementioned "Jenny's" is a 24-restaurant called "Jenny's" (with red lettering on yellow), and the Japanese version calls it "Deni-san", the latter making it much more obvious to what it's supposed to be). However, there's a number of product placement items inside Yoot Tower. The base Japanese version features "Joyopolis", an indoor Sega amusement park chain in Japan, the American version changes this to GameWorks, which Sega owned a part at the time (however, the graphics still are from Joyopolis). As an aside, this led to some confusion, as I discovered Grapevine Mills around this time, and was wildly misled to what GameWorks was like...so for example, it did not have the Halfpipe Canyon as Yoot Tower depicts (sadly).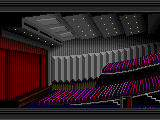 The Windows version changes the floral shop to one based on 1-800-Flowers and adds Orange Julius, which doesn't replace anything. Both of these seem like an odd choice. Brick-and-mortar 1-800-Flowers retail stores are rare. As for Orange Julius, while as of October 1997 there were just over 400 stores (which would continue to dramatically shrink in the next decade and I don't believe that any stand-alone Orange Julius stores exist today), the game did not include parent company International Dairy Queen's flagship brand or the Karmelkorn license, which they also owned. The billboards are also different, the Windows version replaces the Apple billboard for Sandals Beach Resort and Air Jamaica.
Before we leave, I do want to discuss the movies part of Yoot Tower. In SimTower, the movies featured had different graphics and some unique sound effects, but with Yoot Tower every movie had their own associated QuickTime file. You can see all of them (from the Western releases, anyway) here, but what was a bit off-putting was that some of them looked like they had evaded the ESRB completely, despite being fairly modest. (Highlights of that include "6 Plus 1", "Shadow Party", "Zombie Pursuit", and other questionable dialogue like at 3:36) Recently (in relative terms) I had and uploaded the expanded set only in Japan, with some of them being "spoof" sequels of the first. That's what the thumbnail is, a movie of a guy turning into a tempura shrimp when the moon is full. All of them are great and don't need you to understand Japanese to get most of them. I like the one with the woman bringing beer for two dudes, the title roughly translated "Your Wife: Former Hostess".
At least Yoot Tower is versatile enough to still be workable in Windows 10, but it still joins other titles like Grim Fandango and SimCity 4 as feeling woefully incomplete. While the other two were screwed by corporate overlords, Yoot Tower just feels like it could've made a great cult classic game that would still be appreciated today but it has fallen into obscurity. Again, check out Yoot Tower Guides for more information on this game.
FINAL RATING: