CARBON-IZER GOES TO AUSTIN 2017...PLUS SOME
Unlike Houston or Waco, Austin is decidedly less well-documented by me. I've visited the State Capitol, Zilker Park, Bob Bullock Museum, and gone through the city en route to other places like Enchanted Rock. It certainly has interesting features and restaurants that aren't in Waco, Houston, or College Station, like low water crossings complete with railroad-style gates, and overall a more appealing terrain, with the right mix of hills and trees.
I tried to think of how to do this page, and settled on a slightly fictionalized travelogue based roughly on a December 2017 trip I took with my siblings and some extended family. "Slightly fictionalized" in that I have left out some details of where exactly we went (there were like at least five to seven places, each representing an interest of each of us...so there were brewery visits, antique shops, a warehouse-like place that specialized in the outdoors and more...my main choice, was of course, Central Market) and that I didn't actually ponder about particular places that I may describe. I didn't even include the Domain in this page because I don't have the directory on hand, and besides, even in December 2017 it was out of date and incomplete (apparently, another whole wing was left out of it!)
Coming in from Bastrop (Texas State Highway 71), the trip from downtown to the Domain was relatively uneventful, but the layout of Interstate 35 was very different from Houston. It didn't feel like a commercial drag much, there were some older businesses along the stretch and of course hotels, but few strip centers actually even faced the freeway at all, and furthermore, much of the freeway heading out of the downtown was all elevated. Only a few signs poked out above to be visible to the elevated portion, and by the time we were on terra firma, the exit to 183 was coming up soon. One of the large stores that I actually did see was an Academy Sports + Outdoors. In looking up where I had been, the remnants of a go-kart track caught my eye (seems it was demolished in 2008, but had been non-operational since at least the 1990s, and further research indicates it was a location of Malibu Grand Prix). But the Academy also had an interesting backstory, it was a truck stop with a 24-hour eatery.
This eatery can be found and described in (with a sentence or two) a 1982 issue of the Austin Chronicle dedicated to restaurants. Listed as Burba's, very little is about it, and I had to do some research to even know what was going on. Burba's was part of a truck stop (Austin Truck Terminal at 7513 N. Interstate 35) and operated approximately from 1978 to 1985. The Austin Truck Terminal was one of the very first truck stops in the Austin area and opened in 1965 (the first one was the Big Wheel Truck Stop). While this description of the truck stop is a bit inaccurate (not yet built in the 1950s, but alive and well in the 1970s), it does seem to line up mostly with what can be found in newspapers and official records. One of the somewhat darkly humorous stories in the Burba's era details the story of a trucker who was shot in the neck, and instead of going into the restaurant for help, went in and ordered a cup of coffee, which the cook did not serve to him, given how bad his condition was.
By 1986, the Burba's restaurant was Texaco Truck Stop Cafe but by 1990, Dyer Automotive had replaced the sprawling truck stop...its branding under Texaco would be less than five years. Finally, tax records say Dyer Automotive & Transmission closed in 1998, and ground broke for an Academy sporting goods store in 2001.
One other story of defunct I-35 stories was just north of there. I know one of the places stayed in Austin growing up in those times described in the first place was a Travelodge, but I don't specifically remember it being a motel (I do know it was near I-35). I may be confusing it with another hotel (motels were more common in family trips, but I believe it was San Antonio where a particular hotel we stayed at had both a "lobby level" and a "ground floor" below it with the pool access and the hotel's laundry facilities...) and it's possible that this was not in fact the Travelodge I remembered after all.
In any case, this particular motel was a Travelodge in the late 1990s and later went under the name Austin Suites Hotel at 8300 North Interstate Highway 35, but it's no longer a hotel today. It turned into an apartment complex called "The Hedge". Unusually, the structure of the hotel was kept and the rooms reconfigured into full apartment units. I've never seen or heard anything like it (at least, not for any motel conversion that isn't some low-end option done on the cheap. In Houston they would've just knocked it down for a one-plus-five without a second thought, and I'm wondering if it was some Austin reason why it was simply remodeled. (I've also heard the Red Roof Inn next door is supposed to be remodeled as a second phase). Despite the unusual redevelopment, there's a chance that the motel is sturdier construction.
Back to our main story, one of the last places we visited that day before dinner was an antique store called "Uncommon Objects". This I actually have some photos of, which I took there.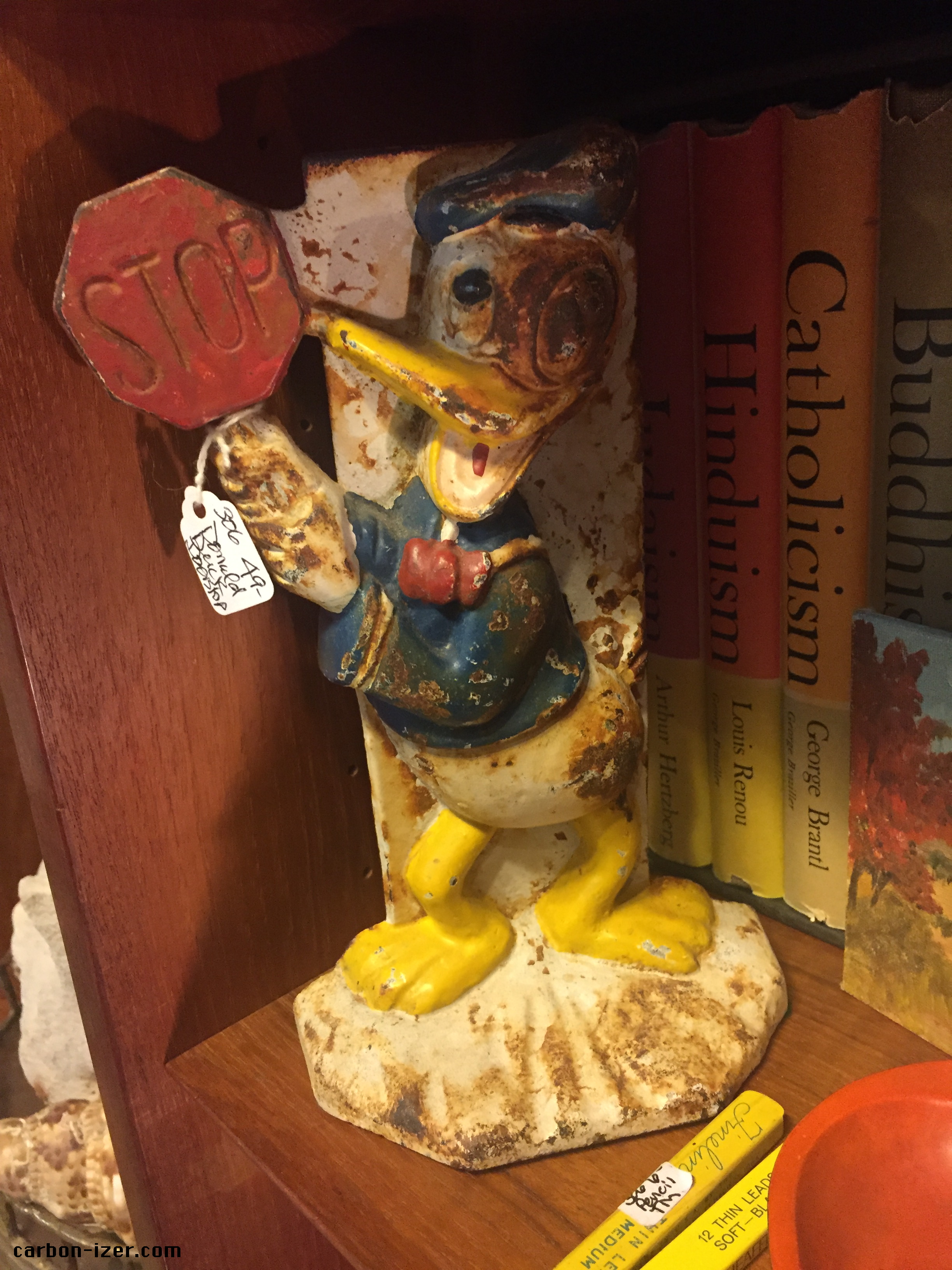 I don't know what happened to this thing to have it so horrifically rusted. This is what it's supposed to look more like, though you could tell that the two figures have noticeable differences. In particular, the antique store looks like the stop sign is welded in place instead of being flippable. Is it a knockoff?!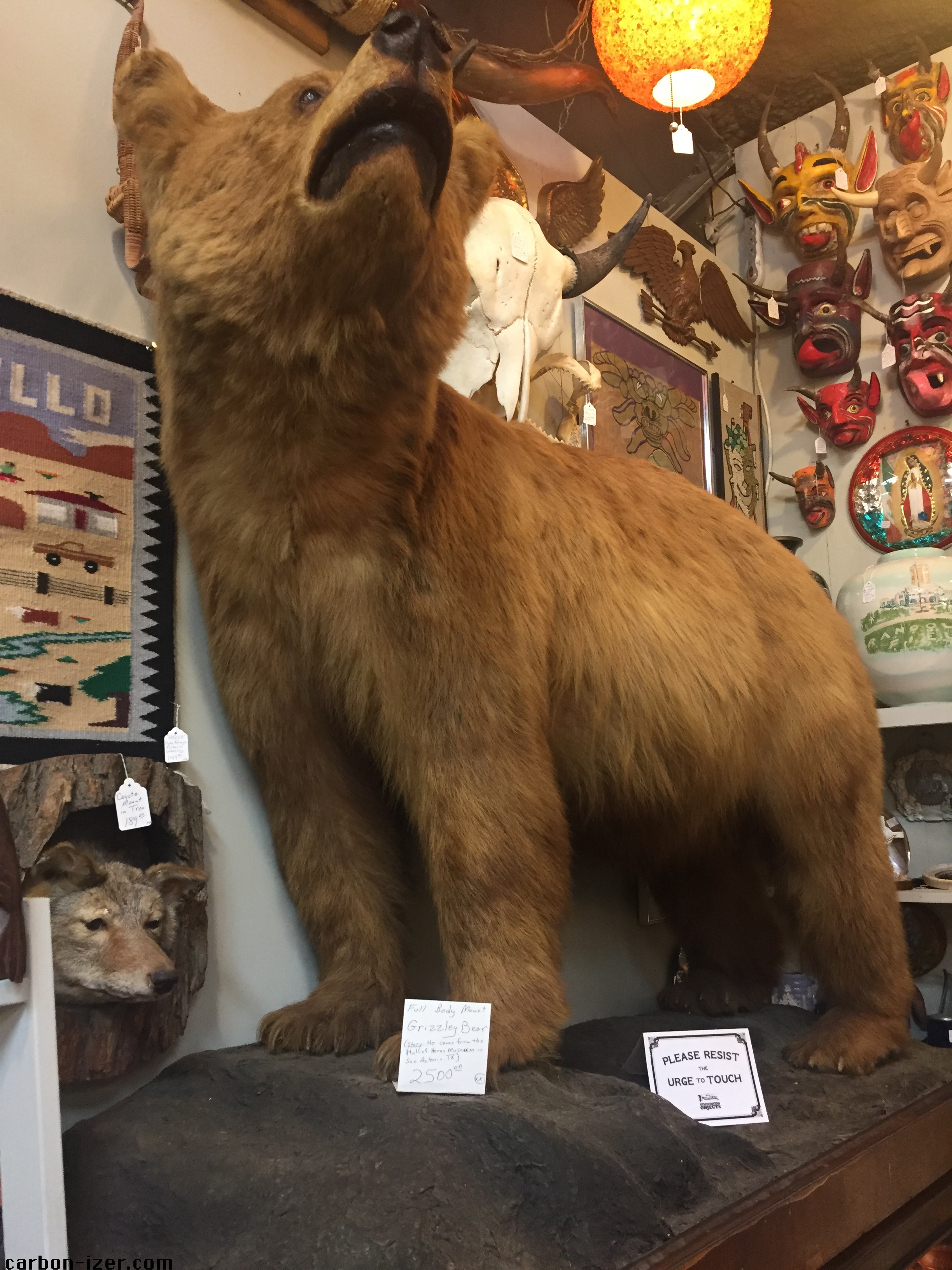 This mounted bear came from a San Antonio museum with hundreds of mounted animals, but how the bear ended up at an Austin antique store is a mystery.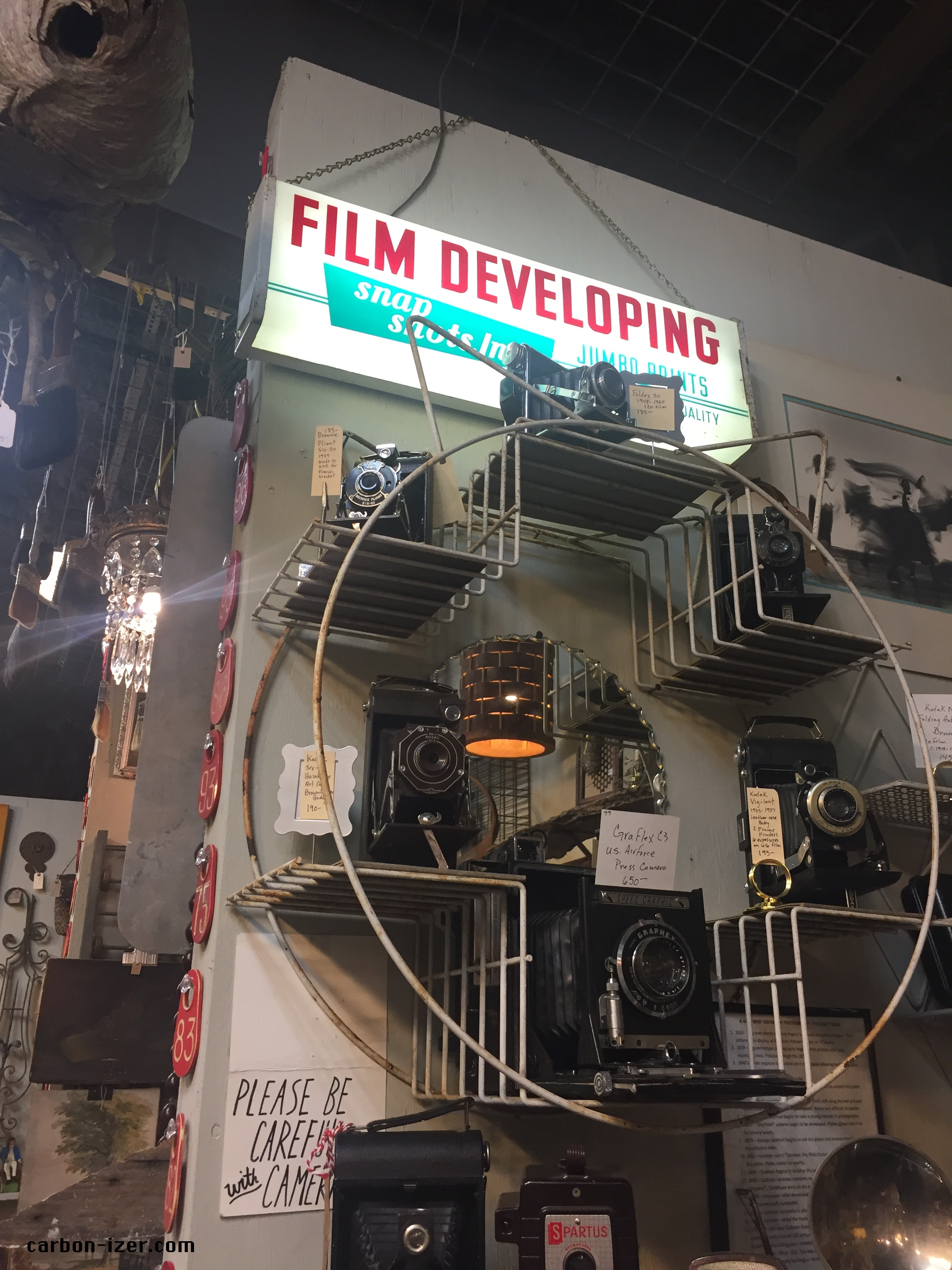 I like this sign. I wonder it's story is.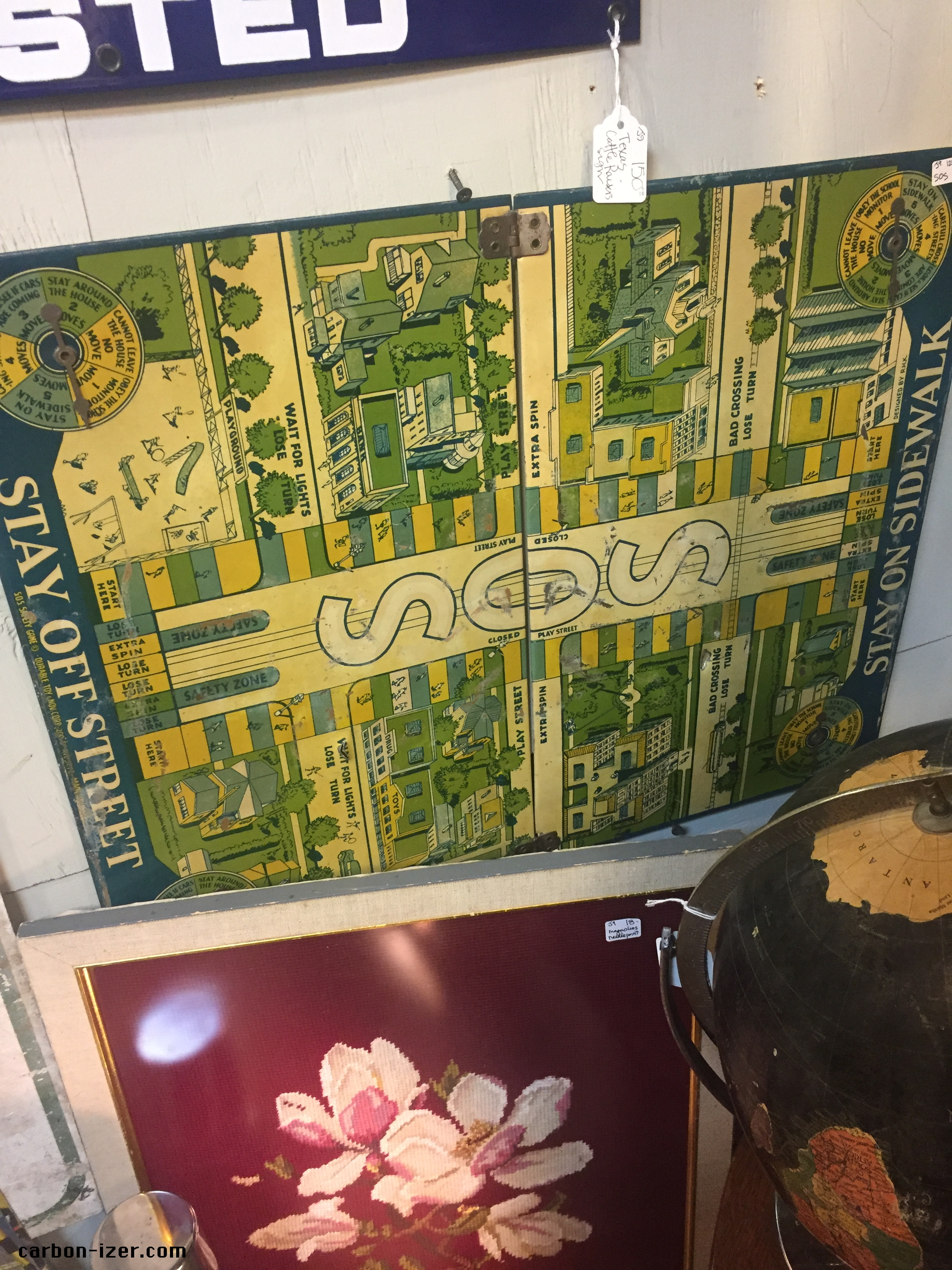 This old-fashioned childrens' board game caught my eye for its city theme, but is designed to teach kids about being safe around roadways. The rules seem simple--spin, move, lose turn...but I can't see a dedicated "finish" point.
Dinner was Pinthouse Pizza, one of the best pizza restaurants I've been to in the last ten years, and of course, good conversation and good company made it all better. Until February 2013, the building had been a Chili's, a far less exciting (or unique) option. We got the "Honey Pear" (yes, it had pear slices and honey) as well as something more traditional with pepperoni.
But in relation to the Austin I had previously visited, the other restaurant that I remember going to was a Mongolian grill-style restaurant near Jollyville back in 2004. It wasn't Ghengis Grill; when I finally got to try Ghengis when it arrived in town in 2010, the dish size was disappointing, and the menu arguably more limited than what the Austin restaurant had (the Austin restaurant I remember had a brighter orange sauce, compared to the muddier brown orange sauce Ghengis had...think the color of Panda Express' orange chicken).
After some consulting with my retail-minded colleagues (in particular Mike), the most likely candidate seems to be a small (defunct) Austin chain called simply "Mongolian Grille". It checks off all the boxes that I remember the restaurant being on, in particular a fairly large restaurant size and enough profession inside that it wasn't just a one-off (like a big wall describing the sauces). It was at 12636 Research Blvd. #A-110 from 2001 to 2012 (at which point it became another similar restaurant called "Mongo Fire", which has since closed).
So that's my most recent Austin adventure in a nutshell, even though it was several years ago at this point. While Austin has many problems that make it less than ideal to move there (some of which I witnessed on that December 2017 trip), most of my trips there have created fond memories.
---
Return to Main Page
|
Contact Me