THE ABANDONED HEMPSTEAD SHELL
Hempstead always was, to me, not more than much a highway exit. Yes, there were probably small stores and a downtown lurking off the beaten path, and that was the case. Even before the 290 bypass was completed in the late 1990s, Hempstead was still bypassed.
It wasn't until the late 2010s when I went through Hempstead again, with one of the surprises being an abandoned and partially demolished Shell station. The logo (the pre-2003 version) was long-gone, possibly either removed or taken out when the station closed.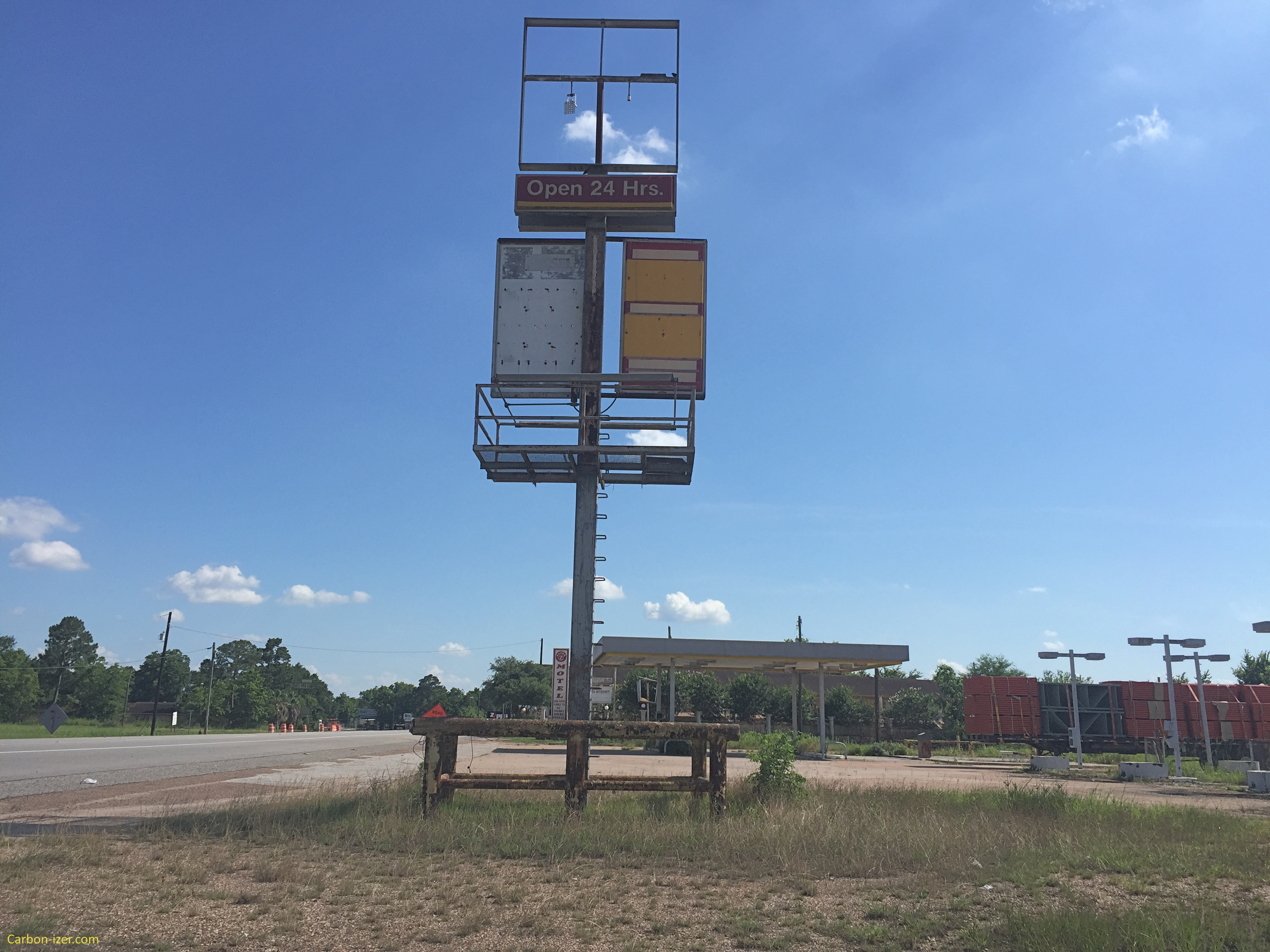 I thought I had taken a few more pictures than the one above but there wasn't much to see; besides, I wanted to get home to Houston where I lived at the time.
The 1977 logo was very similar to the present-day version (basically the same logo except with a red background, instead of outlined in red on a white background), except the 1977 logo had 3D elements to it, whereas the current one is just flat.
I've been meaning to add this in some form since I took the pictures back in May 2018 but I never really thought about it again until I read about Columbia Closings' chronicle of a store in Florence, South Carolina. I don't think it closed in 2007, likely a few years earlier. Knowing from what I did about the fates of my Shell stations, the Texaco stations were rebranded with Shell, but the older Shell stations soon after had to "shape up or ship out". Some of them just got the newer logo (even if the rest of the station was still trashy) but a few of them did not, particularly two rural Shell stations not far from where I lived.
I can't determine an address for this Shell station due to a lack of records and an inexact address when it was built, but it's just north of Super Z Motel (ironically, to the south of the motel is a modern Shell station, alive and well).
In any case, it looks like the Shell existed until around mid-1990s after being around since the late 1960s in some form or another, and some listings indicate that it was considered a "Truck Stop" for a time. This also makes sense in some ways, as it was a 24 hour store, and has what appears to be additional lit docks for trucks. Furthermore, the mid-1990s closure date lines up pretty closely to the first phase of the Highway 290 bypass, which terminated at FM 359 but avoided Hempstead, which would cause the traffic count in front of the Shell to plummet and no longer be workable as a 24 hour operation. The attached building also seems to be a bit bigger original (parts of the foundation are still in place, but others aren't) and probably had a truck stop restaurant.
Any further information on this gas station is appreciated.
---
Return to Main Page
|
Contact Me