BARTON CREEK SQUARE
I know I visited Barton Creek Square years ago but somehow eluded me when it came to mall directories, and of course it lacks printed mall directories. Even the typical backlit mall directory has largely been supplanted with a touch-screen "interactive" one which can only serve one person at a time, is slow, and is generally a mess to use. Let me back up, Barton Creek Square is one of the few enclosed malls in the Austin area and has one of only two Apple stores in the entire Austin area.
One of the oddest things about Barton Creek Square is its location. Not only is it hard to access, it's a mile or so north of US-290 and the only freeway that touches it is Loop 1 (basically, at that point, just a terminus to the suburbs), but it is completely invisible from the road. There's not even any signage, just a few outlets in surrounded by trees. As a result, there are almost no restaurants surrounding the mall, either. There was an Abuelo's Mexican Food on the loop road (which you can kind of see), but that closed in March 2020, and its a miracle it even survived at all. Keep Austin Weird, I guess.
Inside is a typical mall, though it still seemed that the mall's best days were behind it. Ever since 2020, Simon opens its malls at 11 am on the weekdays. I'm not sure what the mall was like before that time, but it seemed pretty sad for a mall that was one of the A-class malls in a large metropolitan area. There are spaces for five anchor stores: two Dillard's stores (one of which used to be Austin-based Scarborough's, which sold its department stores to Dillard's years ago), a Macy's (Foley's before fall 2006), Nordstrom (yeah, they got Nordstrom to replace Montgomery Ward), a JCPenney, and until fall 2018, a Sears. The mall also features an AMC movie theater, built in 2002, almost a decade after the mall's original theater, located in the parking lot, closed due to structural concerns.
The topography allows for both levels of the mall to be accessible from the outside, which at least makes the mall accessible and avoids the problem of lesser-trafficked upper level stores.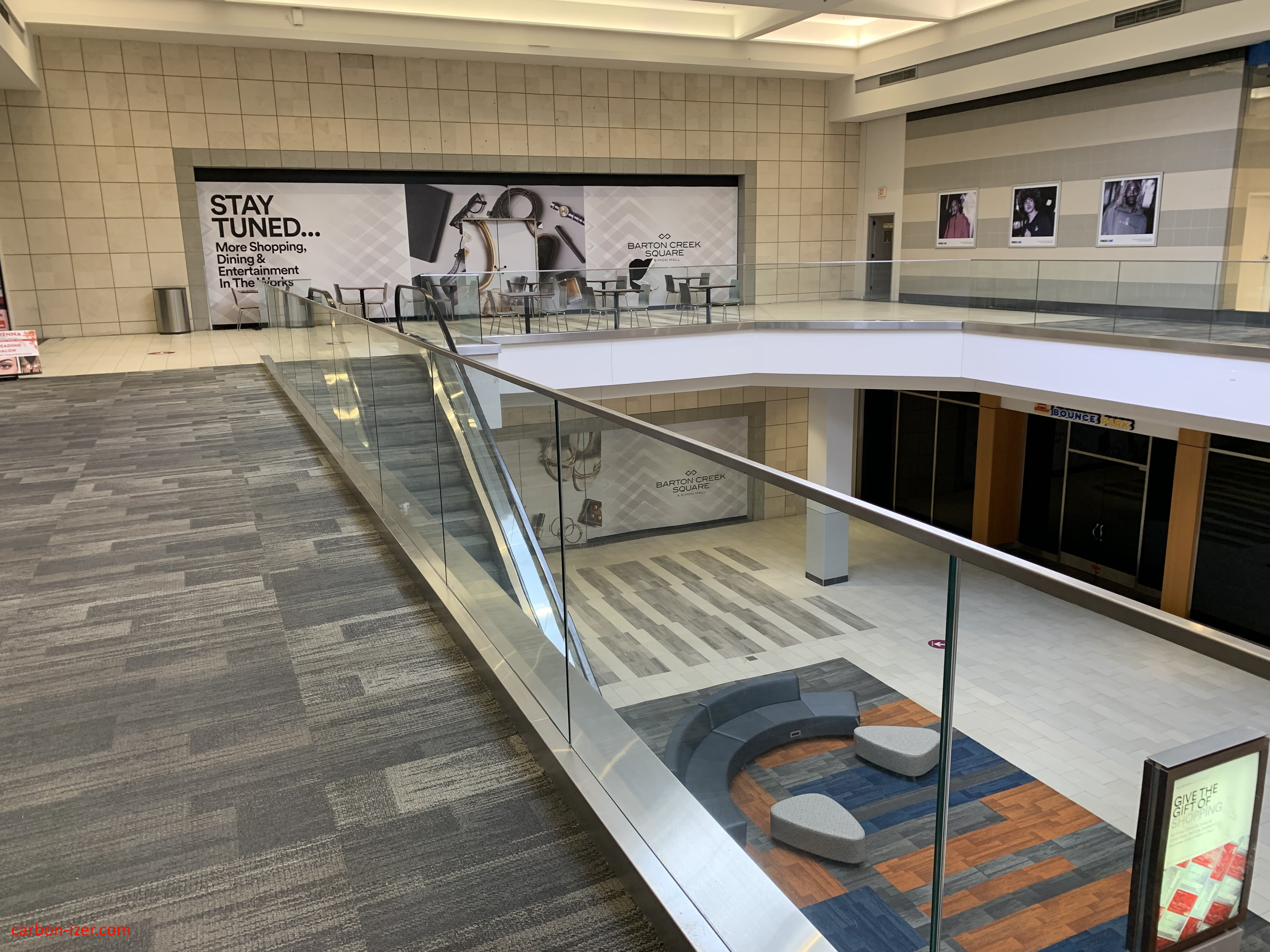 Hmmm, I wonder this used to be...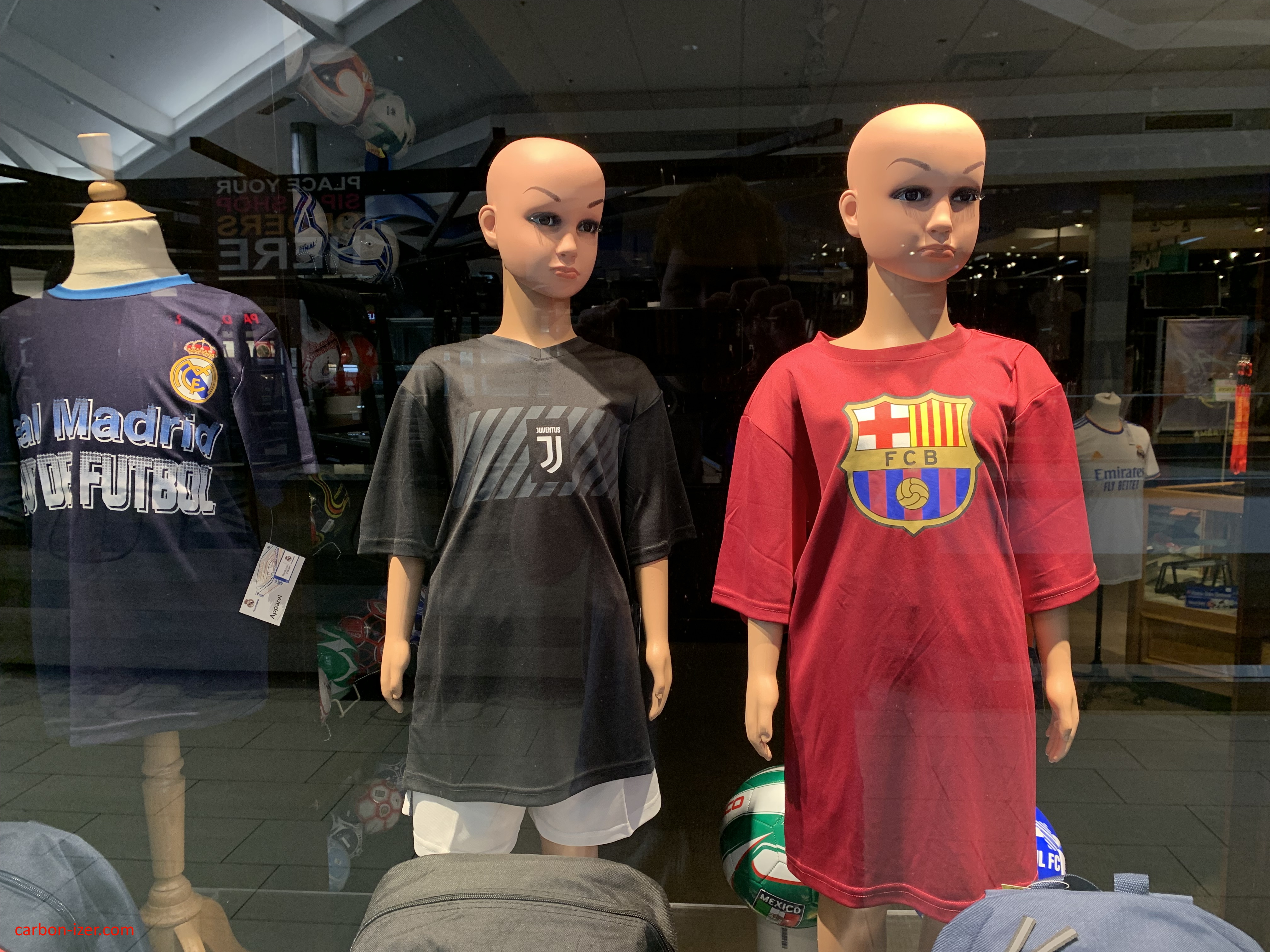 "Soccer For You" has some of the ugliest mannequins I've seen outside of flea markets.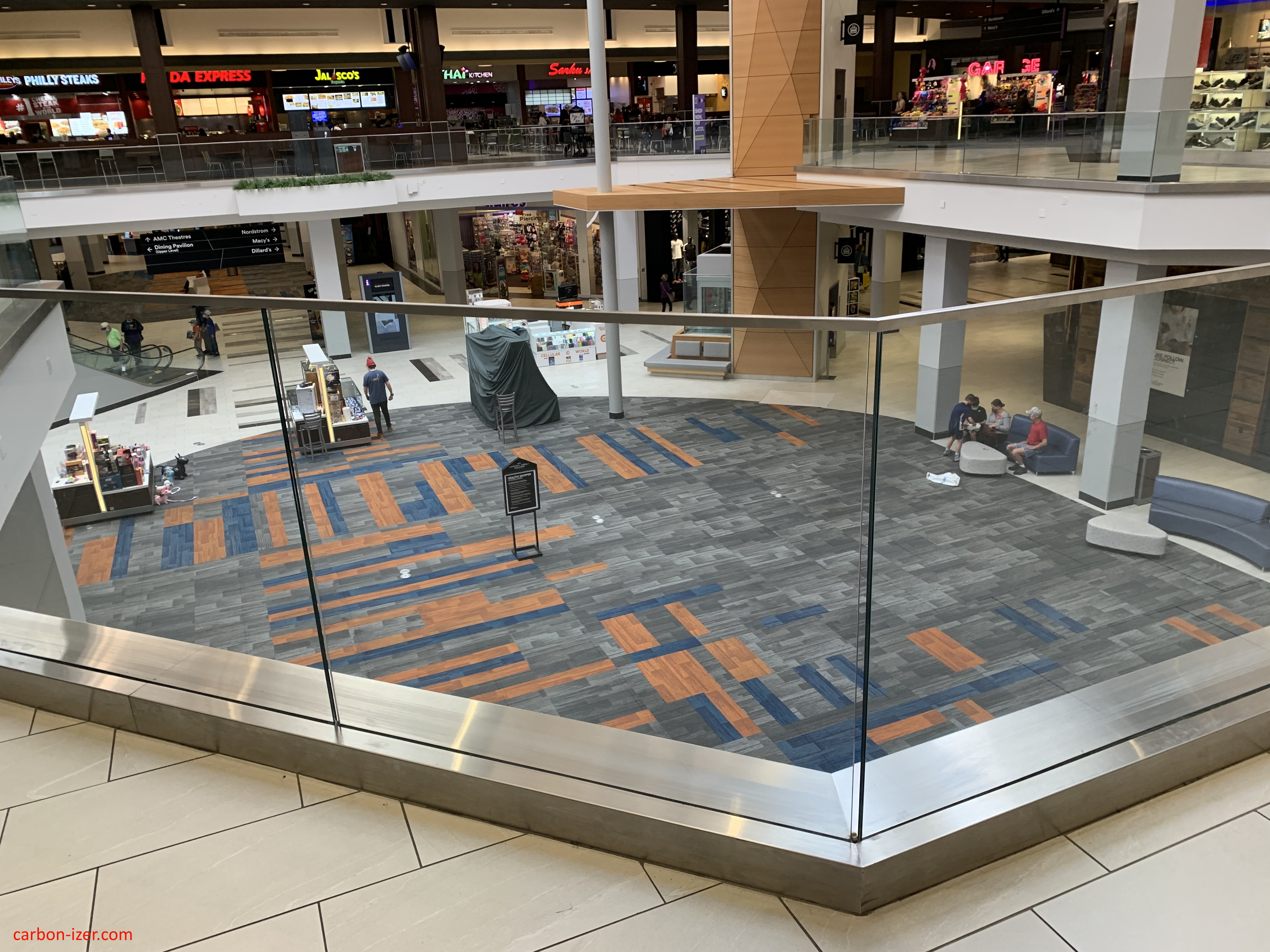 Many years ago this probably had a fountain or something nice.
As I mentioned before, this was not my first time visiting Barton Creek Square, I first visited it back in fall 2004 (it had an Apple store since June 2004, it was always my brother that wanted to visit these things...though the mall's Apple store is not in the original space, it moved in the late 2010s), and while I can't remember too much about the mall's health, I do remember it had a kiosk called "Retrogames" or "Retrozone", or something, with a TV displaying Super Mario Bros., but the products they sold weren't Nintendo games...they were pirated goods with a Nintendo 64 controller and a system that utilized the "NES-on-a-chip" technology. These kiosks were very common in malls during that specific timeframe before Nintendo cracked down on them (despite patents on the NES expiring, the games and other components were still copyrighted) and they disappeared just as quickly. While Nintendo won the battle against the counterfeit goods years ago, you can still buy copyright-infringing t-shirts at one of the mall's many kiosks.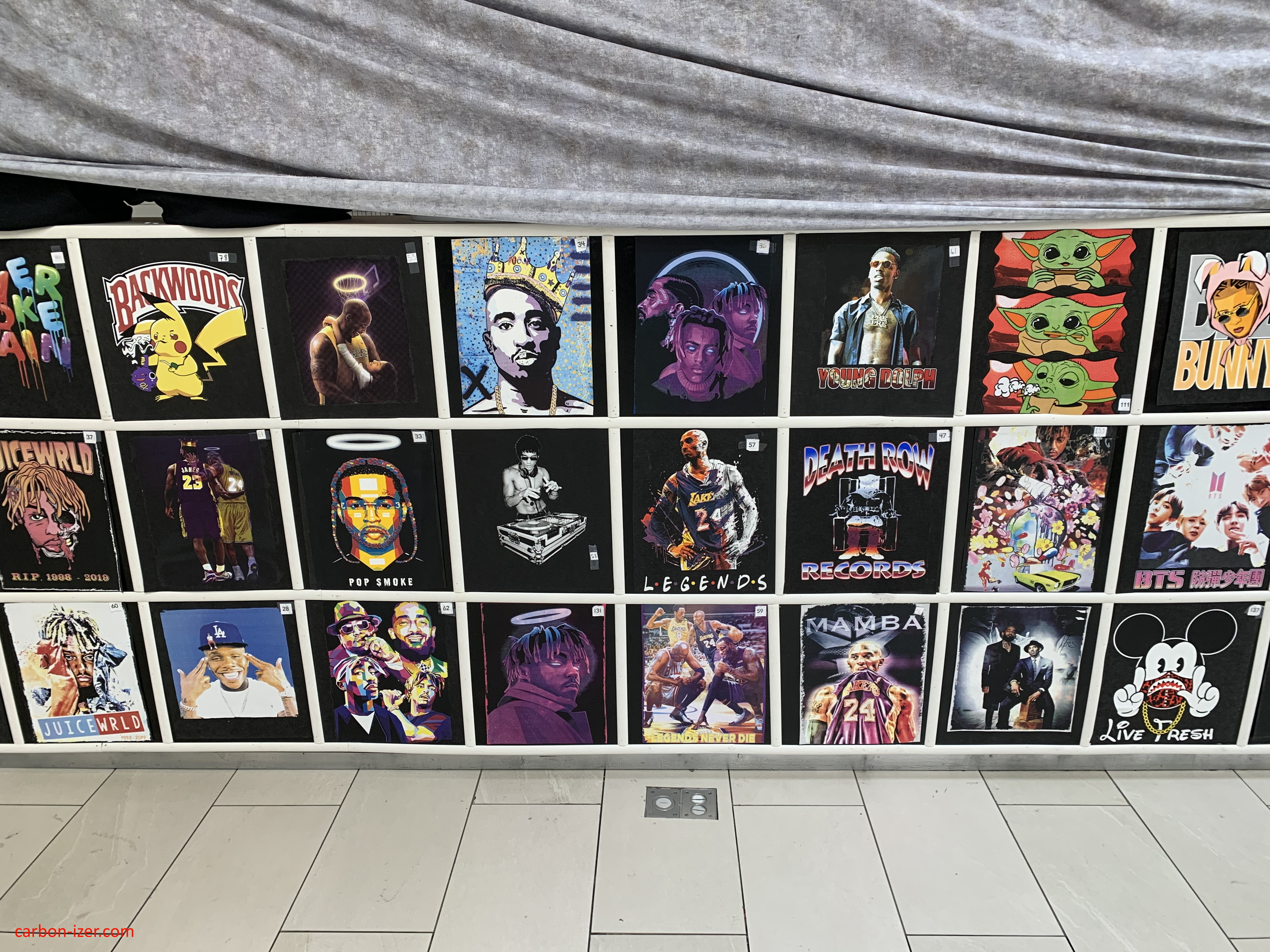 It used to be that respectable malls would never have something like Pikachu smoking a crack pipe, but this is the world we live in now.
This contains pictures from two visits, one from February 2022 and another in March, where I was able to explore the rest of the mall. There's a bulk candy store in the corridor to Nordstrom that you'll see in the pictures.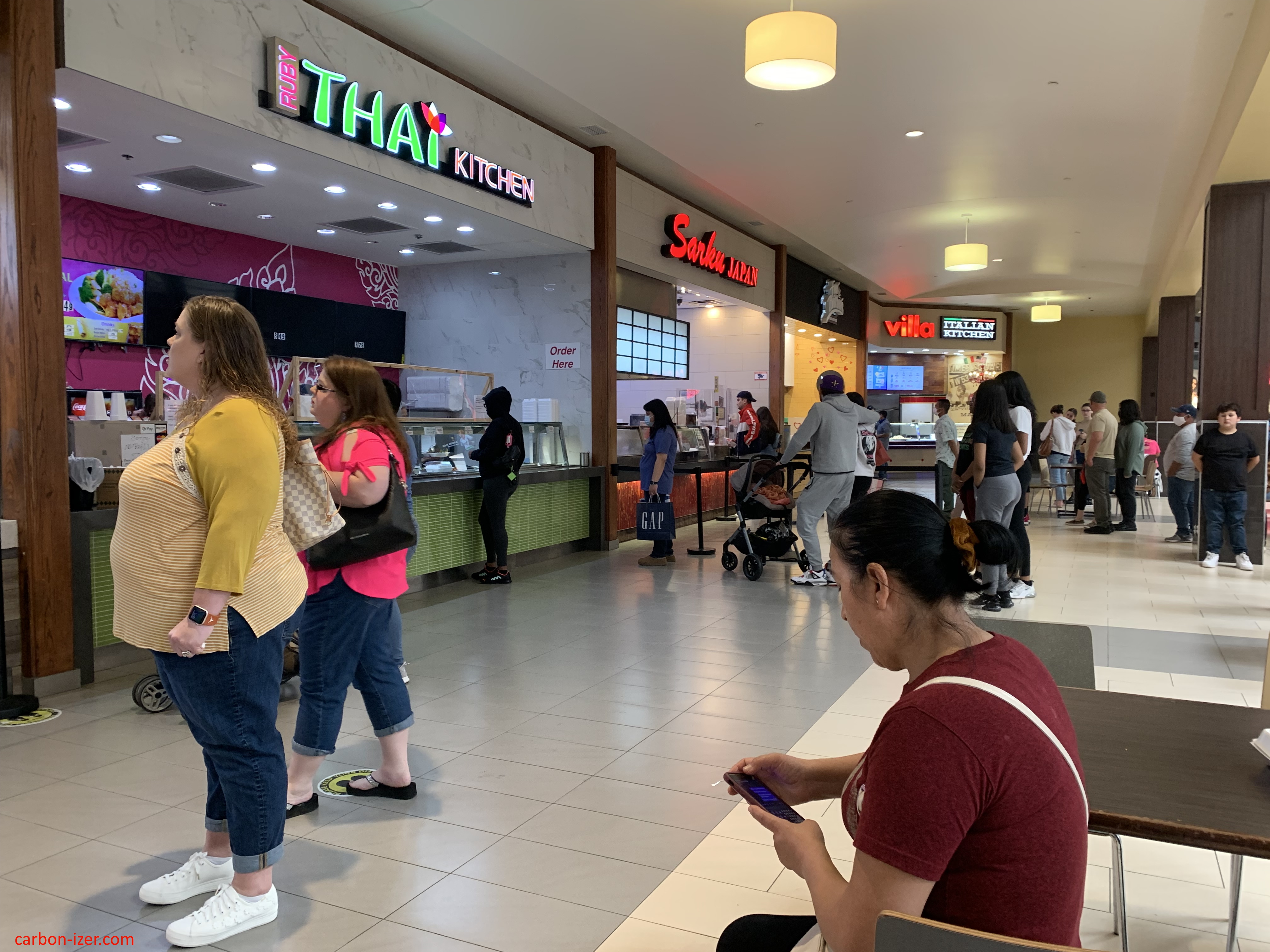 The cramped food court has only nine eateries, none of them being a place where you can get a burger and fries, and besides Marble Slab, Panda Express, and Chick-fil-A, none of them are recognizable fast food locations (well, that and Charley's Philly Steaks). This is a far cry from, say, Memorial City Mall in Houston.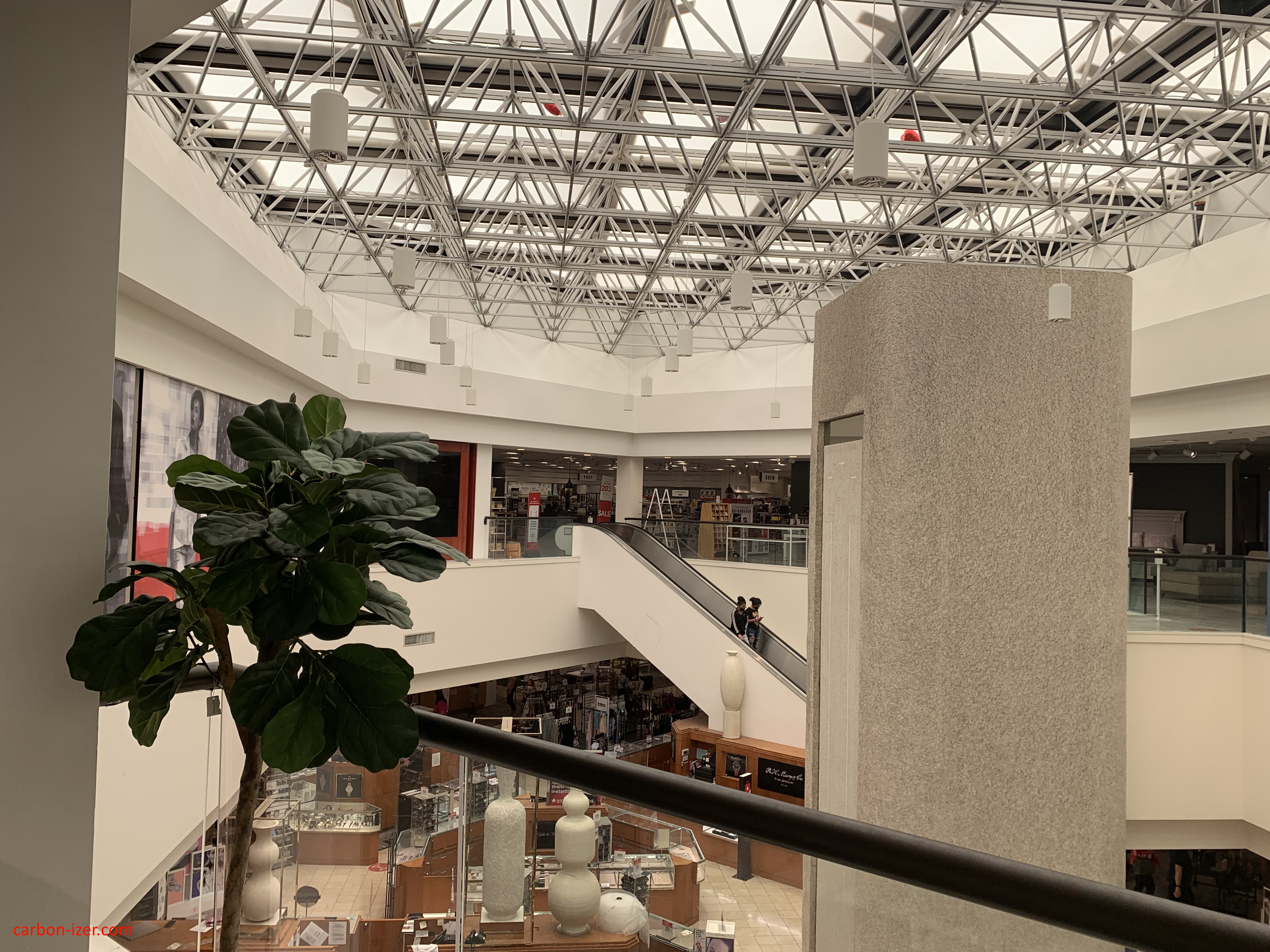 This Foley's is the model of the mid-to-late 1970s and early 1980s. Stores like Greenspoint Mall and West Oaks Mall in Houston were practically identical.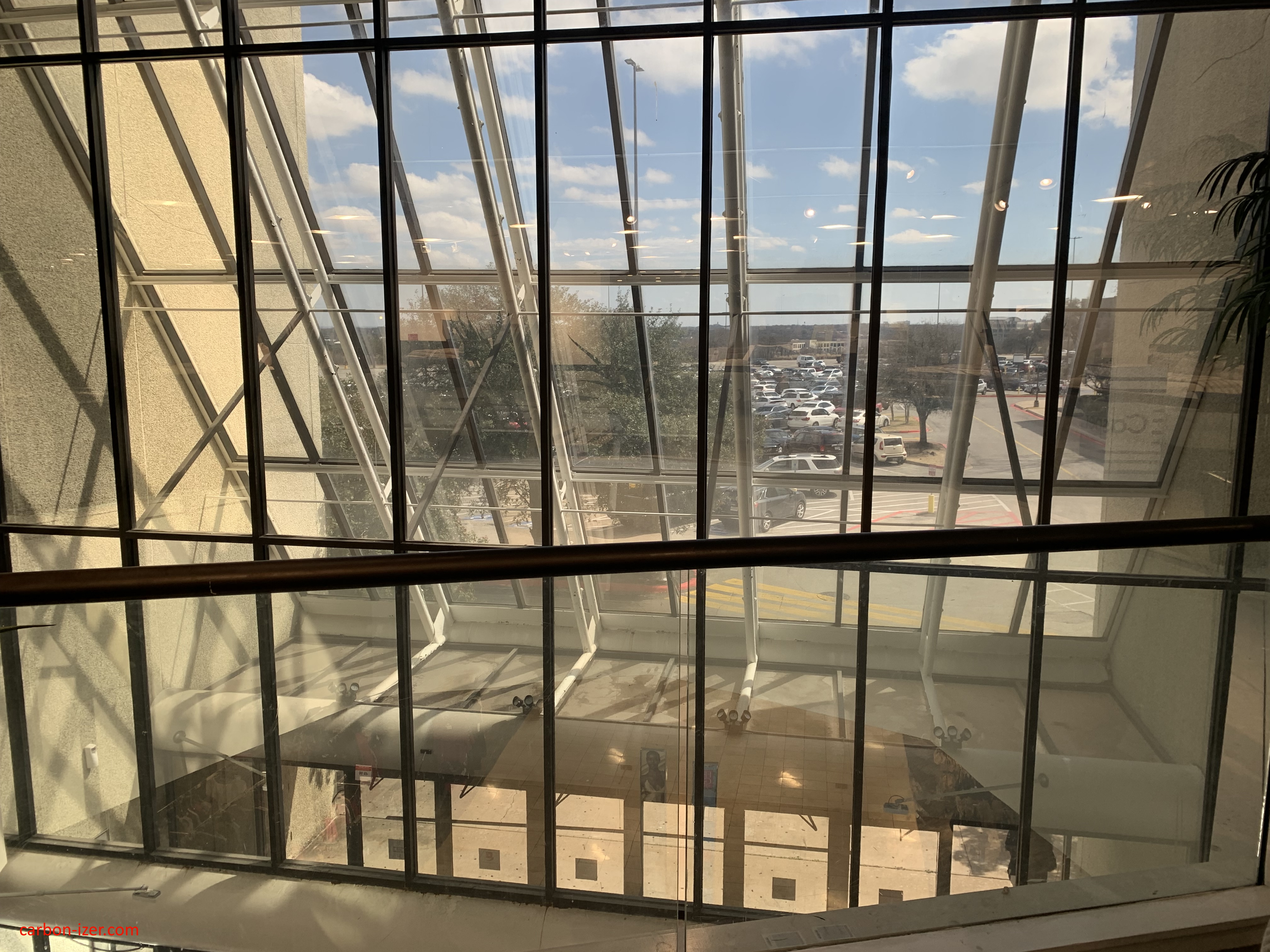 ...and here's the window of that, too, another distinctive Foley's feature.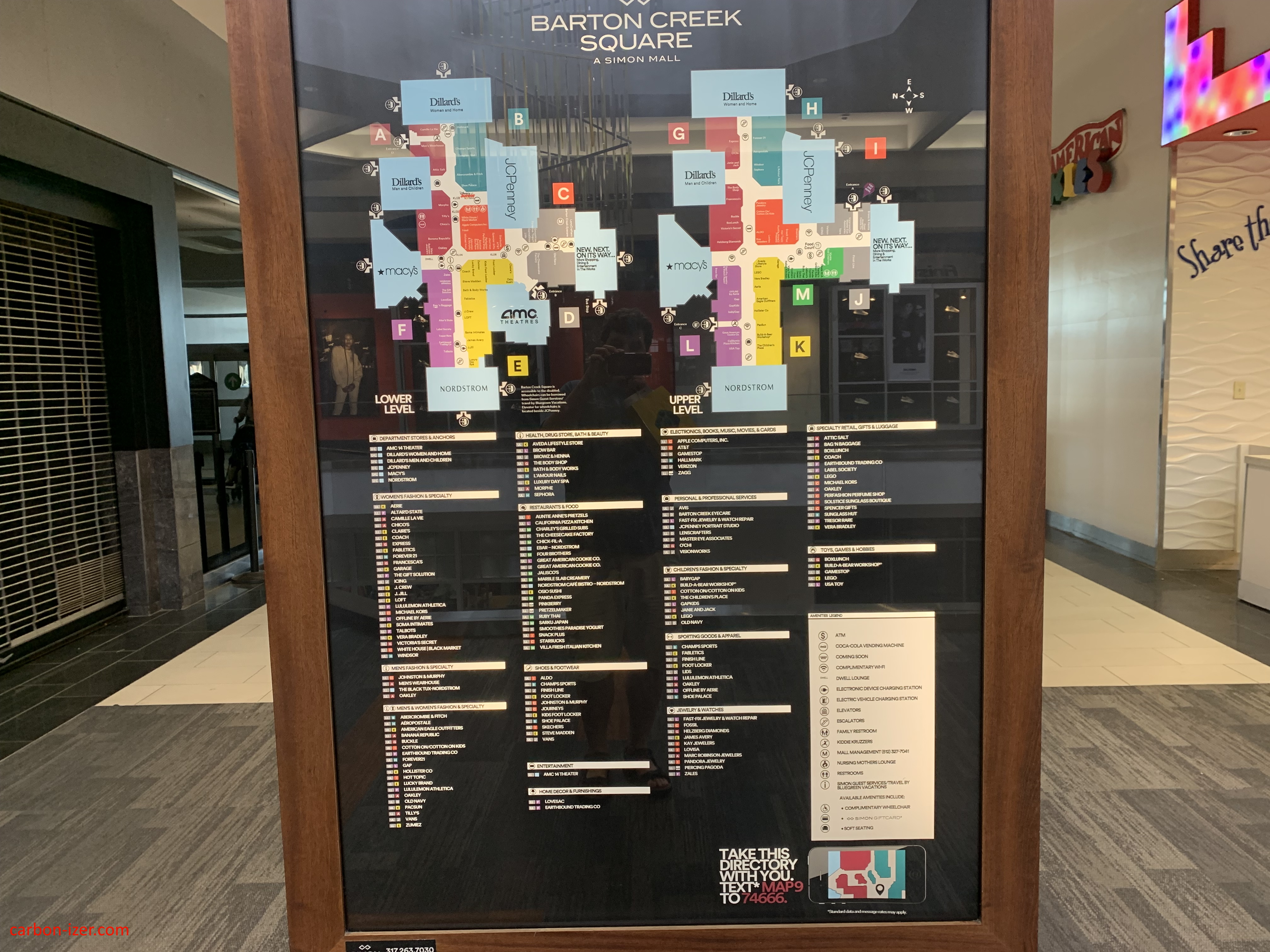 One of the few mall directories. It's unknown why they labeled the Apple store as "Apple Computers, Inc.". The company hasn't had "computer" in the name (computer singular) since 2007. It also is somewhat out of date, it lacks Soccer for You and still has Starbucks, which has since closed.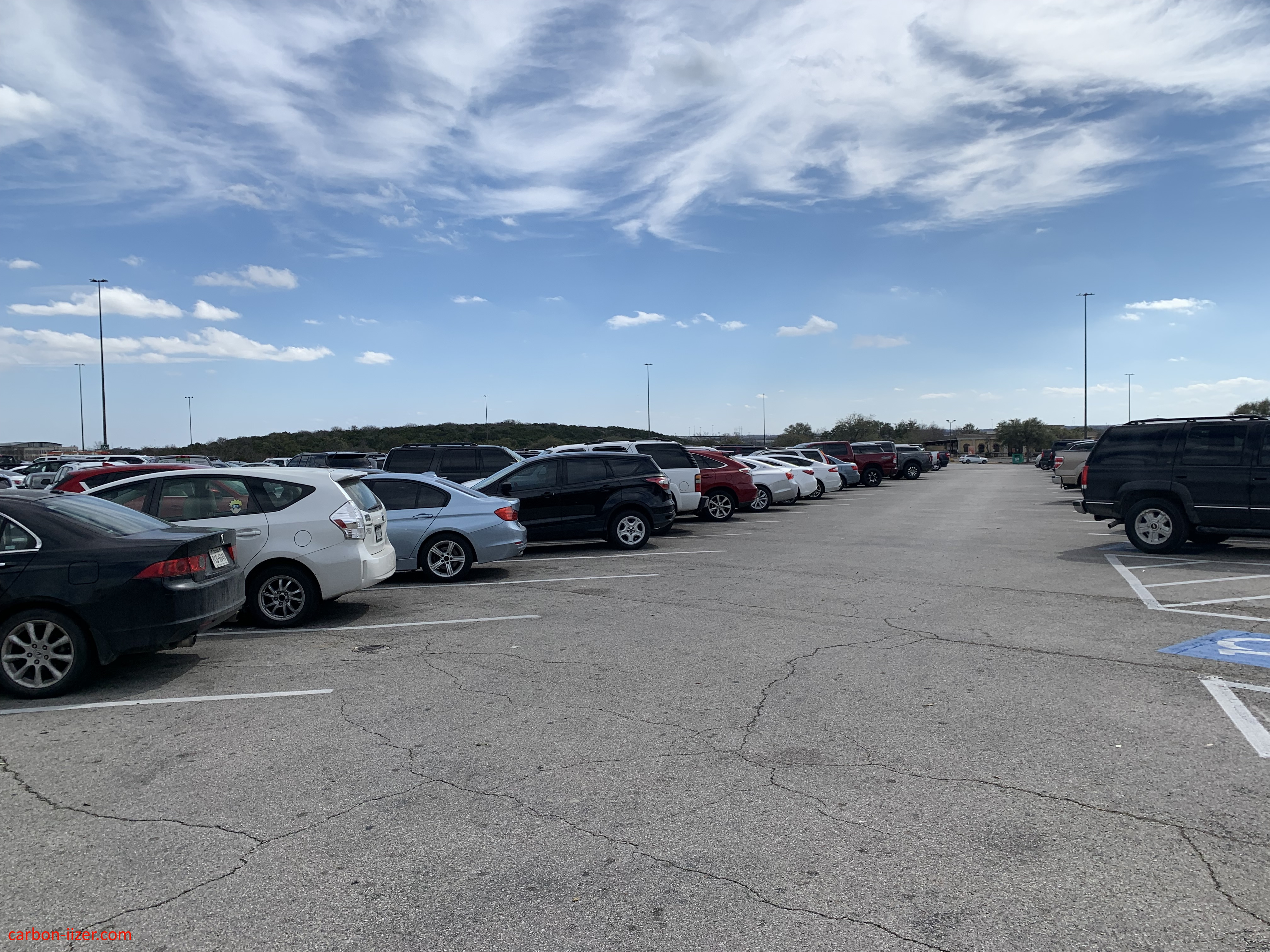 The mall's parking lot feels very isolated from the world around it.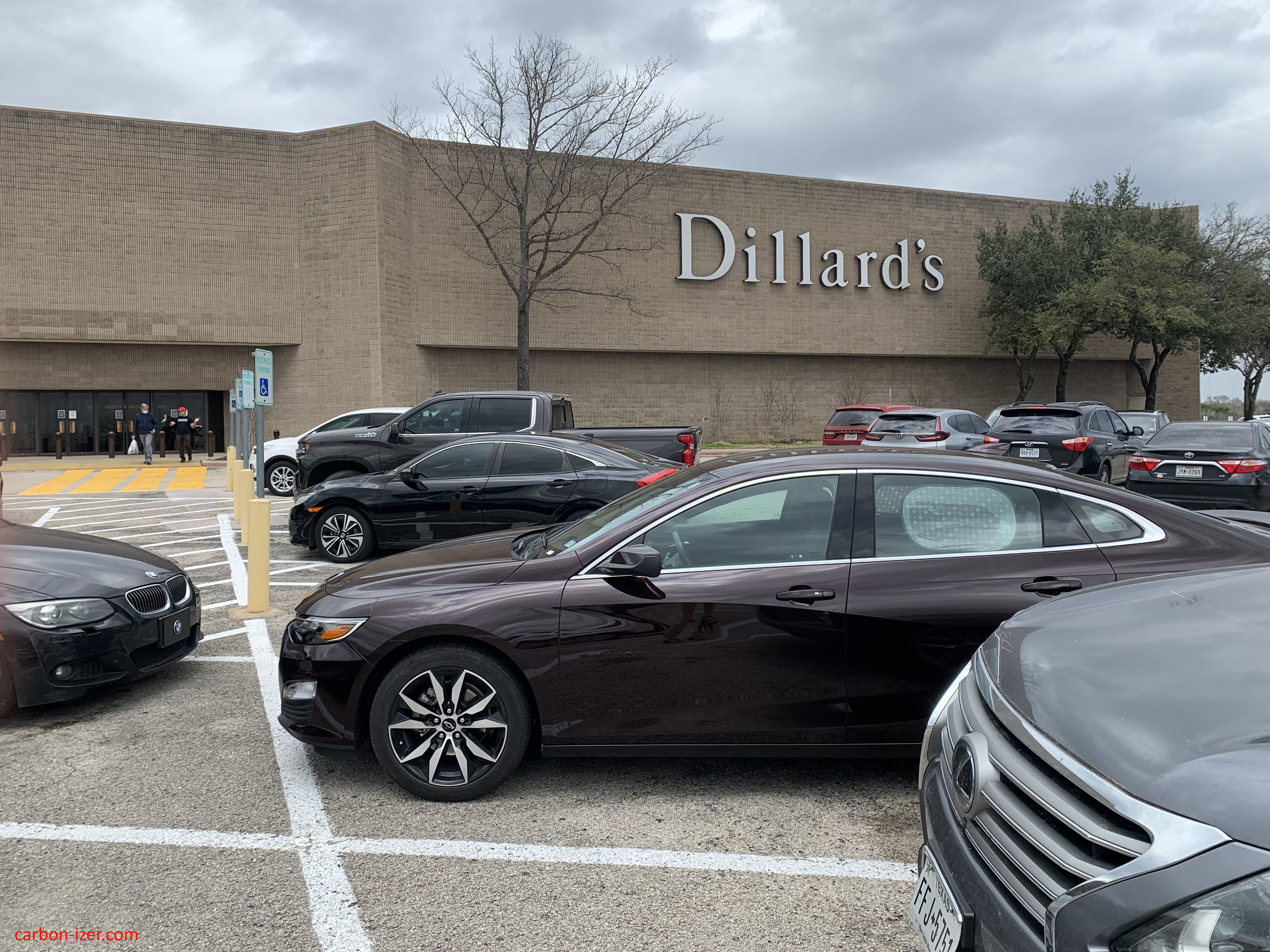 This was always Dillard's, but after Scarborough's sold its mall stores to Dillard's, this became the women's store.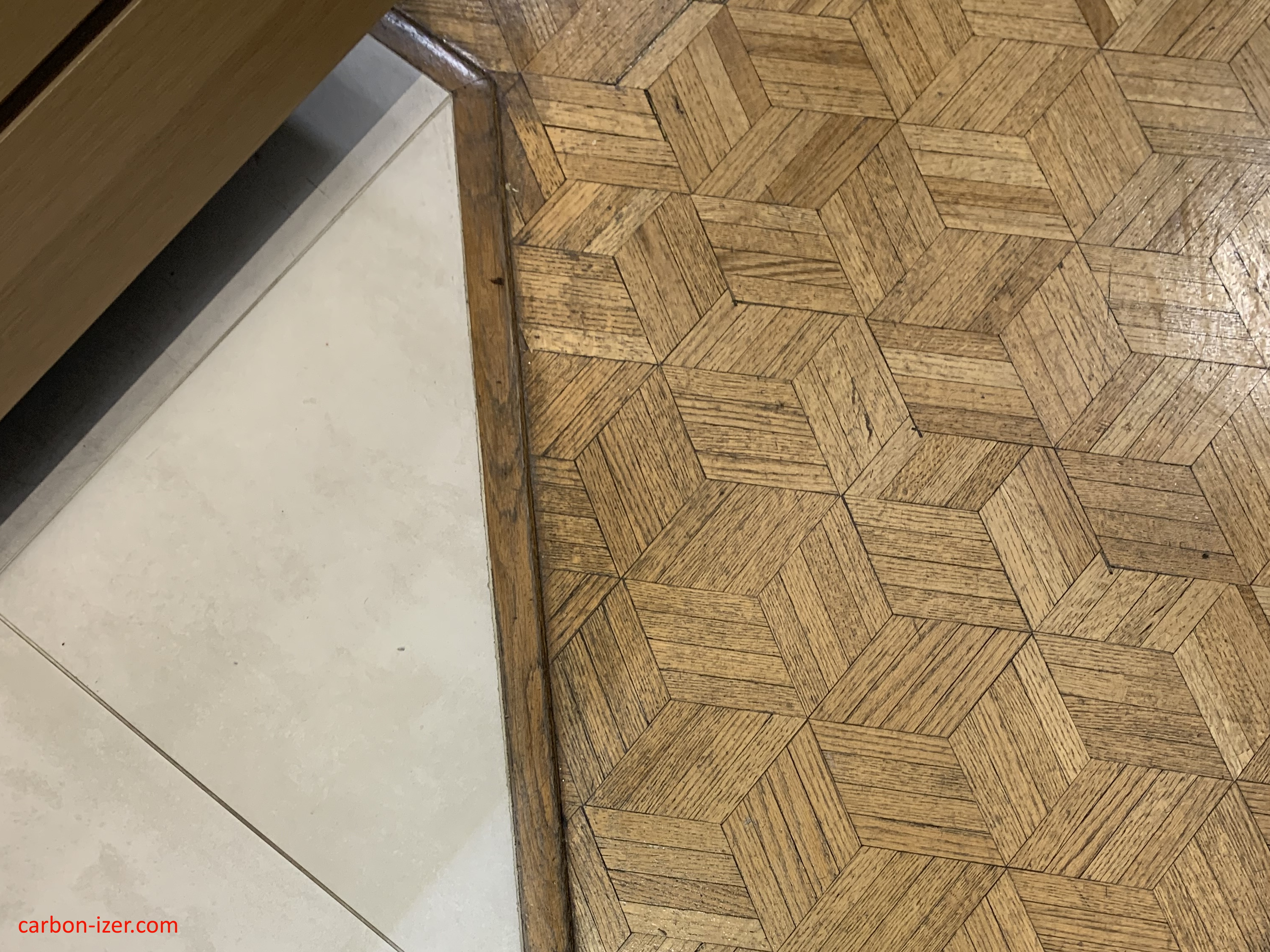 I love the parquet flooring at this Dillard's.
Looking toward Nordstrom with the bulk candy store in the center.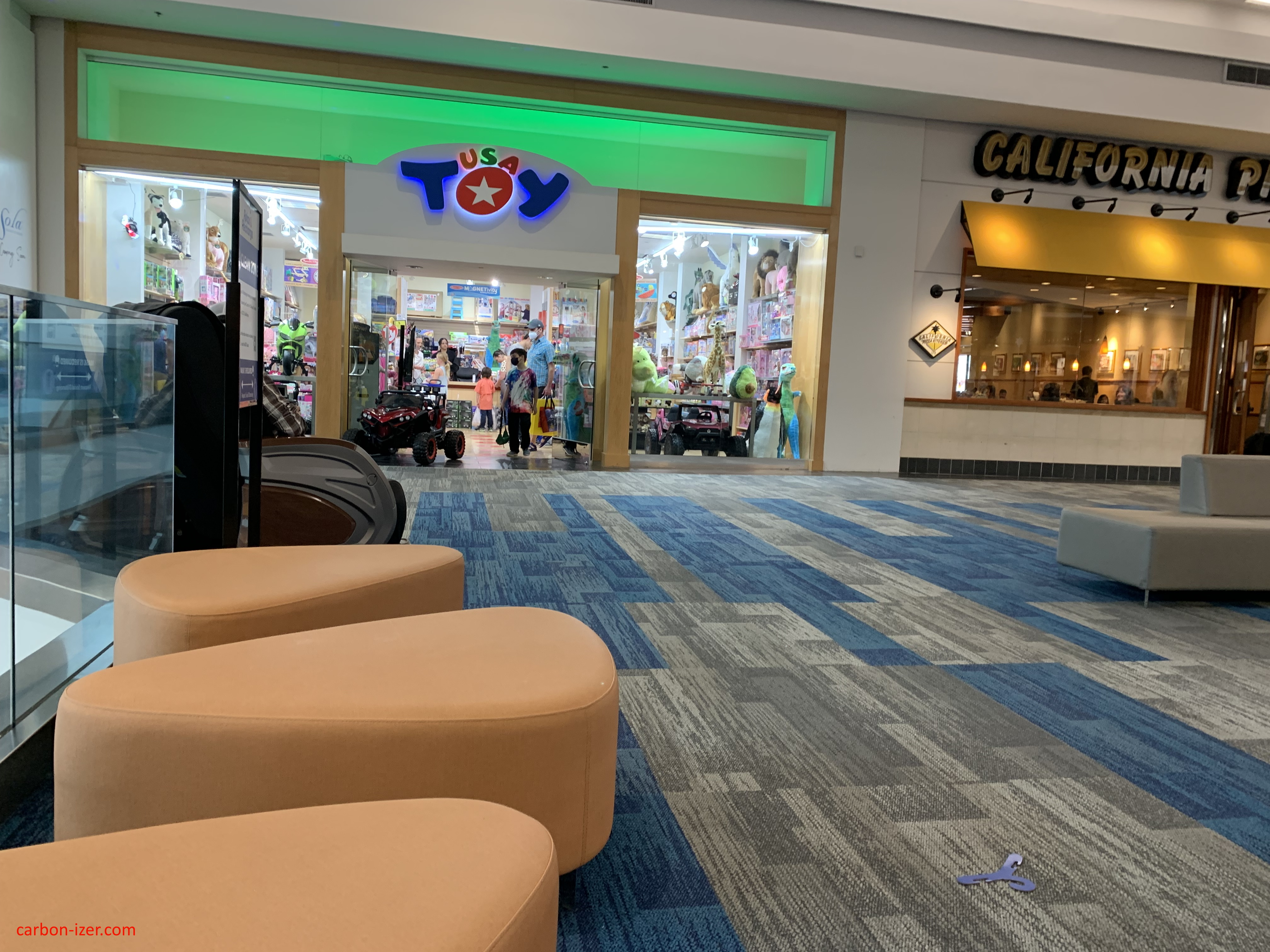 Toys R who?
Well, that's it for Barton Creek Square. One more thing--a real map. This was from Simon's business page and has leasing plans for upper and lower level kept up to date. Here are the ones updated for March (Starbucks is gone, as is "Kids Bounce Park" near the old Sears...see the photo above.
---
Return to Main Page
|
Contact Me
---
Copyright 2022 Carbon-izer.com