GREENSPOINT MALL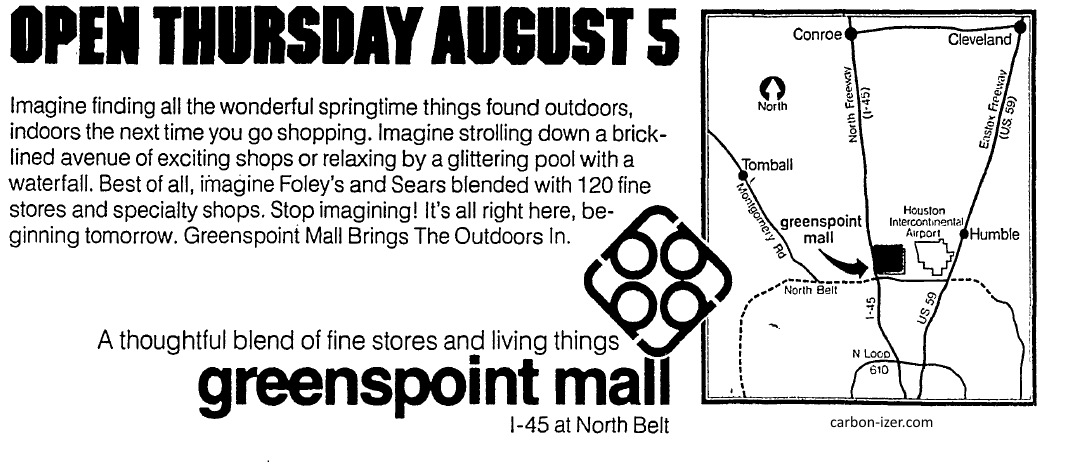 I have never been to Greenspoint Mall, even if I passed a few times in the early 2010s and saw some of the last remaining anchors--Sears, Dillard's (Clearance Center), and Macy's all pack up and leave. There's other resources for Greenspoint Mall's history, such as the Wikipedia page for starters...but before all that, I have a few things I found that explain a bit more about the early days of the mall than what you can find normally. The mall was built with Foley's and Sears initially, with the other anchors--Montgomery Ward, Lord & Taylor (closed and sold to Mervyn's in 1989), and Joske's (later Dillard's) all coming later.
Greenspoint Mall was developed and owned by Federated Stores Realty, the real estate arm of Federated Stores (technically known as Macy's, Inc. today but effectively a different company with entirely different assets) and in 1982 had three other regional malls (two in Dallas and Pasadena Town Square, though by the time PTS opened it was considerably different than the two-level regional mall as planned).
Greenspoint Mall was one story, but originally had a small mezzanine level with a restaurant.
A while back (2019) I managed to create a PDF version of Greenspoint Mall's opening from Houston Chronicle archives and sent it to several people, but now I'm ready to show the world the 32-page opening guide to Greenspoint from August 4, 1976, the day before the mall opened. There's ads for dozens of stores here, including the mezzanine restaurant, the "Centre Court" restaurant. A "Slim Waist Luncheon" had "half of [a] fresh pineapple filled with fresh fruit, slivered chicken, and water chestnuts." (I'll pass, thank you).
JCPenney opened in November 1977. Montgomery Ward opened in July 1978 with a new mini-wing, where you could see "Greenspoint Mall's Version of the Star Wars Characters" (not the actual actors and they're all in costume, anyway) and Kevin Dobson of Kojak, which had been cancelled by July 1978 due to failing ratings. Lord & Taylor opened in February 1979 and by that time, even Foley's was building a physical expansion, going from around 207,000 square feet to around 320,000 square feet.
Joske's opened in July 1980 with additional shops. Both Joske's and Montgomery Ward were tacked on after the main design of the mall (Greenspoint was primarily designed for four department stores). At that point, Greenspoint Mall reached its peak as far as physical expansion and stores would go. Joske's was converted to Dillard's around 1987 and from then on, things would only get worse.
The Wikipedia page for Greenspoint Mall isn't good and leaves out a lot of information (probably accidentally deleted). While the departure of Sears, Macy's (formerly Foley's prior to 2006), and Dillard's Clearance Center are fairly well-documented (as well as the replacement to JCPenney, a Premiere Cinemas, which operated from 2010 to 2020), the other anchors aren't quite as well documented. Both J.C. Penney and Mervyn's closed in 1998 when the failing reputation of Greenspoint started to have some real consequences, and Montgomery Ward a few years later when the chain went under. One of the questions that remains is when Dillard's became a Clearance Center. The Louisiana and Texas Retail Blogspot indicates it was the year 2000 but looking through old newspapers, the conversion seems to have happened in mid-2005, when Greenspoint was quietly dropped from the location lists in advertisements. In 2004, Fitness Connection opened in the former Mervyn's. Today, it's the only "anchor" left.
Some additional links of interest...
---
Return to Main Page
|
Back to the Malls Page
|
Contact Me
---
Copyright 2022-23 Carbon-izer.com