THE SHOPS AT PRUDENTIAL CENTER
I have never been to The Shops at Prudential Center; rather, the c. 2006 directory below came from another source. The Shops at Prudential Center is a 1989 redevelopment of an older outdoor shopping plaza that was built around the 1964-built Prudential Tower. There's more information on the backstory of the plaza and what it liked before the mall was built, but I wanted to focus on the map. In fact, it could hardly be called a mall in the best of times. It was connected to a department store or two, sure, but it was more an enclosed shopping gallery than anything else. I mean, the tunnels in Houston had Foley's, but it wasn't a real "mall" either.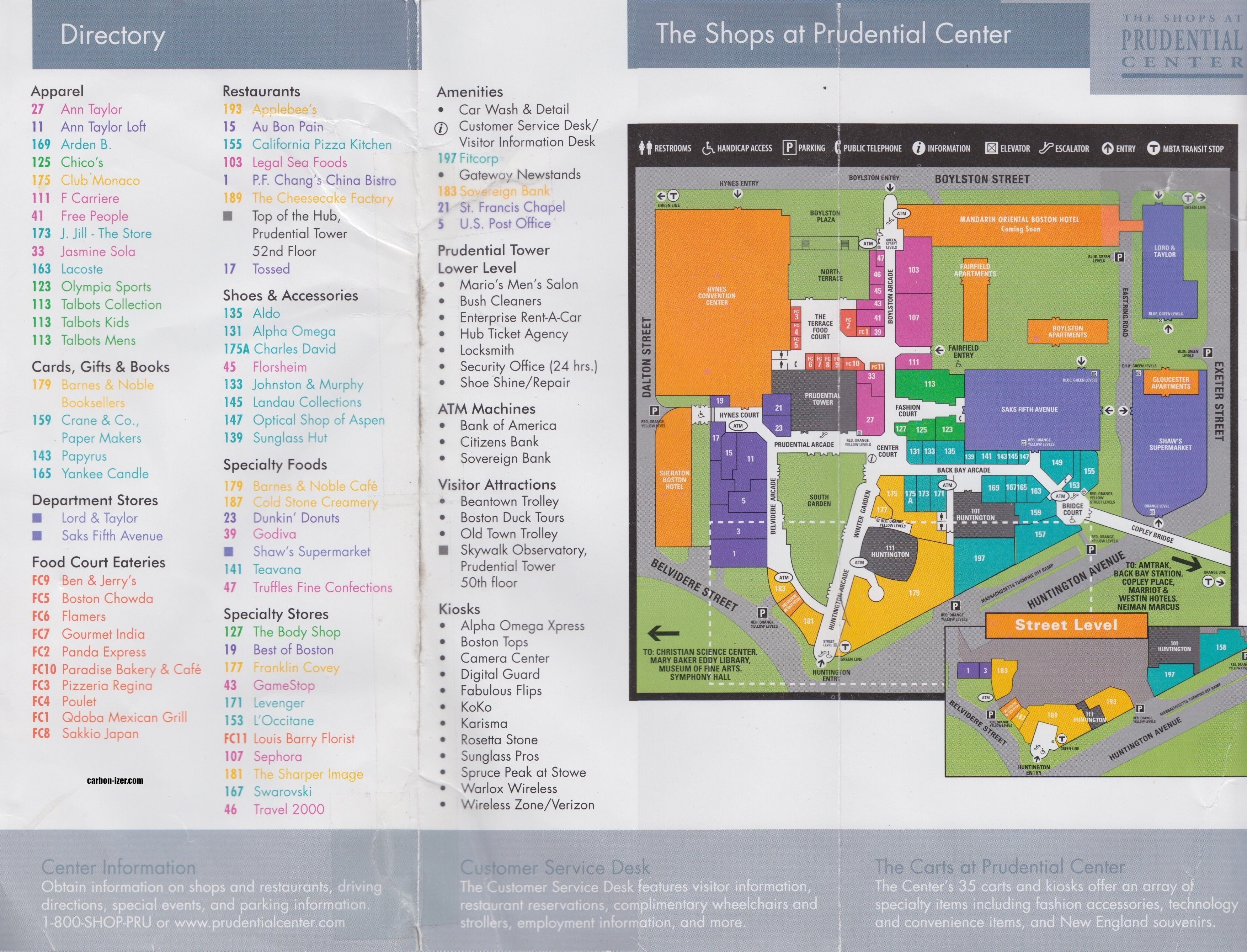 Click to enlarge.
While the tenant roster has seen significant turnover, there have been a few major changes. The first was stripping out the 12-unit food court (you can see on the directory that "FC-2" is larger than the rest, probably featuring its own seating) for a large Eataly restaurant. Next regards the former Lord & Taylor. Lord & Taylor pre-dated the 1989 mall (built 1968) but never connected to the enclosed corridor until around 2007 when a Mandarin Oriental hotel was built on Exeter Street. Today, of course, Lord & Taylor is closed as a result of its 2020 bankruptcy, which was sad to see. In the longer run, Lord & Taylor had been struggling even back when May Company owned it, and it was unlikely that an apparel rental startup that was only founded seven years prior was going to turn the venerated department store around. At least Saks (opened 1971 and briefly under common ownership as L&T) is still around.

The Shaw's supermarket shown is considered part of the Prudential Center but isn't part of the main enclosed mall. The store opened in spring 2003 as a flagship location under the ownership of British supermarket retailer J. Sainsbury, but the quality of the chain took a nosedive a few years later when it got put under SuperValu. Under the reign of SuperValu, Shaw's was rebranded as Star Market as part of reviving the brand for the Boston-area stores of Shaw's.

Finally, the current mall connects to Copley Place. Somewhere in my collection, I do have a Copley Place directory but it's buried right now.
---
Return to Main Page
|
Contact Me
---
Copyright 2022 Carbon-izer.com