VISTA RIDGE MALL
My history with Vista Ridge Mall was a short but memorable one. I first wrote about the Vista Ridge Mall at Two Way Roads, which is mostly correct, and I forgot that I had purchased a smoothie (now that it was brought up, I do remember it—I remember being annoying at how chunky the coconut was in there).
The first thing I wanted to bring up was why Sandy Lake? Sandy Lake Amusement Park, located in Carrollton, Texas, closed several years ago and was a "classic" amusement park, with a miniature train, some basic attractions and rides (including bumper cars and a particularly disappointing dark ride), and other things. The reason why the orchestra went to Sandy Lake (and not, say, Six Flags) was not because the school district was cheap, but rather due to the Sandy Lake Fun Fest.
The Sandy Lake Fun Fest was held in the spring, where school music groups (choir, orchestra, etc.) performed at the park and doubled as a school field trip, and the 2004 event was sponsored by an up-and-coming store based out of Grapevine that just so happened to be opening soon at Vista Ridge Mall...the Texas Teddy Bear Factory, a sort of Build-a-Bear knockoff. Ultimately, TTTB would last less than two years at Vista Ridge before closing, with the downtown Grapevine store (opened since 2002) closing by 2009.
I remember eating at Vista Ridge Mall's Burger King and at GameStop, made a purchase that would serve me well for the next several years and beyond, the SimCity 4 Prima Guide, which included Rush Hour. It would probably go out of date, I believed, once new SimCity 4 expansion packs appeared (after all, The Sims had seven expansion packs, was it so unreasonable to believe that a second one would arriving for SC4?), but it never did. With the exception of a few extra downloadables from EA's SimCity site, that was the end of the line in terms of official updates, even if there were some incredible (at least incredible-looking) user-made mods just around the corner. (See the SimCity 4 page I made back in 2015).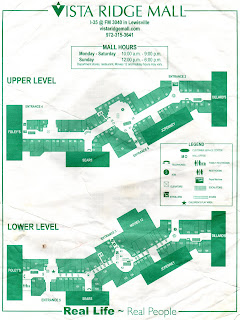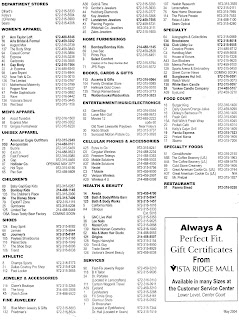 However, of all the malls I've visited that weren't obviously on their way out, Vista Ridge seems to have taken the biggest stumble yet. Even the "new" Panera Bread listed on the directory would file out by 2011.
Reading up on the mall's history on Wikipedia, the mall seems to have had somewhat troubled beginnings. Even into six months into the mall's existence, the mall suffered a fairly low occupancy rate (one third of the mall was empty) even six months in. In fact, Wikipedia indicates (without a source, though) that the mall was doing poorly enough to renovate the mall just two years into the mall's lifespan.
The mall was a development of Homart Development Company, a subsidiary of Sears that developed large, regional malls with Sears as an anchor. The company was eventually sold to General Growth Properties in the mid-1990s during the company restructurings of the early 1990s, the same period in which their flagship catalog was discontinued and many of their non-retail holdings, notably Allstate, being sold or spun off.
Anyway, the mall seemed to finally get going with the 1991 additions of Foley's and JCPenney, but at some point in the late 2000s or early 2010s, the mall began to decline. Sears closed in 2018, Dillard's downgraded to a Clearance Center in 2019, J.C. Penney closed in 2020, and Macy's (formerly Foley's) closed in 2021. There was one reprieve to the three anchors collapsing...Zion Market, a Korean supermarket based out of California, opened in the former Sears in 2019 (similar to H Mart, Zion Market features a French-Korean bakery, here named "Paris Baguette"). At some point, the mall was sold off and renamed to Music City Mall, which received a logo identical to Odessa's Music City Mall (formerly Permian Mall). As a side note, Music City Mall Odessa was coincidentally the last mall ever posted to Labelscar. (I miss that site.)
The Ten Commandments monument mentioned in the Labelscar article was in fact a permanent exhibition, and a similar monument was unveiled in the former Vista Ridge Mall. (While I'm sure this probably was a bit controversial, retailers would at least agree with the "Thou Shall Not Steal" part). JCPenney's space is now (or at least was briefly) the temporary headquarters for Penney OpCo, the reorganized post-bankruptcy chain that runs the J.C. Penney stores (their Plano headquarters was vacated and sold off). You can see the mall's current state with this directory map I got from their website as of February 2022.
I wanted to get a picture for this update from representing the Texas Teddy Bear Factory, but the archived version of their website lacks pictures (there were, but they weren't archived) and the pin that shows it is deep in storage.
---
Return to Main Page
|
Contact Me
---
Copyright 2022 Carbon-izer.com