CHANGES IN THE JAPANESE VERSION
---
This lists all the changes I can currently find with the Japanese version of Yoot Tower (The Tower II). This is nowhere complete. If some of the characters don't look right, you may have to change the encoding on your browser.
One of the first things I noticed that is that the billboard line-up contains five options, recreated in their original syntax below:
Apple Computer, Inc
OPeNBooK9003
セコム
S U N S T A R
T O S H I B A

All of them are real companies, but the last three are real companies. The セコム is romanized as "sekomu", or SECOM. Sunstar and Toshiba are also real companies.

Additionally, the "empty" slot (not pictured) has a more tasteful graphic than the garish "AD-SPACE AVAILABLE!".
The default U.S. Mac version has 7 total, including one advertising Yoot Tower itself, plus Aquazone (another product by the original developers), GameWorks, and Sega PC (the publishers). At the time of Yoot Tower's release, Sega owned a third of GameWorks (the other two companies invested in it were Universal Studios, owned at the time by Seagram), and DreamWorks Pictures.
---
"Jenny's" in the U.S. version has been replaced with Deni-san. Both are stand-ins for Denny's (and are both open 24H).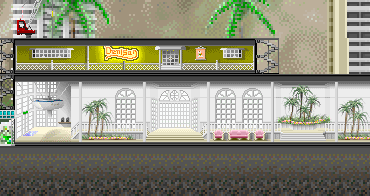 ---
Rather than GameWorks, the Japanese version has Joypolis, the Sega theme park. This is interesting, as Sega did not seem to be directly involved with The Tower II 1.0, but there it is, licensed and everything. The U.S. version swaps out GameWorks for the name only and leaves everything else unchanged (and also changes out the icon of Sonic for its own logo).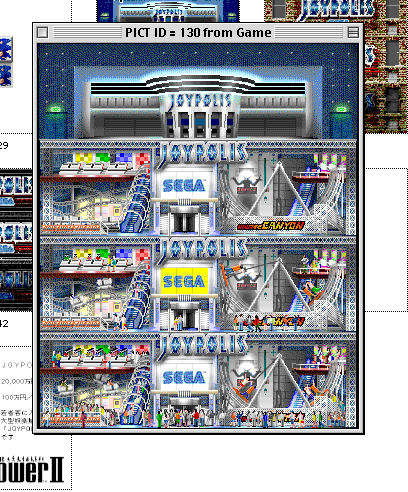 GameWorks does not have things like the roller coaster or the Halfpipe Canyon, unfortunately, but man did Yoot Tower make GameWorks look really fun.
---
Back | Return to Main Site | Email
---
This guide has been created and maintained by Carbon-izer.com.