INTERSTATE 35 IN HAYS COUNTY
The Austin metro continues to stretch down south into Hays County, where San Marcos is. At many of the exits here, there's a 7-Eleven, usually from different origins but some with unique combos that were almost never seen with pre-acquisitions 7-Eleven. Version 5.0 focuses on San Marcos. It adds 18840 Interstate 35, P. Terry's Burger Stand (Kyle), Chicken Express, Saddle Creek, O'Reilly Auto Parts, CVS/pharmacy (at E. Center Street), Casa Maria Mexican Restaurant, Howard Johnson by Wyndham, P. Terry's Burger Stand (San Marcos), Mucho Taco, McDonald's (at Short Street), 200 Interstate 35 South (former Luby's), Twin Peaks, 7-Eleven (at Wonder World), and Embassy Suites by Hilton. It makes small updates to Mr. T Washateria (new photo), Poco Loco and McDonald's (at Center Point). Also I should note the last section was mislabeled before (said Aquarena Springs Drive, should have said South Guadalupe Street), but that doesn't matter since this has since been reformatted.
STATE HIGHWAY 45 to KYLE PARKWAY
14444 S. Interstate 35
It appears that this former Chevron, now simply labeled as "DIESEL" in signage with a closed-up Food Mart (color scheme being white on green) is owned by the Shell next door nowadays. It operated from around 1995 to 2014.
Shell / 14500 S. Interstate 35
This Shell was originally a Texaco (changed to Shell presumably around 2003) and has been here since 1989. A restaurant space near the store (possibly added later) currently has "Abby's Mex Food".
Moon Valley Nurseries / 14620 S. I-35
This garden center and plant nursery (larger shrubs and trees only) opened in early 2020, reusing a small building that sat on a large lot. Previously, the space was home to Big Tex Trailers from 2010 to 2016, with a fireworks stand operating prior (according to the oldest Google Maps Street View).
Chevron / McDonald's / 15359 I-35
This combination Chevron/McDonald's opened in November 1999. Before the McDonald's side renovated to the "yellow eyebrow" prototype in the early 2010s, there was a playground in front of the store.
Pinballz Kingdom / 15201 S. I-35
From 1979 to 2005 this was the Dorsett 221 Truck Stop. I'm told the gas brand was a Shell before its closure. In 2014, it reopened as Pinballz Kingdom, an Austin-based bar with music and video games. The "Kingdom" name comes from the castle-style building Dorsett 221 Truck Stop had, and the "221" name Dorsett 221 Truck Stop was from the exit number (which doesn't exist anymore following construction projects). While Pinballz Kingdom did open in 2014 as this article states, nearly a decade later, there's no Phase II with mini-golf and go-karts yet.

The address should place it north of Main Street (the previous exit and the main road for Buda) but it doesn't.
Cabela's / 15570 S. I-35
Cabela's opened its hunting and fishing store (185k square feet) in June 2005. It still has some interesting features like a walk-through aquarium, but it basically functions like a smaller Bass Pro. There used to be a restaurant in the upper level but it has since closed and converted to additional retail space.
Crestview RV / 15700 S I-35
This RV dealership has part of its showroom across the street. This wasn't like this due to design; construction of Cabela's Drive bisected it. As of this writing, their footprint has been reduced further with a new road connecting West Goforth Road with Cabela's Drive.
QuikTrip / 1108 Robert S. Light Blvd.
According to Community Impact, the Buda QuikTrip (second in the county) opened May 31, 2022. As this is placed in the page above the other, slightly older QuikTrip (by a few years) and offers the same sort of variety and service, including a full kitchen with decent to-order sandwiches (and at a very reasonable price, at that).
Valero / 18210 S. I-35
This was originally Sac-N-Pac in 1997, then Stripes in 2015, then 7-Eleven in 2019. The gas station brand was probably originally a Diamond Shamrock.
Burger King / 18600 IH-35
Burger King #12220 opened in 1999. Despite a renovation inside and out, it still has an enclosed playscape inside. There's also records that go back to 1996 for another Burger King supposedly in the area ("3799 IH 35") with a different number that I have yet to find.
Exxon / 18701 S. I-35
This Exxon, also known as "Tex Best" (Tex Best Travel Center #53, officially, and no, there aren't 50+ others), is one of the older gas stations in Kyle, dating back to 1986. It seems it picked it up the Tex Best name in 1999 and the Exxon name between 2009 and 2015. (It was a Conoco in the late 2000s).
QuikTrip / 18720 I-35
From what I can find, QuikTrip #4154 opened in July 2021. Less than a year later, another QuikTrip opened closer to Buda.
The Home Depot / 3730 Dry Hole Road
The Home Depot here takes its official address from the former name of Kyle Crossing (though it was also County Road 210). The Home Depot opened in October 2004 as the first tenant of "Kyle Town Centre". Sometime around 2021 Kyle Town Centre was renamed to "Dry River District".
18840 Interstate 35
A strip center that filled out with tenants in 2022. Pizza Patrón opened 9/15/22 according to Community Impact. There's also Tiff's Treats in the same shopping center that opened mid-2022.
P. Terry's Burger Stand / 18940 N. Interstate 35
This Austin-based burger chain with a distinctive architectural style opened in September 2022.
Starbucks / 19140 I-35
The two Kyle Starbucks (excluding a third store that opened in 2007 near the H-E-B Plus) on Interstate 35 opened within a close timeframe of each other. The southbound store on the north side of town opened in October 2021 (per Starbucks Everywhere).
The Strand / 150 Amberwood South
The Amberwood subdivision was established around 2004, and while this apartment complex (first phase completed in 2015) isn't accessible from the freeway, it does help establish the fabric of suburban I-35. Next to it, there's The Aidan (210 Amberwood South). The Aidan predated The Strand by a few years, and was originally known as The Settlement until the early 2020s.
EVO Entertainment / 3200 Kyle Crossing
EVO Entertainment (movie theater/bowling alley/arcade) opened in Kyle in November 2014. The restaurant inside is called "Hardihoods Eatery & Drinkery".
Sunoco / Schlotzsky's / 19350 S. I-35
The original construction here was a Shell gas station with Schlotzsky's and Sac-N-Pac in 2011. In 2015, Stripes took over the convenience store portion (adding a Laredo Taco Company counter) with its then-parent company Sunoco taking over the gas station component soon after. As of February 2020, this was still a Stripes but within two years had become a 7-Eleven with the sale of Stripes to 7-Eleven.
Dutch Bros Coffee / 20325 Interstate 35
This West Coast drive-through coffeehouse chain opened in August 2022. It is the second Dutch Bros in Hays County.
Firestone Complete Auto Care / 20301 I-35
This Firestone opened in July 2013 and marks the beginning of The Village at Kyle, a sprawling commercial area across both sides of Kyle Parkway, and is anchored by Lowe's (at the northeast corner) and Walmart (at the southeast corner). There's also a Goodwill there, too.
Arby's / 20417 S. Interstate 35
This Arby's opened in fall 2018 but opened as a Carl's Jr. in the restaurant chain's ill-fated second Texas expansion. Carl's Jr. opened mid-2014 but closed by early 2018.
Taco Cabana / 20445 S. Interstate 35
Taco Cabana opened around June 2016, around the same time as its sister chain Pollo Tropical. While Pollo Tropical sadly didn't last (and was arguably the superior restaurant), TC remains open today (and is not 24 hours, like it was founded on).
Hawaiian Bros Island Grill / 20471 S. I-35
Pollo Tropical arrived in Hays County in May 2016 but closed eleven months later. Its replacement, Hawaiian Bros, opened in April 2021, four years after the demise of Pollo Tropical.
KYLE PARKWAY to EAST CENTER STREET / FM 150
Panda Express / 5261 Kyle Centre Drive
At some point, I'll probably make some sort of page for the entire development on all four sides of the highway and Kyle Parkway (encompassing Lowe's, Walmart, H-E-B Plus, Target, Kohl's, etc.), as it would take a bit long to list everything at the four corners, and in some cases, not particularly interesting. Such is the case of Panda Express, which opened in May 2011.
McDonald's / 5325 Kyle Centre Drive
There is nothing special about this McDonald's, which opened in March 2010. Like the Chick-fil-A to the immediate north of it (and opened in the same timeframe), some changes in the parking lot were made to better handle drive-through traffic in 2021.
IHOP / 5401 Kyle Centre Drive
Despite the "24 Hour" signage, this chain restaurant closes at 10pm (except on Fridays and Saturdays). This was probably true before COVID and all that, having opened in May 2012.
Walmart / 5754 Kyle Pkwy.
Walmart Supercenter #4130 opened in November 2014. In 2022, the store was renovated to the current Walmart décor and design. They added a Claire's (replacing the salon) to the store. It already has a Subway, which is rarely open these days.

Additionally, they have a gas station and convenience store near the store at 20585 Interstate 35.
RBFCU / 20613 IH-35 N.
RBCFU, short for Randolph-Brooks Federal Credit Union, opened a location in Kyle in November 2015, which the credit union helpfully mentions on its site.
Exxon / KFC / Long John Silver's / 20925 S. I-35
Despite the corporation separation of KFC and Long John Silver's back in 2011 and the heavy closures that have rocked the combo stores and Long John Silver's alike, you can still find both here in 2022.

The convenience store portion opened as Sac-N-Pac in 2002, converted to a Stripes around 2015 and again to 7-Eleven in 2020.
Lex Word Building / 21001 S. I-35
Also known as and holding exclusively the Hays Central Appraisal District, this small office building is only accessible from the frontage road. When it was built in 1994 and all the way up to 2013, the frontage road was two-way.
Chicken Express / 5493 Kyle Centre Drive
I've been told this Chicken Express restaurant opened in December 2013.
Club Car Wash / 5537 Kyle Centre Drive
This tunnel car wash opened in November 2019 as Rapid Express. In summer 2022, Club Car Wash acquired Rapid Express and was quickly rebranded.
Poco Loco Market / 21140 Interstate 35
Poco Loco Market #5 opened here in May 2019; it tends to have cheaper gas than competition.

Just south of the Poco Loco is Old Burleson Road. There's some signage, but the road has been closed off to vehicular traffic, and the curb was rebuilt. This happened sometime in 2020, with the road restriped to just merging lanes. Formerly, the right-most lane was a right-hand only lane into the road.
Saddle Creek / 21393 I-35
This apartment complex (next to Plum Creek, actually) was built around the mid-2000s.
Conoco / 1203 N. Old Hwy. 81
This gas station has been here since at least the late 1960s. It is currently a Conoco and has been such since at least the 2000s.
Kyle Flea Market / 1119 N. Old Hwy. 81
The flea market has been here since 1996 but the building was originally home to (as late as the 1980s and early as the 1970s), Longhorn Machine Works. There wasn't much I can find about LMW, this case text mentions it made pipe nipples and forge fittings. There's a few outdoor booths but many of the booths are inside, with gloomy corridors and little shops inside.
Mr. T Washateria No. 2 / 807 N. Old Hwy. 81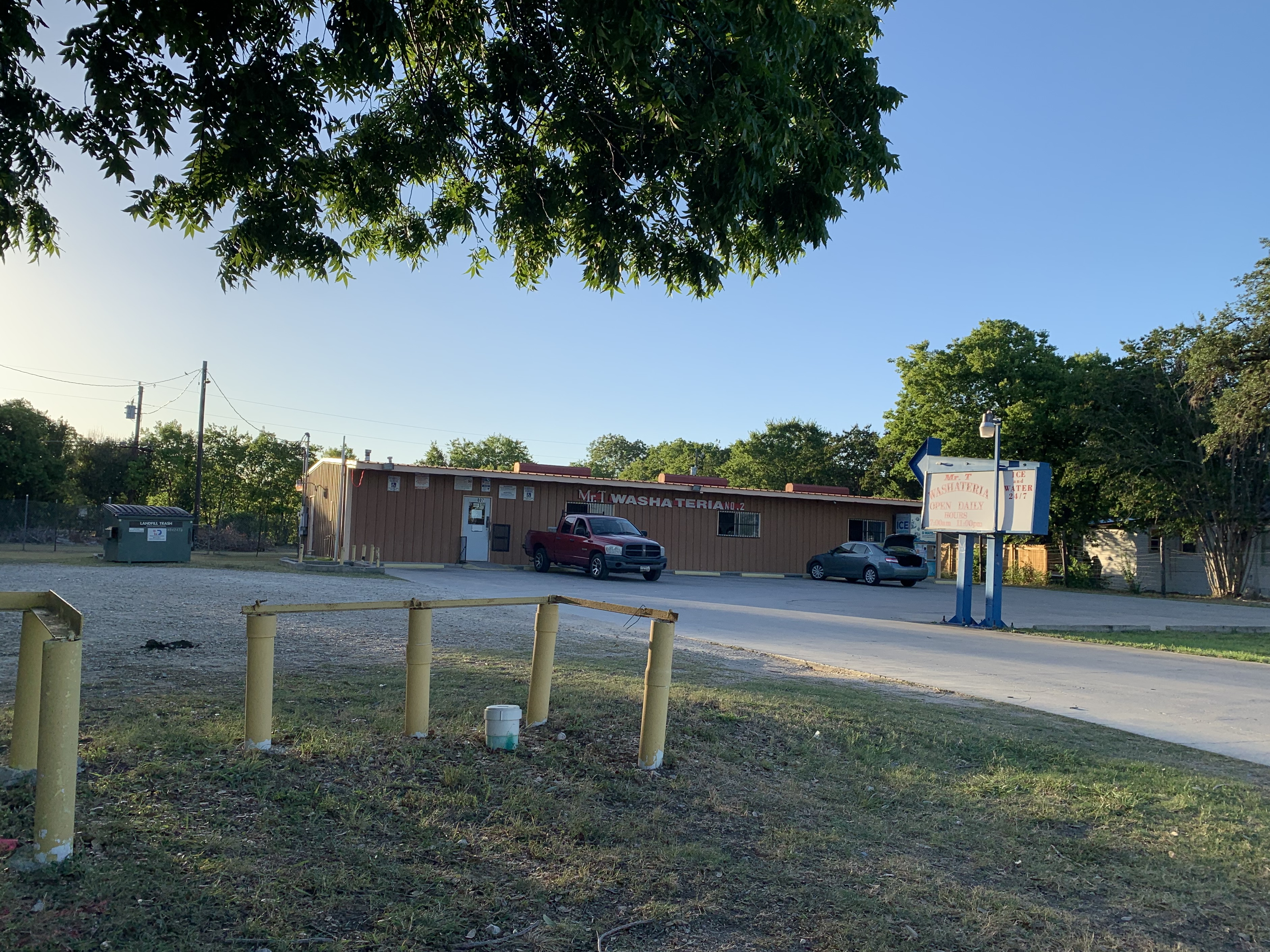 From the construction of the Interstate to 2013, the southbound frontage road was two-way and bowed outwards as Old Highway 81. After this, Old Highway 81 was cut off at Martinez, and the newer one-way frontage road was much closer to the Interstate and had no driveways between the road and the Interstate. In the case of "Mr. T", however, Old Highway 81 was removed in front of it and re-connected to the frontage road another 100 feet back, leaving a long driveway, and a sign that's almost invisible from the frontage road.
O'Reilly Auto Parts / 22387 I-35
This auto parts store opened in early 2015. Its competition, AutoZone, just to the north, came to Kyle around 2006.
Starbucks / 22449 I-35
This Starbucks, like its sister store on the north side of Kyle, opened in March 2022.
7-Eleven / 22553 I-35
This 7-Eleven was opened in 2013 around the same time FM 150 West was re-routed to curl around toward Center Street.
CVS/pharmacy / 102 N. Old Hwy. 81
CVS Pharmacy #3505 opened in summer 2008 to replace some smaller retail that had Movie Gallery (#457; The Movie Shop originally). It moved to the H-E-B Plus shopping center afterwards but it closed in the Movie Gallery/Hollywood Video bankruptcy of 2008.
EAST CENTER STREET / FM 150 to AQUARENA SPRINGS DRIVE
We're going to zoom past downtown Kyle to San Marcos. In the San Marcos area, addresses on the west side are labeled as "North Interstate 35" while addresses on the east are labeled as "South", labeled as to cardinal directions, not the flow of traffic. In any case, to make things a bit simpler, these will be left out of the addresses.
Casa Maria Mexican Restaurant / 22604 I-35
This new-build Mexican restaurant opened in 2012.
DQ / 22601 Interstate 35
While it has been renovated since, the Dairy Queen in Kyle has been here since the early 1970s (1973 or 1975, hard to nail down).
Valero / 22801 Interstate 35
Located at the end of what was FM 150 (now Hill Street following the re-routing), this Valero also has 7-Eleven. It was converted to 7-Eleven in 2019 from Stripes, which had converted the convenience store from Sac-N-Pac in 2015.

The history of this station has been hard to nail down. The gas canopies were rebuilt around 2010 (previously a smaller canopy perpendicular to the store) and was likely a Diamond Shamrock originally, but it appears to have been Sac-N-Pac since 1987.
Sunoco / 1903 Interstate 35
This started as a Texaco in 1989 (possibly older but unlikely) with a generic food mart. Between July 2015 and May 2016, the Texaco closed. In January 2017, a Stripes (with Sunoco) opened near the Texaco's site. It didn't directly replace it, but it did use the same address. The gas station is still Stripes as of August 2022.
Howard Johnson by Wyndham / 1601 N. Interstate 35
This was Stratford Inn and became Howard Johnson Inn (rebranded to "Howard Johnson by Wyndham" sometime later) in the late 2000s or very early 2010s.
Premier ER & Urgent Care / 1509 I-35
You may remember my old former Restaurant list. A Kettle restaurant was here from 1978 to sometime in the 2000s, when it disconnected to become "Pancake Restaurant" before finally closing in 2011 (though the numbering changed at some point, apparently this was considered 2121 N. I-35 at some point). After sitting vacant for over half a decade, it was eventually torn down for Premier ER & Urgent Care, which replaced the "PANCAKE" sign with "PREMIER".
In-N-Out Burger / 1437 I-35
In 1992, this space was developed as a Shoney's, and like the Waco and Temple locations (covered in these I-35 pages) was converted to Jim's in 1999. Jim's didn't last long here (longer than Temple or Waco, which isn't saying much) and by January 2008 it was home to "Bikinis Sports Bar & Grill" (having opened a few months earlier). After Bikinis closed in 2015, it was demolished and rebuilt as an In-N-Out Burger, which opened in June 2016.
AQUARENA SPRINGS DRIVE to GUADALUPE STREET
Hawaiian Bros Island Grill / 1439 Interstate 35
Like Kyle's, this HBIG was also built as a Pollo Tropical and closed at the same time. In 2021, it reopened as a Hawaiian Bros Island Grill. It replaced a Philips 66 (it had been one since at least the early 1990s) and closed in the late 2000s or very early 2010s. (Tax records indicate 7-Eleven had wanted to open here in the early 2010s but ultimately they never did). By 2016 it was demolished with the Pollo Tropical coming soon after.
Texas Bean & Brew House / 1328 Interstate 35
From 1985 to around 1998 this was "Casa de Pico", a Mexican restaurant, then "Dos Flores Tex-Mex & Grill" (2005-~2009), then Japan Latino Sushi & Steak from approx. 2010 to 2019. It was a Japanese restaurant (not fusion). Texas Bean & Brew House has been here since 2019.
P. Terry's Burger Stand / 515 Springtown Way
P. Terry's Burger Stand #16 opened in 2019 on the site of the old Kobe Steak House (also known as Kobe Japanese Steak House), which has since relocated to 210 Springtown Way. From 1992 to 2004, it was the site of New August Moon Chinese Restaurant.
The Lyndon at Springtown / 200 Springtown Way
The Lyndon at Springtown, a multi-story apartment building (one-plus-five style) replaces Springtown Center, an outdoor mall-turned strip center. It was a true "mall" (though not enclosed) built sometime in the 1970s (not 1961 as I read somewhere) with a smaller strip mall portion and anchored by J.C. Penney (east end, where the "mall" was) and Wuest's of San Marcos on the west end (a supermarket). In the mid-1990s Wuest's closed and the mall was redeveloped as a regular strip mall anchored by Target (see below) and JCPenney. JCPenney retained its spot (by this time it was 40k square feet with one expansion that incorporated another storefront). Bealls moved and a short-lived OfficeMax also moved in. In 2009, Target, Bealls, and JCPenney left Springtown for Stonecreek, where all three built modern, stand-alone stores.

In 2015, with the redevelopment of the former Target, the rest of the center soon was knocked down for what is now Lyndon at Springtown, which features smaller stores on the lower level. A variety of stores and restaurants exist, including Hopdoddy Burger Bar, Ideal Dental, Simply Mac, Pure Barre, Green Mesquite, Tiff's Treats, and others. (The above link is mirrored from here).
1180 Thorpe Lane
This was originally a Target store that replaced about half of the old Springtown Center in 1999, opening in July 1999. Less than a decade later it would be replaced by a new store at Stonecreek Crossing and by July 2009 was boarded up.

The former Target was divided into two tenants. Gold's Gym (Ste. 120), opened in early 2016 and The Spot Cinema Eatery (Ste. 130) in October of that year (later renamed EVO Entertainment in 2020). (source). A stand-alone building built around the same time the former Target was re-tenanted was also given the 1180 Thorpe name following the Springtown redevelopment with currently three tenants (as of early 2020), America's Best Contacts & Eyeglasses, Great Clips, and Summer Moon Wood Fired Coffee.
1160 Thorpe Lane
This block of smaller stores was built with Target in 1999. In the Target days Suite 101 (which occupies most, if not all, of the space) was occupied by Blockbuster. Today the renovated space holds Twin Liquors.
Saltgrass Steak House / 1141 I-35
Logan's Roadhouse opened in 2000 as a new building but closed between 2016 and 2017. Saltgrass opened in 2019.
Mucho Taco / 1109 Interstate 35 South
Long John Silver's operated here from approximately 1977 to 2020 (had the address of 35 Long Street, at least initially). Sometime around the mid-2000s it was either extensively renovated or rebuilt to be co-branded with A&W, but this was removed in the early 2010s. Mucho Taco moved in shortly after LJS's demise.
McDonald's / 1105 IH 35 S.
There has been a McDonald's at this site since the mid-1970s (another McDonald's was built just one exit down sometime around the late 1990s but this one remained). Another lot next to it has been used for parking since the mid-1990s, there's a sign that has the Golden Arches and "McDonald's Bus-Truck-RV Parking".
1011 Interstate 35
This former Burger King opened in 1987 and by the late 1990s had built an enclosed playground. Around 2015 it was closed.
7-Eleven / 1004 Interstate 35
This 7-Eleven was a convenience store/gas station called Quix that 7-Eleven purchased back in 2012. The Quix name came in 1992 when its parent company converted from Payless Gas. It originally opened in 1987. Fixtures and signage indicate it may have been branded Chevron at one point.
Fuego Tortilla Grill / 913 Interstate 35
Fuego Tortilla Grill's second location (first one in College Station). It is the only one in the chain that occupied an existing building, in this case, an extensively renovated KFC which existed from 1990 to 2012. Fuego opened here in September 2014, though at the time, there was another establishment called "Fuego Coffee & Ice" in San Marcos that has since closed.

Like it's College Station cousin that switched to "24/6" (closed Mondays) after a food sickness outbreak, at some point the San Marcos location did the same.
Classic Inn / 921 IH-35
This was a Microtel Inn in the early 2000s and later rebranded to "GateWay Inn". Between June 2019 and February 2020, GateWay Inn was replaced by Classic Inn.
San Marcos Tourist Information Center / 617 IH 35
I'm not sure when the tourist information center opened, but I'd be remiss in not mentioning that I did visit here back in 2010 when I really saw San Marcos properly for the first time. Thanks to a ~1998 aerial mounted on the wall, it was here I was able to see the Highway 21/80 intersection as I remembered it as well as Springtown as a "mall".

I had wanted to make a whole post on my old blog on that 2010 trip and while the memories would've been fresher, the execution would've been much sloppier.
White Rock Inn / 801 IH 35
This motel has changed hands a few times and I don't know what the original one is. It was Parkside Inn & Suites in January 2008, Knights Inn in May 2011, and White Rock Inn in March 2021 (still Knights Inn in 2020). While I'll go to Guadalupe Street eventually, this is where I intend to end so South Texas Retail can pick up where I left off due to a handshake deal some time ago.

Interestingly, from various sources, White Rock Inn was the original name.
Shell / 207 Interstate 35
Also known as San Marcos Truck Stop (and also is known to have the address of 207-209, or just 209), this gas station/truck stop currently features "Restaurant Pollo El Rey". The station is currently a Shell and has been since at least the early 2000s, but goes back to the early 1960s.
200 Interstate 35 South
This strip center was built on the site of a Luby's Cafeteria, opened sometime around early 1994 and still branded as Luby's Cafeteria until closure 2/28/19. It was demolished by August and was an empty pad for a few years before the strip center development.
Krispy Kreme / 121 Interstate 35
This building was built in 2007 as a Seattle's Best Coffee coffeehouse, but in early 2009 the Austin franchisee broke ties with the chain (in part due to Starbucks buying Seattle's Best) and renamed the stores as Texenza Coffee. When it closed in 2011 (the chain closed a year later), Krispy Kreme was quick to fill the space, opening by the end of the year.
Pluckers Wing Bar / 105 I-35
This building operated as a Red Robin from 2006 to 2008. Pluckers opened in the spot in early 2009.
SOUTH GUADALUPE STREET to CENTER POINT ROAD
Twin Peaks / 1207 Interstate 35
This opened in 2019 and was Carino's Italian from 2004 to 2019. From 1993 to 2003 it was a Golden Corral (Carino's demolished it to build a new restaurant). Carino's looks it may have closed as late as 2019.
Taste Of China Super Buffet / 1721 I-35
This Chinese restaurant opened in a purpose-built building in late 2008.
7-Eleven / 2201 Interstate 35
This gas station was built in 2000 as Shell, and initially was branded as "Q Mart" with Church's Chicken. At some point in the early 2010s the Q Mart branding disappeared, with Church's Chicken closing soon after. In 2018 the entire station was renovated into a 7-Eleven (incorporating Church's old space).
STONECREEK CROSSING
This large shopping center stole Springtown's tenants and added some more along with it. You can see the site plan of the shopping center
here
(archived from
this link
.
Ulta Beauty moved here in early 2022.
Academy Sports + Outdoors is next to a much smaller Spec's and is considered part of StoneCreek, despite the parking lots not connecting. It is located at 550 Barnes Drive. It opened in 2009.
600 Barnes Drive was built in 2017, it features, from east to west, Ulta Beauty (formerly Tuesday Morning, which closed in 2021), Michaels, and Five Below.
Next, there's a 130k square feet Target at 700 Barnes Drive. This Target (T-2438) opened in March 2009.
750 Barnes has small stores. The largest space, Suite 100 (next to JCPenney) had Sears Hometown. The scaled-down Sears had a brief stay here in 2022 (February to August). It was operated by corporate but failed to find a local owner.
JCPenney (800 Barnes Drive) opened here in 2009 with Target, the second of the three big stores that fled Springtown.
There's in-fill space that has never been developed between JCPenney and the former Bealls (850 Barnes) which opened here in 2009 and closed around 2020. Bealls also left Springtown along with Target and JCPenney.
Embassy Suites by Hilton / 1001 East McCarty Lane
Embassy Suites by Hilton San Marcos Hotel Conference Center, this hotel's full name according to Hilton's own site does have the "San Marcos Conference Center" as part of it; with the name on the outside and on the street sign, but it's still part of the hotel (though I'm sure that there was some sort of agreement with the city involving it). I have stayed in this hotel before (it's nice). It opened in December 2008.
CENTER POINT ROAD to POSEY ROAD
I'm not sure what the history of the two outlet malls are, but both have been operating since 1995 (though both have received substantial additions). Today, collectively, there's 130 acres of sprawling development stretching over a mile of I-35. You could quite a big of exercise traversing it. Posey Road, where we end, is not exactly at the end of Hays County, but it's close enough.
McDonald's / 4060 S. Interstate 35
The McSchlotzsky's I like to call it, was built as a Schlotzsky's Deli in 1999 but closed around 2004 (possibly early 2005). McDonald's has been here since 2006.

Unfortunately, since I visited there was a renovation that made it look less like a Schlotzsky's (most notably by removing the brick from the columns) but the layout is still the same.
---
Return to the Austin page
|
Email
---
Copyright 2021-22 Carbon-izer.com, this site is not affiliated with any businesses listed here. While accuracy is aimed for, this is an individual's work and not liable for any error here.