INTERSTATE 35 IN AUSTIN
Welcome to Austin! This section covers Travis County, covering the area from State Highway 45 near Round Rock (see the
I-35 in Williamson County
page) to State Highway 45 near Buda...which do not connect with each other. There's one of the few double-deck sections of a freeway in Texas in Austin, as well as the usual gamut of retail and other sites.
Version 7.0 continues to add new entries (including content that was cut from version 6.0), and to counter the "northern part of the county" focus last time more attention has been added to the southern part of the county this time. This update adds Citgo (at West Howard Lane), Exxon (also at West Howard Lane), Fujian Grand China Buffet (former Old San Francisco Steak House), LL Flooring, Extended Stay America, Target (at Capital Plaza), Mattress Firm Clearance Center (at Capital Plaza), CarMax, Red Roof PLUS+, 6405 South Interstate 35 (former Target), Capitol Chevrolet, McDonald's (William Cannon), Taco Cabana, H-E-B (William Cannon), Oak Meadow Baptist Church, Bridge at Asher Apartments, and Onion Creek Luxury Apartments. Updates include The Shops at Tech Ridge, McDonald's (at Capital Plaza), The Home Depot (near Highway 71), Skylite Inn, and Circle K (at E. St. Elmo, also moved it down a space).
---
TEXAS STATE HIGHWAY 45 to PARMER LANE
---
Rick's Cabaret / 3105 S. I-35
Also known as Rick's Cabaret North Austin, this strip club has been here since the late 2000s/early 2010s. It was previously known as Joy of Austin (opened sometime in the early 1990s) until Rick's Cabaret International Inc. purchased it in 2009 and eventually rebranded it. Because of its location in Round Rock, this has a different numbering than the rest of the buildings in this section and is that way due to the fact that the county line and State Highway 45 are not in the same place.
Whittlesey Landscape Supplies / 3219 S. I-35 Frontage Rd This stone and mulch yard has been here for years. Whittlesey's website suggests this location opened in the 1990s, and tax records confirm it opened in 1997.
Foxy's Cabaret / 16328 Interstate 35
Prior to around 2012, this was Mobile Storage, which rented out cargo container-style units for storage (similar, but not the "PODS" brand often seen in these circumstances). Around 2013 it was renovated and reopend as "Down in Texas Saloon", a strip club, which was acquired by RCI Hospitality (which previously bought Joy of Austin) in 2015. Like with Joy of Austin, RCI rebranded it to its current name.
Austin's / 16231 N. Interstate Hwy. 35
The Interstate numbering resets again at the Travis County line. Austin's (actually in Pflugerville), also known as Austin's Park N Pizza, contains a number of attractions including bowling and rock climbing, with outside attractions including bumper boats, mini-golf, and a go-kart track.
Exxon/McDonald's / 15900 N. Interstate 35
This opened in 2005 as a Chevron/McDonald's; in the early 2010s the McDonald's did a renovation to get rid of the silver mansard roof and the gas station became an Exxon.
7-Eleven / 15829 N. I-35
At the southeast corner of Grand Avenue Parkway and I-35 is this truck stop 7-Eleven. It contains no access to Grand Avenue Parkway, instead connecting to Vision Drive in the back. For food options it contains Angelina's Tacos Caseros and formerly a Subway (gone between 2019 and 2021). My own personal hunch that it was not built as a 7-Eleven proved correct; as of January 2009 it was a Texaco with Speedy Stop and Subway (and probably had a taco counter in there as well). By 2013 it was 7-Eleven (Speedy Stop sold most of its stores to 7-Eleven that year), though the Texaco branding disappeared between spring 2015 and spring 2016.
Ashley Homestore / 15424 FM 1825
This was a Cinemark Movies 12 from December 1988 to late 1997. When Cinemark opened the Tinseltown theater in the same parking lot it was closed, and eventually was redeveloped into retail, with new strip center buildings adjacent to it.
Texas Roadhouse / 15415 N. Interstate Hwy. 35
Texas Roadhouse opened around 2006 (possibly 2007) in an empty pad site next to the Interstate.
Cinemark 20 and XD / 15436 FM 1825
This movie theater opened as Tinseltown USA in 1997, similar to other theaters in Houston that opened around the same time. In 2017 it assumed its current name.
Bombshells / 15119-C Interstate 35
Posados Cafe was here from 2004 to around 2011. It has been Bombshells Restaurant & Bar since 2014. It is also owned by RCI Hospitality (their presence in the north Austin area isn't a small one) but much tamer than the strip clubs.
Cheddar's Scratch Kitchen / 15119 N. Interstate 35
Cheddar's Casual Cafe, as the chain was known until sometime around the mid-to-late 2010s, opened here in November 2003.
FD's Grill House / 15119-B N. Interstate 35
Formerly known as Fish Daddy's Grill House (a concept by Cheddar's before it was bought by Darden) when it opened in mid-2004, this restaurant became FD's in 2015 (an unflattering review came with it).
Exxon / 14730 N. Interstate 35
This is a 7-Eleven but it wasn't until the early 2010s when the convenience store became a 7-Eleven (previously branded as Tigermarket).
Valor North Austin / 14200 N. Interstate Hwy. 35
Formerly, this was the home of the Chaparral Ice Skating Center, but the dual-rink facility closed after November 2011 (originally built in 1996). Soon after, Ecotech Institute took over and remodeled the building, planning to open in 2014. Instead, they pulled the plug on the Austin campus (Ecotech never managed to open a single branch and closed its single Colorado location in 2018) and Virginia College opened instead. Following the demise of Virginia College in 2020, Valor Education, a charter school, opened in the building.
Citgo / 13701 Interstate 35 North
This has been a Citgo since at least 2007 but opened as a Texaco in 1996.
Exxon / 13641 IH 35 North
This used to be a Shell with Quix as of the late 2000s. Quix (open since 1989, though an unknown gas brand) became 7-Eleven in 2012, in 2015 it switched brands to Exxon.
Baby Acapulco / 13609 N. Interstate Highway 35
Part of a mini-chain in Austin, this restaurant, also known as Baby A's, has been in this spot since 2001.
The Home Depot / 13309 N. Interstate Hwy. 35 North
Like Baby Acapulco's, this Home Depot opened in 2001.
The Shops at Tech Ridge / 12901 N. I-35
You can see a site plan (as of 2/22) of this shopping center here. The Floor & Decor and Texas Furniture Mall stores make up the space of a SuperTarget, which operated from October 2003 to January 2016, the only SuperTarget to close in Texas. (The above site plan is archived from here)
AMC Dine-In Tech Ridge 10 / 12625 N. Interstate Hwy. 35
Occupying only a portion of the previous tenant, AMC opened a smaller movie theater here in December 2019 (before spending a good portion of the next year closed or under capacity). The "previous tenant" here was a Sears Grand, opened in fall 2005 and closed in April 2018. Sears Grand was an early 2000s from Sears, Roebuck, and Company (shortly before their merger with Kmart) to create a hybrid of their department stores (complete with everything they had, like an auto center, portrait studio, etc., as well as Budget/Avis car rentals) with a more traditional discount store style layout with additional departments (garden center, pet supplies, non-perishables, and an HBA section), topping out at 164,000 square feet. While the Sears Grand downscaled the number of departments dramatically in the last five years or so of its life, the Sears outlasted the Super Target about half a mile to the north, with the remaining two Sears in the Austin area closing later that year.
---
PARMER LANE to US-183
---
Tech Ridge Center / 500 W. Canyon Ridge Drive
This shopping center built its first phase in 2001 with an 86,000 square foot H-E-B but all share the same address, just different suite numbers, see this page. An In-N-Out Burger on the site has an address of 12431 N. Interstate Hwy. 35, though this replaced Golden Wok, which operated from 2005 to around 2015. The building was demolished and In-N-Out opened in September 2016.
JCPenney / 12351 N. Interstate Hwy. 35
The Sears Grand is just a memory now, but this JCPenney store (98,000 square feet) is still open. It opened in late 2006, moving from Highland Mall, where it had been since 1971.
QuikTrip / 12213 Tech Ridge Blvd.
QuikTrip #4129 opened in summer 2020. It has a driveway back to the frontage road.
Austin Motor Inn / 11400 N. Interstate Highway 35
This motel was only built in 1983 (it looks far older) and has been going under this name since 1992.
Altex Computers & Electronics / 9914 Interstate 35 North
Similar to Micro Center or the late Fry's Electronics, Altex supplies computer parts and various electronics (more of a DIY/technical type of store than ready-built). At just 14,500 square feet, it is smaller than the one in Houston but larger than the one that used to be in Waco. It has been here since 1999.
Exxon / 9401 N. Interstate Hwy. 35
Prior to being a 7-Eleven, it was a Tigermarket. In 2013, C.L. Thomas sold some Speedy Stop and Tigermarket locations to 7-Eleven; this location was converted in 2013.
Fujian Grand China Buffet / 8709 N. Interstate 35
This Chinese buffet has been here since 2008. Previously, it was Austin's location of Old San Francisco Steak House, which operated from 1981 to 2006.
LL Flooring / 8627 N. Interstate 35
This was formerly known as "Lumber Liquidators" when it opened in 2007. In 2020 the corporate name changed, and this received new signage by the end of 2021. The building was here since 1980 but it's been difficult to confirm what it was. Tax records indicate it had something to do with photography.
The Hedge / 8300 N. Interstate Hwy. 35
Now we're getting to the part which was teased back when I wrote about a 2017 trip. The Hedge Apartments looks a bit like an old motel, which of course, it actually is. The website is here, showing floorplans which tend to be a bit cramped (and the bathrooms in the back, probably a carry-over). I believe I did stay at this motel, which was a Travelodge way back when (sometime in the late 1990s), but by 2019 it had long dropped it, known as "Austin Suites Hotel", despite still being a motel. It looks like it may have changed names in 2005. Sometime around 2020 it was closed and converted into an apartment building.

In late 2021, the nearby Red Roof Inn (at 8210 N. IH-35) closed and construction began on a second phase to The Hedge.
Extended Stay America / 8221 N. Interstate Hwy. 35
From what can be found about this hotel, it had its current name since 2004 but until the early 2010s, it was branded as "ExtendedStay Deluxe" (which was based on the 1995-2006 logo). Previous names for this hotel appear to be (based on tax records), "Homegate Studio & Suites" (1998-1999) and "Wellesley Inn & Suites" (1999-2004).
Towne Oaks Apartments / 500 East Anderson Lane
These apartments lost two buildings to freeway flyover ramp construction, with a new building being built in the space to replace them. Just south of here was a whole hotel that was lost to the ramp construction; at 7800 N. IH-35. From what I can piece together, it was a Howard Johnson Plaza Hotel in the mid-to-late 1980s, then Four Points by Sheraton from 1991 to around 2007, then a Howard Johnson again. Before being shut down permanently in 2009, it was briefly "St. Michael Plaza Hotel".
---
US-183 to US-290
---
7629 N. I-H 35
This was a Chili's from 1987 to 2007. It moved to 6619 N. Interstate 35 afterward. The restaurant space is still vacant is still vacant today.
Academy Sports + Outdoors / 7513 N. IH 35
This Academy opened in June 2002 on the site of a former truck stop, the Austin Truck Terminal. It opened in 1965 as one of the very first truck stops in the Austin area (the first one was the Big Wheel Truck Stop). While this description of the truck stop is a bit inaccurate (not yet built in the 1950s, but alive and well in the 1970s), it does seem to line up mostly with what can be found in newspapers and official records. The restaurant inside, Burba's, is mentioned in a 1982 issue of the Austin Chronicle dedicated to restaurants (describing 24 hour outlets). In researching this truck stop, one of the somewhat darkly humorous stories in the Burba's era details the story of a trucker who was shot in the neck, and instead of going into the restaurant for help, he decided to order a cup of coffee instead, which the cook did not serve to him, given how bad his condition was.

By 1986, the Burba's restaurant was Texaco Truck Stop Cafe but by 1990, Dyer Automotive had replaced the sprawling truck stop...its branding under Texaco would be less than five years. Finally, tax records say Dyer Automotive & Transmission closed in 1998, and ground broke for the Academy sporting goods store in 2001. (This was originally part of this page before it was re-worked. As of this writing, the page is in its original form).
Tricolor Auto / 7417 N. Interstate Hwy. 35
This small used car dealership was Capitol Kia Preowned from 2006 to early 2010s. Until around 2003, it was a go-kart track, originally Malibu Grand Prix when it first opened in the late 1970s, then Funwerks in its final years.

In 2005, you can see cars parked around the former go-kart track (used as an impromptu parking lot) and in 2008 most of the go-kart track was removed for construction of a Restaurant Depot. Portions of the former track can be seen between Restaurant Depot and Tricolor Auto.
7211 N. Interstate Highway 35
This Home Depot store opened in 1995 but moved to 1200 Barbara Jordan Boulevard in 2008. The roof is deteriorating; you can see it from recent aerials.
Galaxy Theatres Austin / 6700 Middle Fiskville Road
On the other side of the Burlington/former Wal-Mart is this movie theater, has been open since 1988 (except for a short period in 2000-2001). The 2005 picture of the theater at Cinematreasures is out of date; it's simply branded as "Galaxy Theatres" these days. (It's 2005 based on the movies showing.) If you visit the "Photos" page on Cinematreasures you can also see a picture of it at night in 2006 (sadly, it looks far less colorful today), where it was one of the relatively few theaters that showed Idiocracy.
Burlington / 6600 Middle Fiskville Road
Part of the retail surrounding the now-defunct Highland Mall, Burlington (Burlington Coat Factory, formerly, but still had/has the name as of 2019) has been here since 1995. From 1988 to 1994 it was Wal-Mart #1185, but was numbered as 6700 Middle Fiskville.
Pappasito's Cantina / 6513 N. Interstate 35
The Pappasito's/Pappadeaux tag-team makes another appearance, this time in Austin. Pappasito's #9 opened in July 1992 with the original address of 6601 N. Interstate 35.
Pappadeaux Seafood Kitchen / 6319 N. Interstate Hwy. 35
Pappadeaux Seafood Kitchen #3 opened in July 1989.
US-290 to BEN WHITE BOULEVARD (STATE HIGHWAY 71)
Target / 5621 N. Interstate 35
Target T-1542 is Capital Plaza's north anchor. The store opened in July 2003 and was a rebuild of a (134,457 sq. ft.) Montgomery Ward that once anchored the north end of the shopping center from 1969 to 2001.
Mattress Firm Clearance Center / 5403 N. IH 35
This opened as Grandy's in 1986 as part of Capital Plaza. Grandy's closed in the early 2000s and has been a Mattress Firm since (unknown to when it became a "Clearance Center").
McDonald's / 5355 Interregional Highway
The first McDonald's in Texas was a failure (opening in Dallas in the 1950s and closing soon after) but this one was one of the first successful locations, opening around 1962. Between 1985 and 1995, it was rebuilt slightly to the north of the original restaurant (the old one is about where Walgreens is), and in 2013 was rebuilt again.
The Home Depot / 1200 Barbara Jordan Blvd.
Just the back of this circa-2008 store faces I-35, and it replaced the store at 7211 N. Interstate Highway 35. This store has a snazzy-looking exterior (for a Home Depot, at least) but other than that is pretty standard.
Deluxe Inn / 4800 N. Interstate Hwy. 35
This motel has been around for a very long time. More on the history of this will probably be mentioned in a future update, but the Google description describes it as an "adults-only motel".
Hancock Center / 1000 E. 41st Street
Built by Homart Development (a Sears subsidiary) in 1963, the history of this shopping center (formerly an outdoor mall, though it never had much in the way of corridors) can be seen here. It opened with Sears, Dillard's, G.C. Murphy, and H-E-B. Dillard's closed in 1990 (likely due to a more modern store at Highland Mall) and was replaced by Phar-Mor (short-lived of course, didn't even make it a year at Hancock), with the G.C. Murphy becoming Bealls (closed sometime in the 1990s). The H-E-B moved to a new location in 1998 displacing most of the former shopping center (still drawing crowds, of course!) and Sears closed in late 2018 with the bankruptcy of Sears Holdings Corporation.
Fiesta Mart / 3909 North I-35
Fiesta Mart opened in December 1992 here, and would be the only Fiesta Mart in Austin for over a decade until a new store opened in 2007. Even after that, it would be one of two Fiesta Mart stores in the Austin area.
Days Inn / 3105 N. Interstate 35
"Days Inn by Wyndham Austin/University/Downtown" has been a Days Inn since 1990. The symbols outside on the sign were something used in the old print directories Days Inn used to have.
DoubleTree by Hilton / 1617 N. Interstate Hwy. 35
Because it was a DoubleTree Club until around 2008, this hotel, DoubleTree by Hilton Hotel Austin - University Area isn't all-suite. Likely this opened around 2000, the same time as Denny's in the parking lot.
Denny's / 1601 IH-35 North
The chrome "Denny's Classic Diner" here opened in December 2000, between a cemetery and the UT-Austin campus. It appears originally there was something special about these types of Denny's restaurants; however, that has been long gone for at least a decade now.
The Avenir / 1109 Interstate 35 North
This tall apartment building replaced a long-closed Safeway (#266, with the 1109 Interregional Hwy. address). It was a Marina Safeway and closed in 1987, the same year the Dallas division was shut down and several Houston stores were slashed. It never became an AppleTree.

Interestingly, the apartment building that replaced it the building was torn down in 2019, the Avenir, was supposed to have a 60,000 square feet grocery store on the lower level before it was canned due to neighborhood resistance. H-E-B doesn't have new stores of that size, typically...perhaps Randalls was poised to re-emerge at the site of an old Safeway!

Alas, in the end, it was cut, and the tower became just a bit shorter with no new Randalls (or possible H-E-B) in sight.
Wendy's / 619 N. Interstate Hwy. 35
Wendy's opened here in 2004 at a site of a former gas station.
Whip In / 1950 S. Interstate 35
This has been a hybrid convenience store/restaurant since at least the late 2000s. It opened in the mid-1980s as a Whip In, and originally opened as Convenient Food Mart.
The Home Depot / 3600 S. I-35
This Home Depot was opened in July 2001 and notably, this features forest green awnings rather than the orange ones Home Depot is known for. Accessed from both the freeway and the Home Depot's parking lot (the latter being a service road back exit) is Assumption Cemetery at 3650 South Interstate Highway 35.
3651 Interstate 35 South
This is a submission processing center for the IRS. In 2016 it was announced it would close in 2024 but this was reversed in 2022 and it has remained open. This may have been originally been a production facility or corporate headquarters but this has been occupied by the IRS since at least 1989.
---
BEN WHITE BOULEVARD (STATE HIGHWAY 71) to STATE HIGHWAY 45
For east 71 to Bastrop and the airport, click
here
. Additionally other Ben White entries can be found
at this page
.
---
Austin Southpark Hotel / 4140 Governors Row
This was an Omni Hotel until 2021 when it was sold along with others.
Aloft / 4108 South I-35
Aloft Austin South opened in 2022 on the site of Howdy Honda Certified Used Cars, which had not operated in years. The main Howdy Honda operated from approximate 1984 to 2006 at 4110 Santiago Street behind it. This site is still vacant.
Super 8 / 4200 S. I-35
This former La Quinta converted to Super 8 by Wyndham Austin South in late 2022, a lower end brand by Wyndham (which owns both brands).
Skylite Inn / 4220 S. I-35
A former Days Inn (Days Inn Austin South; Skylite reuses the sign). It appears it converted around January 2022 or very late 2021. Google was still reporting Days Inn being here as of February 2022; it had officially changed hands in 2021.
South Austin Nissan Pre-Owned / 4222 S. I-35
The pre-owned car section of South Austin Nissan. It used to be Furr's Family Dining (formerly Furr's Cafeteria, which later converted to buffet style). The distinctive red circular signage is unused these days. The restaurant operated from around 1987 to 2011.
Circle K / 1601 E. St. Elmo Road
This was formerly branded as "Signature" convenience store with a Shell and became Circle K in the early 2010s. In mid-2022, the Shell branding was dropped (to be just Circle K). Very similar to the other "Signature" down closer to Hays County. It has a St. Elmo address but it faces I-35.
CarMax / 4400 S. Interstate 35
CarMax opened here in early 2007. This was redeveloped from a previous dealership but the construction is all-new. More information on the old dealerships will be added in a future update.
Red Roof PLUS+ / 4701 S. Interstate 35
This Red Roof Inn was built in 1997, and at some point in or after 2014 converted to the Red Roof PLUS+ designation.
5015 S. I-35
From January 1989 (tax records indicate 12/31/88, unlikely it was open NYE) to 2005, this was a Wal-Mart (#1253), which was, due to topography and trees, impossible to see from the road. It was replaced by the store at 710 East Ben White Boulevard. Today the former Wal-Mart has been renovated into an office building, where the IRS (among others) takes up space here. The IRS has Austin offices a bit further up I-35 at the northeast corner of I-35 and 71.
5107 S. I-35
This was a Sam's Club from 1988 to October 2011, and like Wal-Mart, it too moved from its invisible position to 9900 Interstate 35 South. Today, it's owned by KIPP-Austin Public Schools, a charter school, and holds both KIPP Austin Brave High School and KIPP Austin Obras Elementary School (no middle school).
BMW of South Austin / 5501 S. I-35
From 1998 to its closure in 2015 this was a Cinemark Tinseltown movie theater. The dealership opened in 2018, though the theater was demolished in the process.
Fiesta Mart / 5510 South Interstate 35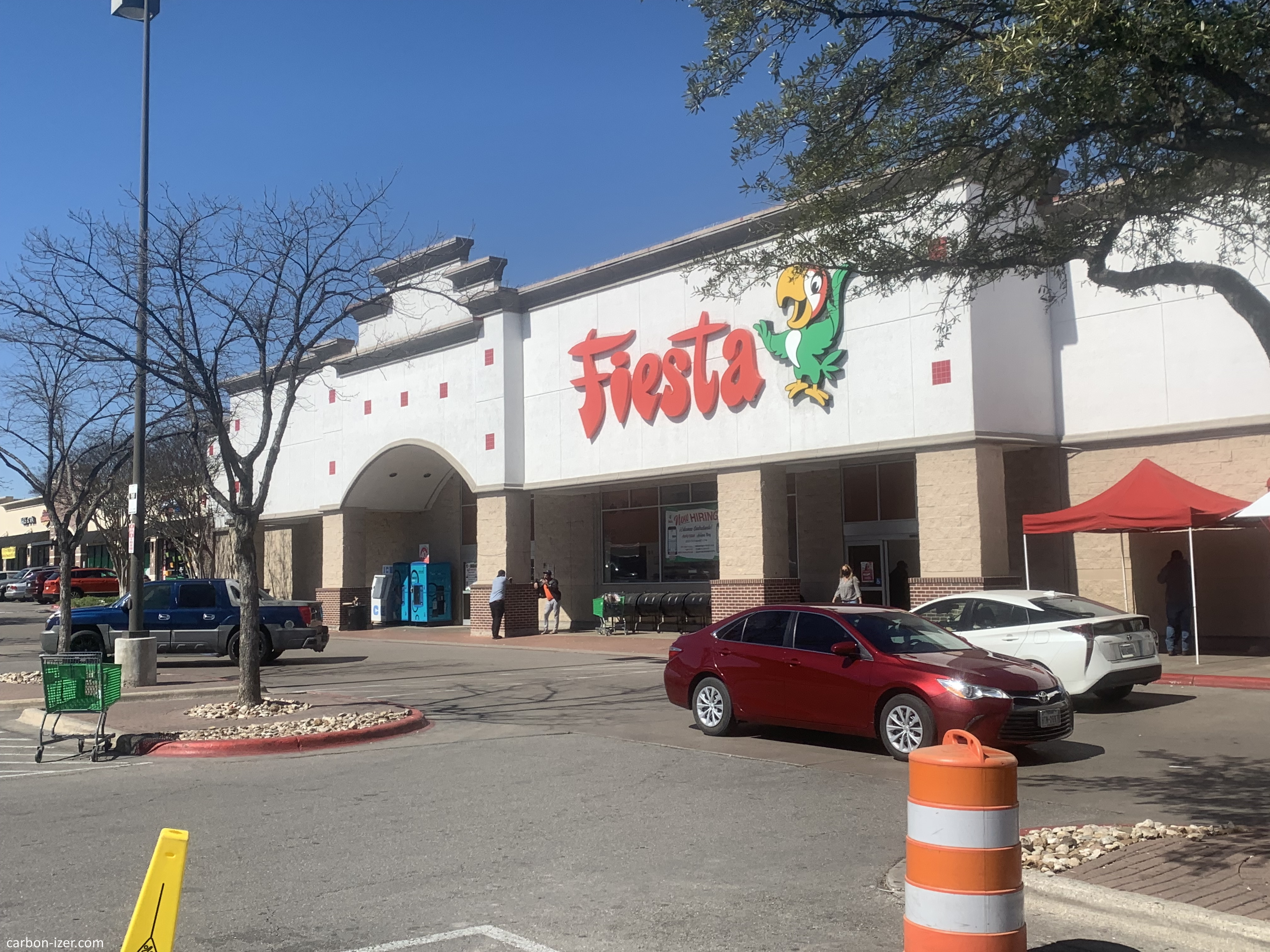 This Fiesta Mart is unusual for a few reasons. It's one of the two Fiesta stores in Austin, it's got a gas station and convenience store on the corner, and (related to the previous fact), was a former Albertsons (#4093) which operated from March 2000 to July 2006. In 2007, Albertsons would leave the Austin market, selling its remaining stores to H-E-B, which reopened some but closed others. Fiesta Mart #64 would open in February 2007 at this location. There are a few stores adjacent to the Albertsons/Fiesta Mart built around the same time.

The gas station looked much closer to Albertsons Express (canopy with rounded corners, "Snacks" and "Beverages" still on the store but sometime around 2021 this was renovated out, and evidence also indicates the store interior was updated later after opening.
Texas Land & Cattle / 5510-C S. I-35
The very LAST Texas Land & Cattle restaurant remaining. It opened in 2001 (after Albertsons opened). As of 2002, there two dozen locations (usually in Texas metropolitan areas, but also locations in Arizona, New Mexico, and Colorado). I ate at the Lubbock restaurant in December 2002, a distant memory at this point.

You can see the site's dedicated page on Texas Land & Cattle here.
6405 South Interstate 35
This opened as Target (T-683) that operated in this location from October 1991 to October 2007 when it moved to Southpark Meadows. Wayside Schools moved in around the early 2010s and today hosts the main administrative offices, Wayside REAL Learning Academy (PreK-5) and Wayside Sci-Tech Middle School (6-8).
Capitol Chevrolet / 6200 S. Interstate 35
Capitol Chevrolet moved here in 1998 from its old location at 501 N. Lamar downtown, where it had been since 1951. (It stretched several blocks). Today, the dealership features a parking garage to conserve space, and in 2006 an addition added an accessway onto North Bluff Drive.
McDonald's / 6503 S. Interstate 35
This McDonald's has been here since the year 2000 and has since been remodeled into the current prototype.
Taco Cabana / 6430 S. Interstate 35
The Taco Cabana here has been operating since December 1994 (at the earliest) but likely around January 1995.
H-E-B / 6607 S. Interstate 35
This H-E-B was originally built in 1977 though in the late 1980s was rebuilt as a larger location with a bigger setback from the road.
Burlington / 6715 Interstate 35 S.
Burlington Coat Factory (#434) moved into this former Kmart in summer 2003. The chain has been known as Burlington since the late 2010s, with this store receiving a new name at some point after that. It was a Kmart (labeled as Big Kmart from the late 1990s on) from November 1981 to July 2002.
Oak Meadow Baptist Church / 6905 South Interstate 35
This started out as the short-lived Town Lake Chrysler Plymouth which opened in 1989 but closed in May 1990. A few months later, it was re-opened by Nyle Maxwell, which reopened the dealership as Prestige Chrysler Plymouth. It appears that it kept that name ("Prestige Chrysler", that is, as DaimlerChrysler discontinued the Plymouth brand in 2001) until its demise in the late 2000s when it moved (it was also known as "Maxwell Chrysler South"). It was later sold to and renovated as Oak Meadow Baptist Church which used both of the dealership's buildings. A third building had been built on the property in the 2000s but under the church this was fenced off and became a warehouse for Lifeworks South Austin Youth & Family Resource Center.
Austin Lone Star RV Resort / 7009 Interregional Hwy.
Also known as "Austin Lone Star: A Sun RV Resort" since around 2016-2017, this RV campground has been around since 1969.
Golden Corral / 7300 S. I-35
This Golden Corral buffet restaurant (#988) opened in late 2016. Coincidentally, it sits at a street named "Corral Lane".
Service King / 7501 S. I-35
Service King, prior to 2011 (possibly rebranded in 2012) was formerly B&B Body & Paint and opened (as B&B) in the mid-2000s.
H-E-B / 8801 S. Congress Avenue
This H-E-B (about 130k square feet) opened in summer 2020 with an enormous Curbside department (something that exceeded H-E-B's expectations, no doubt, as it was all designed before...well, 2020) and True Texas BBQ, an in-house barbecue restaurant with its own drive-through.

The H-E-B has a Congress address, but it's built on the old right of way, demolished in the late 1980s or early 1990s when Slaughter was extended and the whole interchange (S. Congress once directly connected to the highway frontage roads, with an underpass) was reconfigured.
8801 S. I-35
A shopping center where several buildings have the same address, this features a Home Depot (opened September 2003), a Circle K (opened as a Shell-branded "Signature" or "Signature Austin" in January 2004; became a Circle K between 2011 and 2013, and between February 2021 and February 2022 the Shell branding was dropped and became a Circle K in its entirety), an IHOP restaurant, and Don Dario's Cantina.
Southpark Crossing Apartments / 1701 Oak Hill Lane
These apartments were built in 2017. It has a back exit onto Melissa Oaks Lane.
Wing Daddy's Sauce House / 9811 S I-35
This chicken wing restaurant chain opened in the last few months of 2016.
Walmart / 9300 S. Interstate 35
Wal-Mart Supercenter #5317 opened in May 2005. It did not directly replace the aforementioned #1253 store but did act as a functional replacement for the South Austin/Onion Creek communities. At the time of its construction it was the furthest-south Walmart store before San Marcos.
Bridge at Asher Apartments / 10505 S. I-35
Until around 2016-2017, this apartment complex was known as Stonegate Apartments. It is possible they had another name when they were constructed in 2003.
Onion Creek Luxury Apartments / 10701 S. Interstate 35
These apartments are accessed through a public alleyway from the I-35 frontage road and have had this name at least since 2011, but were known as Alexan Onion Creek when it was built in the mid-to-late 2000s.
Farmhouse / 10801 S. I-35
This apartment complex was built in 2017 (though it looks quite unfinished as of May 2017 Street View) and features 235 units in several 4-story buildings.
Cowboy Harley-Davidson of Austin / 10917 South IH 35
This opened in 2002 as Hill Country Harley-Davidson but has had its current name since around 2006.
Exxon / 11031 South I-35
This Exxon used to be a Texaco (converted between 2020 and 2021). For some reason, the digital signage was also changed to an extremely small size (almost impossible to read from the road). This may have been due to a local ordinance, but who knows?
Valero / 2107 Boca Raton Drive
This Valero with a generic "Food Mart" was a Shell and converted between 2009 and 2011. From 1979 to around 2000 it was a Stop-N-Go convenience store, based out of Houston.

South of here is the "other" Highway 45 that still goes around in a loop to the other side. After this, we leave Travis County to enter Hays County.

Check the next page, I-35 in Hays County, here.
---
Return to the Austin page
|
Email
---
Copyright 2021-23 Carbon-izer.com, this site is not affiliated with any businesses listed here. While accuracy is aimed for, this is an individual's work and not liable for any error here.