TEXAS LAND & CATTLE
Texas Land & Cattle, in better times, was a steakhouse that, during its height in the early 2000s (it was founded in 1993) had a handful of locations spread across major cities in Texas (of course) but also had locations in Phoenix, Denver, and Albuquerque.
This menu comes from the Lubbock location at 7202 Indiana Avenue, which operated from approximately 1999 to 2017. Nothing remains of it now--the whole corner was redeveloped as a large Circle K gas station/convenience store, but this wasn't the case in December 2002. As this is just a takeout menu, doesn't show the "full" menu like drinks (carry-out alcohol was illegal until 2021) or the kids menu. As of this writing, the T-Bone steak is $32.99.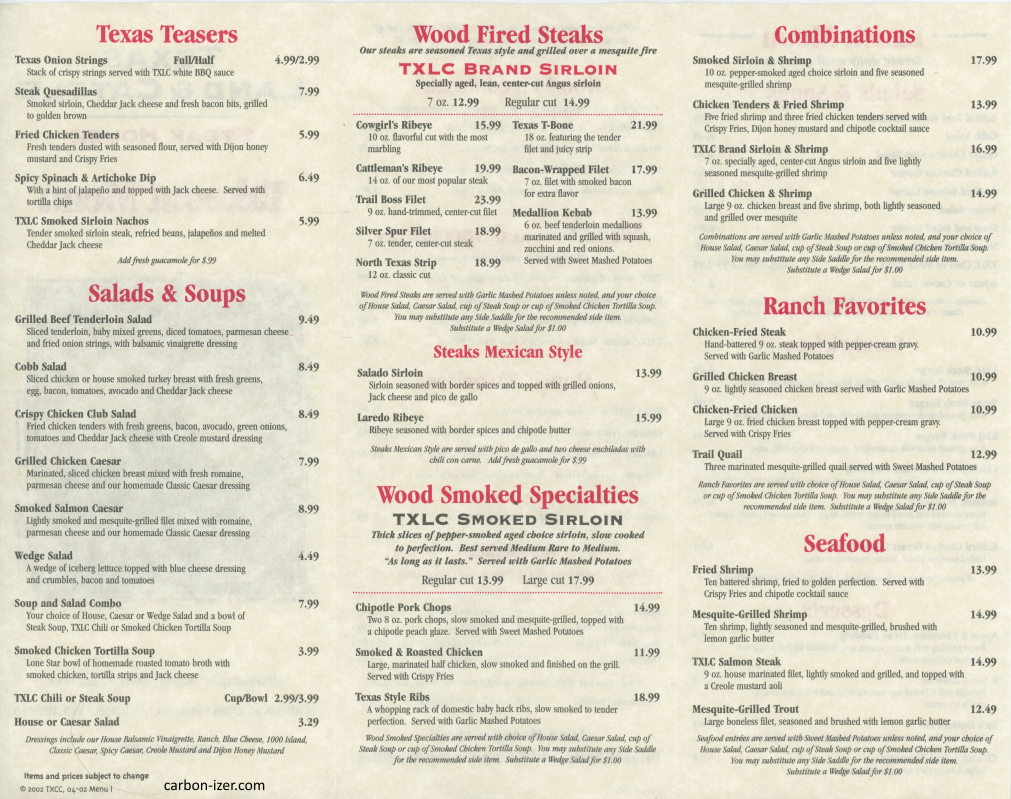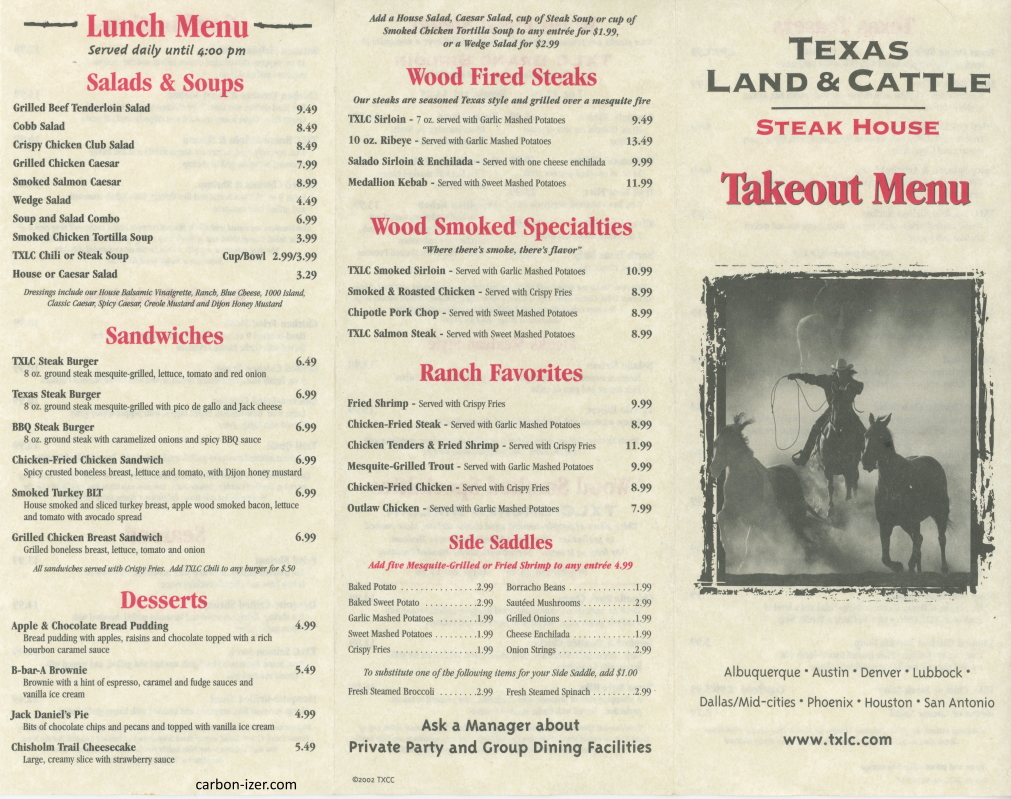 Like most restaurants past their prime, today Texas Land & Cattle operates just one location at 5510-C S. I-35 in Austin, just off of Stassney Road. Below is a somewhat outdated list of stores when I was running the restaurant lists as full operations, and if you visit the archived website as of 2002 I was missing quite a few, including three San Antonio locations and one on FM 1960 West.
City
Address
Notes
Arlington
1600 E Copeland
Closed by late 2018.
Austin
1101 South Mopac Expressway
Closed 2018. Shares address with adjacent IHOP.
6007 North Interstate 35
Closed early 2017.
Dallas
3130 Lemmon Avenue
Closed 2017 and became Hot Joy, now closed as of this writing (December 2018).
10250 Technology West
Closed around 2017. Currently King Buffet, former Joe's Crab Shack.
Fairview
131 East Stacy Road
Formerly Bailey's Prime Plus, currently vacant
Frisco
3191 Preston Road
Closed mid-2017, now Kelly's Craft Tavern
Hickory Creek
8398 S. Stemmons Frwy.
Closed 2014 and demolished for highway construction, formerly Lone Star Steakhouse
Houston
12313 Katy Freeway
Closed spring 2017, now Pappy's Cafe (since mid-2018)
11900 Dickinson Road
Closed January 2017.
Lubbock
7202 Indiana Avenue
Closed by late summer 2018
Killeen
3403 E. Central Texas Expy.
Officially closed January 2017.
Plano
3945 Central Expressway
Closed by mid-2016, and currently Yellowtail Sushi & Grill Buffet
Stafford
12710 Southwest Freeway
Closed by mid-2018.
---
Return to the Main Page
|
Return to Restaurant Lists
"|
Email
---
Copyright 2022 Carbon-izer.com, this site is not affiliated with any businesses listed here.