THE KATY FREEWAY CORRIDOR
Unlike my previous pages, this is a bit of a hybrid between the Northwest Freeway page and the Houston Uptown page, with information being directly based on the old City Directory page (which I have no future plans to update). The "boundaries" of this page cover more of the general corridor.

To the north, the boundary will be Westview Drive, then the Addicks Reservoir, then Saums Road which becomes Franz Road.

To the south, Buffalo Bayou, George Bush Park, and Kingsland Boulevard, which, again, depending what point on the road is, with the western and eastern boundaries will be 99 and 610, respectively. However, there are no sections beyond North Eldridge.

As of this writing, this is the fourth edition of this page (still no logo yet), and offers a somewhat abbreviated look of what occupies (or occupied) the Katy Freeway and the areas around it. The fourth edition added a new PDF of the mall (as promised) and fills in history to 2007, plus adds Georgia's Farm to Market. Additionally, a page title has finally been added.
---
POST OAK ROAD
Houston's First Baptist Church 7401 Katy Fwy. "The Loop" location of First Baptist Church was first built in the late 1970s (there's a plaque outside about the church's history) when it moved from downtown, and originally featured a two-story worship center with an L-shaped set of classrooms around it.

By 1989 it had expanded substantially, including a large gymnasium area and a six-story wing to the south with Sunday School classrooms. The gymnasium wing was a full-fledged fitness center, including racquetball rooms and showers, and also included a bowling alley.

Finally, sometime around in the late 1990s an addition wrapped around the building, though only through the second level (the first level is a direct passage into the courtyard).
The Forum at Memorial Woods
777 North Post Oak Road
This retirement community and retirement home opened in fall 1989. More details at The Houston Files, where I previously wrote about it in 2018.
---
SILBER ROAD
Cameron Iron Works
1000 Silber Road
Cameron Iron Works was originally established in 1920 as a Houston-based facility with a building at 711 Milby Street that still stands today. The Texas State Historical Association mentions the plant opened in 1946, but an article refers to the new plant at Silber and Katy as early as 1942. Before and after the war it primarily made oilfield-related materials (during the war, mounted gun components), with wartime materials also being produced prior to the Vietnam War. An economic downturn and restructuring ended up causing nearly half of the plant to be demolished (the side closest to the freeway). In 1983, there were 4,000 workers at the plant, in 1986, 1,000. From what I could tell, the plant shut down for good in the early 1990s shortly after Cooper Industries acquired the company. Today, the site is occupied by a variety of businesses, including Marq*E Entertainment Center, a Walmart, numerous restaurants, and townhomes.
Holiday Inn Express & Suites
7625 Katy Freeway
Since 2001, this has served as a Holiday Inn Express. In the early 1980s, two restaurants were here, Pizza Hut (7633) and Kettle (7625), but my restaurant list for 1995 doesn't list their locations.
Jack in the Box
7699 Katy Freeway
Jack in the Box opened in 1995 at the southeast corner of Silber Road and Katy Freeway. A renovation to the interior was completed in 2015.
Shell
7703 Katy Freeway
This gas station was a Shell until its demolition in 2005. In 1984, it was listed as "Silber Road Shell" and residual Internet listings mention "Silver Shell Center", indicating that it had an automotive garage component. In 2015, a gated parking lot was built on the site (complete with a roll of barbed wire on top), with a large fence and green tarp between the lot and the apartments next door.
---
ANTOINE ROAD
REI
7951 Katy Freeway

An REI store was opened in May 1996 on the grounds of Howard Johnson's (see next entry) and by 2003 it had relocated to 7530 Westheimer Road owing to the construction of the Katy Freeway widening. In 2008, after the widening, a strip center was built here. It should be noted that it was mostly empty even into 2011. Tenants as of 2016 include Memorial Wine Cellar (B, I couldn't find A, unless it absorbed it), Dolce Ave Boutique (C), Era Thai Massage (D, since at least 2015, seems to have replaced "Mobile Tan Houston" and "Retreat & Relax"), Houston Bridal Gallery (E, website says it relocated here in 2010), J. Dall Hair Salon (F), Silly Silly Girls (boutique in G, opened 2012), Houston Dental Works (Suite I--couldn't find H), The Shelton Family Cleaners (J), Encore Caregivers (K, well at least used to be, closed between 2014 and 2015), That Cigar Place (L), Solutions in Pharmacy (M) Body Mind and Soul (N, since 2013), Nourish Pet Care (Suite Q, couldn't find O or P, nor does there seem to be space for it), Paradise Nails & Spa (R), Live Well Chiropractic & Wellness (S), and Boca2 Gastro Bar & Bites (T, formerly Il Mondo Della Pizza Ristorante, looks like).
Howard Johnson's
7953 Katy Rd. (later Katy Freeway)

Restaurant and motel that existed from the mid-1960s to the mid-1980s. See Arch-ive.org for more information and a post card.
7 Square
7777 Katy Freeway

Originally, this was the home of Courtesy Chevrolet (7777 Katy Freeway) and a Holiday Inn & Suites (7787). Both were demolished around 2005 as part of a land swap during the Katy Freeway widening and was replaced by Alexan Silber, a luxury apartment building completed in 2009. It was renamed 7 Square in 2014 following new management.
Wellesley Inn & Suites
7855 Katy Freeway

Opening in 1998 according to the now-defunct Yahoo! Travel, this short-lived hotel was closed sometime in 2004 or 2005 and torn down for freeway widening (what's left of the area is now a retention pond). The hotel's heavily vandalized exterior prior to demolition can be seen at HoustonFreeways. Details of the hotel's opening and closing can't be found, other than a mention of a 2003 robbery where a million dollars worth of jewelry was stolen from a hotel room.
IKEA
7810 Katy Freeway

California-based STØR (a furniture store similar to IKEA) opened in October 1991 but in 1992 IKEA purchased the company and closed the store down, reopening it that same year as IKEA. In 2004, a new building was built behind the original 1992 STØR/IKEA, which became the new IKEA with the same address (the 1992 building was torn down). There's no existing picture of the building as a STØR but it was photographed in 2004 shortly before demolition. The picture can be seen at Houston Historic Retail. Since then, IKEA has renovated the building (inside) and added solar panels on top. The original STØR plat replaced 1002 Antoine, an apartment complex (from extensive research, it appears that this apartment complex did not have a name) dating back to the early 1970s. Additionally, built at the same time as STØR's construction and torn down around IKEA's rebuild was a strip center, 1020 Antoine Drive. One of the old listings has Supercuts as one of the tenants (Suite C).
SteaKountry Buffet
1010 Antoine Drive

Built in the mid-1990s, SteaKountry Buffet offered American and Mexican dishes (always Mexican, even advertising in a Spanish-language section in the Houston Chronicle in 1997) but by 2017 was serving exclusively Mexican dishes. By 2018 it was Ranchero King Buffet, but whether this was a name change or an entirely new restaurant has yet to be determined.
---
WIRT ROAD / CHIMNEY ROCK ROAD
Whataburger
8009 Katy Freeway

This Whataburger was built sometime in the 1980s and torn down in 2005 for widening of the freeway, same with neighbor restaurant Denny's (8015 Katy Freeway) and La Quinta Inn (8017 Katy Freeway). Today, the remnants of the land these buildings sat on are green space.
Dixie's Red Hot Roadhouse
8135 Katy Freeway

Built in the 1970s as a Steak & Ale restaurant and closed in the mid-1990s, Dixie's Red Hot Roadhouse opened here in September 1997. The restaurant allegedly changed names to Dixie's Cajun Roadhouse in 2000, though newspapers still refer to it as their old name through 2001. Also, while this site is pretty dull otherwise (a highly dated personal website) it does contain a picture of the restaurant's exterior (showing a rather extensive remodel from Steak & Ale) as well as an awesome night shot of the sign.

Dixie's was briefly replaced by El Tiempo Cantina (from August 2001, building demolished by October 2005). Today, with the exception of part of the parking lot, the entire lot has been effectively removed from the map save for a bit of green space.
59 Diner
8125 Katy Freeway

Out of logical order address-wise (between 8145 and 8135), this restaurant opened as Uncle John's Family Restaurant opened in March 1981. By 1990, the restaurant space was home to Platters Seafood Bar & Grill instead. Eventually, the restaurant would become a location of 59 Diner before it was demolished for the freeway widening (for the eventual fate of the lot, see "McDonald's" in the next entry).


McDonald's
8145 Katy Freeway (original) / 8147 Katy Freeway (rebuild)

Originally, 8145 Katy Freeway was the home of Presto Buildings (as of 1973) and the dusty lot was there in 1978. In 1990, the lot was redeveloped as a McDonald's restaurant. However, the widening of the freeway in the mid-2000s took out the restaurant, along with El Tiempo Cantina and 59 Diner. Once the dust had settled by 2010, National Tree & Shrub opened, developed on the lots of 59 Diner, McDonald's, and the bit of parking lot from El Tiempo Cantina (8147 Katy Freeway).
In 2013, the size of the garden center was downsized when the former McDonald's area was taken over by the expansion of the Exxon, with the old Tiger Mart convenience store being replaced with a modern Timewise, expanding it from 1,300 square feet to 5,000 square feet.
After the 2014 season, NT&S closed and the lots were cleared for good. McDonald's returned to the area at 8147 Katy Freeway close to where it had been (59 Diner's spot). 8135's address would be put back into action as a Shipley Do-Nuts.
Exxon
8155 Katy Freeway

In 1993, an Exxon gas station was built at the corner of Chimney Rock and Katy Freeway and survived the Katy Freeway widening. In 2013, the gas station was expanded with a new convenience store building (replacing the tiny 1,300 square foot Tiger Mart store with a modern 5,000 square feet Timewise store), which replaced part of the National Tree & Shrub area (which had been the old McDonald's lot, see above).
---
BINGLE ROAD / VOSS ROAD and CAMPBELL ROAD
Las Alamedas
8614 Katy Freeway

Originally opened in 1980, this Mexican restaurant entertained diners for years with its large building and leafy exteriors. In February 2009, following a long battle with their landlord, the restaurant closed permanently and eventually relocated to west Katy. The building never found a new tenant and was eventually demolished.
Academy
8723 Katy Freeway

Located at a more-recently corner of a strip mall (built in 1949), this was Farmer's Gas & Hardware Company in 1953 (the 1953 Google Earth aerial appears to show this section under construction) on 8723 Katy Road, predating the freeway (Katy Road was a divided four lane highway). By late 1965, it was a location of Southern Sales Stores, which carried an eclectic line of merchandise that was advertised in papers, including hiking shoes, glass goblets, tools, and others. In 1974, it was renamed as Academy Super Surplus Stores under new ownership from a year prior, which continued to expand throughout Houston and points beyond. By 1987, the 8723 Katy Freeway was the only store of the 18 Houston stores (including locations in College Station and Huntsville) that was open until midnight, with the rest closing no later than 9 pm. In 1989, it was rebuilt as a modern two-story Academy store (likely taking out the 8721 Katy address) at 44,000 square feet, but in 2009, Academy Sports & Outdoors (with an ampersand as opposed to the plus sign they have today) finally closed at this location to move to 9734 Katy Freeway. With Academy gone, the space became the home of Fishing Tackle Unlimited, which was opened in 2012, moving from a location at 8933 Katy Freeway, and bragging the store was the "World's Largest Tackle Store". The store moved again in 2018. That year, the Academy building and most of the adjacent 1949 strip center was torn out for the five-story Hedwig Place, a five-story medical building at 8731 Katy Freeway, which welcomed its first tenants in early 2019.
Starbucks Coffee
8819 Katy Freeway

Built in 2015 on the site of a Mobil that was torn down the previous year, this small footprint Starbucks still features Mobil's rounded-off rectangle sign.
Saltgrass Steak House
8943 Katy Freeway

Built as a steakhouse by locally owned Steak House Associates in 1974, The Courtyard Restaurant originally featured what was described by Texas Monthly as an "inside outside" style, "complete with undies hanging from an overhead clothesline".
Despite information that this restaurant was built in 1974, the earliest reference currently found for this restaurant is 1981 as "The Courtyard Restaurant". In the mid-1980s, faced with heavy competition in the steakhouse quadrant, Steak House Associates closed the restaurant for a few months and reopened as "Truffles!" featuring New American cuisine. In the late 1980s, Truffles! closed down and was eventually sold to new owners, which would reopen it as Saltgrass Steak House in 1991, but not before a major fire gutted the restaurant, causing the restaurant to be largely rebuilt inside and out. (Houston Chronicle helped out a lot for this section).
---
BLALOCK ROAD / ECHO LANE
Georgia's Farm to Market (9201 Katy Freeway)
I first became aware of this back in spring 2016, which looked like an interesting farmer's market-type store, despite its small size. Alas, at the time, I was too poor, too pressed for time, and wasn't even on the right side of the road (Blalock was my exit, but I would have to circle around twice). When I returned in February 2020, the store was clearly closed, yet the parking lot was full of cars, and really nice cars at that. Hoping I wasn't stumbling onto something illegal, I poked my head inside to see a small class of people doing painting lessons in the gutted building. I didn't interact with them, I had completed my purpose, and I don't think they even noticed me. As for Georgia's, it moved and renamed in early 2018.

Georgia's had occupied the spot since 2013, when it was moved from a location at the former Kmart described lower in this page. (It was only supposed to be a temporary move but ended up being permanent). Prior to Georgia's, it was a granite and flooring store (though I'm not able to figure out the name as of this writing).

To see the Georgia's as it appeared in February 2020, please see my pictures here and here.

St. James Furniture
9190 Katy Freeway

In 1984, this was listed as "Carousel Skating Rink" (not of the "ice" variety) in the directory and by 2001 it was St. James Furniture & Interior Design, with an exterior shot visible at TexasFreeway.com. Around 2005, the store was closed and the building partially demolished. By 2016, it was medical offices, including the home of Pedro M. Argüello, MD and Russel Williams, MD as well as Spring Valley Imaging LP (medical imaging). In the research of this building, I couldn't believe the St. James building was the same building trolling Katy Freeway travelers with messages on the electronic screen like "Hemorrhoids? We can help!" or "Prostate checks".

Pappy's Café
9041 Katy Freeway

Originally opening in 1983 before moving to a new location in 2018, Pappy's Café was known as a somewhat grungy restaurant coming off as a roadside cafe (part of their charm) serving steaks and hamburgers. Fearless Critic Houston Restaurant Guide gave them a C (between a D- and A+), despite congratulating them for homemade hamburger buns and bacon-wrapped foodstuffs.

All-Quip Rental Center
9226 Old Katy Road (Katy Freeway)< br />
Today, this address appears to no longer have All-Quip (their address is officially on Long Point, though listings also occur for Fry Road and 5820 West Sam Houston Parkway North), but it was here in 1984. It consisted of a covered structure and an enclosed building in the front. When the highway widened, a new building was built to the rear as the original front building was demolished.

99 Ranch Market
1005 Blalock Road

Built as a large, suburban (and semi-upscale) Fiesta Mart in January 1990, this store closed in December 2007. The official reason was the construction cutting off a substantial part of parking but there were other circumstances believed to have been involved. In November 2009, it reopened as 99 Ranch Market, which looks to have reconfigured the floorplan by incorporating an Asian supermarket-style food court.

Super H Mart
1302 Blalock Road

About half a mile down from the Katy Freeway was store #38 of the Randalls supermarket chain, opened here in 1987 but closed in 2005 during a round of closures by parent company Safeway. In 2008, Super H Mart opened with a renovation that added a food court in part of the store. In addition to the food court, it also features Asian-French bakery (separate checkout) Tous Les Jours, right near the entrance.

Kroger of the Villages
9325 Katy Freeway

Part of the Echo Lane Shopping Center, the first reference to this supermarket, originally Safeway, was mentioned in a January 1975 paper with this store and 16 others having a deli, indicating (along with HCAD information) that the Safeway opened in 1974. In 1989, the store was converted to AppleTree and was one of the few, if only, AppleTree stores to ever receive a full remodel and expansion under that name, completing the remodel in 1990. It appears that it was the closest thing AppleTree had to a flagship store, with that store being the only store in 1993 to have "Old World Style Bread", where bakers mixed various types of frozen dough to create the bread. "Mixes of rye, whole wheat, oat, millet, flax seed, and molasses are combined with sunflower seeds, toasted soybeans, caraway seeds, and natural grains to create an array of different breads," read the 1993 article.

In late 1993, AppleTree announced it would shut down (though about half a dozen stores were retained under new ownership) and the store was sold to Kroger and in 1994 was shut down and converted to Kroger, receiving the unique "Kroger of the Villages" signage.

As late as 2016, it appeared it still had older flooring, white tiles with the occasional peach-colored tile, but by 2018 this was replaced.

T.J. Maxx

9347 Katy Freeway

T.J. Maxx (or TJMaxx, depending on stylization) is another major anchor of the Echo Lane Shopping Center, of which a 2013 PDF can be seen here. It replaced Loehmann's, another off-price retailer that went out of business in early 2014.Originally, it was home to the large Kids' Kounty toy store, a charter tenant.

9430 Old Katy Road

This office building actually survived the widening, though the front parking lot was destroyed (and in effect, made the front door worthless, it's not even connected via sidewalks). According to old newspapers, one of its earliest tenants was R.M. Mayfield Constructors in 1982, with "Corporate Recruiting Unlimited Personnel Consultants" in Suite 100 in 1983. Another early tenant was the Houston West Chamber of Commerce (1986, suite 130). In February 2006, the building became the West Houston campus of Select Specialty Hospital (the building sporting a logo slightly different than the one seen online, featuring a logo on the west side of the building sporting sporting some version of Garamond but in 2016 the hospital closed permanently. Later it reopened as Trinity Hospital.

PDQ

9440 Katy Freeway

Originally, this was an office building, with a 1984 directory listing a wide variety of businesses including Dr. James P. Boren, Butler Business, "Citizen Busns Mach" (Citizen Business Machines?), Cunningham Co., Ganz Construction, Herrington Chiropractic (also listed as Dr. H Herrington), Inter by Phyllis, Peugeot Motors Inc., Vanreenan International, Wallpaper Shoppe, Zener Electronics. It was demolished in 2005, and only retenanted in 2015 during the time the plat was redeveloped with iFLY. The new Florida-based PDQ opened in May 2015. However, in November 2019, it closed down much like the rest of the PDQ restaurants in Houston a year or so prior.

Village Plaza at Bunker Hill
9778 Katy Freeway

The massive Village Plaza at Bunker Hill at 9778 Katy Freeway (so says Google Maps, at least) is anchored by several huge stores and numerous additional smaller stores. At the east end of the main shopping center is H-E-B at 9710 Katy Freeway. It was remodeled around 2014 with a small addition to the southwest (it originally opened in November 2008) and the store (Houston 54 - Bunker Hill #109) is a top-of-the-line H-E-B store, including an in-store restaurant. Unfortunately, the large size doesn't necessarily equate to larger selection, with the produce/perishable area featuring extra space for the large crowds that are there all the time, with the "less-crowded" days not requiring law enforcement to direct traffic. Next to the H-E-B is Nordstrom Rack. Planned to open as a Circuit City (with the new "The City" concept) it never did, instead opening as TigerDirect's CompUSA (taking the name and logo from the recently-deceased retailer) in 2009. TigerDirect went out of the retail business a few years later (spring 2013) and by spring 2015, it opened as a Nordstrom Rack. The other stores heading west include a PetSmart (9718 Katy), Sam Moon Trading Co. (9726 Katy), Toys R Us/Babies R Us (9730 Katy Freeway and relocated from 9655 Katy), and finally, Academy Sports + Outdoors (relocated from 8723 Katy Freeway). The Toys R Us has been closed since mid-2018 (there are some pictures at Houston Historic Retail, but it doesn't say which photos are which), having been spared the first round of closures in early 2018 but going down with the rest of the chain later.

Holiday Inn
9799 Katy Freeway

This address was first developed as Holiday Inn ("Holiday Inn - Katy West") in 1965 and was a typical 1960s motel-type Holiday Inn with a C-shaped building around a swimming pool and a restaurant on the premises. It appears that immediately adjacent to the hotel was a gas station, with the brand almost certainly being a Gulf, supported by this picture from 1974, showing a Gulf sign immediately behind Holiday Inn and the fact that Gulf Oil partnered with Holiday Inns during this era, with them taking a corner of the property. The gas station appears to have been torn down in the late 1980s.

Somewhere around 1990-1991, the hotel was rebranded as Days Inn (Days Inn West), then Quality Inn (by 1997), and even briefly served under the Howard Johnson Inn name by 1999.

Sometime around 2000, the hotel property was closed and torn down. A new restaurant rose from the rubble, with February 2001 holding the opening of Guadalajara Hacienda (taking the 9799 Katy Freeway address), a relocated version of Guadalajara Mexican Grille and Bar, previously located at Kimberly Lane.

Later (by late 2004 or early 2005), Denis' Seafood House relocated from Westheimer Road to a newly built store next to Guadalajara at 9777 Katy Freeway. 2005 also brought the end to a short-lived Verizon store at 9755 Katy (on the former Gulf station plat) for Ciro's, moving from its Campbell Road location to the address, occupying both the Verizon's plat and the former Holiday Inn. It opened in August 2005. The three restaurants remained together for the nearly the next decade until Denis' closed and was torn down in late 2014 for new parking between the other two restaurants.

As Memorial City continued to densify, however, and by early 2016 the rear of the large parking lot was removed for a second Houston location of Hotel ZaZa (opened 2017, 9787 Katy Freeway), bringing the use of the space back to hotel for the first time in almost twenty years. In 2017, Ciro's Italian Grill began to build a larger location behind its existing location, with the 2005 building being demolished upon completion.
---
GESSNER ROAD
Price Club
9900 Katy Freeway

Price Club opened with much fanfare in early November 1992 at its first (and ultimately only, though a second store was planned at West Road and I-45 near PACE and Wal-Mart). Despite a heavy advertising blitz and a merger with Costco Wholesale (which opened nearly a decade later to the east), Price Club announced that due to competition from PACE Membership Club and Sam's Club they announced they were closing in September 1993. In 1997, Texas Commerce Bank (now Chase) purchased the building and converted it into a large call center, which is still there today.
Ideal Pool Corporation
10050 Old Katy Road

This swimming pool company was built in 1974 and came complete with outdoor models of the pools offered. By the late 1980s, the company (and the pools) were gone, and today nothing remains of it, with Rooms to Go on the site.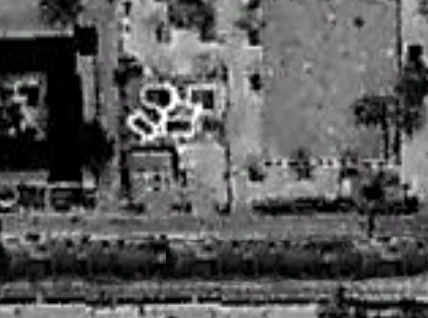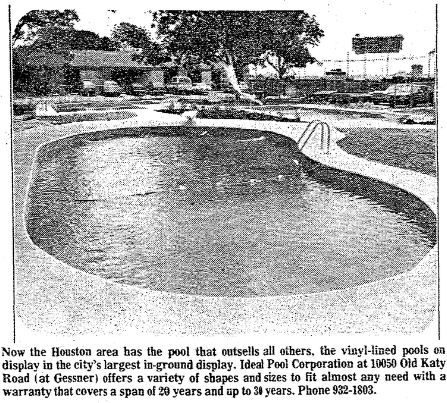 Homer's
10201 Katy Freeway

Homer's Home Centers was here in 1974 (likely built that year or the previous) and the building is still here today. It was a hardware store (huge by mid-1970s standards) that had locations elsewhere in Houston, and, from some Google searching, Austin and Dallas area as well. Note the "Old Katy Road" address, it's technically wrong as Old Katy was only the north side.
Service Merchandise
10225 Katy Freeway



In June 1973, H.G. Wilson Co. of Baton Rouge, Louisiana opened one of two stores in Houston at 10225 Katy Freeway (the other at 6900 Southwest Freeway) as store #10 and #11. Wilson's eventually expanded throughout Texas before being bought by Service Merchandise in 1985. According to
Funding Universe
, 60% of the Wilson's merchandise mix was considered "incompatible" to Service Merchandise and due to the Katy Freeway location being among the largest of the stores, it was physically downscaled. Office Depot opened one of its first Houston stores in the area by the late 1980s (at the address of 10217 Katy Freeway) taking approximately a third of the space, but eventually Service Merchandise would declare bankruptcy and close the stores (likely around 2002). In 2005, a revamp of the building was completed with a new Sports Authority store. In May 2016, the Sports Authority went out of business shortly before the rest of the chain, and as of this writing (late 2019), it us now the home of Birons Youth Sports Center (relocated from 12163 Katy Freeway). The picture above, showing the building prior to 2005, may not actually be of this building and of 6900 Southwest Freeway, which has also has since been substantially modified.
Globe Shopping City
975 Gessner Road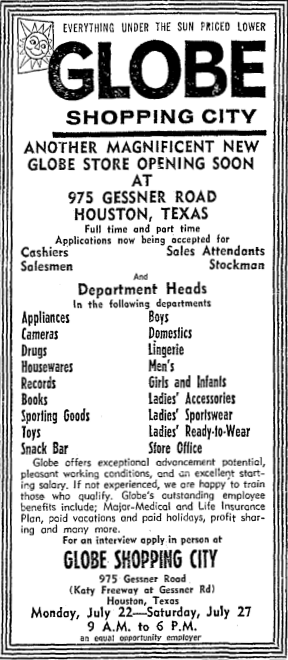 In 1968, Globe Shopping City (a division of Walgreens) opened a large store (about 80,000 square feet) across from the Memorial City Mall at Katy Freeway, which included a "Food Department" though it isn't entirely clear if it was essentially a separate store or not (as these departments were almost entirely operated by a local third party). In 1978, Walgreens closed the money-losing chain, with FedMart purchasing the properties and reopening them in 1979, many of them replacing an older, smaller FedMart store.
In 1981, FedMart closed the Houston stores before the chain went out of business a few years later. By 1984, Mervyn's department store was operating at the site, having completed a full remodel inside and out. But like with FedMart, Mervyn's did not last long at the site, as an opportunity opened in 1989 that allowed Mervyn's to actually be at Memorial City Mall in Lord & Taylor's old space, joining fellow department stores Foley's, Sears, and Montgomery Ward.
This left 975 Gessner vacant once more, and by 1990, Oshman's SuperSports USA opened, a "super-store" operated by the Oshman's sporting goods chain. In mid-2004, Oshman's left for a new store on the Katy Freeway, going under the name of their new owner, Sports Authority. The widening of Katy Freeway took nothing from the lot, but a new owner, Memorial Hermann, would buy the space, building a large hospital headquarters in the spot. As a result, by May 2005, the nearly 40-year-old building was gone and new construction began.
Today, this is the Memorial Hermann Tower and the Memorial City Westin. The 975 address is no longer in use.
Memorial City Mall
303 Memorial City Way

Originally at 900 Gessner (with some stores referring to their addresses as such), Memorial City Mall used to be, if very briefly, "my mall". I got my hair cut there at least once. I bought household cleaning supplies at the Target store. I saw Hardcore Henry in the mall's movie theater on Friday night, realizing how badly it was doing in domestic theaters when it was one of the more popular movie theaters in Houston on a Friday night, and the theater was barely full.

For the most part, Mall Hall of Fame provides the most complete & accurate history of the mall, though there are of course inaccuracies.


The 1966 opening of the mall proper is correct, "Phase One", which included Weingarten and Sears, along with American Savings Bank, was built in 1964. The Sears store in particular was definitely opened, with a large spread in the papers about it, including some of the features the new store had to offer.
While "Memorial Shopping City" appears in some pre-mall articles, other articles refer it as "Memorial City Shopping Center".
The placement of Mars Music is probably wrong—an April 2000 article about Memorial City Mall mentions Mars Music being there at the time prior to Montgomery Ward's death.
The Weingarten mentioned, from what I've read, was in or near the current ice rink area. However, it closed sometime in the 1970s, before the chain was dismantled.
Another inaccuracy is the fate of the second Lord & Taylor. The all-new 140,000 square foot store opened in March 2002, featuring a prototype design by the company. "Instead of blouses, dresses, and accessories being separate, they are brought together to create a particular look", a 2003 Houston Chronicle article noted. In July 2003, May Department Stores announced that Lord & Taylor would pull out of Houston as part of scaling back the department store chain. This time, the Galleria store would be affected, as well as Willowbrook Mall (where a store was built in 1998) and, of course, Memorial City Mall. Despite the bad news, the mall was still on the upward trend, and May wanted to negotiate with new tenants. Besides, Lord & Taylor owned the building it was in. By the time JCPenney opened in February 2006 (likely with the mall buying back the building and leasing it), JCPenney had long been gone from Town & Country Mall, which was now completely demolished.
Reading about Memorial City Mall is fascinating, though.
Early stores in the mall proper included Craig's and Piccadilly Cafeteria. The mall's cinema opened in 1966 by
Stanley Warner Theatres
with the first feature being
Nevada Smith
. After reaching four anchors in the late 1970s (Foley's in a new eastern wing and Lord & Taylor added to the western entrance near the former Weingarten), the mall experienced its first anchor change when Lord & Taylor closed all but one of its Houston stores (The Galleria) in early 1989. Mervyn's would open later that year, replacing the Memorial City Mall store as well as the Greenspoint Mall Lord & Taylor.
When the mall's renovation started to ramp up in the late 1990s, even the announcement of Montgomery Ward's closure didn't faze Memorial City Mall, with Bill Peel at MetroNational noting that it freed it up a prime corner of property. Within a year, Target purchased the site and had plans to build a Target Greatland (145k square feet), which opened in late 2003 (but branded as a regular Target).
To the north of the eastern wing, Foley's opened a 300,000 square foot store in November 2001 (abandoning their old store), and to the south, Lord & Taylor opened an all-new store in March 2002, featuring a 140,000 square foot store. "Instead of blouses, dresses, and accessories being separate, they are brought together to create a particular look", a 2003 Houston Chronicle article noted.
The former Foley's was demolished for additional stores and a new anchor space.
In July 2003, May Department Stores announced that Lord & Taylor would pull out of Houston as part of scaling back the department store chain. This time, the Galleria store would be affected, as well as Willowbrook Mall (where a store was built in 1998) and, of course, Memorial City Mall. Despite the bad news, the mall was still on the upward trend, and May wanted to negotiate with new tenants. Besides, Lord & Taylor owned the building it was in.
October 2003 brought the opening of Dillard's in the new wing, which replaced the Town & Country Mall store (closed earlier that month), along with the ice rink around the same time, and by December 2003, Memorial City Mall was functionally complete, with six department stores (Sears, Mervyn's, Lord & Taylor, Dillard's, Foley's, and Target) with a completely rebuilt interior.
By January 2004, the Houston Chronicle was referring to Memorial City Mall as "The Galleria's classy little sister", with six department stores and an ice rink. May wasn't in a big hurry to liquidate Lord & Taylor, and ultimately the store closed in early 2005, with the store still being open as late as March 2005. A few months later Memorial City Mall would get more bad news as far as department stores went, with Mervyn's also pulling out of Houston.
Mervyn's closed in January 2006, but the mall was about to get its fifth anchor back when JCPenney opened in February 2006 in the former Lord & Taylor spot. Afterwards, a movie theater was built in a corridor linking the Sears wing back to the food court, with the theater being on the second level. You can see a detailed floorplan of the entire mall (before the cinema, however)
here
. I don't believe the Borders ever opened, it was an Old Navy instead.
Additionally, an Olive Garden in the parking lot (demolished 2009) had this address (900 Gessner, that is) and was later replaced with Iberia Bank (1000 Memorial City Mall).
Shell
999 Gessner

Here since at least the mid-1970s, this remained a Shell (Memorial City Shell) up until its demolition in late 2005. Like many other extant Shell stations in Texas, it was of the "three hexagon canopy" variety. It probably would've survived the widening of the Katy Freeway but was purchased by Memorial Hermann as part of the same land acquisition where the former Globe/FedMart/Mervyn's/Oshman's building met its end.
Memorial Market
1049 Gessner

Originally opened as a Kroger (likely sometime in the early 1980s), the second Memorial Market supermarket opened in March 1997 after renovations, with a focus on international items. Within about 5 or 6 years, Memorial Market transitioned into more of a strictly Korean supermarket. By 2006, it had become Komart Marketplace, which also has a Dallas-location. I'm currently unable to ascertain whether Memorial Market was sold or rebranded, or not, but unfortunately, in 2010, the store closed down for good and was demolished for redevelopment. As of early 2016, the sign for Komart still remained up, but that is now gone too.

Despite the expansion of Mathewson Lane to Gessner, the actual footprint of the store remains undeveloped.
---
SAM HOUSTON TOLLWAY
Block 10 West Office Park
10496 Katy Fwy.

In early 2002 (according to grand opening records), this opened as The Great Indoors, a warehouse-style chain operated by Sears with home décor items, including rugs, curtains, appliances, furniture, and electronics. It even had a Starbucks Coffee inside. The chain never reached its potential and was among the last nine to close, closing in early 2012 after Sears killed the remaining stores (a store near Willowbrook Mall had already closed several years prior). A parking garage was soon built behind the building to convert it to an office building, which took a while to reach fruition, but today has WDVG Petroleum Engineering Laboratories, INOV8 Orthopedics, and Envoy Mortgage.
Town & Country Mall
13600 Sam Houston Parkway (approx. address)

Town & Country Mall was built in 1983 as a partial redevelopment of the adjacent Town & Country Village, incorporating a Joske's department store opened in 1969. The other anchors were JCPenney, Neiman Marcus, and Marshall Field's, with the latter two having their second locations at Town & Country Mall after only being at The Galleria.

Unfortunately, due to the collapse of the oil market, Town & Country Mall never really met its full potential, and the construction of the Sam Houston Tollway shortly after the mall was built made access and visibility difficult. Joske's would become Dillard's in 1987 like the rest of the chain, and like the Marshall Field's at the Galleria, the Marshall Field's at the mall was also sold to Saks, which reopened it in 1997. Three years later, Saks Fifth Avenue would close the store. The next anchor to go was JCPenney, and in October 2003, the mall's oldest tenant, Dillard's, would close when it moved to Memorial City Mall.

The mall closed in summer 2004 with Neiman Marcus planning to stay as the mall got redeveloped. In the end, Neiman Marcus closed in 2005 and its building, still standing after the demolition of the rest of the mall, was also torn down. The only things to remain were the parking garages. I did visit CityCentre once, and park in the parking garages that once serviced Town & Country Mall, with CityCentre's Studio Movie Grill having the dubious distinction of being, as of this writing, the last time I saw a movie in theaters. Technically, it was a superhero movie, but not of the Marvel/DC variety. Don't judge me.
RoomStore
1009 Brittmoore Road

In 1972, Levitz Furniture began construction on a furniture warehouse that featured a railroad spur crossing Old Katy Road. At some point, a showroom was built into the store. In 1996, Levitz was still operating it as "Levitz HomeMakers" but the store likely closed in 1997, with RoomStore operating the furniture store by 1998. All during this time, the railroad paralleling Katy Freeway was removed, but the railroad spur was removed ahead of that. According to a 1995 aerial picture, the spur to the store had the proper railroad crossing markings on the road, as did Brittmoore's crossing and another crossing at Old Katy Road near the Igloo facility. Those were left intact (with the railroad crossing being paved over and signals removed, of course) with the remnants still remaining until the construction of the freeway proper, but Levitz/RoomStore's was already paved over.
In early 2012, RoomStore closed down shortly before the parent company closed the remaining stores later that year. By 2013, the building was torn apart for Arrabella Townhomes, an apartment complex advertising itself as "luxury townhome rentals" (the development uses the same signage from RoomStore). Arrabella also used 10902 Katy Freeway as the address rather than the Brittmoore address. Ironically, Arrabella's clubhouse and main office is directly off Brittmoore while the RoomStore faced Katy Freeway.
---
WILCREST DRIVE
Arlo Memorial
935 North Wilcrest Drive

As late as June 2019 this apartment building was known as The Slate but sometime later that year assumed its current name. Construction on The Slate began in 2014 with the demolition of several buildings on the premises, including Philips 66 (11103 Katy Freeway) at the corner, a small strip center building behind it with Sunny's convenience store and a flower shop, a La Quinta Inn (La Quinta Inn Houston Wilcrest) at 11113 Katy Freeway, a former Steak & Ale restaurant at 11109 Katy Freeway (likely closed in 2008 and was demolished in 2010), and a restaurant on the premises, last operating as "Brunch Kafé". It even had a website.
---
NORTH KIRKWOOD ROAD
Mac Haik Chevrolet
11711 Katy Freeway

Built as Tom Peacock Chevrolet in 1970, and eventually sold to Mac Haik in the early 1980s (rebranded to "Mac Haik's Peacock Chevrolet" in 1983 and eventually Mac Haik Chevrolet, though before 1988 as Wikipedia suggests), the peacock logo (suspiciously similar to NBC's long-running peacock logo) from the Tom Peacock days still is part of Mac Haik Chevrolet to this day. In its early days, a gas station (later Chevron, probably originally Gulf) was at the direct corner of Kirkwood and Katy Freeway. Sometime around 2007, the gas station was demolished and turned into an expansion of Mac Haik with little trace left except the Chevron sign shape, now used as an additional sign for Mac Haik.
---
DAIRY ASHFORD ROAD
Kmart
12151 Katy Freeway

Built as a large Kmart store at nearly 100,000 square foot (not including the adjacent Kmart Foods/Lewis & Coker space), this Kmart closed in April 1995, after a major round of national closings announced in 1994 but before they pulled out of Houston entirely in the early 2000s (also announced in this 1995 closure was a store at the corner of Southwest Freeway and Beechnut and a store at Long Point and Hillendahl).
Unusually for redevelopments of this type, the garden center's semi-enclosed area was left alone and became a courtyard for the Hibachi Grill & Buffet.
Courtyard by Marriott
12401 Katy Freeway

Built as a Hilton Inn (presumed to be a lower-cost version of the hotel chain) and internally Hilton Inn West, like the Hilton Inn on the modern-day Beltway 8, featured a restaurant ("The Veranda") in its early years of operation. In 2002 it was renovated and reopened as The Courtyard by Marriott (better known as just Courtyard by Marriott).
---
NORTH ELDRIDGE PARKWAY
Omni Houston Hotel at Westside
13210 Katy Freeway

Opened in November 1983 as Hyatt Regency West Houston (one of the larger hotels in the metro, and the one farthest out), the Hyatt Regency, like many of the businesses on the north side of the freeway was on Old Katy Road, though in the case of the area around Eldridge, Old Katy had to be redirected around the underpass Eldridge had for the railroad, and around the time the Hyatt was built, Old Katy Road simply turned off to Dairy Ashford, which turned west and connected to Eldridge. For the hotel, Old Katy Road merely provided access to the hotel's parking and a small subdivision behind the hotel (which later had a buyout offer due to the expansion of Park Row and also flooded during Harvey, likely the remaining houses aren't long for this world). Additionally, a stoplight at Dairy Ashford also originally provided signalized access into the parking lot. In 1992, it became Marriott-Westside and in December 2000 rebranded again as the Omni Houston Hotel.
Moreover, due to the Katy Freeway rebuild it meant Old Katy had to be upgraded to the new westbound frontage road (allowing highway-side access for the first time) but making the former Old Katy entrance from Eldridge right in/right out due to that section of road needing to be rebuilt at grade due to the railroad underpass being removed. In the mid-2000s (2007?) the tennis courts, a feature since day one, were removed for reasons unknown.
---
SATSUMA ADDICKS ROAD
Topgolf
1030 Memorial Brook Blvd.

Sports company Topgolf opened one of their "high-tech driving ranges" in December 2012.
---
Return to the Main Page
|
Email
---
Copyright 2019 Carbon-izer.com, this site is not affiliated with any businesses listed here.