BLALOCK ROAD
1005
1990-2007: Fiesta Mart (opened January 1990 in new building and closed 12/07)
2009-: 99 Ranch Market (Asian supermarket, opened 11/09)

1207
1982-: Blalock Apartments

1302
1987-2005: Randalls (opening year from Houston Chronicle...store #38)
2008-: Super H Mart (Asian supermarket, opened this year)
Note: The H Mart contains a number of smaller food court tenants and Tous Les Jours.
---
FM 1960
148
1978: Kroger Family Center (opened July 1978)
1623
2005: Krystal (opened)
2011: Krystal (Internet records seem to indicate it closed late this year)
2012: El Pollo Regio (Internet records seem to indicate it opened late this year)
Note: A picture of the Krystal, closed but still with signage up, can be found at West Houston Archives, under Kuykendahl Road.
2318
1975: Sambo's (HCAD says build date 1970) ~1995: Bleacher's All-American Grill 2007-: Wings-N-Things (likely since 1997)
2224
1980: Woolco (the chain closed in 1983)
1989: Fiesta Mart (opened this year according to newspaper article)
1995: Fiesta Mart
1997: Fiesta Mart (closed this year when Randalls bought the lease, though reports were Randalls didn't open until 1998)
1999: Randalls (store #69, see this link)
2002-: vacant (I heard this store closed around 2000)
2330
1980: Gerland's Food Fair
4430
1980: Jojo's
4601
1980: Weingarten's
5219
1974-1979: Handy Andy (according to The Bellaire Texan, the Champions Village store was running a Grand Opening sale in April 1974)
1980-: Randalls (unknown when exactly Handy Andy closed and Randalls took over)
7950
1994-1999: Builders Square
2001?-: Sam's Club
10951
1980: Kroger No. 1711 (the numbering system is different than what Kroger Southwest usually did, at least does now...number from directory)
2005-: Big Lots
Note: According to discussion on Groceteria the Kroger lasted from 1977 to 1985. MacFrugal's took it over shortly afterward, eventually rebranding to the Big Lots it is today.

10955
1980: Kmart (opening date unknown)
2005-: Hobby Lobby (Unknown build date but between 1995 and 2002. To build the Hobby Lobby, about a third of the Kmart was demolished)
11511
1980: Wyatt Cafeterias (opening date unknown)

12400
2000: Albertsons (#2790, reported opening)
2002-: Kroger (sold to Kroger in spring 2002)

12600
2004: Eckerd (from all evidence this opened January 2004 or December 2003, including information on sublease)
2005: vacant (didn't even last 12 months)
2009: Sound Fitness (mentioned in 2009 article--opened 2007 or 2008)
2016: vacant (looks like it closed fall 2015, signage remains)

13330:
1983: Woolco (last year open, didn't last for more than 4 years at most)

13445:
1983: Texas Commerce Bank
Note: This bank was completely gone by 1989 and remained undeveloped until the Best Western was built in a portion of its space years later. It was almost unnoticed until an aerial photo of Northwest Freeway's construction was published on West Houston Archives, leading to a search for this bank. It appears it was operational in 1981, and it likely closed during the oil bust.
---
NORTH SAM HOUSTON PARKWAY EAST (NORTH BELT ROAD)
500
1979: Hilton Inn Intercontinental Airport (opened this year and built in '78, also included a restaurant called Wicker Works, a C&W nightclub called Chaps, and a full service bar called Cycles)
1980: Hilton Inn Intercontinental Airport (at this point, the addition was added and another bar called The Wildcatter opened)
1993: Clarion Inn at Intercontinental Airport (exterior redone to current stucco)
1994: Clarion Inn at Intercontinental Airport (the addition was closed this year)
1995: Clarion Inn at Intercontinental Airport and Hampton Inn at Intercontinental Airport (addition reopened as a Hampton)
1997: Clarion Inn at Intercontinental Airport and Hampton Inn at Intercontinental Airport
2007: Days Hotel Intercontinental Airport and Hampton Inn at Intercontinental Airport (the Clarion changed names at about this time)
2008: Days Hotel Intercontinental Airport (Baymont would open in the annex, but as a separately addressed location, see 502 below)
2009: Days Hotel (during the worst of times, the hotel would operate between names)
2010-: Park Inn Houston North Hotel & Conference Center (opened May 2010, with the hotel briefly flagged as Settle Inn, likely between late 2009 and early 2010)
Note: This is information taken largely from HAIF, and the similarity in the two addresses was current as of 1997. It would've been very confusing if not for this information. However, Google Maps Street View does have some slightly different information than the post at least based on signage. This link (written in the Days Hotel days) has Cycle Lounge and Wicker Works still in business. After the conversion, Wicker Works became Sam Houston's Grill and today (post-2014) appears to be now known as Bistro 500.
502
Note: See the 500 listing for more information.
2008-2017: Baymont Inn & Suites Houston - Sam Houston Parkway 2017: Red Roof Inn & Suites - IAH Suites (skywalk demolished, becoming two separate buildings, likely ending guest privileges)
425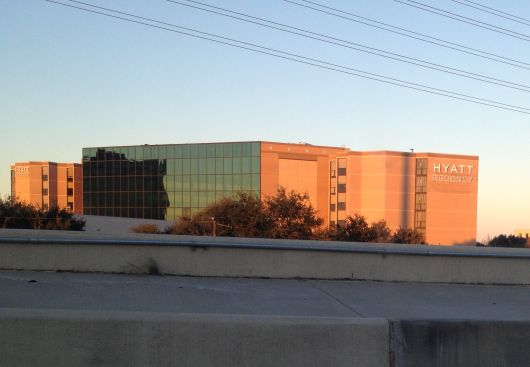 1982: L'hotel Sofitel (opened that year with that name)
1997: Hotel Sofitel Houston (it boasted TWO French restaurants according to an ad I found)
2007: Crowne Plaza Houston North Greenspoint (rebranding and renovation this year)
2012-: Hyatt Regency North Houston (this article refers to the hotel as being "recently rebranded")
702
1986: Preference Inn (closed this year)
1991: Holiday Inn Express (re-opened this year)
2008: Woodley Suites
2011-: Americas Best Value Inn & Suites
---
SOUTH RICE AVENUE
3333
1979: Jamail Family Market (described as "7-Eleven size" in this article)
1997: Jamail's Family Market (not part of the Jamail & Sons on Kirby)
---
GESSNER ROAD
975:
1975: Globe Discount City (opened late 1960s?)
1979: FedMart (FedMart purchased Globe's stores in 1978 from Walgreens, they were not converted)
1985: Mervyn's (Mervyn's moved in after FedMart bit the dust, but I'm not able to find an exact date for this one)
1989: vacant (Mervyn's moved out in February of this year to the former Lord & Taylor at Memorial City Mall across the street)
1990: Oshman's SuperSports USA (opened in March of this year)
2000: Oshman's SuperSports USA (newspaper article mentioning a special event here)
2003: Oshman's SuperSports USA (last full year here, 2003 article says Oshman's was to move by mid-2004)
2005: demolished (the replacement Sports Authority opened very early 2005 or very late 2004, as the building was gone by May)
Note: Today, this is the Memorial Hermann Tower and the Memorial City Westin. The 975 address is no longer in use.
999: (located at southwest corner of I-10 and Gessner)
1975: Memorial City Shell
Note: This remained a Shell up until its demolition in late 2005. Like many others, it was of the "three hexagon canopy" variety. It probably would've survived the widening of the Katy Freeway but was purchased by the hospital.
1049:
1996: Kroger (opened early 1980s?)
1998: Memorial Market (Kroger believed to have closed around 1997)
2003: Memorial Market (they still kept the name but were turning into an Asian supermarket by this point, source)
2010: Komart Marketplace (closed and demolished this year, though as of early 2016 sign remains up)

1818:
1975: Eagle Supermarkets (opened 1969?)
1994: Price Buster Foods (#113)
2003: 99 Cent Only Store (opening)
2008: 99 Cent Only Store
2009: 99 Cent Only Store (likely closure)
2011-14: ALCO (opening in November 2011, 2014 was last year open)
2016-: AutoZone (opened sometime late summer or early fall)
Note: AutoZone moved from a smaller location in front of the store. Also, between Price Busters and 99 Cent Only Stores, it looks like it spent time as A-1 Flea Market, though I can't find much information on it.
---
SAWDUST ROAD
129:
1987: Handy Dan Home Center
2004: Bally Total Fitness
2016: Fitness Connection
Note: Bally Total Fitness, and later, Fitness Connection, do not occupy the whole building. Parts were taken by Kolache Factory and a bank after Handy Dan's departure.
130:
1987: Safeway (closed this year)
1995: H-E-B Pantry
2003-: H-E-B (Pantry torn down and rebuilt, new store faces east)
Note: The 1987 directory lists "Lamar Savings" at this address. Did the Safeway have an in-store bank?
134:
1987: Eckerd
1997: Peter Piper Pizza
Note: This was adjacent to the Safeway and later the H-E-B Pantry. It fled well before the CVS conversion as we have found that Peter Piper Pizza moved into the spot in 1997. Peter Piper Pizza is reported to have closed around 2000 and was demolished a few years later when the H-E-B was rebuilt.
140:
1987: Grandy's
Note: This presumably closed along with other Grandy's in the late 1990s. It was gone by 2002 when the lot was redeveloped.
295:
1987: Kroger
2007: Kroger Signature (still sporting Greenhouse facade)
2011: vacant (Groceteria reports that as of January 2010, it was "recently killed")
2015-: Church Project (church)
425:
1984-90: Wal-Mart (reported opening and closing year from Wikimapia comment, can't confirm)
1994: Bud's Discount City (reported closing year)
1996: Ben Franklin Crafts (reported--did this take up the entire store?)
2008-: Big Lots and H-E-B Houston Division (offices in Suite B)
502:
1987: Randalls
Note: Closed 2002 when it moved to a location formerly occupied by Albertsons up the road.
630:
1987-: Kentucky Fried Chicken (KFC)
---
US HIGHWAY 59
Note: Where it says 1987 I'm not 100% sure because I didn't write it down when I was searching. I am 95% sure that this was the right directory and things seem to line up.

19707
1973-2008: Steak & Ale (this article states that they were celebrating 30 years, but they closed in early August of 2008 as part of chain's bankruptcy)
2009: empty lot
2011-: Chick-fil-A (opened this year or late 2010)

20150
1987: Jojo's
2004-: IHOP Restaurant (at least since 2004)

20150
1987: Red Lobster (listed as Red Lobster Inns)
2006-: Hooters (unknown when it changed hands but it is distinctly a former Red Lobster)
---
FM 1960 EAST BYPASS ROAD
9450
2001-04: Garden Ridge (year opened and year closed)
2005-11: Solid Rock Baptist Church (year purchased, opened "Bounce City" in 2006 to raise funds, moved out entirely in 2011)
2012-14: Garden Ridge (reopened by this 2012, opened possibly late 2011)
2014-: At Home (corporate rebrand)
---
---
Back