Westheimer Road
Welcome to Westheimer Road in Uptown! Even though the "Uptown" section is technically only a few blocks, this section covers out to Beltway 8 from Loop 610, and this directory means to cover the street in amazing detail with about 100 entries. Of course, there's going to be lots of gaps in what I did and did not cover, but that gap closes with every update.
Version 9.0 of the Westheimer Road page still doesn't go beyond Beltway 8 (still a work in progress) but it does continue to add in-fill and updates to what is already there. Specifically, it adds Briarcroft Center, DaVita Dialysis (former restaurant space), The Vitamin Shoppe, and Public Storage (near Fondren). It also updates Centre at Post Oak, Firestone (new title as part of new formatting), Public Storage (near McCulloch), 5888 Westheimer (former Houston's; now "The Warwick"), 2660 Fountain View (former H-E-B), Service King, Lambo Chinese Buffet, 8910 Westheimer (7 Leaves closed), 9041 Westheimer (hotel is currently dead), and Lankamex. It merges The Capital Grille into "Uptown Collection" with some other stores, and removes Pappas Bros. Steakhouse. This is because that there might've been something to my hunch earlier, and the section will need to be re-written. A note: Carbon-izer tries to be family friendly, but due to the nature of Westheimer Road, this page contains frank discussion of some less savory businesses along this stretch. It probably shouldn't be much to worry about (no outbound links are NSFW) but it's only fair to put this as a warning.
---
LOOP 610 to SAGE ROAD
The "Westheimer Uptown" stretch begins here, a busy stretch with four lanes in each direction (and lots of homeless people on the street corners). You can find the 610 page (which includes more Uptown-area locations)
here
.
Dillard's / 4925 Westheimer Road
Joske's of Houston (a division of Allied Stores Corp., which also owned the main Joske's in San Antonio) opened this store in the summer of 1963, replacing a smaller downtown location. In the mid-1980s, Allied merged Joske's of Houston into San Antonio, but in 1987, Joske's was sold to Dillard's, which remerchandised and rebranded the chain over several months. A parking garage, original to Joske's, is located behind the store.
Centre at Post Oak / 5000 Westheimer Road
Shopping center built in the mid-to-late 1990s, which replaced the Sakowitz department store, the first department store in what is now the Uptown area.

The genesis of what would be Uptown was built around Sakowitz, building a full-line colonial-style department store in what was farmland (skip to 24:00) but adjacent to the newest and wealthiest exurbs of Houston. Sakowitz had previously built a store at Gulfgate in addition to its flagship store downtown, but the new store would stand alone when it opened in March 1959, and becoming an instant success, despite thoughts from others that it would fail.

Technically it did fail after 30 years, but that was not the fault of the location. This was one of the articles previously written for this section, and describes the store as it was Sakowitz from 1959 to its closure in 1990.

By the early 1990s, Sakowitz and its outparcels were demolished, and The Centre at Post Oak was built on the site. Initial "big tenants" of The Centre at Post Oak, which was built on the site, featured Marshalls, CompUSA, Old Navy, FAO Schwarz, Barnes & Noble, and Morton's Steakhouse (stylized as "Morton's The Steakhouse") out of Chicago, according to an August 1995 article. Marshalls, Old Navy, and Morton's are still there (Marshalls later became a Marshalls/HomeGoods store around 2016, give or take a year). FAO Schwarz was able to hold out up until their first bankruptcy (~2004) with CompUSA biting it a few years later with its bankruptcy. Barnes & Noble closed its store in 2010 following the end of its lease, its two-story location was filled with Arhaus Furniture. CompUSA was replaced with Nordstrom Rack in 2009, and Grand Lux Cafe moved into the spot in the year 2005 following the demise of FAO Schwarz.

To take a look at the site plan as it was in 2019, check out this Weingarten-sourced PDF here which I had to get from Archive.org.
The Galleria / 5085 Westheimer Road
I believe some of the later sections of The Galleria that were built have a different address than 5085, but The Galleria is a large shopping mall and has a special place in my heart. Please visit the new The Galleria page, recently expanded and updated.
The Halbouty Center / 5100 Westheimer Road
This five-story office building was named after Michel Halbouty's oil company, which maintained a presence later (later, his grandson opened a similarly named energy company, but finding if it was still in business proved inconclusive). Between the Helvetica text on the outside of the building and the overall construction, it personally reminds me of the Heep Center at Texas A&M, which has a similarly large atrium.
Residence Inn by Marriott / 2500 McCue Road
Behind 5100 Westheimer is "Residence Inn by Marriott Houston by The Galleria" with a very peculiar history. It actually opened in 1960 as Pyne Hall apartments with 60 units (and with the address of 2450 McCue), and featured an unusual first for apartment complexes, a concrete fallout shelter. By 1980, the apartments had become "Galleria Gardens" and was advertising furnished apartments for executive lodging (rooms equipped with everything, including basic cookware), with daily, weekly, and monthly rates. By 1982, it had adopted the 2500 McCue address, but even as of 1984 still featured yearly leases. At some point in the late 1980s it was seized by the FDIC. (It was still apartments after the seizure in 1988, but ads don't list a name).

In 1994, Residence Inn took over the property (92 suites at the time), and has made improvements since, notably by rebuilding the structures on the perimeter of the the property in the early 2000s (the website now boasts 146 suites).
JW Marriott Houston by The Galleria / 5150 Westheimer Road
This hotel opened in March 1984 as Hotel Inter-Continental Houston, the first appearance of the hotel chain originally started by Pan American Airways (though by the time the Houston location opened, it was owned by British-based Grand Metropolitan). The hotel featured several on-site amenities, including the 1920s-themed Pete's Pub.

At some point early on, the office building next to the hotel was absorbed as additional conference/ballroom space (but was not connected to the hotel). Information on this building is pending. After 1988, the hotel changed hands and became the JW Marriott. The reason for this change is not known, whether for economical reasons or the fact that Grand Metropolitan sold the hotel chain in 1988 to new owners.
SAGE ROAD to CHIMNEY ROCK ROAD
---
Walgreens / 5200 Westheimer Road
The Walgreens was built here in 1996. It's hard to tell what was here before. It also should be noted that the Walgreens isn't accessed off of Westheimer Road, it can only be accessed through Brownway and Sage.
Firestone Complete Auto Care / 5300 Westheimer Road
This Firestone, wedged on a narrow strip of land between Westheimer and Brownway, has been operating since 1970.
DoubleTree by Hilton Hotel & Suites / 5353 Westheimer Road
This entry for "DoubleTree by Hilton Hotel & Suites Houston by the Galleria" is placed above Truluck's because it's actually first on Westheimer before Truluck's. The modern 5353 Westheimer came about in 1982 with Guest Quarters, also known as Guest Quarters West. Guest Quarters, an all-suite hotel, had a location at 2929 South Post Oak Road with 16 floors and 210 suites, but Guest Quarters West was even bigger, with 349 suites on 26 floors. The grand hotel opened with much fanfare and was able to outlast the other Guest Quarters, which closed a few years later due an economic downturn (and today is a high-rise retirement home), leaving this Guest Quarters the only one in town (without needing to call it "Guest Quarters West").

In 1995, it became "DoubleTree Guest Quarters" after a merger with Doubletree a few years prior by their parent companies. The Guest Quarters name eventually faded out in favor of DoubleTree, which has remained to this day.
Truluck's / 5350 Westheimer Road
Truluck's is a seafood restaurant with locations elsewhere in Texas but also Washington DC, Florida, and Chicago, and it started here on Westheimer in March 1992 as "Truluck's Steak & Stone Crab" down the street at 5919 Westheimer. Obviously, a place that has expanded to farther-flung locations has to have some success but my copy of Fearless Critic Restaurant Guide - Houston was not kind to Truluck's, which they said it felt like a restaurant "the high-class place that you'd take somebody to impress". Check out the full review here.

From what I can tell, the site was originally Tootsies, a luxury boutique store that also had a location in Montrose at 506 Westheimer. This location closed in 1985 when it moved to Highland Village (and moved again in 2011 to 2601 Westheimer). By 1986, it was a location of Antone's (back when they had a substantial selection of imported foods for sale). Sometime in the 1990s Antone's closed the Westheimer location and in 1999, it was "Earful of Books" (a small audiobook chain store out of Austin, it went bankrupt in 2002, with its founder later convicted of fraud, sentenced to ten years in federal prison in 2005) before Truluck's opened sometime around 2006.
UPTOWN COLLECTION
This 1997 strip mall has a few stores and a restaurant facing Westheimer.
5393 Westheimer Road started out as "The Market", an antique and home furnishings store with another store in Champions Village. It left in 2005 and was replaced by Rochester Big & Tall Clothing, which by 2010 was closed and replaced with its parent company's flagship brand, Destination XL.
There are, as of this writing, half a dozen Edwin Watts Golf Shops in Texas and the Houston location is at 5395 Westheimer Road. There was at one point (in 2010), some Edwin Watts Golf Shops that opened inside Sears stores (Deerbrook Mall and Baybrook Mall), but these disappeared well before the stores closed for good less than a decade later.
The Capital Grille (5365 Westheimer Road) opened in May 1997 as the only stand-alone restaurant in the center. This upscale steakhouse chain has been part of the Darden Restaurants group since 2007. The same restaurant guide that talks about Truluck's gave a similar disappointed review (a solid C) to The Capital Grille, noting that the dry-aged steaks were ruined with a sauce that "distinctly evokes cafeteria roast beef".
The West End / 5320 Westheimer Road
The reason this is after The Capital Grille is it's farther down the road and originally had the address of 5380 Westheimer. This building was originally a drive-through car wash (since at least the late 1970s) with a small office for said car wash, last going under the name United Express Car Wash. In the early 2010s it was gutted and converted into The West End, a pub restaurant.
CVS/pharmacy / 5402 Westheimer Road
This was an Eckerd built in 2003 but it converted to CVS within a year.
A.D. Players at the George Theater / 5420 Westheimer Road
This theater and its accompanying group opened this live theater in 2017 and has family-friendly productions.
Public Storage / 5615 Westheimer Road
This was once a six-story office tower built in 1970, with its original tenant being Mobil Overseas Pipeline, Incorporated. In 1989, the now-vacant building (presumably Mobil Overseas Pipeline was either shut down or merged in with other Mobil offices in the oil downturn) was auctioned off. In 1990, the building received an extensive renovation to be a Public Storage facility, including adding offices for the Gulf Coast-area division on the first level. In the 2010s, the building later gained a repaint to make most of the building orange as per Public Storage's current branding. It still resembles an office building.

After acquiring the building, in the early 1990s, PS built an auxiliary facility behind the main building.
Briarcroft Center / 5620 Westheimer Road
This small strip center (with addresses for individual tenants) has Jus' Mac (formerly home to Corelli's Italian Cafe), Men's Wearhouse, FedEx Office, Red Pepper Chinese Restaurant, and others. It is a few years out of date, but a PDF can be found here (archived from this link). More on this center will be explored in future updates.
Treasures / 5647 Westheimer Road
The earliest reference I can find for this address is Chimney Rock National Bank in 1964 but by 1968 it was "Cutter Bill Western World", a Western-style clothing store (boots and hats). This remained open for years, but in 1987 the property was seized as its owner, Rex Cauble, was arrested for drug smuggling, with the store largely being an operation to launder money for narcotics.

After a brief time as "101 Cafe", in late 1990, "Cutter Bill Western Cabaret" opened. In 1992, it was Baby'O (formerly at 5154 Richmond) before becoming Treasures, another strip club, around 1996.
T-Mobile / 5656 Westheimer Road
This was a Houston Shoe Hospital location from 1994 to around 2006. From 2006 to 2016, it was 1-800-Flowers. In 2016, the lease changed hands and it became a Sprint store. This lasted until 2020, when the store was rebranded as T-Mobile, following Sprint Corporation's purchase by T-Mobile US.
Chevron / 5660 Westheimer Road
A Gulf station has been here since the late 1950s. Evidence suggests that it converted to Chevron in the early 1990s and was rebuilt around 2000 as a modern station with a small convenience store.
---
CHIMNEY ROCK ROAD to GREENRIDGE DRIVE
---
Exxon/ 5702 Westheimer Road
This Exxon with a Timewise gas station was built in the mid-2000s, replacing an older gas station.
IHOP / 5729 Westheimer Road
IHOP (International House of Pancakes, originally) opened here around 1971 (HCAD says 1970, but the hiring notices aren't until 1971 as per newspapers).
JCI Grill / 5745 Westheimer Road
The parking lot of James Coney Island (as it's more commonly known, who calls it by its "official" new name, JCI Grill?) integrates with Bering Drive's stoplight. In any case, this opened in 1977 as Steak n Shake (a trailer was on site in 1976, I can't find proof it opened that year). However, Steak n Shake's first attempt in the Houston market didn't go over so well, and it closed in or after 1978, with Grandy's replacing it in June 1980 (and back then, Grandy's was also known as "Grandy's Country Cupboard"). While Grandy's had stores in Houston well into the 1990s, Grandy's bombed hard on Westheimer and by late 1982 became International Auction Galleries for a few years. Soon after it became James Coney Island, and by 1989, was the company's most profitable store.
5757 Westheimer Road
This strip mall (see lease plan here, archived from here). It has a few tenants, including FLO Paris (the "Bakery & Cafe" mentioned), a Domino's, and Cafe Lili, a Lebanese restaurant. Near the ground is a small sign that has a smiley face and a number to rent the sign. I wonder what tenant it originally belonged to.
Pappas Burger / 5815 Westheimer Road
The building where Pappas Burger is opened as Sizzler Steak House back in 1972 (not 1970, as Arch-ive indicates). Indications are Sizzler closed most of their Houston at end of 1982 (despite having nearly a dozen restaurants in the area), long before their fall from grace nationally (though I have found a few Houston Sizzler restaurants lingered on into the late 1980s). By April 1983, the location was home to Lumber Camp Restaurant & Bar and in 1984, a location of Daddy Did It Fish House (which also had a few locations in the Bear Creek/FM 1960 area).

In 1990, Wings 'N More opened a location, one of the two "original" Houston stores. The history of Wings 'N More is a little sticky (pun not intended), from everything I can gather, Wings 'N More was a franchised version of Wings-N-Things until it spun off as its own entity, then the later Wings 'N More locations in Houston (with the exception of The Woodlands location, which remained open up until COVID-19) was a franchise until those spun off as BreWingz.

In 2001 it became Pappas Burger, a new concept from the Pappas Restaurant Group. Pappas Burger has become the longest-run restaurant in the building, more than any other restaurant.
Jungman Neighborhood Library / 5830 Westheimer Road
This library has been here since 1975 and was closed in 2014 for an extensive inside-and-out remodel. This meant the loss of many interesting 1970s features inside (undoubtedly) but on the outside, it also meant losing its large, monolithic concrete signage on Westheimer.
Becks Prime / 2615 Augusta Drive
Becks has an Augusta address with its only Westheimer presence being a sign and a long, narrow driveway (one way) but it has been here since 1989.
Valero / 5838 Westheimer Road
Opened as a Circle K in 1988, this went through a long journey as Stop N Go (after 1994, when the chains traded stores), then Corner Store (when the station converted to a Valero in the mid-2000s, the gas station brand changed from Diamond Shamrock around this time), and then finally in the late 2010s changing back to Circle K again (but keeping the Valero brand).

Interestingly, tax records suggest that Circle K held onto the real estate the whole time.
5884 Westheimer Road
This was Republic of Texas Savings Association from approximately 1981 to 1982 when the struggling S&L bank (along with three others) were sold to Home Savings of America. By the time 1998 rolled around, the local branches were known as Savings of America (the "Home" dropped at some point, though still part of corporate's name) and the bank was rebranded again as Washington Mutual. Following Washington Mutual's demise, became a Chase bank in 2008 and closed in 2019.
The Warwick / 5888 Westheimer Road
The former home of "Houston's" restaurant. Despite originating out of Nashville in 1977, Houston's landed in Houston proper in 1980 (if not late 1980, very early 1981). It closed in fall 2019, however, and the new restaurant opened April 2022.
Minuti Coffee / 5903 Westheimer Road
One of the earlier tenants here I could find was 1989's "Blue Ribbon Motoring Boutique" (also Blue Ribbon Factory Direct Motoring Boutique), selling car seat covers, and in 1994 became one of Houston's very first Starbucks Coffee stores. In August 2015, it closed and moved out, but in less than a year was filled in by Minuti Coffee.
2660 Fountain View Drive
The former H-E-B at Westheimer and Fountain View Drive opened in January 2001. It was rather modest by new-build H-E-B store standards at around 50,000 square feet, but it was the first "full-line" store in Houston, heralding an end to the Pantry era. In February 2015 the store closed in favor of the new Fountainview store less than two miles to the north (and it was nearly twice as large). H-E-B kept the store a dark store (not that the facade, both somewhat dated and tacky-looking did it any favors. Take a nice, long, look at it...it will almost certainly be torn down for a denser development in the near future.
Slick Willie's / 5913 Westheimer Road
Built in 2004, Slick Willie's uses a Burger King logo-shaped sign for its business. The Burger King operated here from 1968 to the very early 2000s.
Service King / 5919 Westheimer Road
Opened in 2010 in an extensively renovated restaurant space, this lot extends back to Winsome Lane with another building built in former parking space. The original building was a residence owned by the Mills family until it became the Mariner Restaurant in the early 1970s (which, based on aerial photos, added a new entranceway but was a converted house).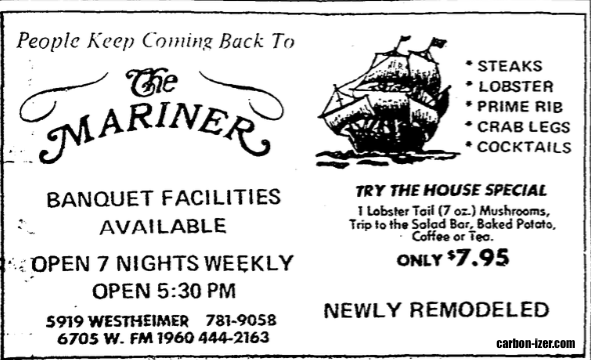 Scooters was another restaurant in the spot by January 1983 (Mariner closed in the early 1980s), though the 1983 aerial still shows the converted house. In 1984, it was Calabash Restaurant and in 1985 it was Sam's, with Lone Star Cafe in 1986 and Waves Beach Bar & Grill in 1987, but Waves closed a few years after that.

Finally, in 1992, it became Truluck's Steak & Stone Crab (as it was known back then, see Truluck's entry above). At some point prior to this (or perhaps when Truluck's built) the lot was rebuilt into a modern restaurant building before it was renovated into Service King's building. The building doesn't look like it, but you can see that the curved awnings Truluck's had has been hidden behind Service King's facade, and even the pull-in carport has been made from the original building, just with most of the walls removed.
DaVita Dialysis / 5923 Westheimer Road
This building was originally a restaurant. According to tax records, it was "The Nantucket Inn" from 1975 to 1982, Peng's Restaurant from 1983 to 1989, Black-eyed Pea from 1990 to 2005, and Ninfa's from 2006 to 2009.

In late 2011, the building was redone and DaVita Dialysis moved into the building in March of 2012.
Chacho's / 6006 Westheimer Road
Chacho's opened a location here in 2000 (appears to be first Houston location, coming out of San Antonio). The earliest reference for this address is Chesshir Glass Co. (1958), Konetzke Plumbing Co. (1966), then a "drive-in grocery" (1968), which was named in a 1975 human interest column. Klares Drive-In featured "a few groceries in stock, a couple of pool tables, and a 'back room' where thirsty patrons can find a measure of relief". By 1987 the old building was demolished and Two Pesos began to advertise for openings. After Two Pesos was converted to Taco Cabana following a bitter court case that went to the Supreme Court, this location and 1611 Gessner closed in November 1995. Mackmurdo's restaurant opened in the spot in June 1996, though it would close a few years later. Chacho's has since been the longest restaurant to stay here.
Pappadeaux Seafood Kitchen / 6015 Westheimer Road
The restaurant's early days began in 1966 as The Hearty Farmer. In 1968 it became Stagecoach Inn, though it appeared that the restaurant remained operational during this time. Stagecoach Inn was named after and owned by the original Stagecoach Inn, Texas' oldest operating restaurant. Unfortunately, Houston's Stagecoach Inn closed just two years later, and the space became a revolving door of several restaurants. Kelley's opened in 1971, a second location of a restaurant that had a location at 3512 South Main. In spring 1973, it closed and became Willie and Mike's Innovation by late 1973. The restaurant turned into a discotheque by night (it was the 1970s, after all), the dining room was decorated with all sorts of knick-knacks that was still considered a novelty, and waitstaff wore costumes. "Russian cossacks, keystone cops, sailors, Indian braves, police, nurses, and hula beauties fit into the cornucopia of fun and frolic", describes one article. The restaurant seemed to have an identity crisis, the daytime restaurant was family-friendly, but the discotheque side probably got weird after dark. After 1975, it closed, and in spring 1976, Danny Boy's (or "Jim Harrigan's Danny Boy's) restaurant opened. In early 1977, Danny Boy's was gone and The Radio Station, a C&W dance hall and restaurant, opened. In summer 1977 The Radio Station closed and Rooster's opened August 1, 1977. A year later, it became Pinks', a discotheque. Circus Restaurant & Bar opened in 1980 and despite not much information on the actual restaurant, was a good deal more successful than anything that had come before it but by September 1985 was closed and liquidating its equipment. In 1987, Pappadeaux Seafood Kitchen opened here, the first location of what would be, as of this writing, 40 locations.

By the early 1990s, Pappadeaux was the longest lasting business in the spot yet, and still operates here today. Essentially, the building's first twenty years was a confused mess of restaurants and bars that never really took off, but Pappadeaux has made it work for the last 30+.
6019 Westheimer Road
Former home to Mama's Cafe, this restaurant has been closed for almost a decade (since May 2012). The restaurant was built in 1969 with the earliest tenant I can find, "Papa's Pizza Parlor" in business by 1971. It was Loma Linda Restaurant (#2!) from 1972 to around 1981. Mama's Cafe opened in the spot in March 1982.

There was also another restaurant by the same owners, simply known as "Mama's" in Greenway Plaza. Additionally, they owned Cappy's at 11999 Westheimer.

As for Mama's, Pappas owns the building now and had intended to reopen the building as a restaurant, though this has yet to happen, even nearly a decade later.
Kamp / 6025 Westheimer Road
Opening in late summer 2020, Kamp (also known as "Kamp Houston", as it has other non-Houston locations) is the latest to occupy this bar & restaurant spot.

The original development on this site was Western Car Wash, which also operated as a Gulf gas station. You can see it here in this ad from December 5, 1968 (the ad is cut off in the newspaper, it was not cropped by me). By 1976 it was Conoco Car Wash (presumably with a change to the Conoco brand), and in the mid to late 1980s was the home of Sno-Biz (I assumed it was a snow cone operation on the site, but some ads refer to the building, too).

The entire site was rebuilt around 1988-1990 (according to HCAD) as a bar and restaurant, but I can't find the original tenant at this time.

In 1992, Bird of Paradise Bar & Grill opened in the spot, featuring a menu featuring Caribbean, Southwest, and Mexican food. The Houston Chronicle shared two recipes from the restaurant, their Margarita Cheesecake and Avocado Tequila Dip. A few years later, Bird of Paradise closed, and in 1994, the site served as a few short-lived bars, including "The Hut" and "Jumping Jimies" (sic), though for both I can only find a classified ad mention each.

In 1995, it became Texadelphia, part of an Austin-based restaurant serving a Texas take on cheesesteak (it was part of a larger chain out of Austin). It was the first and last Houston-area location (though not the only one, as it spawned several stores in the Houston area before they all closed).

In 2015, Texadelphia closed (which for a few years meant the end of the Texadelphia restaurants in Houston), and became a second location of local restaurant Beaver's (known as "Beaver's West", though only a nickname) in January 2017. This included a large beaver statue out front (but a more realistic beaver, as opposed to Buc-ee's statues). Beaver's would close in December 2019, not long after the original location bit the dust.
Christie's Seafood & Steaks / 6029 Westheimer Road
Christie's Seafood & Steaks opened a location here back in 1969 when this part of Westheimer Road was still quite rural.
GREENRIDGE DRIVE to SOUTH VOSS ROAD / HILLCROFT ROAD
Briargrove Plaza / 6100 Westheimer Road
A PDF plan (dated 2015) of this shopping center (from 1970) has been archived at this website here. There's also a HAIF thread on the shopping center on HoustonArchitecture.com, too.

From December 1986 to 1993, where The Melting Pot fondue restaurant is now (#146), was a steakhouse called U.R. Cooks. U.R. Cooks was a novelty steakhouse where customers were able to grill their own steaks and other meat products (here's an article on their first Oklahoma location). Check out the opening ad of U.R. Cooks in Houston here or see the review (and another ad) here. I'm not sure such a restaurant would work today (not even pre-COVID), sounds like it would run afoul of food handling ordinances.
Chili's / 6121 Westheimer Road
Ruby Tuesday opened on a restaurant pad corner of Toys 'R' Us in February 1996. In late 1998, it closed, and reopened as a Chili's in 2000.
Goodwill Select Store / 6135 Westheimer Road
Kids 'R' Us, a childrens' clothing spin-off of Toys 'R' Us opened here in early 1992 after the main store (they may or may not have had an interior connection to each other). The store was in business into 1998 and became OfficeMax in 2004, which closed in 2015. A Goodwill Select store opened not too long after.

Between 1998 and 2001, it looks like Toys 'R' Us might have expanded into the space.
Hobby Lobby / 6145 Westheimer Road
HCAD says this former Toys 'R' Us store was built in 1991. Even before Toys 'R' Us closed for good in June 2018 as we know it, the Westheimer store had some bad reviews about being messy, understocked, and understaffed. In its last days as well, the company introduced a "Babies R Us" department into the store. A Hobby Lobby replaced the vacant store in mid-2020.
House of Pies / 6142 Westheimer Road
This opened around August 1970 as a franchised version of California-based Original House of Pies, but over time, the Houston franchise became more of its own entity, becoming simply House of Pies (more on the Original House of Pies and the Houston connection can be seen here at Houston Historic Retail). For years, like its more famous Kirby location, House of Pies rocked out on Westheimer 24 hours a day. Unfortunately, since COVID-19 hit, is 7am-11pm daily.
Lambo Chinese Buffet / 6159 Westheimer Road
While it doesn't take up the whole space (part of the space is the Lambo Ballroom, accounting for part of its massive 17k square feet footprint), this large Chinese buffet (also known as Lam Bo), opened as Gadgets Cafe back in August 1984. Gadgets Cafe was actually a new concept by Warner Leisure Inc. (a subsidiary of Warner Communications, a precursor to today's mega-corporation Warner Bros. Discovery), and featured, if this article is to believed, "Sammy Sands", a piano-playing animatronic for adults. Unfortunately, Gadgets Cafe was not too long for this world. An ad appeared in July 1984 for hiring, but at the same time, Warner Leisure was shut down by Warner Communications on the basis that it was unprofitable. Within six months, the restaurant had come and gone, despite sister restaurant Gadgets Restaurant & Bar (with a different logo) opening off of FM 1960 West. By early 1986, a new restaurant was hiring in the spot, Devon Bar & Grill. No doubt it was hard to maintain the space (if it even opened at all). By 1988, it was Landry's Evangeline Cafe & Bar, with Devon's disappearance unknown.

Given that Landry's Evangeline was listed like any other Landry's at the time, it appears that there was a restaurant (Evangeline) that was bought by Landry's sometime later, though all records suggest that it was a Landry's concept the entire time. 1988 is also the first newspaper mention of the events space, known as "The Tarpon Room". Sometime around 1990, Landry's Evangeline closed, and in 1991, Austin-based The County Line opened a location here. (They opened another location at 13850 Cutten Road around the same time).

In fall 1994, Wok Bo Chinese Buffet, with two other locations (10725 W. Bellfort and 12270 Westheimer), opened their first location here. The restaurant became Lambo in 2002.
Siena on Westheimer Apartment Homes / 6263 Westheimer Road
Formerly The Plaza on Westheimer Apartments, these apartments (643 units as of 2007) have a leasing office on Westheimer (which also hosts other offices, looks like). The apartments were built in 1975 (unfortunately, couldn't find any results before 1979...possibly an address switch) and by the late 1970s were part of the Oakwood Gardens Apartments (as Oakwood Gardens-Westheimer), same as 7979 Westheimer below (going by Oakwood Gardens-Westover Square) at the time. The Oakwood Gardens family offered a variety of amenities including a "free Sunday brunch" in the late 1970s, and like other apartments in that time, did not allow children or pets. In 1992, the apartments became Westheimer Oaks, leaving the Oakwood Apartments name behind for good. When it was sold again in 2007 it was Sendera Briargrove.
Polekatz Houston Gentlemen's Club / 6340 Westheimer Road
The oldest business for this address (building built in 1968) was a Shakey's Pizza Parlor (aka Shakey's Pizza Parlor & Ye Public House, at least in its later years) from 1970 to 1984 and it appears that it was expanded at some point. In 1985, it became Bogey's, which started its lineage as a strip club. The Bogey's ad below appeared on my old HAIF thread, though the image broke a while back (back when Dropbox had public folders). The dark skin on the model is from the way the ad copied, not actually how she looked.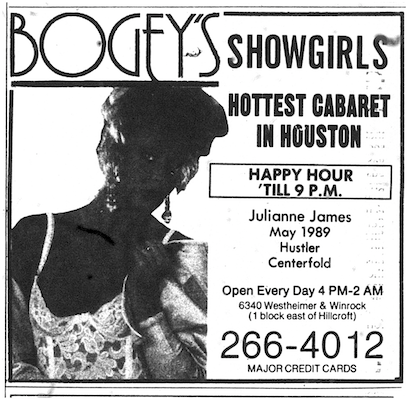 By January 1993, it was going under the name Baby Dolls (the ad here is from 1993, the ad above is from 1989). Since some ads mention "formerly Bogey's", it probably just changed names at some point (as seen by the ads, has the same phone number too), and in fall 2002 it started as advertise as "The New Baby Dolls". An article in January 2004 mentioned that "a walk through Baby Dolls reveals the owners' intent to upgrade the club from its raunchier atmosphere of a few years ago" with new flooring, walls, and decor. After July 2005, references in classifieds to Baby Dolls disappeared, though "Baby Dolls II" operated from 2005 to around 2007. From 2007 to 2010, it was "All Stars", another strip club (as per Google Earth Street View). A renovation to the exterior to the building preceded the next tenant (in 2012?), Scores Houston. In late 2018, Scores closed and was quickly replaced by Polekatz.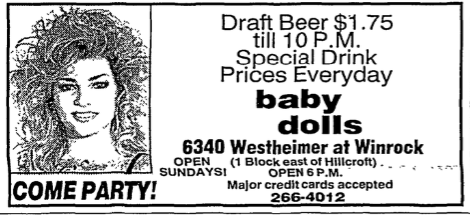 Ruchi's Mexican Grill / 6410 Westheimer Road
Ruchi's Mexican Grill, another formerly 24-hour operation (until around March 2020, now open until just 2am) on Westheimer, aka Ruchi's, aka Ruchi's El Rincon De Mexico Grill.

According to HCAD, the building was built in 1972 but by 1974 it was a new location of Northwest Savings Association, which gave away free jars of Smucker's jelly upon opening as a gimmick.

It's not clear when the location ceased being a bank, but it was a Schlotzsky's Deli from 1991 to 1999, and opening in December 2000 was the Millennium Cafe. "The eclectic fusion menu features sushi, Thai, lettuce wraps, and udon noodle soups", the Houston Chronicle reported, but it didn't last. Ruchi's has been in the spot since around 2002. It shares its parking lot with KFC.
KFC / 6420 Westheimer Road
A Kentucky Fried Chicken restaurant has been at this site since at least 1972. The building has been rebuilt since then.
Vivid Gentlemen's Club / 2618 Winrock Blvd.
From 1981 to around 2002, this was Caligula XXI, a strip club, and still holds some architectural features of its original tenant (false embedded columns on the side of the building, originally colored bronze), statues, etc. The fact that it was endorsed by Penthouse suggests a connection to a film Penthouse founder Bob Guccione produced, Caligula, an erotic film on the eponymous Roman Emperor, notorious for both his unmatched hedonism and cruelty (as well as nearly bankrupting the Roman Empire). An ad for Caligula XXI (also from the same HAIF thread above is here. "The Penthouse Club" (another Penthouse connection!) was here from 2002 to 2012, and Vivid has been here since 2012.
Water Mill Apartments / 6505 Westheimer Road
This apartment complex was built in 1965 as the French Quarter apartments and received its current name in 1987. Read more about it on the separate page made before the current format.
Hawaiian Bros Island Grill / 6522 Westheimer Road
For years (back to the 1970s), the intersection of South Voss and Westheimer had a gas station at the northeast corner, Dennis Mobil Service Center by name. However, in 2008, the gas station and service center was torn down (Mobil Services Center), but in 2014 construction went underway for Pollo Tropical, a Florida-based chain owned by Fiesta Restaurant Group (not related to Fiesta Mart), which opened in December 2014.

Despite offering a good product (in my opinion, although the Texas Pollo Tropical stores were not quite as good as my Pollo Tropical experience in Florida), Fiesta Restaurant Group decided that the chain wasn't working out in Texas and would close the unit in April 2017. Not too long after the Pollo Tropical restaurants were dead in Texas, Fiesta decided to convert it to one of their better-known brands, Taco Cabana. After being stripped of the blue-and-green décor for something more resembling a Taco Cabana as per the current store prototype, the store opened in early 2019. However, this was an even bigger failure than what Fiesta thought Pollo Tropical was, and it closed with 18 others, including the College Station location and Tidwell Road/Northwest Freeway in January 2020. The current restaurant opened sometime around December 2021, bringing a bit of island hospitality back to the store.


6545 Westheimer Road
This one caught my eye due to a large, overly tall sign for a jewelry store a few blocks away (research showed that it was originally a large electronic sign that was grandfathered in due to ordinance changes, and ultimately leased to Select Jewelers for a number of years). It wasn't related to the CVS (there at the time) or Dumpling King at 6515 Westheimer in the strip mall next door (there since at least 1991! It's got staying power...)

6545 Westheimer was most recently a CVS/pharmacy before closing in 2019 and built around 2005.

Before that, it was a parking lot for Pino's on Hillcroft (just south of it) as well as 2715 Hillcroft (Midas Muffler). Before THAT, the large parking lot at the corner of Hillcroft and Westheimer was Dunkin' Donuts (at 6525 Westheimer) and Taco Bell (6523 Westheimer). Dunkin' Donuts' last appearance in the paper (in ads) was 1987, and Taco Bell lasted until the mid-1990s.
---
SOUTH VOSS ROAD / HILLCROFT ROAD to SOUTH GESSNER ROAD
---
The Vitamin Shoppe / 7501 Westheimer Road
This opened in 2003 on the site of a Diamond Shamrock (1988-1999). The Diamond Shamrock replaced an even older station.
WESTHEIMER CROSSING
This shopping center was built c. 1995 and as a whole has the address of 7560 Westheimer. It was originally anchored by Albertsons (the first in the main Houston area) and Venture. Obviously, neither of those stores anchor the shopping center anymore.
I extensively modified
this slightly-inaccurate PDF
(now offline) into one of
my own creation that lists the tenants and their addresses
, which fills in places the other one doesn't. Some further information on current tenants is below.
The Taco Bell (7506 Westheimer) has had a Pizza Hut co-brand since at least 2007.
Collector's Firearms (7626 Westheimer) used to be a Barnes & Noble, which quietly closed around the end of 2018.
As the map implies, the Xfinity by Comcast (2616 S. Voss) store used to be Blockbuster. (Still has to do with watching television).
REI Co-op (branded as REI at last check, as the company was known for years until relatively recently) moved here in 2003, about the time the Katy Freeway location was forced out due to construction. It occupies half of the former 7530 Westheimer building (the other half of the building was taken by Linens N Things, now home to a DSW). The old tenant of 7530 was Albertsons, opening October 1995 as its first Houston (non-suburban) location, and closed in early 2002 (the other major Houston grocers had larger, better stores nearby). The former Albertsons is also known as "Westheimer Crossing II". REI's address is 7538 Westheimer today.
A 105,000 square foot Venture discount department store opened at 7600 Westheimer in 1995 and closed in 1998 after the parent company went out of business that year. (Kmart bought most of the Texas Venture stores in 1997 but this wasn't one of them). In May of 1999, it reopened as a Expo Design Center, a (now defunct) Home Depot concept based around home decor, and closed in the summer of 2005. In July 2006, a new Academy Sports + Outdoors opened to replace it. Academy doesn't use all the space, though, about 16,000 square feet remains vacant and up for lease.
Leaders for Life Martial Arts (7560C Westheimer) used to be Mattress One.
The McDonald's (7606 Westheimer) lost its mansard roof sometime around 2011-2012.
Raising Cane's Chicken Fingers / 7531 Westheimer Road
HCAD seems to indicate Raising Cane's merely renovated (and downsized) the old restaurant that was here originally in 1995, but it was opened as Raising Cane's in October 2006. It was only the second Raising Cane's in Houston at the time it opened. It served as Kim Son Restaurant from 1995 to 2005, and Pizzeria Uno from 1986 to 1993. Before that it was a J.J. Mugg's.
Prime Social Club / 7801 Westheimer Road
The oldest reference for this address was Howard Pool Co. (Howard Pools) from 1964 with another location in town, which by the early 1970s had a display pool model to show to potential customers. By the mid-1970s, Howard was part of the Anthony Pools empire, and by 1978, the Howard name was phased out in favor of Anthony Pools.

Anthony Pools (or, in at least the case of a few ads, "Anthony Spas", an alternate name of the business) continued to operate the shop until it changed hands in the early 1980s and became a series of pool-related shops, including Dolphin Pool Care (1983), Spa Master (1984), and Heartwood Spas (1985) but by 1991 the building was demolished and it was an outdoor lot serving as ABC Flowers, and all indications say this is what it was until the mid to late 2000s when it finally closed.

It took over three years to build the redevelopment, a shiny new upscale sushi bar and nightclub called "Fish & The Knife". The restaurant opened in February 2014 and closed in November 2014, with the nightclub portion lasting slightly lasting longer, but it too closed, ending Fish & The Knife's miserable existence. Churrasca Brazilian Steakhouse out of Lubbock opened in summer 2015 to replace Fish & The Knife, but it too failed, closing in 2017 (still more successful than the sushi bar) and the building finally assumed its current presence—the Prime Social Club, a "membership" poker club which works around Texas gambling laws (money required to sit at the poker tables, and the house can't take profits) to create a sort of Vegas-like experience on Westheimer.
Molina's Cantina / 7901 Westheimer Road
7901 Westheimer's first commercial use was back in December 1966 when The Gardens, a landscaping shop, opened. The grand opening special was a free jade plant, but less than a year later, The Gardens went bankrupt and was liquidated. The Godfather Restaurant & Club opened at the site in early 1973 serving Italian food. It too lasted less than a year. In August 1974 Adam's Apple opened.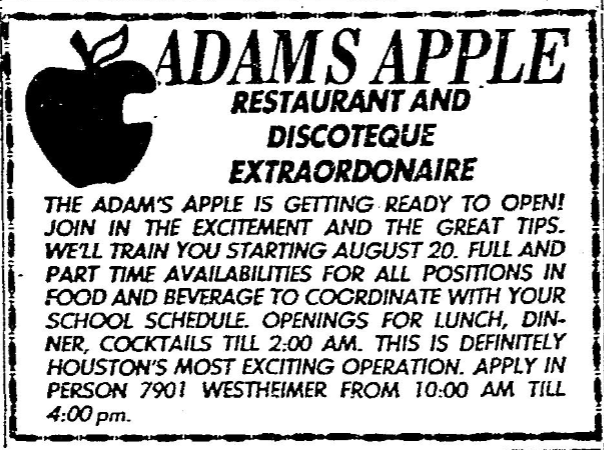 The logo of Adam's Apple looked a bit like a logo of a more famous company out of Silicon Valley; however, this company was still a few years away from being founded. It also was short-lived (closing around in 1975), with the next restaurant, Boston Sea Party, opening in 1976. Boston Sea Party was part of International Multifoods Corporation, a company that grew out of flour milling, and like its main competition Pillsbury and General Mills, had taken an experiment into restaurants. Boston Sea Party was more successful than anything in the space before, and lasted long after Multifoods announced pulling the plug on it. According to Wikipedia, Houston Business Journal reported the restaurant closed abruptly in December 1994. In 1995 Molina's Mexican Restaurant (now Molina's Cantina) opened at the site, moving from 7933 Westheimer.
7979 Westheimer Apartments / 7979 Westheimer Road
This apartment complex has been going under this name since 1997 and was built in 1971. In this linked article, you'll see the previously-written Carbon-izer article on the apartments and the decline the apartments went through before their current state today.

Old Farm Road's stoplight also is connected to an exit to 7979 Westheimer. The "southbound" lane into the apartment complex suggests it was not always an exit-only road.
Fogo de Chão / 8250 Westheimer Road
Opened in 2000, this upscale Brazilian steakhouse chain features all-you-can meat and spawned a number of imitators.
Walmart / 2727 Dunvale Road
Built as Wal-Mart #2066 in 1994 with a Sam's Club built adjacent to it (the buildings shared a parking lot), this store expanded to a Supercenter around 2002 with a physical expansion and rebranded to simply "Walmart" by 2011 with a new tan exterior.
Everly Apartments / 2827 Dunvale Road
Before apartments were here, this was a Sam's Club. It opened in January 1994 (per newspaper ads) alongside the Wal-Mart listed above, and in the mid-2000s the store's parking lot finally connected to the 1997-built AMC Studio 30 to the south of the store.

In 2008, the store was slowly remodeled (and officially reopened in August 2008) as "Sam's Club Business Center" (similar to Costco's Costco Business Center). It eliminated several consumer categories (optical, pharmacy, jewelry, apparel, tire and seasonal) in favor of expanded food and business-related options, but less than two years later, Wal-Mart Stores decided it was not in their best interest to continue operating the store, and it closed in January 2010. From 2010 to August 2015, it was a Garden Ridge (renamed to At Home in fall 2014). Within six month's of At Home's closure, the site had been leveled and the construction of the new apartments were well underway.
Guitar Center / 8390 Westheimer Road
See next entry for more information.
PetSmart / 8380 Westheimer Road
When Super Kmart was redeveloped (see below), the new redevelopment allowed for a few smaller stores that faced south. PetSmart (#1611) was one of them, which opened in fall 2006. Guitar Center was built in March 2010 in the other space, and had a later address, despite being chronologically before PetSmart in Westheimer's address ordering.
The Home Depot / 8400 Westheimer Road
Kmart built a "Super Kmart Center" here in June 1995 (which faced south), one of the larger stores at 180,000 square feet, though it did not seem to replace a store nearby. In 2003 it closed, and was torn down for a Home Depot (which faced west, opened 2005), while some other stores that faced south (Guitar Center, PetSmart) were built later. Super Kmart (and later The Home Depot)'s parking lot connected directly with the Dunvale Road stoplight.
Sonic Drive-In / 8404 Westheimer Road
Located just past the driveway into 8400 Westheimer, Sonic was opened in 2001 on an unused portion of Super Kmart's parking lot, and survived the redevelopment of the store upon its 2003 closure.
Target / 8605 Westheimer Road
For decades, the predecessor address here was a garden center, 8603 Westheimer, and the first one here was Spring Garden Center in 1967, which was renamed Gardenland by the end of the year. By 1973, Gardenland (now stylized as Garden Land) would have five locations (8603 being the original location) and feature an elf mascot. In 1976, it merged with Wolfe's Nursery and became "Wolfe's Gardenland", and featured the elf mascot posing with Wolfe's wolf mascot.

As part of the Wolfe Nursery group, Wolfe's Gardenland was later rebranded as Wolfe Gardenland by 1981 (no word on the actual signage of Westheimer's location) and the elf was gone, and by 1984, it was simply Wolfe Nursery. In the mid-1990s it closed, possibly at the end of the 1994 season, and by 1995, was Rainbow Play Systems (which had three locations in Houston, all of which are now gone, and only a location on Beltway 8 continues to sell the product). The Brookwood Garden Shop (a non-profit disabled adults group) also occupied the space starting around 1999, with Rainbow continuing to operate shortly afterwards. By this time, the vast greenhouses of the original garden center were torn down, leaving much of the space underutilized.

Around 2004, Brookwood stopped operating here and in July 2006, Target (T-2139) opened here. The space where the retail part of the greenhouse was is now restaurants, including Krispy Kreme and Chick-fil-A.
Krispy Kreme / 8611 Westheimer Road
Arby's opened here in 2008 but closed in early 2015. It was quickly replaced and reopened with Houston's first Krispy Kreme (the return, at least!). The actual address of 8611 was originally located just west of here at was is now 8571 Westheimer.
8571 Westheimer Road
Despite being a somewhat out-of-order address (it should be in the 8600 block), this small strip center includes Castle Dental, Eskimo Hut, and Nails Life Studio. The latter were vacant for most of the 2010s, though an AT&T store was here in the early days of the strip center, built in 2008. (The AT&T store closed in the early 2010s).

However, from late 1972 all the way to summer 2005 (and demolished within three months), was the original 8611 Westheimer, the home to Old San Francisco Steak House, an 1890s-themed steakhouse. While the chain had its rise and fall, opening and ultimately closing a number of restaurants in other major Texas cities, the original San Antonio-based restaurant still lives on.

Old San Francisco Steak House also gave out Houston tourist maps (similar Dallas maps are known to exist). Some of the (now gone) businesses around the steakhouse are covered in this very document, including BancTEXAS, documented below.
88twenty Apartments / 8820 Westheimer Road
Originally known as "West & Fondren" when it opened in 2016, this large apartment building replaced two smaller, older buildings. The first of these was a bank. The earliest reference I can find for the "original" 8820 is mention of a bank robbery at Great Southern Bank in 1972, with the bank opening in 1970. By 1983 it was BancTEXAS, which not only expanded the building but survived the oil crash, and in 2000, it became First Bank, which had acquired BancTEXAS. In 2010, First Bank sold the Texas branches to Prosperity Bank. In 2013, Prosperity Bank moved to a new location at 7950 Westheimer, and in 2014, the building was torn down for new construction.

Also torn down for new construction was a restaurant at 8816 Westheimer. Night Hawk Restaurant (also stylized as "Nighthawk") was the first restaurant here in 1972, part of one of Texas' oldest chain restaurants (the last location, later in business as "The Frisco", closed in 2018). Around late summer 1979, Night Hawk closed and the space became "Donovan's" (ad copies mentioned it was a sister restaurant to Harrigan's at 2702 Kirby). By May 1980, it was closed with another restaurant, Cafe Sweetwater (Sweetwater Restaurant) opening in October of that year (a Houston Post article alludes to a "fun sort of hamburger place" after Donovan's, this was likely it). In 1982, it was a second location of Monument Inn (the original location still operates near the San Jacinto Battleground). Owner Richard Tanenbaum then closed the restaurant and reopened it on May 25, 1984 as an original concept, the Atchafalaya River Cafe.

In 1993, RioStar (owner of Atchafalaya) sold the restaurant to Landry's and the restaurant became a Landry's Seafood House (the 14904 North Freeway restaurant was not sold, but closed later). (As an aside, the thumbnail for our U.S.S. Lexington page is an advertisement for the Corpus Christi location, which still exists).

Landry's Seafood House closed in September 2013 when the lease was lost. It too, was torn down for new construction. The signage was later moved to Sparkle Signs' backlot, where I found it behind a fence in this January 2015 picture. (Its status is unknown today).
1st Choice Automotive / 8903 Westheimer Road
Until the early 2000s, this was an Exxon gas station, with it appearing to lose the gas in the early to mid-2000s with Markantonis Automotive (the canopies remained until 2009). It has been 1st Choice Automotive since at least 2007, and in 2009, removed the gas canopies.
8910 Westheimer Road
This was likely built as a Church's Chicken in the mid-1960s and became a Kentucky Fried Chicken in 1982. In the early 1990s it closed and became Window Magic in 1992 (curtains and draperies) before closing in 2011, though the window treatment shop still resembled a former KFC. In March 2012 it reopened as Del Taco, which was supposed to bring dozens of Del Taco stores back to the Houston (and greater Texas) area, but it closed in May 2015, with the Dallas stores going soon after.

The restaurant was renovated and reopened as Golden Chick (the third fried chicken to go in the spot, and arguably the best) in 2016, but it closed in 2019. 2020 brought the opening of 7 Leaves Cafe, a milk tea shop out of the California area, but by the end of 2021, it had also shut down.

One wonders what it might become next.
Public Storage / 8989 Westheimer Road
This basic three-story office building from the 1970s was wrecked around 2017 for a large Public Storage facility.
9041 Westheimer Road
This motel, tucked behind a strip mall, was built in 1982 and originally went under the name Park West Motor Inn before getting the Comfort Inn branding in 1984. In 1994, it flipped to Days Inn & Suites, but between December 1998 and February 2000 returned to a Choice Hotels banner, this time Quality Inn & Suites, which it still was as of early 2011. By 2013 it became Econo Lodge Inn & Suites, and another stint from fall 2015 to fall 2019 as "Galleria Inn & Suites", the motel rebranded as OYO Hotel in fall 2019. It changed hands again in August 2021 (still branded as OYO, though it might've closed). As of late 2021, it's branded as "VUE Hotel" but it doesn't seem to be open by open by any sources.
9235 Westheimer Road
This lot holds a Starbucks (opened in March 2014) and Swish Car Wash, the logo of which looks a lot like Cingular Wireless, the predecessor of today AT&T stores. It takes up half of the space (and the address of what used to be Westheimer Park Apartments, demolished in 2009.
H-Town Food Truck Park / 9300 Westheimer Road
This was last used as Mr. Brite Car Wash & Express Lube, with the last advertisement in 1998, and demolished around 2005. It has been rebranded as "H-Town Food Truck Park" though has no facilities and is mostly empty.
Happy Teahouse / 9310 Westheimer Road
An Asian tea house that originally housed an Arby's restaurant back in 1988, though Arby's had been gone for years. As of 2007 it was Pollo Feliz, then by 2017 became Agu Ramen (or "Agu: A Ramen Bistro"), and by December 2018 had become Happy Teahouse.
Avis Budget Group / 9330 Westheimer Road
This was branded as Budget Car and Truck Rental until the early 2010s when it gained the Avis co-brand on the store. This wasn't a recent buyout, the two companies had been together since 2002 when Cendant Corporation acquired Budget Group's assets, with the Avis Budget Group having been adopted since 2006 (the same year this facility opened) after Cendant spun off its other businesses to focus on car rental.

Your Storage Place / 9333 Westheimer Road
This self-storage center, known as Your Storage Place since at least 2007, has a large, blue sign shaped like a key.
Chuy's / 9350 Westheimer Road
The earliest reference I can find is Pier 1 Imports buying the tract back in 1989 but I don't think they actually opened, instead Louisiana-based seafood restaurant Ralph & Kacoo's opened in February 1991. The restaurant stayed open around until the end of 1996, even as the Riverboat Gamblers played jazz every Sunday at the restaurant.

Water Street Seafood Co. opened in November 1997, a joint venture between Water Street Seafood of Corpus Christi and Luby's Cafeterias, Inc. of San Antonio. In less than a year it closed and was replaced by El Mirage, a Middle Eastern cuisine restaurant. Between November 2001 and March 2002, El Mirage closed and The Sands opened, a Mediterranean buffet restaurant. The Sands operated at least through to the end of 2004. A reference to "Royal Super Buffet" appears in 2007 while Chuy's opened in the summer of 2009, outlasting every other restaurant that appeared before it.

As for personal memories, I remember I was going to eat here with my cousins and siblings but decided the line was too long (turns out it was recently opened) and went further down Westheimer and ate somewhere else (I don't remember much of the restaurant that we actually ate that other than there was a large cut-out of then-President Barack Obama in the restaurant).
Diamond Modern Furniture / 9524 Westheimer Road
Pier 1 Imports opened here in 1990 with its distinctive brown-and-blue buildings, but closed in 2009. After a repaint of the front (but not the roof), Mattress 1 One operated here from 2013 to 2019. It is now Diamond Modern Furniture.
Lankamex / 9531 Westheimer Road
The building currently housing Lankamex (aka Lanka-Mex) was built in 1975 as per HCAD but it was a UtoteM in 1970, and the aerial photos show that the "original" building (built sometime around the mid-1960s) is the same shape as the current building.

In 1979, it was the newly opened "Soapsuds Sawdust & Scents", featuring "soaps from around the world, candles, and gifts; largest selection of soap dishes in the city". Sometime around 1980 or 1981, SS&S closed and by September 1981 it was 74 Ranch Beef, a specialty meat market. In 1985, 74 Ranch Beef closed this location and it briefly became Window Tint U.S.A. before ABC Video, an "adult video movie" store (as in, pornos) opened.

Sometime around 2013, ABC Video was replaced with another store, High "N" Dress, which was more of the same, a "smoke shop" selling everything from vaping products to sex toys, as well as body piercings and tattoos.

In 2018, Street View showed the "lingerie" part of the sign was removed, with the store advertising tacos through interior signage, but still with "Smoke Shop" and "Piercing" on the outside, and while the High "N" Dress signage remained, a smaller banner for Lanka-Mex was added near the ground, featuring Mexican and Sri Lankan grocery products.

The banner for Lanka-Mex read that they had the usual convenience store fixings (lotto, beer) while also advertised being a smoke shop, and the facade on the store removed "Lingerie" but left "Smoke Shop" and "Piercing". As recently as when this page was originally made, the store's website advertised "Tatoo (sic) Service". By 2021, all pretenses of it being a "smoke shop" were dropped, and the windows reflected this (check Google Maps Street View).

It's almost as if High "N" Dress was bought and then slowly legitimized later...
9535 Westheimer Road
This building has two tenants currently, Marco's Pizza and ACE Cash Express. The former is located in a Domino's Pizza (#6657, relocating from 9512 Richmond in 2001 and relocated to 9296 Westheimer in 2016), with Marco's arriving in 2017. ACE Cash Express came in-line in 2008.
McDonald's / 9601 1/2 Westheimer Road
Despite the strange "half address", McDonald's (3232) has been flipping burgers (figuratively at least, not since they introduced clamshell-style grills) here since 1991, and has been renovated since.
LA Fitness / 9603 Westheimer Road
From 1958 to 2008, this was the home of Westchase United Methodist Church with the first building being built in 1960 and the sanctuary coming in 1964. At the end of 2008, the church was sold to developers, and by early 2011 the building was leveled, with LA Fitness coming in by 2012 in a new building (and integrating the parking lot with the then-former Borders).
Randalls Flagship / 9660 Westheimer Road
The "original" tenant here was Handy Andy, which opened here in 1973 but sold its stores to Randalls when it exited the area. As with other ex-Handy Andy stores, Randalls upgraded the store to a "Flagship" Randalls store, and the old logo (where the word "Flagship" was emphasized over Randalls) was here as of 2009.

Sometime in the late 2000s or early 2010s most of the shopping center was torn down for redevelopment, with the buildings in the back replaced for a new apartment building and a new Randalls store.

Safeway DID brand it as a "Randalls Flagship" when it reopened around 2011 but by that point the name was meaningless. Since then, this is now the "headquarters" of the Houston-area stores after the main Houston division (which also included the Louisiana Albertsons) consolidated with the Southern (Dallas) division a few years ago.
Tesla / 9633 Westheimer Road
The reason this is after the Randalls is because the Randalls appears on the right before this building appears on the left.

The earliest reference I can find for this building is Houston Jewelry & Distributing, and despite its name, appeared to be a retail store with sporting goods, electronics, and camera departments, from 1973 to around 1993.

In 1994, this became Borders Books & Music (doing a major facade upgrade at the same time), which lasted up until January 2010 (ahead of the chain's demise). It served as "Rug & Decor Outlet" for a while (at least through 2016) before that closed. It finally gained a permanent tenant again in August 2020 with a Tesla service center.
---
SOUTH GESSNER ROAD to BELTWAY 8
Check
this page
to go for South Gessner Road where this page connects to Katy Freeway and Northwest Freeway.
---
Lava Mediterranean Grill / 9705 Westheimer Road
El Torito Mexican Restaurant opened in November 1978 as one of the largest restaurants in the Houston area (318 seats). It was a chain restaurant owned by W.R. Grace (across four states) and featured murals and artwork in its restaurants, even if much of the food was inauthentic Tex-Mex. Sometime around 1986 (a 1988 review mentioned it was two years old), the restaurant (same ownership) was converted into Caliente, with a new menu ("Tex-New Mex", with blue corn tortillas among others), though the plug was pulled and the restaurant reopened as On the Border.

Houston Historic Retail shows the building and while the dates are a bit inaccurate surrounding El Torito/Caliente as of this writing, On the Border did close this restaurant sometime around very early 1995, with Churrascos' opening in November 1995.

In 2018, Churrascos renovated the building with new designs on the inside and private dining rooms for events, and as late as of September 2020 went through a menu refresh, going from "Churrascos Steakhouse & Seafood" to "Churrascos Mexican Grill" on September 15, 2020. Sometime in 2021, however, Churrascos closed permanently, with the new restaurant taking over by year end.
Benihana / 9707 Westheimer Road
Benihana has been in this location since day one. The restaurant (33rd in the chain) opened in November 1977 as Benihana of Tokyo (as the chain was known at the time) and remains open to this day.
Big Lots / 9795 Westheimer Road
Big Lots opened here in 2005 to replace a Kroger that operated between 1977 and 1999 (when it moved to 9919 Westheimer).
Pappas Bar-B-Q / 9797 Westheimer Road
This restaurant was originally one of the first Luther's Bar-B-Q restaurants, opening in 1977. Sometime around 2006 or 2007 it converted to the Pappa's name after the chain was acquired in 2005.
Kroger / 9919 Westheimer Road
This Kroger opened as "Kroger Signature" when it opened in September 1999 but toward the mid-to-late 2010s dropped the designation. The Kroger did not seem to feature the original "food court" with the (then) PepsiCo-owned restaurant brands (KFC, Pizza Hut, etc.) but it did have Huggie Land, an in-store daycare and (upon opening) the only Kroger in Houston to do so. Exterior-wise it looks like the College Station store, so perhaps the map on this page is practically identical.

Residence Inn by Marriott / 9965 Westheimer Road
This hotel opened in 1999 (behind the Kroger) by all indications. It has 120 suites on three floors, but parking isn't free despite being a surface lot.
Courtyard by Marriott / 9975 Westheimer Road
Like the hotel above, this is a three-story hotel with a similar number of rooms and also charges for parking.
Hilton Houston Westchase / 9999 Westheimer Road
This Hilton hotel opened in October 1980 as a Hilton under Westchase Hotels Corporation. 40 years in, it's still a Hilton.
Houston Marriott Westchase / 2900 Briarpark Drive
It's not directly accessible from Westheimer, but the full-line Marriott was originally an Adam's Mark. The Houston Adam's Mark hotel was one of the many developments built in Houston during the late 1970s, a time (since the 1960s) of prosperity, rapid growth, and a great deal of hubris. The Adam's Mark hotel, when it opened in 1980, was the third-largest hotel in Houston with over 600 rooms. The hotel opened in 1980 and included the Marker Restaurant, as well as a few nightclubs. Despite not being on a major road or freeway, Adam's Mark survived the overbuilding of hotels and even the dissolution of most of the Adam's Mark hotel chain. [See the article here, previously written]

The parking here is even more expensive than above.
Carillon Shopping Center / 10001 Westheimer Road
This shopping center deserves more attention than I can afford it right now, but it was built in the mid-1970s and while it's mostly vacant today (archived from here), it still has a few restaurants, including a Chili's (one of the first in Houston, back in the late 1970s), La Madeleine, Eggcellence Cafe, Masala Wok, and Outback Steakhouse.
West 8 Tower / 10205 Westheimer Road
Office building with 11 floors built in 1980.

That's about it for now. Westheimer Road west of Beltway 8 has fallen under hard times as of late, perhaps we can explore that in a future installment...
---
Return to the Main Page
|
Email
---
Copyright 2020 Carbon-izer.com, this site is not affiliated with any businesses listed here.