The Carlyle
5430 Westheimer Road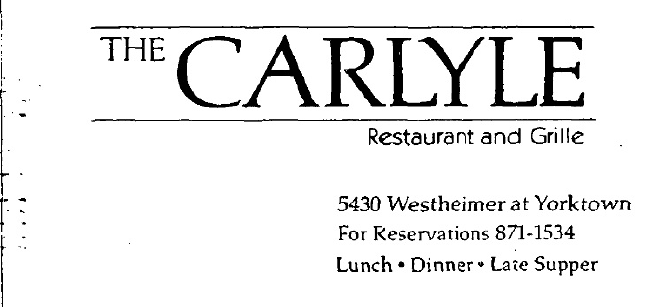 5430 Westheimer isn't visible from Westheimer Road, it faces Westheimer Court and is built basically on top of a parking garage. It opened 1983 as The Carlyle, a French restaurant designed by Valerian Rybar and it was...well, eclectic. About a week into January 1992, it closed and in the fall of 1993 it reopened as Cattle Kings Grill. With the opening of the new restaurant (serving "Texas cuisine" at a significantly lower price point than what the Carlyle typically had), it came with a renovation which altered or destroyed much of Rybar's work, including adding windows to the building for the first time. Cattle Kings Grill opened with an appearance by the Dixie Chicks and opened with a $100-a-person gala with proceeds benefitting the American Heart Association. In summer 1994 it was retooled as The Caramba Mexican Grill & Salsa Club; however, this lasted just a few months before folding for good.
It seems that perhaps without a major draw the building was not cut out for a restaurant space (it was large and two stories anyway, an awkward arrangement for any restaurant). In 1997, the building got a second major renovation and it reopened as the Houston Engineering and Scientific Society Club, a private events space. It closed for good in 2020 but I was able to gain a bit of the history from this Facebook link (which still works at press time but was unable to be archived successfully) and reproduced below.
WELCOME TO THE HESS CLUB
In 1915, three pioneer Houston engineers, all employed by the City Engineering Department, envisioned a club of "good fellowship where engineers might meet to discuss new ideas." This innovative idea developed and on June 14th, 1918, fifty engineers adopted the by-laws and elected officers to form the The Houston Engineer's Club. In September 1939, the Club was moved to the first floor of the old Hadley Exchange Telephone company building, 2615 Fannin Street, where it remained until January 1991.

In May 1952, the building was purchased and reconstruction began in May 1956. Wilson, Morris, Cain and Anderson Architects, and Spaw-Glass contractors performed the design and construction. In May 1957, the name of the Club was changed to The Houston Engineering & Scientific Society to more appropriately represent its goals and purposes. On May 1, 1958, the building opened and they held dedication ceremonies on May 17, 1958.

The HESS Club made its home for the past six years in the Great Southern Life Insurance company Building located on 3121 Buffalo Speedway. HESS moved from the Great Southern Life Insurance Building in late February 1997 to 5430 Westheimer, by the Galleria. Major renovations were made to the old Carlyle restaurant and the location was perfect. This was only the second move in the 80-year plus existence of HESS.

HESS is one of Houston's most elegant and luxurious setting for your special event. Beyond our main dining room, HESS provides Corporate Meeting Facilities and Outside Catering for your personal and business needs. More than 120 organizations choose HESS to hold their monthly meetings. Also, special events such as: Easter Brunch with Children's Egg Hunt, Mother's Day Brunch, Christmas Family Brunch, New Year's Eve Gala and our Annual Golf Tournament are just some of the many activities HESS offers to its members. Our intimate private rooms accommodate 10-350 people and up to 600 for the entire facility, for you Wedding Reception, Rehearsal Dinner, Bridal Luncheon, Anniversary, Birthday or Holiday Party.

HESS has reciprocals for golf, tennis and dining with several private clubs in the Houston area. The "Private Club Alliance" program extends this benefit to include Texas, the U.S., Canada and Mexico. You may use the facilities, and simply have your charges transferred to your Club account at HESS!
In 2022, it reopened as The Ballroom at Tanglewood, an events space without the ties to HESS.
---
Return to the Main Page
|
Email
---
Copyright 2023 Carbon-izer.com, this site is not affiliated with any businesses listed here.