The Galleria
5085 Westheimer Road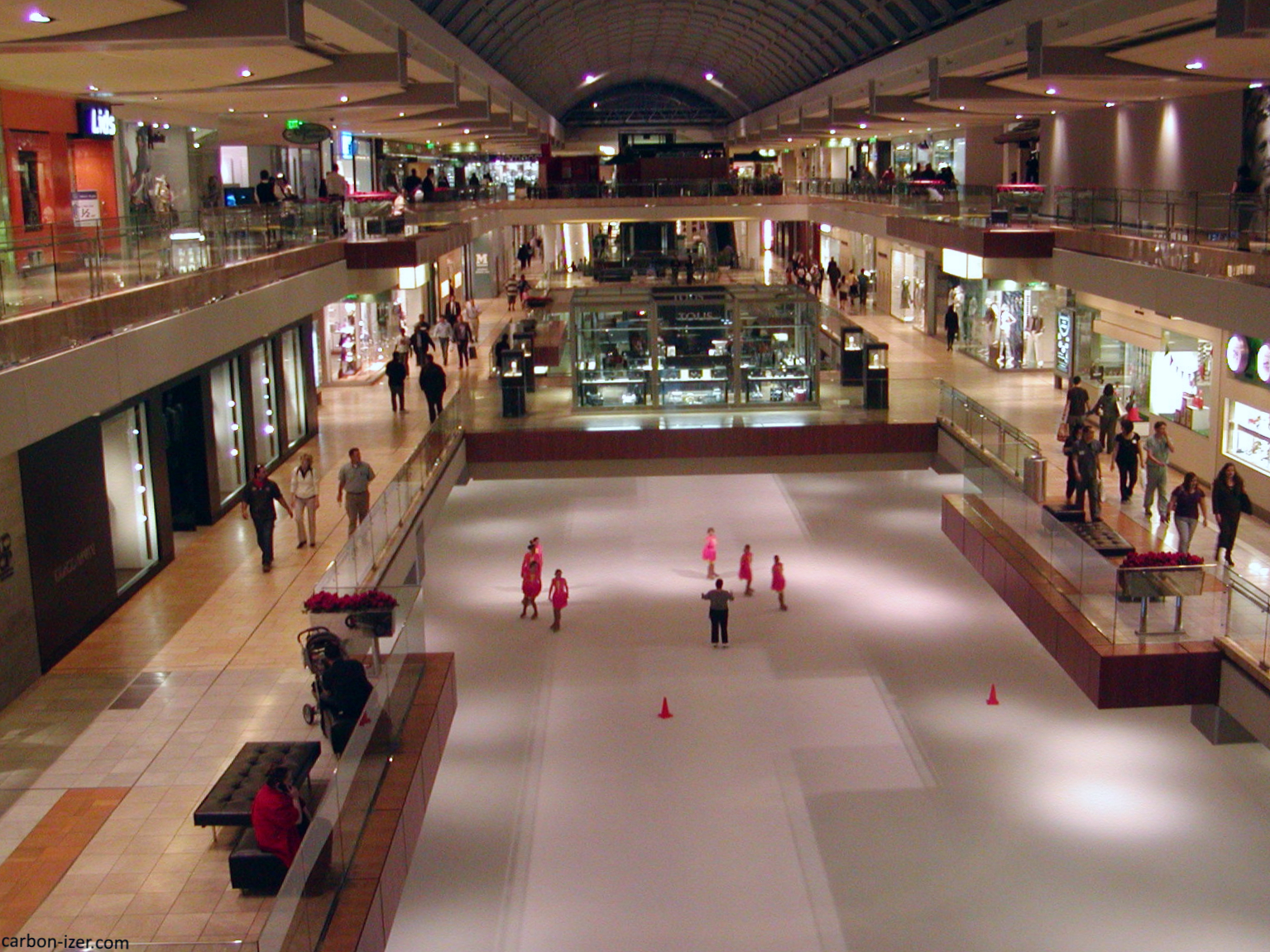 Author's 2008 picture
The Galleria is one of my favorite malls to visit and to research, and I mean it. It has a lot of things going for it...full anchors, interesting stores, a neat layout, an ice rink, and delicious restaurants. I first visited in 2003 (see the old page here).
In 1967, what is now known as Uptown was a growing neighborhood known as the "Magic Circle" (presumably the land bounded by Post Oak Road, Westheimer Road, Sage, and Richmond, but I don't know for sure), and that was the year "Galleria Post Oak" was announced (yes, Mall Hall of Fame was right all along) by Hines Interests, which would be a modern shopping center modeled on a European shopping arcade: Galleria Vittorio Emanuele II. The complex would feature a high-rise apartment building, a hotel, and a Neiman Marcus department store.
There was a lawsuit fairly early on involving a tavern at 307 Travis known as "The Galleria" suing the development, but obviously either settled, lost, or dropped it, as construction continued with the same name. The apartment building would become an office tower, Post Oak Tower, early in development, and the two-level Neiman Marcus store (stylized in those days as "Neiman-Marcus" until the apostrophe was dropped in 1988, though for simplicity's sake, I will refer to it as "Neiman Marcus" for the rest of the article) opened in January 1969, joining the Sakowitz and Joske's as the area's third upscale department store.
Post Oak Tower opened in January 1970 with one of its tenants being the locally-based Galleria Bank, which announced its opening with a stylized drawing of not only the tower, but Neiman Marcus, Joske's, and Sakowitz. In November 1970, the main mall officially opened, known by this time as "The Galleria" (or stylized as "theGalleria", which is still in use today) with 60 stores.
The mall was three floors and merchandised in a unique way that the management dictated tenant location. The restuarants and the "leisure time" activity stores (sporting goods, books, records) went in the lower level. The second floor was where the main fashion and impulse-buy stores were, and the destination stores were on the third level. This was a novel concept and later copied by other high-end malls, such as the Toronto Eaton Centre.
The lowest level of the mall featured an ice rink in the center of the mall, directly below the skylight, and the shops ringed around it. There were no entrances to the street or Neiman Marcus at this point. This level featured a two-screen movie theater operated by General Cinemas and a post office (the post office is still there today).
The street level of the mall is a long corridor that went from Neiman Marcus to the parking lot on the other hand (originally).
The "second level" also connected to Neiman Marcus but not at the same level, the department store is half a staircase up.
Finally, the 21-story luxury hotel component, the Houston Oaks Hotel, operated by Western International Hotels, opened in spring 1970.
One of the earliest maps I could find for the Galleria came from a book called Houston...Today I found back in college. The map can be seen on an old page of this website shown here. Note the third level's "mall-within-a-mall" holding art galleries and gift shops. I'm not sure when the map dates to, either the mall's opening or not too long after.
The Galleria was enough of a success that within a few years of completion, an addition known as "Galleria II" was underway. This would add another three levels of stores and services to the mall, though it did not fully connect to "Galleria I"'s floors, and had four floors, with the "Rink Level" (only in Galleria I), the first and second floors (both malls), and the third floor. It seems that the main anchor of Galleria II opened before the mall extension did. This "main anchor of Galleria II" would of course be New York-based Lord & Taylor. It was a time when the chain was first going outside its traditional New York/Northeastern base to open stores in Texas, Illinois, Michigan, and Georgia. It wasn't the first Lord & Taylor in Texas, NorthPark Center in Dallas would beat Houston by a few months and open their store first, but it opened in October 1974. The two level store was 135,000 square feet with the clothing departments on the first floor, and other departments (luggage, home furnishings, gifts, and other soft items) were on the second floor. Underneath the Lord & Taylor was another parking garage, which opened directly into the store.
Lord & Taylor apparently did quite well in the Houston area, and would quickly open two additional stores in the Houston area by the end of the decade, Memorial City Mall and Greenspoint Mall. In the early 1980s, a fourth store at West Oaks Mall was opened as well.
Unfortunately, this is also the part where the history of The Galleria gets a bit spotty, as archives of Houston Post, which tended to cover more of the business side of Houston, doesn't have online archives, and as a result, we don't know exactly when Galleria II opened. Wikipedia claims it opened in June 1977, but the opening of Lord & Taylor mentioned direct Galleria access. Additionally, a May 1977 article claims that a store called Let's Play Games occupied the entirety of the third floor (already by 1979, it seemed to be gone, with a Texas Instruments store taking up residence, for instance, and by 2003 the poor foot traffic caused it to be mostly entirely service tenants). Above the Galleria II was two office towers above the third floor, with suites looking into the enormous atrium that covered Galleria II.
In addition to Lord & Taylor and the retail space, a second hotel was built (opening in 1978), the Galleria Plaza Hotel (with 500 rooms), and Frost Bros., which anchored the south end of the Galleria II. It was substantially smaller than the hotel, featuring 32,000 square feet on two levels. With the additions, the Galleria covered 900,000 square feet of retail space. Other additions included a second movie theater (operated by the same company, with screens "III" and "IV"), which had, according to the grand opening of Galleria II (stylized as "Galleria 2", as part of "theGalleria"), had been "operating for some time", when the addition officially opened October 22, 1977. (Yes, I know this is different from Wikipedia, I'm using the actual newspaper as a source).
Frost Bros. officially opened its store in August 1978, which featured exclusive lines not found in any other Frost Brothers, like a full Cartier department (the first addition from Cartier in 55 years).
While Frost Bros. was hardly an anchor, the mall gained a true fourth anchor in 1979 with Marshall Field's, another department store up north making its debut. Marshall Field's opened its first Texas store in November 1979 in The Galleria. While the new store boasted top fashions and a great gourmet department, already it was in its decline. According to Department Store Museum, this is what was said about Marshall Field's during the time it entered Texas.
By 1979, cracks appeared in the once-lustrous veneer of the great store, when its remodeling program took on a lower-budget appearance on the flagship's upper floors, and its famous and widely-recognized logo was brutally, and most unattractively, truncated to "Marshall Field's" [from "Marshall Field & Company"] in what appeared to be a bizarre attempt to dumb down the famous store's traditions to attract more, or for that matter, any customers. It was during this time, too, that a number of failed Liberty House stores on the west coast came under the Frederick & Nelson banner, and Field's entered the Texas market with new, somewhat generic stores in Houston and Dallas.
The Marshall Field's in Houston featured a concave facade facing Westheimer Road designed by architect Phlilip Johnson, and in 1982, a near-identical store opened at the Dallas Galleria, also developed by Hines Interests. Two other Marshall Field's stores would open in Texas, including Town & Country Mall in Houston (1983) and North Star Mall in San Antonio (1986).
In 1981, the Galleria Plaza Hotel became The Westin Galleria (part of a larger Western International/Westin rebranding project) and in 1982, Houston Oaks Hotel became Westin Oaks Hotel. These names are still in place, even over 40 years later, and two changes of ownership (Westin was sold to Starwood in the mid to late 1990s, which in turn was sold to Marriott International in 2016).
The last addition to The Galleria for nearly twenty years was Galleria III, another addition that added onto the mall to the west, and was only accessed through Marshall Field's. New additions to Galleria III included The Forgotten Woman (an upscale plus-size women's clothing chain), Jaymar Ruby, Alexia, Hats in the Belfry (who doesn't love quirky mall store names?), Oxford Classics (clothing, not books), Donna Gray, Royal Silk, Corporate Woman, Mondi International, Carroll Paris, Benetton, BBCI, and Accente Accente Shoes.
Galleria III opened in September 1986, and by that time, the plummeting oil prices had caused a recession in Houston. Still, Galleria III was 70% leased upon opening (comparing to 99% of the rest of the mall) with Houston's fourth Macy's store opening, a 256,000 square foot store on three levels. The Galleria III did have upscale stores, but also more middle-market stores to try to dissuade the opinion that the Galleria was where the wealthy shopped.
When Macy's opened, it was part of the Macy's New York division, which had opened a store in Florida in 1983. Macy's also opened at Baybrook Mall, Willowbrook Mall, and Deerbrook Mall, so Macy's was hardly unique to the area...and by that time, none of the anchors were exclusive to The Galleria anymore. Lord & Taylor had stores at Memorial City Mall, Greenspoint Mall, and West Oaks, and Marshall Field's and Neiman Marcus both had second stores at Town & Country Mall. However, the Galleria would be better off than any other mall. The recession meant, effectively, that no upscale stores would enter Houston for a number of years, and any mall coming close to the Galleria would not happen.
To that end, the Bloomingdale's chain operated by Macy's, which had planned to enter Houston through an upscale mall near Greenspoint Mall, would scrub its plans, while also ditching a plan to open as the fifth anchor at West Oaks Mall. Lord & Taylor announced it would sell two of its Houston stores in early 1989 (Greenspoint and Memorial City), which closed in February 1989 and reopened as Mervyn's stores later that year. By May of 1990, The Galleria would hold the only Lord & Taylor in Houston as West Oaks Mall also closed its Lord & Taylor store in April. Neiman Marcus would not open any more Houston stores, and Marshall Field's, by this time owned by BATUS, stopped opening new stores outside of its core markets, with its parent company losing interest in operating retail.
Frost Bros., which had gained two new stores in Houston with the purchase of Battelsteins in 1980, but they closed in 1988 as the chain filed for bankruptcy (the River Oaks store lasted a little longer, but it too fell as Frost Bros. liquidated). During all this time, Neiman Marcus remodeled and updated, as did Marshall Field's.
In 1996, Marshall Field's announced it would close at the Galleria. This wasn't due to lack of business, but by this point, Marshall Field's was owned by Dayton-Hudson Corporation (known, of course, as Target Corporation today), which operated Target and Mervyn's stores nationwide. In addition to Marshall Field's, it operated two old-line department stores in the Midwest, Dayton's (primarily around Minneapolis-St. Paul) and Hudson's (in the Detroit area), serving as the company's namesake. Marshall Field's would retreat back to the Chicago area following the pull-out, and the chain was history a decade later. Saks Fifth Avenue stepped in to buy three of the four Marshall Field's stores in Texas (the fourth, in San Antonio's North Star Mall, was sold to Macy's, as Saks already had a store there). While the Marshall Field's at Town & Country Mall was renovated and reopened without a hitch (even if it closed a few years later), there was somewhat a kerfuffle as Saks was contractually bound to Pavilion at Post Oak, but they assuaged the situation with a "de-branded" Saks store (which lasted less than a year, and had to eat the lease break) while the "real" Saks Fifth Avenue opened in The Galleria in September 1997 in the renovated Marshall Field's building. (There was an access hallway that stayed for years connecting Galleria II to Galleria III, bypassing the Marshall Field's/Saks).
In early March, Macy's (owned by this time by Federated Stores, the former owner of Foley's), like Lord & Taylor before it, decided to sell most of its Houston stores, selling the Willowbrook Mall, Baybrook Mall, and Deerbrook Mall locations, and also like Lord & Taylor before it, the Galleria store was spared.
Galleria IV, a long-proposed addition to the mall on the southern side, began construction in 2001, connecting to Galleria II with a skywalk over West Alabama, adding 700,000 square feet of retail space, and two more department stores, a 250,000 square foot Foley's and a 225,000 square foot Nordstrom. The new mall wing opened in March 2003. The long-rumored Foley's was not quite the same as it had been in the heyday of the store prior to the late 1980s, it was still one of the chain's most respectable and upscale outlets. It was a new store and it did not move from either Sharpstown Center or Northwest Mall, both of which had profitable but aging Foley's stores in a mall going downhill. The Nordstrom, on the other hand, was Houston's first and only.
With Galleria IV and now six department stores—Lord & Taylor, Neiman Marcus, Foley's, Saks Fifth Avenue, Macy's, and Nordstrom, the Galleria became, officially, the largest mall in Houston. Before this, the only other mall in Houston that had six anchors was Greenspoint Mall, which at its peak boasted Sears, Dillard's, Lord & Taylor, Montgomery Ward, Foley's, and JCPenney, though since the late 1990s, only three department stores were still at the mall. Memorial City Mall also followed The Galleria with six department stores, though theirs was a bit more downscale. While both had a Foley's and a Lord & Taylor, Memorial City Mall had Dillard's, Target, Sears, and Mervyn's.
Unfortunately, the honeymoon of six anchors was a not long relationship, when Lord & Taylor announced it would close its Houston stores, by this time consisting of stores at Willowbrook Mall, Memorial City Mall, and The Galleria, and this time, The Galleria wouldn't be spared. Lord & Taylor ended up closing in early 2005, and by 2006, it had been converted into smaller stores, known informally as "Galleria V". This wing closed off the street-side entrance (but kept the parking garage), and added a few new stores and restaurants, notably Kona Grill and Oceanaire Seafood Room, as well as a two-story Borders Books & Music store.
In September 2006, as part of a much wider rebranding process across the country (and involving far more than just Foley's), the Foley's at the Galleria was rebranded as Macy's, giving the mall two Macy's stores. By this time, Macy's as a brand was much more downscale, but the rebranded Macy's at The Galleria was still considered quite nice. The older 1986 Macy's store was denoted as "Macy's at Sage" in mall marketing materials, but the former Foley's received no such moniker (no "Macy's at West Alabama") but both Macy's stores continued until 2014 when Macy's at Sage closed.
Macy's at Sage spelled the functional end of Galleria III. Galleria III had always suffered compared to the other wings. It was more dated than the other wings, in both storefronts and architecture, and was suffering major vacancy issues, with two of its largest tenants, FOX Sports Grill and The Sharper Image, gone for several years at that point. Demolition on Galleria III/Macy's at Sage commenced by the end of the year.
What ended up happening is that effectively, Saks Fifth Avenue and Galleria III switched places, and the "new" Galleria III simplified the floor plan quite a bit by having a direct mallway into the new Saks Fifth Avenue store. The Marshall Field's/Saks facade was altered to accommodate new restaurants that were in the new mall section, like Blanco Tacos + Tequila (see below). It wasn't a one-to-one flip, and a portion of the former Macy's store remains a raised slab above the parking decks. Even if a rumored residential tower is built there, it won't connect to the mall corridor directly.
Meanwhile, one of the other changes at the Galleria was that Borders became Forever 21 after Borders closed shortly before its 2011 collapse.
The main map I have scanned is my beloved 2003 map, which you can see here in glorious high resolution (it is a 17MB document).
Below is a list of stores (past and present) that I have specific memories and/or information of, which will continue to grow in future updates.

Apple - The reason of course we went to The Galleria in the very first place, and one of the only stores today to just have the Apple logo instead of any written text. Since 2003 (the store opened in September 2002 and later expanded in 2014). During the expansion (and also some point during 2007, another renovation) they had temporary stores.

The Apple stores in those days had a "theater" area in the back (though I may be confusing it in my mind with The Shops at Willow Bend, a store that opened in 2001 but visited about six months after the Galleria store) with soft spherical seating (Genius bars were on the side) and of course had far more computers (the last few times I've been in an Apple store I've been depressed at how their displays are now almost entirely mobile devices now).

The year 2003 had very different Apple stores than today. Same general concept and design choices, but more actual computers and the mobile devices were limited to what could now be considered primitive first-gen iPods and (surprisingly) Palm Pilots, including ones in color. A quick bit of looking up the models indicates that they were indeed true Palm Pilots and not made by the short-lived hardware licensee Handspring (which Palm later bought).

Since then, I've returned to the Apple store many, many times for business and pleasure, though I'm always a bit disappointed about how MUCH Apple as a company has changed...and it's not just how they changed from "Apple Computer" to just "Apple". (In the future, look out for our Classic Macintosh page on Carbon-izer!)
Bath & Body Works - My sister wanted to go here in my 2003 trip because she was looking for some lavender soap. They had none, but they did have soaps shaped like scoops of ice cream ($10) and their current promotion, all-natural body and bath essentials made of honey (this was back when Burt's Bees was still somewhat of a niche product). I remember the posters outside had mostly naked women with the naughty bits covered up with large honeycombs.
Blanco Tacos + Tequila - This restaurant opened in January 2019 in part of the old Marshall Field's space (occupying part of the facade), and I ate here in February 2020 with my brother. Tacos were a little more unique (and more expensive) than the typical Torchy's-style tacos (but more like Torchy's than taco truck tacos). I can't remember what I ate, but it had a slice of mandarin orange on it (a nice touch, even if those things are cheap) and my brother and I shared the tequila flight, which had three different tequilas aged differently. We agreed that the center one (aged, but not too long) was the best, the "young" tequila tasting more like unflavored, "moonshine" type ethanol, and the "aged" tequila was an overly strong, bourbon-like flavor.
Borders Books & Music - The late Borders opened a store here in December 2006 in a large portion of the old Lord & Taylor space. I visited this space on my 2008 trip and took a few pictures including looking down at the magazine racks and of the center staircase. It closed not too long before the whole chain went down in 2011 (probably 2010). After Forever 21 took over the space, the staircase gave way to a pair of escalators (inside the store!) and it added an exterior entrance.
Club Libby Lu - Club Libby Lu was located right next to the Apple store in 2003 and I remember just how bad it smelled with hair spray and other things just being able to smell it from four feet away. It's been gone for years (the chain closed down in late 2008), and frankly, any store that throws glitter on you deserves to go down.
Kid 'n Kaboodle - This was a toy store if I recall correctly (a display offering Yu-Gi-Oh! trading cards was in front). The store was strange as it was located under a stairwell and had a sloping ceiling (retail can fit anywhere, apparently).
Kona Grill - Kona Grill, one of the restaurants that took up residence in the former Lord & Taylor, permanently shut down in May 2019 following the bankruptcy of the chain. It's not to be confused with Kona Ranch Steakhouse, which I have written about before. The Houston restaurant, before it closed, had above-average reviews but the Fearless Critics guide (scan coming soon) hated it, saying everything for the most part was too sweet with little redeeming qualities.
Macy's - I never did go into the "original" Macy's (later dubbed "Macy's at Sage") before it closed but the Macy's here was originally Foley's when it opened (it converted to Macy's in 2006). While killing some time, my brother considered going shirt-shopping here, but I found that the quality of mens clothes here was extremely "off" for being a "nice" department store. Downy ski jackets that were hundreds of dollars with tacky designs on the back (but they were very comfortable) and some weird clothing that had the same thin, slightly stretchy fabric that women's clothes have (yet didn't seem to be mislabeled). One thing that Macy's DID add after buying out Foley's (after close to a decade) was a small café inside.
McDonald's - I remember in 2003 someone was having a wedding reception at the Galleria McDonald's, but for the most part, the restaurant (not be confused with the "Uptown McDonald's" which was sadly torn down and rebuilt several years ago) was not anything special. I rarely eat at mall McDonald's stores because in every mall that I've been to that HAS a McDonald's, there's usually something better (if familiar) or more exotic.
Peli Peli - One of the nicest/expensive restaurants I've ever had the privilege of eating at (January 2019), but ultimately just ate some lamb (with no leftovers). Here's what the facade looked like. I ended up getting lost on the way there due to some intense traffic and several missed exits, and then ended up on the roof of the mall somehow (don't ask). Dinner was good though, and the blue lighting is how my meal actually looked. More interesting than the lamb was air-dried beef biltong (actual traditional African food) for an appetizer. Think jerky but thicker, way better, and actually looking like real meat.
RadioShack - No real memories of this place today just that I stopped there in 2003. I can picture a generic RadioShack store in my mind, though, as one would appear in 2003.
Raising Cane's Chicken Fingers (#1470) - Raising Cane's says that this location opened in April 13, 2012. This location in 2003 was Electronics Boutique, a video game retailer that got bought by GameStop a few years later.
Toys 'R' Us - The "new" version of Toys 'R' Us opened here in December 2019 with one other store in New Jersey. At only 6,000 square feet and more of a "showroom" than the warehouses the real chain used to be, they never really took off (though COVID-19 sure didn't help) and closed in January 2021.
---
Return to the Main Page
|
Email
---
Copyright 2019 Carbon-izer.com, this site is not affiliated with any businesses listed here.