Post Oak Pavilion
1800 South Post Oak Road (Post Oak Boulevard)

Saks Fifth Avenue was the fourth department store in the Uptown area, following Sakowitz, Joske's, and Neiman Marcus. Construction began in 1973 by Saks themselves, or rather, Gimbel Brothers Inc. (of the now-defunct Gimbels department store of New York), and opened in 1974. By the time this happened, though, Gimbels (and by extension, Saks) was acquired by a subsidiary of British American Tobacco (BATUS), selling it to a British pension fund in 1977. Saks held onto a long-term lease that would last into 2008, a distant future from the 1970s. The outdoor mall was officially "Saks Center of Fashion" but also went by Saks Fashion Center or Saks Fifth Avenue Center. From what I could tell, the mall also had a lower level, as a movie theater operated by Loews (opened July 1974) had always been there as well. Other stores in the center in these days included Sahadi's Gallery, Courrèges Boutique, and Houlihan's Old Place.
In 1987, a renovation was announced for the property, which would remodel the center and add an enclosed wing in the front of the property, renaming it to Pavilion Saks Fifth Avenue (or Saks Fifth Avenue Pavilion), and by November 1988 the new wing officially opened with a lavish invite-only gala.
The new mall spared no expense, with glassy corridors, flagstones from Arizona used as flooring, the planting of ninety palm trees, fountains, mahogany handrails, and an underground parking deck. Despite Saks closing its only other attempt at expansion in the Houston (the small West Oaks Mall store, which opened in 1984) and a change of ownership for the department store chain (when BATUS sold it to Investcorp), the center rose to 90% occupancy by 1990. By 1992, the mall was already in trouble, with just one store operating on the upper level, and despite attempting to be the Houston version of Beverly Hills' Rodeo Drive, the pricey mall didn't attract many people, with retailers and customers alike choosing the Galleria, which was much larger and had a mix of upscale and mainstream stores. The Galleria had four department stores, the Pavilion just one.
In 1993, the theater changed hands to Landmark Cinemas, which hybridized the theater to show more independent films but still showed mainstream films; as the auditoriums were too large to get the intimate feeling of arthouse theaters. This theater closed in July 1995. That same year, the center was foreclosed on and new ownership looked to add more entertainment options to the mall, including a bookstore, restaurants, or a movie theater, despite the fact that the main movie theater at the Pavilion, by now the Landmark-owned operation (which was showing a mix of independent and mainstream films), closed in July of that year. Despite still featuring many ultra high-end tenants, the second floor was mostly empty, and the issue if Saks wanted to stay for the long term was a questionable one. By this time, the upper level was almost mostly empty and occupancy was now down to 70%.
A new name was bestowed on the struggling center, "Pavilion at Post Oak" in early 1996 to show the diversification of the operation. In August 1996, however, Marshall Field's announced that it would pull out of Texas (it only had four stores in the state) to focus on the Midwest, with the stores operating through the end of December. The buyer of these stores would be Saks Fifth Avenue which by this time as an independent company again. The only store that Saks didn't buy was the San Antonio store at North Star Mall, as Saks already had a store there. (It ended up becoming Macy's, and is a J.C. Penney today).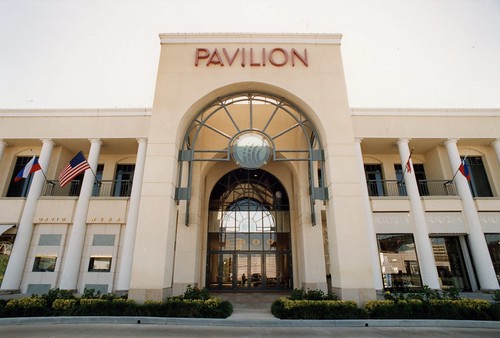 From unknown Flickr page, original not able to be found
Houston had two of Marshall Field's Texas stores, one of them being in Town & Country Mall (opened 1983) and one of them at The Galleria (opened in 1979). Since The Galleria was close to the Pavilion, and the Galleria was performing much better than the Pavilion, Saks announced that when the stores reopened in late 1997, the Pavilion store would close.
While the renovation of the former Marshall Field's at the Galleria was underway, the landlord of the Pavilion filed suit, claiming Saks' lease would last into 2008, and they couldn't sublease the store, convert it into a discount operation (the lease was written before Off 5th came into existence), or remain open for less than 2,000 hours a year. Within a few days, however, an agreement was made. On September 3, 1997, Saks at the Pavilion would close. On September 11, 1997, the new Saks at the Galleria would open at the former Marshall Field's, and on October 3, 1997, a new Saks-owned specialty department store would open with apparel, accessories, jewelry, and home furnishings at their former space in the Pavilion. This store, named with the rather generic title of "Fashion at the Pavilion", featured limited hours and a limited selection of merchandise before it closed in June the next year and Saks taking the hit on the missing ten years of the lease.
By January 2000, most of the mall (and the Saks) was empty, with only a collective 12% occupancy (Saks took up 40% of the leasable space) by Esther Wulfe, Hermès of Paris, and a few restaurants, with Cafe Express leaving the previous year. One bright spot in an otherwise dim future was the opening of Amazon Grill (before it left for a location on Kirby it would occupy for a number of years afterward), opening in mid-2000 in the former Cafe Express spot. As The Galleria boomed with a new wing beginning construction that would add Foley's and Nordstrom in addition to the four department stores it already had, the Pavilion struggled. The mall remained upscale and still hosted events, such as the Parish School's 10th annual gala in 2002, but in 2005, it was announced the mall would close for redevelopment. However, as late as 2007, events were still listed as happening at the Pavilion, such as METRO hosting a public workshop for the Uptown corridor.
The mall disappeared in phases. By late 2007, workers began to demolish the empty Saks store while a few of the stores like Hermès and Americas still remained opened, but by January 2008, only Hermès was left, soon moving to a building of BLVD Place right next door before eventually heading out for River Oaks District in 2015. The mall was wrecked between 2011 and 2012 without much fanfare, and surprisingly, still remains vacant today.
Articles from the Houston Chronicle that helped with this article:
"Saks Fifth Avenue expected to build wing at Post Oak store", Houston Chronicle - September 22, 1987
"Saks Fashion Center to expand", Houston Chronicle - September 23, 1987
"Mall pays price for exclusiveness - The Pavilion well-heeled but not well-patronized", Houston Chronicle (TX) (Published as Houston Chronicle) - JUNE 5, 1992
"Saks landlord files suit, claims breach of contract", Houston Chronicle (TX) (Published as Houston Chronicle) - August 19, 1997
"Marshall Field's says adios, Texas/Saks buying two Houston stores", Houston Chronicle - August 29, 1996
"Saks settles suit with its landlord by agreeing to open another store", Houston Chronicle (TX) (Published as Houston Chronicle) - August 22, 1997
"Retail war leaves share of casualties", Houston Chronicle (TX) (Published as Houston Chronicle) - May 17, 1998
"Tenant gap to bring sale of Pavilion - Redevelopment likely for upscale retail center", Houston Chronicle (TX) (Published as Houston Chronicle) - January 7, 2000, describes redevelopment
"Amazon Grill: good but inconsistent", Houston Chronicle (TX) (Published as Houston Chronicle) - June 30, 2000
"WHAT'S IN STORE - Boutique envy - Many high-end stores are new and improved", Houston Chronicle (TX) - January 13, 2008

---
Return to the Main Page
|
Email
---
Copyright 2019 Carbon-izer.com, this site is not affiliated with any businesses listed here.