FRY'S ELECTRONICS
Most of the actual retail I've visited on my family vacations involved different supermarkets, and however as much as they were a novelty, they were just supermarkets. One store, however, was different: Fry's Electronics. I thought that my brother wanted to go in a 2004 trip to Dallas because he liked computers and all (after all, it was his idea to visit the Apple store in the Galleria in Houston about eight months prior). I didn't know what to expect: we had both Best Buy and Circuit City at home, and they were neat but not really anything writing home about. Fry's was. Located at 700 East Plano Parkway, the store was 185,000 square feet, a huge palace that was not quite as big if you combined the local Wal-Mart and H-E-B, but pretty darn close.
While Fry's Electronics was only a small part of that trip, I kept the directory (as well as a bunch of other brochures from Dallas as well, including a tourist information that still had a map of Grapevine Mills, circa 1998...who knew that GameWorks from Yoot Tower was a real place? I didn't!), it ignited my imagination and of course I wanted one in my own hometown.
I was in 6th grade at the time, and I picked out what I thought was a perfect location for a College Station Fry's Electronics. It was to be within driving distance and the "regular rotation", just beyond the Wal-Mart, on fairly well-trafficked roads, but at the same time in an area that would be up and coming, deciding on what would be the northwest corner of Dartmouth Road and Harvey Mitchell Parkway, the former a road that was still about four years away from being built. Of course, I wasn't relying on fancy demographics/traffic data or even had Google Earth, if I did, I would've seen my proposed plot have a creek go right through it. Probably helps explain that even with Dartmouth fully built out today, it's still empty.
I don't think I made to a Fry's again until summer 2018, specifically, one in North Houston. By then, Micro Center was my computer store of choice (really everything a retail store should be...clean, well-stocked, interactive, with employees that dress well and like their job). I went once or twice that year and while I didn't think that it was ready to go out of business, it definitely felt run-down and emptier than it felt it should be. It wasn't BAD, necessarily, but it kind of reminded me of Sears about a decade ago, still alive and full of merchandise but going nowhere with its best days behind it. The creaking of the fake oil derrick without much people gave it a creepier vibe than it needed to be. It was clear that the store needed more people inside of it to really "work" but even the Christmas crowds (when I went closer to that time) weren't huge. The store did have a row of candy and snacks at the checkout aisles (one big line, you were called up when a cashier had an opening). They didn't just have the typical convenience store fare, they had rare candies like Annabelle's "Rocky Road" and a few others too.
I didn't see Fry's Electronics going out of business at the time but the idea of Fry's expanding at all seemed a prospect in the past.
In addition to a large hard drive I bought there, I bought a fold-out guide to speaking Spanish (I decided it was more practical than the Japanese one--I knew I wasn't going to play any untranslated games with ease anytime soon).
I suppose that with Fry's gone, it also means the last shred of their online business, which was also full of out of stocks in the last 12 months. I'm not sure if they always had an online storefront, or if it was only after they acquired Outpost.com in 2001. I don't have any memories of Cyberian Outpost. I'm pretty sure my dad and/or brother ordered from it since it had a sizeable collection of Mac merchandise (I grew up on Macs, and I'm not ashamed of it).
Here's my ONE Fry's photo from the I-45 location, June 2018, showing its theme (mannequins dressed as oil workers in the ceiling).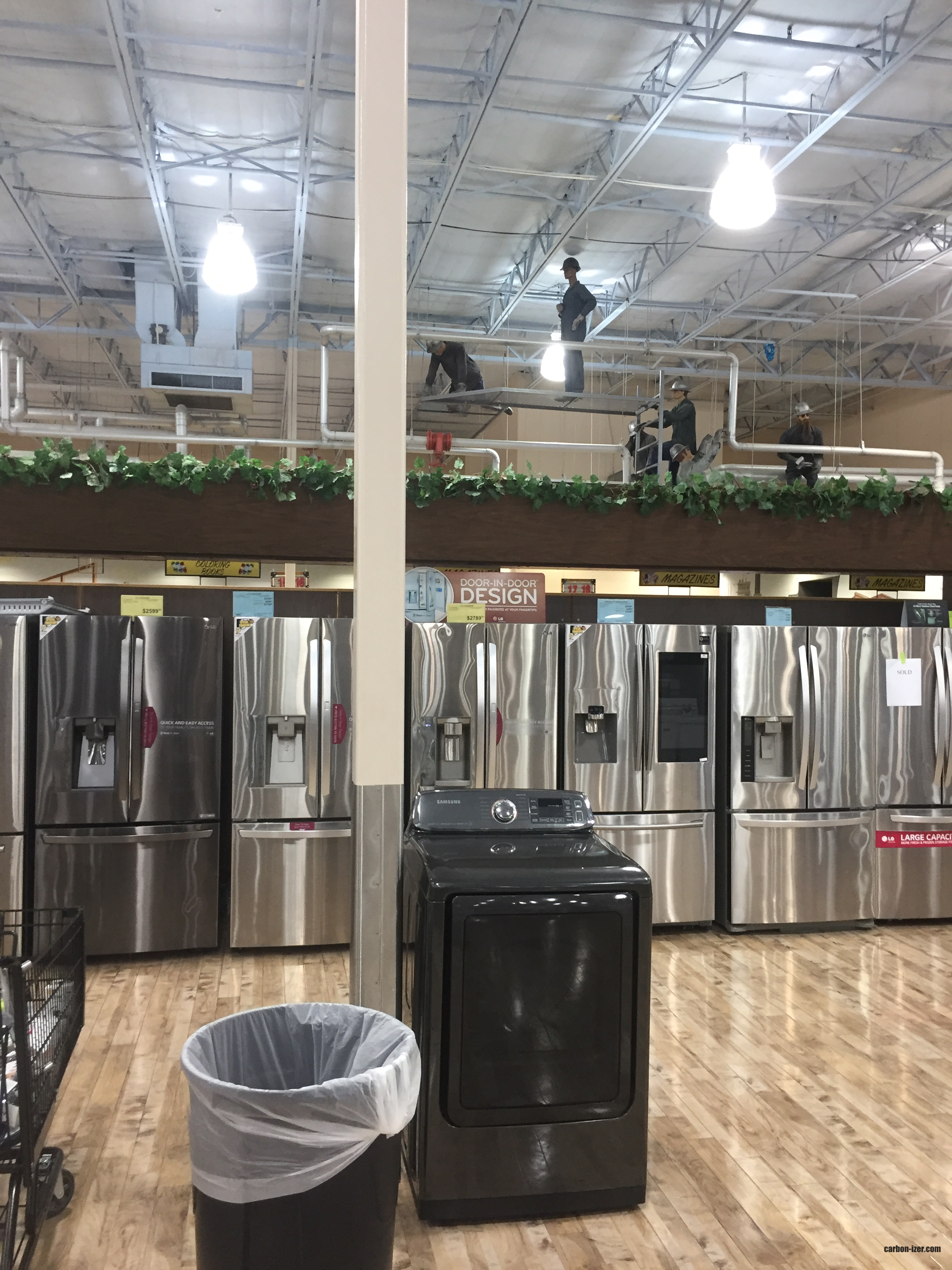 I do have some other neat stuff, though.
A video of that mock oil derrick moving and the loud noise it made.
Fry's Electronics directory in Plano from 2004, links back to my old blog.
Circulars: Back when the Houston Chronicle was halfway decent, they used to regularly put in 8-page Fry's Electronics circulars jam-packed with merchandise. Due to their size and poor condition, it would be impractical to scan these, so here's a few photos.

---
Return to Main Page
|
Return to Scans & Ephemera
|
Contact Me