In a way, this section of Northwest Freeway is heartbreaking. When I was a kid, Northwest Freeway kind of "snuck up" on the Houston area, with a good part of the freeway in Fairfield largely a divided four lane highway with grass fields on one side and a railroad on the other, which is likely what the other segments had at one time. Going even further back (late 1990s or early 2000), I distinctly remember that Northwest Freeway resembled a bit of Wellborn Road (a road in College Station which this railroad line also parallels), but I knew it was not. In those distant days, there were some entrance signs for a subdivision called Fairfield, but it was a ways off, and you really couldn't see it all that well from the road. It wasn't until the Beltway where things really started to cook and you knew that you were in Houston proper.
First, around 2005 or 2006, they actually completed the freeway, and soon started construction on a massive outdoor outlet mall which opened in spring 2008. There was also a sign just to the west to it for a new H-E-B store, all the way out there. In the end, the H-E-B opened a bit to the EAST of the outlet mall, and while not a "Plus" store, is a roomy, upscale store that opened in the fall of 2012. Then more and more things opened, including a Kroger Marketplace, many little shops, and another shopping center with Academy and the like. Today it's what Spring Cypress Road was 10 years ago and looks nothing like what it used to. Meanwhile, the freeway dramatically changed again, with construction undergoing on both sides to widen the road (again), and every year or two the freeway pushes out more and more.
But I cannot mourn the past, it's time to at talk about what is here and what was.
Almost everything from the existing blog has been gone over and updated, and like the original blog, has the addresses in reverse order heading into Houston. Version 1.0 of this page incorporates the existing blog and makes a number of updates, plus adds At Home, Starbucks (at Spring Cypress), IHOP (at Fry Road), 26321 Northwest Freeway, NTB (sort of), a few strip centers around Cypress Town Center (covered but not as their own entry), Texas Floors, Capital One Bank, Texas Roadhouse (at FM 1960), Johnny Carino's, Chuy's (at FM 1960), Bobcat of Houston, a Social Security office, As part of streamlining, future updates, and time concerns, it removes the McDonald's at FM 1960 (moved to FM 1960 page), Mo's Irish Pub (needs a full rewrite), Angel's Auto Care (behind the Best Buy), JCPenney, 24 Hour Fitness, Cypress Village Station, Exxon Coles Crossing (got merged), Randalls Distribution Center (demolished and needs a rewrite), buildings in the Gateway Northwest business park (near FM 1960), Academy (near FM 1960, needs rewrite), Lone Star Chevrolet (at Eldridge, needs history and rewrite), Phobia Haunted Houses (gone, had to integrate it with another entry), BreWingz (at Jones Road), Weikel's Woodworks, the Senate/290 buildings (demo'd), and several smaller strip malls I didn't want to try to go back and update.
H-E-B and all of its friends (taken February 2018)
Second Baptist Church - Cypress / 29900 U.S. 290
This megachurch with its roots closer to the Houston Inner Loop opened October 30, 2016.
Houston Premium Outlets / 29300 U.S. 290
I've noticed even from the highway a number of tenants have come and gone, which I probably won't cover here. The large outlet mall opened in April 2009. West Houston Archives notes that this was the historic site of Nine Bar Ranch.

It's located just south of Fairfield Place road, which I should bring up. The westbound freeway has its own exit for Fairfield Place, when the freeway was constructed around 2007 (originally). Good future planning if everything wasn't torn up within a decade...
29100 U.S. 290
A strip center built between 2008 and 2011. Already there have been a few changes. As of January 2019, the line-up (from north to south) includes Tomiko Japanese Restaurant (100), Glam House (110, a hair salon...as of the 1/19 aerial, it covers up the old signage, Paris Salon), 1st Care Dental (200), 3D Nailspa & Lashes (210 and now closed, probably a victim of state restrictions), "SmallCakes: A Cupcakery" (220), two vacant spaces (Memorial Floors at 250 and All Floors & More at 400), Sergio's Mexican Grill (500), State Farm Insurance (600), and H&R Block. This last one is actually "Suite A" and was originally Verizon Wireless prior to 2015.
Rooms to Go / 29060 U.S. 290
Opened in July 2016, I recognized this furniture store by its construction before the name ever went up. The Community Impact link mentions a full-line children's showroom area as well as the opening date.
Chick-fil-a / 28644 U.S. 290
Opened August 2014 if memory serves.
Taco Bell / 28638 U.S. 290
I'm pretty sure this opened in late 2013.
Whataburger / 28630 U.S. 290
Whataburger opened late February 2014 (and if not that, early March)
McDonald's / 28624 U.S. 290
One of the last restaurants in the stretch to open (around early 2015).
Academy Sports + Outdoors / 28616 U.S. 290
Opened sometime in late 2015. The first tenant in Fairfield Towne Center, the new strip center here.
H-E-B / 28550 U.S. 290


This large, 100,000 square foot H-E-B opened in fall 2012. This is not only big for an H-E-B store but big for a supermarket in general. It would precede a bunch of restaurants adjacent to it and continuing development perpetually occurring. The picture above is from February 2016.
---
MASON ROAD
Back when U.S. 290 was a divided highway here, a stoplight was placed here, though it was still considered dangerous it was the only light on 290 east of Chappell Hill (with no lights east of Mason Road) and it was difficult for cars to stop doing 70 mph (or above). Still, I have vague memories of the stoplight here, and I remember how it was cool that the railroad was obscured by a row of trees between the road and the railroad, giving a neat "railroad in the woods" effect that haunted my dreams for some years afterward.
Unfortunately, in January 2019, they began removing the trees, first by removing the limbs and branches, then the trees entirely. Ultimately, this was for an extension of Mason Road across the railroad tracks, which was under construction as of November 2020.
---
15050 Fairfield Village
The original home of the long since forgotten Fairfield Market, which opened here in spring 1992 (or late 1991), one of the first grocery stores in the Fairfield area. Ironically next to one of the newest supermarkets in the area (Kroger Marketplace), this store never did expand to 30,000 square feet or 40,000 square feet as hoped. At some point between 1996 (a confirmed time of when it was open still) and 2003 (when it was confirmed to be closed), a fire in the deli area shut down the store permanently. From 2010 to 2014 it briefly became home to My Father's House, a church, and after the Kroger and others were built it became a "supermarket" again, that is, a business called Pet Supermarket. A few other tenants are here, including Gambino's Pizza.
Kroger Marketplace / 20355 Cypresswood Drive
This large expanded-selection Kroger store (~115,000 square feet) opened in December 2015 based on the crowds but had its grand opening in January 2016 (officially).
Wendy's / 28060 U.S. 290
Wendy's opened here sometime around late 2016. I don't remember it because I wasn't really driving in the area during that time.
Fairfield Baptist Church / 27240 U.S. 290
Predating everything else in this stretch, this church was completed in August 1995 shortly after the Google Maps aerial was done. It later expanded with a larger sanctuary in the early 2010s after building a second building in the mid-2000s. For over 10 years since its original opening, it was the only thing on Northwest Freeway until Cypress Chase Boulevard had it not been for...
Metro Mini Storage / 27236 U.S. 290
...which opened in the early 2000s. This is the more "traditional" self-storage place with drive-up garage doors. It has expanded over the years.
Public Storage / 27214 U.S. 290
This opened in 2017, the same year as the extension of East Louetta Road to the freeway. Despite Louetta Road going (in theory) to I-45, the road abruptly ends at Northwest Freeway with just a right-turn only lane. PS is more of what self-storage buildings look like in the inner loop, a big boxy building with no windows.
Goodwill Select Store / 27140 U.S. 290
Opened January 2016. This replaced the donations-only storefront closer to Fry Road.
La Quinta Inn & Suites / 27130 U.S. 290
This hotel, badged as simply La Quinta, seems to have opened in 2016 based on real cars in the parking lot.

Christian Brothers Automotive / 27210 U.S. 290
Based on aerials, this either opened late 2012 or early 2013. (I know that the addresses seem out of order, but they're listed chronologically as they appear north to south)
27126 - Two tenants were originally in this strip mall (opened 2011): Lucky's Pub and "Cy-Fair Emergency & Imaging Center at 290 & Mueschke 24-Hour Emergency Care", one of these private "emergency rooms" that have been cropping up everywhere. I can't find when the emergency room left the site, but Lucky's Pub ended up closing around early 2017 and soon after Lucky's filed out of this location, replaced by Floyd's Cajun Seafood.

Buc-ee's / 27106 U.S. 290
Gas station opened late 2008. This is perhaps (one of) the last "traditional sized" Buc-ee's ever built. It has a car wash. A few years ago, Buc-ee's seemed to be selling off their smaller stations (similar to this one) to Stripes, but there's no action here yet.
Waffle House / 14201 Mueschke Road
Waffle House opened around October 2015, behind Buc-ee's.
---
MUESCHKE ROAD
Back in 2006, Mueschke Road (I'm not sure on the pronunciation, is it "mush-key"?) was a small two-lane road with...nothing, the first building being a church near the creek and then a Buc-ee's gas station with a car wash. The store isn't nearly as large as the one in Waller but it has fudge, Beaver Nuggets, and clean restrooms.
---
Cracker Barrel / 27040 U.S. 290
This Cracker Barrel opened by late 2014.

Gringo's Mexican Kitchen / 27030 U.S. 290
The first in the restaurant row at the northeast corner of Mueschke and NW Freeway, opened in October 2011.
IHOP / 26301 Northwest Fwy.
This IHOP was built between 2006 and 2009.
Alicia's Mexican Grille / 26326 Northwest Freeway
Opened sometime around 2008 on the northbound and is often seen emitting smoke from cooking. It certainly looks like it smells good, and I do think I caught a whiff of it once.
26321 Northwest Freeway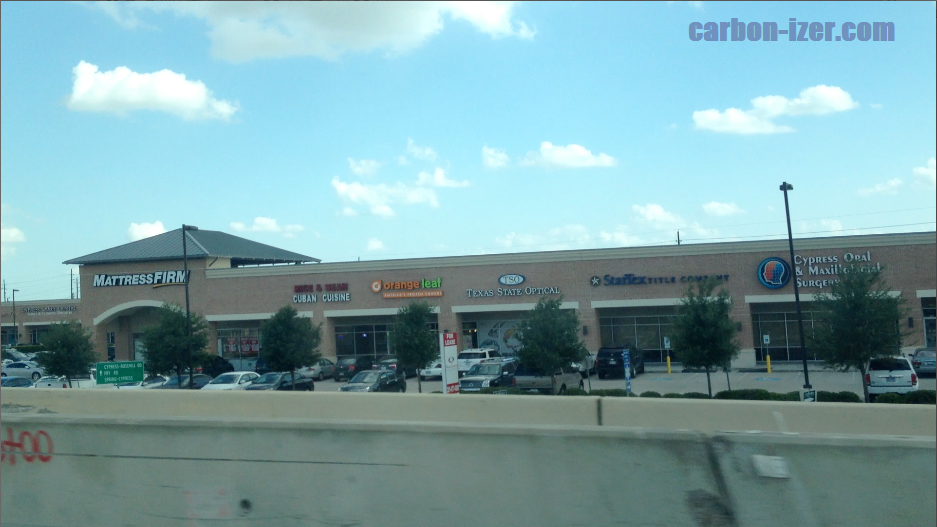 This was the first strip center of the Fry Road area on the southbound side when photographed (taken from a video, actually) in 2014 and composes one of three shopping strips in the "Shoppes at Fry Road", which is the area bounded by Hempstead Highway (the older highway next to the railroad), Northwest Freeway, and Fry Road. You can see the PDF that accompanies this page here (originally from this source).

For some reason, the PDF doesn't actually map out the building between IHOP and this one where Aqua-Tots Swim School is. From right to left, there's Shipley Do-Nuts (#800), a vacancy (#750, the PDF still shows it as Goodwill but the store, previously just a donation center, was replaced by the newer location listed further up a number of years ago), Cypress Oral & Maxillofacial Surgery (#700, I do love the Peignot typeface), Allegiance Title Company (#600, formerly the home of StarTex Title Company though I can't find when it changed hands), Texas State Optical (#500), Orange Leaf (#400, frozen yogurt, the PDF indicates that the business idled for a bit as it changed hands...I can't find when this happened but if it did it was prior to December 2019), Rice & Beans Cuban Cuisine (I can't find a suite number for this one, but it's been here at least since 2014 and is between 300 and 400), Fresenius Medical Care (#300, formerly site of MattressFirm), C&J Tailor (#200, this looks to have been vacant for a while), and Century 21 (formerly Cornerstone, and before that Stewart Title...but I may have some of the chronology switched around).


Raising Cane's Chicken Fingers / 26302 Northwest Freeway
The website of Raising Cane's says that this store opened in November 2011. If only more businesses had pages like that!

---
FRY ROAD / CYPRESS ROSEHILL ROAD
When I first wrote this page on Carbon-izer, I mentioned that back in May 2013 this was when construction REALLY started and when things start getting rough in terms of traffic. This later became different as traffic was pushed back to Mason Road and eventually construction starting at Buc-ee's (in Waller). I'm not one to post construction updates but for a time (2015-2017) was straight up miserable as the once-wide freeway in the "Outer Parkway" went from a basic semi-rural freeway with a concrete barrier between two lanes with inner and outer shoulders to a dizzying nightmare with four lanes crunched into what was once two lanes and two shoulders just to add another lane (which you can't even drive on--you drove on the old shoulder). Long before it stopped updating completely, West Houston Archives stopped covering construction partially because it got worse and worse--nothing like trying to keep yourself from going into another lane in a narrow, squiggly highway going at 70 mph (especially around FM 1960). It is better now.
---
Walmart / 26270 Northwest Freeway
Originally badged as Wal-Mart Supercenter and opened in May 2004, this has since been rebranded just to "Walmart" (around 2011) and received interior updates since then. It has a McDonald's inside.

Panda Express / 26230 Northwest Freeway
Panda Express opened May 2012 in Walmart's parking lot.
Sonic Drive-In / 26044 Northwest Freeway
Sonic opened sometime around December 2003 or January 2004, based on aerial images.
Whataburger / 26040 Northwest Freeway
Whataburger probably originally opened in late 2003. It kept its original blue accents until the early 2010s when it was excised from the chain.
Hobby Lobby / 26060 Northwest Freeway
Hobby Lobby sits behind Whataburger and opened around the time Sonic and Whataburger did.
The Home Depot / 17928 Spring Cypress Road
The Home Depot opened (probably) in 2003.

Lowe's / 14128 Cypress Rosehill Road
The Lowe's opened around 2006.
Panera Bread / 26003 Northwest Freeway
Panera Bread opened in the Lowe's parking lot no earlier than fall 2012.

Arby's / 25957 Northwest Freeway
Arby's has had a few new openings in the suburbs since the last time this page got a main update, but it's extremely rare in the more metropolitan areas of Houston, with only three left inside of Beltway 8 and completely extinct in the Inner Loop.
SPRING CYPRESS ROAD
There's a lot to take in to begin with, and so much in-fill. To make things a bit less confusing instead of jumping between the two sides of the freeway, there are two major shopping centers, Cypress Town Center and Cy-Fair Town Center, and the stores around them.
CYPRESS TOWN CENTER
The shopping center on the south side is Cypress Town Center, which opened around 2005. The PDF is permanently linked
here
. Going along the front, restaurant-focused area, we have the following:
Capital One Bank / 25907 U.S. 290
This bank opened as Hibernia National Bank before its 2006 merger with Capital One.
Chili's / 25825 Northwest Fwy.
Opened by spring 2005.
25845 US-290
This has three tenant spaces, Five Guys, Massage Heights (previously "Jack's Carpet: The Super Floor Store prior to 2013), and a vacant space (former Sprint store).
Chick-fil-A / 25835 US-290
Taco Cabana / 25955 Northwest Freeway
This Taco Cabana (here since 2005-2006) was originally 24 hours (as the chain famously was) but later was open only 6 am to 1 am, and that was BEFORE the coronavirus panic. Now it closes at 10pm, and might end up closing.
Spring Creek Barbecue / 25831 Northwest Fwy.
At one time, Spring Creek Barbecue represented just one of the many things that made Houston a more unique place with unusual restaurants (heck, even the Chick-fil-a near it was semi-exotic, as at the time it was built, only one stand-alone CFA existed in town, and that was nine miles away from my house). Anyway, I did finally eat in spring 2013 with my family and cousin. It's okay, and is a hybrid buffet-type place (unlimited rolls, limited meat). Here's a shot from the front of the restaurant looking out, taken April 2013 (it is very blurry).
NTB-National Tire & Battery / 25827 Northwest Fwy.
25823 U.S. 290
This strip center has Leslie's Pool Supplies (acquired Warehouse Pool Supply in 2013), Kolache Factory (replaced Quiznos), Castle Dental (originally opened in December 2007), and was never Bright Now! Dental (the companies merged in 2004, prior to completion of the center).
Starbucks / 25615 U.S. 290
This Starbucks Coffee opened in November 2007 according to StarbucksEverywhere.net.
The shopping center's smaller stores have changed around since 2006-2007, with the changes to the larger stores more recent. A few of these stores have gone out of business chain-wide (I'll leave it to you to figure out which ones) but in the older blog version I did cover a few of these.
Target / 25901 U.S. 290
T-1894 opened in October 2004 (source). I read somewhere that the Target was originally supposed to be a Mervyn's when it was planned out in 2003, but the Target's opening soon in 2004 soon after Mervyn's spun off suggests otherwise. The Target got a "P-Fresh" update (with a graphic of fresh produce over the doors) around 2011.
Boot Barn / 25855 Northwest Freeway
Originally the space between Target and T.J. Maxx was just empty; Boot Barn opened sometime around 2014 (by that time, Boot Barn had bought Baskin's, a similar store back home).

Texas Floors / 25833 Northwest Freeway
Dress Barn took off for Fairfield Town Center, with the new store opened March 17, 2017 at the Fairfield Town Center (28802 Hwy. 290), but it wasn't Cypress Town Center left holding the bag when Dress Barn kicked it two years later.
CY-FAIR TOWN CENTER
The PDF I have permanently copied here is
found here
and appears to be from 2014 (has both Baker Street and On the Border, as they both co-existed at the time). It also has Sears Appliance Showroom listed, which has since closed, yet Sears' website shows it as a
Hometown store
, and it seems to be updated since the last two Sears department stores in the Houston area (and Texas proper) have closed. The PDF lacks one of my favorite strip center store names ever, "The Great Frame Up" (located at 17515 Spring Cypress Ste. F, is now closed, and spotted 2012-2013). Speaking of "spotted stores", there was a Philly Connection around here too (it had several stores along the U.S. 290 corridor), but we'll cover Philly Connection another time. One more thing to note is that the Kroger (sometime during or after expansion) dropped the Signature name and going from 62,000 square feet to 77,000 square feet. So, without further ado, the restaurants along the frontage!
Taco Bell / 17525 Spring Cypress Road
This Taco Bell first opened around sometime in late 2005. In 2017 it was renovated to a new prototype featuring the new purple-and-white logo.


25686 Northwest Freeway
Originally opened around 2006 as an On the Border, this was closed by August 2014 and soon torn down and replaced by a new build PDQ fried chicken restaurant (more along the lines of Raising Cane's than Church's) which opened in July 2015. The restaurant closed in 2019, ultimately being one of the shorter-lived restaurants in the corridor. As of this writing, House of Pies will open a location here by fall.
McDonald's / 25666 Northwest Freeway
This McDonald's featured a Playplace and a silver mansard roof when it was built in 2006. In January 2018 work began to remodel the exterior (and likely the interior too) to McDonald's current prototype.

Luby's / 25660 Northwest Freeway
This might be the last Luby's (that wasn't attached to a Fuddruckers) ever opened. Many of the older locations have closed and have not been replaced. The way things are going, it will probably be history by the end of the year.

Corky's Ribs & BBQ / 25618 Northwest Freeway
Originally TGI Friday's, which closed late summer 2013 after opening with the rest of them around 2006. From January 2014 to December 2017 it was Baker Street Pub & Grill. In September 2019, this became the second Corky's restaurant in the Houston area, serving Memphis-style pork barbecue rather than the brisket we all associate barbecue with.
Pluckers Wing Bar / 25310 Northwest Freeway
Opening years after the other restaurants, Pluckers opened here in May 2018. I ate here not long after it opened but I felt it wasn't much to write home about.

---
SKINNER ROAD
Between Fry Road and Skinner Road, it looks we've got a Matt Groening TV show character theme going, but Skinner Road only has a few items of note. It doesn't cross the railroad, though Greenhouse Road is on the other side. Should they be connected, it would add a relief route to Fry Road.
24500 Northwest FreewayBuilt c. 1979 by Texas Instruments, this building was spared the cuts in the mid-1980s, but closed in 1993. Hewlett-Packard picked up soon after for use as a call center but it closed sometime in the early 2000s, and in February 2007 it became the first new 290 park and ride since 1989. After a permanent park and ride facility was built next door, it remained empty again for a short while before 2010 when Sysco purchased it.
HW Range & Training / 24815 Northwest Freeway
Although it seems like an anachronism with every passing year and the continued development of the area, there's a shooting range called Hot Wells Shooting Range. Hot Wells has a natural lake, and I read it used to be a public swimming hole for a while. It's also one of the few unprotected crossings along 290, and if Greenhouse/Skinner goes across the railroad, the crossing would probably be closed, with access gotten from the expansion. Sometime around summer 2018, this became "HW Shooting Range" for reasons unknown. There's no official reason surrounding this, and the only reference I could find was this forum post which happened months after the fact.

At Home / 24340 Northwest Fwy.
Garden Ridge was never a part of Northwest Freeway, but its new incarnation as At Home has been since around summer 2019.
24324 Northwest Freeway
A strip mall building with four tenant spaces; built in 2007. I always found it interestingly NOT interesting, even though it had some unusual names, they were all in the same typeface (originally). These include Tru Tri Sports in suite 400 (now closed, it had its Grand Opening in March 2012 after opening in 2011 according to their website, and moved out in September 2016), Made Ya Smile Dental (that one always makes me grimace for some reason) in suite 300, First American Title Company in suite 200 (invisible from the freeway), and suite 100, which has Sandy's Hair Studio, and before that, Shapes Threading Studio (unless I'm wrong on the dates). As of August 2018, Suite 400 now has "Hammer & Nails" open, a "Grooming Shop for Guys". I'm not sure of any tenant changes past 2018.

Willie's Grill & Icehouse / 24326 Northwest Freeway
This chain restaurant opened sometime in 2010, in front of what is now At Home.
H-E-B / 24224 Northwest Freeway
A mega-popular H-E-B supermarket that opened in 2007, replacing a 1999 H-E-B Pantry (even though it had changed its name to simply H-E-B before closing) several miles away. It has a gas station outlot.
Chase / 24230 Northwest Freeway
Chase bank opened sometime after H-E-B (possibly 2008).
---
BARKER-CYPRESS ROAD
This is a bit of a weird intersection. The frontage road used to have a somewhat unique feature where the main frontage road would continue and bypass Barker-Cypress with the stoplights being on a "loop" that bulged outward. It also built up the frontage roads to build a bridge over the railroad. (This also used to be the case with I-10, sans a bypass frontage road, until the reconstruction). The "loop" still caused congestion, so a partial cloverleaf was added later (not until 2013 or so), to avoid a stoplight. Unfortunately, this all happened right before the entire bridge was demolished and rebuilt (I actually don't remember if it was demolished entirely and the structure is almost identical, but the bridge was partially rebuilt, and the columns don't show an obvious add-on). So much for convenience, huh?
---
Coles Crossing Shopping Center / 12312 Barker Cypress Road


This entire shopping center shares this address. Of note is the main tenant, Star Furniture & Mattress (opened 2019), which used to be a Randalls from September 2001 to June 2018. It was one of the last new-build Randalls in Houston ever built, especially as Kroger and H-E-B continue to march onwards, and in June 2018 closed permanently, ending the Randalls legacy on Northwest Freeway (the distribution center and Randalls' other store had already closed by this time). The fact that there is a former original SAFEWAY just two and a half miles away, shuttered (or at least built) around the late 1980s shows how lethargic Safeway was the second time around (and Albertsons, its new owner, isn't any better). The Exxon/Timewise gas station and convenience store opened in September 2018 following the closure of Randalls—this used to be the store's gas station and convenience store. You can see the PDF perma-linked (2019/2020 version) here, linked from this page. The picture above is mine from January 2015, when I visited the store (it had the "Lifestyle" renovation inside).

Here's some other pictures of the shopping center surrounding it, which is less visible from 290. (Jan 2015)
IMG_1915.JPG - Looking out at the first row of strips, looking east.
IMG_1916.JPG - Looking straight ahead. I was a bit surprised to see an Aggie gear shop in Houston. While these are a dime a dozen in my neck of the woods, it was a bit of a shock to see one here. Must be those graduated expatriates. (Later I found this closed just a few months later)
IMG_1917.JPG - I think these are directly to the west of Whoop U.
IMG_1918.JPG - Looking west. I didn't mean to take a photo of this woman, so I blurred her face out.
IMG_1920.JPG - Looking east, from the vantage point of the previous picture.

LA Fitness / 12304 Barker Cypress Road
LA Fitness is the other anchor of the shopping center. You can see it through the trees in my 2015 picture but it leaves out the distinctive facade.
Marvino's Italian Kitchen / 24002 Northwest Freeway
This restaurant opened early 2015.
Saltgrass Steak House / 23952 Northwest Freeway
This restaurant opened in August 2012.
Cheddar's Scratch Kitchen / 23948 Northwest Freeway
Chain restaurant "Cheddar's Casual Cafe" opened in 2011, though in 2016 it was rebranded to "Cheddar's Scratch Kitchen" as part of a chain-wide upgrade.
Texas Furniture Hut Showroom & Outlet / 23922 Northwest Freeway
This store opened in late 2011 or early 2012.
Brake Check / 23900 Northwest Freeway
Brake Check opened between October 2012 and October 2013. Given the plot of land was empty in October 2012 and the Brake Check further up near Beltway 8 was already shut down by April 2013 (I think it closed the previous fall with the others) I'm not sure if this Brake Check officially "replaced" that location.
Cypress Collision Repair / 23738 Northwest Freeway
This used to be a tractor dealership, Lansdowne-Moody Co., which opened in 1985. Of course, back then the area was very rural, and packed up and moved to Hockley at 32804 U.S. 290 sometime around 2016 or 2017.
CubeSmart / 23550 Northwest Freeway
This self-storage center opened sometime after 1995 but almost certainly had a different name originally.
Houston Garden Centers / 23260 Northwest Freeway
A branch of Houston Garden Centers opened here by 2005. It was still native ground in January 2004, which means it probably missed the 2004 spring season.
Valero / 23240 Northwest Freeway This Valero just has a generic food mart, and is listed as "Mini Mart Valero" in many listings. In 1995, this was under "Mini-Mart Texaco", but that doesn't mean it might not have served under a Diamond Shamrock (or another brand) prior to Valero in the mid-2000s. The gas station at the southeast corner of Northwest Freeway and Cypress North Houston, a road that was clearly meant to expand across the freeway at some point, but plans were scrapped and despite another Cypress North Houston Road on the other side of the freeway, the right of way was later turned into a park.
Tex-Fab Inc. / 23138 Northwest Freeway
Tex-Fab has been here in some form or another since 1973 but expanded in the 1980s. They fabricate pressure vessels for the petrochemical industry and around 2017 did a repaint, though their logo didn't appear on the building for nearly a year afterwards.
Family Golf Park / 22910 Northwest Freeway
Family Golf Park opened in June 2008, primarily a driving range.
84 Lumber / 22770 North West Lake Drive
It's a bit hard to see, but 84 Lumber was built in 2007 with a functional rail spur (building off of an existing spur). The question is what used to be there before. There was a lake on the other side of the railroad with a small dock that was drained in 2016 (and a building constructed in 2017) but the site of 84 Lumber appeared to have (prior to 2001) a swimming pool (not quite Olympic-sized). Access to this area (and later 84 Lumber) included a railroad crossing complete with lights and gates, but this was removed in 2008.

Discussions with fellow Houston retail colleagues say that this was a recreation area for a large steel facility located to the south, and based on roads, was owned by Cameron Iron Works (and today, NSPS Metals). More on this in a future update.
Cy-Fair High School / 22602 Northwest Freeway
One of the oldest surviving structures along the Northwest Freeway corridor, Cy-Fair High School opened in 1941 and was dedicated by Eleanor Roosevelt, though it's been modernized and expanded several times.
Arnold Middle School / 11111 Telge Road
At some point Arnold Middle School opened adjacent to Cy-Fair, and it almost appears that there's an elevated walkway connecting both schools, though this is probably just a utility line.
---
TELGE ROAD
---
Chevron / 22250 Northwest Freeway
This Chevron was built in 1996, it has a small Blimpie inside the convenience store.
22224 Northwest Freeway
A strip center completed in 2008 (apparently "Telga Plaza", at least 22222) is here, just east of the Chevron. Even in 2011, the only tenant was suite A (1/2 Price Boxes), but eventually filled out with other tenants. By 2017, tenants included Tacoland Mex-Mex Tacos (suite B), U.S. Floors & Remodeling (D), Fast Signs (C, despite being to the right of D, likely having opened earlier), and Mint Dentistry in E.
21904 Northwest Freeway
Former home to Weiser Air Park, which was a small landing strip for hobby aircraft, and was clearly grandfathered in from another time. The edge of the runway is just 830 feet away from the westbound mainlanes of 290 and 630 feet to the westbound frontage road. Before it permanently closed in June 2019, at the right time, you could see planes coming in for a landing right over the freeway.
Carl's BBQ / 21920 Northwest Freeway
This barbecue restaurant (which also has a Waller location) is, according to HCAD, been here since 1954. However the building doesn't seem to appear in Google Earth until the 1990s, and it's 1995 when it is fully visible (and 1995 was the year of improvements in terms of "canopy roof and slab"). Did they move the building here? It seems that way...
Cypress VFW Post 8905 / 21902 Northwest Freeway This has been here for years, and it looks like Gentry Road (which should've started about where their driveway is) was never built out to begin with.
Stewart & Stevenson / 10750 Telge Road - The Stewart & Stevenson plant started building facilities here in 1996 with the last facilities being built in 2003, the same year it completely replaced Stewart & Stevenson's Harrisburg area plant. (link)
21202-21210 Northwest Freeway
Three businesses on one lot operate here with similar businesses, 290 Grass (21210, sod), Beyond Paradise (a garden center at 21206), and The Yard Depot (rock, etc., located at 21202).
HCA Houston Healthcare North Cypress / 21214 Northwest Freeway
Originally North Cypress Medical Center from its opening in January 2007 to its sale in 2018, this hospital was a landmark to indicate the FM 1960 intersection ahead. While the construction of the hospital made the area much busier and removed its more urban feeling, one of the memories I have particularly around this area was in March 2012 when we had taken the HOV lane (which had recently been re-striped from the inner turn lane) and found it jammed when a motorcycle had stalled. We managed to get out amid some honking and tense moments; at least it was there and not the "concrete canyon" later on.

Before the HOT lane was actually built with the freeway reconstruction and starts all the way back at Mason, the HOV lane started at Eldridge. The "quick fix" pushed it back to between Telge and Barker-Cypress.

Additionally, some later medical offices and parking garages were built adjacent to the medical center. Of note was Merche!, an Italian-Mexican restaurant that closed a few years ago (even if the signage remains). It operated in the lower level of 21208 (parking above) from December 2009 to sometime around 2017.

HUFFMEISTER ROAD
Exxon / 20600 Northwest Freeway
This Exxon (with Timewise) something not uncommon along the 290 corridor, and not even unique to Northwest Freeway and Huffmeister. The gas station was one of the earliest buildings at the intersection, dating back to 1999, but as of 2005 it was an On the Run gas station. (Most of the On the Run stores were sold to Star Stop, but this one became a Timewise presumably before that).
Exxon / 26021 Northwest Freeway
And "not uncommon" it is, this second Exxon on the other side of the freeway opened in late 2015. It was the last new-build Exxon I've ever seen built new that has the full capital EXXON lettering and blue stripe under the logo before they switched to lower case lettering akin to the full ExxonMobil logo. The gas station was built as part of a huge development that ripped out a massive swath of trees in the area (though not virgin land, as one of the old tenants was one "Texas Tee Golf Course" at "20454 Northwest Freeway", or rather, 20454 Hempstead Highway, abandoned some time in the 1990s).

Next to the Exxon are three (later four) buildings that mix retail and industrial use.
Top Dog Fireworks Warehouse / 20432 Northwest Freeway
This fireworks stand, formerly Black Cat Fireworks Warehouse until the mid-2000s, is here. Not only does a giant fireworks warehouse behind a subdivision sounds like a horrifyingly bad idea, you can't even legally possess fireworks in the area. It had to be grandfathered in, obviously. During the Halloween season, it gains orange banners and becomes a large Halloween store (usually with an inflatable pumpkin atop). My single experience here was not a bad one but I was taken aback that a shopping cart was insisted upon, even if you wanted to just grab a few items, you couldn't just hold them in your hands and make your way to the front like a grocery store.
SpringHill Suites by Marriott / 20350 Northwest Freeway
This hotel opened 2016. It has 78 suites spread across four floors.
Goode Company BBQ / 20102 Northwest Fwy.
Goode Company BBQ was built around 2008. When I first designed this page, most of the northeast corner still remained fairly undeveloped (though this, of course, is changing and is becoming less and less true).

Hampton Inn / 20035 Northwest Freeway
My references say this modest Hampton Inn was built in 1996.
Shell / 13250 FM 1960
The Shell gas station here is branded "Select", which I believe is an in-house brand used on a (very) "Select" number of stations. One of those conversations I've had with family members is as follows: "Oh! It's a Shell with a 'Select' gas station. I remember I had a LEGO gas station with that brand as the convenience store...or at least really wanting it," as I realized I never actually owned it.
---
FM 1960
Years ago, when this page was at a different part of Carbon-izer, I mentioned that if you wanted to read more about this road, a lot of it was covered over at
West Houston Archives
, and I deliberately tried not to overlap it. a site which I loved, linked to this one, and one that I deliberately tried to not overlap, even if it regrettably no longer updated. Unfortunately, since that time, WHA has functionally gone under, and along with a need for updates, prompted me to create my own
FM 1960 page
. Check it out.
New construction has a new elevated section of FM 1960 over the freeway, replacing an older overpass west of the freeway that just went over the old Hempstead Road and the railroad.
To the south is the continuation of Highway 6 proper, which is what this page has been primarily following since Waco, but I've never traveled on that section, between here and I-10, it's gotten quite sketchy in recent years.
Mobil / 13155 FM 1960 West
Sitting at the southeast corner was a Chevron for years before it rebuilt around 2007 with a full "Speedy Stop" instead of its under-the-canopy "Food Mart". I believed back around 2013-2014 that the Speedy Stop would be converting to TETCO or 7-Eleven due to 7-Eleven acquiring most of their stores in short order, but this actually store wasn't one of them and remains a Speedy Stop. Instead, by December 2014, the Speedy Stop was still there, but Mobil took over the station. You can see the station in its original form here (at WHA, of course).
IHOP / 13335 FM 1960
The first in a cluster of restaurants sitting behind a strip mall and along the freeway, the IHOP was built in 1996. Sometime in the mid-2010s, I saw this change from "IHOP Restaurant" to "IHOP" with the "red smile" underneath.
Texas Roadhouse / 13345 Farm to Market 1960 Road West
Behind IHOP is a Texas Roadhouse, opened in late 2000.
Johnny Carino's / 19820 Northwest Freeway
While the restaurant still maintains it's "Carino's Italian Grill" from a time when Johnny Carino's briefly rebranded, this Italian chain restaurant opened in 2004. It's also one of the few restaurants left. Today, this one of only two of its kind in the entire Houston area (the other is in Baytown). It has has no more than 14 locations in Texas, which used to number over 50.
Chili's / 19825 Northwest Freeway
HCAD says this Chili's Grill & Bar was built in 1999.
Mamacita's Mexican Restaurant & Cantina / 19831 Northwest Fwy.
The original restaurant here, Las Rosas Mexican Grill (no other locations) operated from 2003 to 2010. The current restaurant opened in early 2012.
Black Bear Diner / 19823 Northwest Freeway
This restaurant opened in 2020, replacing an Applebee's that was built in 2004 but closed by April 2019. Black Bear Diner often moves into old chain restaurant spaces, but they changed the address—under Applebee's, the address was 19821.
Chuy's / 19827 Northwest Fwy.
Chuy's Tex-Mex opened here in 2008, but it wasn't the first tenant. In 2006, it was the home of Barton Springs Grill, a Houston-based (not Austin) restaurant with one other location in Tomball, the latter of which may or may not have actually opened.
Harris County Smokehouse / 19811 Northwest Freeway
Built in 2015 (almost a decade after the others), this restaurant moved from an old Kettle located in front of the La Quinta Inn (behind the Hampton and the Shell). Luby's / 19668 Northwest Freeway
HCAD says this Luby's has been here since 1995, and has been here since. For now, anyway...
19820 Hempstead Hwy.
The first Gander Mountain store in Houston opened in October 2004 (link) and closed in spring 2017. It never had direct access to the Northwest Freeway frontage road since it didn't exist at the time (you had to use the driveway between Chili's and Applebee's, then use the parking lot access roads). In late 2016, this was fixed with the construction of a new continuous frontage road but it didn't help Gander Mountain's fortunes much.
It was announced in January 2020 it was to become some sort of entertainment facility, but it was 2020, and a nightmare was coming where having fun was all but outlawed. Instead, the facade was partially dismantled and the main section painted blue (for three years, the facade, complete with the name, remained untouched), with it being leased as a warehouse for PPE equipment by Bighorn Manufacturing.
Baker Nissan North / 19630 Northwest Freeway
This car dealership opened here in 2013, replacing Champion Lincoln Mercury Isuzu, and moving from a location further down the street. This property marks another change in Northwest Freeway, in which the landscape becomes largely dominated by car dealerships. Before the 2009 recession (and an ordinance that largely phased them out), there were usually giant balloon structures (gorillas, the like) on top of these dealerships. Only one actually closed, Jim Archer Chrysler Jeep, but that's described in the next section...

Champion Lincoln Mercury Isuzu was previously Texan Lincoln Mercury Isuzu (later rebranded) when it moved here in 1997 from FM 1960, though I can't find proof of that name being here.
Hub Hyundai Mitsubishi / 19300 Northwest Freeway
Also known as Hub Hyundai or Hub Mitsubishi depending on the section of the car dealership, is one of the oldest dealerships in the area, dating back to 1986. Unverified information says that this was once the home of Hub Buick, which had been at the corner of Westheimer and Kirby many years ago. https://www.youtube.com/watch?v=tMTw5rOz0Tc
SPX Flow Technology / 19191 Hempstead Highway
This actually has no access from 290 anymore, it now requires entrance through the back. For years, it had a driveway connected to the frontage road (and the railroad crossing was equipped with lights and gates, no "crossbucks only" here) but in 2015, the crossing closed when the frontage road did and never reopened. The gates were removed, but the rest of the infrastructure is still there. Apparently the SPX Flow division separated from the parent company as an independent company in 2015.

The address is a carryover from a time when the part of Hempstead Highway that ran parallel to the railroad directly became the new frontage road (remember, the frontage road wasn't continuous), which was the case up until around 2014.
Emerson Process Management / 19200 Northwest Freeway
This is home to Emerson Process Management (Valve Automation division), which was formerly the home to Jim Archer Chrysler Jeep, built around 2004 but closed about five years later owing to a downturn in the automotive business. The current business (built 2012) demolished just about everything except for a few parts of the parking lot.
Joe Myers Toyota / 19010 Northwest Freeway
Joe Myers Toyota absorbed 19100 (Baker Nissan North) after it moved in 2013 and built new facilities there. The other two buildings on site were once two different car dealerships but they were merged at some point in the past. One of these was 19100 Northwest Freeway, which in late 1988 was Charlie Thomas Nissan.

---
NORTH ELDRIDGE PARKWAY
At the southeast corner is Lone Star Chevrolet and the adjacent Lone Star Preowned.
---
Silver Eagle Distributors - Cypress Warehouse / 8660 N. Eldridge Parkway
Records indicate this local beverage distributor has been here since 1998.
---
WEST ROAD
On the south side of the highway, south of John Eagle Honda was Phobia Haunted Houses (18777 Northwest Freeway). It moved after 2014 (supposed to move after the 2013 but stayed open for one more year). My
August 2013 picture (from a video)
isn't all that great, but it shows the sign (on the property, not in the 290 right of way), lots of trees, and the dirt road railroad crossing you have to maneuver to get in there with no gate whatsoever. I imagine that if you did go, a train surprising you at that point may be the scariest thing you saw that evening. Hopefully no one's gotten hurt there.
WHA
points out that this was based around an actual old house. By December 2014, the sign was gone, replaced by a "Clown Moving Co." which can only be seen seasonally (due to foliage overgrowth) or if you were looking for it. As of January 2020 the Phobia billboard is still visible on the other side of the freeway (but partially fallen apart). The railroad crossing is closed and the buildings have been completely demolished. Pre-construction, this was one of the areas where you could clearly see the US-290 metered ramps (which I never saw operate).
---
John Eagle Honda / 18787 Northwest Freeway
Built in 2003 and relocated from Eldridge and FM 1960, the John Eagle Honda dealership has a Northwest Freeway address but no access from the frontage road, and unlike SPX Flow Technology, never did.
Sterling McCall Collision of Jersey Village / 18700 Northwest Freeway
This used to be a Saturn of Houston dealership before around 2009.
Sam's Club / 12205 West Road
This Sam's Club dates back to February 1986 when it was opened as the fourth Sam's Club in the Houston area. It expanded in 1991 and a gas station outlot was added in 2004. Behind Sam's Club is the Northwest Station Park & Ride, which includes a ramp to the HOT lane in the center of the freeway. The park & ride expanded in the late 1990s (removing a turnaround on the side south of Castlebridge, you can still see the older concrete) and in 2018, rebuilt the bridge access to the freeway. The construction in 2018 was a bit nerve-wracking as the set-up was similar to a recent bridge collapse in Florida.
Altex Computers & Electronics / 18670 Northwest Freeway
Altex is here, built in 2000, is an electronics store similar to Fry's Electronics (RIP) or Micro Center. I personally have never been, as it was farther away from either when I've lived in Houston, and it's smaller than either of them.
Popeyes Louisiana Kitchen / 18550 Northwest Freeway
A lonely Popeyes sits by itself, built in 2001, but it has remained in business (it didn't have the "Louisiana Kitchen" name initially, that came later starting with a late-2000s rebranding).

Bobcat of Houston / 18340 Northwest Fwy.
Bobcat of Houston (construction equipment) opened here in 1999. In 2015, the building was partially reconstructed to allow for freeway right of way, tearing down the front of the building but adding a new addition to the side.
Gulf Pacific Rice Company / 12010 Taylor Road
Gulf Pacific Rice Company (aka Sarita Rice or Gulf Rice Milling), a rice milling operation here since 1954 and built by the Moore family as a rice dryer (the grandson of the original builder still had a role at the plant as of January 2015). Unfortunately, my pictures of the rice mill (Gulf Pacific since '89, when the company was founded) aren't that good. Gulf Pac has dozens of clients (even big ones like Udi's and Kelloggs) and makes most of the bagged store brand rice (not just H-E-B, but even farther away chains like Hy-Vee, and there isn't a Hy-Vee in probably a thousand miles) since switching to domestic production in the 1990s. There's trucks going in and out all the time (most of the rice is grown in Arkansas area). Gulf Pacific also has Taylor Laboratories at their address, which is an in-house testing lab for QA and testing. I visited this plant, I should know (but they never called back about the job they said they were going to offer me, a pity). There used to be a billboard for "Perry Pools" that's been there as long as I can remember, though it was torn down in 2015. I'm guessing it was torn down for the frontage road rebuild. You can see it in WHA, Google Street View, or a YouTube video I made entitled "Northwest Free" to see it though! At some point in the early 2010s, they replaced the static Gulf Pacific logo (facing south) with an LED board advertising Sarita Rice and occasionally other advertisements (job openings, employee of the month, their Twitter handle).

There's also an active railroad spur that has a few cars on it at any given time.
Tuff Shed / 7935 Wright Road
Tuff Shed moved here in 2013, and features a sign that blinks rapidly (deliberately). has created a sign that blinks rapidly. It shares the address with "A Discount Storage" (or "A Discount Mini Storage") and Two Men and a Truck (a business-within-a-business at the self storage place). Tuff Shed's place prior to 2013 used to be "Houston RV Center".
Signco America / 7938 Wright Road
This one's a bit of a tragedy. Sparkle Sign Company was one of my favorites, for years, you could see all sorts of old signs in the back (including an old McDonald's sign), probably other treasures as well. This I also don't have a great picture for. I don't know how much stuff is in their "sign graveyard", but I would sure to see it. Unfortunately, they don't offer tours to the general public, and in summer 2018, rebranded to Signco America, presumably as part of a buyout. This not only removed all the unique and colorful signs on the 290 side of the building but even seemed to clean up the "sign graveyard", for the first time, I don't think I saw the McDonald's sign. Was it, and others, destroyed? From October 2015, here's a night shot (regrettably very blurry) of all the signs in action. Here's a bonus picture, of a Landry's sign visible from Wright Road, taken earlier that year.
Quality Suites / 17550 Northwest Freeway
The Comfort Suites here was rebranded as Quality Suites sometime between 2011 and 2017.

17504 Northwest Freeway
This small strip with a Starbucks Coffee and for a period of at least seven years had a "Philly Connection" cheesesteak place (still around in 2015, long after others on the route had closed—we'll get to those another time), and word is on HAIF that the plaza used to be one of the "unmanned gas stations" with no store and no attendant. It was a Shell, though because it was demolished in 2003, I don't remember it.

---
JONES ROAD
---
Taken by author facing west at Jones Road and 290

At this point, the east side of the highway crosses into the inner enclave of Jersey Village, while the west side remains industrial. The extension of Jones Road blasts through some trees to FM 529, this was completed circa 2011 and added a railroad crossing for the first time. It is a constantly busy intersection (it provides an alternative to getting to FM 529 without using the frontage roads and vice versa) and I've dealt with this one twice. The first time, I made the mistake of getting off at Jones when I was trying to go to Hempstead Road a few months ago on a road trip, and the light was the longest I remember sitting through in a long time. The second time, I got off at FM 529 on a wrong turn and had to sit in line to get out (a train was waiting too, even). It wasn't until late 2018 when it finally proved useful by providing a way to get back on the freeway (and the Beltway ramps) from FM 529, saving at least three stoplights.

Exxon / 17438 Northwest Freeway
The Exxon here at the corner of Jones Road and 290 was originally not branded as a convenience store brand but by the early 2010s gained the Timewise brand a few years before it had to go for freeway widening. The Exxon sign was covered with a tarp for months before re-emerging with a new logo on the rebuilt station. The new slightly downsized lot featured a new Timewise convenience store but a permanent casualty was a drive-through car wash.

Northwest Village / 17414 Northwest Freeway
You can see a PDF of the center as it appeared around late 2020 here. Some notes regarding that:
The Chick-fil-A (17430) is a small building by Chick-fil-A standards (somewhat unusual layout, no playground) and replaced a building of the strip center containing a Subway, ACE Cash Express, and a few other tenants. The whole building was 17430, suites A through F. (Subway was suite F). The original building was demolished due to freeway widening.
The Concentra Urgent Care takes up the right side of a building also anchored by Dollar Tree and Spec's, as well as a smaller space next to it, but the address, 17410, was used for a Randalls that used to be here (#10) from opening in the 1970s up until sometime in the 1990s.
When the Whataburger (#501) was first built back in the 1980s, it was a Del Taco (check it out on the former restaurants page). In February 2016, that building (was torn down for freeway widening and a replacement was built, opening in May 2016.
Exclusive Furniture started as Handy Dan Home Improvement but it moved out before the end of the 1980s. Exclusive Furniture closed in 2018 around the same time (though I think they overlapped) the Cypress location opened. The space, 17390, is planned to be a Ross Dress for Less.
Los Cucos Mexican Cafe / 17386 Northwest Freeway
Los Cucos was a Monterey House back in 1989 and became a Monterey's Tex-Mex Cafe soon after. No other information is available at this time.

Hartz Chicken Buffet / 17340 Northwest Freeway
Hartz was a Tinsley's Chicken 'n Rolls back in 1981 but closed sometime around the mid-1980s. It became Hartz sometime around 2008 (from 2005 to 2007 it was recently-closed independent shop Burger Depot).

Shell / 17342 Northwest Freeway
Super K Food Mart (with Valero branding) was here, having converted from a Diamond Shamrock with Stop N Go (it's unknown as to why the convenience store went independent as opposed to converting to a Corner Store, as almost all of the others did). It did end up closing due to the freeway construction in 2018 but it rebuilt as a Shell with a new convenience store (Fuel Time) with a new fuel canopy between it and Hartz.

Superior Subaru of Houston / 17100 Northwest Freeway
This property was believed to be used as a location of Houston Garden Centers in the late 1990s and much of the 2000s (link) but archived searches say it's for Houston Plants & Garden rather than Houston Garden Centers, which seems more likely given a different sign and the lack of HGC's characteristic red and yellow striping. In 2017, work began on the site for Superior Subaru of Houston.

Arsham Scrap Metal Inc. / 11280 Charles Road
During most evenings and afternoons you can get a good view of Arsham Scrap Metal Inc. as the traffic tends to clog up right outside of it. Here's a 2013 view from my filming attempt, but it was repainted in late 2014. Here's another picture from January 2016.

Champion Forest Baptist Church - Jersey Village / 16518 Jersey Drive
What was Jersey Village Baptist Church for a number of years uses a side street as a main address instead of Northwest Freeway, since originally it was a small church at the corner of Jersey Drive and Rio Grande Street. Only around 2003 did it add a large parking lot and facade off of the freeway and in 2008 the new sanctuary building was built. According to Southern Baptist Convention's records the church was founded in 1955, but in 1953 Jersey Village hadn't even begun building the streets yet. In 2016, it became part of Champion Forest Baptist Church, and soon renamed to "Champion Forest Baptist Church - Jersey Village".

Super 7 Inn / 16884 Northwest Freeway
Built in 1985 as a Comfort Inn (which it was at least as of 1989), it changed hands in the early 1990s and was rebranded as Motel 6, which it would be until the summer of 2018, when it became Super 7 Inn. Reports are (by 2021) this is becoming a Red Roof Inn.

Taqueria Arandas / 16822 Northwest Freeway
Located in front of the motel, the facade of this Taqueria Arandas got mauled in the construction (it looked similar to what it does now, except it had curved "solarium" windows). It was originally a Kettle (closed sometime around 1996-1997), and opened as Taquerias Arandas around late 2001.

---
FM 529
Just beyond this is one of the biggest milestones along U.S. 290, with the enormous US-290/Beltway 8 five stack. This section covers the freeway from Charles Road (again, in theory, if it crossed the railroad) up to the Little York Park & Ride ramp.

It may be hard to believe now, but even into the 1990s and early 2000s this was where "Houston" took off. A smaller Fairfield and some highway-side development like gas stations technically existed, and of course, by FM 1960 you were definitely in developed urban territory (though even that was far less developed), but Beltway 8 was a literally physical boundary that was the guardian between "there" and "here".

Social Security Administration - Jersey Village / 16200 Dillard Drive
This Social Security office opened in 2009, and I included this because there's almost nothing to cover in between Senate and FM 529 anymore.

Until around 2012, there were a number of large signs near Beltway 8 that protruded above the freeway, for Taco Bell, Wendy's, and McDonald's (east side), and Chevron and Jack in the Box (west side)...if you were heading southeast toward Houston. As odd as it may seem, my best memories of driving through Houston included these, especially with my then-new iPod (November 2009 en route to Louisiana!) providing memorable tunes along the way, including "Red Barchetta" and "Death and All His Friends" (Rush and Coldplay, respectively...no comments on taste), which for years I heavily associated with this intersection.

From north to south, we had the following:
A gas station that had been torn down in the early 2000s (no information on that).
Brake Check (16061 Northwest Freeway) which was here at least since 1985. It closed in 2012 with a sign inviting customers to another location at North Loop West and Ella Boulevard. Northwest of the Brake Check was a gas station torn down in the early 2000s. After Brake Check was torn down, a small connector was built between Hempstead Road and the frontage road to provide easier access between the two roads.
Jersey Village Automotive (16059 Northwest Freeway) was next. The location was originally built as a Jiffy Lube in the 1980s but by 1996 it became Jersey Village Automotive. There were two buildings.
Wendy's was at 16006 Hempstead Road (later 16055 Northwest Freeway).
McDonald's was at 16002 Hempstead Road (later 16001 Northwest Freeway) and was built in 1980 (with the building rebuilt in 2000 by all appearances).
Taco Bell at 16009 Northwest Freeway was opened in 1993 and had access to Senate Avenue (useful coming from south or east).
In March 2013, I managed to finally take a picture of them, but by that time, they were already shut tight (these were shut down in fall 2012). Interestingly, the pictures by Oscar "Erik" Slotboom published on his website was taken the exact same day. What an amazing coincidence! These pictures first appeared on my College Station-centric blog, Brazos Buildings & Businesses. Some of these are my friend's pictures, but he's given me permission to use them. As they're a bit much to describe in this one page, I've written parts on the "east side" businesses, with McDonald's (16001 Northwest Freeway), Wendy's (16006 Northwest Freeway), and Taco Bell all at The Houston Files. The ultimate reason they were torn down was a new longer ramp for Gessner/Senate access, and the businesses on both sides did not have enough room. Additionally, some of my old pictures included looking looking out toward Brake Check as well as a few others from other sources, like the Google Street View of McDonald's when it was still open, with the angle of looking up the sign, as well as the Bing Birds Eye view of Wendy's and Jersey Village Automotive.
---
SENATE AVENUE
---
15830 Northwest Freeway
Seeing as the convenience store still stands, the most noteworthy thing on the east side of the freeway was a Chevron gas station, and that Chevron NEVER changed their sign from the solid red and blue when the rest did circa 2007-2008. I got a shot of the sign but better photos are from WHA and Houston Freeways (linked above). The sign existed for far longer than I expected it to, finally being torn down sometime around May 2015. Luckily, I got pictures of it and a few good views of it, and I'm thankful it stood for as long as it did. Google Maps Street View pictures are here and here. I took a few more pictures from my car, but they're not that great. Notice how the text pops out slightly: they don't make them like they used to. (August 2014, March 2015 1, March 2015 2).

There is a warehouse on the east side of the freeway at Hillcrest that I couldn't get the name or address of but everything else in this section has been torn down. To the south of the Chevron station (with its own driveway going back toward Senate) was a Jack in the Box (15824 Northwest Freeway, store 3649), which was built in the mid-1990s and closed about the same time the restaurants on the other side of the freeway did. Next to that was a Meineke Car Care Center (15820 Northwest Freeway) from 1996 until its 2012 closure.

To the south of the aforementioned Hillcrest warehouse was 15700 Northwest Freeway, better known as Saint Peter's Anglican Church. The church building was torn down between 2012 and 2013, but the church relocated.

Meanwhile, on the other side of the freeway was a large flooring store. 14900 Hempstead Road - This one was visible from the freeway easily, a large green warehouse known as Carpet, Texas when opened in February 2001. By the time it was closed and torn down in the early 2010s, it had morphed into a location of Jack's Carpet.

Finally, on the Hempstead Road side of the freeway (likely unable to see it from the main 290 portion) were three small businesses that were demolished at around the same time. There was Advanced Appliance & Electronics, which was was demolished late 2014 but closed prior to April 2011 at 15702 Hempstead Road. 15620 Hempstead Road, H&S Enterprises Inc., was a machine shop, and finally at 15602 Hempstead Road was AIRreSOURCE LLC aka Airsource.

Finally, here's a few more pictures from the old, original page of 290, views from Google I've collected below.

View from Beltway 8
View from the frontage road
View from above
View from...actually, I don't know where I got this, but it's the building in the Carpet Texas days


As a closing note, here's something interesting: two pictures from the perspective almost a year apart, on the WB frontage road under the five-stack before the first stoplight. There's a big difference, and it's not just between the stoplights...

Picture from March 2015 - from under the five-stack

Picture from January 2016 - from under the five-stack, same place


The journey continues beyond Beltway 8 at this page.

Return to the Main Page

|

Email
---
Copyright 2021 Carbon-izer.com, this site is not affiliated with any businesses listed here.