THE NORTHWEST FREEWAY CORRIDOR
Welcome. You are about to read the Northwest Freeway Corridor page, one of the most extensive pages on an American highway. This page tends to be a bit long because it covers about 45 miles of freeway. A bit of introduction: originally, this page was supposed to be a simple list of buildings cleared in the 290 expansion project with some photos. Like the Interstate 10 widening a decade ago, there could be many, many casualties, almost certainly including single family houses (and as of summer 2015, those have happened). Sometime after the original project started, Erik (Oscar) Slotboom released his own pictures inspired by this very page, which are great--they have a lot of things I missed. Even though this page came first, I felt like I wasn't going to be able to compete with that, and eventually stopped updating my list, exacerbated by the generally poor data I've gotten (finding out when everything was built would require a LOT of HCAD-digging), so in lieu of that, I decided to reformat it as something that looks at the ENTIRE freeway. This celebrates what is there, what has been there, more information on them, and a personal perspective as well. I also want to avoid covering the same ground as West Houston Archives, but even West Houston Archives originally didn't cover as far out as this page originally did (it still doesn't). After sitting dormant for a number of months, I decided to rewrite the entire page from scratch, and it received updates (and further rewrites), eventually (ultimately) looking like it does right now. Consider this your ultimate guide to both the freeway as it is now and an excellent historical reference. You will notice that in some areas the list isn't 100% comprehensive. I do take requests if you want something to be covered though.
HIGHWAY 6 NORTH
Because of my current non-Houston residency to parts in the northwest, the first real sign of the road to Houston is a ramp that accelerates from Highway 6 southbound to 290 eastbound. They have some little dividers to mark the road (those didn't appear until some point after spring 2008 but not much longer). Symbolizing this great change from the rural Highway 6 to the wide, smooth environs of Highway 290 was the massive
Lawrence Marshall Hempstead
car dealership. "We clobber big city prices!", they bragged, advertising to Houston and College Station while giving the Hempstead economy a big boost. Well, that didn't work out when the auto industry imploded. LMH closed in February 2009 and over the next several years, I would watch sadly as the place started to deteriorate, as the banners of the auto makers faded and eventually fell off.
The Google Street View image (at least the older one) shows the banners in mostly intact condition. As of this writing, I wasn't able to locate the place where I put that file.
Otherwise, the first stretch of US 290 is largely nondescript but features a number of odd leftovers from an older bypass plus some other odds and ends, so there's unused ROW that bulges out (Kickapoo Road, Waller-Tomball), dead-ends that do nothing (Hegar Road, Waller-Tomball), and what appears to be an old detour road (Richards Road, which doesn't actually intersect with 290). Also note that Bauer-Hockley has a wooden bridge near its curving into Grimes.
FM 1488
This is where a few gas stations are (the last major cluster on 290 heading west, until around Brenham). There's also an apartment complex here that I've never really noticed.
Eastbound (South)
Shell (1945 FM 1488) - This gas station includes a Long John Silvers inside (a bit uncommon, especially for gas stations), though it's fully integrated into the gas station (no semi-separate building from the looks of it), which means the whole store probably smells like greasy fried food. An actual stop to the store in mid-March 2016 revealed that the store was in the midst of either changing it to a Chesters Fried Chicken/LJS or dispensing the LJS name entirely. Signage on the inside was gone, and there was an employee meeting going on. Despite that, there's a lot of LJS décor leftovers inside.

Jack in the Box (1925 FM 1488) - I've never stopped at this Jack in the Box, though I see it every time.
Westbound (North)
Hempstead Truck Stop (2000 FM 1488/100 Cottonwood) - This Exxon advertises a McDonald's on its fading dual-pronged sign, but it's actually a Denny's inside (the second address listed, facing a named access road), and the McDonald's actually a bit farther out. Here's my picture of the signage taken February 2014 (IMG_0980.jpg). From what I've heard on Yelp, the Denny's is terrible (dirty, poor service, still has smoking allowed inside), worse than your average Denny's restaurant (not great to begin with). Sometime in early 2016 (February or March) a Subway was added though I don't know how that works in with the existing set-up or if it has a separate address. Additionally, if neither Subway or Denny's floats your boat, they do have a Krispy Krunchy fried chicken program going on.

Hempstead Seafood & Steak (210 Cottonwood) - Modestly popular restaurant. I have yet to get a good picture for this one.

DaVita Dialysis (220 Cottonwood) - Built here in spring 2015, I was expecting this (when it was under construction) to be a restaurant of some sort. Not exactly a roadside stop, unless you had some sort of medical emergency.
FM 1098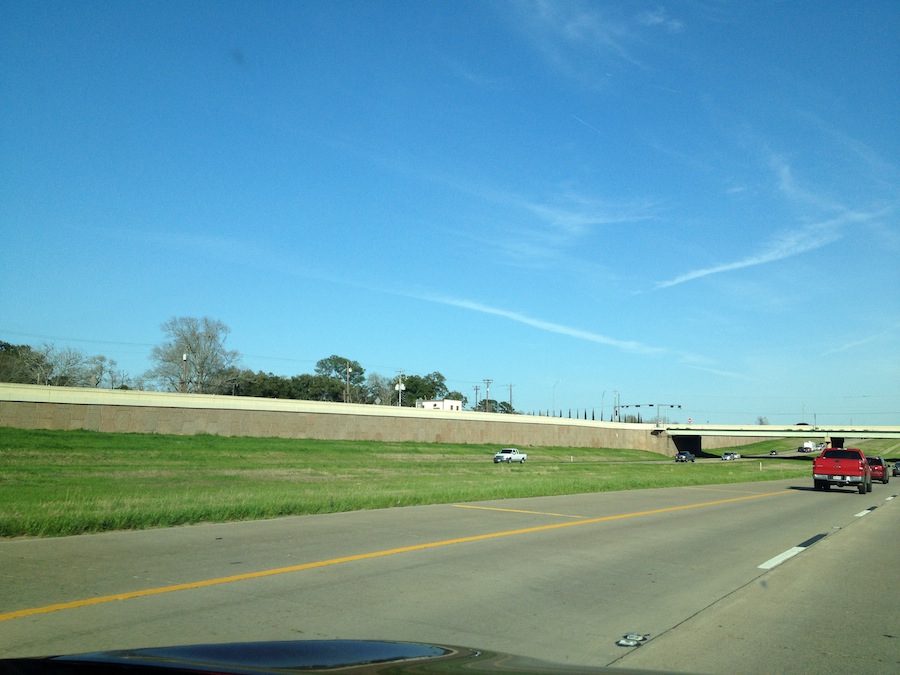 After going on undeveloped parts for miles, it's here that if you're not familiar with the area (younger me and later a friend who moved to Texas later), tricks you into thinking you're getting close to Houston. It features a once rather attractive late 1990s build underpass (the only depressed underpass along 290, at least until Austin), though it is a bit worse for the wear today, unfortunately. Set back a bit from the road is a large and once-colorful (today it's looking kind of grimy from one side and faded from the other) "Frenchy's" sign (not visible in the picture above), which replaced a large Williams Fried Chicken sign (supposedly...never saw that). Regardless, Frenchy's didn't last long, closing about a year after its opening circa 2011 and reduced to rubble by the end of 2013. That's a bummer, because that was the only place to eat at this interchange. This is also the access road to Prairie View A&M University, a historically African-American campus originally created as the segregated "colored" counterpart to what is now Texas A&M University in College Station.
FM 362 and FIELD STORE ROAD
I've always felt that the FM 362 overpass (heading eastbound) goes way too high with sharp dropoffs before adding guardrails at the very top (at least they have shoulders), moreso than other overpasses in this part of 290.
Eastbound (South)
Waller County Line BBQ (20727 FM 362) - A large Shell station, this was slightly expanded (based on roof and pavement color differences) in the time span between 1995 and 2003. They have survived the arrival of the beaver's gas station, but I can't imagine they were very happy about it. This is a picture from February 2014 of Waller County Line BBQ from the highway.

Irv's (40203 U.S. 290) - Until what is now Irv's began construction, Field Store Road was solely access to Waller proper with no freeway-side attractions (well, except an LDS church) until relatively recently, when a small gas station (Chevron brand) began building on a cul-de-sac created during freeway construction. "Rocky's B-B-Q Grille" opened in summer 2010 but within its first few years, it changed hands and became Field Store BBQ (at least by my memory), then Irv's Field Store by 2013, then eventually simply Irv's with a repainted red sign by August 2014. Not long after it was simply "Irv's", construction began next door which by March 2015 was revealed to be a new gas canopy with diesel (the canopy is a simple green one) with a large concrete pad for trucks. That's right: they "upgraded" to being a truck stop. For Irv's, I actually have before and after pictures. Here's my picture from May 2014, back when it was still Field Store. Notice obviously-tacked-on later "Irv's" sign. My second picture comes from December 2015, with what Irv's looks like today. Sorry it's a bit darker than it should be, it was a new camera.
Westbound (North)
Buc-ee's (40900 US Hwy 290 Bypass) - Once Buc-ee's opened, it quickly became a near-regular stop on the highway. Based on what I can find, it appears to have opened in late 2013, though I swear I remember it opening earlier that year (just a little). It advertises (at least until it became common knowledge, or I could be just getting used to it) even on Highway 6 South as "Waller You Waiting For?" I love this store and has become a regular stop in returning on the 290 corridor. At least three times (as of last time I kept count, which was a while back) I have eaten here for their awesome club sandwiches and in-house potato chips, though I gotta admit, I've had a number of "bad chips" (almost consistently per package) where it somehow doesn't get cooked properly and ends up having the texture of folded paper. It was definitely disconcerting for the first time, because I couldn't see them while eating. True story: I remember actually exiting the highway to try to spit out what I thought I was a napkin I had accidentally ingested. I have a few pictures of this Buc-ee's, but not from the highway. Buc-ee's is hard to capture because it's so large (looking east in March 2015). Here's another picture looking back at the beaver statue to the west (also in March 2015).

Swamp Shak (20797 FM 362) - This seafood restaurant appeared sometime in early 2015, though a Yelp review seems to indicate they've been active since April 2014, and that the full name is "Swamp Shack Cajun Connection".
WALLER-TOMBALL ROAD/AJ FOYT PARKWAY (FM 2920)
Ironically, I have few photos for this interchange despite being the most familiar with it. Of special note is "Stokes Road", which provides access to CVS, Jack in the Box, and many others. It does directly touch the US-290 right-of-way but actually was never part of the frontage road system even though it looks like it was.
Eastbound (South)
CVS/pharmacy (31013 FM 2920) - Opened around 2005. This was never an Eckerd to my knowledge, and I've stopped here at least once. It probably doesn't see as much freeway-side traffic as the fast foods and gas station does, but it serves a purpose for those things drug stores have that convenience stores don't (hey, I stopped there once), and it serves local Waller interests as well.

Jack in the Box (31014 FM 2920) - This used to be my Dad's stop when heading down to Houston and later was adopted by me. The first time I actually remember going in to the store was as far back as 2009, when they were advertising the HangInThereJack campaign, which would ultimately result in altering the logo of Jack in the Box, and within a few years that would sweep the chain. I don't know about the logo change, to be honest, it took me a few more years to get to used to it, but this is one of the places I always stop these days.

Exxon (31100 FM 2920) - Visible from the freeway with a huge sign co-advertising Domino's and Popeyes (this picture is from May 2014), this gas station not only includes that, but also a Subway, Sakura Nail Spa, and Donuts Delight. None of the food establishments are accessible from the inside of the convenience store, Town & Country Market. I have one shot of the gas signage when gas prices began to go down around late 2014 (January 2015 picture), though on my iPhone, reds display as oranges. I'd have to say that the gas station (minus Subway, which was built later) probably came in-line in the late 1990s, though don't quote me on that.

Shipley Do-Nuts (19757 Stokes Road) - Opened around 2013 or 2012, this donut shop is the furthest from the highway access. I stopped here once in early 2015 as a day trip and got a donut (or was it an apple fritter?).
Westbound (North)
Love's Travel Center (30710 FM 2920) - This Love's has an Arby's inside. I've been here a few times on trips with my father but honestly I'm just covering this one because the sign is impossible to ignore. It can be seen on the left side of the distant shot looking toward the Exxon.
BINFORD ROAD and KICKAPOO ROAD
I write this with a bit of a tear in my eye, as I fondly remember heading back from Houston on Spring Break trips (2008, 2009, and perhaps others) I would see Binford and Kickapoo Road as the sun was starting to set. They were just two different roads in the countryside with funny names and bulging out near the highway to four lanes before shrinking down to two. In 2015, that would all change with the building of...

The ComfortPlex (19001 Kermier Road) - This mega-structure, a new HVAC factory/office campus. I can't tell what's worse, the continuing sprawl of Houston or the fact that it will drag traffic out here, or the fact that even "rural" in recent memory is once again being dramatically transformed (see Mason Road, below). And of course, those two lane roads are being widened to modern four lane roads. At least Kermier Road just east of this retains this layout. There's no EB/WB designation for this one because it will catch your eye either way. The road curves.
HEGAR ROAD
Last interchange before it merges with Hempstead Road/starts following the railroad line. Note that Bauer-Hockley has a wooden bridge near its curving into Grimes, which is rare for this day and age. Around in late 2015 construction began in this area.
BETKA ROAD/BADTKE ROAD
Somewhere in the early 2000s or late 1990s, the railroad crossing was rebuilt to allow for a later four-laning later on. I don't have a good picture of it (check Google Maps).
ROBERTS ROAD/KATY-HOCKLEY ROAD
Also, as of late August 2015, this area is undergoing major construction, with ALL lanes shunted over across the other side of the bridge to work on six-laning this part of 290.
Eastbound (South)
Hanson Aggregates of Hockley (16910 Katy-Hockley Rd.) - A concrete plant that has a large, circular railroad spur (since it loops, it can't accurately be called a spur now, can it?) though right near it is an abandoned ROW that led out to a salt mine (which still exists).
Westbound (North)
Foster's Farm & Equipment (33400 U.S. Highway 290) - Doing research for this reveals this is now closed (closed sometime in late 2015) and has been superseded by its next-door neighbor, Brookside Equipment Sales (though the name remains up on the main store). This business originally opened as D&D Farm & Ranch Supermarket in 2001, which was billed as the world's largest western store upon opening and sold upscale western-inspired clothing, many of which consisted of, and I quote, "music-star jeans". The store also sold actual farm-related equipment including saddles, fencing, and home furnishings (but no food, ironically). D&D eventually moved on (it appears to be in Seguin now). By November 2005, the space reopened as Sergeant's Western World, which was in many ways more of the same but focused more on horse equipment and custom saddlery, with Western apparel and everything else following behind. I remember passing by Sergeant's in January 2009, when it was going out of business. It was replaced by the farm equipment store soon after. This is my best photo...a drive-by photo of Foster's, May 2015.
BECKER ROAD
Becker Road is the first interchange with "real" things on it these days (and it's been four-laned recently too, natch).
Eastbound (South)
Community of Faith (16124 Becker Road) - A church (not related to The Community of Faith in Houston proper) which has a massive facility (originally built circa 2007 and built an expansion as of spring 2015), a super-stylized cross (shaped like a boomerang) and a bright electronic display screen which was toned down around late 2014 since drivers don't like a miniature sun 24/7 just off the freeway that's ten times worse when it's foggy.
Westbound (North)
Shell (32150 US-290) - I've gotten relatively cheap bottled water here (at least for gas station standards). The truck stop features a Taco Bell and Church's Chicken inside, though it's just two counters in a common seating area (and not particularly well-lit)_. Here's the front of the fast foods from the outside (taken 2/2015). If you're coming from West Houston Archives, you'll notice that the Taco Bell sign is now painted more of an orange color (I'm pretty sure it's not just the sunlight) and has lost its "Express" moniker.

Exxon (32202 US-290 Bldg. A) - An abandoned truck stop, "290 Express Way", which closed, according to Google Maps Street View, between early 2011 and early 2013). The truck stop (and Sonic) originally opened between 1995 and 2004 and looks like it's been closed for a couple of years. The only reference I can find is a 1999 article where the owner described the major accidents happening at Becker Road, since it was not a freeway at the time nor had lights. I don't know why it closed, either problems stemming from the widening of Becker, or the fact that it may have been a less attractive option than Shell, as a good truck stop usually requires a prominently advertised restaurant option (usually fast food, but not always). A few photos I have (all from 2/15) include the empty canopies of the Exxon, the fading and deteriorating billboard, and the Exxon roadside sign—note the older Sonic in the background with the red and yellow neon.

Sonic Drive-In (32202 US-290 Bldg. B) - This Sonic was built at about the same time the truck stop opened. It looks like the older prototype of Sonic stores but is still very much open.
GRAND PARKWAY (HIGHWAY 99)
From some pillars in December 2011 to a huge interchange just two years later, this still plagues 290 with concrete barriers, temporary lane markings, zero-distance merging lanes, and more (though it's gotten better). And it's not even a five-stack like they promised! This creates a major dividing point in the US-290 story and rather than a "creeping approach of suburbia" creates a physical divider in the landscape. Nearby is the construction of a mega-church. The Grand Parkway opened in December 2013 southbound to Katy and the northern segment, connecting to Interstate 45 and The Woodlands, opened in early February 2016. To be fair, the five-stack would've required the frontage roads to be sunken or elevated over the railroad, and flooding was a big problem for the pre-rebuild Beltway 8/I-10 overpass.
MASON ROAD
Even in the not-very-distant past, Northwest Freeway here was largely a divided four lane highway with grass fields on one side and a railroad on the other, which is likely what the other segments had at one time. Going even further back (late 1990s or early 2000), I distinctly remember that Northwest Freeway resembled a bit of Wellborn Road (a road in College Station which this railroad line also parallels), but I knew it was not. In those distant days, there were some entrance signs for a subdivision called Fairfield, but it was a ways off, and you really couldn't see it all that well from the road. Parts of this are still intact, of course, like part of the railroad near Mason Road being partially obscured by trees. This "railroad in the woods" always fascinated/haunted me as a kid, and often times in later years I'd wonder where that was. This is the now rather busy Mason Road intersection and one of the first intersections to receive a stoplight (sometime in the 1990s, only one article talks about it but it was there back in 1995), but even that was dangerous as it was the only light on 290 east of Chappell Hill and it was difficult for cars to stop doing 70 mph (or above). Of course, the pre-freeway age has many memories that I've finally identified from years ago, like going back from the Houston Museum of Natural Science in 2004 for a school trip and highly regretting not using the restroom when I had the chance (that was a most uncomfortable two hours...), or even earlier, talking about SimCity with my brother (what a mystical "SimCity 4000" might have). Things changed, of course, and not just terms of growing up.
First, around 2005 or 2006, they actually completed the freeway, and soon started construction on a massive outdoor outlet mall which opened in spring 2008. There was also a sign just to the west to it for a new H-E-B store, all the way out there. In the end, the H-E-B opened a bit to the EAST of the outlet mall, and while not a "Plus" store, is a roomy, upscale store that opened in the fall of 2012.

As of July 2015, construction continues in the area...the shopping center behind the new 2013/2014 restaurants is under construction, and southeast of Mason Road, a new Kroger Marketplace store (it's open as of December 2015 though the official "grand opening" happened in January 2016), and at at Mason Road, a new hospital! That's not including all the new apartments and other construction that is perpetually occurring.


Westbound (North)
H-E-B (28550 US-290) - The aforementioned H-E-B not only has a fuel center but is a huge H-E-B, with a 100,000 square foot store. This is not only big for an H-E-B store but big for a supermarket in general. It would precede a bunch of restaurants opening to the northwest and continuing development perpetually occurring, not covered in this page.

Academy Sports + Outdoors (28616 US-290) - Opened sometime in late 2015. The first tenant in Fairfield Towne Center, the new strip center going up.

McDonald's (28624 Northwest Freeway) - I think this opened in early 2015.

Whataburger (28630 US-290) - Opened late February 2014.

Taco Bell (28638 Northwest Fwy.) - Opened late 2013 I believe.

Chick-fil-a (28644 US-290) - Opened August 2014.

. Taco Bell (opened late 2013 I believe), Whataburger (opened late February 2014), and I think even another McDonald's, all of which can be found a little down the road to Cypress, and in the case of Taco Bell, available at the gas station. Behind the fast foods, they've built an Academy Sports + Outdoors, which isn't seen on Northwest Freeway until past the Beltway.
MUESCHKE ROAD
Initially just a small Buc-ee's (still has fudge and Beaver Nuggets, as well as clean restrooms, though not much bigger than most convenience stores). It wasn't there in 2005 but was built a few years later, opening late 2008. Around 2011 the area began to accelerate. Today they're even building a hotel behind all this. Imagine that. There's also "Fairfield OB/GYN" which has its sign up for a while but as of April 2016 appears to be open (as evidenced by signage).


Westbound (North)
Gringo's Mexican Kitchen (27030 Northwest Fwy.) - The first in the restaurant row at the northeast corner of Mueschke and NW Freeway. It opened in October 2011. You can see the top of Gringo's poking out here (3/14). I've heard that Gringo's food is good, but the name should suggest that it isn't authentic Mexican.
Cracker Barrel (27040 Northwest Freeway) - Opened by late 2014.
Mo's Irish Pub (14102 Mueschke Rd.) - The third restaurant in the row. Opened late 2015. It looks like they have a tree permanently covered in Christmas lights, which change colors at night (or at least how it appeared on a Friday night in April)
Waffle House (14201 Mueschke Rd.) - Opened c. October 2015, behind Buc-ee's.
Christian Brothers Automotive (27210 U.S. 290) - Based on aerials, this either opened late 2012 or early 2013.
27126 Northwest Freeway - Two tenants in this strip mall: Lucky's Pub and "Cy-Fair Emergency & Imaging Center at 290 & Mueschke 24-Hour Emergency Care", one of these private "emergency rooms" that have been cropping up everywhere. Don't bother, find a real hospital.
Goodwill Select Store (27140 Northwest Freeway) - Opened January 2016. This replaced the donations-only storefront closer to Fry Road.
CYPRESS ROSEHILL ROAD/FRY ROAD and SPRING CYPRESS ROAD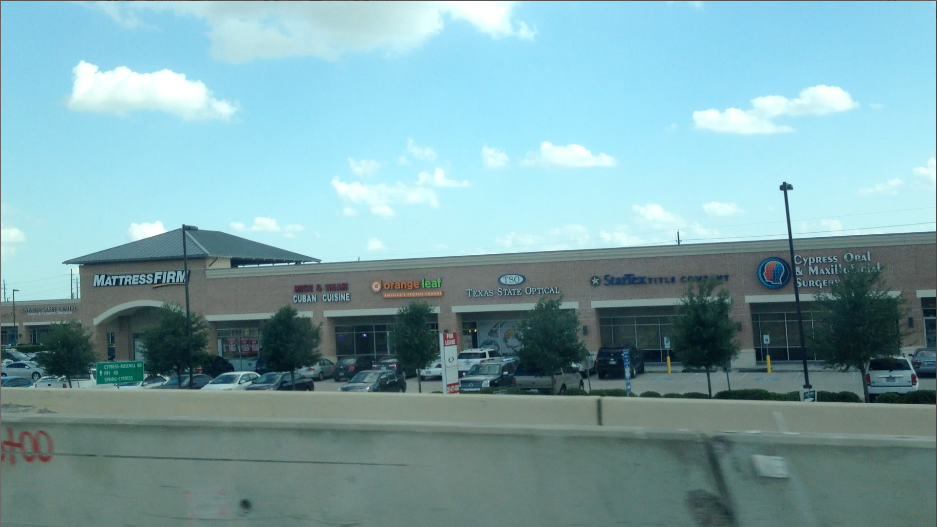 This here is when things start getting rough in terms of traffic and it became even rougher around May 2013 when it started to undergo construction, though it appears construction is almost done. In previous versions of this document I mentioned I had a "lot of video" on the southwest side. That's partially because there's a lot to take in to begin with, and so much in-fill. There's restaurants and supermarkets here. In-bound it starts with an IHOP and two strip centers (the newer one I don't have pictures of). The strip center above (from a video I took, June 2014) has most of the tenants that are still there. Not seen is a vacant space (formerly a Goodwill donation center) and on the west end, a Shipley Do-Nuts. Beyond that is a large shopping center, the Cypress Town Center, which opened around 2005. The PDF is permanently linked here. The changes that I know of include the "center tenant" of one of the stores was originally Jack's Carpet: The Super Floor Store (they "went bankrupt" a few years ago, but apparently some locations still operate), as is now Massage Heights, and Bright Now! Dental is now Castle Dental. Most noticeable is a Boot Barn that opened between Target and T.J. Maxx sometime around 2014. The smaller stores to the north may have changed though, I don't have information on those. A few pictures I do have that aren't store specific include DSC01501.JPG (looking out toward Spring-Cypress Road and the west end of the shopping center, taken December 2015) and DSC01502.JPG (trying to catch a glimpse of Best Buy from the freeway, taken December 2015). Otherwise, the list below follows.


Eastbound (South)
Lowe's (14128 Cypress Rosehill Road) - Opened around 2006 and difficult to catch in one shot. Here's a screen-grab from June '14.
Panera Bread (26003 Northwest Freeway) - Opened in the Lowe's parking lot no earlier than fall 2012. Check out the screen grab from June '14 here.
Arby's (25957 Northwest Freeway) - One of the few Arby's left in the Houston area, as they've closed a lot in the last few years, to the point where they are completely extinct in the Inner Loop and down to three inside the Belt.
Target (25901 Highway 290) - Opened as a charter tenant for the shopping center, though I heard (unconfirmed) that it was supposed to be a Mervyn's that was to open here originally, presumably when it was planned around 2003. I'm guessing it was changed after Mervyn's spun off from Target (smart move, seeing how Mervyn's pulled out of the area in January 2006 and is now totally dead). Anyway, the Target got a "P-Fresh" update (with a graphic of fresh produce over the doors) around 2011.
Boot Barn (25855 Northwest Freeway) - This store opened several years after Target and the other stores in the strip, filling in the space sometime around 2014. In case you were going to ask, no, this was never a Baskin's.
Chick-fil-A (25835 US-290) - I visited here in December 2011. It wasn't even a particularly special day (not Sunday, obviously) but it was crowded. We only used the restrooms here, but I'm sure my dad could've gotten a coffee it wasn't packed to the gills.
Spring Creek Barbecue (25831 Northwest Fwy.) - At one time, SCB represented just one of the many things that made Houston a more unique place with unusual restaurants (heck, even the Chick-fil-a near it was somewhat of an exotic specialty, as at the time it was built, only one stand-alone CFA existed in town, and that was nine miles away from my house). Anyway, I did finally eat in spring 2013 with my family and cousin. It's okay, and is a hybrid buffet-type place (unlimited rolls, limited meat). Here's a shot from the front of the restaurant looking out, taken April 2013 (it is very blurry).
Angel's Auto Center (25425 Hwy 290) - Located just beyond the shopping center, this automobile business dates back to at least 2002 but not back to 1995. It is just beyond the Best Buy on the east end.

Westbound (North)
24 Hour Fitness (25632 Highway 290) - Located on the south end of the shopping center (at least until recently), the only thing noteworthy I remember about this was seeing some construction next to it some years ago and wondered if it was to become a 24 Hour Fitness "Super Sport", the largest facilities with a pool. It didn't. It was just other stores, and it remains a 24 Hour Fitness "Active", the smallest of the formats (just free weights and cardio equipment). JCPenney (25646 US-290) - Besides Kroger and a cinema, the other major tenant in this shopping center is a JCPenney department store.

Baker Street Pub & Grill (25618 Northwest Fwy.) - Formerly TGI Friday's, which closed late summer 2013.

Luby's (25660 Northwest Fwy) - This might be the last Luby's (that wasn't attached to a Fuddruckers ) ever opened. Many of the older locations have closed and have not been replaced.

PDQ (25686 Northwest Fwy) - This replaced (demolished and rebuilt) an On the Border that closed by August 2014 not too long after Gringo's opened (like most everything in the strip, it opened around 2005). It's a fried chicken place though more upscale, a bit on the level of Chick-fil-a except it's open on Sundays.

Kroger Signature (17455 Spring Cypress Road) - The anchor tenant of Cy-Fair Town Center (PDF perma-copied here), this was built around 2005 but between 2011 and 2012 received a physical expansion that made the store about 25% bigger. I know I'm not mentioning the entire other shopping center on the north side of Spring-Cypress, including Home Depot, Spec's, and Smashburger, but like I said, this isn't meant to be super-comprehensive and I needed to push it this update sometime this century. I should also make mention here that one of my favorite strip center store-names ever, "The Great Frame Up", located at 17515 Spring Cypress Ste. F, is now closed. Too bad. One more thing to note--one of my memories I have of this strip back IN 2005 was noticing the "Fry Road" and being reminded of Futurama which I had seen some episodes of at the time.

JCPenney (25646 US-290) - Besides a movie theater, the other major tenant in this shopping center is a JCPenney department store.


SKINNER ROAD
At the Skinner Road intersection, there's Cypress Village Station, a modern development with some mostly service-oriented strip mall shops (two level! PDF coming soon), an apartment complex called Cypress Village, and a park and ride operated by METRO. Next to that is a Sysco facility, which used to be a Texas Instruments facility built c. 1979. It was spared the cuts in the mid-1980s, In 2010, Sysco purchased it, which used to be a Hewlett-Packard call center. The TI plant closed in 1993, with HP picking it up soon after. I don't know when the HP facility closed. It was also the site of the first new 290 park and ride since 1989, when a temporary facility was built there in February 2007. I haven't figured out when the call center closed. The P&R closed when Cypress Village Station opened, of course. The south side is still undeveloped, and there's a shooting range called Hot Wells Shooting Range. Hot Wells has a natural lake, and I read it used to be a public swimming hole for a while.

BARKER-CYPRESS ROAD
This is a bit of a weird intersection. The frontage road used to have a somewhat unique feature where the main frontage road would continue and bypass Barker-Cypress with the stoplights being on a "loop" that bulged outward. It also built up the frontage roads to build a bridge over the railroad. The "loop" still caused congestion, so a partial cloverleaf was added later (not until 2013 or so), to avoid a stoplight. Unfortunately, this all happened right before the entire bridge was demolished and rebuilt. So much for convenience, huh?
Westbound (North)
Anyway, there's two supermarkets, both with gas stations. The
H-E-B
opened in 2007, replacing a 1999 H-E-B Pantry (even though it had renovated at least once) several miles away, while the Randalls opened in September 2001 at 12312 Barker Cypress Road (Coles Crossing Shopping Center). A few restaurants were built in the last three years or so including Cheddar's, Saltgrass Steak House (opened 8/2012), and Marvino's Italian Kitchen (opened in early 2015). On the H-E-B side,
Willie's Grill & Icehouse
is here, next to a strip mall building (24324 Northwest Freeway) with four tenants (built 2007). I always found it interestingly NOT interesting, even though it had some unusual names, they were all in a generic font.
These include Tru Tri Sports in suite 400, Made Ya Smile Dental (that one always makes me grimace for some reason) in suite 300, First American Title Company in suite 200 (invisible from the freeway), and suite 100, which has Sandy's Hair Studio, and before that, Shapes Threading Studio (unless I'm wrong on the dates).
In January 2015, I visited the Randalls at this exit, as I wanted to experience one for myself. Despite being built in the Safeway era, Randalls was renovated to the "Lifestyle" prototype, and I have to admit, it still does look nice despite having received little changes to the design since 2005. I wrote about this Randalls on my Safeway/Albertsons blog very recently, and that's where you can see how packed out H-E-B gets (though Randalls never got much even in 2002).
I did take some pictures of the shopping center surrounding it, which is less visible from 290. (Jan 2015)
IMG_1915.JPG - Looking out at the first row of strips, looking east.
IMG_1916.JPG - Looking straight ahead. I was a bit surprised to see an Aggie gear shop in Houston. While these are a dime a dozen in my neck of the woods, it was a bit of a shock to see one here. Must be those graduated expatriates.
IMG_1917.JPG - I think these are directly to the west of Whoop U.
IMG_1918.JPG - Looking west. I didn't mean to take a photo of this woman, so I blurred her face out.
IMG_1919.JPG - Randalls picture as seen on the blog. I don't know what that thing in the upper left is.
IMG_1920.JPG - Looking east, from the vantage point of the previous picture.
IMG_1921.JPG - An LA Fitness also anchors the center.

TELGE ROAD
The most noteworthy thing about the area around the intersection is not so much the landmarks (whether it be the Randalls Distribution Center, which is noted by a water tank with the Randalls logo, or Cy-Fair High School) is the
Randalls Distribution Center
On the other side of the freeway, you should be able to spot a small tank with a Randalls logo. This is the
Randalls Distribution Center
, which has been operating since circa 1983 and expanded in 1999 with a large freezer addition (this is pretty much what I wrote on
Wikimapia a while back
). To be honest, this one is a bit of a curiosity as well, as the rather large distribution center served just two markets (Houston and Austin, though trucks passed through Bryan-College Station as recently as last December) with a little over 40 stores between them. For the last decade, Randalls has been under rumors that the division would be sold or shut down, but thanks to a merger with Albertsons (which had notoriously pulled out of the Houston area, selling or closing dozens of stores in 2002), this center now has expanded to 65 stores, including Albertsons stores in southern Louisiana and stores in Florida, which are
currently Albertsons as of this writing but becoming Safeway stores
. Albertsons trucks actually be seen going in and out of here now, though I'm told the drivers going to Louisiana are still part of the residual SuperValu ownership that Albertsons is trying to phase out.
Other Things of Interest
Here's where we now move into parts of Cypress that are far older than the 2005-2008 (and beyond) strip malls. Besides one of the furthest out
Houston Garden Centers
there is, there's
Tex-Fab
, a "pressure vessel and rolled plate fabricator", which at the right times of evening you can see red metal in there. Just a stone's throw away is the venerable circa 1940s
Cy-Fair High School
is here (and adjacent
Arnold Middle School
), a large heavy machinery manufacturer at the Aberdeen Business Park (
Stewart & Stevenson
, built in the late 1990s or early 2000s, oddly), a
Chevron
with a Blimpie without an updated logo (the Chevron here was also built around 1996, and has probably had the Blimpie since the beginning),
Carl's BBQ
(an old barbecue place that has reportedly been there for decades), and even a small airport with just about 200 meters between the end of the runway and the beginning of the highway. Seeing an airplane land here is a cool sight!
HUFFMEISTER ROAD and FM 1960/HIGHWAY 6 SOUTH
As we approach Huffmeister, we see the large North Cypress Medical Center, which contains some medical offices on the lower level of its parking garage, mostly medical tenants with (at least) one notable exception: a Spanish-Italian restaurant called Merche! on the lower level. The construction of the hospital made the area much busier and much more urban feeling. It was also here where we were in the HOV lane (spring 2012) and got into a pinch when a motorcycle was stalled in the HOV lane. Some honking, and we got out (hopefully that motorcyclist got out okay). This is why HOV lanes need to be two lanes.
A huge swath of trees survived until 2013, when it was torn out for a business park (and an Exxon). They have tenants now, but I haven't yet recorded them. On the other side, surrounded by a subdivision, there's a Top Dog Fireworks Warehouse (former Black Cat Fireworks Warehouse) here. Not only does a giant fireworks warehouse behind a subdivision sounds like a horrifyingly bad idea, you can't even possess fireworks in the area. It had to be grandfathered in, obviously. During the Halloween season, it becomes orange and becomes a large Halloween store. They've since built a Marriott Springhill Suites behind it.
I should note that a lot of this is covered over at West Houston Archives, a site which I love, links to this one, and one that I deliberately try to not overlap (for buildings near this intersection, visit the SH-6/Addicks-Satsuma section). The southeast corner was a Chevron (it rebuilt around 2007 with a full "Speedy Stop" instead of its under-the-canopy "Food Mart"). I believed that it would be converting to TETCO or 7-Eleven due to the acquisition of Speedy Stop, but it didn't, as 7-Eleven didn't acquire all of the stores. Instead, by December 2014, the Speedy Stop is -still- Speedy Stop, but instead, Mobil took over the station. You can see the station in its original form here (at WHA, of course).
Unlike him, I don't have a lot of memories here. I remember stopping at the McDonald's (for coffee and snacks) en route to the Houston Museum of Natural Science in 2008. I remember commenting on the incredible shrinking apple pie (and why they were so cheap). It was also one of the first "new-style" yellow-eyebrow McDonald's before they started to rapidly tear down or renovate older "mansard roofs". The FM 1960 interchange was particularly nasty in January 2015 because I exited there out of panic from a crash ahead--and then found out that there was no way to get back onto the highway safely, because both the southbound entrance ramp and southbound Hempstead Road (which at least used to become the new SB frontage road) were both closed. The smaller strip centers change tenants. Already, I've seen Kim Kim Vietnamese Cuisine become eT Craft Burgers & Beer, and Busy Body home fitness equipment become Mattress One. And both of these were not original tenants (certainly not Busy Body). As of May 2015, even the Subway has closed here (or at least moved out).
A lot of the buildings here are surprisingly older than the rapid development may suggest. Besides the business park, there was a Hampton Inn (20035 Northwest Freeway) built around '96, and that was the only thing built on the west side of the freeway for many years (that is, until they tore down all those trees). On the other side of Hampton Inn was (supposedly) the "Texas Tee Golf Center" (20454 Northwest Freeway). Google redirects me at that address to closer near West Road, which may have been a driving range at one time (according to Google Earth aerials from that era) but honestly I really don't know.
One more part here before we move on...one of things in construction (started back in summer 2013 IIRC) was a bridge for Hempstead Road and perhaps one of the most useless overpasses ever. It used to be that the frontage road past the FM 1960 stoplight led directly back to the freeway entrance with Hempstead Road paralleling the railroad becoming the new SB frontage road. The construction made a continuous frontage road but instead of having Hempstead Road merge in with the frontage road or build something akin to the "Y" on the north side, having Hempstead Road actually go over the frontage road and a private railroad crossing (to an industrial facility) before merging back in to the side closest to the frontage road. It makes even less sense that said railroad crossing (with gates and all) is closed and being dismantled as of November 2015. Top Dog Fireworks - February 2015 in slow-moving traffic.
NORTH ELDRIDGE PARKWAY and WEST ROAD
Car Dealerships
This is one of the main modern sections along 290 with car dealerships, but more importantly, is also the most recently completed part of the widened highway. It's not open yet fully but it is smooth and shows what the completed product will look like. While the car dealerships started to de-populate in 2009, one thing that I do fondly remember was all the giant inflatables they had (gorillas, the like), which I then read how a city ordinance would ban them. And sure enough, they all disappeared! From northwest to southeast, there's
Baker Nissan
(formerly Northwest-Lincoln Mercury),
Northwest Dodge Chrysler Jeep
,
Momentum Volkswagen of Jersey Village
, a CarMax,
Hub Hyundai Mitsubishi
, the former
Jim Archer Chrysler Jeep
(demolished and replaced with "Emerson Process Management", even though it only operated for about five years before closing), and numerous others all the way to West Road, where there's
John Eagle Honda
and until recently, a closed Saturn dealership (it's a collision center now). Nearby is a Sam's Club, a park and ride (direct connection to the HOV lane, at least for now), a Budweiser distribution company, and
Altex Computers & Electronics
, a store that I have yet to visit. From what I've read, it's mostly computer and electronic components, much like Micro Center closer to the Galleria, and I do love Micro Center, which basically is a brick-and-mortar version of
Newegg
.
Phobia Haunted House
After the West Road interchange was the sign for
Phobia Haunted Houses
, which supposedly moved after the 2013 season, but ended up being open for 2014. This
August 2013 picture
isn't all that great, but it shows the billboard, lots of trees, and the dirt road railroad crossing you have to maneuver to get in there with no gate whatsoever. I imagine that if you did go, a train surprising you at that point may be the scariest thing you saw that evening. Hopefully no one's gotten hurt there. WHA points out that this was based around an actual old house. By December 2014, the sign was gone. Phobia's gone for good. I think after it moved out, there was another billboard that said "Clown Moving Co." or something in the same style (existing briefly). As of October 2015, there's a billboard redirecting people to their new location off of Beltway 8. The railroad crossing is closed and the buildings have been completely demolished.
Gulf Pacific Rice Company
Next up is the
Gulf Pacific Rice Company
, a rice milling operation here since 1954 and built by the Moore family as a rice dryer (the grandson of the original builder still has a role at the plant!). Unfortunately, my pictures of the rice mill (Gulf Pacific since '89, when the company was founded) aren't that good. Gulf Pac has dozens of clients (even big ones like Udi's and Kelloggs) and makes most of the bagged store brand rice (not just H-E-B, but even farther away chains like Hy-Vee, and there isn't a Hy-Vee in probably a thousand miles) since switching to domestic production in the 1990s. There's trucks going in and out all the time (most of the rice is grown in Arkansas area). Gulf Pacific also has Taylor Laboratories at their address, which is an in-house testing lab for QA and testing. I visited this plant, I should know (but they never called back about the job they said they were going to offer me, a pity). There used to be a billboard for "Perry Pools" that's been there as long as I can remember, though I believe it was torn earlier in 2015. I'm guessing it was torn down for the frontage road rebuild. You can see it in WHA, Google Street View, or a YouTube video I made entitled "Northwest Free" to see it though!
Sparkle Sign Company
Sparkle Sign Company
is one of my favorites, for years, you could see all sorts of old signs in the back (including an old McDonald's sign), probably other treasures as well. This I also don't have a great picture for. I don't know how much stuff is in their "sign graveyard", but I would sure to see it. Unfortunately, they don't offer tours to the general public, and even if they did, Houston sign legend "Bubba the Neon Roach" isn't among them and is known to be destroyed.
Other Things of Interest
Around the site of Phobia, there were a few metered ramps (looked like stoplights), but those have since been removed. I've never seen the ones on Northwest Freeway used (probably because I'm not on 290 that much), and other lights can be seen on Gulf Freeway and on the North Loop. They're basically used to prevent cars from the frontage road from pouring onto the highway by basically adding in a few second gap (or basically, the shortest stoplight ever). It's worth noting that there are actually houses on the other side of the freeway directly on the frontage road (not for much longer, as their taxes are probably through the roof, and "living off the freeway frontage road" would probably not be my first choice (or anyone's, really) for living. One more thing, between Sparkle Sign and Gulf Pacific there's
Tuff Shed
, which as of October 2015 has created a sign that blinks rapidly.
Sparkle Signs at Night
- Regrettably very blurry, but it does look better at night! (Oct. 2015)
Landry's sign
- From one of the side roads. Not visible from the freeway.
JONES ROAD and FM 529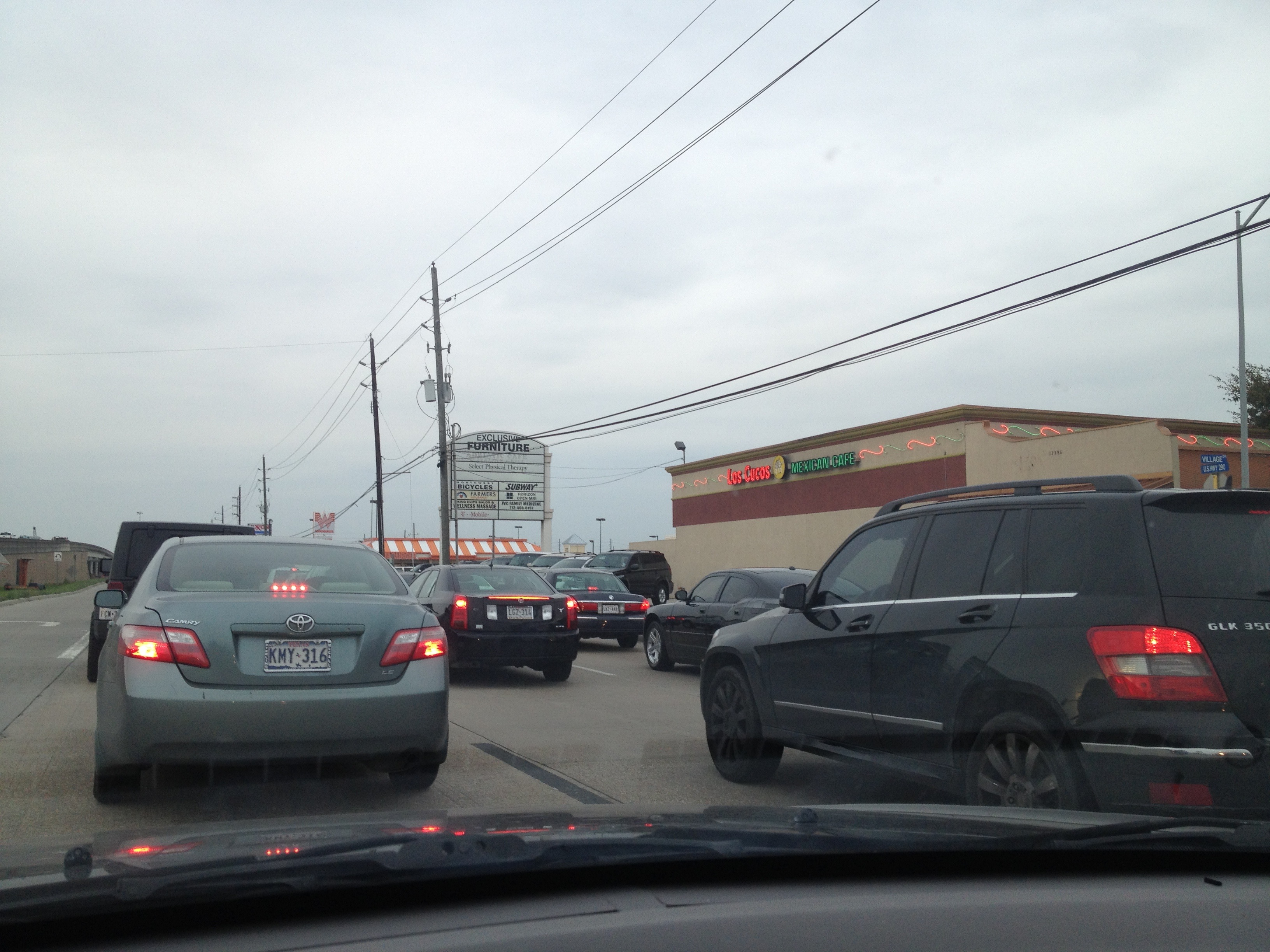 The picture above is from February 2015 at the north side of the intersection, going west.

Northwest Village
This plaza isn't in Houston, it's in Jersey Village. At the northeast corner of Jones Road and 290, there's a strip center here with a few restaurants.
The other side is significantly different. It's a strip mall called Northwest Village (built in the 1980s). For months (after I started paying attention so I could write this thing), I believed that 17390 Northwest Freeway, Exclusive Furniture, was a supermarket. Turns out I was close. The Spec's was a former Randall's at one time (the last post here where it talks about the closure of the store), though I only know it existed in the early 1980s. The Exclusive Furniture was originally a Handy Dan Hardware though it moved out well before the end of the decade. Check the shopping center's site plan here.
The Harbor Freight Tools was a movie theater (the Northwest Village 6, though the address is 17532 as opposed to the modern 17490, unless I've misplaced the numbers...and I also found that a 1996 directory puts it and a few other tenants at 17492, not sure anymore) and the Hartz Chicken Buffet was a Tinsley's Chicken & Rolls back in the 1980s, one of its last locations in the area before leaving town. There are some remnants of the past, though. China Villa, a restaurant behind the gas station in the strip center, has been operating since the 1980s. The E-Star Buffet in the center was an Eckerd in the past, and the "Super K" Food Mart (with Valero branding) was likely originally a Circle K or 7-Eleven.
Recently, I confirmed it was the Whataburger that used to be the Del Taco back in the 1980s. Check it out in the former restaurants page.
Other Things of Interest
The northwest corner includes a small strip with a "Philly Connection" cheesesteak place (possibly the last one left...I'm certain there were at least two PCs along the 290 route in 2007-2009), and word is on HAIF that the plaza used to be one of the "unmanned gas stations" with no store and no attendant. It was a Shell, though because it was demolished in 2003, I don't remember it.
The extension of Jones Road blasts through some trees to an industrial area, this was completed circa 2011 and added a railroad crossing for the first time. It is a constantly busy intersection (it provides an alternative to getting to FM 529 without using the frontage roads and vice versa) and I've dealt with this one twice. The first time, I made the mistake of getting off at Jones when I was trying to go to Hempstead Road a few months ago on a road trip, and the light was the longest I remember sitting through in a long time. The second time, I got off at FM 529 on a wrong turn and had to sit in line to get out (a train was waiting too, even).
The west side is still industrial, while to the east there's the huge Jersey Village Baptist Church the west Houston side has things like Arsham Scrap Metal Incorporated.
Photos
Arsham Scrap Metal
, c. 2013.
Arsham Scrap Metal
, January 2016. This had been repainted sometime in late 2014.
SENATE AVENUE
The Senate Avenue is just right before the Beltway, in fact, prior to late 2014, Senate Avenue just straight became the frontage roads to the Sam Houston Tollway, continuous up to the point where it forces you on the Mykawa overpass, and finally merging in north of TX-225 (northbound at least).
It may be hard to believe, but even into the 1990s and early 2000s this was where "Houston" took off. A smaller Fairfield and some highway-side development like gas stations technically existed, and of course, by FM 1960 you were definitely in developed urban territory (though even that was far less developed), but Beltway 8 was a literally physical boundary that was the guardian between "there" and "here".
This is where the ramps to Beltway 8 are, which is confusing due to slight grade changes in the road (as if it wasn't complex enough already). But it was also my favorite because of the huge fast food signs that jutted besides the freeway: a McDonald's, a Wendy's, and a Taco Bell, all of a 1980s vintage. As odd as it may seem, my best memories of driving through Houston included these, especially with my then-new iPod (November 2009 en route to Louisiana!) providing great tunes along the way, including "Red Barchetta" and "Death and All His Friends" (Rush and Coldplay, respectively).
In March 2013, I managed to finally take a picture of them, but by that time, they were already shut tight (these were shut down in fall 2012). Interestingly, the pictures mentioned in the link above were taken the exact same day. What an amazing coincidence. These pictures are largely taken from Brazos Buildings & Businesses. Some of these are my friend's pictures, but he's given me permission to use them. Today, they can be seen at this sub-page. The ultimate reason as to why this was torn down was due to building a new frontage road (as well as additional ROW, likely), which appears to be turning the old frontage roads into "pass-through frontage roads" so you can continue on the 290 frontage roads instead of stopping at the stoplights, much like Beltway 8 and 290. Unfortunately, this will probably be end up being used as "temporary" mainlanes when further construction is done on 290.
Street View of the McDonald's when open
Looking up at the sign (GSV)
Bing Maps View of Wendy's and Jersey Village Automotive
Looking out toward Brake Check

SAM HOUSTON PARKWAY (BELTWAY 8)
Over on the other side is a Chevron that never changed its sign from the solid red and blue when the rest did circa 2007-2008. I got a shot of the sign but better photos are from WHA and Houston Freeways (linked above). The sign existed for far longer than I expected it to, finally being torn down sometime around May 2015. Luckily, I got pictures of it and a few good views of it, and I'm thankful it stood for as long as it did.
This was at 15830 Northwest Freeway at Senate Avenue. Google Maps Street View pictures are here and here.

Other buildings in this stretch include Brake Check, Jersey Village Automotive, and a few gas stations (Texaco was east of Senate), though the latter was gone for many, many years before this project even started (probably predated the fast foods too). Here's one picture of mine of the elusive sign. Notice how the text pops out slightly: they don't make them like they used to.
Chevron sign, August 2014 - From car.
Chevron sign, March 2015 - From car.
Chevron sign, March 2015 - From car.


Next to Chevron was a Jack in the Box (Google Street View pic) and a Meineke car repair center. Next to the distribution center for Goodman Global (renamed Daikin, even though it will be empty by the end of this year) was another victim of the freeway expansion, a small Anglican church (Saint Peter's Anglican Church), which somehow existed in the shadows of giant warehouses and big commercial strips. Back on the now-defunct northwest/west side, there was also another store called "Carpet, Texas", which around 2010 became a Jack's Carpet. It closed around the time Jack's declared bankruptcy and closed many stores. Views from Google I've collected below.

View from Beltway 8
View from the frontage road
View from above
View from...actually, I don't know where I got this, but it's JC in the Carpet Texas days

Part of the reason for demolition, of course is a project involving 290 and Beltway 8. The new frontage road will go on the sites of the old businesses, and there's even a new direct connection to Hempstead Road from the highway (the original connection to Brittmoore is still intact for now).
Here's something interesting, two pictures from the perspective almost a year apart, on the WB frontage road under the five-stack before the first stoplight. Notice the differences?

Picture from March 2015 - from under the five-stack

Picture from January 2016 - from under the five-stack, same place


WEST LITTLE YORK ROAD AND GESSNER ROAD
I have to admit that I don't go to the Inner Belt all that often as most of my Houston visits dealt with going north toward the airport (or stopping before that), and one of the more recent times I drove on this part of 290 (well, last year by this point) I was too concerned with construction and the not-quite-aligned-with-the-older-lane-striping Bott's dots on the road (it's gotten worse, seriously, it's horrible). Anyway, on the other side of the Beltway is
Brookhollow Village
, which was mostly inactive in previous visits...the center originally had a Safeway when it was built in the 1970s, but later became AppleTree (1989, after the spun-off Safeway Houston division renamed) and eventually Kroger (1994, after AppleTree sold off their stores in late 1993). Around 2005 it closed and the space was used for furniture stores (according to HAIF), but those eventually moved on as well. The closure probably was triggered by not only the Fairbanks In summer 2012, it reopened as
K1 Speed Indoor Track Racing
. The strip mall also has
Fajita Willie's
and
Subway
as dining options, as well as a few other shops, including a
Jack's Carpet
which I swear did not replace the one that was torn down. What originally tipped me off to the presence of an old Safeway (and by extension, AppleTree) was its distinctive hexagon sign. The space next to the Safeway/AppleTree/Kroger/indoor go-kart track was an Eckerd back in the 1980s and 1990s, common to old Safeway stores in the Houston area. It's now an events center. There is one tenant apparently buried in the strip center that's possibly been there since day one (they claim circa 1969, but there's no telling on some of these things, as the center looks like it was built in the early to mid-1970s), a swingers' club called
Wish's
.
On the other side of Brookhollow Village (northeast side) is Hotel Preet, a run-down hotel that was a Holiday Inn in 2004 and later "Houston Northwest Hotel". The three story hotel has 193 rooms but no longer an outdoor pool (it was backfilled). It's likely that the sports bar and restaurant it had in its HI days are long gone as well. Catty-corner to that is Lone Star College - Fairbanks College, which was only built around 2002 (there was pretty much nothing on this side of the highway), and in 2012, a shiny new Hilton Garden Inn was built, even as Hotel Preet continues to deteriorate. Go figure.
One of the things along this stretch is an AMF Windfern bowling alley center, which got a repaint very recently (WHA has the repaint version, though I can probably pull up an older one via archived Google Street View). It used to be part of the Fair Lanes bowling chain, and it was here where a terrible robbery happened back in the early 1980s or so involving several people shot dead.
A bit east of here on the north side is a Rudy's Country Store & Bar-B-Q, which does function as a gas station as well (though is a chain) and to the immediate west of it, a Sherwin-Williams Paint Store.
IMG_2045.JPG - Southbound frontage road on Gessner Road. (Feb 2015)
Fairbanks North Houston Road
Fairbanks Plaza
While south of this is Blalock Road, it's here at 14135 Northwest Freeway, we find Fairbanks Plaza, built in the early 1980s. This had an original "Greenhouse" style Kroger before it closed around late 2008 or early 2009 (going by Street View and my own memories), which co-existed with the "Safeway" Kroger for a number of years. Today, "Jumping World" is the replacement tenant (opened around 2011). To the right of the former Kroger is a King Dollar, which I would wager was originally a drug store. To the left was Liquor Place, a store that went defunct a few years ago (but had been there since the mid-1990s), probably due to the aftereffects of Kroger's departure. There's also a Shipley Do-Nuts here and a few restaurants.
One of these restaurants is "
Larry's Bar-B-Q
" which is probably a bit of a misnomer (
real
BBQ joints do not advertise all you can eat buffets). Picture
here
. This used to be a Red Lobster, which presumably moved to near the Target in the 1990s.
Other Things of Interest
On the other side of Fairbanks North Houston Road, we find a
McDonald's
, which still appeared to be an older store. Unfortunately, that was not the case. Next to McDonald's is a strip center with
Kolache Factory
(awesome!) and a
Bizarre Bazaar
(a Houston chain of adult novelty stores—with a name like that, I'd expect something better, and cooler). Going beyond that, there's one Home Depot, built between 1995 and 2002 (which is when a lot of Home Depots were built), plus a
Cavender's Boot City
.
Cavender's Boot City
Just past this intersection was once one of my favorite signs along the highway, as there was a little neon cowboy on top of the
Cavender's Boot City
freeway side sign. However, a good night shot of the sign proved too elusive. I mean, this
this is the best I have
(July 2014), but come on--that's supposed to be a vibrant red in real life, not orange! Part of the fault is that it's a screenshot of a video, but even my attempts at still photos with my iPhone have turned red neons orange. See my
Torchy's Tacos article
at my old College Station blog for another example, or the "gas prices" photo above. Sadly, in December 2015, the sign was gone and the post was being dismantled (though there's a *chance* it was just removed to be reassembled away from the freeway, though it is highly unlikely). At least a similar sign appears to be alive and well on the Gulf Freeway, hopefully safe from highway expansions for a while. In terms of this building, HCAD says it was built in
1980
and an early 1980s directory says it was "Don's Western Wear". I would guess somewhere down the line Cavender's bought them up.
Some of my "screen grabs from a video" stills include a "Just Brakes" next to a mattress liquidator. These stores are now gone as of early 2015, and the building is demolished as of early 2016. There's a Palace Inn here as well. These are either a cheap budget motel chain or a "hot sheet motel" depending on who you talk to (mostly the latter). With the signage gone, there appears to be some "ghost signage" regarding some sort of carpet outlet.
Photos
IMG_2072.JPG
- Approaching the intersection, March 2015.
IMG_2073.JPG
- A ground-level Golden Arches (on a pedestal to the whole left, the whole thing dismantled for utilities work) was about 7-9 feet high.
IMG_2074.JPG
- Another look at the McDonald's (March 2015).
Larry's BBQ
- Screen grab from video, 2013
Cavender's sign, c. 2014(?)
- I never got a good night shot...
WEST TIDWELL ROAD and HOLLISTER ROAD
This is one of those "overlaps" with the West Houston Archives, which focuses more on that actual interchange here, but this is a pretty major commercial hub, like mentioned. One things to note is a Wal-Mart that was opened in 1995, which in 2006 was expanded into
Wal-Mart Supercenter
, and it wasn't until 2013 or so that it too got the "Walmart" name, well after the new Walmart branding swept the chain in the few years prior. The
Target
on the other side opened in October 1993 according to my sources. The restaurants here from northwest to southeast include
Chick-fil-a
(which replaced an Outback Steakhouse, built around the same time as the Target, but closed sometime around 2008 and was demolished by 2010),
Red Lobster
,
Pappadeaux Seafood Kitchen
,
Pappasito's Cantina
,
Chili's
,
Fuddruckers
,
Logan's Roadhouse
, a bank,
Hooters
,
Brick House Tavern & Tap
,
Denny's
, and a
Twin Peaks
, which was formerly a T.G.I. Friday's before closing around 2011-2012, renovating, and reopening. None of the pictures below are very good, though. Also worth mentioning is the restaurants catty-corner to the Wal-Mart, including
Mambo Seafood
(awesome sign, this used to be a Shoney's around 1996) and a
Luby's
(a walking distance from their HQ).
IMG_2221.JPG - Aforementioned Red Lobster, May 2015
IMG_2219.JPG - Aforementioned Pappadeaux Seafood Kitchen, May 2015
IMG_2218.JPG - Aforementioned Chili's, May 2015
IMG_2217.JPG - Aforementioned Denny's, May 2015

PINEMONT ROAD and BINGLE ROAD
This is another interesting interchange, one with a recently rebuilt bridge. Gold Cup ( ) was a strip club. While it substantially expanded the building, it was built as an upscale eatery (or at least that was my perception) called Gallagher's Restaurant & Pub. The strip club appears to be closed, which I didn't believe at first (no indication on the rest of the Internet) until I saw John's (from West Houston Archives) pictures of how deteriorated the building has become. No telling when it closed, but the Facebook page hasn't been updated since summer 2013. More than likely, it will end up being demolished, since the building is way too large for most restaurants and it's once-fine brick exterior is completely covered in graffiti (more so than John's picture). Already on a recent visit, the sign is gone and a good chunk of the parking lot.
12700 Northwest Freeway was originally Handy Dan Hardware. It's now 24 Hour Fitness (after serving a stint as an Academy), but it has a different address (and does not use up all the space). The Academy later moved to the old Randalls space described further on, and the Randalls had moved to a Kmart (also described further on), because the Kmart had moved onto an old Venture. Quite the switchover, eh?
While a Carl's Jr. opened in 2013 next to 24 Hour Fitness, on the other side was Bravos Mexican Restaurant was at 5101 Bingle Road. Originally built as a Champ's, the restaurant closed in spring 2014 with the building and its cool Wendy's-like solarium window being taken down in August of that year. A year later, something is being built there, but I'm not sure what.
There was an Exxon here with a car wash and convenience store (I believe it was one of the "On the Run" locations, the "flagship" convenience store of Exxon), but it was closed in April 2015 and by May was being demolished. The Shell across the street still appears to be operational.
Like the mystery spaces at Northwest Village, Northwest Dental Center at 12241 Northwest Freeway had to be restaurant (it held Lee's Golden Dragons dance troupe for a while) based on its large building and larger parking lot which is of course underutilized. Unfortunately, I haven't yet found out what was there, but I'm guessing it was probably a steakhouse (it was insurance offices in the mid-1980s, which may or may not disprove my theory). Based on the fact that its front parking lot was torn up, this seems like a candidate for demolition in the near future. Stay tuned. Unfortunately, this is also somewhere around the area where heavy construction is going on 290 to widen it, at least it would be widening it, had the contractor not defaulted, so there's just parts of bridge embankments with tall weeds, highway entrances with no acceleration lanes, and all sorts of "fun" things that make the highway even worse. As of this writing, work has resumed but the highway is still a major disaster.
Across the street there's a Cafe Red Onion & the Red Onion restaurant chain offices right next to it. Quality Inn & Suites (12439 Northwest Fwy.) - Opened in 2002 as a Holiday Inn Express Hotel & Suites and sold off in 2013 (assuming its current name that year, as it was going to lose the HI name), the pool was being dug up as the highway came close to it, but alas, it already had a demolition notice filed. a repainted and rebranded Holiday Inn Express (QI opened around 2013, while the hotel was opened around 2000). As of January 2016, the pool of this hotel was being dug up as the highway widened, though it looked like the rest of the hotel was still open. The demo permit must have been for just the pool, though to be honest the chance that this hotel could be flattened by year-end is still a possibility. As an aside, my 2003 hotel guide says that this hotel contained 61 rooms spread out on three floors.
24 Hour Fitness, 2015 - There's a rather odd blacked-out sign nearby (the same shape as an H-E-B sign), though I can't imagine it being for Academy.
IMG_2214.JPG - Looking north toward Bingle
IMG_2213.JPG - Red Onion offices and restaurant

WEST 43RD STREET
The Sleaziest Strip Mall
Here we get to one of the last parts of 290 before it officially ends at 610. This is where clearances begin (though in this case, the west side demolitions were one of the last/latest done). On the northwest corner, there's a
Hartz Chicken Buffet
that was demolished sometime in 2015 (guessing sometime in the summer since it slipped through the cracks when Swamplot wasn't updating) as well as the partial demolition of a particularly sleazy-looking strip mall, of which the tenants are listed below. It *may* end up being partially spared, but I don't know. All addresses correspond to Northwest Freeway.
Sleazy Strip Mall
(12101-12151 Northwest Freeway) - OK. This isn't the official name of this building (obviously) but I haven't seen a collection of sketchy tenants so close together. All it really needs a tattoo parlor, a full out-and-out porn store, and a pawn shop. 12151 - Cricket [some Internet records say "Best Wireless"]
12141 - Passion Spa [sign simply said PASSION, red letters on white backlit sign, Internet records say that this was an erotic massage parlor...and probably, by extension, a front for prostitution]
12131 - 3 Amigos Bonding
12121 - Boost Mobile [Internet records also bring up "Daystar Inspections" and "Alliance Communications"]
12111 - Progressive Insurance [or says Google Street View, searching this address turns up "Jordan Insurance"]
12101 - Pronto Money [facade says "1% Checks Cashed"]
Northwest Freeway Center
On the other side of the street is one of my earlier "290 fascinations",
I've written about this before on another still-born blog
(it saves some extra words here!). This even goes so far back to one of the Service Merchandise stores I remember seeing along the freeway, though that's understandably a long time ago. The original signage (nothing special) was torn down in the widening, but nearly all the center's once first-line tenants have fled in relatively short order.
Venture
(12005 Northwest Freeway) - This store, of course, has been closed for years. It was a discount department that closed in 1997 and reopened as a Big Kmart in early 1998. In January 2003, Kmart closed along with the remaining Kmart stores in the Houston area, and it was turned into a Burlington Coat Factory with Affordable Furniture as well. Affordable Furniture shares the address with Burlington Coat Factory.
Joe V's Smart Shop
(12009 Northwest Freeway) - Originally, this was a Service Merchandise, which closed not before 1999 or after early 2002, but likely closer to the former. It sat vacant for years before H-E-B dramatically altered the facade to build their discount grocery store (
picture today
, Google Street View has the older facade). This is kind of an interesting choice. Joe V's is a bit disliked as a format as it goes into low-end neighborhoods where H-E-B doesn't want to build full-line stores (even C-grade H-E-B stores), namely areas where H-E-B had promised they'd build 10+ years ago, but didn't (a store on the Southwest Beltway is an example of this). This Joe V's is the first of its kind to wedge itself into a strip mall. I can say with 95% confidence that they were not planning on an H-E-B here originally.
Toys R Us
(6433 West 43rd Street) - This is gone too. The "Fallas Discount Store" (in that form since at least 2005, I believe) is obviously a
Toys R Us
, built around the same time as the rest but not too long after. It might've been opened in 1995 but slashed in the circa 2000 closures (I'm just guessing, as I believe it was in the Fallas form since '95). It has an address of 6433 West 43rd Street.
The south end of the shopping center, on the other hand, held a number of smaller tenants including Petco (which might have been an original tenant). One of the more recent things to be demolished is the south end of the strip center. I didn't get a pic to see what was and wasn't there, but the end tenant had C&S Chinese Cafe, with others nearby including Red Onion Seafood y Mas (not to be confused with Café Red Onion, that's different), and Olde Towne Kolaches. Today, only Starbucks Coffee is the last tenant in the strip center post-demo. The demolition of the tenants listed below allowed the Starbucks to have some more parking and a drive-through area. C&S Chinese Cafe () - I believe this had closed several years before it was demolished.
Other Things of Interest
The McDonald's across the street was one of the first ones rebuilt in town with the "yellow eyebrow" prototype.


Photos
BCF and Affordable Furniture
- This was all one store at one time (August 2013)
Joe V's Smart Shop
- Opened fall 2011. I was a little surprised how dramatically the facade changed. (August 2013)
IMG_2497.JPG
- The last houses on Harland waiting to die. This particularly saddens me, as there was nothing wrong with these homes--they weren't particularly (visibly) dumpy, just in the wrong place.
ANTOINE DRIVE
There's two defunct Chevron gas stations here, and both were Gulf stations prior to the early 1990s. There's a picture that's on WHA's Facebook page that has the second one pictured. The first one is still extant and closed around 2005. It dates back to the 1970s and even though it was completely demolished (except the driveways), you can tell it's a Chevron because of the distinctive Chevron-shaped sign, though the "for sale" sign didn't appear until around 2008. If you go to the HoustonFreeways.com (the 290 clearances page) and scroll down to the bottom of the page where it tells of
another
Chevron that bit the dust, in the background you can see a white-looking sign with black text (though the sign has been updated with one in color as of November 2015) that's Chevron shaped and still has that metal frame around it. That's the one. The Chevron also had an automatic car wash facility, which was razed around the same time.
The one across the street was maintained a bit better and closed in the early 2010s, though also dated back to the mid-1970s and definitely was a Gulf. It was slightly newer than the "old dead Chevron". The Maximum Furniture, next door at 11330 Northwest Freeway and one of the earliest demolitions along the freeway (related to this project, of course) was originally "All Needz Rental" back in the mid-1970s. a defunct Chevron advertising land for sale. This is an older design than the one on Senate described, dating back decades (1970s?) but you could still tell its an old Chevron (almost certainly a Gulf prior to the early 1990s), although it closed around 2005, the black and white "for sale" sign didn't appear until around 2008. If you go to the HoustonFreeways.com (the 290 clearances page) and scroll down to the bottom of the page where it tells of another Chevron that bit the dust, in the background you can see a white-looking sign with black text (though the sign has been updated with one in color as of November 2015) that's Chevron shaped and still has that metal frame around it. Those two, along with the one up near Beltway 8, have the same type of metal frame, but because of the way things have gone, this is the only one remaining. I also have a Google Street View image of Maximum Furniture located just south of the newer dead Chevron. Despite the age of the Chevron, it also had a automatic car wash facility, which was also demolished.
One more thing: there was an abandoned building, striped yellow and red. This was a Houston Garden Center (thanks SpaceGhost--see HostGator LLC story below) for a brief time, only from about circa 2005 to 2011. It's been vacant for a while now, likely not related to the freeway project. As of November 2015, the building is being demolished, and you can see remnants of an office inside (a ceiling fan, a desk). However, prior to 2004, there was another building there different from the one recently demolished, so it served another purpose as a different business not related to vegetable plants and perennial flowers.
The old dead Chevron - Picture taken May 2015.
Last gasp of the Houston Garden Center - Picture taken May 2015.

WEST 34TH STREET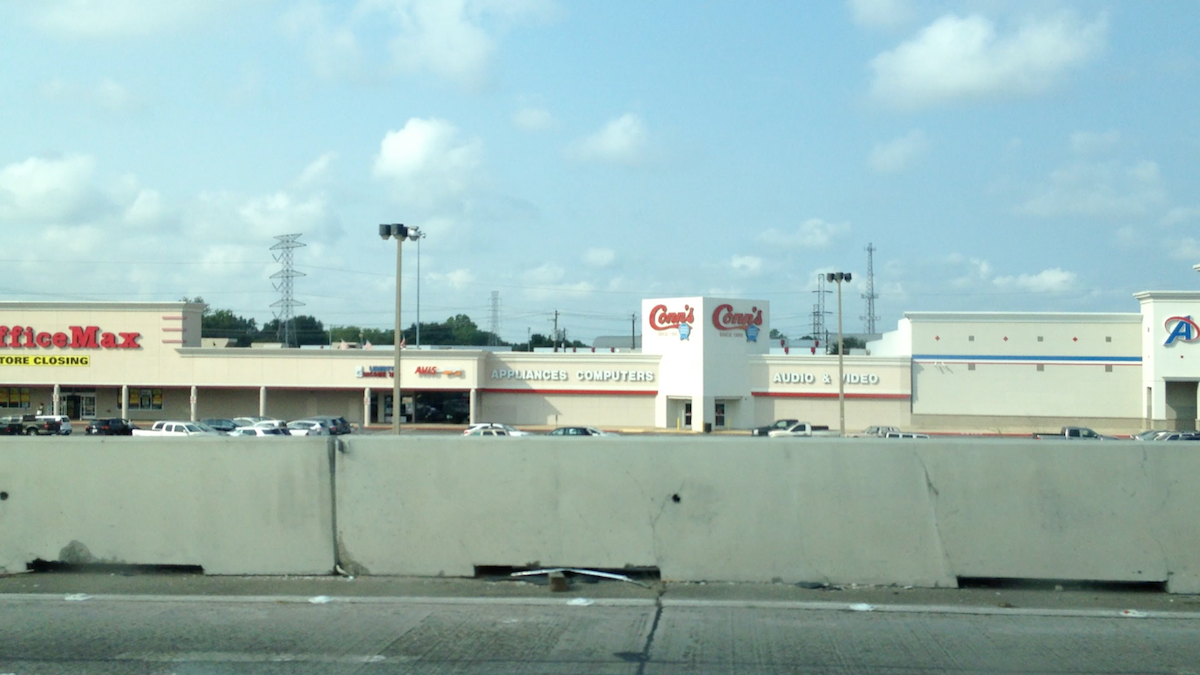 One of the last sights seen before the heavy 290/I-10 construction is Northway Shopping Center, developed by Deauville but in a strip mall form. It is anchored by Academy, Conn's, and until 2013, OfficeMax. It appears that as of May 2015 that Conn's has expanded through the space, significantly altering the strip by enlarging the old OfficeMax facade (and taking its space), booting out the Liberty Tax Service and Avis Car Rental seen in the photo, and taking out the "wedge" facade and expanding that as well. So basically what used to be Conn's, OfficeMax, and a few smaller stores is now a huge Conn's HomePlus.
Note that the picture includes an Academy Sports + Academy visible as well (it has another portion with a large Goodwill). This Goodwill was, according to HAIFer "ldogg" was originally an Oshman's Sporting Goods, but my earliest memories involve a "Super Goodwill" (which was kind of visible on the sign until relatively recently...or it could've been "Goodwill Superstore"). It is now branded as a "Goodwill Select Store" which offers some higher-quality clothing items. Not sure where they got that "Super" part. Back on Northway, the Academy is recently built (built 2004), and before that it was a smaller Randalls (likely another building too), which moved across to Northbrook Center at some point in the past (before 2002, so possibly anywhere from 1999-2002). The Kmart there had been demolished for the Randalls that's currently there. According to HAIFer "purpledevil", the Kmart never changed its original turquoise-and-red logo, though the building clearly expanded between 1989 and 1995 (which I would assume they DID change the logo). The Randalls that's currently there demolished the building, making it closer to the original footprint and appears to have been one of the first Safeway-era locations but it was not really renovated to the Lifestyle format (except for a few design elements). Admittedly, I've never been to it, but it seems cold and lifeless and just a step up from some of the more notorious Safeway stores in D.C. and San Francisco (though many of those have been replaced in recent years). Also in Northbrook Center is an Office Depot that's been operating there since at least 1989 (which may or may not have been the original tenant). Just behind Northbrook was an Al's Formal Wear and Al's Tuxedo Outlet, which sat in the ROW in a triangular-shaped building, didn't survive ROW clearances and was one of th. Since I obviously didn't think about taking pictures because it was too late, there's a few Google Street View shots here and here. The Luby's Cafeteria has always been there, dating back to the early 1970s.
Beyond West 34th, there's some clearances from the 290 widening, particularly Pleasures Mens Club, a part of the Pine Hollow Shopping Center that was torn down (RadioShack looks to be on the other side of it, at least, it was, it might have closed in the bankruptcy, though it was torn down either way). I took this Google Street View snapshot back when I was first assembling what would be this page some time ago (link to screenshot) Casa Olé, Supreme Sandwiches (this was a Denny's at one time, and possibly a restaurant called Julie's Place), and Big Daddy's BBQ (a former Taco Cabana, which was vacant when the Google Street View was taken). I should note that all of these are Google Street View or other locations (I think the night shot of Casa Olé was from a Google review). Also, the Supreme Sandwiches also was "Baytown Seafood" or something like that.
The Supreme Sandwiches definitely had the "look" that some Denny's-near-La Quinta Inns have. The La Quinta Inn is at 11130 Northwest Freeway, but it wasn't always that way. The hotel behind the old Supreme Sandwiches is a Days Inn & Suites (branded as a Baymont as of 2011 as per GSV), but thanks to the trusty old out-of-date Mariner's Guide, 11002 Northwest Freeway is confirmed to be, in fact the original La Quinta Inn! We find that Supreme Sandwiches (prior to this, "Baytown Sea Food", or Baytown Seafood), and that the restaurants page confirms something I previously heard on HAIF, that the current Denny's on the other side of the highway was a place called Jojo's. Meanwhile, the spot there at 11020 Northwest Freeway was a Denny's before Supreme Sandwiches. So both Denny's AND La Quinta Inn moved!
A bit south of that is Captain Benny's, which has part of its parking lot the old Big Daddy's/Taco Cabana. Captain Benny's is in a distinctive boat-shaped building and used to be the Captain's Half Shell Oyster Bar, which used to be in Bryan too (as well as other locations in Houston).
At the northwest side is an empty office building, which was the home of HostGator.com LLC (11251 Northwest Freeway). According to SpaceGhost over at Houston Historic Retail, 11251 initially contained HGC only on the fourth floor (moving from Florida in 2006), eventually slowly expanded throughout the building, only to leave by summer 2013 (a move to Austin was rumored in 2010, but they only established a presence there, and located elsewhere to Houston eventually). There's now a big "FOR LEASE" sign on the building now...
As we approach the Northwest Mall area, some new elevated freeway structures obscure some of the side businesses.
Heading south on the east side, after Captain Benny's, there's Olive Garden which ended up being almost directly on the frontage road but still open, an office building that DIDN'T survive: the low-rise 1980s-era building 10700 Northwest Freeway wasn't that lucky. It was demolished around December 2012 or January 2013. It was a low-rise office building built in the 1980s that was demolished around late 2012 or early 2013 (picture from Loopnet). A bit of an interesting building but small potatoes compared to the Katy Freeway clearances.
Former HostGator HQ - Entire building up for grabs. Picture taken November 2015.
Conn's HomePlus - Looks quite a bit different from above. Picture taken November 2015.

MANGUM ROAD
10700 wasn't so lucky, but continuing southeast toward Mangum (there's no pictures for these yet, but you understand) there's a few more buildings with lost parking but still in business.
Los Cucos
,
Keystone 290
(a strip center with tenants all being service-oriented),
McDonald's
(rebuilt into new prototype in accordance to the widened ROW, though I think it didn't necessarily had to),
Perico's Mexican Cafe
(2701 Mangum), and finally another building directly at the corner that had been demolished for years. Now, I know I informed West Houston Archives about this, so this may appear on both, but Perico's was a Taqueria Arandas before, and before that, a Kettle. The current Taqueria Arandas a bit up the road was not a Kettle (it was a Denny's, which I also did the fact-checking on that). As for the oldest defunct-for-years pad, it was probably a gas station.
The southwest corner has an old Steak & Ale, now being used as part of Public Storage self-storage, with Monterey's Little Mexico was nestled in industrial-related buildings, but it closed in summer 2013 possibly due to construction. The restaurant at 10515 Northwest Freeway still has locations elsewhere in Houston. It should be noted, that Mangum is rife with all sorts of other locations that were something else. Off the freeway was a variety of restaurants that all passed into new tenants: an old Del Taco/Hartz, Burger King, Red Lobster, IHOP, Hooters, Sonic, and Taco Bell all used to stake a claim a here and now all of them are gone.
Originally an Exxon pad (the old rectangular sign frame still is intact), though not one open in the last 14 years, is Nick's Grill. The restaurant, originally Niko's Grill (a name change was forced by Niko Niko) opened at the wrong time, as a new elevated freeway ramp was built right in front of it. From what I read, the highway construction has caused enormous losses (earlier in 2014, it still wasn't turning a profit, owner was investing lots of money to keep it open). Coupled with the mediocre Yelp reviews, I felt it was a goner for sure, though you never know. It appears to still be open as of September 2015, and certainly the sweet potato fries have gotten good reception, so unless it's a front for something unsavory, it's good enough to stay intact. The other business in the relatively-newly-built building is "Insurance Superstore LLC". Even though that was the side of the building that had the elevated ramp blocking it, other businesses weren't that lucky. The "Northwest Shell" at the northeast corner had its gas canopy removed, though like the Chevron, still has the building (at least that was the way I saw it last). The Shell was mostly a garage, according to Street View. The Shell three stoplights down at West 18th Street has a Burger King attached to it.
Summer 2013 view of Nick's Grill - The ramp partially blocks it.
The now defunct Monterey's - The big sign is still up as of November 2015 (visible from the new ramp). Looks like it closed in summer 2013.

LOOP 610
As one approaches 610, you can catch a glimpse of both the Northwest Plaza business park (unrelated to that defunct mall in Missouri), and the Delmar-Dyer complex. Over on the other side is the Brookhollow Business Park. I have a picture I took from a 1970s book called "Houston Today" which shows a
map and some of the earliest tenants of the business park
(conspicuously missing is the Sheraton, which back in 1980s was a full-service Marriott hotel). Note that this scan appeared months before
the book was re-discovered and completely scanned
.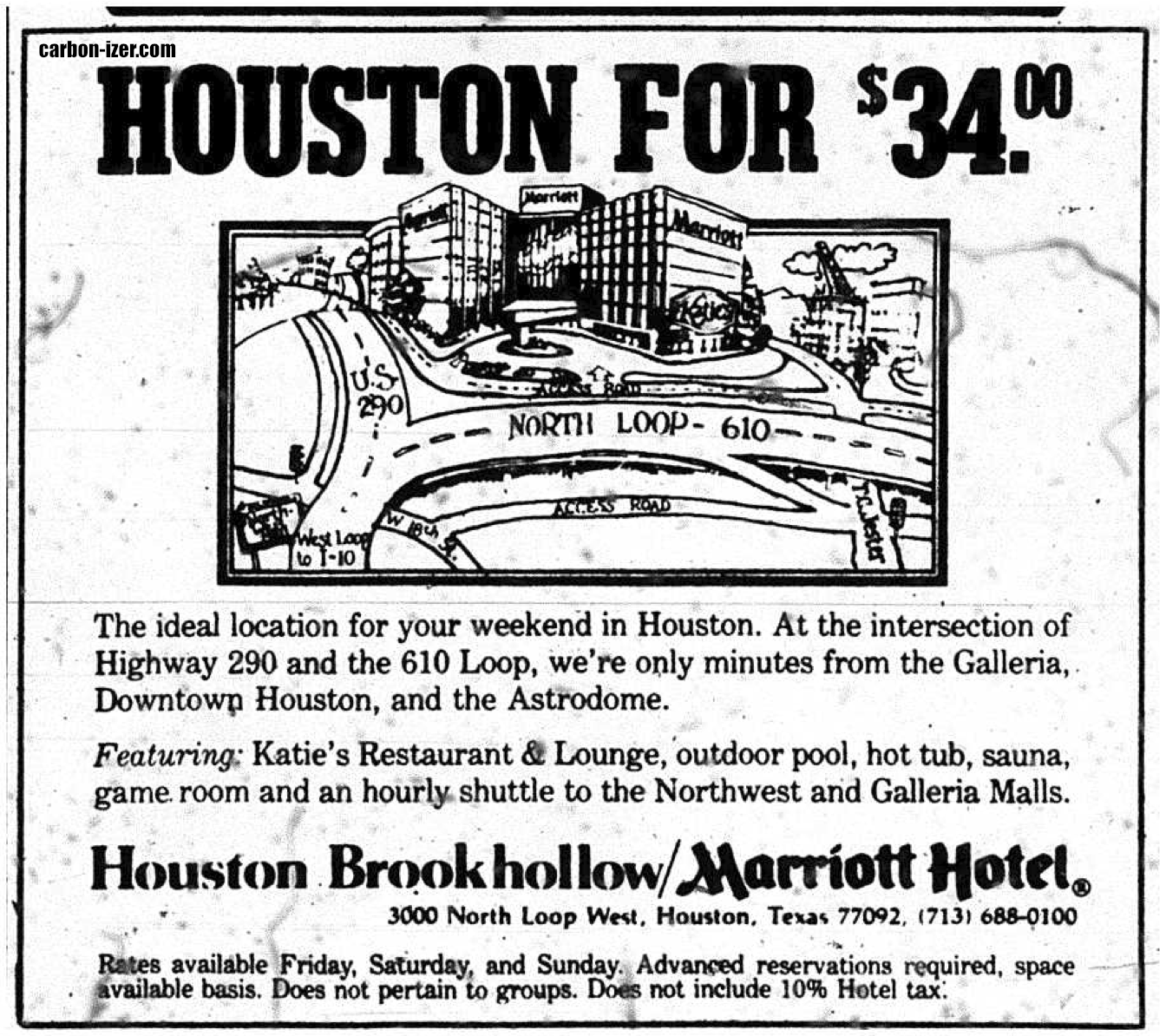 Also note the Humble office complex in the northwest, which Exxon still has offices at--or at least had, before the big complex in The Woodlands)
Finally, although it was never visible from the freeway, there was a small strip center at the corner of Hempstead Road and Loop 610, which had a number of tenants. Googling helped find these, but it appears that not all of them were actually active (must have switched addresses). A * means that I've confirmed they were active or recently departed at the time the center was evicted (all had the address of Hempstead Road).
9552 - Demeri's Bar-B-Q*
9554 - Space City Tattoo Parlor & Body Piercing*
9556 - MP Healthcare Medical Supply [looked long abandoned by the time center was torn down]
9558 - [unknown, looks like there was a for lease sign]
9560 - Soundwaves [store #8]
9562 - King Street Patriots
9564 - Southern Apache Museum
9566 - Barber Shop & Beauty
9568 - Americana Insurance*
9570 - Smoke Toys*
9572 - The Security Store [address is also Townsley Baugh Design]

9550 was American Wheel & Tire, a stand-alone shop, which was also torn down.

So that's the end of the 290 story. I hope you enjoyed it, and I hope you'll come back again when I do another round of updates and re-tell the story once more. Oh yeah, and there's the Northwest Mall. Check it out on the Retail page, which talks more about that Burger King.
Last updated 4/11/16:
Changes in the formatting were completed as from February update (the March update had reverted to an older update). I'm still experimenting with colors. The sickly yellow-green actually seems to complement the existing format rather than the brick red does I originally chose. Colors subject to change.
Fixed the 290 Expressway Mart's closing date.
Updates along the 290 corridor, including Chesters and Subway inside gas stations.
Expanded Mueschke Road and corrected some dates.
Updated the blurb on the Quality Inn closing down (it isn't).
Updated Whataburger's fate.
Updated closure of the "Fairbanks" Kroger.
Updated Gold Cup to its now demolished status.
There are bound to be a few other updates here and there.
For previous updates, check
here
.
Email Carbon-izer at EARTHBOUNDMAN at GMAIL DOT COM for comments, suggestions, and updates, including formatting foibles.
---
Return to
Main Page