CARBON-IZER PRESENTS THE NORTHWEST FREEWAY (INNER BELT)
Welcome to the final portion of Northwest Freeway, the Inner Belt. In honor of the legacy versions of this page, the addresses will go in reverse order (heading INTO Houston). Version 7.0 is the FINAL major update to this page. Not every single tenant that ever had a Northwest Freeway address is on here but it covers all buildings living and dead and has a net increase of nearly three dozen entries. Here's what's different from Version 6.1 (the previous update). You can still see a similar write-up by West Houston Archives
here
, but it starts where the bottom of this page starts (in order of addresses). Still, it contains more photos than this page (not so much businesses, mostly construction), but I recommend you check it out.
Added
: 15110-20 Northwest Freeway (two modern warehouses from the 2000s), 15000 Northwest Freeway (BPM Microsystems), Sago Plaza, Comerica Bank, Bank of Texas, Hill Thrill Motoplex, Executive Adult Superstore and Theater, America's Best Contacts & Eyeglasses, 13482 Northwest Fwy. (another small strip center building), 13403 Northwest Freeway (more offices), 13333 Northwest Freeway (offices again), Clicks Billiards, LA Fitness, 13333 Northwest Freeway, 13201 Northwest Freeway (another Wells Fargo tower), Frost Bank, 13141 Northwest Fwy., 13100 Northwest Freeway, 13101 Northwest Freeway, Mustang CAT, AAMCO Transmissions & Total Car Care, 12110 Northwest Fwy. (closed Shell), 11520-48 Northwest Freeway, 10900 Northwest Freeway (another office building), QC Laboratories Inc., Keystone 290 (incorporating "Los Cucos" and "Yucatan Seafood and Bar"), Harris County Delta Building, Xpress Digital & Print Media Services, 10301-03 Northwest Freeway, Texas Department of Criminal Justice - Parole Division Region III Headquarters, 10050 Northwest Fwy., Supernova Furniture, Harris County Flood Control District, and 9800 Northwest Freeway.
Updated
: Brookhollow Village (minor update regarding Kroger, thanks to Michael Doty), West Central Harris Area Engineer and Maintenance Facility (formerly titled as "14380 Northwest Freeway"), Allegiance Bank, CommunityBank of Texas, 14345 Northwest Freeway (a warehouse), The Reserve at Rye 290, Fairbanks Plaza (minor update regarding Kroger), Exxon (at Fairbanks North Houston), McDonald's (at Fairbanks North Houston), Floor Merchant, Palace Inn, Walmart, 13451 Northwest Freeway (a former Luby's Cafeteria), Hollister Pointe Center (replaces and incorporates "Golden Corral"), 13111 Northwest Freeway (the Luby's building), 13013 Northwest Freeway (HCAD), Cali Kitchen & Bar (retitled from "CALI Kitchen & Bar HTX"), Wendy's (integrated "EconoLodge"), CHCP - Northwest Houston (integrated "Holiday Inn Express & Suites" AND "Fairfield Inn & Suites"), Americas Best Value Inn & Suites, Creekwood Apartments, Exxon (at Milwee), 11500 Northwest Freeway (an office building), 11350 Northwest Freeway (there are actually TWO buildings here), 11251 Northwest Freeway (an office building where HostGator.com used to be), Shell (at W. 34th), Northway Shopping Center (more information on AMC Festival 6), Days Inn, Free Star Plaza, Lone Star Children's Medical Clinic (minor note), 10404 Northwest Freeway (former Shell, but mostly focusing on the appliance store behind it), 10333 Northwest Freeway (formerly titled as "Northwest Plaza"), 4555 Dacoma Street (reworked from "Brookhollow Marketplace") and Hustler Hollywood (not just changing "large rat problem" to "major rodent problem"--the rodents were normal-sized, but adding another defunct site across the street).
Removed
: In addition to the integrated buildings, Greater TEXAS Federal Credit Union, 2214 Mangum Road (leftover from moving) and 2416 Mangum Road have been removed. 2416 Mangum and GTFCU will be re-added to Other Houston Roads in the future, don't worry.
---
SAM HOUSTON PARKWAY to GESSNER ROAD
This section is where this section of Northwest Freeway begins. For more on US-290 from the Grand Parkway to Beltway 8, please visit
this link
. To see Beltway 8 (northeast only), click
here
.
---
Stonehaven Apartments
/ 15301 Northwest Freeway
Stonehaven Apartments opened right on the frontage road next to the park and ride ramp around 2007. They have no other access, and because they have low-income units for rent, it was partially paid with taxpayer money. It features 192 units and originally had a drainage area/pond in front the apartments, which disappeared in favor of a new frontage road when the freeway was widened.
15110-20 Northwest Freeway
These two warehouses share common ownership and land and are grouped with other warehouses in the area. 15120 is closest to Beltway 8 and was built in 2001, 15110 was built in 2005 and is closer to Brookhollow West Drive. Prominent signage on 15120 as of 2/23 includes Erdos Miller, NewSouth Window Solutions, and TNRG ("The National Realty Group Inc."). The near-identical 15120 includes Armstrong McCall and A1 Plus Electrical (at suite 130, does not have Northwest Freeway signage).
15000 Northwest Freeway
This office building and headquarters for BPM Microsystems (this is also probably their manufacturing facility as well) dates back 1981 and was a building for a bank (Sterling, later Comerica) in the 2000s and 2010s.
Hotel Preet / 14996 Northwest Freeway
Originally a Holiday Inn from the early 1980s until sometime around the early-to-mid-2000s, my 2002 directory (of Holiday Inn) says that this had 193 rooms across three floors with exterior corridors [this right here would mean that they couldn't be a Holiday Inn after 2007 without a major re-do as the new rules required interior corridors], free parking [yes, this was listed as a feature despite being nowhere near any areas of town where parking is at a premium], a restaurant with room service, a sports bar (with complementary hors d'oeuvres), a coin laundry, and a meeting room for up to 200. The transition to "Hotel Preet" (it was "Houston Northwest Inn" as of 2008) laid waste to a lot of the nicer features of the Holiday Inn, with the pool closing after 2009.
Lone Star College - North Fairbanks Center / 14955 Northwest Fwy.
Built in 2002 as the Cy-Fair College Fairbanks Center, this is known as the Lone Star College - Houston Fairbanks Center today, following Cy-Fair College's absorption into the LSC system. It is still part of "Lone Star College CyFair", however.
Brookhollow Village / 14900-92 Northwest Freeway
This strip mall, Brookhollow Village, seemed mostly inactive during most of the late 2000s and early 2010s thanks to the fact the largest tenant (14900) was vacant. What originally tipped me off to the presence of an old Safeway (and by extension, AppleTree) at this strip mall was its distinctive hexagon sign. Originally home to a Safeway when it opened in 1980 (a Safeway "Super Store"--the ad mentioned the store had a shoe department), the grocery store became AppleTree in 1989 when the Houston division of Safeway was spun off, and then Kroger after AppleTree went bankrupt and sold off most of its stores in 1994. Kroger closed in July 2005, and according to HAIF it spent some time as some fly-by-night furniture stores (one search turned up "Furniture Giant") afterward, including Lo's Art & Furniture (now on Highway 249). In spring 2012, after a period of vacancy, it reopened as K1 Speed Indoor Track Racing.

Other notable stores going counter-clockwise from the former Safeway include La Fontaine Reception Hall, a rentable banquet hall (14902 Northwest Freeway) was originally an Eckerd, common to old Safeway stores in the Houston area. It's now an events center. Toward the back of the center closer to West Little York Road was, from the late 1980s to the early 2010s, there was Wish's Club (though it looks like it went as "W Lounge" under new ownership toward the end in the late 2010s), a club for swingers (14916 Northwest Freeway).

Another building has N.W. Chinese Buffet (14974 Northwest Freeway), which has had a Chinese restaurant for years. Back in 1990, this was China Plaza, which had one other location at 10104 Hammerly. I mean, it is built as a Chinese restaurant. The Subway (14970 Northwest Freeway) has an all-red sign. Back in the mid-2000s ALL the signs in the center were red. This is no longer the case, sadly, and will probably change to a standard sign when it gets updated. Next door, Rita's Cantina, has been Mexican restaurants in recent years. It was formerly La Fogata Tex Mex Grill, and Fajita Willie's before that.

The last building had the short-lived return of Jack's Carpet (2014 to sometime around 2016) which did not directly replace their store on the other side of the Beltway...in 2013 14992 Northwest Freeway was home to Orbmik Furniture. (Jack's had a 14990 address.)
Hilton Garden Inn / 14919 Northwest Freeway
Built in 2012, the Hilton Garden Inn (Hilton Garden Inn Houston NW America Plaza) seems to do fine while Hotel Preet across the street continues to suffer.
14655 Northwest Freeway
The highway widening took out a sign with this building's former name—Northwest Gessner Center—but it's not accessible from Gessner Road at all. As of April 2022, front-facing tenants include Texas Quality Plumbing and Mobility Lift Aids.
West Central Harris Area Engineer and Maintenance Facility / 14838 Northwest Freeway
This TxDOT facility originally was located practically behind the Safeway/AppleTree/Kroger/K1 Speed Indoor Track Racing, but in 2020 they wrecked that building and dubbed 14830 Northwest Freeway next door as the new 14838. Previously, this building had been the home of Jones Carpet One Floor & Home was here from around 1985 (been in business since 1947) to 2015 when it moved out. It did not gain a new location, it ended up merging with Boatman Carpet One instead. When the company became Jones Carpet One (Carpet One being some sort of flooring franchise) is unknown.
Sago Plaza / 14825 Northwest Fwy.
Just beyond "Baker Hughes Center for Technology Innovation" at 14990 Yorktown Plaza Drive (visible but not accessible from Northwest Freeway) which was built at the same time, this warehouse, completed around early 2009 and started to be populated around the early 2010s, features tenants like AlEn USA and Eaton Corporation.
---
GESSNER ROAD to FAIRBANKS NORTH HOUSTON ROAD
At the southeast corner of the intersection is Courtyard by Marriott (which has a Gessner address). You can see information about it, and more, at the
Gessner page
, which connects to the Katy Freeway page (and ultimately, Westheimer).
---
Allegiance Bank / 14770 Northwest Freeway
Built in 2008 as Post Oak Bank, this bank assumed the Allegiance Bank name in November 2018 and officially changed over a few months later. Another merger in early 2023 had the bank change names again to Stellar Bank following a merger with CommunityBank of Texas, though I'm not sure if it has actually been rebranded as of this writing.
Sherwin-Williams Paint / 14640 Northwest Freeway
This Sherwin-Williams Paint Store opened in December 2014...brand new compared to other buildings in this stretch.
Rudy's Country Store & Bar-B-Q / 14620 Northwest Freeway
This Rudy's restaurant (built in 2008) is fully featured with a gas station in front of the restaurant, part of the chain's gimmick.
Service King / 14641 Northwest Freeway
A brand-new Service King collision center (the newer signs simply say "Service King Collision" instead of "Service King Collision Repair Center" built and opened in 2020. (This is listed below Rudy's because it's located after it on the road).
Trustmark Bank / 14604 Northwest Freeway
This bank has been here since at least 2008.
CommunityBank of Texas / 14561 Northwest Freeway
This was built around 2009 as Vista Bank Texas and reflagged between 2013 and 2014 to CommunityBank of Texas. The parent company was involved in a merger with Allegiance Bank and it looks like the newly-rebranded Stellar Bank won't be moving forward with this location.
David Weekley Homes Design Center / 14444 Northwest Freeway
Prior to the freeway widening, this was called "David Weekley's New Home Center", and after relocating the sign was "David Weekley's Build on Your Lot Design Center". It is a consumer front for David Weekley Homes based in Uptown.
Hightimes 24/7 Video / 14501 Northwest Freeway
One of the many smutty stores along this section of 290 (opened in 2006). It was originally built in the 1980s and had three suites.

From tax records, we can garner it had these tenants:
A - From 1984 to 1986, this was "The Flooring Connection" and The Rim Shop from 2004 to 2005.
B - Powerhouse Battery was here in 2002.
C - Circle Pawn was here from 1983 to 1987, AAA Banners to 2001, and Platinum Plus Recording Studio from 2003 to 2004.
In one of these suites (possibly a fourth, but unlikely), from 1993 was Gulf States Cellular, which became GTE Mobilnet in 1997, and in 2000 became a Verizon Wireless store after GTE was acquired by Bell Atlantic and renamed to Verizon). Due to spotty records that can sometimes turn up wrong or sub-leased businesses, these are all to be taken with a grain of salt. In the future, hopefully this can be ironed out.
AMF Windfern Lanes / 14441 Northwest Freeway
This bowling alley opened as Fair Lanes Windfern operated by Fair Lanes (a national chain of bowling alleys) in April 1979 as a 32 lane bowling alley. In July 1980, the bowling alley was robbed after hours and the three employees were shot in the head, execution-style. The lone survivor had to call his mother because there was no 911 system in place in Houston at the time. In the mid-1990s it became part of the AMF chain when Fair Lanes was acquired, and also received a repaint in the 2010s.
Houston First Church of God / 14400 Northwest Freeway
This church has been around at least as long as the bowling alley has.
14345 Northwest Freeway
This building has served as warehouse and office space of various companies. In 2017 it was WNA and "The Cotton Companies" before that. WNA's departure has uncovered an old sign labelscar, possibly the original tenant -- "Apollo Paper Co.".
Fairbanks Business Park / 14300 Northwest Freeway
These three buildings (constructed around 2004) have retail tenants in the front and other tenants with garage doors in the back. Notable tenants include Cash America Pawn at suite B-24 with building C operating wholly as "The Refreshing Church". There is a website for the plaza but it does not list tenants or have a site plan available.
14275 Northwest Freeway
Headquarters of Ramteq Quality Pressure Washers. They've been here since 2008, and their company has been in operation since 1997...likely at this location.
The Reserve at Rye 290 / 14255 Northwest Freeway
This opened as Homestead Village in February 1994 as Homestead Village, a chain of extended-stay efficiency apartment hotels. In January 2001, it and others were sold to Accor, which converted them to Studio 6, Motel 6's extended-stay hotel brand (it's worth noting the Studio 6 logo was much more colorful and interesting than it was prior to the early 2010s; you can see the hotel sign as it looked in 2005 from AARoads here). While "Studio 6 Houston, TX - Northwest Hwy 290" had a long run, it closed in 2022 and was converted into apartments along with two other Studio 6 properties and a Wyndham hotel. The site plans are all studio apartment floorplans (and boy are they pricey!)

As an apartment complex, it appears that the main Northwest Freeway access is exit-only and that the main entrance is off of Rothway Street.
U-Haul Moving & Storage / 14225 Northwest Freeway
A steadfast but often over-looked member of the Northwest Freeway businesses, this U-Haul location has been here since 1999.
FAIRBANKS PLAZA
Strip mall built in 1981 (some sources say 1984 for some reason), currently anchored by Jumping World. You can see a PDF of the center
here
(archived from
this site
) Starting from the northwest corner, we have the following notable tenants...
Red Lobster opened their 13th area restaurant at 14191 Northwest Freeway in 1982, but by November 1995, it was closed (probably closed in part of a purge of underperforming restaurants when General Mills spun off their restaurant group). Larry's Bar-B-Q (Larry's Bar-B-Q Buffet) operated from summer 1999 to late 2016, and was replaced with Bombshells Restaurant & Bar, built on the exact same footprint (my guess is that Bombshells initially wanted to renovate but the extensive changes meant a rebuild instead). My picture of this restaurant (as Larry's) is found here.
La Monarca Michoacana is a dessert shop at 14169 Northwest Freeway. From approximately 1994 to 1998, it was "Runaway Trains", featuring model trains and model train accessories in HO, O, and N scale. It's part of Fairbanks Plaza (see below).

Shanghai Inn has been here since late 1981 and is still operating, one of the charter tenants of the plaza (14155 Northwest Freeway).
King Dollar (14149 Northwest Freeway) has been here since 2002 and originally had "Nothing Over $1.00" under its signage. It was 1.09 as of 2008 but as of the January 2019 images was 1.25, and by 2022 had disposed of the signage entirely.
14147 Northwest Freeway has been "Jumping World" for several years now (since fall 2012), but around early 2009 it used to be a Kroger. It used the block-lettering Kroger was known for in the early 2000s on, and received a facelift in the early 2000s that changed it from the distinct "greenhouse" it used to have. This did remain open even as Kroger had a store at West Little York a few exits up for a number of years. Even in its early days, this Kroger (according to a December 1981 ad) did not even have a full seafood department.
Bio Beauty Med Spa is the current tenant here at 14145 Northwest Freeway. It used to be "Senpai's Cards and Anime", opened in early 2020 closed since around March 2021. Liquor Place was here from 1991 to 2013 (Liquor Place was not in the King Dollar place as the old blog page seems to indicate).
Shipley Do-Nuts at 14135 Northwest Freeway has a freeway sign of its own but is in a strip center location.
Comerica Bank / 14104 Northwest Fwy.
Located at the northwest corner of the intersection, this bank was built in 2001 as a Comerica Bank (no other rebrands), which is mildly impressive given how many banks have merged or gone under since then.
Exxon / 14101 Northwest Freeway
The Star Stop Exxon at the southwest corner of the intersection rebuilt around 2018. The rebuild featured a larger convenience store and an entrance to the back alley behind Fairbanks Plaza. The Star Stop name was gained between 2011 and 2014 (previously branded as "Tiger Mart"). The station dates back to 1982 (as an Exxon) and was already previously rebuilt in 1995.
---
FAIRBANKS NORTH HOUSTON ROAD to HOLLISTER STREET
The main commercial drag of 290 starts around this point.
---
McDonald's / 14099 Northwest Freeway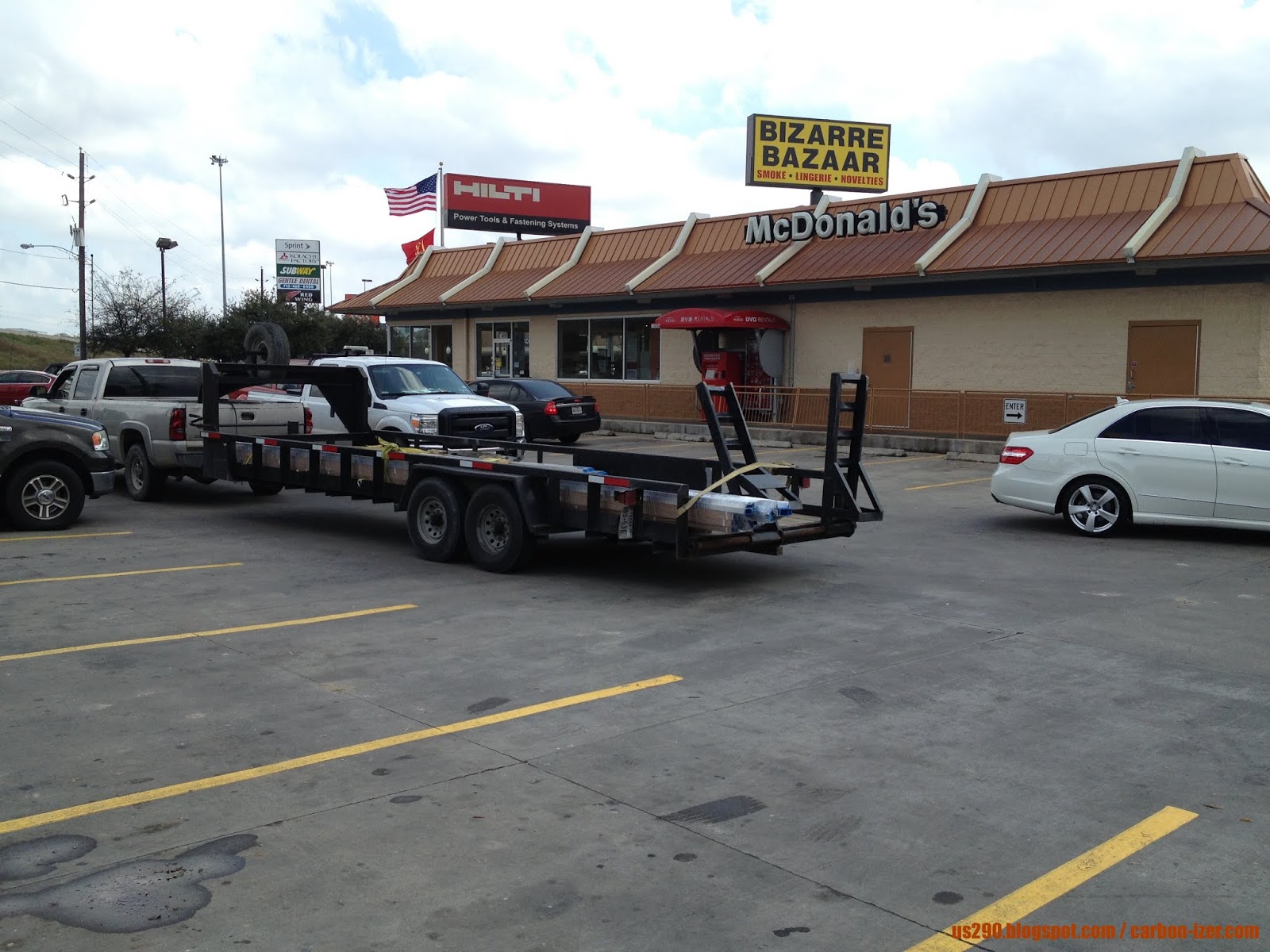 Located at the southeast corner of Fairbanks North Houston, this particular McDonald's was built in 2007, just before the "yellow eyebrow" era began. These two pictures (at the top and here) were taken in March 2015 (by me) but even in 2018 the store was renovated exterior-wise to the modern prototype. The picture below is when the sign was on the ground, but still about 7-9 feet. The sign construction was presumably when the Golden Arches were moved for highway construction.
Bank of Texas / 14098 Northwest Freeway
This bank branch was built in 2008 at the northeast corner of Fairbanks North Houston and Northwest Freeway.
6306 Fairbanks North Houston Road
One of two nearly identical strip centers built in the early 2000s, though it was built later (2005). There used to be a small restaurant site at the site (before it was redeveloped) but it's hard to determine what was there before. Tenants as of 2022 include Kassa Mall (a furniture and mattress shop), Cricket, Pho Tina, and a few others. Bizarre Bazaar was here from 2012 to 2017.
14095 Northwest Freeway
The "twin" of 6306 Fairbanks North Houston Road built a few years earlier. As of this writing, tenants include Subway, Gentle Dental, Smoke Villa, and Kolache Factory. Smoke Villa replaced Red Wing, and the space that once held Sprint closed after the merger.
The Home Depot / 14085 Northwest Freeway
The Home Depot opened in January 2000. This was built not long before the strip centers out front.
InTown Suites Extended Stay / 14041 Northwest Freeway
InTown Suites Extended Stay was built in 1998. It only has one entrance/out point onto the frontage road, there's no connection to the (former) Cavender's to the east or the Home Depot to the west.
Floor Merchant / 14045 Northwest Freeway
Floor Merchant is no stranger to the Northwest Freeway area, their original location is still at 635 Karbach Street, but their newest location opened in late 2021 or early 2022.

Going back, this opened in 1980 as Don's Western Wear but changed hands to Cavender's Boot City in 1990, and was in the late 2000s and early 2010s was one of my favorite signs along Northwest Freeway--the little neon cowboy that sometimes adorns Cavender's signs. I've tried to capture a good picture of the sign (this was the best I had, c. July 2014) but my phone camera, at least at the time, tended to turn red-colored neons into orange. When I was working on my Torchy's Tacos article for Brazos Buildings & Businesses, I had the same problem. In December 2015 the sign disappeared due to freeway widening issues.
Cavender's Boot City / 14031 Northwest Freeway
In 2016, a new Cavender's Boot City location was built on the other side of Flintlock Road, with the new store being a 20,000 square foot store and being much larger and more modern. I had guessed that based on the architecture this was to be the case even before the name was put up, but the big surprise came around November 2016 when the Cavender's Boot City neon sign reappeared! I was elated, but it still doesn't seem to be 100% functional at night, nor does it seem to have the same color variety the old one did. It's not unreasonable (the one in San Marcos, for instance, has a very different color palette) but I'm not sure.
Cavender's Boot City / 14031 Northwest Freeway
In 2016, a new Cavender's Boot City location was built on the other side of Flintlock Road, with the new store being a 20,000 square foot store and being much larger and more modern. I had guessed that based on the architecture this was to be the case even before the name was put up, but the big surprise came around November 2016 when the Cavender's Boot City neon sign reappeared! I was elated, but it still doesn't seem to be 100% functional at night, nor does it seem to have the same color variety the old one did. I swear the gloves in this version aren't yellow as others are.
Palace Inn / 14029 Northwest Freeway
Connected to the parking lot of Cavender's Boot City is Palace Inn, a branch of Houston's notorious local hotel chain, which opened this branch around 2010. You can see a screengrab from my 2014 video here. Just west of here was another building, 14045 Northwest Freeway. This had Just Brakes in the back and Carpet Mills of America in front. Later, Carpet Mills closed and was replaced by a mattress liquidator, and in 2015 both businesses closed. In 2016, the building was torn down. See the 2014 video screengrab here. Around 2021 the former Carpet Mills/Just Brakes area was clear-cut and work began on a new strip center (which would not connect to Palace Inn/Cavender's parking), however, work has stalled out and is semi-abandoned.
Public Storage / 14050 Northwest Freeway
This self-storage unit is of the traditional "rows of doors" type and not the multi-story, climate-controlled units.
Hill Thrill Motoplex / 14014 Northwest Freeway
Opened in 2023, HTM sells a wide variety of motorcycles, ATVs, golf carts, and other similar vehicles. Previously (2019-2022) this was RhinoPro Truck Outfitters, and Truck Gear SuperCenter before that, since 2002, and Leer Inc. from 1995 to 2002 (likely the same Leer truck parts name that appeared on the building in the RhinoPro era).
Executive Adult Superstore and Theater / 14002 Northwest Freeway
This has been here since 1995. It is a rather plain building with a neon purple perimeter that glows at night.
13939 Northwest Freeway
Headquarters for Pappas Restaurants Inc., which owns several restaurants that are located on the freeway (and beyond).
HomeTowne Studios by Red Roof / 5959 Guhn Road
Just off the freeway (visible, but not on the frontage road and partially obscured by trees) is this hotel. As of 2011 (and probably since opening in 1998) this was Crossland Economy Studios, and in 2018, assumed its current name.
NORTHWEST MARKETPLACE
This strip center was constructed in 2002 but lacks a true "anchor" store. You can see a PDF of the center
here
(archived from
this link
).
BreWingz at 13816 Northwest Freeway was Wings 'N More from 2002 to 2013 when the franchisee broke off and renamed.
PetSmart #1045, one of the charter tenants at 13830 Northwest Freeway, has been here since summer 2002.
The vacancy between Old Navy and Five Below was Famous Footwear at 13784 Northwest Freeway. It has been here since 2002 but closed in 2021 for reasons unknown.
Pier One Imports (13762 Northwest Freeway) opened in 2002 but filed out early in 2013, several years ahead of the chain's closure. It was later filled with Five Below in 2014.
For some reason the PDF neglects 13902, K&G Fashion Superstore. It has been open since 2007 and next to Northern Tool.
Northern Tool & Equipment, mentioned above, is at 13838 Northwest Freeway since 2004.
13831 Northwest Freeway
Also known as One Northwest Centre, this 1983 office tower was emblazoned with the GlobaLogix name for most of the 2010s. Since around late 2021, Manhattan Life has been the "sponsor" of the building.
Discount Tire / 13494 Northwest Fwy.
This Discount Tire location has been here since 1995, around the time Wal-Mart was built.
America's Best Contacts & Eyeglasses / 13486 Northwest Fwy.
From 1998 to around 2020 this was Castle Dental Center (later just Castle Dental as it dropped the "castle" font, though the roadside sign remained the same until it closed). America's Best opened a few years afterward.
Walmart / 13484 Northwest Freeway
This Walmart (behind the previously mentioned former Castle Dental) opened as an ordinary Wal-Mart in 1995. Later on, a Hobby Lobby was built next to it at 13470 Northwest Freeway, and eventually was demolished for an expansion to the store (becoming a Wal-Mart Supercenter before new branding changed the name again after 2014). The store had a McDonald's inside, as well (despite another McDonald's being in the parking lot) before closing around 2020-2021. It has since been replaced with Charleys Cheesesteaks.
13482 Northwest Fwy.
This strip center building across from the previously mentioned Castle Dental was built in the late 1990s currently has Speedy Cash, T-Mobile, a barbershop, and an auto insurance shop (as of 4/22).
Raising Cane's Chicken Fingers / 13480 Northwest Freeway
From September 1998 to January 2020, this was a Taco Cabana, but even before it closed it got the woefully bland pink sign that Taco Cabana has been replacing its signs with (replacing the iconic neon/black versions) but it was still marked for closure anyway in January 2020. It was later demolished and in January 2022, opened as a Raising Cane's.
La Salsita / 13513 Northwest Fwy.
La Salsita Authentic Mexican Food & Café is the main anchor in this small strip of stores (now called "SL Plaza", formerly "S&L Plaza"), which operates at the southwest corner of Tidwell and Northwest Freeway. The 290 widening lopped off the end tenant (13525 Northwest Fwy.), last doing business as GM Video (adult video/smoke shop, you know the type). It operated until around demolition in 2013-2014, where it moved to 1314 North Loop until the late 2010s. GM Video operated 24/7, even after someone got shot in the head there.

La Salsita has been here since 2018, following a period of vacancy. Its predecessor, Pho Vang 2, operated from 1999 to 2014 (it moved down the street, but it has since closed). From 1979 to the mid-1990s it was Won Ton Chinese Restaurant.
Mambo Seafood / 13485 Northwest Freeway
Originally a Shoney's, this is now Mambo Seafood since around 2004 after being a Chinese restaurant for several years. (See more at The Houston Files)
Comfort Inn / 7887 W. Tidwell Road
Built as a Shoney's Inn (adjacent to the Shoney's, though by that time, the chains had officially separated) in 1995, this became a Days Inn around 2003 and was converted to a Comfort Inn between 2005 and 2007. The two-story motel has 115 rooms. (Days Inn would return to Northwest Freeway several years later further down).
Granite Tower at 290 / 13430 Northwest Freeway
Office tower named after its current ownership (not building type), this glassy, 12-story office tower in a semi-circle shape was built in 1981.
13451 Northwest Freeway
Built as a Luby's Cafeteria in 1981 (likely branded as "Luby's-Romana Cafeteria") and later renovated in the late 1990s to modern standards (removing the covered drive-up and adding a to-go window, as well as a re-do inside and out), this once was considered one of the restaurant's chain prime locations, being located very close to the corporate headquarters half a mile down.

When the Luby's closed in summer 2018, it signaled that the wheels were coming off of the parent company. The building emerged from the year 2020 much worse for the wear, heavily tagged with graffiti before renovations began. Currently, Tim Hortons has signed for the north side of the building (likely will open by year-end) with the other two-thirds still vacant.
Popeyes Louisiana Kitchen / 13445 Northwest Freeway
This Popeyes started construction in 2021 in part of the parking lot of the former Luby's and opened in fall 2022.
13403 Northwest Freeway
This is actually composed of two buildings sharing the same address. The one closest to the freeway, Houston Casualty Co., is behind a large hedge, trees, and other obstructions while the one facing Dow Road is the home of Tokio Marine HCC.
13333 Northwest Fwy.
This office building just south of 13403 (yes, it's technically "out of order" address-wise) was built in 2000, according to Loopnet. As of January 2023, a window on the fifth floor is boarded up, as if the whole panel was removed due to breakage. One wonders what happened there.
La Chingada Mexican Cuisine / 13388 Northwest Freeway
This opened around January 2023 and is the sister location of La Chingada Tacos & Tequila at 1402 Northwood Street. The building was formerly IHOP (International House of Pancakes), which opened around 1994, but in 2019 it moved to 12340 Northwest Freeway.
Clicks Billiards / 13380 Northwest Fwy.
Located behind what is now La Chingada Mexican Cuisine and built around the same time, this pool hall and sports bar chain has been here since 1994.
LA Fitness / 13350 Northwest Fwy.
This started out as President & First Lady Health & Racquetball Club back in 1985 and was eventually acquired by Bally Manufacturing Corporation, with the chain renamed in the 1990s to Bally Total Fitness (after a brief transition as "Bally's Presidents") shortly before spinning off Bally Total Fitness as an independent company in 1996. In 2011, this club and 170 others were sold to LA Fitness (presumably the rebrand/remodel was in 2012) as BTF wound down business within the next five years.
Shell / 13300 Northwest Fwy.
One of the two Shell stations at Hollister Road and Northwest Freeway, this was Shell as of 2008 with a food mart and a car wash; in 2021-2022 it was rebuilt to just have a Timewise convenience store.
13201 Northwest Freeway
This eight-story office tower, much like 12200 Northwest Freeway a bit further down, features the Wells Fargo name and has other tenants inside.
---
HOLLISTER STREET to WEST 43rd STREET
It should be noted while the area around Tidwell and Hollister is a large commercial corridor developed largely in the 1990s, today it's somewhat run-down--there's usually multiple panhandlers at the intersection of Tidwell and Hollister off the freeway. Hollister shares the exit with Tidwell, but goes north-south. Hollister would extend to FM 1960, but only disconnected segments exist past West Little York.
---
Shell / 13290 Northwest Fwy.
This was another Shell station, it also had a car wash and food mart. In the mid-2010s the food mart became a Timewise, and in 2018 the station was demolished and rebuilt with a Timewise convenience store and no car wash.
Frost Bank / 13191 Northwest Freeway
This Frost Bank building was built in the late 1990s or early 2000s, and while it is not yet confirmed as of this writing whether this was opened as Frost Bank, it has been that name since January 2008.
FedEx Office / 13181 Northwest Fwy.
A FedEx Office print & copy center, formerly FedEx Kinko's prior to 2008 and Kinko's when it originally opened in 1999.
Hollister Pointe Center / 13167 Northwest Freeway
This shopping center, built around 1997, has this address, though the tenants do not. Notable tenants include Golden Corral (#625) at 13145 Northwest Freeway that has been here since early 1997, Brown Bag Deli (13161 Northwest Freeway Ste. 100, since 2005), NTB National Tire & Battery (13171 Northwest Freeway, but retroactively incorporated into the final prooduct), and finally Aquarium World. Aquarium World at 13157 Northwest Freeway has since been replaced with Family Bingo Center, but I remember it as one of the many interesting things that Houston strip malls had to offer, having passed by it many, many times (it was here from 1997 to year-end 2018). The Facebook page is archived here (why in German, I have no idea), and a commercial can be seen here on YouTube.

As for the rest of the center, you can see a site plan here (archived from here.
NORTHWEST CROSSING
Center built in the early 1990s anchored by Target. You can see a PDF of the center
here
(archived from
here
).
Whataburger (13270 Northwest Freeway) appears to have been here since the mid-1990s.
Target (T-858) opened in October 1993 and has been remodeled numerous times, including changing the exterior over the years, with the most recent being in 2019 to lower-case lettering on roadside signage. Its address is 13250 Northwest Freeway.
An Outback Steakhouse opened next to the freeway in 1993 as part of the new shopping center, but some point in the 2000s (2008 or 2009), the restaurant closed and was torn down. Chick-fil-A built a new restaurant at the same address (13240 Northwest Freeway) and opened in 2010.
Best Buy at 13238 Northwest Freeway replaced a Michaels craft store and another store and opened around 2007, but abruptly closed in spring 2020 (possibly 2021). It is scheduled to be a Burlington, giving the Fairbanks area a Burlington once more.
The rapidly dwindling locations of James Coney Island (now JCI Grill) haven't hit the Northwest Crossing location just yet. The location at 5730 Hollister Street opened in 1996.
Red Lobster operates in a modified building that was originally the home of sister restaurant China Coast. When Darden shut down the chain in 1995, many restaurants, including this one (13232 Northwest Freeway), were converted to Red Lobster.
13141 Northwest Fwy.
This office building (c. 1979) went through a major update in the early 2020s, it used to look like this and was the home of ADP, which I recognized because I had an employer that farmed out paycheck duties to them.
13111 Northwest Freeway
This used to be the corporate home to Luby's Inc., which moved here in 1994 (as Luby's Cafeterias Inc.) from San Antonio, and had its name emblazoned on the building, with the restaurant chain occupying (from what I've been told) all of the sixth floor (their address was suite 600) and half of the third floor. Despite the presence of the address on Luby's corporate website as well as Luby's Culinary Services, the company was liquidated in 2021.

It appears that the successor to Luby's owned by Calvin Gin, Luby's Restaurant Corporation, still maintains a presence here (maybe they still had a lease option, though the Luby's signage is gone from the building and can't be confirmed that they do have a presence there now). Other businesses owned by Luby's disappeared, however. According to my colleagues, Luby's Culinary Services is owned by Pappas (which had a share in Luby's as it went under), Fuddruckers (which Luby's bought in 2010) was sold to Black Titan Investment Corp. (based on South Carolina, apparently), and Cheeseburger in Paradise was closed down entirely (which only had one location by January 2020 anyway, and was never a star of the corporation after buying it in 2012).
13100 Northwest Freeway
This glassy 1982 office building (six floors) currently has the Allegiance Bank name on it (I guess that would be the Stellar Bank name soon, if not already).
13101 Northwest Freeway
This office building currently "sponsored" by Freeman & Curiel Engineering, is a shorter "twin" of 13111 Northwest Freeway.
Pappadeaux Seafood Kitchen / 13080 Northwest Freeway
The second location of Pappadeaux Seafood Kitchen was built here. As the Westheimer Road page states, the chain has 40 locations now, but unlike the Westheimer location, Pappas built anew rather than a twenty-year-old building that had already seen a revolving door of restaurants and concepts.
Pappasito's Cantina / 13070 Northwest Freeway
This restaurant was built next to Pappadeaux and opened in 1991.
Chili's Grill & Bar / 13050 Northwest Freeway
This was a vacant lot for years but finally developed and opened as a Chili's in 2007.
13013 Northwest Freeway
This office tower was built in the early 1980s with its only tenant, HCAD (Harris Central Appraisal District). Their website has been invaluable in the building of this site. A view from the other side (September 2018) can be seen here. Prior to January 2023, it was Harris County Appraisal District, the change being that they weren't connected to the county.
Fuddruckers / 13010 Northwest Freeway
This chain restaurant is next to Chili's and connects to the movie theater parking lot. It opened in 1999.
Logan's Roadhouse / 12950 Northwest Freeway
Chain restaurant built in 1999.
Transtar Federal Credit Union / 12930 Northwest Freeway


The picture above is from 2018 (by author). Logan's Roadhouse can be seen in the background.
Red Roof Inn / 12929 Northwest Fwy.
Red Roof Inn Houston - Brookhollow opened here in 1996. It hasn't seen much exterior updates besides an updated logo.
InTown Suites Extended Stay / 12925 Northwest Freeway
This opened around 2000 or 2001 as "Hearthside Extended-Stay Suites by Villager" and by 2005 had become Crestwood Suites (possibly briefly "Houston Heritage Suites" in early 2005), also known as "Crestwood Suites of Northwest Houston". It was reflagged as InTown Suites Extended Stay in 2017, like its sister hotel further up 290.
Cinemark Tinseltown 290 and XD / 12920 Northwest Freeway
This 16-screen movie theater first opened in November 1996, though has been repainted at least once. Movies on its second day in business (11/16/96) were Ransom, Space Jam, The Mirror Has Two Faces, Romeo & Juliet (the 1996 version), The Long Kiss Goodnight, Larger Than Life, The First Wives Club, Sleepers, and The Ghost and the Darkness.
Pappas Bar-B-Q / 12917 Northwest Freeway
Luther's Bar-B-Q opened a location here in November 2000. In 2005, the restaurant chain was acquired by Pappas Restaurants and by 2007 was converted to Pappas Bar-B-Q.
The Juicy Crab / 12914 Northwest Freeway
This restaurant was built in 1998 as a Marie Callender's restaurant. After it closed, Hooters opened in 2003 and completed an inside and out renovation in 2014. These 2018 pictures reflect the 2014 appearance [signage, restaurant exterior]. In March 2020, the restaurant "temporarily" closed but eventually it was made permanent, and by February 2021, a hard freeze killed all but one palm tree on the site (the other five, presumably added by Hooters when it opened, all died). It appears The Juicy Crab, the current restaurant, opened around December 2022.
Cali Kitchen & Bar/ 12910 Northwest Freeway
This Cajun-California cuisine restaurant concept opened in early 2023. It was built as a Joe's Crab Shack in 1997 and in 2008, the parent company of Joe's Crab Shack at the time, Ignite Restaurant Group, closed and converted it into a new concept altogether, "BrickHouse Tavern + Tap". A few years before BrickHouse closed permanently in March 2022, I had taken a picture, seen at my old site The Houston Files.
Hampton Inn / 12909 Northwest Freeway
Here since 1998. Despite the official branding these days as "Hampton by Hilton", the hotel kept its older and far less awkward moniker when it completed an inside-and-out renovation in 2018. The original hotel can be seen here from across the freeway. A better picture could probably be found elsewhere.
Denny's / 12862 Northwest Freeway
While it's a little hard to see based on my only photo from 2015, this Denny's still has its older logo above the doorway.
TownePlace Suites by Marriott / 12820 Northwest Fwy.
Located between and behind Denny's and Twin Peaks (originally T.G.I. Friday's), this hotel has been here since late 1997, predating the two restaurants. Originally, it was a MainStay Suites (a brand operated by Choice Hotels). At some point after 2000 it switched affiliations. It is currently (officially) called TownePlace Suites by Marriott Houston Brookhollow.
Twin Peaks / 12830 Northwest Freeway
A second generation restaurant like others in the stretch (see Tidwell/Hollister), Twin Peaks originally opened as a T.G.I. Friday's back in 2000 but around 2011 it closed and was renovated into its current tenant (likely 2012).
PrimeWay Federal Credit Union / 12811 Northwest Fwy.
This credit union building (does it have two levels?!) started out as Cameron Credit Union circa 1995, then became TexasOne Community Credit Union around 2003, then was acquired by PrimeWay around 2010.
Grand Tuscany Hotel / 12801 Northwest Freeway
Across from Denny's and Twin Peaks is a large hotel. Built as a ten-story 300-room Ramada Inn in 1980 (complete with a full, multi-room suite on top of the hotel) and briefly going under the "Ramada Plaza" (Ramada's top-tier hotel brand, since retired) name from 1995 to Sept. 1999, this hotel has been Crowne Plaza for years. The hotel stayed as Crowne Plaza until 2018 when a renovation began. The renovation changed the upper level as well, as before the renovation you could even see chandeliers in the upper level at night sometimes. The renovation, which continued into 2019, changed the hotel into the Grand Tuscany Hotel (owned by Best Western, surprisingly), and removed (or enclosed, still researching) some exterior-facing hotel rooms on the southwest side.

On the other side of Pinemont was Gold Cup, at 12747 Northwest Freeway. This strip club, originally the home of Gallagher's Restaurant & Pub until around the late 1980s, renovated and expanded the space in the early 1990s, converting the restaurant into a sports bar and strip club. In the mid-2010s it closed (as early as spring 2013, that's when their Facebook page stopped updating) due to the freeway widening and quickly covered with graffiti (even moreso than West Houston Archives' pictures) before TxDOT took it down in 2016. All that remains today is a gated-off parking lot surrounded by trash and a few of the palm trees (miraculously, one still lives despite a hard freeze) that Gold Cup planted to provide for its landscaping.
Mustang CAT / 12800 Northwest Freeway
"Mustang Tractor & Equipment Company", as it was originally known, has been here since the late 1970s. Their website is here.
BINGLE CROSSING
A PDF of this shopping center can be seen
here
, archived from
here
. The main building used to be home to a Handy Dan Hardware at 12700 Northwest Freeway and later serving as an Academy sporting goods store (before it moved to Northway).
Carl's Jr. opened here in 2013 (12714 Northwest Freeway), one of the first Carl's Jr. stores to be built in the area. Sometime around 2018 it shuttered, with the signage painted black. The space remains vacant as of this writing (August 2022) and is scheduled to be a bank.
24 Hour Fitness (24 Hour Fitness Active) at 12708 Northwest Freeway opened in 2005 after Academy moved the previous year. It closed in 2020, and a Gold's Gym is to open here sometime around August 2022. Here's a photo from 2015 from the freeway...notice that the building described below is gone with the new building yet to be built.
5101 Bingle Road was originally built as a Champ's until closure in 1997. After a brief time as Valley Ranch Grill & BBQ, it became Bravos Mexican Restaurant in 2002. The restaurant closed in spring 2014 with the building and its cool Wendy's-like solarium window being taken down in August of that year. A year later, a multi-tenant was built there featuring Jimmy John's, MetroPCS, and a Dunkin' Donuts/Baskin-Robbins store.
Regency Inn & Suites / 12509 Northwest Fwy.
Prior to early 2017, this was "Luxury Inn & Suites", and built in 2006. Luxury Inn was built next to (a small paved accessway connected it to the gas station) an Exxon with a flagship "On the Run" store (12503 Northwest Freeway). After having been open since 2000, ExxonMobil divested these stores to other owners, the Houston ones going to Star Stop in the mid-2010s. Unfortunately, Star Stop (#55) didn't have much of a life here and closed around 2015. The gas station canopy was removed but the boarded-up and vandalized convenience store and car wash sat until demolition in 2022.
12503 Northwest Freeway
Like the now-defunct Chevron at Senate, the Exxon here, originally built in 2000 as a flagship "On the Run" store before Exxon divested them in the mid-2010s to Star Stop (#55), this has been boarded up since around 2015 with the gas canopy gone and the vandalized convenience store (and car wash) still intact.
STARS Auto Repair / 12490 Northwest Fwy.
This auto repair shop has been in business since 2007, though the building has been around since the early 1970s (originally serving as a muffler shop).
Wendy's / 12486 Northwest Freeway
This Wendy's has been here since 1985 (the 1990 phone book says this address is 12480 but HCAD and Wendy's corporate site disagree), though it lost the "solarium" around 2011-2012. Directly behind it across from Hoover Street is the Econo Lodge Brookhollow at 6630 Hoover, which did not get the benefit of being directly off of 290 and has been operating as an EconoLodge since at least 2015 and was originally built in the late 1990s or early 2000s.
AAMCO Transmissions & Total Car Care / 12470 Northwest Freeway
AAMCO opened a new transmission shop here in 2022. It used to be All About Autos from 2013 until around 2020. It was TireMax ever so briefly (2010-2011) before the chain collapsed and Brake Check was here from 2003 to the late 2000s. Prior to that records are spottier: it was "Mike's Muffler & Brake" from 1987 to 2003 (with "Discount Converters" also operating at the address briefly in the late 1990s and "Westside Lawn & Maintenance" from 1993 to 1995 ).
Natran Green Pest Control / 12460 Northwest Freeway
The green sign with a smiling flower for Natran (which you can see in this view of the frontage road, facing north in Feb. 2018) replaced the rather plain sign for the Red Onion's corporate offices, which can be seen here, from 2015.

Northwest Shell Auto Care / 12445 Northwest Freeway
This automotive repair shop is listed as a Shell despite losing the Shell branding and the gas pumps in 2014.
12441 Northwest Freeway
This was most recently Northwest Dental Center (now closed since around the late 2010s, dentists moved out around the time all the front parking was removed) is an enigma. The space looks a bit like a steakhouse but I've never found information on the original tenants. It was insurance offices in the mid-1980s and later served as the home of the Lee's Golden Dragons dance troupe for a while and then briefly served once more in the early 2020s as the same "Lee's Golden Dragon Lion and Dragon Dance Association". Despite this, the building hasn't been touched since the dental office moved out and still has "NW Dental" signage.
El Tiempo Cantina / 12440 Northwest Freeway
Located next to the former office of the Red Onion chain described above, the description for the late Cafe Red Onion from Google mentions "Hefty portions of imaginative South American fare are dished at this family-friendly cantina" but a 2008 review from Fearless Critic Houston Restaurant Guide paints a far different picture, with chicken constituting most of the menu, a high plate-split cost, and far too many mediocre items. The multiple-location restaurant is no more, and the space was announced to become a location of El Tiempo Cantina not long after its closure in 2015, but like Gulf Freeway, the restaurant's construction stopped and restarted, eventually opening in December 2018.
Platinum Inn and Suites / 12410 Northwest Fwy.
This off-brand hotel (it has a website) opened around early 2018.
IHOP / 12340 Northwest Freeway
Relocated from 13388 Northwest Freeway, this new IHOP restaurant opened in 2019. It's listed here before Baymont (despite addresses) because Baymont is further down the road from it.
Baymont by Wyndham / 12439 Northwest Freeway
Opened 2001 as an ordinary Holiday Inn Express Hotel & Suites (nice-looking as far as Holiday Inn Express hotels went) and sold in 2013 (assuming the Quality Inn & Suites name that year, as it was going to lose the HI name), the hotel went through some unfortunate changes a few years after that when highway construction forced the demolition of the swimming pool (located in front of the building), the sign (forcing a replacement much closer to the building) and a covered drive-up. As an aside, my 2003 hotel guide says that this hotel contained 61 rooms spread out on three floors. The "Now Open" banner remained on the Quality Inn until it was sold again, rebranding as OYO Townhouse (OYO Townhouse Houston Brookhollow) in 2019 with another repaint (white with red trim). In mid-2022, the hotel got another rebranding, currently operating as Baymont by Wyndham Houston Brookhollow.
CHCP - Northwest Houston / 12230 Northwest Freeway
Built around 2009-2010 as "Lindsey's Office Furniture" and located in front of the hotels and formerly next to the Pinemont ramp. The second floor of the building was never occupied under Lindsey's Office Furniture. In 2021, Lindsey's moved and the entire building was renovated and reopened as The College of Health Care Professions in March 2022, with an expanded parking lot. The expanded parking lot was built where a ramp was to the Pinemont Park & Ride, located at 6301 Pinemont Drive, which operated from March 27, 1989 to January 24, 2014 (the ramp was dismantled a few months after that).

Holiday Inn Express & Suites at 4900 Federal Plaza Drive is located behind CHCP and is very visible from 290, beginning construction before the 1,000 parking space-Pinemont Park & Ride closed (and around the time the old HI Express on the freeway would lose the name), though it isn't clear if they were to build it following the ramp's closure or if they were okay with the ramp being just thirty feet away from the pool area. In 2019, a second hotel was built next to the Holiday Inn (looks like it may have opened very early 2020)--Fairfield Inn & Suites by Marriott Houston Brookhollow at 4850 Federal Plaza Drive.
Holiday Inn Express & Suites / 4900 Federal Plaza Drive
First of two hotels on Federal Plaza Drive, Holiday Inn Express & Suites Northwest-Brookhollow began construction before Pinemont Park & Ride closed (and around the time the old HI Express on the freeway would lose the name). Pinemont Park & Ride, located behind it and located on 6301 Pinemont Drive, opened March 27, 1989, and was a park-and-ride lot with 1,000 parking spaces and both served as a bus terminal and an access point for Northwest Freeway's HOV lane, serving commuters for over two decades before closing on January 24, 2014, with the ramp being disassembled that spring. Since then, nothing has come of the space (low-income housing met with heavy resistance).

One wonders if it was always the plan to build it following the ramp's closure or if they were okay with the ramp being just thirty feet away from the pool area.
Fairfield Inn & Suites by Marriott / 4850 Federal Plaza Drive
The Fairfield Inn & Suites by Marriott Houston Brookhollow was completed in 2019, well after the ramp was dismantled. Located on Federal Plaza Drive, it is directly across the street from Lindsey's Office Furniture.
Vintage Apartments / 6500 West 43rd Street
Built as the attractive Bridgegate Apartments in 1973 (complete with your choice of green or gold shag carpeting!), this apartment complex (it has been known as Vintage Apartments since the late 1990s) has seen better days. Several buildings were torn down in late 2015 for freeway construction.
Federal Bureau of Investigation / 1 Justice Park Drive
After over years of construction (groundbreaking in 2004 or 2005), this branch of the FBI opened in 2009, with walls said to be a foot thick. The architecture is strange, it's bright green and has white "+" and "#" signs built into the walls. Your tax dollars at work! (It's almost directly across from the Vintage Apartments above, but set a block or two away from the freeway).
12200 Northwest Freeway
Emblazoned with the Wells Fargo name (and the first floor is a Wells Fargo bank), this 1979 six story office building also has other office tenants.
Americas Best Value Inn & Suites / 12170 Northwest Fwy.
This was originally Park Inn & Suites when it opened in 1996 but today is Americas Best Value Inn (officially Americas Best Value Inn & Suites Houston Brookhollow NW). It has been branded such since at least January of 2008. The parking lot connects to the Shell station next door (though due to the Shell's closure this is blocked off).
12110 Northwest Fwy.
This closed Shell station (with a generic Food Mart and car wash) didn't have a huge sign and quietly made it through the widening but despite getting Star Stop in 2021, is closed as of January 2023. It originally opened in 1993.
Northwest Freeway Plaza / 12101-12151 Northwest Freeway
Northwest Freeway Plaza (I don't believe this had a name before 2015), before its partial demolition in 2015, I had never seen so many sketchy tenants packed that close together. The pre-demolition tenants are as follows: 12151 - Cricket [some Internet records say "Best Wireless"], 12141 - Passion Spa [sign simply said PASSION, red letters on white backlit sign, Internet records say that this was an erotic massage parlor...and probably, by extension, a front for prostitution], 12131 - 3 Amigos Bonding, 12121 - Boost Mobile [Internet records also bring up "Daystar Inspections" and "Alliance Communications"], 12111 - Progressive Insurance [or says Google Street View, searching this address turns up "Jordan Insurance"], 12101 - Pronto Money [facade says "1% Checks Cashed"].

It still has five spaces today...the tenants as of January 2020 include Pronto Money (12101), Progressive insurance (part of Jordan Insurance Agency, 12111), I-Vape Lounge (12121), Cricket (12131), a vacant space, and Boost Mobile (12151)...but the demolition had the end spaces reconfigure to be a little smaller.

As of April 2021, I-Vape Lounge is now Vape City.

Formerly, in front of this shopping center (back when the whole corner had a lot more land as a whole) was a small Hartz Chicken Buffet (12191 Northwest Freeway, there since 1978). In 2015, this was closed and torn down.
---
WEST 43RD STREET to WEST 34TH STREET
West 43rd goes all the way to West Crosstimbers. Check out the link there.
---
NORTHWEST FREEWAY CENTER
While some pictures are available on my old
The Houston Files
" blog, this shopping center began construction in September 1993 as the Northwest Freeway Center (though it was never referred to as such), a $10.5 million 247,000 square foot shopping center developed by Smith & Co. with Tom Moughon of Resource Development Group. The land (18 acres) was acquired that same year from Vickers Trust. The main anchors, a 104,800 square foot Venture discount department store and a 51,252 square foot Service Merchandise store were to open in July 1994. By 1995, a second phase was built facing Northwest Freeway but with 43rd Street addresses, anchored by Toys R Us. All of the anchors have changed hands at least once, and the roadside signage was replaced when the highway widened (it was originally with reddish brick like the center).
The Rainbow Shops (6433 West 43rd Street) is the third store to go here. It replaces previous tenant Fallas Paredes used (2007-2018, closed in a 2018 bankruptcy. Fallas Paredes used the rainbow facade (the tiles) that the original tenant Toys R Us used (#7042) from 1994 to 2005.
The biggest store in the block, a Venture (12005 Northwest Freeway) sold its unprofitable store to Kmart in 1997, which opened in 1998 as a Big Kmart, replacing a store at 34th Street (torn down for a Randalls, which closed earlier this year). The Big Kmart landed itself on Kmart's closing list in January 2003, which saw the chain leave most of Texas. It later became Burlington Coat Factory with departments like Baby Depot, and eventually rebranded as Burlington (sometime around early 2018 or late 2017). Burlington eventually fled the space for Brookhollow Marketplace (described later below) and that space is now vacant. It should be noted that Burlington Coat Factory didn't use all the space, that went to "Affordable Furniture", which is still there.
Service Merchandise (12009 Northwest Freeway) closed in early 2002 when the chain finally went bankrupt, but it sat vacant for close to a decade. In 2011 it became a Joe V's Smart Shop, a discount grocery format for H-E-B. This is kind of an interesting choice. Joe V's is a bit disliked as a format as it goes into low-end neighborhoods where H-E-B doesn't want to build full-line stores (even C-grade H-E-B stores), namely areas where H-E-B had promised they'd build 10+ years ago, but didn't (a store on the Southwest Beltway is an example of this). This Joe V's is the first of its kind to wedge itself into a strip mall. I can say with 95% confidence that they were not planning on an H-E-B here originally. Note my picture shows the facade as largely brown, this was recent, for at least the first five years after opening, Joe V's had a large red facade. The Service Merchandise facade was much more interesting and looked like a real department store, with a brick entrance and a red arch over the entrance (presumably glowing red at night). This I don't have a ready picture of, but you can see it on the older Google Street Views and similar Service Merchandise facades.
Petco (12015 Northwest Freeway), here since 2001, possibly since the 1990s. It did change logos at one point from the old, full bolded PETCO logo to the modern, lower-case one. How long will it be, though, when the sign changes again, and Red Ruff and Blue Mews are evicted?
Starbucks Coffee used to be at 12025 Northwest Freeway (directly next to Petco, you can see that when Winter first caught the 43rd Street Starbucks back in March 2001, you can see the reflection of Toys "R" Us on the road sign).
The redevelopment did a number on everything else. The only thing that remains is Starbucks is at 12035 Northwest Freeway, the site of Old Towne Kolaches at 12037. Other tenants that were here in the last days included C&S Chinese Cafe (12047 Northwest Fwy.), the last tenant on the end, was the last of the tenants at the south end of the strip that was torn down in the early to mid-2010s, Blimpie (charter tenant to around 2003), Red Onion Seafood y Mas (12041 Northwest Fwy.), a sister restaurant to the now-defunct Cafe Red Onion down Northwest Freeway (and its headquarters).
McDonald's / 12020 Northwest Freeway
One of the first "old" mansard-roof McDonald's restaurants to be torn down in Houston and rebuilt in 2008 with the "yellow eyebrow", the original version of this looks like it had the drive-through actually retrofitted in later and had some sort of playground between the store and the northbound frontage road.
Creekwood Apartments / 11911 Northwest Freeway
Like Bridgegate/Vintage described above, this older apartment complex was built in the early 1970s (1972, and like Bridgegate/Vintage, had shag carpets as a feature) and had some of its units torn down during construction of the freeway. Creekwood is also representative of what 290 looks like in this stretch, between West 43rd and Antoine, it is almost entirely residential, with fences separating the frontage roads from the backyards. In addition to the Creekwood Apartments units, some houses on Harland Drive were also torn down.
Best Western Plus Northwest Inn & Suites / 11611 Northwest Fwy.
As of 2008, this was Best Western - Northwest Inn & Suites and gained the "Best Western Plus" a few years later (the newer logo didn't come until the mid-2010s). Behind it is WoodLand Inn & Suites (11607 Northwest Freeway), and in front of the two hotels, directly at the northwest corner of Antoine and Northwest Freeway is 11603 Northwest Freeway. This was formerly a Shell. It lost its main sign (and the car wash), to the point it only had a small portable sign at ground level. It appears it closed permanently sometime in 2021 and was soon demolished.
Exxon / 11525 Northwest Freeway
A new Exxon/Star Stop was built here in 2020. In previous versions of this page, however, this was the address of the "old dead Chevron", as it had a distinctive Chevron-shaped sign, though the "for sale" sign didn't appear until around late 2008. This one on this side of the highway closed around 2005 or 2006. If you go to the page on HoustonFreeways.com regarding the 290 clearances page and scroll down toward the bottom of the page where it tells of the other Chevron that bit the dust, in the background you can see a white-looking sign with black text, that's this one. The Chevron also had an automatic car wash facility, which was razed around the same time. Less than six months before demolition, the black and white text was replaced with a colorized version. In this picture by me from May 2015, you can see the old dead Chevron from Antoine. I believe I read somewhere that this used to be a Diamond Shamrock, before Chevron.

Just to the south of this, on the other side of Milwee Street, is a large detention pond. As of 1983, this was one of the original four Houston Patio & Garden Centers (11321 Northwest Freeway). In the late 1980s, Wolfe Nursery bought Houston Patio & Garden Centers and eventually rebranded it (after a non-compete agreement expired, the owner would form the modern Houston Garden Centers) and by 1992 this was a location of Wolfe Nursery, though by 1995 the garden center was closed. By early 1997, the property was serving as the Buff's Beach Bar restaurant, then by 2001 had become Manhattan Enterprises, a used car dealership. Sometime in the mid-2000s, the property was re-occupied by Houston Garden Centers itself and tore down a few buildings while bringing the property back to life (most of the back of the property wasn't utilized properly as a non-garden center). Oddly enough, this location did not appear on their website, but it operated from around 2005 to 2011. When the property was finally demolished around of November 2015, the buildings there were ripped apart and you could see remnants of an office inside (a ceiling fan, a desk). [Last gasp of the Houston Garden Center, picture taken May 2015.]
11520-48 Northwest Freeway
This small strip center building (built in 1976) has some second-level office space and had the tenant on the end, 11550 Northwest Freeway, lopped off for widening. It had a second building on the lot, 11510 Northwest Freeway, but that was condemned in December 2014 and demolished entirely. It had shops: Google Street View says this was Northwest Chiropractic Center, but there may have been other tenants in it.
11500 Northwest Freeway
A six story office building built in the 1980s. "Jay Finn, CPA" is currently on the building as of this writing (writing is only visible westbound).
Chevron / 11404 Northwest Freeway
The Chevron described above had a "twin" with a similarly large tall sign and began life as a Gulf station back in the mid-1970s and became Chevron after new ownership functionally retired the name in favor of their own (at least that's the way that seems to have occurred. In 2013 the station closed down for redevelopment and was demolished the next year. In 2017, reusing the lot of Maximum Furniture next door and the house behind it, the station was rebuilt, with "Jack's Grocery" (a Chevron) opening by 2018. The newly built Chevron did not have a large sign like its predecessor.

The aforementioned Maximum Furniture was built in 1972 (according to HCAD) at 11330 Northwest Freeway. The first tenant (according to a mid-1970s photograph and backed up with a directory), as "All Needz Rental". By April 1984, it was Freeman's Carpets & Interior, though a July 1984 posting also mentions a bankruptcy auction for Freeman's Piano Warehouse. By 1993, it was Maximum Discount Furniture, which eventually became Maximum Furniture. In 2013 it closed and from what I can tell was reborn on Richmond Avenue as "Houston Upholstery & Design". A house was also behind the building (pre-dating All Needz) on Milwee but it was demolished along with it.

While the Jack's Grocery name appeared more prominently post-rebuild, officially it was always as such even dating back to 1991.
11350 Northwest Freeway
American Wheel & Tire built a new building on previously unused highway frontage (just old houses on Milwee Street) in 2012. In 2019, a second building was built on the same lot, featuring (as of January 2023), AWT Golf Carts, Shoe Boxx, and The Joint Chiropractic. In 2020, Boost Mobile occupied "Suite 300" where Shoe Boxx is now, but today they don't even use numbered suite numbers, AWT is A, Shoe Boxx is B, C is vacant ("Smoke Shop Coming Soon!"), and The Joint D. This second building roughly occupies the space where 11290 Northwest Freeway, a small triangle-shaped (from the sky) building just north of Luby's that had Al's Formal Wear and Al's Tuxedo Outlet back to 1990. It didn't survive ROW clearances and was one of the first freeway-related demolitions. Since I obviously didn't think about taking pictures because it was too late, there's a few Google Street View shots here and here.
11251 Northwest Freeway
This office building was the home of HostGator.com LLC for less than a decade (the building was built in 1978). According to SpaceGhost over at Houston Historic Retail, 11251 (which initially contained HGC only on the fourth floor (moving from Florida in 2006), eventually slowly expanded throughout the building, only to leave by summer 2013 (a move to Austin was rumored in 2010, but they only established a presence there, and located elsewhere to Houston eventually). There was a big "FOR LEASE" sign on the building for several years, but now at least DAC Inc. has taken up residence. In this November 2015 picture, the entire building up for grabs.
Shell / 11203 Northwest Freeway
While other Shells along this stretch of Northwest Freeway have met a sad fate, "West 34th Shell" as it had on the canopy, had a small food mart, auto garage, and car wash. Sometime in late 2017 or 2018 the store closed and was torn down. By March 2021 a new Shell station was built, but with just a Timewise convenience store. On the highway itself, this is about where the new split for Interstate 10 is, opened sometime around 2015. Originally, US-290 ended at I-610 with a shuffle to get into I-10, but the direct ramps here changed that. (To see Katy Freeway, click here.)
NORTHBROOK SHOPPING CENTER
This shopping center was built in the early 1970s as an enclosed mini-mall anchored by Romana Cafeteria and Weingarten, with a later expansion (in the mid-1970s) adding Globe before the enclosed portion was removed in the 1980s. You can see the PDF I saved
here
from January 2020. Today, it is anchored by OfficeMax and El Rancho Supermercado.
Luby's at 11250 Northwest Freeway was built sometime around 1973 as Romana Cafeteria (Luby's brand when entering Houston), this was later converted to Luby's Cafeteria (and eventually, just Luby's) as time went on.
Holding the 5330 West 34th Street address, Weingarten was the main anchor here back in 1974. By 1985 (after Weingarten as a chain ceased to exist, though the Weingarten real estate company still held onto the center for decades afterward), Moore's Foods was operating in the spot. This mini-chain had two other locations, one at 301 West 11th Street (later an H-E-B Pantry before it was torn down for a bank) and in Rosenberg (the original store, evolved out of a Minimax). At this location, Moore's became Moore's Sun Foods, then Sun Foods, featuring "24 Hour Savings". In 1988, Sun Foods closed with Office Depot opening soon after.
Globe Shopping City opened in the mid-1970s at 5264 W. 34th Street, and became Kmart (#9646) a few years later. The building was expanded between 1989 and 1995, though in 1997 it moved out to the former Venture at 43rd Street. The building was torn down and replaced with a new Randalls store in 2001 (ironically, this made it closer to its original footprint). While it was one of the handful of Safeway-era locations, it wasn't truly renovated to the Lifestyle prototype and seemed cold and lifeless even in the times it was still alive and well. In the spring of 2018 the store was closed, and was replaced (along with a few other recently-departed Randalls stores) with El Rancho Supermercado within months. It was not a total white-flag by new Randalls owner Albertsons despite what many have thought, and the fact that Albertsons owns 45% of El Rancho Supermercado indicates that it's a bit of a newer strategy.
A Starbucks Coffee opened in the parking lot in January 2016.
---
WEST 34TH STREET to MANGUM ROAD
---
NORTHWAY SHOPPING CENTER
Located at the southwest corner of West 34th Street and Loop 610 lies this shopping center, which has seem some pretty big changes over the years. Currently, you can see what the shopping center looks like
at this link
, which was archived
here
.
One of the most prominent tenants is Academy Sports + Outdoors (11077 Northwest Freeway), opened in September 2004 after moving from its old location at 12700 Northwest Freeway (near Bingle, and currently a now-dead 24 Hour Fitness). It replaced the home of Randalls #1 (11071 Northwest Freeway) as part of a site redevelopment, though this wasn't the actual #1, Randalls #1 moved here in 1977 from its old location at 4615 Mangum Road. Randalls later moved catty-corner to Northbrook in 2001, though that closed a few years ago as described in the section above.
Another big tenant is Conn's HomePlus at 11051 Northwest Freeway. Conn's was originally a smaller store next to an OfficeMax (11041 Northwest Freeway), as seen here in fall 2013, which is also the main picture of this section (as it was in the original HTML version of this page). After OfficeMax closed, it absorbed the space (along with Liberty Tax Service at 11047 Northwest Freeway) and Avis Rent a Car at 11049 Northwest Freeway) to create the large Conn's (picture taken November 2015), sealing the two in-line tenants and removing the Conn's "wedge" facade. Going back further, OfficeMax moved here in 2004 after leaving Northwest Mall (more on that in the Northwest Mall page), and replacing AMC Festival 6 Theaters, which operated here from around 1979 to 1999 (Cinematreasures is light on info but a guest article on HHR goes into more detail, including how it wasn't built as an AMC). The former home to Conn's (Conn's has been here since 1999) was PetSmart from 1997 to 1998, Horse & Rider World (western wear) from 1989 to 1995, Walgreens from 1981 to 1989, and Super Drug Store, a drug store chain operated by Sage.
Of course, we can't forget the restaurants of the stretch. Over at the southwest corner of the intersection, facing West 34th Street, there was a Jojo's Restaurant here back in 1979 at 11099 Northwest Freeway, with three other locations elsewhere in Houston (925 N. Wilcrest, 6415 Richmond, and 12010 East Freeway). By September 1997, the chain had six locations (including Galveston) in Houston. It seems that the chain was bought by a Denny's franchisee in 1998, which closed this store down in 2003 and converted it to a Denny's (closing the Denny's across the street).
China Border was at 11011 Northwest Freeway from 2002 to 2014 (and what I best remember the restaurant as) with Ty Seafood Kitchen operated here from 2014 to 2017. After that, it sat vacant for several years until it was demolished for a Chick-fil-A, which opened in early 2022. It was originally Clyde's Eatery from 1976 to 1986, Machos Restaurant & Cantina (1986-1987), Ta Wang Chinese Restaurant (1987 to 1991), and King Bo Restaurant from 1991 to 2001.
I best remember 10999 Northwest Freeway as Black-eyed Pea, it was literally there for most of my life and before some (1988 to around 2015), then became Wings-N-Things around 2017 (which moved from a different part of the center). Former restaurants here include a location of Gabby's (1979-1987) and Sam's Butcher Shop (1977-1979).
The former location of Wings-N-Things at 10979 Northwest Freeway started out as Diego's back in 1979, then became Hamburgers by Gourmet later that year (closed around January 1983). In the mid-1980s it appeared to be "Quality Specialty Chicken", which served exclusively chicken products, from fried chicken to moo goo gai pan. In 1987 it opened as Wings N' Curls but by 1988, had renamed to Wings 'N Things (or "Buffalo Wings 'N Things"), and later became Wings 'N More until around 1998 when it became Wings-N-Things again. This oddity seems to be related to the fact that Wings 'N Curls became a franchise of Wings 'N Things for a few years until it became an independent restaurant (Wings 'N More, which later franchised stores in Houston). After Wings-N-Things moved out to the nearby former Black-eyed Pea, the old building was demolished.
Finally, 10903 Northwest Freeway served as Oshman's Sporting Goods from 1979 to 1995 but in the late 1990s and up until relatively recently, it was a Goodwill Select Store. When I first saw it in the late 1990s it was branded as a "Super Goodwill" or "Goodwill Superstore" or something along those lines.
THE REDEVELOPMENT OF PINEBROOK APARTMENTS
Except for the immediate southwest corner of West 34th Street and Northwest Freeway (we'll get back to that), the entire corner where the disconnected shopping centers are (as well as going back to the Wells Fargo on West 34th Street), except for 11150, was a large apartment complex at 5201 West 34th Street by the name Pinebrook Apartments (stylized as "PineBrook", at least in the early days of the apartment complex) was a 232-unit apartment complex built in 1971 (and started advertising in 1972) as one of the many apartment complexes with clubhouses, swimming pools, and shag carpeting in the early 1970s, though PineBrook was always open to families (and pets). You can see an ad
here
which includes a sketch of how the apartments actually looked.
The apartment complex suffered issues leading up to its official closure in November 1990 (transients moving into vacant apartments and starting fires), with (apparently) another fire happening after it was closed before the city tore it down in early 1992. A new building and parking lot (
Pine Hollow Shopping Center
, 5215 West 34th Street, check out the Street View screen grab
here
) as well as
Payless ShoeSource
at 5201 West 34th Street.
Casa Olé
(11120 Northwest Freeway) opened here in September 1996. It was torn down in 2013. My picture from the original versions of this page (unknown source) is
here
. Pictures from Google can be found
here
.
A
Sonic Drive-In
joined in 2001 at 5195 West 34th Street. Unusually, this Sonic featured a full eat-in area. In 1997, a
Budgetel Inn
was built at 11130 Northwest Freeway. By 2000, this was flipped to Baymont Inn, and traded brands with the nearby La Quinta, so it became the La Quinta and the older motel became Baymont.
This is mostly how it was set up prior to 2013.
In 2013, part of the Pine Hollow Shopping Center was torn down (including a RadioShack that was doomed anyway), as well as the Casa Olé, and the aforementioned site at the corner of the freeway and 34th. This was originally the site of a gas station but in 1986, GiGi's Cabaret opened (replaced by Pleasures Mens Club from about 2006 to its
demolition in January 2013
.
The demolition of Pleasures, the strip center, and Casa Olé resulted in the construction of three new buildings, each approximately replacing its counterpart.
T-Mobile is at 11160 Northwest Freeway, taking up the whole building. The next building, taking the address of Pleasures but the space of the strip center, is 11150 Northwest Freeway and featuring Chipotle Mexican Grill, Tune Up The Manly Salon (opened 2019), and Regions Bank. Finally, Jason's Deli takes up 11120 Northwest Freeway, moving from the strip center (the part that wasn't torn down for the freeway was ripped down soon after). A Taco Bell also opened at 5211 West 34th Street in a new building.
Finally, at 5201 West 34th Street, Payless had closed in 2006. The former Payless was divided up, with one side being "Purpose Money" in March 2008 (rebranded as "Check into Cash" by 2011), and by 2014 Check into Cash was gone, though Jimmy John's Gourmet Sandwiches had moved into the other half in 2013. The side closest to the freeway (that is, the old Purpose Money) briefly became a Verizon store, though that has also moved on.
That's not even ALL of the redevelopment of the old apartments, there's a strip center building with Little Caesars and Wing Stop next to the Sonic, and a Wells Fargo bank beyond that.
Your Storage Place / 10901 Northwest Fwy.
This self-storage facility (here since the late 1970s but not under that name) has a Northwest Freeway address but is actually accessed off of Deauville Plaza Drive, which runs between the two sections of Northway Shopping Center. Actually addressed with Deauville Plaza Drive (at 5555 Deauville Plaza Drive) is the "Metropolitan Transit Authority - Northwest Bus Operating Facility", METRO's home for off-service buses and ones in need of repair.
Days Inn / 11002 Northwest Freeway
This hotel was originally a La Quinta (which at some point moved to the hotel behind it) but originally it was a La Quinta Motor Inn (as it was called back then) with a Denny's (but of course) in front of it back in 1977. La Quinta and Denny's remained into the year 2000, but in the early 2000s, Denny's moved to a former Jojo's on the other side of the freeway (see that entry, above), and the restaurant served as a revolving door of other restaurants, first with Baytown Seafood Restaurant by January 2004 and later, Supreme Sandwiches before being evicted in 2012 and demolished in 2013. Here's a Google Maps Street View of Supreme Sandwiches prior to demolition.

As for the hotel, it appears it converted to Baymont Inn in 2006, and after a brief stint as "Executive Inn & Suites" circa 2011, by 2014 it had converted into a Days Inn.
10900 Northwest Freeway
This unremarkable office building was built around 1979 and has quietly nestled itself between a motel and a restaurant. It does not even have a prominent name on the outside.
Captain Benny's / 10896 Northwest Freeway
Captain Benny's opened as Captain's Half Shell Oyster Bar (same ownership, just changed names somewhere down the line, probably early 2000s) in 1987 and shared a parking lot with a Two Pesos. Two Pesos converted to Taco Cabana in the early 1990s and around 2006 closed, replaced with Big Daddy's BBQ. While the building got a cheap repaint, they at least got a new sign. (Static GSV picture here if the above link doesn't work). Around 2009 Big Daddy's closed, however, and when the freeway widening happened, Big Daddy's was torn down for additional parking, as most of Captain Benny's parking lot disappeared with the widening.
Olive Garden / 10830 Northwest Freeway
This Olive Garden opened in 1986 and ended up being almost directly on the frontage road after the clearances took its front parking, but still remained open.
QC Laboratories Inc. / 10810 Northwest Freeway
This 1982 office building is ugly but at least interesting-looking, a bit like out of a 1980s science fiction movie. Just look at it. (Picture from Loopnet). Just to the south of the power line right of way at Sherwood was another office building that was a victim of right of way expansions--10700 Northwest Freeway, a low-rise 1980s-era building wasn't that lucky in terms of freeway demolitions and demolished around December 2012 or January 2013. Here's a picture I saved from Loopnet. The facility behind it, 10800 Northwest Freeway, has no access from its parking lot or even Northwest Freeway itself, is owned by Hamilton-Steele today, but an old directory from the late 1970s indicates it was owned by Borden Inc., though given the company was extremely diversified at that point who knows if it dealt with food or not. It should be noted that 10800 did originally have frontage road access before Kingwood Lane was built.
10777 Northwest Freeway
This office tower (with "Manhattan Life" across the top, just like how 13831 is now) was built in 1983, see the Loopnet page here.
KEYSTONE 290
This 1980s-built strip center with two strip center buildings (one of which has a second level) has two stand-alone restaurants. It should be noted that just north of Keystone 290 and Sherwood Lane was a victim of right of way expansions--10700 Northwest Freeway, a low-rise 1980s-era building wasn't that lucky in terms of freeway demolitions and demolished around December 2012 or January 2013. Here's a
picture I saved from Loopnet
. I've saved a PDF of the shopping center
here
, archived from
here
.
10690 Northwest Freeway opened as a Bennigan's in 1985 and continued to operate as such until the parent company went under in 2008. Los Cucos replaced it in 2010.
FedEx Office Print & Ship Center at 10670 Northwest Freeway opened here in 1997 as Kinko's. Originally, in the 1980s to around 1996-1997, it was a Blockbuster Video.
AT&T at 10650 Northwest Freeway was Pier 1 Imports from 1987 to around 1997, and by September 1997 it had been replaced with Yes Appliances & Furniture. Around 2008, an AT&T store opened.
Yucatan Seafood & Bar at 10510 Northwest Freeway sits on the other side of the shopping center. This was once Chili's (operated from 1986 to 2007). It was two short-lived restaurants in the years following: MX Bar & Grill from 2011 to 2013, and Pinch Seafood Restaurant (2016 to 2017). The current tenant as of this writing is Mariscos Yucatan (also known as Yucatan Seafood & Bar) since December 2018.
Harris County Delta Building / 10555 Northwest Freeway
This government building has several offices here for the county. Glancing over results from the Internet, it has the Harris County Engineering Division, Harris County Fire Code Department, Harris County Engineering Department, Harris County Permits Office, and possibly others. The building was built in 1978 and came into the county's possession around 2006.
10500 Northwest Fwy.
This two story office building has a variety of smaller tenants inside. As it's barely taller than the Yucatan restaurant next door and a larger office building behind it, it doesn't much make much of an impact in the 290 skyline.
Free Star Plaza / 10515 Northwest Freeway
This building dates back to the 1970s when it opened as Monterey House, a Mexican restaurant chain (before the area was developed mostly as warehouses). In 1989, the chain upgraded its locations and the restaurant became Monterey's Tex-Mex. This location would be featured in Houston Chronicle's article regarding the changeover, and the 1989 incarnation of this restaurant looked far better than its next incarnation, Monterey's Little Mexico. (Thanks to Mike from Houston Historic Retail for the original scan). While you can see the now-defunct Monterey's here in this shot, it was clear that despite the fact that the restaurant had closed by this time, the renovation made it look somehow worse and more dated. The restaurant closed in summer 2013, though the big sign remained up, remaining visible even as new ramp construction blocked most of the freeway's view.

In 2019, the building was renovated to be used for smaller tenants, gaining its name "Free Star Plaza" soon after, but it still looks pretty rough. In late 2022 signage went up for Empire Barber Studio in unit C, though as of September it wasn't finished out yet.

The twin yellow buildings of Floor Merchant (which has been here since around the mid-2010s, before they opened their other NW Freeway location) are quite prominent, though it has a Karbach Street address and access.
McDonald's / 10450 Northwest Freeway
This McDonald's restaurant has been here since around 1988. In 2001 it rebuilt (featuring a Playplace) but a 2012 remodel scrubbed that (along with the mansard roof), partially to make it better compatible with the reduced parking situation.

Pericos Mexican Cafe / 2701 Mangum Road
This restaurant at the northwest corner of Northwest Freeway and Mangum is here in a spot that was originally Kettle Restaurant and later Taqueria Arandas.
Xpress Digital & Print Media Services / 10485 Northwest Freeway
Trying to put together a chronology for this 1993 warehouse has proved to be a bit spotty. There was an article in September 1997 for the grand opening of "Mark II Truck Accessories" which lasted until mid-1998. Other than that, according to the March 2008 Street View this was "Floors Expo", followed by Texas Tile Services (June 2011), then vacant by March 2015 (TTS looked closed as of 10/14), it was New Start Auto starting around summer 2015 (it looks like it closed in 2017 but the signage hung around for a few years afterward), with the current tenant operating since at least since March 2021.
Discount Hitch & Truck Accessories / 2602 Karbach Street
This faces NW Freeway and has a driveway to it but a Karbach address. As of 2008 the facade simply read "Discount Hitches" but changed by 2011.
Lone Star Children's Medical Clinic / 10375 Northwest Freeway
Despite the modest restaurant-esque architecture, Lone Star Children's Medical Clinic was "MedStop" back in 1981, which was an "ambulatory care facility" for general medical care and minor emergencies, a bit like a prototype to these private "emergency rooms" popping up everywhere.

Behind it is Sunset Strip (formerly Steak & Ale), which is covered on the Other Houston Roads page linked below. It should be noted that while Sunset Strip was listed on this page until "Version 6.1", it never had any direct access to Northwest Freeway.
---
MANGUM ROAD to LOOP 610
A good chunk of the last section to be covered here before Loop 610 is owned by Houston ISD, which has its offices, a baseball field, a softball field, two stadiums, and an indoor arena all sitting on 67 acres. Additional Mangum Road entries (south of 290) can be seen
here
, starting with the Pizza Inn near Northwest Mall.
---
10404 Northwest Freeway
"Northwest Shell" mostly functioned as a garage and like the Shell at Katy Freeway and Hunters Creek (still there) and North Shepherd and I-45 (long gone) had the Shell sign on a tri-pointed "tiki torch" design structure. The gas station canopy was in the way of the highway and was torn down in 2012 as the gas station did. The main building remains vacant, and based on Google Street View, appeared to be mostly a garage. The gas station dated back to the mid-1970s (even as a Shell). Behind it with better visibility is "Nor-West Appliance Sales" located at 4618 Randwick, which is off of Randwick, a mostly residential street off of Mangum. Nor-West Appliance has been here since 1985, replacing similar tenants "Proven Products" (1982-1984) and "Belt Appliance" (1975-1980).
10333 Northwest Freeway
Part of the three-building "Northwest Plaza" (see below), 10333 is a little different because it's on a different lot, looks different, and is a bit older than the other two (having been built in 1970).
10301-03 Northwest Freeway
These two office towers look identical (both built in 1974) and sit on the same lot, however, with 10333 Northwest Freeway, they compose "Northwest Plaza"...not to be confused with the late Northwest Plaza shopping mall in the St. Louis area. All three buildings have five stories each.
4555 Dacoma Street
Also known as 10120 Northwest Freeway and the main home of MEMCO Staffing, this funky two-story office building from 1972 was part of the many office buildings that complemented the now-gone 4500 Dacoma complex on the northeast side of the freeway.

We'll try to better cover 4500 Dacoma, last known as the ExxonMobil Brookhollow Campus, in the future, where a strip mall (Brookhollow Marketplace) features Burlington, Floor & Decor, and a few smaller "big box" stores.
Hustler Hollywood / 4602 Dacoma Road
In 1971, Sambo's Restaurant opened at 4602 Dacoma at the northwest corner of Dacoma and Northwest Freeway, a 24-hour diner establishment that was once a large chain (and, if archived footage of Marvin Zindler's reporting is correct, had a major rodent problem). In 1981, the chain went bankrupt and the Houston restaurants disappeared. In 1983, it reopened as Champs Restaurant and by 1989, it became Communication Service Center, Inc., a licensed dealer of the GTE Mobilnet cell phone stores. By the time it closed in 2004, it was a Verizon dealer (see the "Hightimes 24/7 Video" entry). Smoke Alley moved here in 2012 but moved next door in 2019 (to the similarly-numbered 4620 Dacoma). In early 2023 it assumed its current tenant, an outlet of a chain of sex toy shops.

Across the street was 10155 Northwest Freeway, a relatively short-lived Mobil gas station (late 1970s to early 1990s; may have briefly been a Shell toward the end).
Texas Department of Criminal Justice - Parole Division Region III Headquarters / 10110 Northwest Freeway
At press time, not much could be found on this government building other than the fact that it was built around the early 1970s and likely always a government building.
10050 Northwest Fwy.
This 1972 building includes (as of 1/23) The Cole Group, Elite Background Screening, Nguyen & Associates Law Firm PLLC, and All Over Exterior Roofing. This is a non-exhaustive list.
Supernova Furniture / 10000 Northwest Freeway
This furniture store has a URL on the facade ("SuperNovaFurniture.com")...which was a bit of a trend for a while that was LONG gone by the 2010s) and opened in 2016, though the "Clearance Center" portion opened in 2020 according to some articles.

Previous Street View pictures show that it wasn't originally a retail store, it was an office building (a lot of greenery was hacked down in the front), and along Directors Row you can see how there's vacant space in the back of the building falling into disrepair.

It appears the first tenant back in the late 1970s was NL Shaffer with Ameritech Training Center being there by 1990. By the late 1990s it was hosting other tenants, including government offices (namely the Vehicle Title and Registration Regional Office) and in the mid-to-late 2000s briefly hosted the Harris County Permits Office before it moved across the street.
Harris County Flood Control District / 9900 Northwest Freeway
This has been owned by the HCFCD since 1988 but was built in 1970.
9800 Northwest Freeway
We bow out the last true Northwest Freeway address with this six-story office building built in 1972, also known as Brookhollow Two. Northwest Freeway "begins" at the 9800 block, not anywhere close to 100, and that is because it is parallel to Hempstead Highway's numbering...which is a continuation of Washington Avenue's...which starts at downtown. As you can see, we do have a few more entries on this page.
Hattie Mae White Educational Support Center / 4400 W. 18th Street
Administrative offices of the Houston ISD school district. There are multiple sports facilities on the grounds--two stadiums, a baseball field, a softball field, and the new Delmar Fieldhouse (replacing an older building wrecked around late 2013/early 2014).
Shell/Burger King / 4401 W. 18th Street
This combined gas station and was built in late 2007 to replace an older gas station. By the time it was built, Burger King had long since fled the space where Pizza Inn occupies about half a mile to the west.
Northwest Mall / 9500 Hempstead Road
In previous updates, I noted that "Northwest Mall deserves better coverage on this site" as I only had some pictures and thoughts from 2013 here. By the time I first really started paying attention to Northwest Mall (rather unimpressive, as JCPenney had been gone for years, and only Foley's was left) it was deep in decline. The Foley's would become Macy's in 2006 and close down in 2008 following Hurricane Ike damage (probably an easy way out since the 2003 opening of the Galleria's Foley's rendered it irrelevant). The sign still hung on the building for several years afterward even as it was clear that Macy's would not reopen it. The new home of Thompson's Antique Center of Texas (9950 Hempstead Road) at the former JCPenney opened in early 2012 and closed in 2022, after the mall itself had been shut for several years.

While the site is still in need of a new Northwest Mall page, you can at least see this map I saved from back in 2008 when the mall still had Macy's and lots of other tenants. Previously seen on the US290 blog was a strip center near the Northwest Mall's parking lot that was demolished for widening. That has been added back to the Hempstead Road section here.

At this point, the freeway ends, going to (depending on which ramp), Katy Freeway or Interstate 610.
---
Return to the Houston page
|
Email
---
Copyright 2021-22 Carbon-izer.com, this site is not affiliated with any businesses listed here. While accuracy is aimed for, this is an individual's work and not liable for any error here.