Sam Houston Parkway
I made this page to replace an older one, and it describes about a quarter of the 88-mile Sam Houston Parkway that encircles the core of Houston. It integrates with the Northwest Freeway pages, including
the Outer Belt beyond Beltway 8
and
the Inner Belt portion
.
Like any page of this website on "Version 1.0", it's an extremely abbreviated look at the highway and leaves out many of the sights and businesses along the corridor. Most of the Beltway on the west part of the town usually business parks and not so much commercial businesses and restaurants, though they do exist. Because this only covers Northwest Freeway to John F. Kennedy (IAH), it doesn't even cover the former Auchan (and it would be quite a feat to do all 88 miles of the freeway). Like some of the other pages here, this page is a reorganization of the old "directory" pages, with the only removal being 500-502 N. Sam Houston Pkwy. E., which are two hotels with a complex history. Otherwise, the additions include everything
except
the Hyatt Regency and the OYO Townhouse.
NORTHWEST FREEWAY to FALLBROOK DRIVE
McDonald's / 8940 W. Sam Houston Pkwy. N.
This McDonald's opened in April 2001. In fall 2017, the exterior was renovated to the current prototype.
Kroger / 9125 W. Sam Houston Parkway N.
Albertsons #2766 opened in September 1999 and in May 2002 was shut down and converted to a Kroger (#739). It also included a fuel center out front (known as Albertsons Express under Albertsons, then Kwik Shop under Kroger until the Kwik Shop chain was divested). Additional pictures on my old blog The Houston Files.
Whataburger / 9232 W. Sam Houston Parkway N.
This Whataburger opened in front of LA Fitness in December 2009. (The LA Fitness center behind it opened earlier that year).
10603 W. Sam Houston Pkwy. N.
This office building, constructed in 2009, has a strip mall portion despite the latter being almost invisible from the highway. It holds breakfast chain First Watch, which replaced The Egg & I, a previous similar tenant.
FALLBROOK DRIVE to TOMBALL PARKWAY
West Sam Houston Parkway North becomes North Sam Houston Parkway West at Fallbrook Drive.
Chevron/Jack in the Box / 8055 N. Sam Houston Pkwy. W.
This Quick Stuff/Jack in the Box opened in 2003 (with a Shell, at least that's how it was in the late 2000s). Quick Stuff was a Jack in the Box concept that added a gas station and convenience store to Jack in the Box restaurants, founded by the company itself. In 2009, they divested the chain to other operators (but kept the Quick Stuff name) and the store here was sold to Stripes (also, in the early 2010s, the gas operator converted to a Chevron). After Sunoco sold Stripes to 7-Eleven, this quickly got disconnected from the chain (even in 2018) and was sold to Checkout, though is still branded as Quick Stuff on the outside.
Check Point / 15405 Texas State Highway 249
At the southwest corner of Beltway 8 and Highway 249 is a "Check Point", in both gas brand and convenience store (Checkpoint #106). The gas station has had somewhat of a tortured history, it was an Exxon opened in mid-1997 but by December 2007 it was boarded up. By 2011 it was reopened by Valero (demarcated as a "Discount Fleet" Valero), with "Sky Mart" as the convenience store. Buzzy Bee opened in fall 2015. I'm not sure if this was before or after Buzzy Bee changed their logo, but in early 2015, the Buzzy Bee logo had a striking resemblance to a certain cereal mascot owned by General Mills. The Check Point conversion came in summer 2020.
TOMBALL PARKWAY to NORTH FREEWAY
Valero/Checkers / 4919 N. Sam Houston Pkwy. W.
Valero and McDonald's opened here in late 2004 (it's possibly McDonald's opened in January 2005) with a third tenant, a barbershop/hair salon (King & Queen Barber & Hair Studio), as well as a fourth tenant, "Roberts Elegant Doors" (later just Robert's Doors). In early 2015, McDonald's relocated out of the gas station to a stand-alone location across the street, and Checkers replaced McDonald's in early 2016.
McDonald's / 10966 Bammel North Houston Road
See previous entry for more information.
Gordon Food Service / 11303 Antoine Drive
Home to Gordon Food Service's Houston distribution center (they have others nationwide). It was built in 2005 as the new consolidated home of Glazier Food Company, but in 2014, Gordon Food Service acquired the company and rebranded it. The company does a variety of distribution both to some grocery stores (in some parts like Michigan, they even have stores) and institutional uses, and sometimes acquires other distribution centers. (Their location in Plant City, Florida, was the old distribution center of Albertsons' Florida division). And speaking of Albertsons...
Food Town / 2770 N. Sam Houston Pkwy. W
Albertsons (#2757) opened in November 1998 here, and in summer 2002, it closed with the closure of the Houston division, replaced by Food Town, which opened in January 2003.
Digital Realty Houston / 12001-12245 North Freeway
Data center (fenced in, no public access) redeveloped from a former power center known as The Commons at Greenspoint, holding such tenants like Children's Palace and Phar-Mor. More information can be seen at my old blog, The Houston Files.
NORTH FREEWAY to HARDY STREET
Greenspoint Mall / 12300 North Freeway
A dying mall with only a fitness center and a movie theater as anchors, yet was once one of Houston's biggest and arguably best malls even into the 1990s. Covered in more detail here.
Hyatt Regency North Houston / 425 N. Sam Houston Pkwy. E.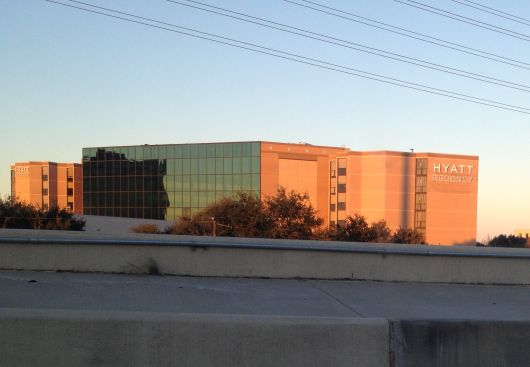 L'hotel Sofitel (Hotel Sofitel) opened in fall 1982 with three restaurants: Chez Colette, the casual brasserie cafe, La Terrasse, the "sidewalk café" for light food and drinks, and Le Cafe Royal as the hotel's upscale French restaurant. It had eight stories, 341 rooms, 10 suites, and even had a small takeout French bakery. The hotel was renovated in 1995. In 2007 it changed hands to become Crowne Plaza (Crowne Plaza Houston North Greenspoint), with the French restuarants disappearing around this time. By 2012 it had rebranded to Hyatt Regency North Houston. This article refers to the hotel as being "recently rebranded".
OYO Townhouse / 702 N. Sam Houston Pkwy. E.
Opened in 1983 as Hotel Ibis, an eight-story moderately-priced companion to the upscale Hotel Sofitel down the road, this hotel (despite being the first Ibis in the United States), the Accor ownership ended less than a year (by January 1984 it was "Preference Inn"), and it closed in 1986 after less than three years of operation. While it was closed, it was actually approved for use as a halfway house for non-violent ex-cons, though that apparently never happened in the end, and instead it was renovated and reopened in October 1991 as a Holiday Inn Express (one of the first, at least one of the earliest, Holiday Inn Express hotels in the chain, and the first in Houston). Between November 1998 and March 1999, the hotel changed hands to Cendant's Howard Johnson Plaza (the highest-tier hotel in the Howard Johnson hotel chain). By 2004, it had become Airport Inn & Suites and by 2005, the hotel had once again changed to Woodley Suites. In 2011 it was Americas Best Value Inn & Suites, and finally by fall 2019, OYO Townhouse.
HARDY STREET to JOHN F. KENNEDY BLVD.
Mobil / 1104 N. Sam Houston Pkwy. E.
Belt 8 Travel Plaza (Beltway 8 Travel Plaza) is a truck stop opened in 2016 that features a Denny's and Schlotzsky's in addition to truck stop features.
Holiday Inn / 15222 John F. Kennedy Blvd.
While just beyond the borders covered by this section, this Holiday Inn dates back to 1971 (originally with the address of 3702 North Belt East) and has remarkably kept the Holiday Inn name all this time, especially as its older brethren from that era closed or changed names. The hotel still features everything from a named in-house restaurant (Good Eats Grill) to a tennis court.
Hot Biscuit / 15360 John F. Kennedy Blvd.
With the former address of 15360 Drummet Blvd. (the old name of the road), this restaurant has been active since 1983 and was built as a Kettle (#144). In 2011 it disconnected from the dying chain and renamed to its current name. While the $3.99 breakfast signage disappeared in the late 2010s, it is still 24 hours.
---
Return to the Houston page
|
Email
---
Copyright 2022 Carbon-izer.com, this site is not affiliated with any businesses listed here. While accuracy is aimed for, this is an individual's work and not liable for any error here.