North Houston
This pages covers assorted North Houston-area roads, featuring Beltway 8 and beyond in Harris County, east of 290 to beyond Eastex. Version 4.0 of this page features:
Added:
Jones Road (16 entries, after briefly appearing on the Outer Loop page), a new Greens Road section (incorporating the Shell and adding four new entries), Spanish Flowers, Sunoco (West Airtex), 17190 Tomball Parkway (former Mountasia/Boomers), Truist, and Four Points by Sheraton.
Updated:
PetSmart (minor), Food Town (Veterans Memorial/Beltway 8), Gordon Food Service (retitled as "Gordon Food Service - Houston Distribution Center" among other changes), Greenspoint Mall, Saltgrass Steak House (retitled and reformatted as focusing on the former Joe's Crab Shack and retitled "MeXcal Cantina Pacifico"), Presidential Plaza, and IQ Products Company. Bombshells was also retitled as "Bombshells Restaurant & Bar" as part of Manual of Style changes.
Removed:
OYO Townhouse (which was supposed to be renamed as "America's Airport Inn & Suites" anyway).
---
FM 1960 EAST
While
FM 1960 West is a long road in itself
, the numbering resets at I-45 as FM 1960 continues east. It becomes FM 1960 East until after Hardy Toll Road, but still keeps the numbering system and around the Lee Road stoplight, it becomes "FM 1960 Bypass Road West".
---
Texas Roadhouse / 124-B FM 1960
I cannot tell what was here before the highway was widened in the late 1990s but it was torn down for construction and Texas Roadhouse was built here in 2006.
PetSmart / 140 FM 1960
I'm not sure, what, if anything, was the original tenant of this building. It shares the building with Chuck E. Cheese (146 FM 1960) and anchors the North Junction shopping center (the portion facing the west was original to the 1970s, the portion facing north was built in the 1990s). Before it was reconstructed, the strip center's original anchor was a Kroger Family Center (HP-228) at 148 FM 1960, opened in 1978. This Kroger was mentioned in passing on HHR's "Year of the Kroger" series as it was closed around 1993.
Waffle House / 406 FM 1960
Waffle House (# 1437) has been here since early 2001.
7-Eleven / 407 FM 1960
This opened as a RaceTrac back in 1996 but by December 2007 was a RaceWay. Between 2020 and 2021 it converted to a 7-Eleven.
Days Inn & Suites / 410 FM 1960
This is actually one of the smallest Days Inn motels in the Houston area at just 38 units on two floors (at least as of 2001) and originally opened 1998. The December 2007 Street View has "DAYS INN & SUITES" spelled out on the sign, since then it has been updated, then updated again with the "By Wyndham" at the bottom. The hotel's webpage can be found here.
Valero / 805 FM 1960
This opened in early 2017 as a Valero/Corner Store Market (Corner Store's larger format, which included a different color scheme). By late 2019 it was an ordinary Valero/Circle K.
Joe V's Smart Shop / 2929 FM 1960
This low-end H-E-B spin-off opened this location around spring 2017.
Kroger / 9475 FM 1960 Bypass West
This massive Kroger store (104,000 square feet) opened as a Kroger Signature store on August 27, 2014. It replaced a nearby Kroger store (19611 US-59). There is a Church's Chicken at the store but it is unclear if it is merely attached to the building or integrated with the store. The Kroger Signature name has since been retired.
Golden Corral / 9663 FM 1960 Bypass West
Records report this first opened in December 1992 and has been here since.
At Home / 9450 FM 1960 Bypass West
The At Home store at 9450 FM 1960 Bypass West opened as Garden Ridge in 2001 (next door to one of the Houston area's few Super Kmart stores), but it closed in 2004 when Garden Ridge went bankrupt. It would reopen in 2011 and rebrand to At Home in 2014 but the interim was a bit more interesting.

A church group called Solid Rock Baptist Church purchased the building in December 2005 from Humble Gardens (possibly a shell company or real estate spinoff of Garden Ridge) and because the 116,000 square foot building was too big for the church's uses, plans were put into place to have half of the building serve as businesses operated by the church to keep the tax-exempt status. Only one business actually ended up opening in 2006 (with the church's opening), Bounce City, but the church struggled financially and by 2010 Bounce City was closed with SRBC having been foreclosed on and leasing the space they used to own. The church moved out soon after and a new tenant was found...Garden Ridge!
9470 FM 1960 Bypass West
From November 1994 to June 2002, this was Kmart 4958, better known as Super Kmart Center. After its closure it sat for a number of years before Academy Sports + Outdoors and Burlington reconstructed and split the building in 2011. It appears that Academy's side is the same building but extensively renovated while Burlington's is brand new. Collectively, with the restaurants in front of it, the re-development has the name of "Townsen Crossing".
9805 FM 1960 Bypass West
This opened as Fiesta Mart #21 in 1990, one of the fancier, larger Fiesta Mart stores built in the late 1980s and early 1990s. In 1992, it was closed and sold to Randalls, which opened there to replace their old store across the freeway at 122 FM 1960 Bypass East.

While Randalls had managed the old Randalls #16 quite effectively since 1980, the new location was a failure. Perhaps Randalls had difficulty filling the large 86,000 square feet footprint but it closed in 1995, less than two years after its opening.

From 2005 to 2011, Academy Sports + Outdoors took most of the space, having moved from a smaller strip mall store near Eastway Village Drive. Ross Dress for Less also opened during that time (it takes an address of 9815A Farm to Market 1960 Bypass Rd. W.)

After Academy moved out, the space was split between Goody Goody Liquor (opened 2012) and Baskins (opened 2013). The latter was quickly purchased by Boot Barn (though it did open as Baskins, if briefly). In 2017, Goody Goody Liquor was sold to Total Wine & More as part of a transaction that included one other Houston store (also in a former Randalls, by coincidence).

It appears that the space was in fact vacant for a period of a decade between the closure of Randalls and opening of Academy and Ross.
---
GREENS ROAD
Located at around the 12400 block of North Freeway, this section includes West Greens Road (west of the highway) and Greens Road east of the highway.
---
Burlington / 205 W. Greens Road
Anchoring the "Greens CrossRoads" shopping center, Target operated here (T-156) from 1981 to 1998 with apparently no replacement. Burlington Coat Factory (now just Burlington) opened in 2007 with It's Fashion Metro opening in 2008 (taking up the rest of the space and sharing the address).
Green House International Church / 200 W. Greens Road
This former Kroger (1979-early 2010s) became a church in the late 2010s and retains its Greenhouse roof (it looks almost identical, just repainted). The small attached strip mall still is mostly occupied, including a liquor store, "More Beauty Supply", Greens Tobacco Shop, H&R Block, Cindy's Nails, Rocky's Subs, and a few others.
Shell / 108 West Greens Road
Located at the northwest corner of Greens Road and North Freeway is this gas station built out of a former Luby's...yes, built OUT of a Luby's and not "on the site of" a former Luby's! Check out more information at Houston Historic Retail! There's a Church's Chicken inside as well.
McDonald's / 255 Greens Road
This was home of one of Houston's four Victoria Station restaurants and the last to be built. It operated here from 1978 to 1986. Afterwards, a McDonald's was built here, and rebuilt in the early 2010s.
Rockridge Station Apartments / 855 Greens Road
The first reference I can find for this apartment complex (292 units as of a 1989 article) is Forest Trails in 1984. It's not clear when it changed names (after 1990 sometime) and gained its current name from Anniston at CityView in the early 2010s. It is possible it was something else in the 1990s.
---
JONES ROAD
---
8125 Jones Road
This was originally built as a Burger King which operated from 1982 to 2001. In 2004 or 2005 (conflicting reports) it became Snapper Jack's Seafood & Grill which closed in 2016 and briefly becoming a location of Mannie's Seafood before it became BreWingz in 2018. BreWingz shut down by 2021, and it is vacant once more.
Palace Inn / 8135 Jones Road
This opened spring 2016 on the former site of US Auto Center, a small residential house-turned-auto dealer from the early 1990s that fronted Jones Road until around the early 2010s (it also rented U-Haul trucks).
8200 Jones Road
This was built in the mid-1980s as Village Green National Bank but in May 1991 the bank was declared insolvent. However, it quickly reopened as the first Bank of America branch in Texas. The branch closed between February 2022 and February 2023.
The Foundry / 8350 Jones Road
Foundry United Methodist Church was built here in 1982 (though much smaller in its original form), today it is one of two "The Foundry" campuses and still associated with the United Methodist church.
CVS/pharmacy / 8620 Jones Road
This free-standing CVS drug store opened in late 2005, after the Eckerd takeover.
B!G Mart / 9096 Jones Road
The conversion to this gas station brand happened extremely recently within this writing (appears to be maybe 1/23 or around that time). It was previously Circle K (which by February 2022 had taken over the gas brand completely from Valero), Valero/Circle K since 2019, Valero/Corner Store since around 2006, and Diamond Shamrock/Stop-N-Go before that (it originally opened in 1984 as a Stop-N-Go with fuel, though it's unclear if it was self-branded or not). Tax records also indicate it spent time as "Handi Stop" around 1997 but even if it did it reverted to Stop-N-Go by the late 1990s anyway.
ALDI / 9251 Jones Road
At the intersection of West Road and Jones Road, there's a supermarket at every corner, starting with ALDI, which opened in the spring of 2014.
Kroger / 9330 Jones Road
This was one of Kroger's first Kroger Signature stores when it opened in 1994, but by the late 2010s it would drop that branding.
Take 5 Oil Change / 9460 Jones Road
At the direct southeast corner of the intersection is an outparcel that once held Boston Market (Take 5 bought them in early 2021 and tore the entire pad down for a new building and parking lot). Boston Market originally opened in 1997. Records indicate it moved from a store catty-corner.
H-E-B / 9503 Jones Road
This H-E-B opened in fall 2012, replacing a Randalls (#35, later 1035) that operated from August 1985 to January 2010. H-E-B altered the building significantly, such as building out and altering the front (in general, H-E-B is allergic to facades that are attractive and not tacky), and tearing down a strip of stores to the south for additional parking and a drive through pharmacy.
Food Town / 9520 Jones Road
We round out our four corners with Food Town, with a Food Lion being in the spot from 1992 to 1997 when the Texas stores were closed. Food Town quickly reopened it in early 1998.
10535 Jones Road
This was built as Albertsons (#2708) as one of the first locations in Houston (not THE first, but the first wave opening in 1995) but was also one of the first to close, closing around 2000 to relocate to FM 1960 West and Eldridge. After idling for about a decade, this was later sub-divided into smaller tenants.

As of January 2023 these include (left to right) Melange 2 Salon Gallery, Triple Crown Bingo, Dominion International Center Church, and On the Rox Sports Bar & Grill, as well as a few spaces for lease.
10951 Jones Road
This former CapitalOne bank on the south side of FM 1960 was a Blockbuster during most of the 1990s and early 2000s until its demolition around 2004 but it started out as JJ Muggs restaurant until it closed in the mid-1980s. It sits in the parking lot of a center once anchored by Target. For over 24 years Target (T-161) operated at the center (1983-2006) to anchor Steeplechase Plaza until it moved to the corner of FM 1960 and Eldridge. This is also where Jones Road crosses FM 1960 West.
It's Ribs! / 11035 Jones Road
This served as Whataburger from 1982 to around 1994 when it moved to FM 1960 West and Windfern (a more visible location off of FM 1960). Afterward, it served as Schlotzsky's Deli until around 2010-2011, when it moved out. "It's Ribs!" has been here since at least around early 2012.
Sunoco / 11350 Jones Road
Opened as a self-branded Stripes convenience store (which featured "Laredo Taco Company" inside) in early 2014. Later, the gas brand became Sunoco, and by early 2021, Stripes was rebranded as 7-Eleven (LTC is still there).
Habitat for Humanity ReStore / 13350 Jones Road
This opened in 1983 as a Randalls (#25, later 1025) and closed in 2005 during a major store purge by then-parent company Safeway Incorporated. Habitat for Humanity ReStore opened several years later (2011-2012, roughly) but it wasn't until fall 2014 when it expanded to all of the space.
---
JOHN F. KENNEDY BOULEVARD
This was formerly named Drummet Boulevard and is a six-lane boulevard that links to the airport terminal ramps.
---
Holiday Inn / 15222 John F. Kennedy Blvd.
Located at the southeast corner of JFK and Beltway 8, this Holiday Inn dates back to 1971 (originally with the address of 3702 North Belt East) and has remarkably kept the Holiday Inn name all this time, especially as its older brethren from that era closed or changed names. The hotel still features everything from a named in-house restaurant (Good Eats Grill) to a tennis court.
Hot Biscuit / 15360 John F. Kennedy Blvd.
With the former address of 15360 Drummet Blvd. (the old name of the road), this restaurant has been active since 1983 and was built as a Kettle (#144). In 2011 it disconnected from the dying chain and renamed to its current name. While the $3.99 breakfast signage disappeared in the late 2010s, it is still 24 hours. The name is fun. It's almost like an epithet a sweet old Southern lady would use instead of something more vulgar.
Presidential Plaza / 15655 JFK Blvd.
One of the few strip centers in the "airport corridor", this place seems to know its audience--it's pretty much all consumables, with restaurants, a cigar shop, and a liquor store. You can see what I mean here (archived from this link). The PDF shows the "2nd Gen Restaurant" being empty. This was originally Godfather's Pizza when it was built in 2005 and ended up being the second-last Godfather's in the Houston area (the one in Galveston closed not too long after) before it closed in the early 2010s. By 2015 it was Papa Tony's Kitchen, a similar restaurant. I have a menu from Papa Tony's in 2015 (it closed in 2020, though seems to have re-emerged in Spring, though the website was never updated)...the menu that I have is different than the menu I pulled from the last version of their site (page 1, page 2). The menu itself is oversized, thus is a bit cumbersome, perhaps I'll scan it someday. (The menu I have mentions hot dogs as well as the pizza and rotisserie chicken).

Personally I ate here with my sister while waiting on someone from the airport. We shared a slice of cheesecake. I forgot what flavor it was, but it was seasonal and interesting enough. I'm tempted to say it was key lime, but don't quote me on that. I'm also not sure if Godfather's closed and Papa Tony's or if it was a "franchisee disconnects and strikes out on their own" sort of thing, possibly the latter. I'm not sure if it's been re-tenanted or not.
DoubleTree by Hilton Hotel / 15747 John F Kennedy Blvd.
In 1981, the DoubleTree Hotel opened at 15747 Drummet Blvd., as it was known at the time with 313 suites. It featured a full-service restaurant (Oakley's) and a lounge, Bo Peep's. While it was the first DoubleTree in Houston, it seems like the hotel was struggling initially, in summer 1983 if you mentioned the "summer special" you could stay for just $30 a night (weekdays only), by 1985 the regular rate was $70. Another promotion in 1986 let you stay for $45 on the weekends...and that included a free bottle of wine at Oakley's (remember, several hotels were closing at this period due to lack of business). These days, the hotel (which has a regular going rate of around $100) has 747 Bar & Grill as its restaurant.
Taco Bell / 15797 John F. Kennedy Blvd.
This Taco Bell opened in 1994 but in 2017 both the building and parking lot were torn down and rebuilt.
Jack in the Box / 15819 John F. Kennedy Blvd.
This Jack in the Box (#3642, opened in 1992) is nominally 24 hours, but in December 2021 was outright closed by the evening without explanation. Some Google reviews post similar experiences.
Shell / 15930 John F. Kennedy Blvd.
The "Airport Shell Service Center" has been here since 1985 (has been a Shell this entire time) but is quite pricey. Expect to pay a dollar more per gallon than what the rest of the gas stations in town are charging.
---
WEST SAM HOUSTON PARKWAY NORTH (NORTH OF NORTHWEST FREEWAY)
At Fallbrook Drive, West Sam Houston Parkway North becomes North Sam Houston Parkway West. The "south of Northwest Freeway" section can be seen at
this page
.
---
McDonald's / 8940 W. Sam Houston Pkwy. N.
This McDonald's opened in April 2001. In fall 2017, the exterior was renovated to the current prototype.
Kroger / 9125 W. Sam Houston Parkway N.
Albertsons #2766 opened in September 1999 and in May 2002 was shut down and converted to a Kroger (#739). It also included a fuel center out front (known as Albertsons Express under Albertsons, then Kwik Shop under Kroger until the Kwik Shop chain was divested). Additional pictures on my old blog The Houston Files.
Whataburger / 9232 W. Sam Houston Parkway N.
This Whataburger opened in front of LA Fitness in December 2009. (The LA Fitness center behind it opened earlier that year).
10357 W. Sam Houston Parkway N.
Built around 2013, this building houses Purvis Industries' divisions Capcorp and National Petroleum in one building (though they don't seem to be the headquarters of either).
10603 W. Sam Houston Pkwy. N.
This office building, constructed in 2009, has a strip mall portion despite the latter being almost invisible from the highway. It holds breakfast chain First Watch, which replaced The Egg & I, a previous similar tenant.
---
NORTH SAM HOUSTON PARKWAY WEST
North Sam Houston Parkway West covers the area between Fallbrook Drive and North Freeway. Addresses start from the east, but to maintain continuity the addresses here will count down.
---
Texaco / 8110 N. Sam Houston Pkwy. W.
As of 2008, this Texaco had a Sonic as a restaurant co-brand, from 2014 to 2016 it was Frenchy's Chicken, and after Frenchy's closed, the restaurant side sat vacant for a while until Hippo Burgers opened in 2020.
Chevron/Jack in the Box / 8055 N. Sam Houston Pkwy. W.
This Quick Stuff/Jack in the Box opened in 2003 (with a Shell, at least that's how it was in the late 2000s). Quick Stuff was a Jack in the Box concept that added a gas station and convenience store to Jack in the Box restaurants, founded by the company itself. In 2009, they divested the chain to other operators (but kept the Quick Stuff name) and the store here was sold to Stripes (also, in the early 2010s, the gas operator converted to a Chevron). After Sunoco sold Stripes to 7-Eleven, this quickly got disconnected from the chain (even in 2018) and was sold to Checkout, though is still branded as Quick Stuff on the outside.
Saffron Indian Kitchen / 8045 N. Sam Houston Pkwy W.
This two-story restaurant and events center was the home of Steamboat House, which operated from 2005 to January 29, 2022.
Check Point / 15405 Texas State Highway 249
At the southwest corner of Beltway 8 and Highway 249 is a "Check Point", in both gas brand and convenience store (Checkpoint #106). The gas station has had somewhat of a tortured history, it was an Exxon opened in mid-1997 but by December 2007 it was stripped and boarded up. By 2011 it was reopened by Valero (demarcated as a "Discount Fleet" Valero), with "Sky Mart" as the convenience store. Buzzy Bee opened in fall 2015. I'm not sure if this was before or after Buzzy Bee changed their logo, but in early 2015, the Buzzy Bee logo had a striking resemblance to a certain cereal mascot owned by General Mills. The Check Point conversion came in summer 2020. It is listed here with Beltway 8 because it's on the south side of the road.
5100 North Sam Houston Pkwy West
This building was built around 2007 and all indications that National Oilwell Varco/NOV has occupied it since it was built. What exactly they do at this particular facility is unknown, however.
Valero/Checkers / 4919 N. Sam Houston Pkwy. W.
Valero and McDonald's opened here in late 2004 (it's possibly McDonald's opened in January 2005) with a third tenant, a barbershop/hair salon (King & Queen Barber & Hair Studio), as well as a fourth tenant, "Roberts Elegant Doors" (later just Robert's Doors). In early 2015, McDonald's relocated out of the gas station to a stand-alone location across the street (10966 Bammel North Houston Road), and Checkers replaced McDonald's in early 2016.
McDonald's / 10966 Bammel North Houston Road
See previous entry for more information.
Gordon Food Service - Houston Distribution Center / 11303 Antoine Drive
This was built as the new consolidated home of local company Glazier Food Company in 2005, but in 2014, national company Gordon Food Service acquired the company and rebranded it. In 2023, they opened up their own grocery stores in the Houston area.
Food Town / 2770 N. Sam Houston Pkwy. West
Albertsons (#2757) opened in November 1998 here, and in summer 2002, it closed as the Albertsons Houston division was shut down. It was replaced by Food Town, which opened in January 2003. Food Town would keep Albertsons' "Grocery Palace" décor, which remains today. (According to research by Mike & others, this was the very first Albertsons Grocery Palace store).
2225 North Sam Houston Parkway West
ScreamWorld, a haunted house attraction originally opened in the early 2000s and open seasonally, closed in March 2020 when the owner retired. It has not reopened as anything else.
---
NORTH SAM HOUSTON PARKWAY EAST
North Sam Houston Parkway is the name of the Beltway from North Freeway to the railroad just east of the Lockwood overpass.
---
Goodwill / 171 N. Sam Houston Pkwy. E.
Located just outside of Greenspoint Mall (see North Freeway section, below), this was originally a Circuit City with the address of 171 North Belt East. It was one of the five initial Houston stores that opened on or just after August 29, 1991, all of which opened near a mall. In addition to Greenspoint Mall getting a Circuit City near it, Circuit City stores were also built near Almeda Mall, Willowbrook Mall, Baybrook Mall, and West Oaks Mall. Circuit City actually left this location before its 2009 demise and from 2005 to the early 2010s became Bel Furniture Clearance Center. After Bel Furniture left, it became a Goodwill. This was branded as a "Goodwill Select" (and was one of one of Goodwill's "Computer Works" departments) but as of 2022 it has become "Goodwill Outlet".
307 N. Sam Houston Parkway E.
What made the October 2020 closure of Jimmy G's (Louisiana-style seafood restaurant) notable was not just the fact it had been there for decades, it was also the last vestige of restaurateurs Jody Larriviere and Jim Gossen. Gossen and Larriviere opened the original Landry's and Willie G's restaurants (among others), but for years they kept Jimmy G's as independent. With the closure of Jimmy G's, they were out of the business and retired for good.

The archives above say it opened in 1985 but other reliable sources show that it opened in 1986 (at 307 North Belt East, the original pre-Beltway address).
Truist / 323 North Sam Houston Pkwy. E.
This bank was built in 1998, likely as Southwest Bank of Texas, which it was in 2005. Later it was rebranded as Amegy Bank but shut down this branch between 2008 and 2011. In 2013, it was reopened by BB&T. Following the 2019 merger with SunTrust Banks, it assumed its current name between 2021 and 2022.
Hyatt Regency North Houston / 425 N. Sam Houston Pkwy. E.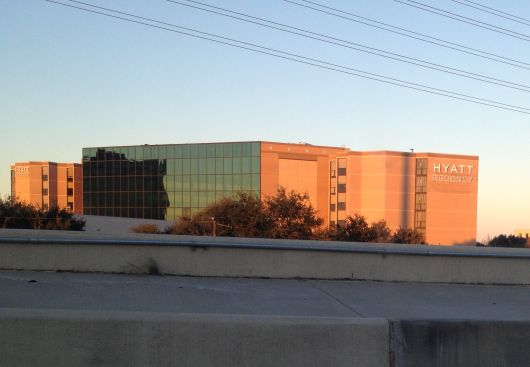 L'hotel Sofitel (Hotel Sofitel) opened in fall 1982 with three restaurants: Chez Colette, the casual brasserie cafe, La Terrasse, the "sidewalk café" for light food and drinks, and Le Cafe Royal as the hotel's upscale French restaurant. It had eight stories, 341 rooms, 10 suites, and even had a small takeout French bakery. The hotel was renovated in 1995. In 2007 it changed hands to become Crowne Plaza (Crowne Plaza Houston North Greenspoint), with the French restuarants disappearing around this time. By 2012 it had rebranded to Hyatt Regency North Houston. This article refers to the hotel as being "recently rebranded".
Red Lion Hotel / 500 N. Sam Houston Pkwy E.
Red Lion Hotel Houston Intercontinental Airport has a history closely tied to the adjacent hotel Red Roof PLUS+ & Suites at 502 N. Sam Houston Pkwy. East. Read more about them here.
Mobil / 1104 N. Sam Houston Pkwy. E.
Belt 8 Travel Plaza (Beltway 8 Travel Plaza) is a truck stop opened in 2016 that features a Denny's and Schlotzsky's in addition to truck stop features.
Nupur Food Mart / 1214 North Sam Houston Parkway East
This name appears nowhere on signage, but this gas station and store was formerly a Texaco until around 2020-2021. It changed hands in 2019 (where shortly after the Texaco brand was dropped). It dates back to 1981 as Stop-N-Serve (#21) and also briefly served under the Stop N Go name in the mid-1980s.
Four Points by Sheraton / 1450 North Sam Houston Parkway East
Four Points by Sheraton Houston Intercontinental Airport opened in 2017. None of these hotels put the number of rooms and all that anymore on their site, but this site does...though unless there's some sort of hidden lower levels, only five floors, not four.
ShowBiz Cinemas Fall Creek 10 / 4811 Canyon Lakes Trace Drive
Despite having the address of Canyon Lakes Trace Drive, the movie theater faces Beltway 8 (in the 2700 block of N. Sam Houston Pkwy. E.) and opened April 2016.
---
NORTH FREEWAY
This section of the North Freeway picks up from the end of
North Shepherd Drive
.
---
Digital Realty Houston / 12001-12245 North Freeway
Data center (fenced in, no public access) redeveloped from a former power center known as The Commons at Greenspoint, holding such tenants like Children's Palace and Phar-Mor. More information can be seen at my old blog, The Houston Files.
Greenspoint Mall / 12300 North Freeway
There's not much left of Greenspoint Mall these days, but it was one of the biggest and arguably best malls of Houston even into the 1990s. There's a dedicated page that has been created and seen here, which features the original 32-page opening guide of the mall with its original stores and original department stores (Foley's and Sears, by 1980 Montgomery Ward, JCPenney, Joske's, and Lord & Taylor would also join).
Monte Carlo Inn / 12500 North Fwy.
This opened as "The Point Hotel" in 1982 (180 units according to a 1982 posting, though my Days Inn directory says 170 units) and was a Comfort Inn by 1985. Between February 1994 and November 1995 it became a Days Inn. Between 2008 and 2011 (probably closer to the latter) the hotel became a Knights Inn, which involved moving the signage (still Days Inn-shaped) closer to the highway...originally, it was about 200 feet back from the frontage road. Between October 2019 and February 2020, however, the hotel became the "Monte Carlo Inn" (probably closer to the latter as a February 2020 article mentions Knights Inn), and all visible traces of Days Inn disappeared.
Sunoco / 14834 North Freeway
This was built as a Mobil truck stop in 2000, and by 2007 it was a Texaco. In 2011, the gas station was briefly closed as the convenience store renovated into a Stripes with a Laredo Taco Company, with the Sunoco brand replacing Texaco around 2014-2015. Around that time the diesel pumps behind the store were rebuilt to be parallel to the store's back.

As of November 2022, the convenience store is still branded as Stripes despite being a 7-Eleven in all but name. Just about a block away was Buyer's Market (431 Airtex Drive), an enclosed outlet mall built in the early 1980s. Like its twin near Katy, it was purchased and reopened as a "Garden Ridge Pottery & World Imports" in 1986 (later just branded as simply "Garden Ridge"). It closed around 2006 and spent time as Armadillo Flea Market. Armadillo closed in February 2014 and was demolished later that year for a new warehouse development.
Sunoco / 14811 North Fwy.
Apparently, converting the Mobil was a big enough success for Stripes that a second store was built in 2016 and opened around January 2017 featuring a Stripes/Laredo Taco Company. This is still branded as a Stripes as of January 2023. (Yes, the addresses are out of order here, but this Sunoco is farther north).
MeXcal Cantina Pacifico / 14901 North Fwy.
This was built in 1994 as a Joe's Crab Shack (developed alongside an adjacent Saltgrass Steak House at 14909 North Freeway, which is still there...the parking lots connect in the back). Joe's Crab Shack closed around 2014-2015 and was significantly modified for "Fresas Cantina" which ended up opening in spring 2023 as MeXcal Cantina Pacifico. The parking lots had a back entrance to Back Ash Drive, this was closed since at least 2009 (if not longer).
Spanish Flowers / 14915 North Freeway
This was Zio's Italian Kitchen from 2000 to 2016. It became El Toro Loco in 2017 but became Spanish Flowers within a year or so. It was the same ownership as El Toro Loco (reopened with a new menu) but became associated with Spanish Flowers on North Main. It appears that this location of Spanish Flowers was never 24 hours unlike its North Main counterpart.
Floor & Decor / 17211 North Freeway
The first Houston location of Floor & Decor opened in this building in late November 2003. For a brief time (1993-1994), it operated as International Market, a flea-market like business with smaller retailers inside selling clothing, apparel, furniture, and other items.

It opened as Gemco (#587) in 1978 until the Gemco stores in Houston were closed in December 1983. It was the last Gemco in Houston to open. In 1984 it reopened as Sam's Wholesale Club (as it was known back then) but closed in 1991.
MainStreet America / 18750 I-45
Operated by Design Tech Homes, this originally opened in 2013 as a sort-of quasi theme park, with an admission price ($15 originally, but later raised to $20), model homes outfitted in the newest styles and décor, things to buy, and a restaurant on the premises. Based on what I could find, the restaurant went first (later replaced by a cooking school) and it closed after Hurricane Harvey when many of the model houses got flooded. The houses are still there but are by appointment only, the whole "theme park" aspect is no longer.
19750 North Freeway
This address is occcupied by American Freight (formerly Sears Outlet) since 2013, with the larger half (at 19746) occupied by Conn's HomePlus (formerly Conn's Appliances) since 2012.

While this did serve as Albertsons from 1995 to 2002, a lesser known fact was that following the demise of Albertsons and subsequent vacancy, from 2004 to 2007 it was reopened as an AppleTree, the only AppleTree supermarket that was not originally a Safeway and the first AppleTree to be in the Houston area since its 1997 exit. (It even had Boar's Head, which no other AppleTree had). Within a few years not only was the AppleTree in Houston closed but the chain was sold off entirely.
Bombshells Restaurant & Bar / 21005 North Freeway
In addition to Luby's, one of the other popular "cafeteria" chains in the South was Furr's Cafeteria, a one-time asset of Kmart and a spin-off of Furr's supermarkets. Houston never had many Furr's locations, though there was a location near West Road and Interstate 45 until the early 2000s.

When Furr's reappeared in Spring in May 2011, it was as Furr's Fresh Buffet, a buffet (rather than cafeteria) concept. It closed in January 2014 following a round of closings chain-wide. Later that year it became a location of Bombshells.
Six Flags Hurricane Harbor SplashTown / 21300 I-45 North
Originally built as Hanna-Barbera Land in 1984 (the only stand-alone park with Hanna-Barbera properties) and later redeveloped as a waterpark, I invite you to check out my very outdated (but nonetheless informative) Splashtown page from back when I was in high school. It doesn't even link to my own memorablia, some letters and some old brochures. This is about as much I'll cover this waterpark. Well, that and there was an arcade at the waterpark as well utilizing some of the Hanna-Barbera buildings...I don't think I spent money there but I do remember the attract mode of Crisis Zone.
McDonald's / 21330 Interstate 45 N.
Just outside Splashtown is this McDonald's restaurant (a Wendy's is nearby, that's where I remember visiting on my first visit to the waterpark in 1999), but the McDonald's was notable. It was originally built in 1984 and was rebuilt in 2002 (the 1984 restaurant faced north/south as opposed to the 2002 restaurant). I visited this restaurant in 2006. I don't think it had any unique menu items or a specific local touch but was certainly nicer than most McDonald's and was more akin to the mid-2000s "spruced up interiors" that stores had at the time. I specifically remember one of those "indoor glass water fountains". It was very similar to the one shown here as an example but not nearly as large (maybe a quarter of the size).

Unusually, it featured the "lightning script" logo on the signage on the Golden Arches signage (but not on the store itself). A blurry Street View picture can be seen here (it also shows up in a picture in the background of Houston Freeways, see page nine of the PDF). Around 2011 it was replaced with the traditional font, and in 2012 the restaurant was renovated to a standard prototype inside and out.
Beyond this point is Montgomery County, but the zero address starts at TX-105. This list continues from south to north continuing here.
---
NORTH GESSNER ROAD
This continues on from
Gessner Road's page
.
---
Cortland West Champions / 12330 North Gessner Road
This was formerly "The Lighthouse at Willowbrook" when it was built in 2005; it changed names sometime between 2018 and 2022.
Mobil/Burger King / 12404 North Gessner Road
This opened sometime in late 2016 or early 2017; the convenience store portion is "24-Seven".
Costco Wholesale / 12405 N. Gessner Road
This was one of Houston's first Costco stores (that and the Bunker Hill store). It opened in 2001. The nearby Mills Road goes back to FM 1960 West. According to West Houston Archives, back in the 1970s and 1980s there was a large scrapyard on Mills Road, not far from here.
At Home / 12605 N. Gessner Road
This building was originally The Great Indoors, which operated from 2001 to 2003. In 2006 Garden Ridge opened in the space, which later assumed its current name in 2014.
---
TOMBALL PARKWAY
---
IQ Products Company / 16212 TX-249
This company has been here since 1992 (manufactures a number of compressed products in cans, from compressed air for electronics to insecticide). A good chunk of their warehouse was destroyed in a 2021 fire and the ruins of that building have yet to be rebuilt. It should be noted that despite the Tomball Parkway address, it's actually off of Nitrogen Boulevard.
AMC Willowbrook 24 / 17145 Tomball Parkway
This AMC theater opened in November 1999 (see Cinematreasures and Houston Historic Retail. It didn't replace the one in the mall (not directly at least), instead it replaced AMC Willowbrook 10 across the mall on FM 1960 West.
17190 Tomball Parkway
Mountasia Family Fun Center opened October 1994 with "36 holes of miniature golf, a 7,750-square-foot video arcade and gameroom, Can-Am Go-Kart Speedway, batting cages, and bumper boats all in the shadow of a lifelike mountain". It also had a McDonald's restaurant inside the establishment (newspaper sources don't directly reference it but it is mentioned when they built the Kingwood location--gone by the Boomers era, though they did have Dippin' Dots). Around 2014, it changed hands to Boomers...and by the time it closed in summer 2020, was run-down with little beyond the mini-golf operational.
Cosa Nostra Cucina Italiana / 17381 Tomball Parkway
Opened in January 2023, this restaurant off of North Gessner (but part of Tomball, it's in the parking lot of AMC Willowbrook 24) was originally "Juan & Lefty's" from early 2009 (when it was built) to a few years later (it closed in 2013). It then became a location of Bone Daddy's House of Smoke, opening in June 2014, before closing sometime around late 2018.
Houston Methodist Willowbrook Hospital / 18220 Tomball Parkway
JumboSports, a sporting goods chain, opened a store here in 1995 when it entered Houston (there was also a Sugar Land location) but it closed in 1998, shortly before the chain went under. It was soon demolished for this hospital, which opened in December 2000.
Dick's Warehouse Sale / 21155 State Highway 249
This outlet mall version of Dick's (opened 1/23), which anchors Lake Forest Plaza, started back as a Safeway in 1985 at 21155 FM 149. It was rebranded as an AppleTree when the Houston division spun off and in early 1994 closed and reopened as Randalls. This was not a good location for them and they sold it in 1997 (along with the San Marcos store, another former AppleTree purchase) to H-E-B, which opened an H-E-B Pantry Foods store here. It did not last long enough to move to Vintage Market and closed sometime around 2005. Stein Mart operated here from 2009 to the chain's closure in 2020.

For a long time going back to at least the Stein Mart days, a sub-lease was available, at 21155A Tomball Parkway. This is currently home to "Dragon's Lair Comics and Fantasy" and appears to have been first tenanted as "Discount Books" back in 2003.
BB's Tex-Orleans / 21441 Tomball Pkwy.
This local restaurant chain only was built as a Pollo Tropical, unfortunately, it only operated from summer 2014 to spring 2017 when the chain began to close its Texas locations. (See Carbon-izer's 2023 page Pollo Tropical's Texas Vacation)
Walmart / 22605 Tomball Parkway
This opened as "Wal-Mart Supercenter" in June 2003 (store number 5045) and received the simplified "Walmart" name at some point in the early 2010s.
Floor & Decor / 25510 State Highway 249
Floor & Decor opened in October 2022. This was on the site of Graceview Baptist Church founded in the early 1980s with a few purple-colored portable buildings before building several permanent buildings on the site. In 2014, one of the education buildings was demolished for the Grand Parkway and in 2021 the church moved out to 21206 Telge Road as the valuable site was redeveloped.
---
OTHER POINTS OF INTEREST
---
ExxonMobil Corporation / 22777 Springwoods Village Parkway
Exxon has always had a big presence in Houston. Standard Oil of New Jersey acquired 50% of Humble Oil & Refining Company in 1919 (buying the other half forty years later) and continuing until 1973 when the entire company was rebranded as Exxon (affecting Humble as well). Exxon continued to have a hand in Houston with several major offices around the city (and refineries), along with their real estate development company, Friendswood Development Company, which they later sold in 1995. In 1999, Exxon merged with its competitor to form ExxonMobil, and in 2014 the "Springwoods Village" campus opened, expanding as it consolidated other ExxonMobil offices in the Houston area. Now known as the Houston Campus, it became the main headquarters of ExxonMobil. The land that it owns stretches out to touch Interstate 45 to the east, although it has no direct access with the freeway.
AMC Spring 10 / 20113 Holzwarth Road
This theater opened as the Loews Spring 10 on December 7, 1984 but in 2005 was taken over by AMC.
---
Return to the Houston page
|
Email
---
Copyright 2022 Carbon-izer.com, this site is not affiliated with any businesses listed here. While accuracy is aimed for, this is an individual's work and not liable for any error here.