Handy Andy Woodway Square
1407 Voss Road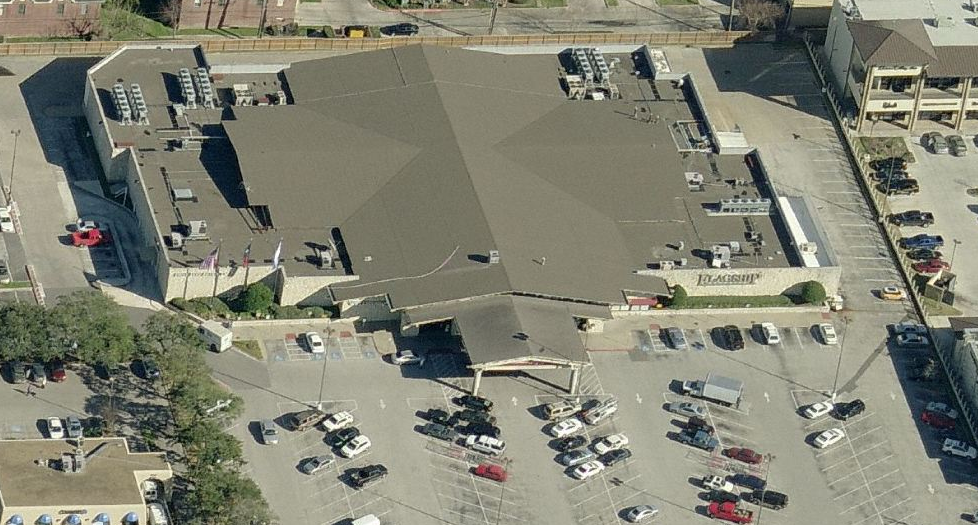 From Bing Maps
Now a Whole Foods Market (new-build), this defunct store has a long and storied history, but not always a Randalls. The original opened in 1973 as one of the first Handy Andy supermarkets in the Houston area. Based out of San Antonio, the grocer was a far cry from the dying small-town grocery store purchased by Arlan's Market in late 2012.
Back in the early 1970s, Handy Andy ruled the San Antonio grocery market, with gourmet foods, including European meats and cheeses and far more modern than H-E-B was (given the grocery market in San Antonio today, this may considered ultimately a tragedy), and tragedy it was as even though Handy Andy grew in the Houston market to upwards of nine stores (not just four as previously found), H-E-B engaged in a vicious price war that destroyed Handy Andy back home in San Antonio.
In 1979, Handy Andy pulled out of Houston and its stores closed, despite being fairly modern with cookware departments and full-service deli departments at a time when many did not. Handy Andy would file for bankruptcy in 1981 and its stores never again a serious contender in Texas supermarkets.
In June 1979, after a renovation, the store reopened under the Randall's name (Randalls #13, later #1013 following Safeway) along with the Westheimer/Gessner store, with two more following. In 1985, Randalls decided to renovate and expand the store into a new concept, the Randalls Flagship, expanding the lower level of the store by 15,000 square feet to a total of 45,000 square feet (the store also included an upper level to make 56,000 square feet). The new 24-hour store, which officially debuted in November 1985, featured fresh-made pasta, a French bakery, an expanded seafood and meat counter, a salad bar, and a full-service restaurant called The Flagship serving items like eggs Benedict and grilled snapper. The merchandise mix featured most of what could be found in a traditional supermarket (including air conditioning filters) but it also included a wide range of magazines including The Robb Report and computer magazines (almost certainly Byte), televisions, orchids, expensive perfumes, and live rainbow trout.
In 1994, Randalls got a Brothers Gourmet Coffee shop to replaces its in-house location, and later that year was one of the first Randalls stores to sell beer and wine, mostly following the effect of acquisitions of Tom Thumb and AppleTree's Austin stores. Of course, nothing lasts forever, and while the store did last another quarter century, the store went down with the chain as Safeway took over the chain and slowly altered the chain so it resembled just another Safeway. By mid-2013, there weren't a whole lot of nice things to say about the dying store. It was not remodeled and what was once renowned for being the best grocery store in Houston area was to be closed and demolished, with rumors of the chain's demise swirling and getting stronger.
Today, a Whole Foods Market stands in the spot, and in many ways, represents the store that Randalls could've been. You can have an awesome sandwich made for not a whole lot more than what Subway would charge (but made with superior ingredients), drink a glass of wine after work, and peruse the bright and airy stores for WFM-approved foodstuffs (no Diet Coke or Oreos).
Much of this article was adapted from being previously published on Safeway and Albertsons in Texas, September 4th, 2016.
---
Return to the Main Page
|
Email
---
Copyright 2019 Carbon-izer.com, this site is not affiliated with any businesses listed here.