Sac-N-Pac
901 State Highway 95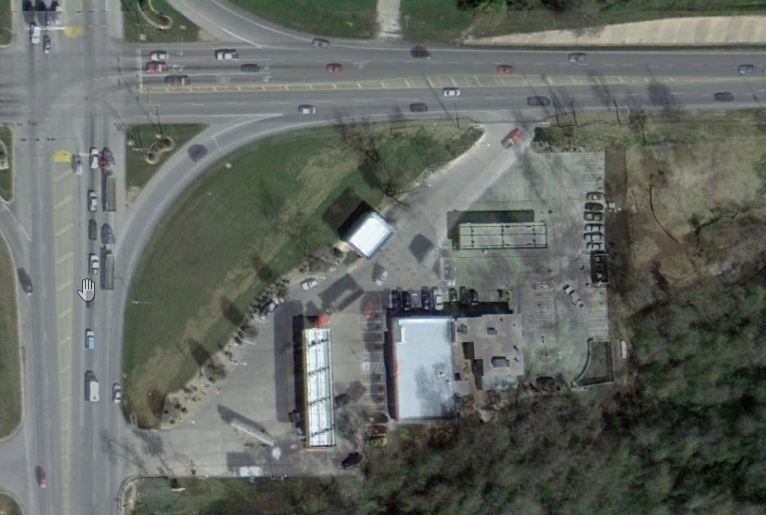 This picture from Google Earth shows the 2011 expansion overlaid on the 2009 convenience store only. Yeah, the Google Earth cursor got stuck on there, sorry.
In the mid-2000s, a gas station was built at the southeast corner of the intersection, a new Shell station anchored by a San Marcos-based Sac-N-Pac convenience store and featured a car wash out front. By this time, Chestnut Square had already been built and opened.
Sac-N-Pac was acquired by Susser Holdings (Stripes) in January 2014, during part of their massive expansion across Texas (they were acquired by Sunoco in mid-2015, which continued this trend). [For more information on how Stripes affected a local chain of convenience stores, check out my entry on Rattlers here.]
Most of the Sac-N-Pac stores became Stripes by late 2015, and some didn't, one part of a small "Shamrock" gas station in New Braunfels that outright closed. This one I was lucky enough to pass by twice--once in August 2015...Sac-N-Pac/Shell! By December, Stripes/Sunoco!
The adjoining KFC (same address) wasn't originally there, and the November 2009 aerial shows that the convenience store is still besides itself. I do remember in April 2010 stopping at the store (again, one of those rare times when Bastrop WASN'T a once-a-year affair, this time going to Enchanted Rock) and noticing the KFC was there, and by 2011 everything was definitely open.
Later still did Stripes end up installing a Laredo Taco Company counter, I noticed it when I was driving back through the area again when I took my pictures to inspire this page. I was intrigued briefly because Google Maps said it was a 7-Eleven though it wasn't...seems 7-Eleven is keeping the Stripes branded as Stripes even though they have the internal 7-Eleven numbering system and a number of products. (I should also note that the Slurpee machine was still branded as Stripes' "Slush Monkee").
While other Sac-N-Pac stores in the area did get rebranded, there is one west of town that never was, possibly a long term franchise agreement. [Return to Bastrop page]
---
Return to the Main Page
|
Email
---
Copyright 2019 Carbon-izer.com, this site is not affiliated with any businesses listed here.