Hotel Ibis
702 E. North Belt Drive (now 702 North Sam Houston Parkway East)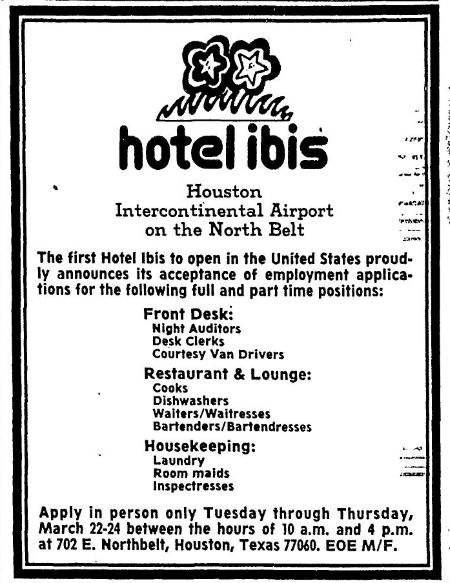 Opened in 1983 as
Hotel Ibis
as a moderately-priced companion to the upscale Hotel Sofitel down the road (see the
North Houston Roads page
), this hotel (despite being the first Ibis in the United States) was reflagged in January 1984 (the proposed Dallas location ended up opening as Preference Inn). This was because the Ibis name was perceived as being too "fancy" when in reality the franchisees wanted it to between a La Quinta and a Holiday Inn in terms of amenities.
The hotel had a difficult life. By early 1984 it was already being branded as "Best Western/Preference Inn" before closing permanently around 1986—just less than three years of operation.
During the time the hotel was closed, the hotel met with some controversy as it was approved to be used as a halfway house for non-violent ex-cons, though the plan was still scrapped and instead it renovated and reopened in October 1991 as a hotel once more, this time as Holiday Inn Express (one of the first, at least one of the earliest, Holiday Inn Express hotels in the chain, and the first in Houston). Between November 1998 and March 1999, the hotel changed hands to Cendant's Howard Johnson Plaza (the highest-tier hotel in the Howard Johnson hotel chain). By 2004, it had become Airport Inn & Suites and by 2005, the hotel had once again changed to Woodley Suites. In 2011 it was Americas Best Value Inn & Suites, but by spring 2019 had the hotel haphazardly named "Americas Inn & Suites", covering up the logo, the "Best Value", and the "by Vantage" below the main name.
In fall 2019, it was repainted and reflagged as OYO Townhouse, but even OYO was not able to keep it under that name. By February 2023 it was branded as "America's Airport Inn & Suites".
It is entirely possible that a brand or two was missed.
---
Return to the Main Page
|
Email
---
Copyright 2023 Carbon-izer.com, this site is not affiliated with any businesses listed here.