Downtown Holiday Inn
801 Calhoun Street (801 St. Joseph Parkway)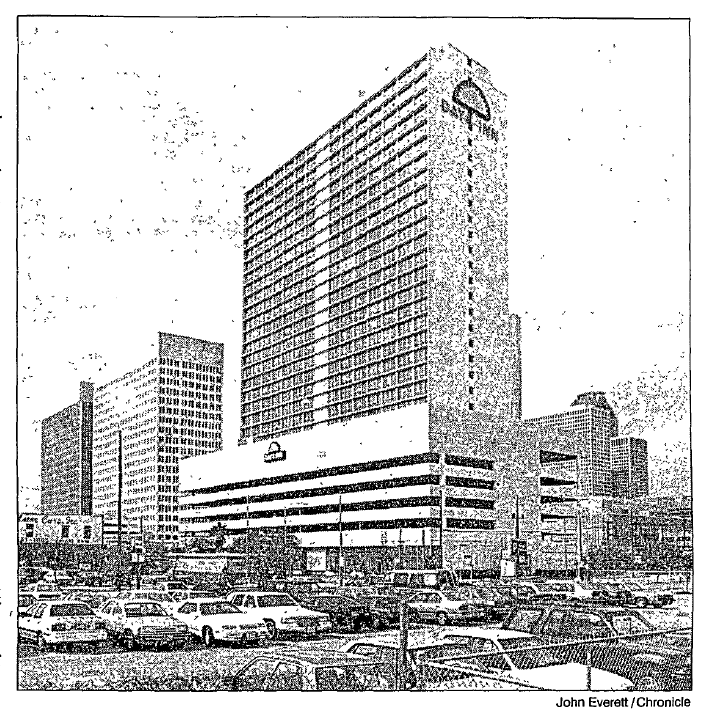 1993 picture from Houston Chronicle, as a Days Inn
There's not a lot I can say about the former 801 Calhoun Street (now 801 St. Joseph Parkway) that hasn't been covered elsewhere. It was built as Holiday Inn back in 1972 as the second largest Holiday Inn in the chain (and the largest continentally) with over 600 rooms.
It became a Days Inn in January 1990. By this time, half of the rooms were closed off (with 300 rooms, not 600) but it wasn't "top half closed, bottom half open", a February 1990 article mentions how a hotel guest was on the 22nd floor and jumped off the balcony to his death. Days Inn would ultimately pull out a few years later, its only mark on the building the "sun" logo on the side of the building, the shell of which still lives on today.
The last four years of the hotel's life were problematic. In March 1993, the hotel was sold to World Plan Executive Council, led by Maharishi Mahesh Yogi, who had made a name for himself nearly thirty years earlier when The Beatles traveled to India to study with him. (As I wrote this piece, "Within You Without You" began playing in my head, though that song predated their meeting). Yogi renamed the hotel as Heaven on Earth Inn, with half of the 600 rooms being used as a hotel with the other part of what would be the Maharishi Vedic University. The hotel's restaurant became a vegetarian restaurant (presumably a restaurant had operated as part of Days Inn's time). By January 1994, the new Heaven on Earth Restaurant of Houston opened with the "Heaven on Earth Plaza Hotel". By spring of 1996, the hotel had changed hands (possibly as early as mid-1994) and became the "Houston Downtown Plaza" or "Downtown Plaza Hotel". By January 1997, the hotel was renting rooms for $100 a week, no lease, no deposit. It closed sometime after fall 1997, and has basically been vacant since, vandalized and falling apart. Many proposals have come and gone for the hotel but none of them ever were fulfilled. In the late 2010s the building was gutted and the windows (the ones that weren't broken) were removed.
Going back to the hotel's better years, I know that pre-1950 hotel rooms were all sorts of sizes, especially for single rooms, but Holiday Inn practically invented a standard size for rooms, so looking at the brochure scanned here has the rooms looking particularly cramped.
---
Return to the Main Page
|
Email
---
Copyright 2022 Carbon-izer.com, this site is not affiliated with any businesses listed here.