Clarion Hotel Waco
801 South 4th Street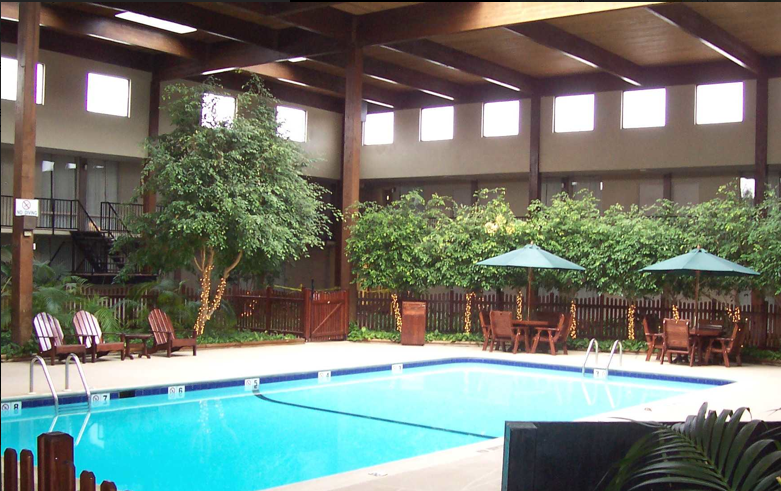 From TripAdvisor (since removed)
Sometime around late 2014 and early 2015, I discovered another casualty of my past that went away: the Clarion Inn ("Clarion Inn Near Baylor University") in Waco, Texas, which I visited in 2008. I had known that the Comfort Inn from my 2008 trip in Houston had been torn down but the Clarion was a bit of a surprise. It hadn't been updated in at least a decade (to 2008) but it still meant a bit to me. I had visited the hotel when my dad was in the area (I never actually stayed in the hotel, I was at my late grandfather's house with my mom and uncle), and I had done other things that same trip--watched a movie, been to the flea market, got takeout, consumed an entire 2-liter soft drink over the course of a weekend (rare for me at the time), and a few other things. There used to be a post on it at my old blog, Two Way Roads.
The Clarion to me was special, and it was familiar too, having past by it en route to my grandfather's old house elsewhere in Waco. It hadn't been updated in at least a decade, but it meant something and I wondered for a time afterward if it hadn't been a Holiday Inn given how much it resembles the Holidome, another Holiday Inn creation (scroll down mid-way, you'll see it). Of course, "enclosing the courtyard" of a motel wasn't an entirely new creation, and I've confirmed it wasn't a Holiday Inn anyway. I didn't have a camera at the time, at least not one that I brought to the hotel, so I grabbed these from Trip Advisor back in 2011.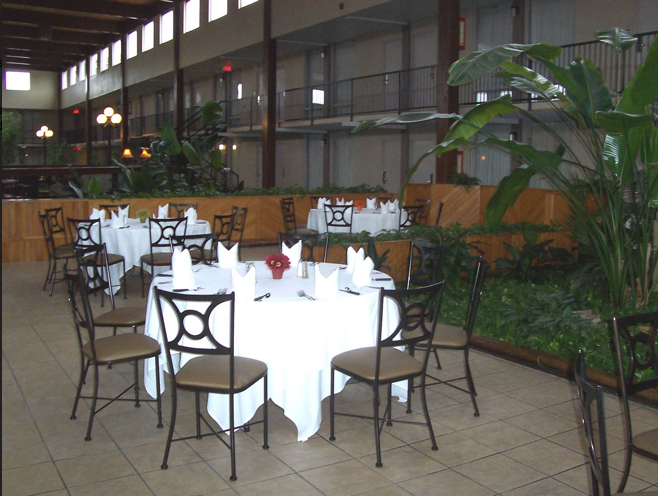 From what I could tell, it was built in 1972 and enclosed in the 1980s (with more rooms added), and by 1986, after the enclosure, it was a Sheraton (Sheraton-Waco). The pre-enclosure hotel, also from what I could tell was a Sheraton Inn (the original name of "Four Points by Sheraton"), and the hotel was later Quality Inn (part of the Choice Hotels chain) before converting to the Clarion Inn name around 1997.
The glory days of the hotel shortly after renovation included a lounge called Lemon Tree with the restaurant being the Greenhouse Restaurant, but by 2008, the best days were far behind it. There was no one else at the pool area, only my dad, who didn't even get in. I entertained myself with the idea that such an indoor pool could be a reality at one of my favorite dead malls at the time, Rolling Acres Mall, which was still open, and according to someone that worked there, a prospective new owner had proposed some unrealistic renovation plan that would turn the old Target into some sort of "indoor beach area" with "sand and water fixtures". Of course, I knew that realistically it would never happen, and if it did it was years away, but it was a nice thought. I was much more optimistic in those days.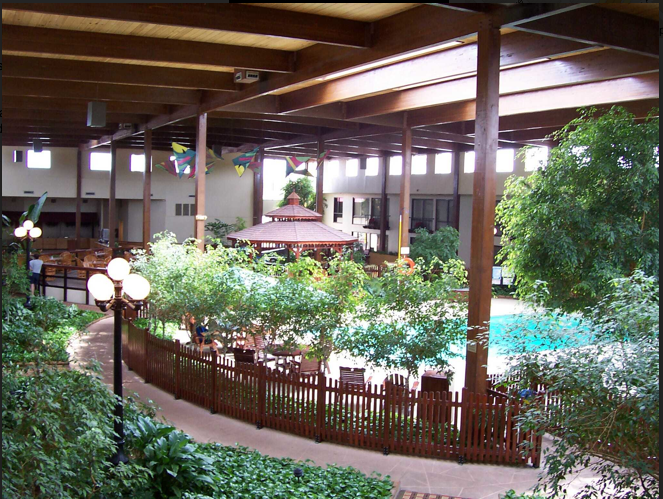 After the hotel was taken down in January-February 2015, new development began quickly. The address of 801 4th Street was taken by a location of In-N-Out Burger, one of the first restaurants of that type in Texas (a few had opened in Dallas by the time), and frankly is a symptom of California types literally invading our fair state (Whataburger's attempt in California notwithstanding). There was a Chevron with TETCO and a car wash on the lot closer to 5th Street, which the hotel was between, it was converted to 7-Eleven sometime around 2013 but it was torn down at the end of 2014.
Additionally, fronting the I-35 area was a new CVS/pharmacy, and behind it was another strip center, called Bear Grounds Plaza, composed of almost entirely restaurants. Pie Five - Opened April 2017, two years and a month later it was gone. Wei Tasty - Ate here in summer of 2019, Chinese restaurant. Seemed to have good enough portions for leftovers, but I can't say much else about it. Originally posted on Carbon-izer Blog, April 26th 2015 with some edits and additions. https://web.archive.org/web/20200817214312/https://duwestrealty.com/wp-content/uploads/2019/07/Bear-Grounds-Plaza-Flier-WacoTX-copy.pdf
---
Return to the Main Page
|
Email
---
Copyright 2019 Carbon-izer.com, this site is not affiliated with any businesses listed here.