Texas Playhouse
201 North J.H. Kultgen Expressway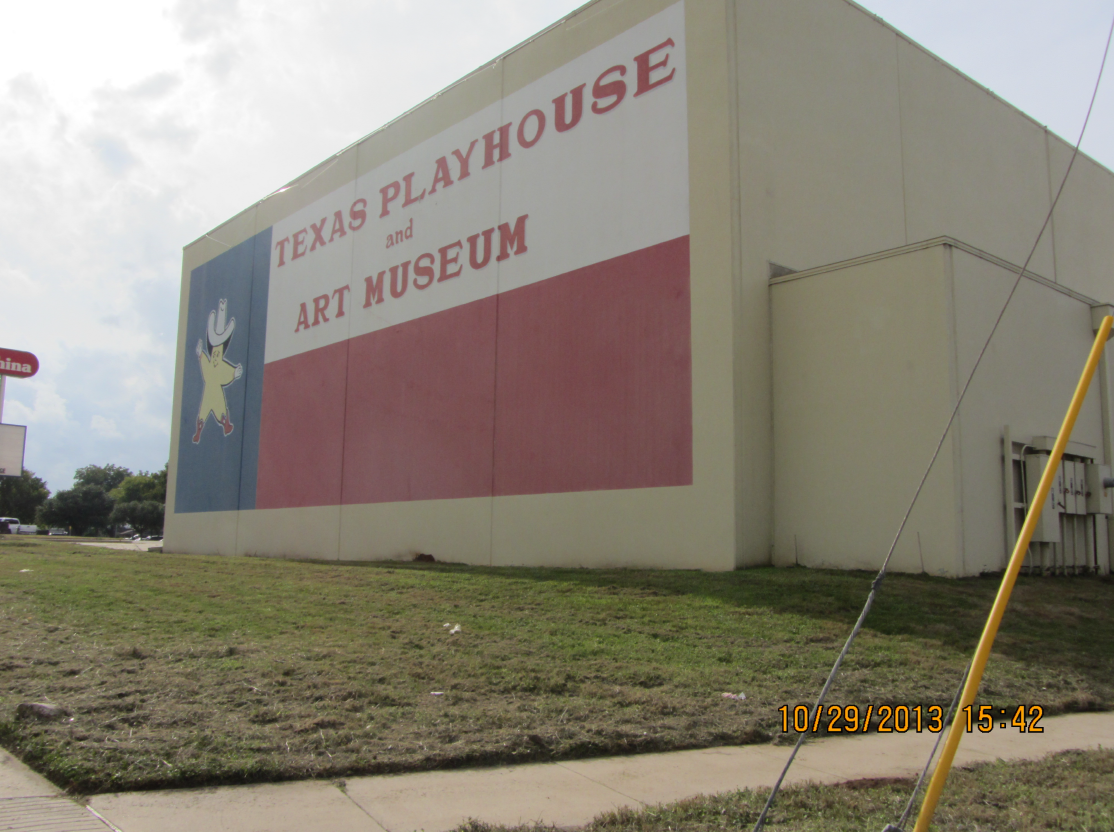 Picture courtesy MCAD
The Texas Playhouse Theater, aka Texas Playhouse and Art Museum aka WISD Playhouse, was a live theater that was built in 1998 near the intersection of 2nd Street and I-35. I'm not sure what the "art museum" was (probably some sort of gallery space), but the large building at 201 North J.H. Kultgen Expressway was owned by Waco ISD and featured a large Texas flag on the eastern side facing I-35, except the star was puffy-looking caricature that I remember having a strong dislike for (a high-resolution shot of the star in question is here) though the exact reason is unknown. Maybe it was the face.
Over time, the facade got faded and less noticeable, as I grew and had less of an aversion to it. In 2012, however, Waco ISD did some major changes in its school system. The end result was that several elementary schools were outright closed (my mother's old elementary school was a victim of this) as they were consolidated into new campuses, with a few changes in the existing school system—for instance, A.J. Moore Academy, a magnet school downtown, became Indian Spring Middle School as the program was integrated with existing schools. One of the other victims of this was the closure of the Playhouse. Two years later, it had been sold and was being marketed to restaurants as the new owner gutted the building in preparation of that.
While it wasn't a "national chain" as a 2014 article reputed, the new occupant was Twisted Root Burger Co. (at 801 S. 2nd Street, a new address), which opened in September 2015. The new restaurant erased the star in favor of a colorful mural that faced I-35 (and included a reference to Chicken Shack for no discernable reason), and the only real interaction I've had about Twisted Root is explaining to a friend that the reason the building looks so unrestaurant-like is because it was originally a theater.
While Twisted Root unfortunately became a victim of the COVID-19 crisis, "temporarily closing" most of the locations and filing for bankruptcy in June 2020, it did reopen in March 2021, so hopefully it will pull through in the end. As much as I hate to admit it, though, the Texas Playhouse was an important landmark along I-35 en route to places like my grandfather's house and other destinations, and I'm almost sorry to see it gone like so many of the memories along that stretch.
Key word: Almost.
---
Return to the Main Page
|
Email
---
Copyright 2020 Carbon-izer.com, this site is not affiliated with any businesses listed here.