---


| | |
| --- | --- |
| Title: | |
| Genre: | |
| Developer: | |
| Publisher: | |
| Release Date: | June 12, 2020 (Early Access) |
| On Wikipedia: | |
| Systems: | |
| Abandonware Status: | Maybe give it another year. |
This review was published as part of the 9/30/23 update and reflected the status of the game as it had been most of the previous year (no other changes beyond adding a source for the photo and adding a link for Metropolisim). Since then, Cities: Skylines II has indeed turned out to be a complete disaster (more than I ever could've imagined) but something surprising involved NewCity: the developer returned. He explained that "anxiety and procrastination" prevented from him from sharing other projects, including writing. Unfortunately, this didn't mean that NewCity returned with a major update (though some updates were promised). There was a trailer for another project, Robopocalypse Simulator '98...and making NewCity open source (without much documentation—and I quote from the Discord "Good luck getting it to build on your machine." Time will tell if NewCity can be redeemed. Other than adding the photo source, the rest of this article was written before these revelations.
With SimCity 4 a dated and flawed masterpiece and Cities: Skylines a dumpster on fire, I've been on the lookout for a new city simulator. There was one called Metropolisim on Steam that never made it beyond some alpha version video (and never responded to my letter, which had some rather pressing issues). Don't even get me started on Cities: Skylines II. That game looks like almost as much as a problem as C:S is.
NewCity was a game released in 2020 on Steam (working title "New Cities") and I kept up with in Discord and other stuff, though development ceased in early 2022. Still, despite it looking feature-sparse and frankly ugly (both graphics and music), it had a lot of promise with the idea of massive sprawl, and for the first time, building a recreation of Houston really seemed possible. I've mentioned the Houston/SimCity 4 connection in that review, and new technology could mass-produce buildings from aerial shots and Street View, even if some details need to be fixed or added later.

I wanted to be a part of development. I put down my $20 or so, I promoted it on forums, I got permission to put up the in-game help system, Citipedia on Carbon-izer. One of the first things I did was put up some first impressions and was really excited with some of the potential I saw. Despite some obvious problems there were some excellent ideas that not even Cities: Skylines II had, including:

- Divorce of "building occupied" and businesses inside; this let buildings be empty or partially empty without abandonment.
- Businesses having independent opening/closing times, allowing for a robust 24-hour system, with the morning commute, the lunchtime hour (when businesses open for lunch, and people eat there), rush hour (including restaurants and leisure shopping), late night (bars), and after late night (with 24 hour convenience stores and restaurants).
- There were apartment complexes also implemented in the game. No other game does apartment complexes, despite being extremely common in the U.S. since the 1960s. (The "urban planning" community on Reddit/YouTube like to pretend these don't exist).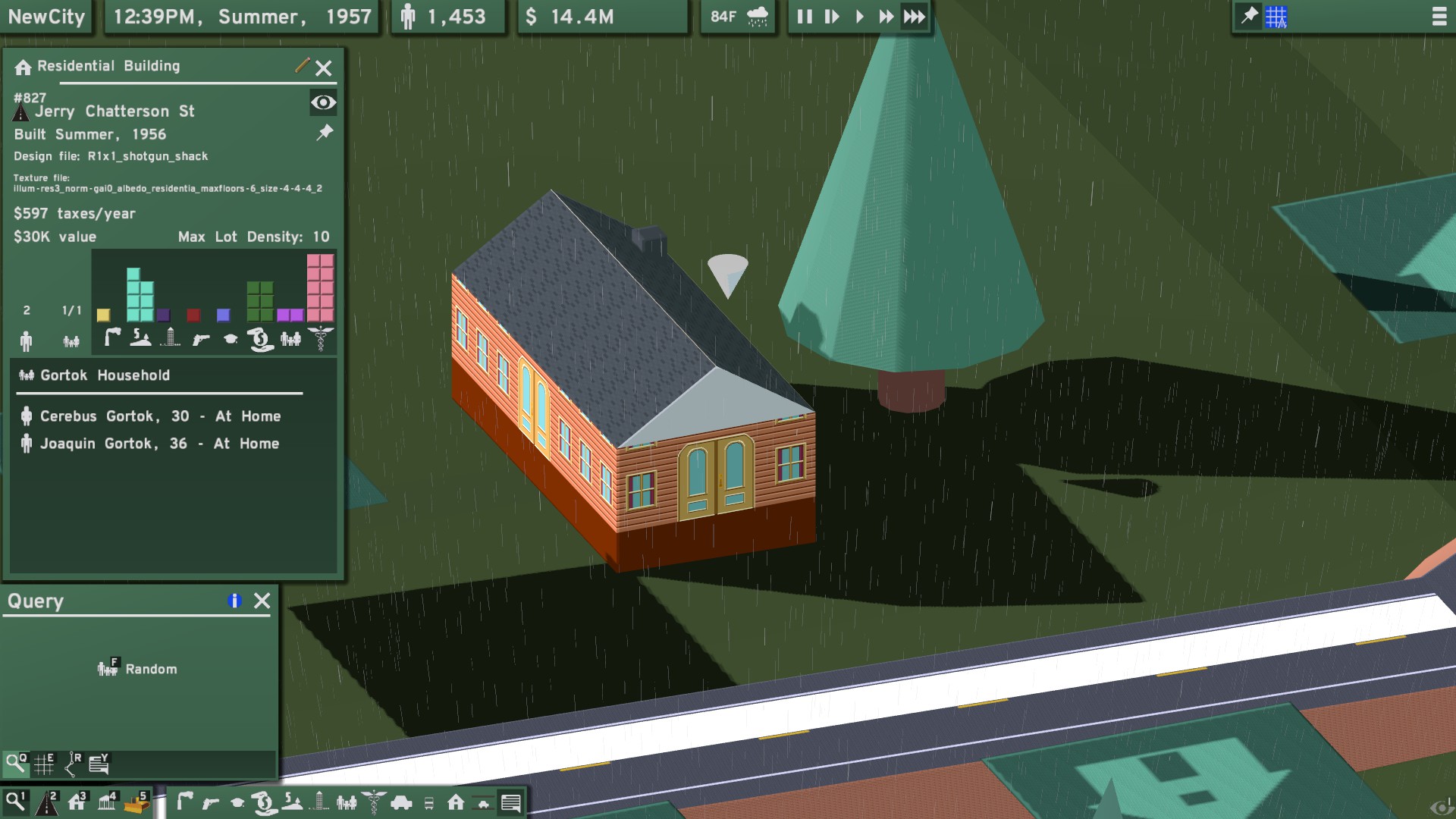 It wasn't perfect, obviously, the developer, LonePine, had made a decision to leave utilities out. Utilities are a pretty major part of any SimCity game or SimCity-style game. Even Cities: Skylines has utilities (perhaps too much, but none very detailed). There was also a very limited building editor that made only blocky buildings with pre-arranged parts and textures. You couldn't, with the current game, import some 3ds/SketchUp model and plop it in your city.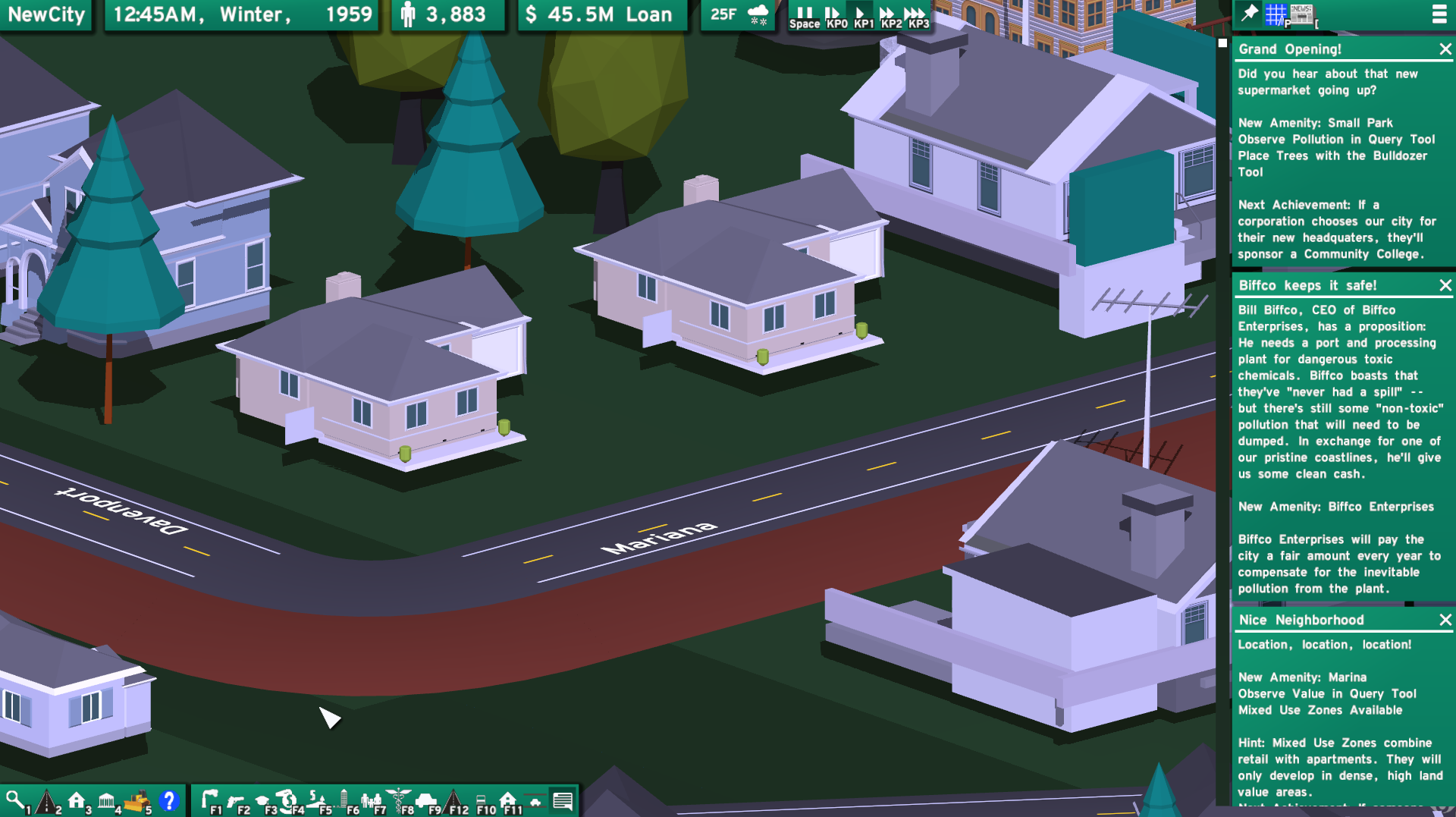 Unfortunately, despite seeing some major improvements by 2022 with improved graphics, LonePine abruptly abandoned the game and nothing has come of it since. This had no announcement, with no "we're open sourcing the game" or "looking for a new head developer". As a result, NewCity died, without a solid release date, without the development that it needed. It could've been what I wanted. All those memories, all the idealism, all those bits and scraps from other cities I've visited, something familiar, something more exotic, something from the past, something more modern. Or it could've been an unprecedented disaster with meaningless bloat and none of what it needed.
We'll never know.
By the way, the screenshot seen in the thumbnail is from the game...there was a "newspaper" feature with all sorts of photographs of unknown sources (some appear to be stock, some appear to be scans). There were two other candidates that I was going to resize for the 100x100 thumbnail but looked too generic, this downtown image of Los Angeles and this highway interchange (unknown location) and decided to go with the one that made the least sense (uncropped version), which turns out to be sourced from Wikimedia Commons.
FINAL RATING: