ITALY IN 2014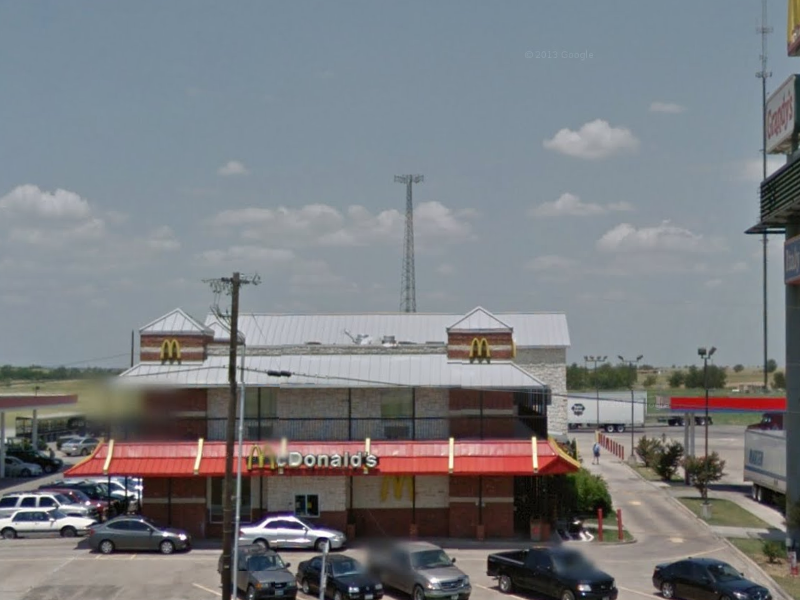 The weird blurriness of Street View doesn't do it justice, this was quite an interesting sight to see.
I went to the Dallas-Fort Worth area twice in 2014, and both trips were enjoyable. One of them was for an academic-related function yet still had some time to kill. I mentioned in that article that I wanted to write about Italy, Texas, and this is that article. (I hope by now you realize that this is referring to Italy, Texas and not the country). The particular 2014 trip to Dallas-Fort Worth was with my family and took a meandering route, so that Italy was only seen on the way home. Despite that, it caught my eye because of the a motel cantilevered over a McDonald's restaurant. A hotel in a truck stop was rare enough but McDonald's? Didn't see that coming. Additionally, it also featured a second restaurant, a Grandy's (practically extinct south of Dallas-Fort Worth, even then) and on top of all that, included a Stuckey's store-within-a-store inside the Exxon "Tiger Mart", all located at 101 L.R. Campbell Road.
In 2017, McDonald's moved out to a stand-alone location on the other side of the Interstate at the old Starship Pegasus site (see next section) and by spring 2019, Grandy's (ever shrinking) was out, and while the Stuckey's "branding" (mostly just some merchandise, which I don't remember seeing) remained, it had lost two restaurants and just wasn't that special anymore. Moreover, in 2015, Love's had opened a new travel center catty-corner to it, featuring a Carl's Jr. (which, despite the closure of most Carl's Jr. restaurants in Texas, is still there).
However, it was down, but not out. By the end of the year, Denny's had opened up in the parking lot of the Exxon and the McDonald's side was filled with Golden Chick. By 2021 it did gain the Pilot branding but only for the diesel bays in the back, not for the main gas station in the front, and not for the convenience store. Finally, tax records indicate Einstein Bros. opening inside the gas station, presumably replacing Grandy's but if Pilot's other Einstein Bros. kiosks are any indication, this isn't much of a bagel shop like the real ones are, and doesn't use much kitchen equipment.
Where the new McDonald's sits today (it does have a Playplace) at 100 Kinfolk Lane, it replaced a somewhat more interesting structure: "Starship Pegasus". Starship Pegasus was a Star Trek-inspired monolithic dome opened in 2005 as a restaurant, gift shop, and arcade, along with a mini-golf green as well. The website is fully archived and has a menu and a better description of what it actually offered. However, it's based in Flash and thus won't work without installing Ruffle, the Flash player emulator. I recommend installing Ruffle (it's got other uses, too) and checking out that website...and be sure to turn off the music loop!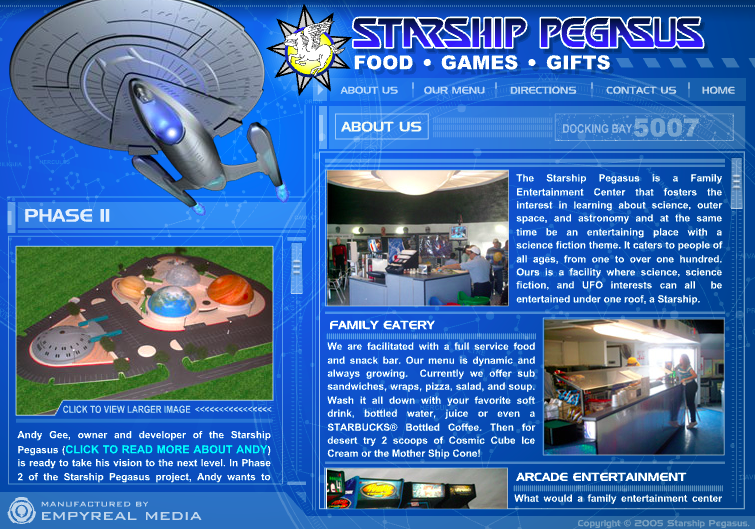 If you don't want to or can't install Ruffle, this is what the website looked like.
Constructed far too late for the heyday of roadside attractions and a bit too early to see more truck stops pop up along this stretch, it was fitting it had a monolithic dome as the main structure, as Monolithic Constructors (featuring their own roadside attraction, a caterpillar made with several interconnected domes) is just down I-35 and naturally it was bragged on their website.
Unfortunately, Starship Pegasus closed after less than a year in operation. Based on Google Earth, it looks like the mini-golf mentioned was an outside operation (and if liberties are taken with interpreting the green, not terribly inventive or interesting holes). While "Phase I" of Starship Pegasus was not long for this world, Phase II (mentioned on several of the pages linked, showing several other planet-themed domes) was ambitious and unrealistic. The pie-in-the-sky (or rather, pie-shaped spacecraft) idea was to combine museum and entertainment use with a small accredited college on space exploration.
In May 2010, it reopened as a flea market but failed to gain much ground and closed in less than two years. Finally, in 2016 McDonald's bought the site. If there were any hopes that McDonald's would keep it in the dome-shaped structure, those hopes were dashed when demolition crews hacked away at the structure and built a rather ordinary McDonald's restaurant on the site (which moved from the truck stop across the street). The McDonald's features some pictures of the Starship Pegasus inside, but that's about the only nod it got.
One wonders if Viacom/CBS took notice of the small restaurant and had any thoughts, positive or negative. On one hand, they could've considered some sort of lawsuit for similarities, or on the other hand maybe could've lent it some legitimacy by re-theming it as a licensed Star Trek endeavor. After all, supposedly a full-size Enterprise was to go into downtown Las Vegas, only to be killed by a Paramount executive...but a small "truck stop town" like Italy was probably too far out of the way to invest in some sort of Star Trek experience, and frankly, was probably too dinky to put the Star Trek name on anyway.
With those two out of the way, our last story comes of something that was not yet even built when I passed through Italy but is now just as gone as others (not that I could see it anyway). Walmart Express, a concept launched in 2011 meant to compete with Dollar General in markets even smaller than what Walmart had been operating in for the last thirty years or so, opened in July 2014 (with a fuel station) at 721 Dale Evans Drive, after what I assume was a quick build. (Coincidentally, Italy's Dollar General was just next door at 761 Dale Evans, and opened August 2004). As the division struggled, Walmart began to internally re-align them as Walmart Neighborhood Market (never branded as such, at least not this location) and in January 2016 pulled the plug on the entire chain (Express, not Neighborhood Market). Brookshire Grocery Company later picked up a number of former Walmart Express stores in the region and reopened them as "Spring Market". Despite its low volume and isolated location halfway between the "town" portion of Italy and the "truck stop" portion of Italy, Brookshire has done better with its small-format stores better than Walmart did.
---
(C) 2023 Carbon-izer.com
Return to Main Page
|
Contact Me