CARBON-IZER GOES TO THE MALL OF THE MAINLAND, 2008
Recently I was discussing with Mike, Anonymous from Houston, and a few others about the Mall of the Mainland, and I had forgotten that I did photograph and document the mall as it was in August 2008 for my old blog, Two Way Roads, shortly before Hurricane Ike and the closure of the Dillard's store there. Rather than just rewrite what I had written for the blog with commentary (what I had done for Sunrise Mall: Director's Cut), I decided to completely rewrite what I had written then, took out some stuff, added some stuff, all while maintaining the core focus of this post--the Mall of the Mainland.
Appropriately to the mall in this post, we stayed in the "Mainland", at 5201 Gulf Freeway, at the time flying the Travelodge banner. It was dated at the time (I believe it used to be a Holiday Inn originally and today is an Americas Best Value Inn & Suites) and featured "RJ's Sports Bar", which, from the original TWR post was "no doubt some sort of depressing, neon-laced place with mediocre food and a leftover cigarette smell", probably based after a similar establishment I had seen a year or two prior on another road trip.
Most of the stuff I did in Galveston that weekend was with my family--went to the Tallship Elissa museum, walked around some, visited the train museum, visited the beach--were all kind of blasé as far as documenting for a wider audience goes.
Friday night was spent with takeout from Jack in the Box across the highway and watching the opening of the 2008 Olympics. The opening of the Olympics was pure propaganda for China, which NBC sucked up to every part of the way...and in the original post, it was noted that I missed Monk and Psych for that evening, but it didn't matter--it was taping at home, and besides, they were also owned by NBC anyway.
Saturday night, however, was spent at the Olive Garden in front of the Mall of the Mainland. I heard had heard of the mall before...the DeadMalls.com entry and the Labelscar entry were both online by that time, I had never actually visited it.
The mall had the appearances of a functioning mall on the outside, with Dillard's, Macy's, and Sears still operational, as well as a few restaurants outside of it. Inside painted a far different story. The Mall of the Mainland has never been full, and I'd say in 2008 it was maybe 50-60% occupied at best, with many of the empty spaces (never used) disguised with cheesy postcards and fake storefronts.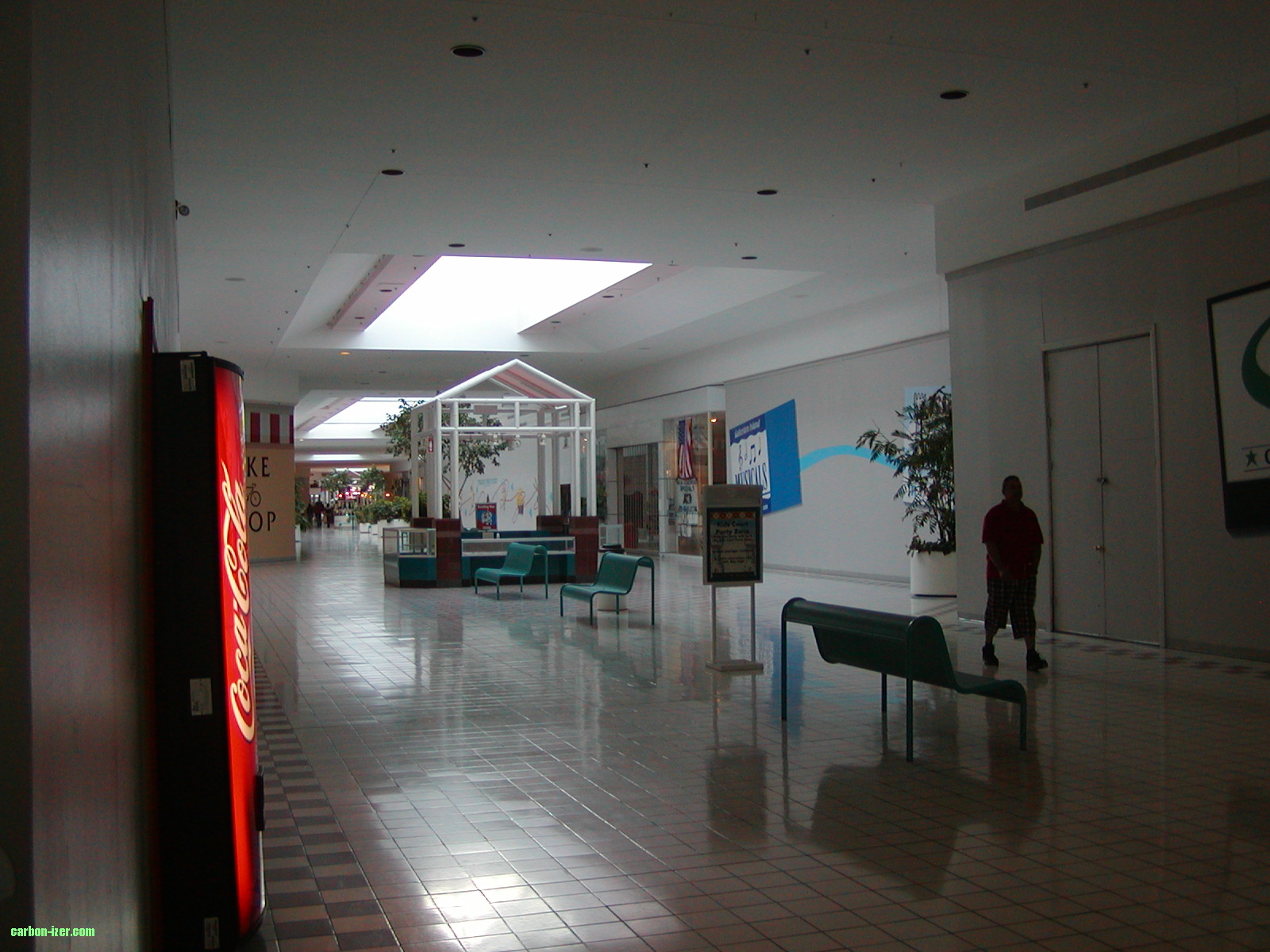 It wasn't quite as dark as this picture seems to indicate but many of the lights are visibly turned off.
Of what was actually open, half of them consisted of stores that I'd never heard of (the typical one-offs you'd find in declining malls) and the other consisted of open but dated storefronts: by that time even Post Oak Mall had gotten rid of any Bath & Body Works stores with the pink-and-white awnings, for instance. Of course, this dated atmosphere brought it with all sorts of architectural treats, like preserved fronts (including an old J. Riggings sign), neons, and fountains.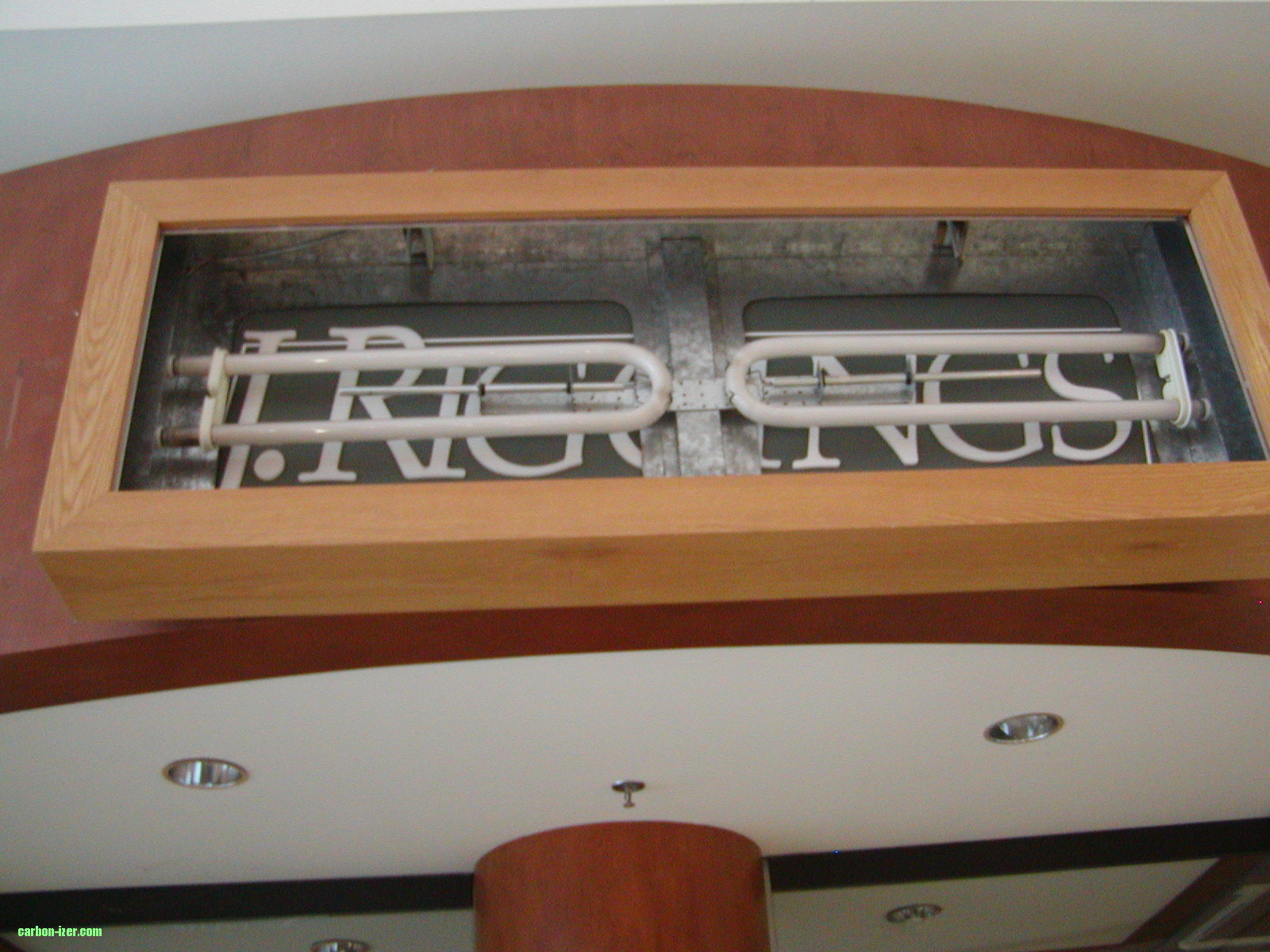 Apparently, when J. Riggings closed, the next tenant didn't take the signage down and instead built over it.
The bad part was that it was a Saturday night, and most of the people there were intimidating-looking teenagers (despite me being solidly in high school myself). I know my dad was with me at the time, but I still remember feeling a bit on edge (he probably was too). Of the stores that weren't chains, they ranged from sketchy to just plain sad. There was a store with oversized plastic body piercing jewelry outside, a store called Dollar World which really reads as "$ World", and a generic Hot Topic-like store called T-Body and Monogramming. There was a large store called Affordable Furniture, and a store called All Shoes $9.99 appeared to be closed.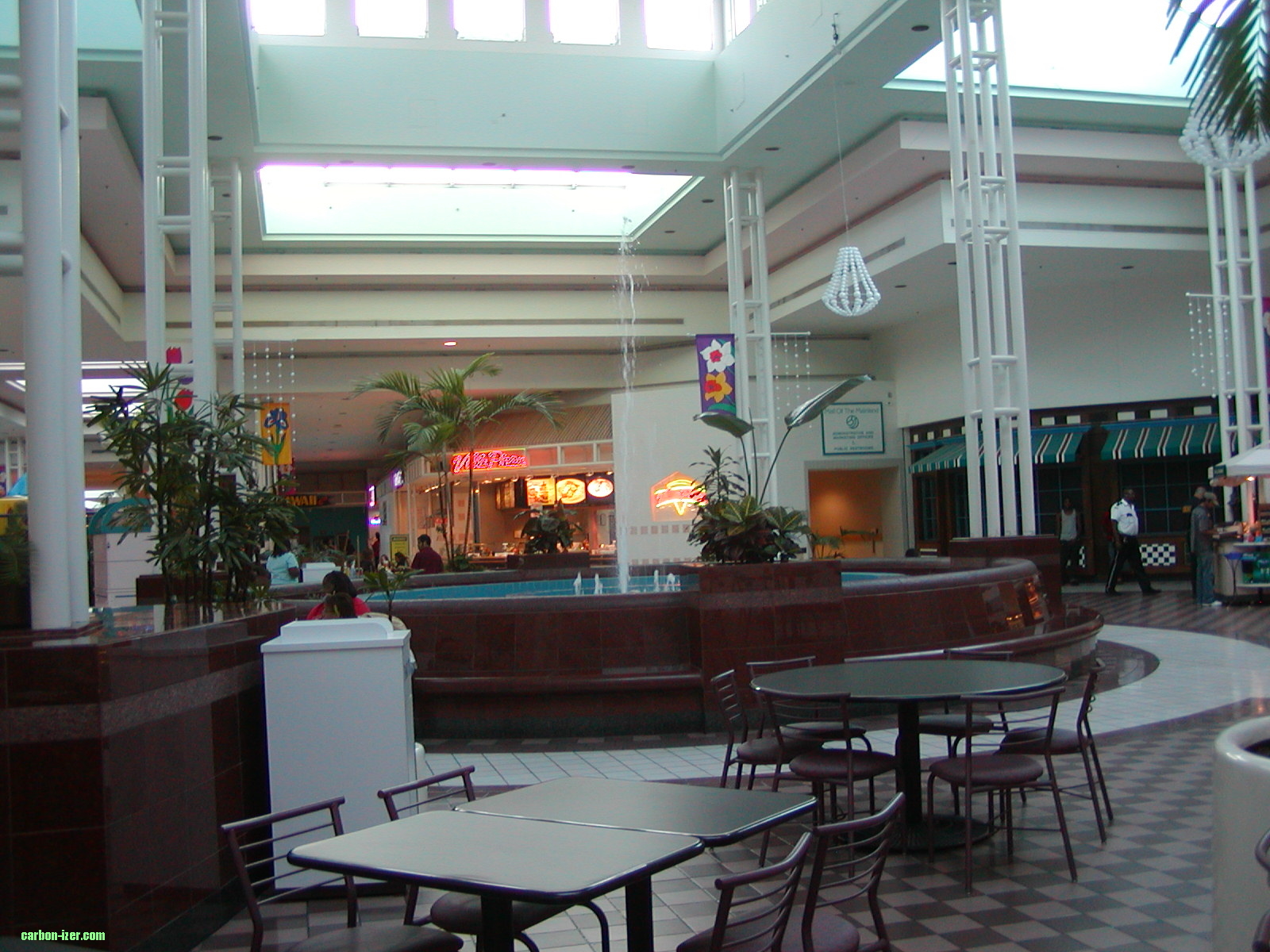 The food court, clearly in decline but still kicking.
The food court was perhaps the most notable part. I was quite accustomed to malls with the usual gamut, some fast food chain burger (McDonald's, Wendy's, Burger King), an off-brand Chinese food shop, Chick-fil-A, Sbarro (or equivalent), and so forth. The only chains were Corn Dog 7 (which had closed at Post Oak Mall by that time) and Subway. Other options included Hello Josephine (a snack bar), a generic-looking pizza place, and Red Cap Express. Red Cap Express was a spin-off of a restaurant off of Highway 6 in Santa Fe (Texas, not New Mexico). For some reason, though, I remember the restaurant smelling abhorrent, possibly due to some sewage or blocked drain; definitely nothing like burgers and fries. "Paradise" (a smoothie shop, possibly) was closed, and there was another spot that had since closed, "Café Milano".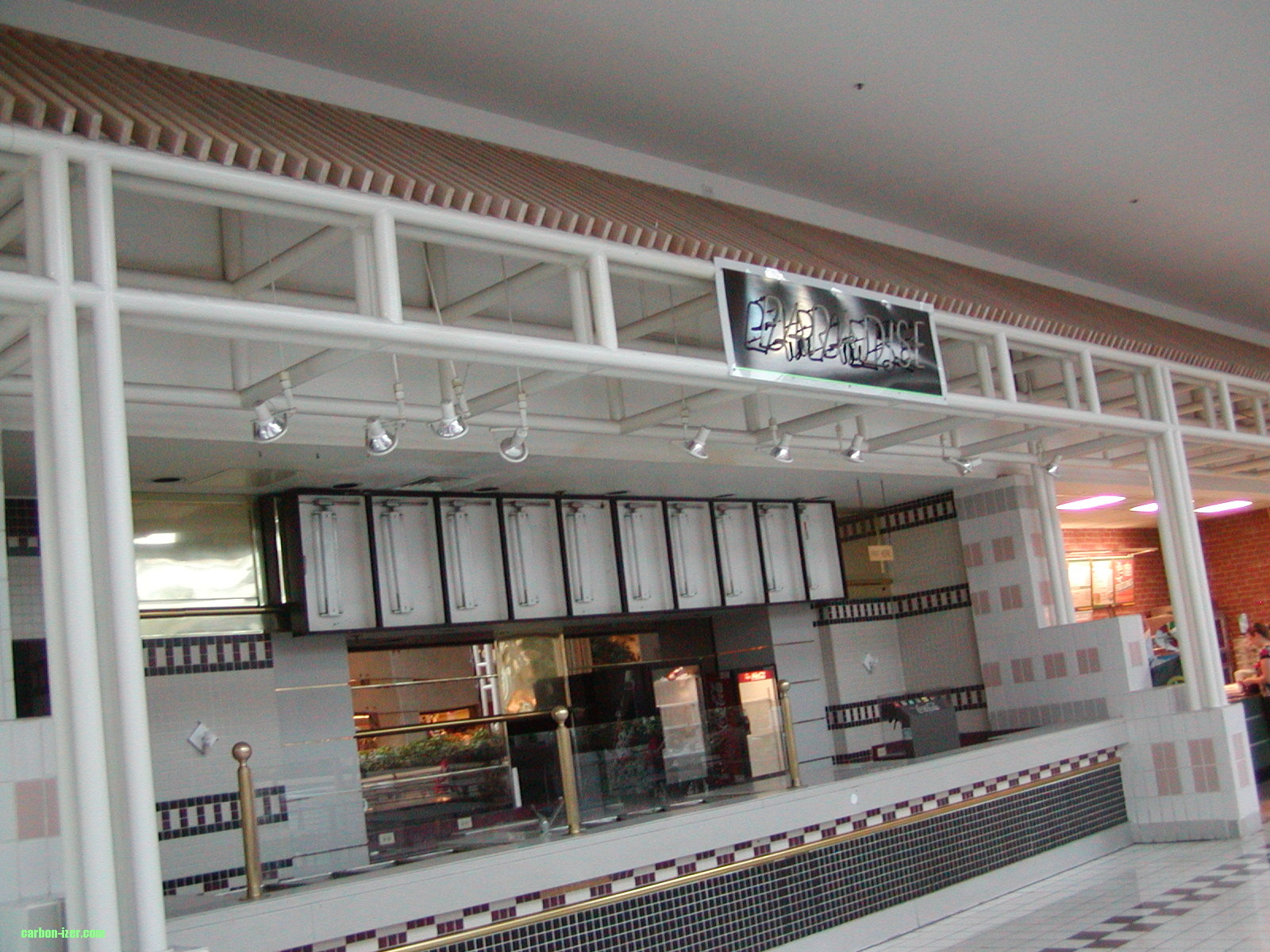 Paradise was closed.
Red Cap's smell wasn't the only olfactory problem, the whole mall smelled vaguely of chlorine (but not chlorine). Maybe it was mold, which wouldn't be surprising given that the fountains were running and the mall probably not kept cold enough to combat it. Moreover, this was almost the "last chance" to see the Mall of the Mainland as it was in this state. A few weeks later, Hurricane Ike made landfall, and the Dillard's flooded and closed, never to reopen. The mall limped along (losing Macy's in 2012) until it was closed in January 2014.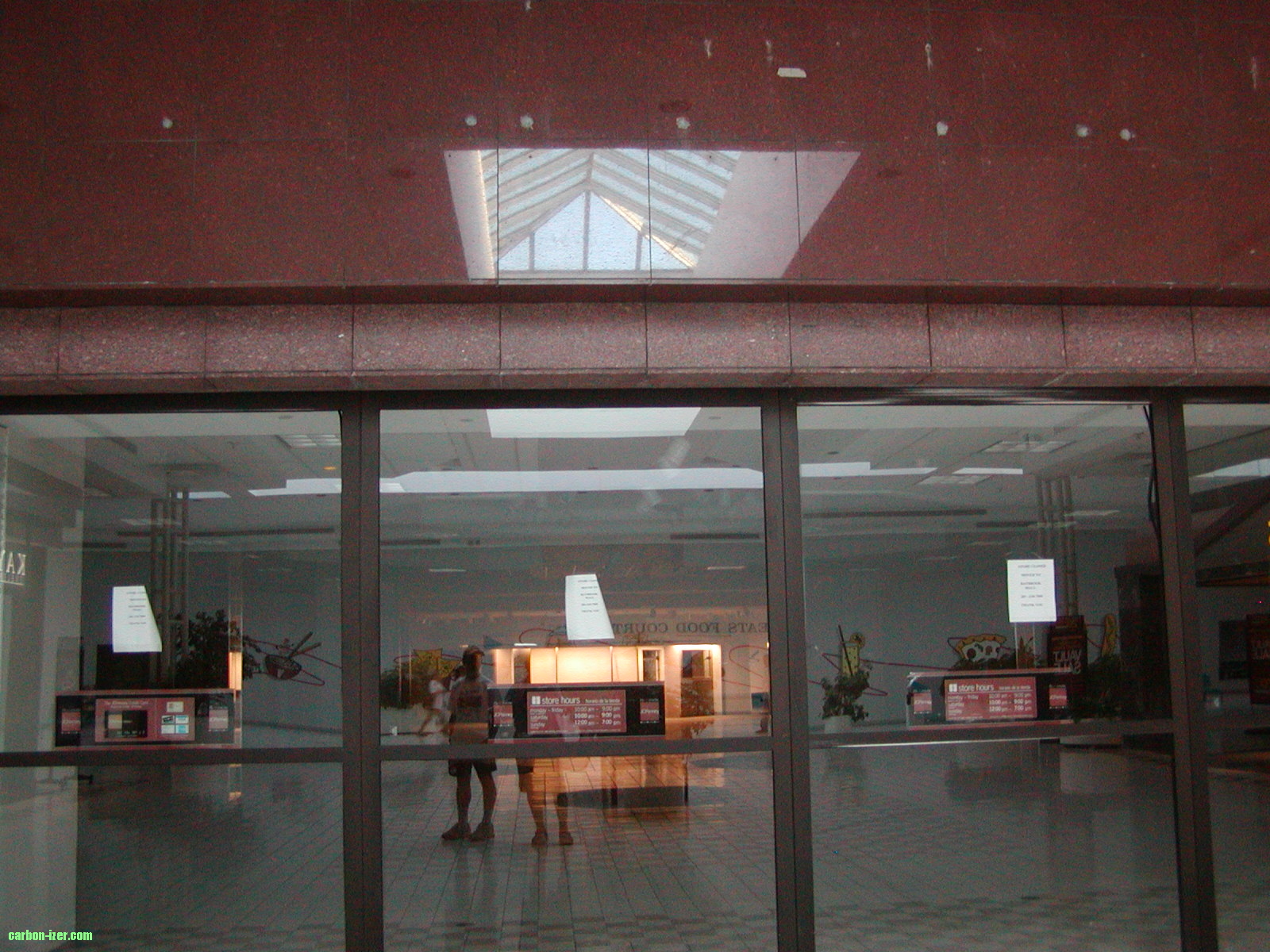 JCPenney had closed in 2005, the first major blow to the mall's fortunes.
While The Mall of the Mainland killed Galvez Mall (in Galveston proper) and bagged its Sears store, it was Baybrook Mall in Webster that really stole the thunder of Mall of the Mainland. In addition to better visibility and access from I-45, it has a much bigger base of other retail and restaurants around it. When Mall of the Mainland opened, Baybrook Mall renovated, but it already had an advantage. Whereas Mall of the Mainland had Dillard's, Sears, Foley's, JCPenney, and Palais Royal, Baybrook Mall had Dillard's, Sears, Montgomery Ward, Macy's (the original store before their conversions), and Mervyn's. Despite the overlap in anchors, the two malls co-existed, with Foley's even staying at Mall of the Mainland after Foley's took over Wards' spot after closure.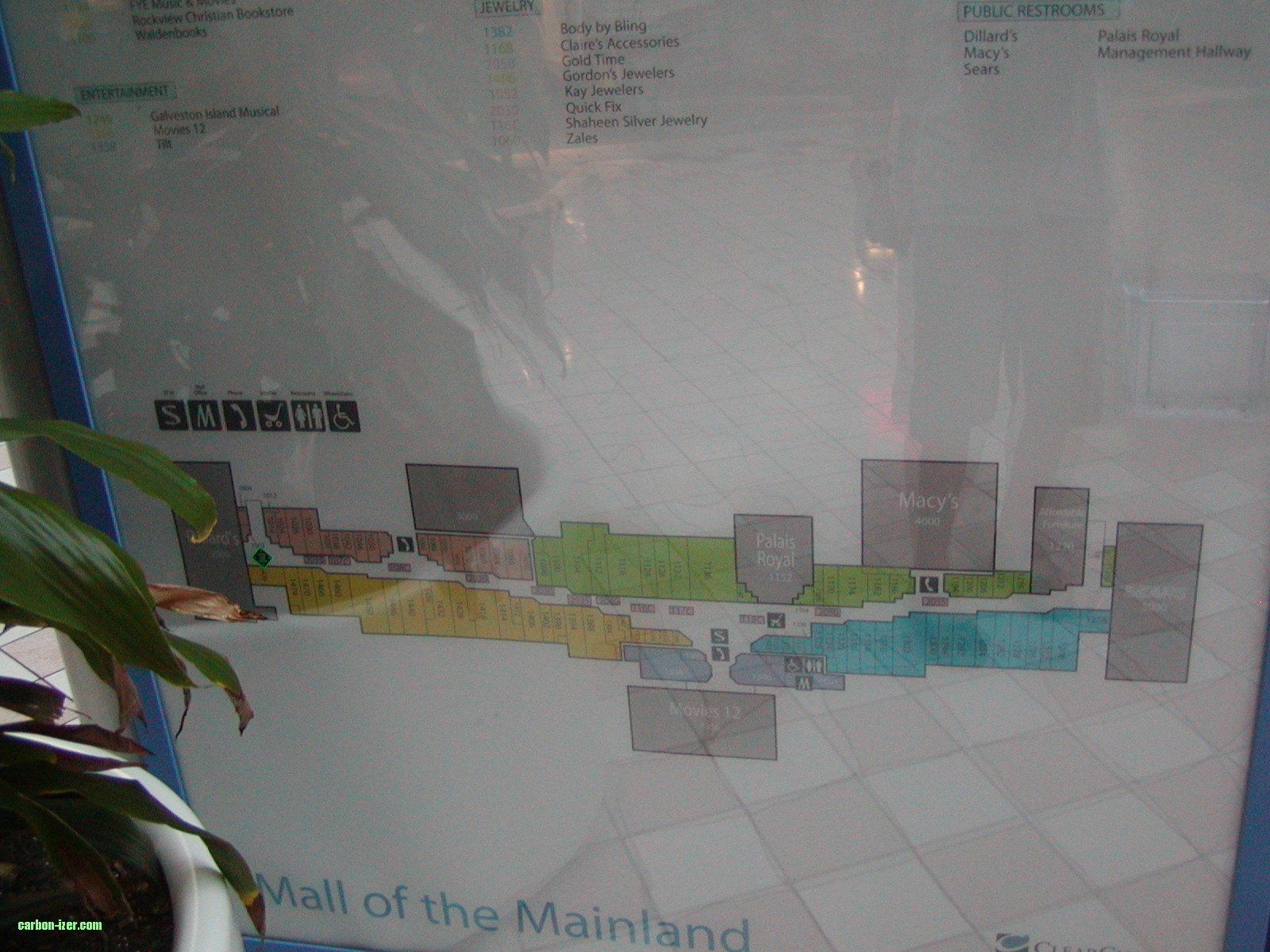 For some reason, the JCPenney building is off to the side to where it should be on the map.
However, in the mid-2000s, Dillard's (which had two stores at Baybrook, their converted store from Joske's, and one from the sale of the 'brook Macy's stores in 1997), decided to consolidate their store back into one store. Foley's moved into the former Joske's-Dillard's location, and that left an anchor vacant, so JCPenney was added to Baybrook Mall in 2005 after rebuilding the Wards/Foley's building. Unfortunately, this was at the expense of Mall of the Mainland. It seemed at this point that at this point the mall was on the downward slide with nothing to save it. Dillard's, as previously mentioned, would use the hurricane a few weeks later to abandon the mall. (Macy's did the same to their Northwest Mall store).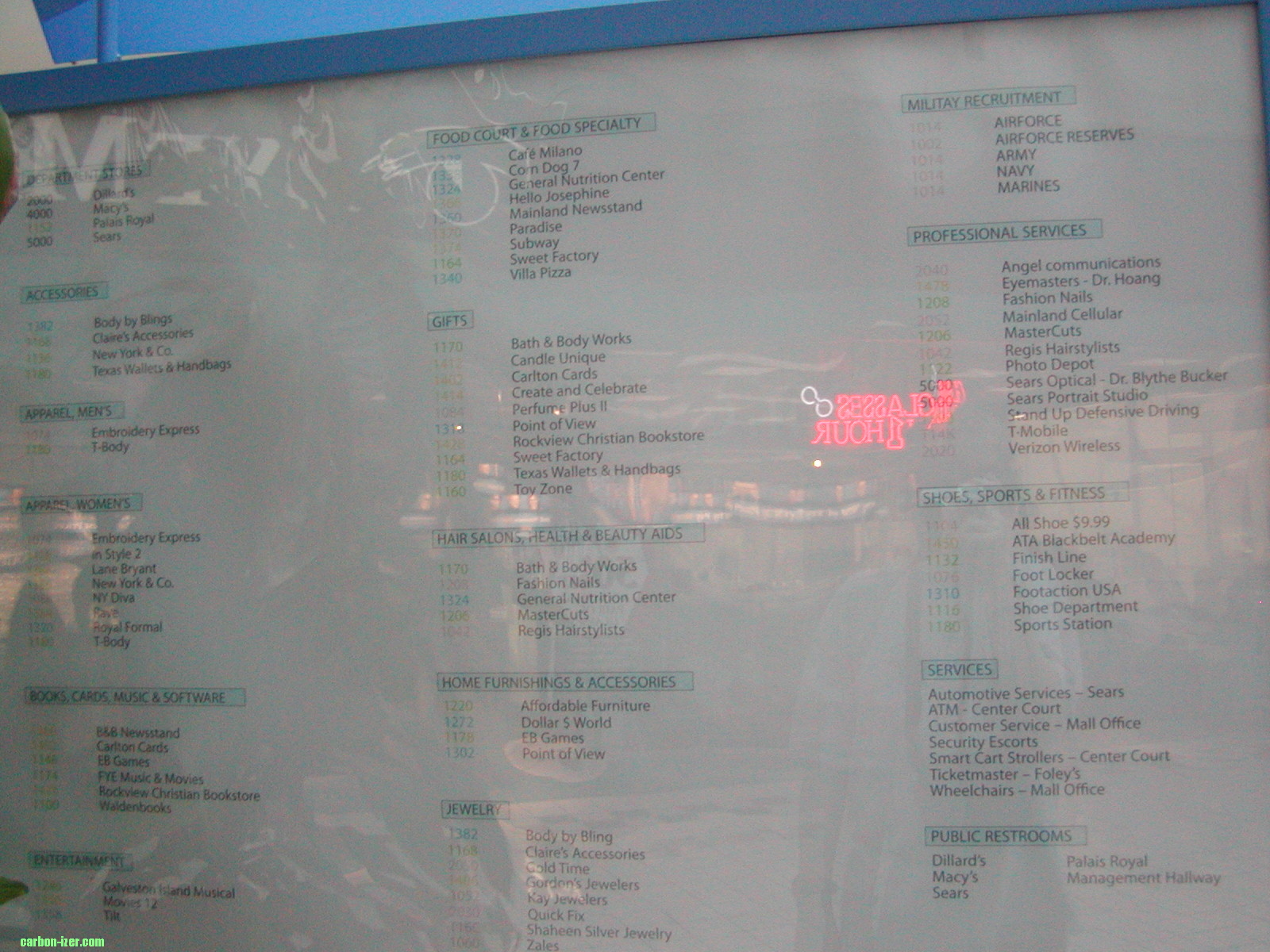 The listing of stores was already out of date. It doesn't have Red Cap Express, which had opened in May 2007, over a year earlier.
New development has since reconfigured the mall as an outdoor-oriented center. The food court area is technically still there, with much of the space being a restaurant and a separate space for its indoor "beer garden", the other half being vacant. I haven't seen the mall since, the last time I was in the general area, I visited the adjacent strip center next to the mall where an old Wal-Mart had been converted into government offices, but at the time the mall was already closed (Sears would stick around all the way into fall 2019, after Baybrook's Sears closed, and Palais Royal closed in 2020 when Stage Stores filed for bankruptcy).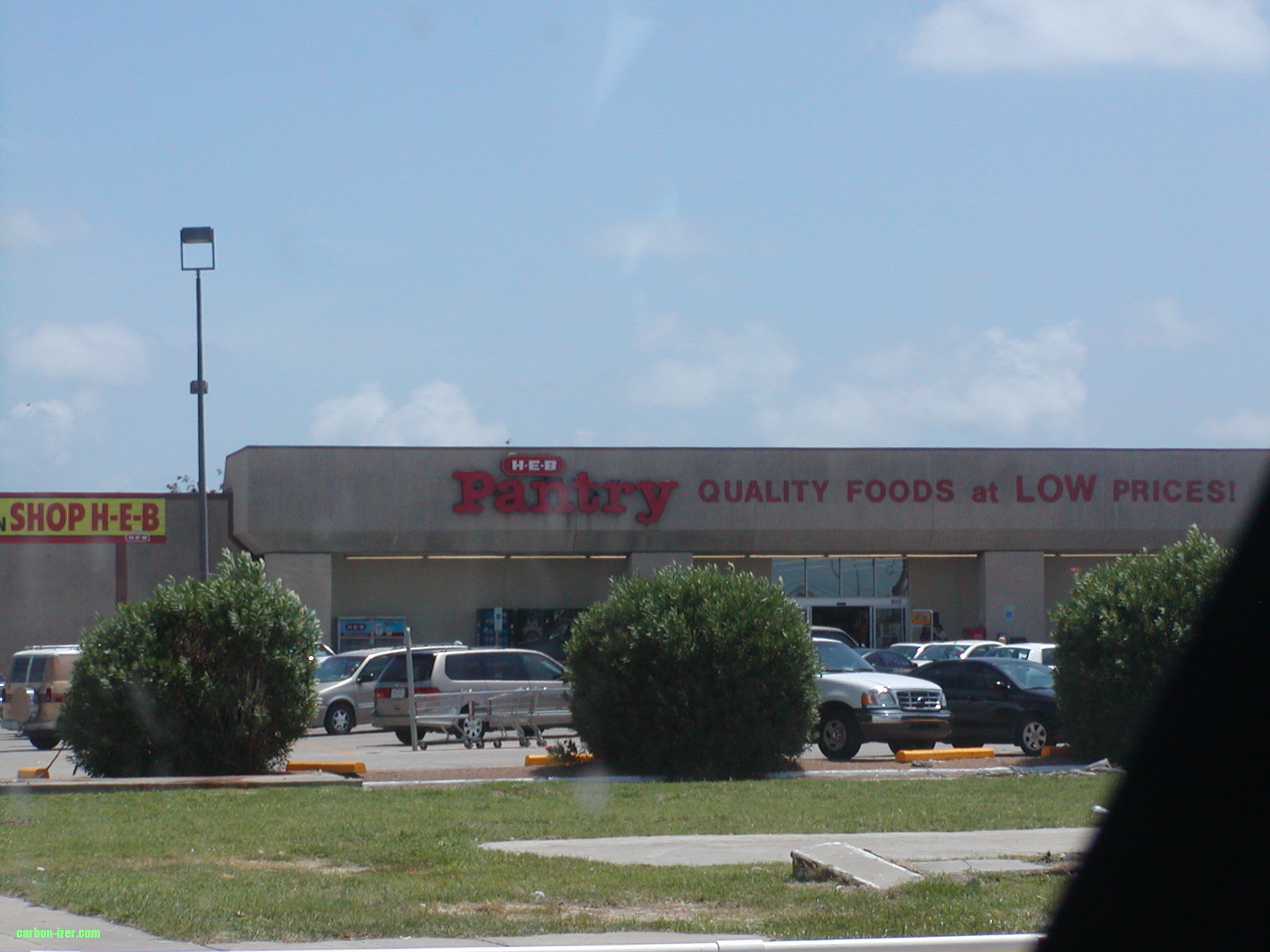 Today the H-E-B Pantry is a charter school.
Hurricane Ike was devastating to Galveston, and I'm glad I was able to see Galveston before then, even almost four years later, most of the once-thriving "downtown" area was still empty, and many businesses on the island had simply shut down. Dillard's had closed at Mall of the Mainland because of it, and Macy's at Northwest Mall also never reopened (another business that closed in the greater area was Magic Island on Southwest Freeway). Another victim that I was able to see before it closed was Galveston's H-E-B Pantry, which was still signed as such, even in August 2008! Interestingly, in Galveston, there's no H-E-B store today, even well over a decade later, but still a Randalls supermarket.
---
Return to Main Page
|
Contact Me
---
Copyright 2021 Carbon-izer.com